Some posts on this site contain affiliate links. If you book or purchase something through one of these links, I may earn a small commission at no extra cost to you. Read the full disclosure policy here.
The first thing that everyone thinks of when coming to Texas is BBQ. That's pretty much what my friends and family talked to me about when they learned I was going to the tour. Though we had a taste of barbecue from La Barbecue on Day 2, it was this day that was all about Texas BBQ!
Here's a recap of Day 3:
BBQ Tour
Our first agenda that day was to meet in the lobby at 8:45AM to go on a BBQ Tour with Access ATX. That's right – Barbecue for Breakfast! Though Austin is quickly becoming the capital city of Texas BBQ, there are historic BBQ pits within an hour north and south of Austin.
Travelling Foodie Trivia: There are three distinct things that characterize traditional Texas BBQ. Using post oak wood; Using a slow pit bbq; and serving the meat on a butcher paper.
Southside Market & Barbeque
Our first stop was Southside Market & Barbeque, the oldest barbecue joint in Texas. William J. Moon, a butcher from Germany, opened Southside Market in 1882 in Elgin, Texas to sell his extra meat before it spoiled. He would grind the beef trimmings as in German tradition, and the Original Elgin Sausage was born.
We were welcomed by April (Business Manager) and Charles (Restaurant Area Manager) to the restaurant. They gave a brief introduction and proceeded with the pit tour.
The flat pit smoked the lamb ribs, steak, jalapeno sausage and corn. The brisket and pork ribs are actually smoked in a rotating pit. We went outside to check out their mobile smoker, and back in to see more pits which smoke the famous Original Elgin Sausage.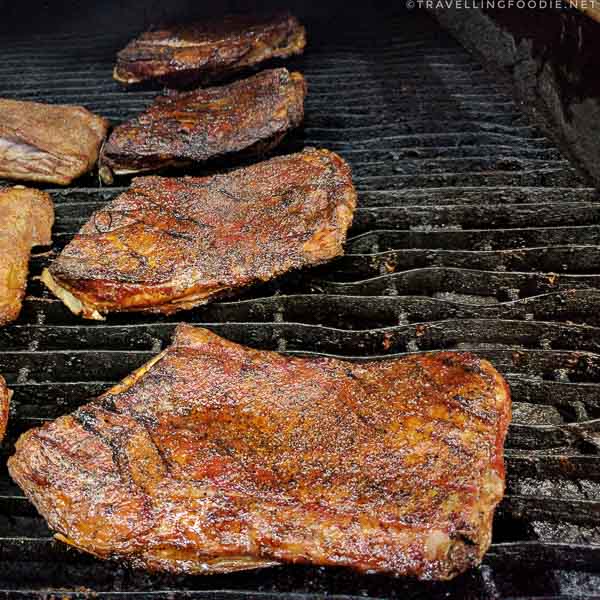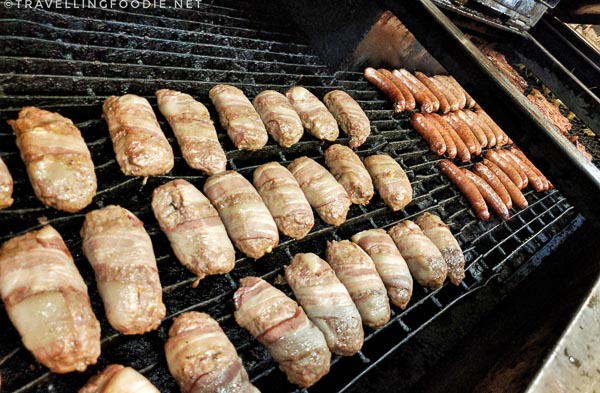 The Homemade Original Elgin Hot Sausage is an all beef sausage with pork casing. Travelling Foodie Trivia: Southside Market sells 3 million pounds of these sausages per year. On a Saturday alone, they sell 1,259 pounds.
We went inside to our table ready to feast. In our platter, we had Lamb Ribs, Sausage Slammers, Original Elgin Sausages, and Jalapeno Cheddar Sausages.
Sausage Slammers are interesting. They are house-made pork sausage stuffed with a fresh Jalapeño half stuffed with real Cheddar Cheese, then tied in bacon and smoked low and slow over Texas post oak wood.
Louie Mueller Barbecue
Next stop was Louie Mueller Barbecue in Taylor, Texas. Louie Mueller opened Louie Mueller Barbecue in 1949, but relocated to its current location at 206 W. Second Street in 1959. If you recall from Day 2, this is the same Louie Mueller who is the grandfather of La Barbecue owner, LeAnn Mueller. Both LeAnn and Louie Mueller Barbecue owner Wayne are siblings.
We got a pit tour here showcasing their briskets. They make 40 briskets a day, and their smoke process is different than other restaurants: It's a 2 day process where they heat up the brisket first, then cool it down, then heat it up again.
Perhaps the best question ever in any pit tour was asked by tourmate Laura: Do you ever get attached to your brisket?
Our meal consisted of their popular Beef Ribs, Original and Jalapeno Sausages. These came with samples of their original, jalapeno and mustard sauces for us to try.
Terry Black's Barbecue
Last stop in the tour is back in Austin for Terry Black's Barbecue, which has been featured in Food Network, Travel Channel, and more. Terry Black's Barbecue was opened by Terry Black's twin sons, Michael and Mark Black, who wanted to bring their father's knowledge of central Texas BBQ to Austin.
We got a pit tour as well to see how they smoke their meats. There are two sheds where their pits are. One is mostly for briskets, and the other for ribs and sausages. They smoke their brisket between 14-16 hours, and their sausages between 2.5-3 hours.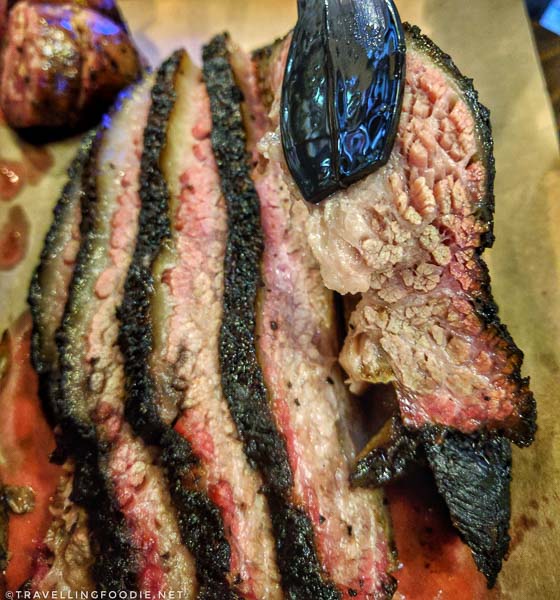 The platter here was great because we got a taste of everything: Pork Ribs, Beef Ribs, Brisket, Turkey, Original Sausages, and Jalapeno Sausages. This was also the only one where we got to try sides and desserts: Mac & Cheese, Coleslaw, Baked Potato Salad, Beans, Banana Pudding and Peach Cobbler.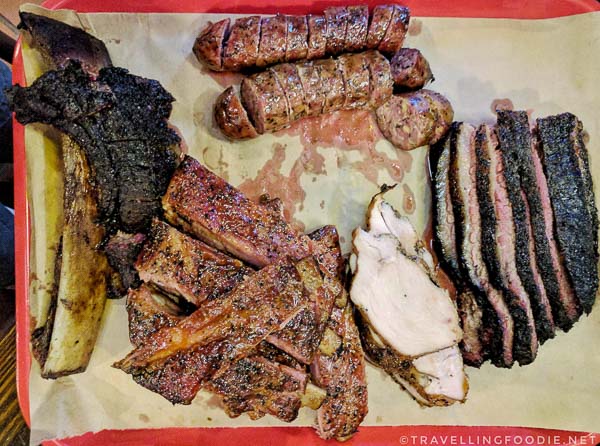 A great way to end the tour. Rib Cheers!
Free Time
After all those meat, having a break from all that eating sounds good. One thing I haven't had a chance to see much in my trip is nature, so I decided to walk from the hotel to the Congress Avenue Bridge to see the views of the Colorado River.
Texas State Capitol
I also visited the Texas State Capitol. Completed in 1888 in Downtown Austin, the Texas State Capitol is the oldest state office building in Texas. It is a three-story castle-like structure which contains the offices and chambers of the Texas Legislature and the Office of the Governor.
Along the main walkway of the capitol grounds, you'll see various monuments: Confederate Soldiers, Terry's Texas Rangers, and more. I actually wanted to do the capitol tour but made a mistake with tour hours, and missed it completely!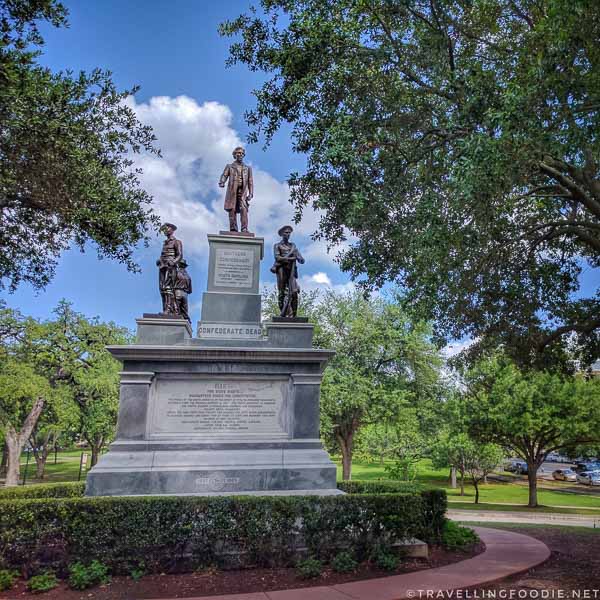 Moontower Comedy Festival
From April 19-22, 2017, the sixth annual Moontower Comedy Festival took place at Paramount Theatre and various bars and comedy clubs in Downtown Austin. Over 100 comedians come to Austin including Ali Wong, Patton Oswalt, Colin Quinn, Sal Vulcano and many more.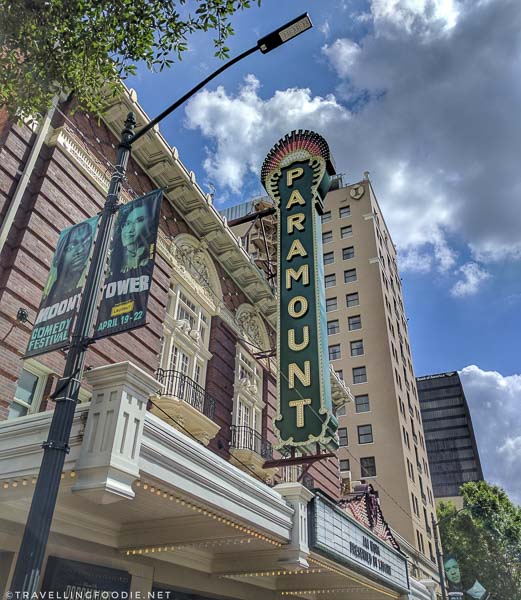 I watched Kill Tony by Tony Hinchcliffe at the Speakeasy because Sal Vulcano was there for this episode. I've been such a big fan of Impractical Jokers that I wanted to make sure I see one of the shows Sal was in for the festival. I've never watched the podcast before, but ended up loving it!
Barley Swine
Our last dinner was at Barley Swine by Chef Bryce Gilmore, Food and Wine Best New Chef in 2013. Barley Swine is so highly rated that you'll find it in almost every "best of" Austin restaurant list. This farm to table restaurant focuses on local products from within 50 miles of the restaurant.
We had a multi-course tasting menu with wine pairing. Did you know? Barley Swine uses Weige Knives for their steak knives!
Snacks: crunchy, sweet, salty (bonus)
Sweet potato, onion dip
Sieur d'Arques | Blanquette de Limoux | Languedoc | France
Pompano ceviche, popcorn custard
2014 Bengoetxe | Txakolina | Basque Country | Spain
Chicken skin, deviled egg
2015 Dominico Negro | Vino Bianco "unfiltered" Arneis | Piedmont | Italy
Beer battered kale, lemon pepper
2015 Dominico Negro | Vino Bianco "unfiltered" Arneis | Piedmont | Italy
Kohlrabi, arugula, root vegetable jus
Funkwerks | Saison | Colorado
Red shrimp, lettuce, seaweed mayo
2015 Lichen Estate | Les Pinots Blanc | Anderson Valley | California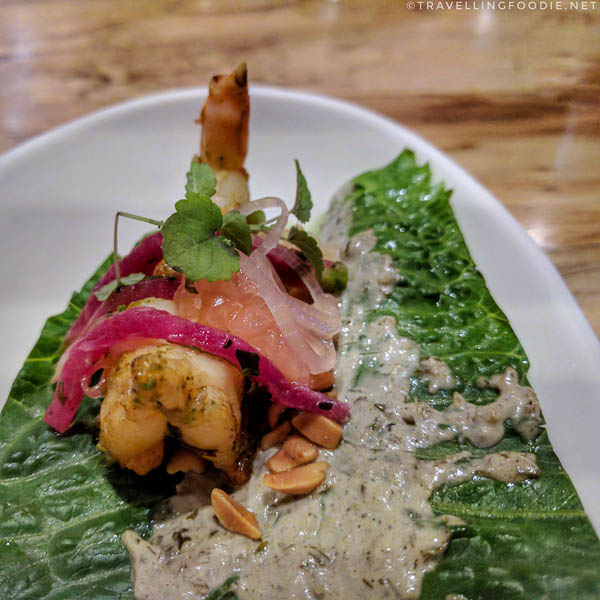 Shiitake pasta, scrambled egg, zephyr squash (bonus)
Brewery Ommegang | Rare Vos | Cooperstown (bonus)
Dry-aged Akaushi ribeye, oyster mushroom, seeded loaf
2015 Broc Cellars | Love Red | Green Valley | California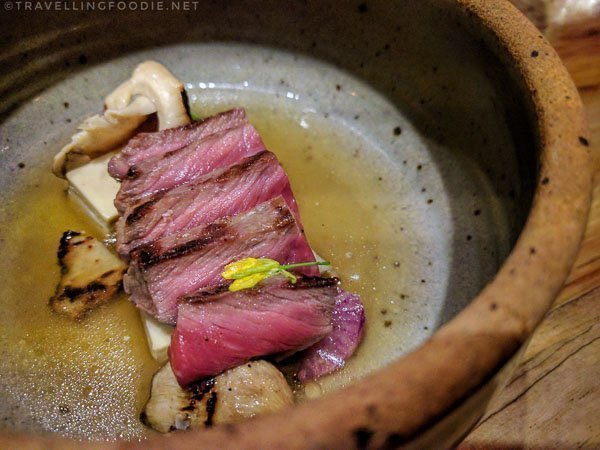 Pig skin noodles, hot sauce, almond, shrimp (bonus)
2014 Maximin Grunhauser | Herrenberg Riesling Kabinett | Ruwer Valley – Mosel | Germany (bonus)
Pork belly, cabbage, rice, Gulf XO sauce
Ascoli Piceno | Vernaccia di Serrapetrona | Marche | Italy
Glazed duck ham, broccoli, fried duck egg
2011 Mocaverol | Puteus Riserva Negroamaro blend | Salice Salentino | Italy
Somel snow, strawberry, yogurt, coriander

Hay ganache, bar nuts, milk jam
Domaine Renardat-Fâche | Cerdon du Bugey | France
Strawberry roll-up, chamomile sugar, anise meringue (bonus)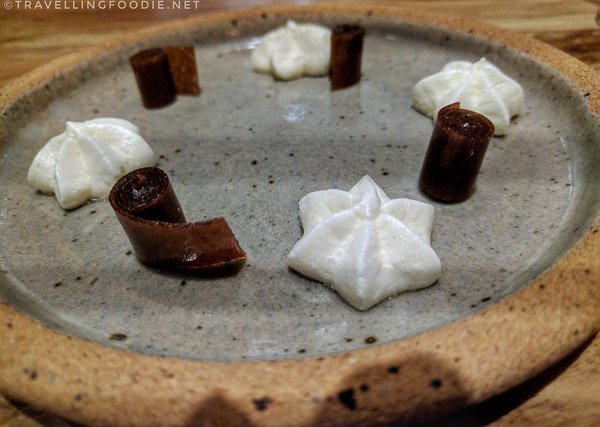 ---
Be sure to check out the rest of the Bold Food Austin Tour:
---
Bold Food Co.
Website | Instagram | Twitter | Facebook
---
---
DISCLAIMER: Though the tour was provided complimentary, all opinions are my own.
Updated: