Looking for an Ontario winter getaway? Here's how you can spend overnight in Haldimand County during winter!
When you look at the map, just south of Hamilton and Niagara lies Haldimand County, a municipality that borders on the north shore of Lake Erie with the Grand River running through it.
On an annual basis, I make about 4 to 6 trips crossing over the Burlington Skyway from Toronto to Fort Erie on the QEW, usually to visit the city of Hamilton or Niagara region on a quick day trip.
Located in Ontario's Southwest about 1.5 hours away from Toronto, Haldimand County consists of several towns which include Caledonia, Hagersville, Cayuga, Dunnville and Jarvis, naming the few bigger ones.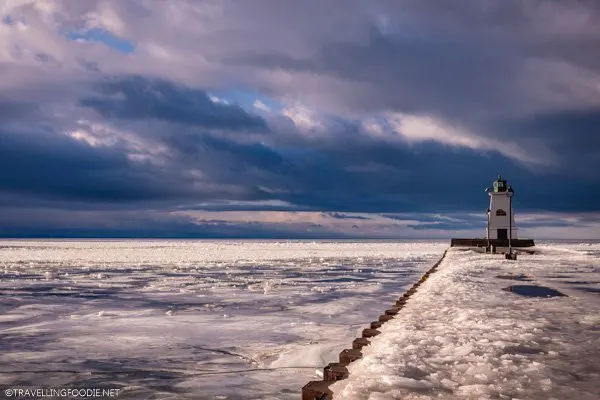 This was where we went for an overnight trip just before Spring starts to enjoy some experiences offered by the friendly locals.
For our trip out to the west, we stayed close to the Grand River area of Dunnville and Port Maitland, which is about 45 minutes from Norfolk County.
Upon deviating off the QEW and headed southbound, we were greeted by the lovely county welcome sign. Haldimand County currently has a population of about 45,000.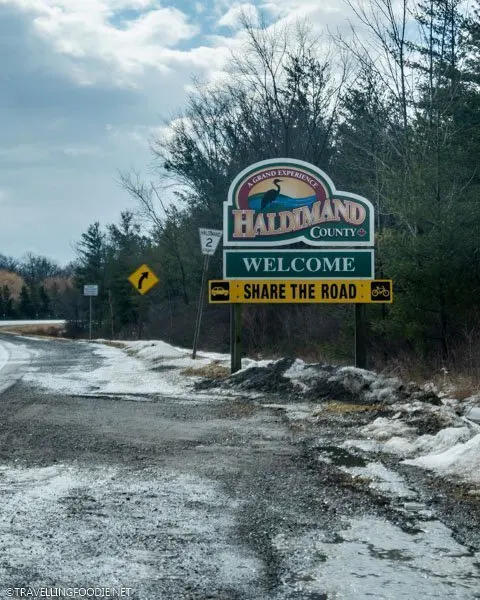 Haldimand County is known mainly for fishing (since it is along the Grand River/Lake Erie), and camping and hiking.
Did you know? Dunnville's mascot is a mudcat named "Muddy" due to the abundance of mudcats (catfish) in the Grand River.

Sports teams are named after it, and there is also "Mudcat Festival" that happens annually in the second weekend of June.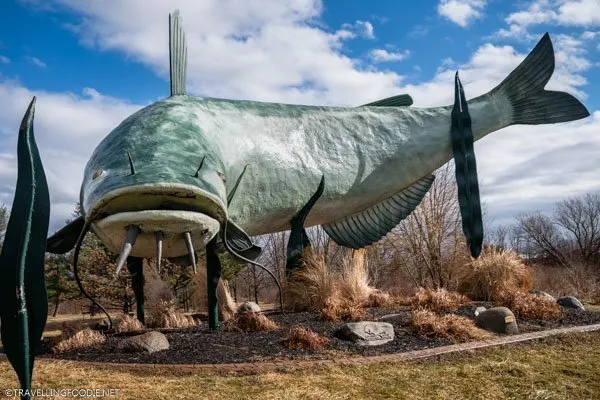 There are many things to do in Haldimand County including a variety of hiking trails, camping areas and fishing in the summer.
Although the wintertime makes it hard for us to meet Muddy's friends underneath the frozen river, we were able to meet Muddy's human local friends via various places and experiences we did.
Here's a travel itinerary on how you can spend a day and night trip featuring some of the best things to do, where to eat and stay in Dunville in Haldimand County, Ontario!
Also Read: One Night in Middlesex County, Ontario
---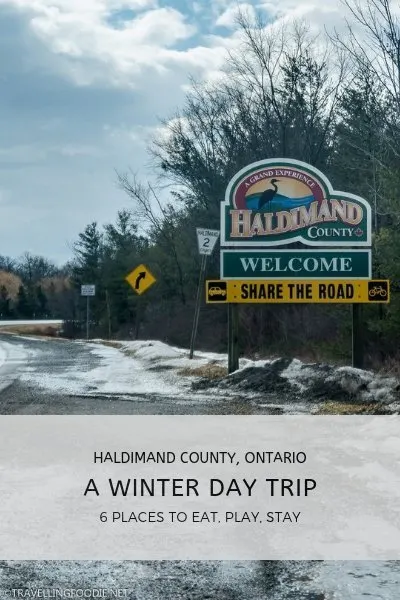 ---
Winter Overnight in Haldimand County – How To Spend One Night
The Minga
Where to eat with the locals in Haldimand County? The Minga is a community center in Dunnville.
It serves as a gathering place, a café that offers drinks, vegan products and baked goods, and an art store that sells local arts & crafts, and fair trade coffee.
The Minga is part of the not-for-profit D.R.E.A.M. (Designing Routes to Education and Mentorship) program, a working platform for students in this community to practice "WE"-centered living.
Food is locally made and/or fair traded, prepared with organic ingredients.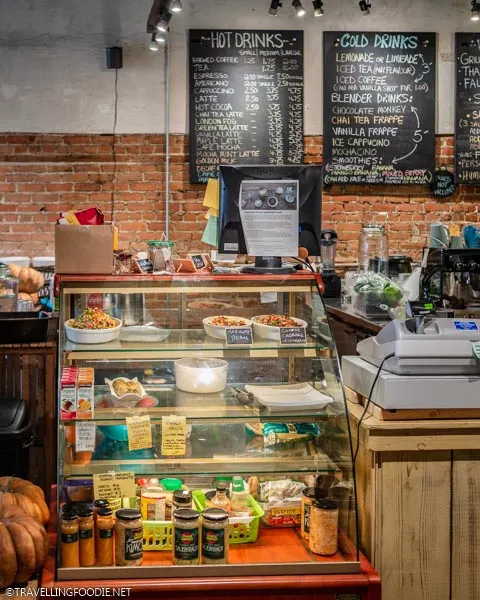 I had difficulty originally trying to come up with the classification of this place since it is listed as an 'internet café'.
It is actually much more than that and serves a very good purpose for the community here due to how much they give back.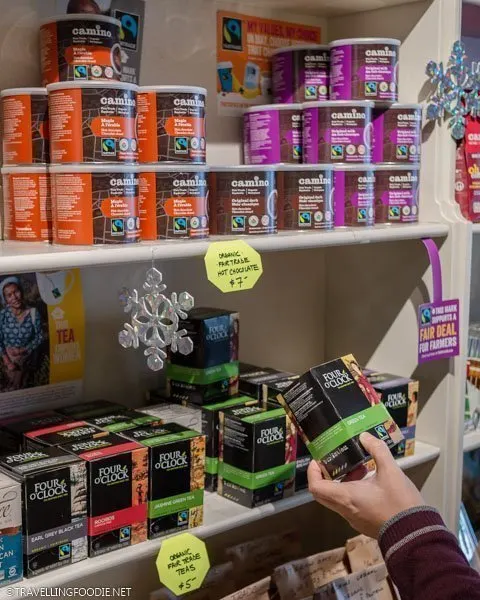 Website / Address: 146 Queen St., Dunnville, Haldimand County, Ontario N1A 1H7
---
Sweet Retro-Spect
Retro toys & candies from our childhood, British sweets, amazing flavored popcorns, and ice cream are just a few of the things you will find in this little gem in Dunnville.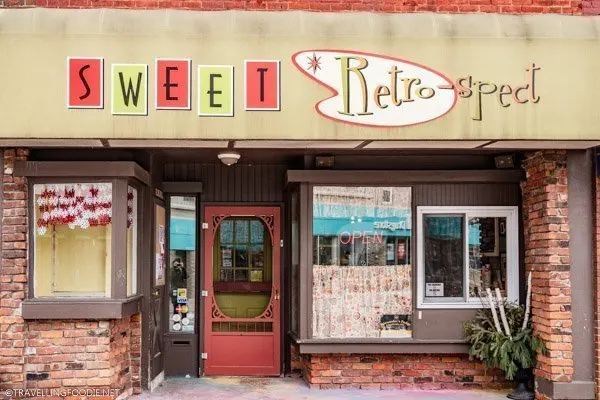 Sweet Retro-spect is well known for their fresh popcorns which filled the entire shop with the smell making us hungry! You cannot go wrong with their bacon flavors: Bacon & Cheese, Bacon & Cheese Pizza and more…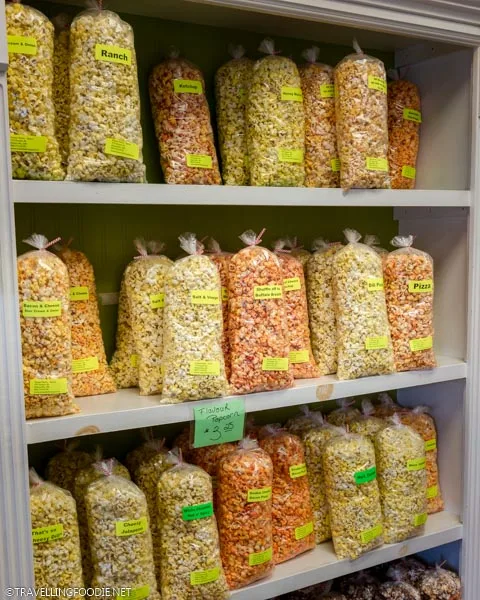 Aside from the food, there are also memorabilia such as their beloved Sock Monkey mascot, vintage Fisher Price telephone all of us likely had one when we were young, and steel lunch boxes that lined the top of the shelves.
Gift baskets are also available for purchase for celebrations for small and big kids.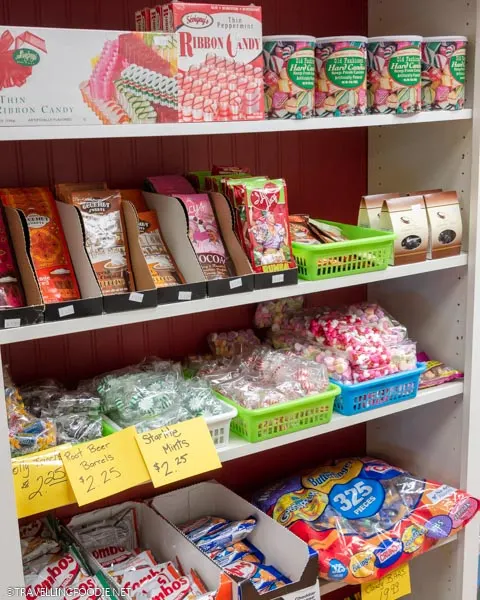 Also Read: Best of Windsor-Essex County, Ontario
Website / Address: 170 Queen St., Dunnville, Ontario N1A 1H7
---
Purple Haven Afternoon Tea Experience at Towne Cafe
The day's itinerary had the Purple Haven Afternoon Tea Experience at Towne Cafe, one of the unique things to do in Dunville during winter includes a hearty High Tea, making our own soy candle in a vintage tea cup, and mixing our own lavender chamomile tea blends to bring home.
The experience was put together by Purple Haven Lavender Farm founded by Kim Drew. Kim and her family run Purple Haven and all live on the farm – herself, the kids and her grandchildren.
Currently, the farm is closed to public and will re-open in June. They sell a variety of lavender products on their farm, at the farmer's markets and also on their online shop.
The Afternoon Tea Experience is a collaboration between the Towne Café providing the space & food, with Purple Haven providing lavender infused tea, jam, sugar and ice cream.
Towne Café on their own opens Monday to Friday serving breakfast and lunch and is run by sisters Catherine and Carol.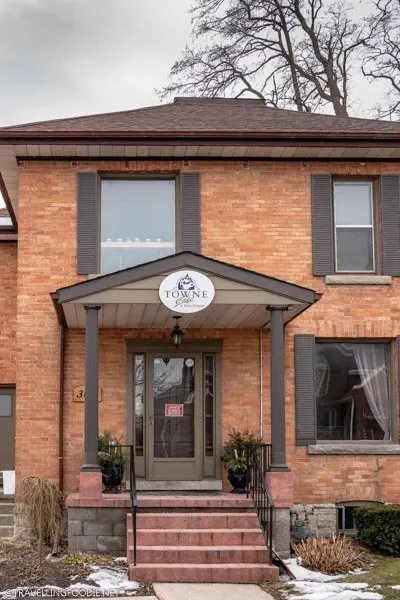 The Afternoon Tea experience was, as Kim says, a way to bring back the traditional mother-daughter tea experience that seems to have been lost over the years.
With all the wonderful vintage china available, what better way to share it than with others that are interested in this rare experience of high tea?
We started our luncheon activity with first making our soy candle.
Soy is a much cleaning way to burn for candles, producing fewer toxins than commercial candles. It is also easy to clean off.
It does need 24 hours for the wax to settle, so it was decided best we start with the candle making first and get ourselves a little worked up to enjoy the High Tea.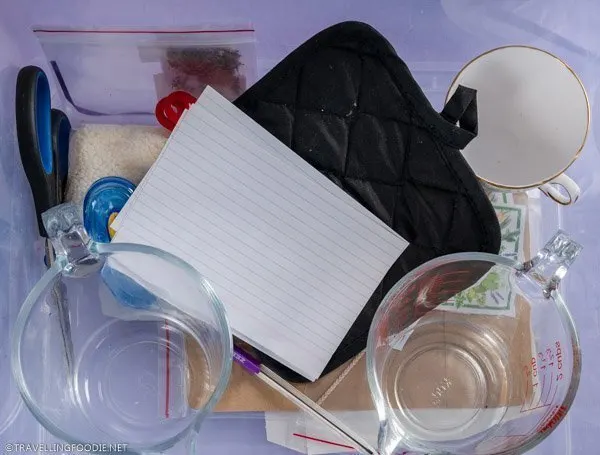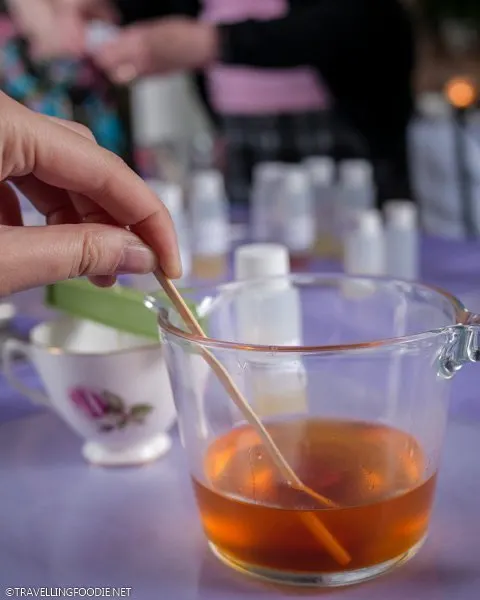 After everyone became quite full from the High Tea, we moved on to our tea blending.
Did you know? Tea blending is referred to as 'parts' rather than a true measurement of ingredients down to the milligram.

For example, if you are making a green tea blend, it will consist of 2 parts of base green tea, and 1/2 and 1 parts of various other ingredients.
Kim had printed out what each ingredient is for us, and also listed all the associated health benefits on the card. We each made 2 blends to take home with us.
I made a lavender chamomile blend for sleep, and a lavender lemonade blend for energizing.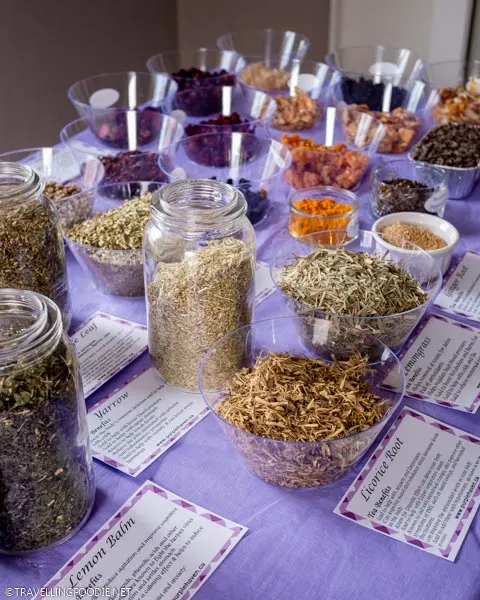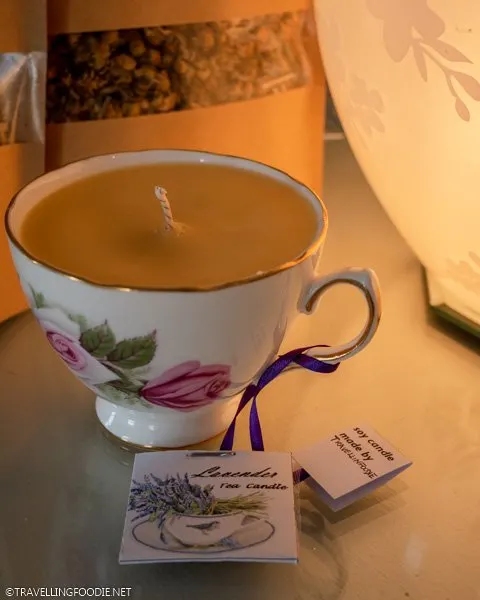 Also Read: Oxford County Cheese Trail in Ontario
Website / Address: 304 Broad St. E, Dunnville, Haldimand County, Ontario N1A 1G3
---
The Sweetest Smell on Earth Experience at Richardson's Farm & Market
The Sweetest Smell on Earth is a maple & dining experience provided by Richardson's Farm and Market, another one of the unique winter activities you can do in Haldimand County.
James Richardson is the 6th generation to be living on this farm. He and his wife Kirsten run both the farm and the market.
Not only do they provide produce and maple products, but they also offer Sugar Bush tours, school tours and also the annual corn maze in October.
The theme for the year's corn maze have not been decided yet, and will be a surprise!
2019 is the first time they have put together an experience for the maple tapping process.
It is not just a sugar bush tour but a true learning experience about trees, the area, all the way to how maples are tapped and turn sap into maple syrup.
And of course, end the evening with a maple syrup inspired meal prepared by a local chef along with live music entertainment.
The Sweetest Smell on Earth experience at Richardson's Farm & Market is available for lunch and for dinner. You can find the details for dates and cost on their website.
We joined on their first dinner session on February 23 to experience this. Before heading out to the field, James put all of us to the test in figuring out what is needed for maple tree tapping.
Once we were out in the field, James gave us lessons on the surrounding area, the trees and animals that reside in the neighborhood.
When actually asked, which of the trees here were maple, a lot of us were stumped since every tree looked the same in the winter time!
And so, everyone had a lesson on how to identify the different type of trees, most importantly, the maple! Otherwise, we will be drilling the wrong tree with no sap produced.
This area is identified as part of the Carolinian forest. It is a term used primarily in Canada even though it is characterized as North America.
In Southern Ontario, this forest includes approximately 75 different species of trees!
Once we had identified a maple tree, we used the drill to create an opening.
The drill created a hole deep enough for the sap to flow out. We did not want to drill too deep, otherwise, the tree would be damaged.
Once the sap is tapped, the sprout will be removed in the future, so the tree can heal just like how our skin heals a cut. Sprouts are never inserted into the same spot as the flow vertically will not be as great as the fresh tap.
The next time this tree is tapped again, it will be drilled in a different place right or left of this tap.
In the middle of the woods, we had a hollowed out log that was filled with sap. A file was lit beside the log with rocks that were heated hot.
We took turns using tree branches to put the burning hot rocks into the sap in the log.
The end result was a very delicious smell of maple produced from the evaporation of the sap off the hot rocks. This might really be the sweetest smell on earth for me!
We then moved on to experience making maple taffy. I haven't made one since I was in grade school and this brought back memories of my tongue being stuck on snow/ice and very sticky business with taffy in my hair.
The maple was boiled in a pot until the bubbles roll inwards to the middle of the pot. Once the rolling started, we were ready to pour them out for taffy stick rolling!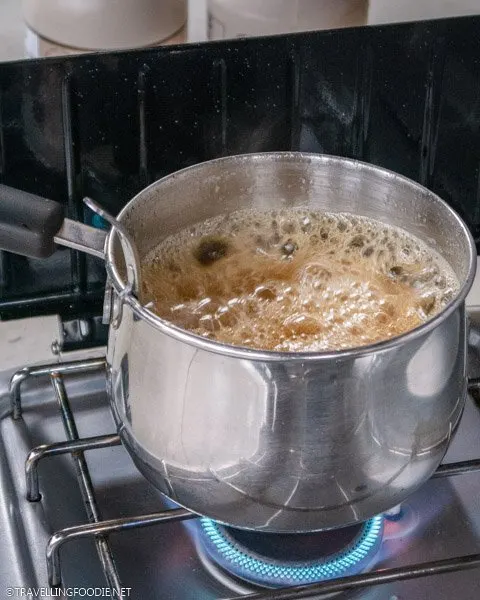 We were then taken to the sugar shanty, also know as the sugar shack, where the boilers are located. This is where the maple sap is boiled down into maple syrup.
Did you know? It takes about 40 liters of maple sap to make 1 liter of maple syrup. That is a lot of sap the maple trees need to produce for our bottle of maple syrup we enjoy on our table top.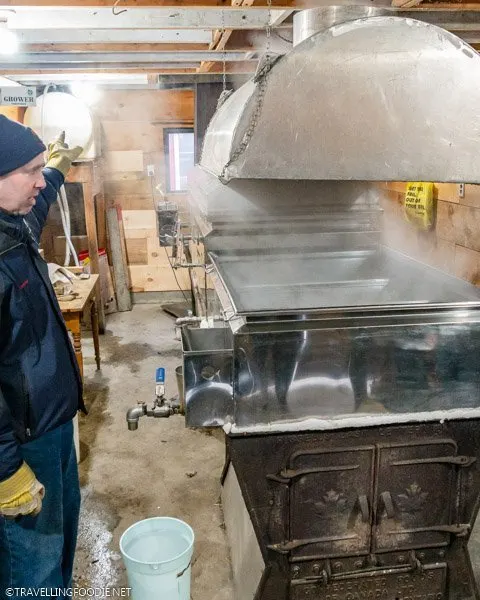 To conclude the maple tapping experience, we then made our own bottle of maple syrup.
By the time we made our bottle of maple syrup, everyone was hungry and needed some warmth from the outdoor cold.
Meal was served just in time! Our dinner was provided by DEBB'S Cuisine on Queen, which you can learn more here.
I was telling James that I rarely know how to cook with maple syrup aside from using it as a glaze on my meat, so their menu will give me inspiration on what I can do with my pure maple syrup at home.
The dinner was a four course meal starting with the hor d'oeuvre, a salad for appetizer, a meat dish and a creamy dessert.
I personally liked the pork belly slider the most as the cider/maple was a great sauce to go with the pork belly.
The coffee crusted pork loin was delicious on the maple veloute. The coffee provided a bit of bitterness to the meat but is offset by the maple sweetness.
Lastly, the dessert gave me ultimate food coma as the richness of the praline and the maple just melted in my mouth.
Let's just say that, after the meal ended which was about 7PM, I was already ready to have a large cup of coffee to keep myself awake.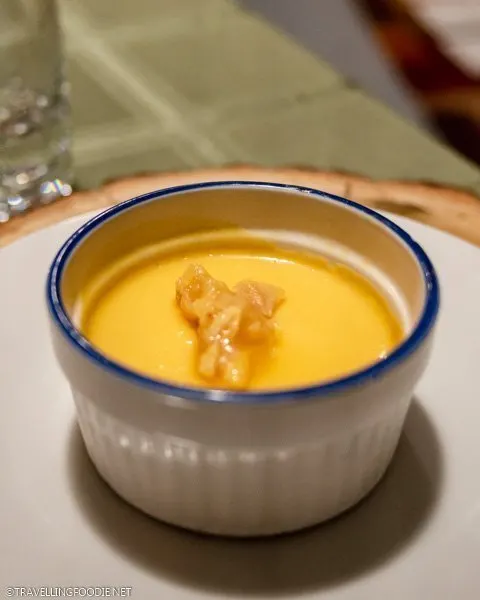 Local musicians came in to perform during our dessert & coffee time playing bluegrass music.
Did you know? Bluegrass is a form of American roots music, which is along the lines of country music. It is based on English, Scottish & Irish traditional music.
Also Read: Winter Day Trip in Port Hope, Ontario
Website / Address: 131 River Road, Dunnville, Haldimand County, Ontario N1A 2W3
---
My Lighthouse Cottages
Following our very filling dinner, we stayed overnight in Port Maitland at one of the four cottage units of My Lighthouse Cottages, one of the best places to stay in Haldimand County.
The cottages are located near the mouth of the Grand River flowing into Lake Erie. It is across from Port Maitland Pier and next to a public beach, all within a 10 minute walk from the door.
Lodging with a view is the best! If you choose to wake up with the blinds opened, you will see a clear view of the Grand River directly across the road.
I took a walk in the morning to the pier just to enjoy the calmness of winter, and the smell of flowing water before everyone else come out and take a morning walk.
Check availability and pricing of My Lighthouse Cottages on Airbnb
Address: 2 Dover Street, Dunnville, Ontario N1A 2W6
---
Flyers Bakery & Café
After our walk out at the pier at Port Maitland, we drove back into Dunnville to grab a hearty breakfast. We went to the Flyers Bakery and Café, which is located just to the right of The Minga.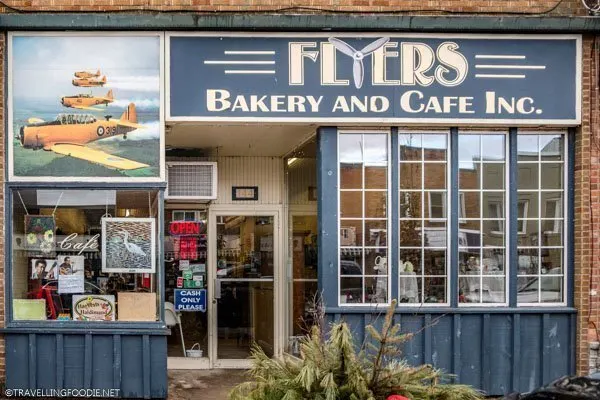 Flyers Bakery and Cafe is an aviation-themed café that contains an antique store front. It is open 7 days a week and serves all day breakfast on top of their regular breakfast & lunch menu.
They also make their own pies, desserts and bread as well. Live entertainment are held on Saturday nights.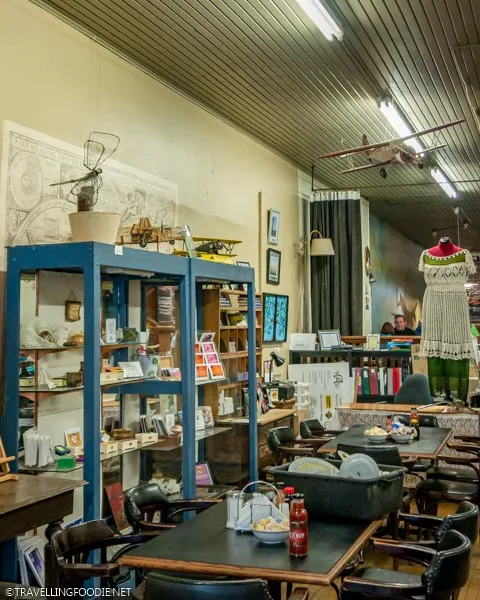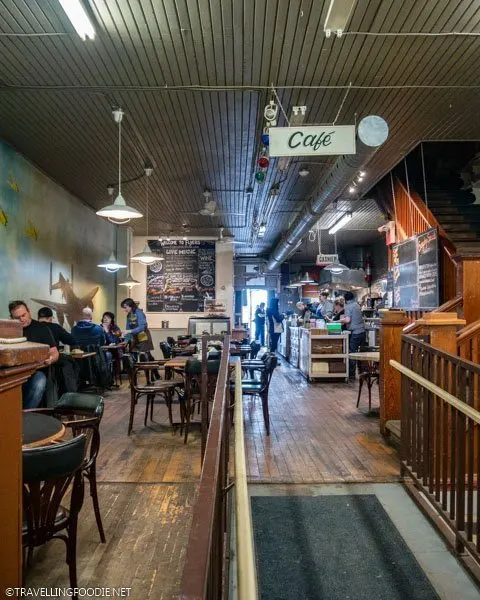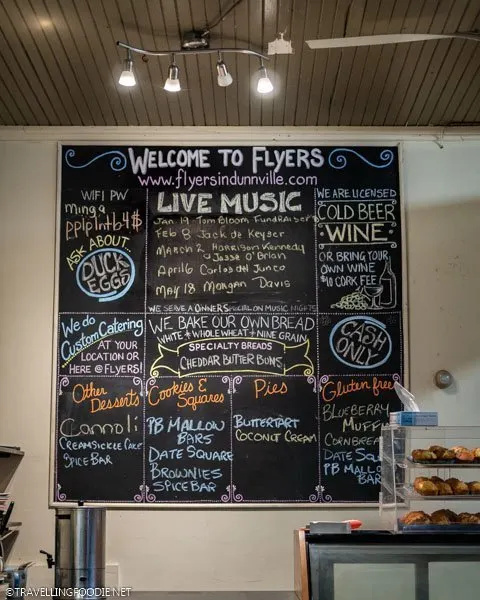 After this, we lifted our stomach and drove back out to Toronto, drove by Muddy and said our goodbyes.
After having a short taste of Winter here, I know for my next winter trip to Haldimand County, I will bring my fishing gear and snow shoe to enjoy the outdoors.
Perhaps I will come back in the Summer and fish some real 'Muddy' from the Grand River.
Website / Address: 144 Queen Street, Dunnville, Ontario N1A 1H7
---
MAP: Overnight in Haldimand County Winter Trip
Here's a map of all the places to eat, play, stay in Haldimand County, Ontario covered in this winter overnight trip itinerary.
---
Hope this Haldimand County travel guide gave you a nice itinerary with things to do, places to eat and where to stay in Dunnville! Now you know how to spend a day trip or overnight in Haldimand County, Ontario.
I love getting recommendations for my next visit. Please let me know what you find are the best attractions and restaurants in Haldimand County for me to check out.
---
Huge thanks to Ontario's Southwest and Haldimand County Tourism for sponsoring this post. As usual, reviews and opinions are entirely my own.
You can learn more about Ontario's Southwest thru their website, or find them in Facebook, Twitter and Instagram.
… and about Haldimand County thru their website, or find them in Facebook and Twitter.
---
Article written by Veronica Chiu.