Looking to try street food on your trip in India? I'm dishing out these 18 must-try popular Indian Street Food and Drinks that I tried during my trip to India.
If it's your first trip to India, everything about India seems magical, unexplored and unexperienced.
With an exotic culture and mysterious vibes, India is decorated with wondrous sites and scenery which gets your exploring more.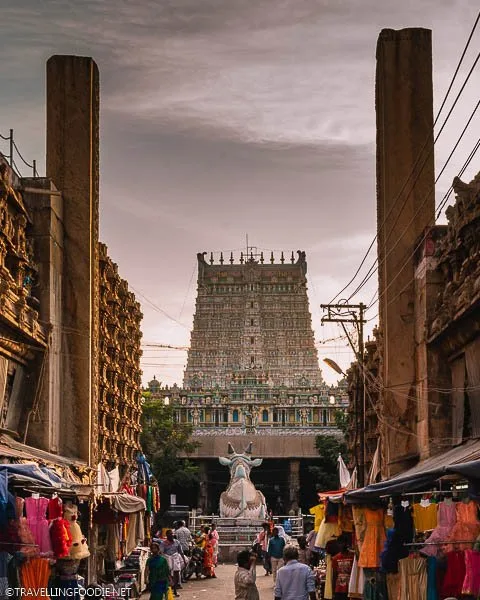 One thing that impressed me the most during my trip to India is that it never broke away from its roots and culture…
This includes the countless number of local food and cuisines!
A trip to India is not complete without trying Indian street food, a genre of Indian cuisine that is so prominent and vast that one trip won't be enough.
Follow on Instagram @TravellingFoodie for more food inspirations
---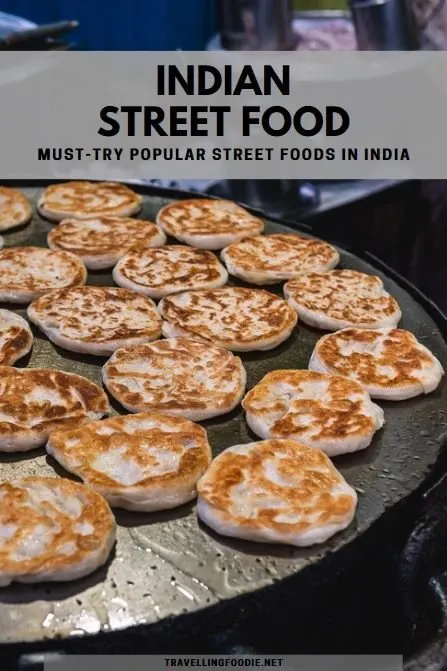 ---
Ultimate Guide to Indian Street Food
Indian street food is rich in flavors and is laden with diverse herbs and spices, creating a treat for every sense.
In this food guide, I'm covering some of the most popular and authentic Indian Street Food from the common ones like dosa and Chai tea to regional ones like jigarthanda and murukku sandwich.
I also included the restaurants, street food vendors and the street food tours I did.
This Indian Street Food Guide only covers the ones that I have personally tried and visited.
It will be updated as I explore more street foods in India so be sure to save/pin/bookmark the page!
Also Read: 4 Indian Recipes For An Authentic 3 Course Indian Meal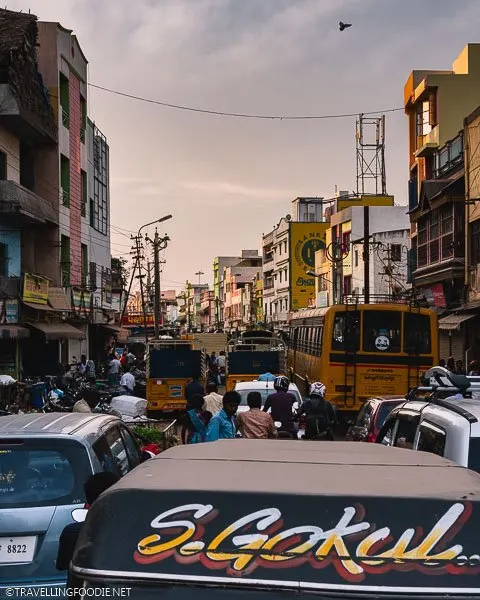 Indian Street Food Tours
I did two Street Food Tours in India as part of my South India tour with Travel XS.
These were such great ways for me not only to try Indian street foods but also to learn about the history and culture behind the dish plus the sites and neighborhood you're in.
I find street food tours are one of the best ways to explore culinary in a destination you might be unsure how to navigate like India.
If I didn't do a tour, I would've been lost in the myriads of small streets and alleyways we had to maneuver to visit these hidden foodie gems.
Madurai Street Food Tour
I spent two days in Madurai in the middle of my trip.
One afternoon was dedicated to an Indian Street Food Tour with local guide Sam Luke Vetharaj.
We started with Vada, Chilli Baji and filter coffee and ended the day with Kal Dosa and Jigarthanda, a signature drink that originated in Madurai.
Watch this YouTube video of the Madurai Street Food Tour where we tried 9 popular Indian Street Food dishes.
Chennai Street Food Tour
On the last day of my trip, I did a Food Trail with Storytrails in Chennai before heading to the airport.
Our group met at George Town, a busy historic commercial zone, and from there we explored markets, sites and visited nooks and alleys for local gems for street food including the oldest restaurant in George Town.
Watch this YouTube video of the Chennai Street Food Tour where we tried 6 popular Indian Street Foods.
Also Read: Texas Barbecue Tour in Austin, Texas
Best and Popular Indian Street Foods
Here are some of the best and popular Indian street food and drinks to try, ordered alphabetically.
Almond Milk / Badam Milk (बदाम दूध)
With origins from Islamic and Christian cultures, Badam Milk is one the creamiest drinks to be made anywhere in the world, following a simple recipe to make this popular Indian drink.
Although the original Mediterranean preparation of Badam Milk only used almonds and water, this alternative includes more Indian ingredients: a spoonful of sugar, saffron (kesar), almond chunks, rosewater and cardamom (elaichi).
Good for all occasions, this Indian street food is particularly very popular during the Indian festivals of Holi and Mahashivratri.
This dairy-free drink also gained attention among lactose intolerant people and has risen to be an all-time special on the menus of many cafes in India.
Popular in all major states across India, Almond Milk is a famous summer beverage when temperatures are hot and humid, and you want to have a refreshing and cold drink.
Aside from high-end restaurants, Badam Milk can easily be found on the busy streets of India sold by street food vendors, offering the exact same richness and flavors.
I had this Indian street drink at Kakada Ramprasad, the last stop of the Chennai Street Food Tour with Storytrails.
It was a sweet and refreshing way to end the tour, especially since I was sweating from the heat.
I love the strong almond taste that that's infused with the water on top of the chunks.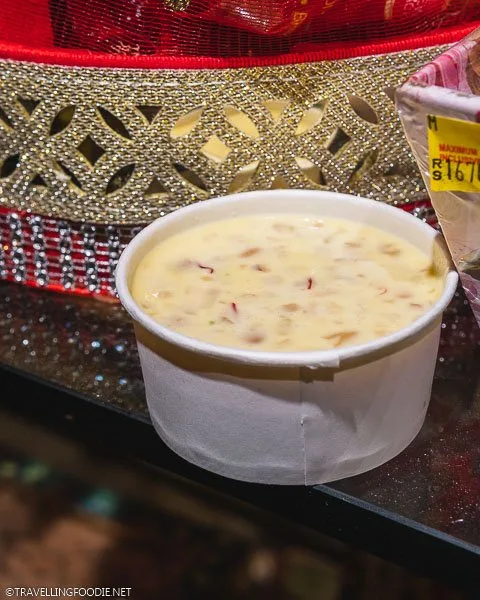 Also Read: Nova Scotia Food Guide
Bonda (बोंडा)
Prepared by dipping a spiced up potato filling in gram flour batter and deep frying, Bonda serves as one of the perfect Indian dishes for the evening snack time, made in different sweet and spicy variations.
Though Bonda is believed to have originated in Mysore, it's still a Indian street food among the whole of South India with every state having its own variation.
The most common spicy Bonda filling is made with grated potatoes with variations including sweet potatoes, tapioca, pineapples, hard-boiled eggs, etc.
All the variations are equally high on spices and condiments.
The spicy filling is made with potatoes (or any other base substitute), ginger, salt, green chillis, coriander powder, saunf (fennel seeds), mustard seeds, turmeric, curry leaves, onions, cumin seeds (jeera), garam masala and lemon juice.
Coriander leaves are used as a garnish sometimes as well.
Served with a green mint or red tomato chutney (sauce), Bonda could be that one small and easy route to experience the richness of south Indian delicacies.
Bonda's popularity is not limited to South India alone.
Various street food vendors in North India are solely dedicated to South Indian food and Bonda is an all-time favorite among the locals there.
I tried Bonda at New Prakash Bhavan Pure Vegetarian Restaurant during the Chennai Food Trail.
It sort of reminded me of Vada but I enjoyed this more because of the flavourful potato filling, which I prefer over lentils.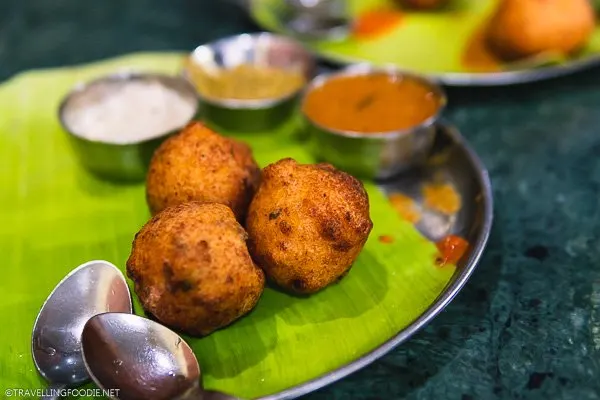 Also Read: Tasting Menu at The Song of India, Michelin Restaurant in Singapore
Chai Tea – Chai (चाय)
Chai Tea needs no introduction as it's probably the most popular Indian drink in the world!
Chai is one beverage which has been ruling the hearts of Indians.
Imagine a fragrant, spicy, milky beverage emitting the most intoxicating aroma along with a serene taste.
Those are the wonders of this Indian street drink.
Long before Chai Tea Latte was a thing in western cuisines, Chai used to be the start of any normal day for most Indians and it still is to this day.
Chai Tea, also called Masala Chai, is prepared by brewing black tea with a variety of spices and herbs.
First, water is simmered with cinnamon, whole cloves, star anise, green cardamom pods, ginger, ground black pepper and fennel seeds and black tea leaves.
Milk and granulated sugar are added afterwards and boiled on a low flame.
After brewing for an amount of time, Chai tea gets ready to be served
Did you know? Traditional Indian Chai Tea is typically brewed and served in clay pots called Khullad.
The tea leaves are majorly produced in Assam in India and distributed all over the country and exported to the world as well.
Chai Tea or masala chai should definitely be in your list of must-try for Indian street food and drinks.
Chilli Bajji – Mirchi Bhajji (मिर्ची भाजी)
Chilli Bajji is exactly as it sounds: chilli for snacks!
That is one of the crazy snacks you will be able to get your hands on in India.
With its exact origin unknown, Chilli Bajji originated somewhere in the Indian Subcontinent and is a widely eaten snack in the whole of North, West and South India.
Made by frying whole peppers dipped in mixture of gram, corn and rice flour flavored batter, Chilli Bajji or Mirchi Bhajji is eaten as an appetizer in most restaurants and street food corners in India.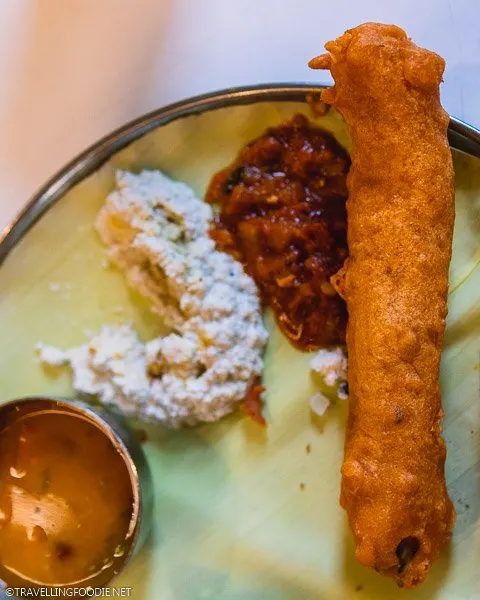 The chillies used in this dish are big, light green in color and far less spicy than the common small green chilli.
The chillis are sliced vertically from the middle without cutting them apart and the seeds are removed to decrease the spiciness even further.
Batter is then prepared by mixing rice, gram and corn flour.
Salt, cumin seeds, red chilli powder, asafoetida (or asafetida) and baking soda is added to get a flavorful and thick batter with a good enough consistency to coat the chillis, which are then dipped in the batter and deep fried in oil and served piping hot.
Initially famous in Gujarat, Karnataka, Tamil Nadu and Maharashtra, Mirchi Bhajji or Milagai Bhajji is now an all-time favorite snack available all over India on street food corners.
I tried Chilli Bajji at Sri Sabareesh Restaurant during the Madurai Street Food Tour and I love the crispiness with the heat.
This Indian street food is definitely spicy (at least mine was because the seeds were still there) and you'll want some Chai tea to wash it down.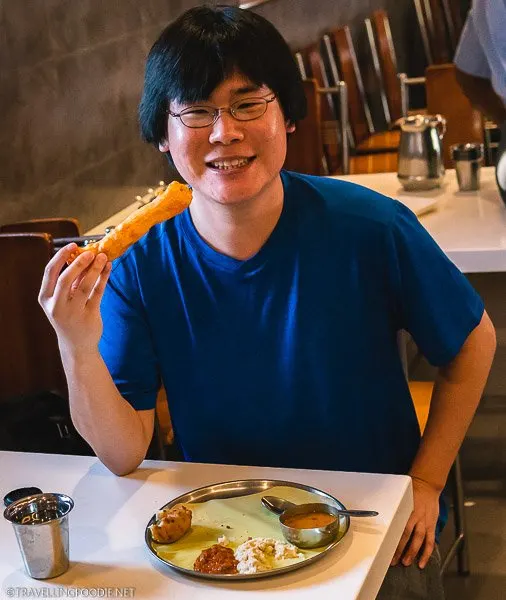 Also Read: Korean Food Guide
Dahi Puri Chaat (दही पुरी चाट)
Originating from Mumbai, Maharashtra, the financial capital of India, Dahi Puri Chaat (or Chat) is so fantastic that it can leave you craving for five more servings even if you have just finished three.
Did you know? Chaat means "to lick". These flavor bombs are not just good but finger-licking good.
With this Indian street food, a hole is popped in the hollow puris (small puffed spheres) and then stuffed with finely salted chopped tomatoes, potatoes, onions, etc. and topped with some sprinkled chili powder and chat masala.
Finally, a generous amount of thick curd is poured over the stuffed puris and coriander leaves are sprinkled on top to complete the dish.
The final dish is served with a sour & sweet mouth-watering imli chutney (tamarind sauce) and green mint chutney.
While the base ingredients include more or less the above, there is a different variation for every state and city all over India.
Most North Indian street food vendors and restaurants serve it with an additional pomegranate topping and others prefer a chickpea filling along with potatoes and tomatoes.
Regardless of the fillings and toppings, Dahi Puri Chaat always has that perfect blend of sweet and spicy that we all expect from a famous Indian snack.
I had this highly addictive snack at Chotu Motu Sweets & Savouries during the Chennai Street Food Tour.
We had to navigate quite a bit of alleyways to get to this spot, and it was worth it!
This is why it's good to do a food tour because I don't think I'll find this place on my own.
Be sure to watch as they make the Dahi Puri Chaat fresh on the spot!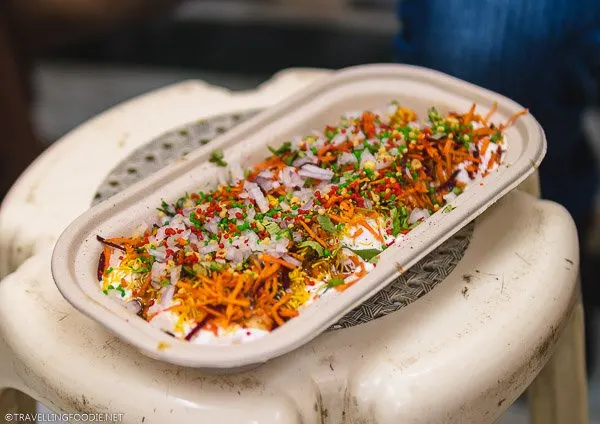 Dosa (दोसा)
The glory staple dish of South India, Dosa is one of the most enjoyed treats not only in the Indian subcontinent but across the globe as well.
This Indian street food was pretty much available in all the restaurants I visited during my trip.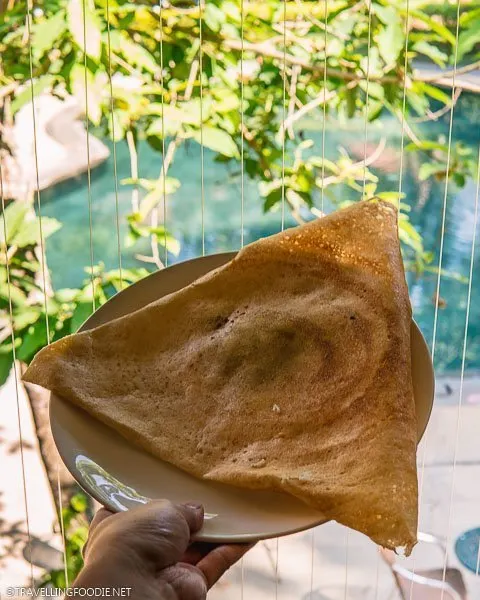 Made with a rice-lentil flour batter and cooked like a crepe, the thin, crispy Dosa is usually enjoyed by dipping in traditional accompaniments of vegetable sambar, freshly-made sweet coconut chutney and a tangy tomato sauce.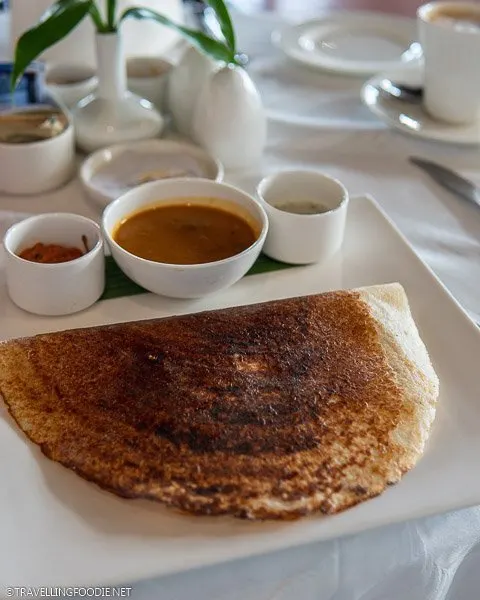 Though it has similar ingredients as Idli and Kal Dosa, the preparation of this Indian street food is entirely different.
For Dosa, all the ingredients (rice, black gram lentils and fenugreek seeds) are mixed together then soaked in water, ground to a batter then fermented.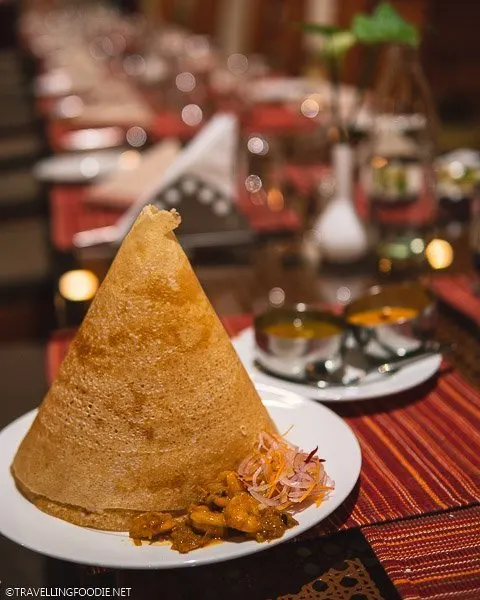 A delectable way to start the day with a burst of appetizing tastes, the delicacy is often indulged in as a breakfast dish.
Watch the YouTube video on how to make cone dosa at The Elephant Court below.
One of the most popular version of Dosa is the Masala Dosa.
This South Indian staple is folded over a potato filling to balance the crispy texture with the tenderness of the potatoes.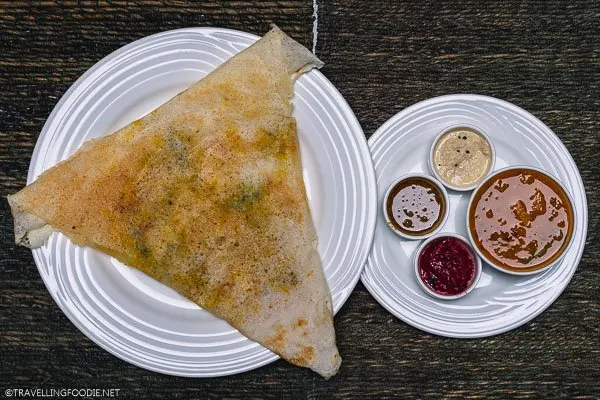 The dosa soaks up the flavours of the sambar and different chutneys to give a flavour explosion that you can mix and match.
I was obsessed with Masala Dosa during my trip in India and would typically have it for breakfast every day.
I honestly love this Indian street food more than pancakes!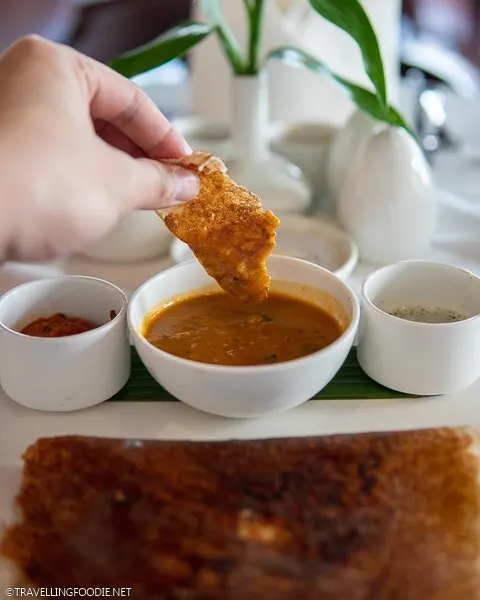 Watch the YouTube video on How To Make Masala Dosa at Maison Perumal in Pondicherry below.
Interestingly, in Madurai, they also have their own signature dosa called Mutton Kari Dosa, which puts regular pancakes to shame.
This must-try stuffed dosa includes scrambled eggs, chopped mutton, herbs and spices.
Watch how they make this specialty at Heritage Madurai.
Filter Coffee (फ़िल्टर कॉफ़ी)
Just as Chai is of essence to North Indian states, Telangana and Kerala, coffee is seen as something of cultural significance in Tamil Nadu, Andhra Pradesh and Karnataka.
This coffee is what made Madras Coffee House a successful coffee chain all over India.
Filter coffee is a special South Indian way of brewing coffee by extracting the flavors from coffee beans by using infusion.
The coffee beans are brewed and filtered using a coarse surface like filter paper.
The extracted flavor is then infused with boiled and frothed milk resulting in a thick beverage known as filter coffee.
This Indian street drink is traditionally served in a stainless-steel glass or tumbler resting in a Madras style dabarah, a saucer with lipped wall.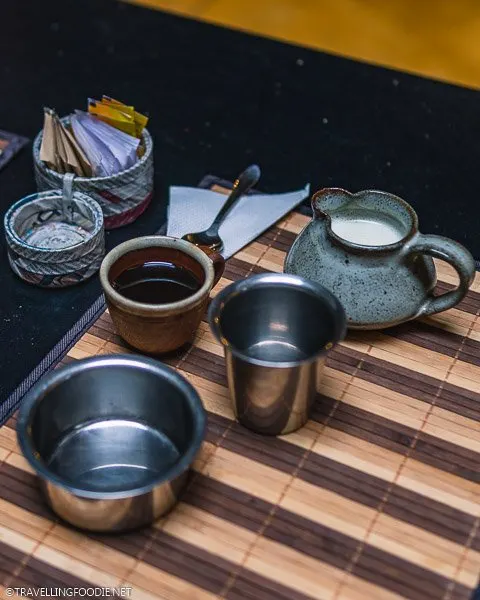 The coffee is flipped back and forth multiple times in between the tumbler and dabarah in huge arc-like motions of the hand, and then served to the customers.
Doing this aerates the coffee, ensures the milk, sugar and coffee are properly mixed, cools the coffee down to sipping temperature and also adds the foam on top.
You can ideally cool down the coffee in dabarah and then drink it, although most people prefer to have it straight of the glass or tumbler.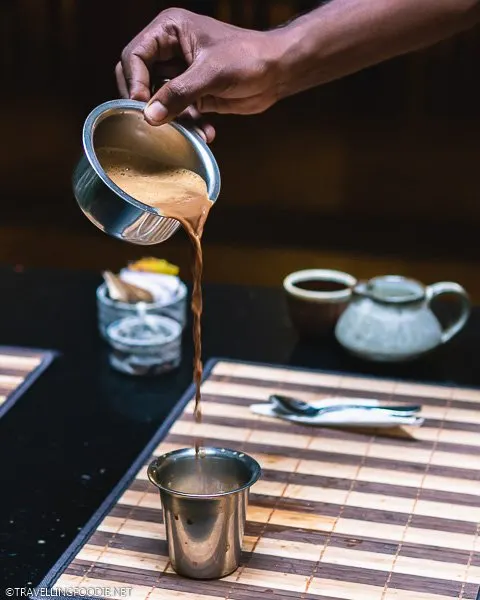 It is commonly believed that coffee was introduced to India by Baba Budan, a Sufi saint from Karnataka, who was on a pilgrimage to Mecca in Saudi Arabia.
He discovered the coffee on the trip and brought it back to his country.
Originated in South India, now filter coffee is an undeniable part of Indian streets and restaurants and thela (street food carts).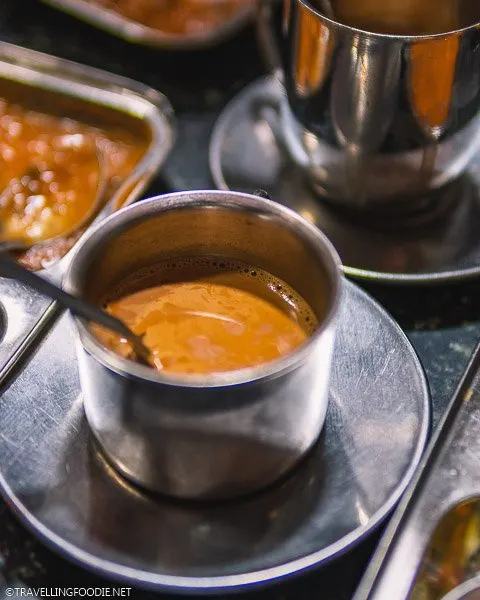 Being a coffee-holic, I was hooked on filter coffee the first time I had it for breakfast at Maison Perumal in Pondicherry to the point that I had three cups straight.
I love the strong taste of coffee without feeling acidic.
Watch the YouTube video on How To Make South Indian Filter Coffee at Maison Perumal below.
Also Read: Traditional Filipino Food – 18 Best Filipino Dishes To Try in the Philippines
Jigarthanda (जिगरठण्डा)
Jigarthanda is the most iconic Indian street drink in Madurai that the city of Madurai has its trademark on this fantastic summer beverage from South India.
Ideally made with almond gums, milk, nannari syrup (sarsaparilla root syrup), sugar and ice cream, Jigarthanda got its popularity after the release of the hit 2014 movie named Jigarthanda which literally means cold hearted.
Using the word in a rather different way, the drink Jigarthanda was made to be a delicacy which cools you down to your very heart and soul during the scorching heat of Indian summer.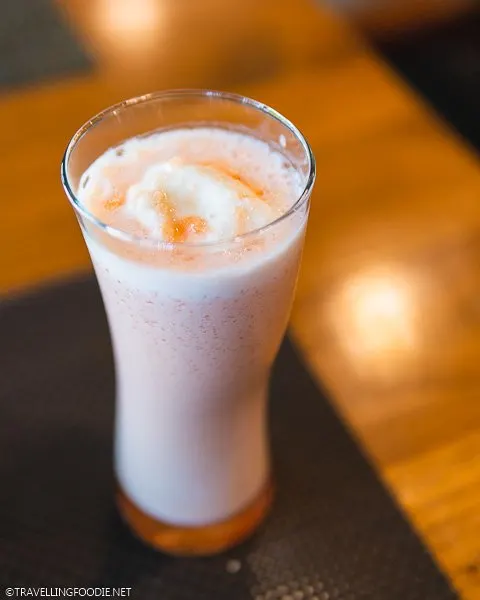 To prepare this Indian street drink, almond gum is soaked in water overnight so that it swells the next day by absorbing water.
Full fat milk is boiled until half the quantity is left.
Then all the ingredients are assembled in tall glasses starting with a generous amount of almond gum (or Badam Pisin) and Nannari syrup.
In places where Nannari syrup is not easily available, people replace it with rose water.
The glasses are then filled 3/4th with the thick reduced milk, and the beverage is then topped with a scope of rich vanilla ice cream.
In our last stop for the Madurai Street Food Tour, we visited the original location of Famous Jigarthanda shop to try this popular drink.
It's cold, sweet and refreshing!
And definitely a great way to end a hot day of Indian street food tour.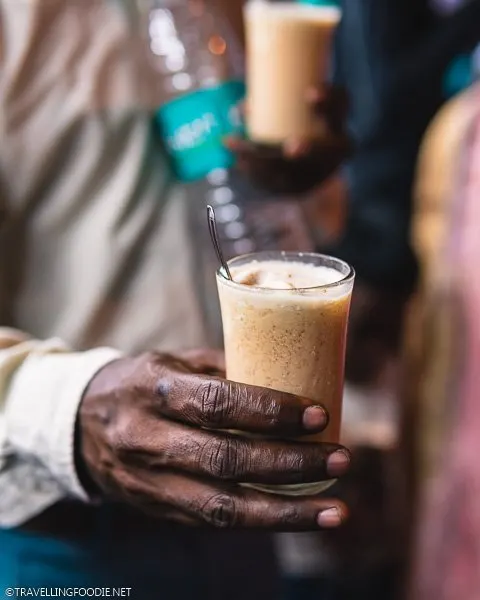 Idli (इडली)
Another South Indian street food specialty, Idli is fermented rice and lentils cakes.
There has been debates as to Idli's origin whether it originated from South Indian states or from Indonesia where chefs appointed by kings of Indianized areas brought it back to India.
Idli is made by soaking separately: rice with fenugreek seeds, and Urad Daal (or Black Gram Lentil) for hours and ground into its own batter.
They are then mixed together and fermented for 24 hours.
A certain mould, known as an Idli mould, is used to make the cakes.
The mould is filled with batter and then steamed in a container similar to dumplings.
Traditionally, Idli is eaten with sambar (lentil curry cooked with vegetables) and coconut chutney.
This Indian street food is one of the popular healthy breakfast food in India because of its ingredients.
Rice and Urad Daal makes the perfect combination of protein and healthy carbs packed in a meal.
The lentil curry serves as an additional source of protein and other vitamins.
Aside from breakast, Idli and sambhar is also commonly served in South Indian weddings and other functions.
It may not be a popular dish in North Indian weddings and such, but you can find Idli sambhar on the street food menu in almost every North Indian state.
I tried Idli at Murugan Idli Shop, one of the most popular restaurants in Madurai for Idli.
This reminds me more like pancakes unlike dosa that is more like crepe.
What's great about this is the thick and sponginess of idli absorbs the sauces so well!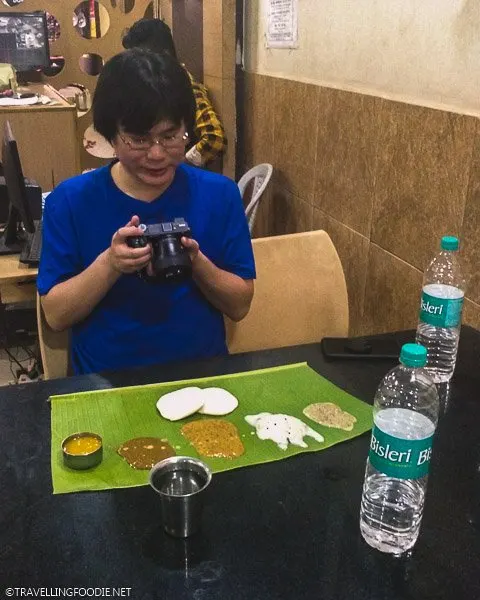 Idiyappam / String Hoppers (इडियप्पम)
You will find Idiyappam a bit more unique than other Indian street food dishes because these String Hoppers are also known as South Indian version of Ramen Noodles.
To make Idiyappam, rice flour is roasted in coconut until golden brown.
Then using pre-boiled hot water, the flour is kneaded into a soft dough.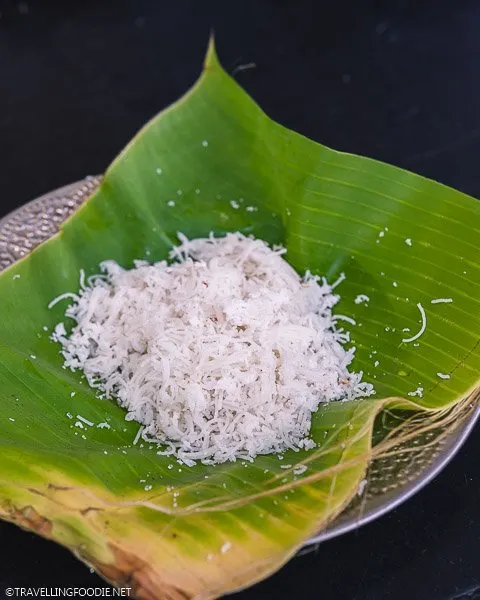 Idiyappam mould is used to shape and press the dough and make noodles.
Then the rich dough noodles are put in a steamer or pressure cooker filled 1/4th with water then steamed.
There you have your Idiyappam.
The process is a lot trickier than it sounds and takes a lot of hard work to execute the recipe.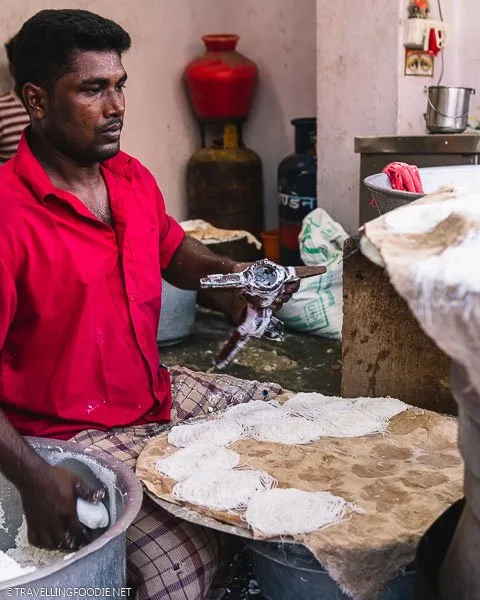 Idiyappam is typically served with coconut sprinkles and coconut syrup or chutney on top.
It is a very popular street food in both South India and Sri Lanka.
There are many other countries which adopted the dish in their own modified versions such as Putu Mayam (Malaysia) and Putu Mayang (Indonesia).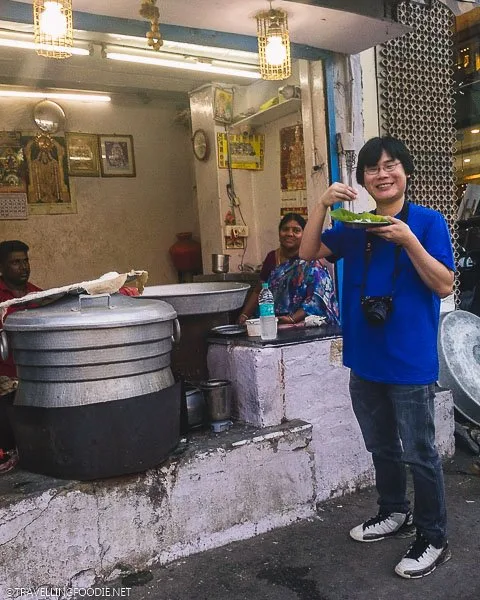 It was my first time having this Burma Idiyappa Kadai, the oldest and original vendor of Idiyappam in India, during the Madurai Street Food Tour.
It's a very simple tasting dish but it's highly addicting!
And quite healthy for a street food.
Watch the YouTube video on How To Make Idiyappam at Burma Idiyappa Kadai in Madurai below.
Also Read: Avial Recipe – Kerala Mixed Vegetable Curry
Kal Dosa / Kal Idli (कल इडली)
Slightly different from the typical South Indian crepe Idli, Kal Idli got its name from the way it is prepared.
Idli is South Indian crepe which is made with fermented rice and lentils batter.
Unlike Dosa which is made on stainless steel stove or Teflon coated plates, making it possible to spread the batter to form a big and a very thin circular crepe, Kal Dosa is thicker than Dosa due to the fact that it is prepared on a flat stone vessel or plate called tawa.
Did you know? Kal, which means Stone in English, gave this dish its name: Idli cooked on a Kal Tawa.
The batter is prepared by soaking rice with fenugreek seeds, and Urad Daal (lentils) separately overnight.
Both rice and lentils are then grinded separately to a thick paste, combined, and kept for 24 hours (minimum) for fermentation.
The same technique in pouring and spreading of batter like Dosa is used on a stone tawa to get round, thick and fluffy Kal Idli.
Served with Sambhar (lentil curry with South Indian condiments) and coconut chutney, this Indian street food is also enjoyed with Aalo bhaji (mashed potatoes sautéed with cumin and spices).
An authentic South Indian style Kal Idli is perfect to taste the original ways and flavors in the intended way.
I had Kal Dosa at Murugan Idli Shop during the Madurai Street Food Tour and was first surprised that it was thick unlike the regular dosa.
According to Luke, Kal Dosa is actually what is more commonly served at home.
You would only find the regular thin dosas in restaurants.
Kuzhi Paniyaram (कुझि पनियारम)
The most commonly used ingredients in South Indian dishes are Rice, Urad Daal and Coconut.
With these ingredients, Kuzhi Paniyaram is another South Indian delicacy most commonly eaten as a street food or morning/evening snack.
Using the same fermented batter as Idli or Dosa, a special mould/utensil called Paniyaram Pan is used to make the dish.
The result is a ball-shaped dough that's crispy on the outside and soft and moist on the inside.
More popular as a South Indian street food, Kuzhi Paniyaram has approximately seven different variations.
Keeping the base ingredients same, most variations introduce one or two new ingredients to tweak the taste.
For sweet variations, you'll find palm sugar (jaggery) and cardamom are added.
For savoury variations, you'll find the addition of carrots, green chillies, onions, coriander leaves and curry leaves.
Served with coconut chutney, Kuzhi Paniyaram is known by variety of names within India: paddu, masala paniyaram, gundu pongala, gunta ponganalu and guliyappa.
I tried both sweet and savoury variations at Harish Restaurant during the Madurai Street Food Tour, and remember liking the sweet more because it reminds me of a donut (e.g. a timbit).
Luke also told me that Kuzhi in Assam means hole, which refers to a donut hole in this case.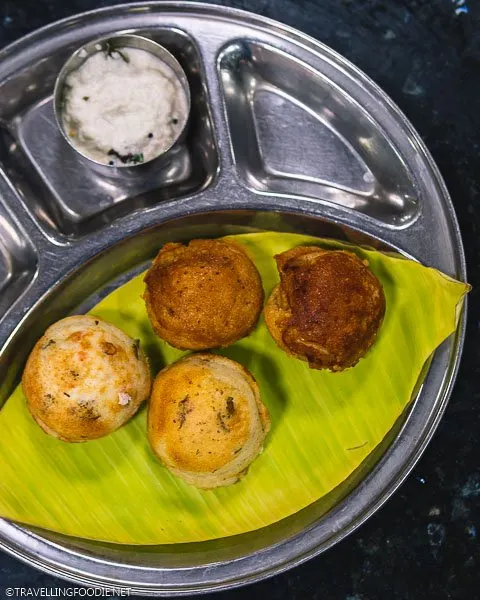 Also Read: Instant Pot Beef Biryani
Murukku Sandwich (मुरुक्कू सैंडविच)
Literally translated, Murukku means "twisted" which is an apt name for a spiral shaped dish.
Murukku Sandwich is the ultimate South Indian fusion food.
Made with combining a local delicacy with a mix and match or foreign and domestic ingredients, this dish rules the streets of Chennai and other Tamilian cities.
And like most South Indian specialties, Murukku is also made using a special mould commonly known as Murukku maker.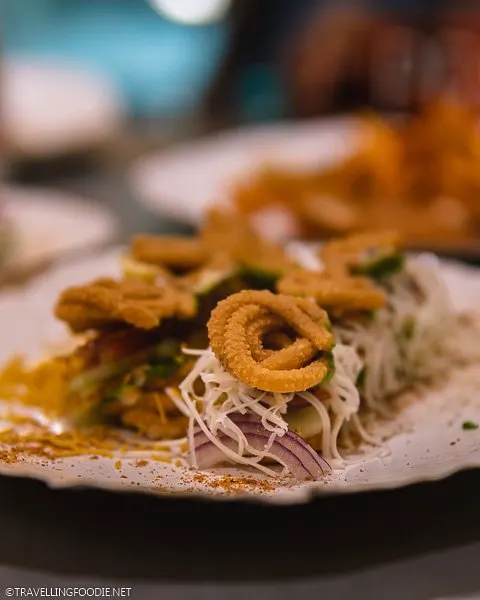 The dough is prepared by mixing rice flour, gram flour or chickpea flour, and urad daal.
Cumin seeds and a pinch of salt and asafoetida are added to enhance the flavors.
After kneading the flour, this Indian street food is filled in the mould and the dough is pressed from within into hot boiling oil.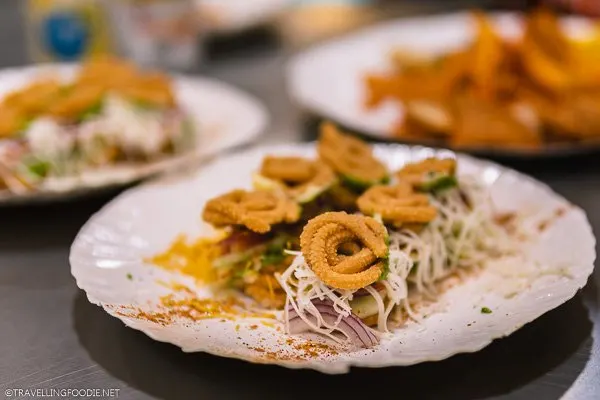 While Murukku has a very long existence in South India, Murukku Sandwich was invented by a small restaurant owner in Chennai in 1988.
With Murukku being used instead of bread or buns, the sandwich is filled with chopped onions, tomatoes, cucumbers, grated cheese and chat masala.
This attempt to make use of available ingredients in the kitchen together to make a decent after work snack turned into a huge success for everyone be it adult workers or students.
Murukku Sandwich is definitely a must-try because it's one of the street foods that is special to Chennai.
I tried a mini version of Murukku Sandwich at Ajab's Ajnabi Mithaai Ghar on the Chennai Street Food Tour, and I loved having the crunch from the murukku blending with the fillings.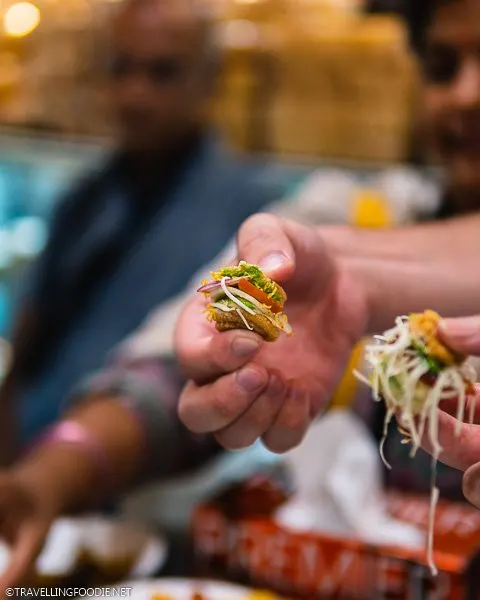 Also Read: Best Churros at Churreria Manuel San Roman in Barcelona
Parotta (पराठा)
Also known as Kerala Paratha or Malabar Paratha, Parotta is a signature shallow fried bread from South India and is a staple food along with being a crispy street food option.
The dish is made using maida flour (finely milled wheat flour without any bran) that is kneaded into a dough of medium consistency with a little bit of sugar, salt and oil added.
Then small balls are made from the dough and flattened using a rolling pin (or by hands).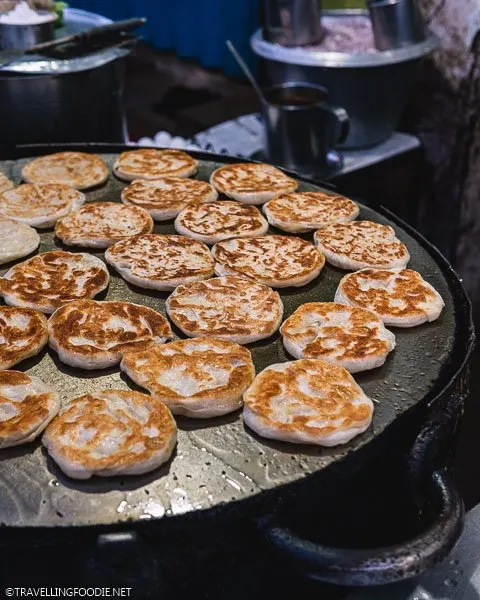 The flattened ball of dough is then greased with oil and layered up.
The same process is repeated 3-4 times giving Parotta various layers.
After that it is shallow fried on a pan or tawa until golden brown.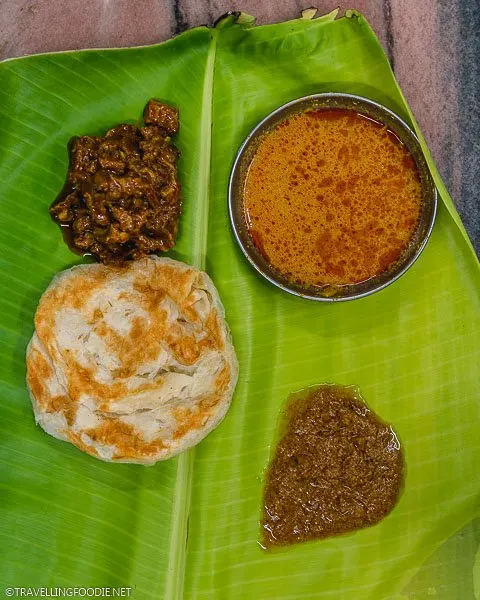 Served with any kind of curry, Parotta is a widely enjoyed fast food in the Indian Subcontinent.
A North Indian version of the same dish called Paratha is available as well with difference being: instead of flour without bran, a whole wheat flour is used.
Parotta is my favourite of Indian flatbreads because of it's crispy and flaky on the outside and soft on the inside.
And so far this one at New Janani Mess during the Madurai Street Food Tour was the best I've had.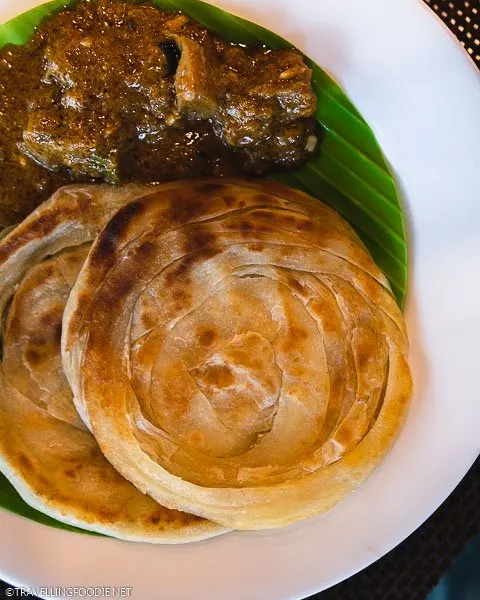 In Madurai, I learned they have their own version of this Indian street food which are multi-layered.
Watch the YouTube video on How To Make Parotta at New Janani Mess below and wait until the end to see how they make the parotta soft.
Pav Bhaji (पाव भाजी)
Owing its discovery to 1850 American Civil War, Pav Bhaji first came into existence when the demand of cotton was hiked.
The American Civil War brought in a lot of business for the British which in turn increased the work load on cotton mill workers of then colonized India.
Bread making was introduced by the British in India.
In an attempt to whip up something to quickly fill their bellies, the mill workers of Mumbai introduced Pav Bhaji and since then it has become their signature Indian street food.
Pav Bhaji consists of a buttered-up bun served with mashed vegetable curry with a very thick consistency topped with some more butter.
This spicy and greasy Indian street food is so flavorful that no person would want to miss out on it.
Did you know? Pav means bread, originating from the Portuguese word Pao.

Bhaji refers to the vegetable stew in the dish which is usually made of boiled potatoes, cauliflower, beets and lots of butter.
Since 1850, so many variations of the dish has been made, with some achieving the same popularity as the original one.
There is Cheese Pav Bhaji, Paneer (cottage cheese) Pav Bhaji, Khada Pav Bhaji (with vegetable chunks) and so many more.
I had this Pav Bhaji at Novelty Tea House, the oldest restaurant in George Town, during the Chennai Street Food Tour.
I was very underwhelmed when I first saw this dish but, after tasting, I quickly realized that Pav Bhaji is one of those dishes which let's you taste a mind-blowing combination of flavours of Indian Street food served on a single plate.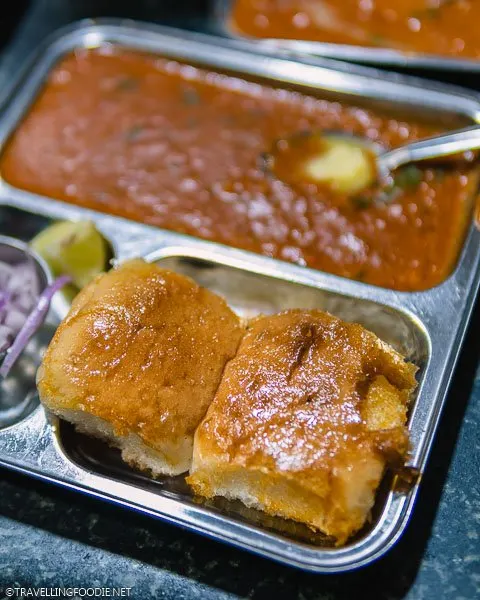 Also Read: Sandals Montego Bay: Why It's Perfect For Foodies
Vada (वड़ा)
The history of Vada goes way back to 100 BCE in Tamil Nadu where it was first introduced.
While this Indian street food is said to have originated in South India, Vada is a very popular entrée in many regions of India including Maharashtra, Uttar Pradesh, Bihar, etc.
The authentic South Indian version is made of a thick ground Urad Daal (lentil) paste that is seasoned with curry and green chili then fried in oil.
The ring shape is kept to make sure that the Vada is thoroughly cooked.
Traditionally, Vada is served with freshly made coconut chutney.
The Mumbai version of Vada is made up of mashed potatoes with spices and finely chopped vegetables in it.
It is served as the patty of the dish Vada Pav, which is a Vada patty put between pav (bun) with red and green sauce.
Both kinds of Vada are very in demand all over India as a street food or snack.
The flavors of both these dishes are completely different so make sure you try both of them.
I had Vada at Restaurant Sree Sabarees during the Madurai Street Food Tour and remember enjoying it over the Chilli Bajji because it was like a savoury donut that's not as spicy.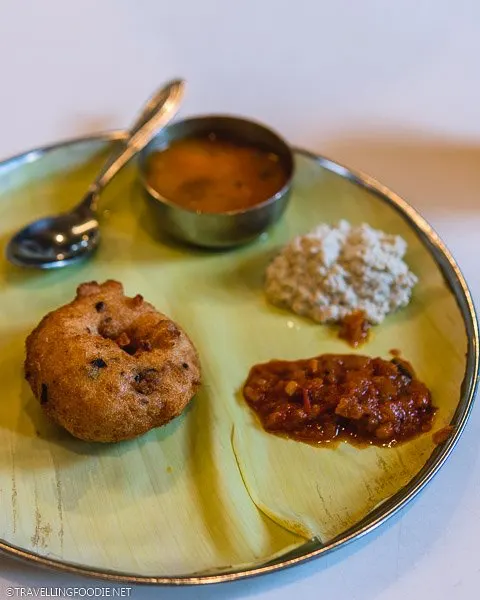 Thatte Idli (थत्ते इडली)
A gem from Karnataka cuisine, Thatte Idli is a well-liked breakfast item of the state.
Prepared in the exact same manner as the South Indian rice Idli, Thatte Idli batter differs in the addition of sabudana (sago or tapioca pearls) to the overnight soaked rice which alters the texture.
Also known as Karnataka Idli, Thatte Idli is served along with the same sides of sambhar and coconut chutney.
It's also eaten as a quick snack from the roadside vendors.
The Idli mould is used to give the dish its desired shape and size.
Being quite a nutritious food, Thatte Idli is a popular breakfast dish for a balanced diet.
And like the typical Idli, you'll find Thatte Idli is quite a staple item for Karnataka weddings and other festivities.
I had this idli variation at Jai Sri Vaishnavaa during the Chennai Street Food Tour.
I found this Indian street food had a porous yet gummier texture than idli, which is spongier, because of the sabudana.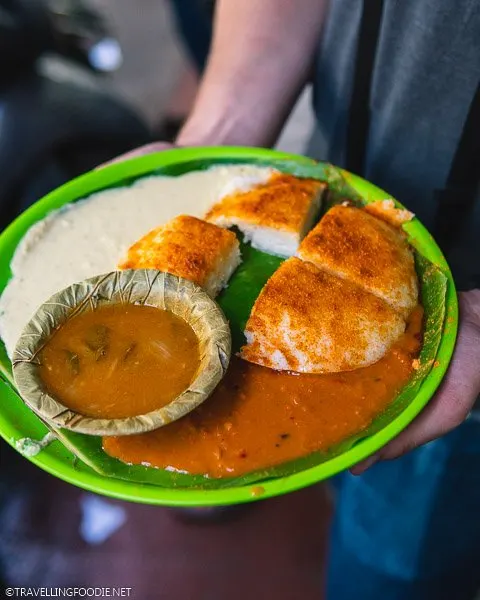 Uttapam (उत्तपम)
The last but not the least on top Indian Street Food items is Uttapam, an Indian vegetable pancake.
Prepared like Dosa using rice and urad daal batter, Uttapam has a tweaked taste because of the added vegetables and spices plus it is made thicker like a pancake than a crepe.
What kinds of vegetables are used for this Indian street food?
Pretty much any kind of vegetable can be added as toppings as long as it is finely chopped, similar to omelets.
Because of this, Uttapam has endless possibilities when it comes to taste.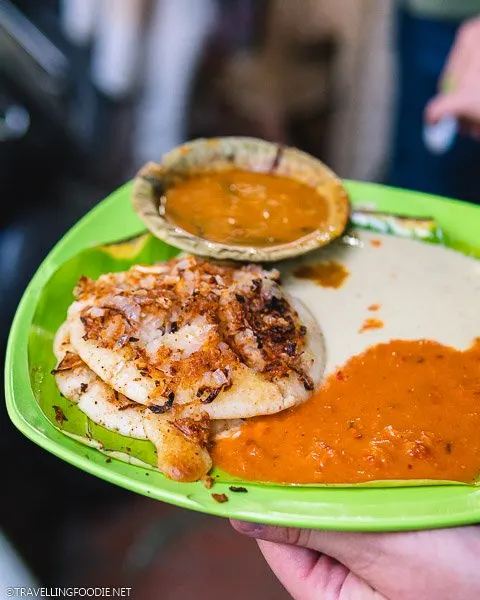 Did you know? Kalappam is Uttapam without the toppings.
Though it is flavourful on its own already and doesn't need sauce or sides, it is customarily served with coconut chutney like all south Indian dishes.
This makes Uttapam is a hit among people from all generations.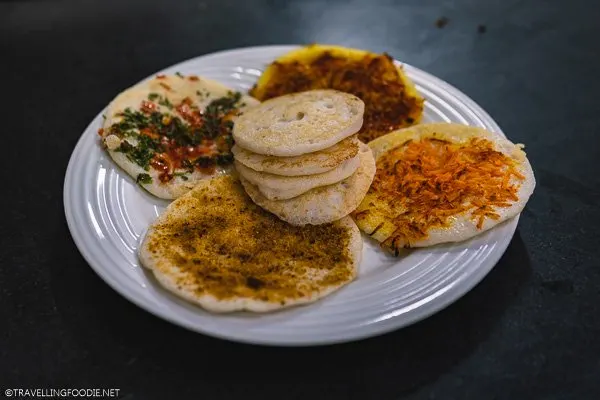 Originally a South Indian dish, Uttapam is widely accepted all over India.
It is regularly served in many high-end restaurants and equally popular among street food vendors.
A similar tawa is used to make Uttapam as the one used to make Kal Dosa.
I first had Uttapam at Maison Perumal in Pondicherry then at Jai Sri Vaishnavaa during the Chennai Street Food Tour.
I really loved how much different toppings and version you can get.
Watch the YouTube video on How To Make Uttapam at Maison Perumal in Pondicherry here.
---
With a never-ending variety and numerous variations of the original dishes, the list can go on and on when it comes to Indian Street Food.
Nothing can beat the experience you have while roaming the busy streets and getting to taste unique and exotic flavors.
Hope this food guide gives you an idea which Indian Street Food and Drinks to try on your trip to India with some of the best food tours, restaurants and street vendors to help you decide where to eat!
I can't wait to be back in India and trying out more local cuisine.
I would love to hear your thoughts on which Indian Street Food I should try and include in this guide next?