Love meatball soup? You'll love this Instant Pot Albondigas Soup!
This classic Mexican meatball soup is aromatic, flavourful, hearty and comforting all at the same time.
Get a taste of Mexico at the comfort of your home with this easy one pot homemade albondigas stew recipe!
---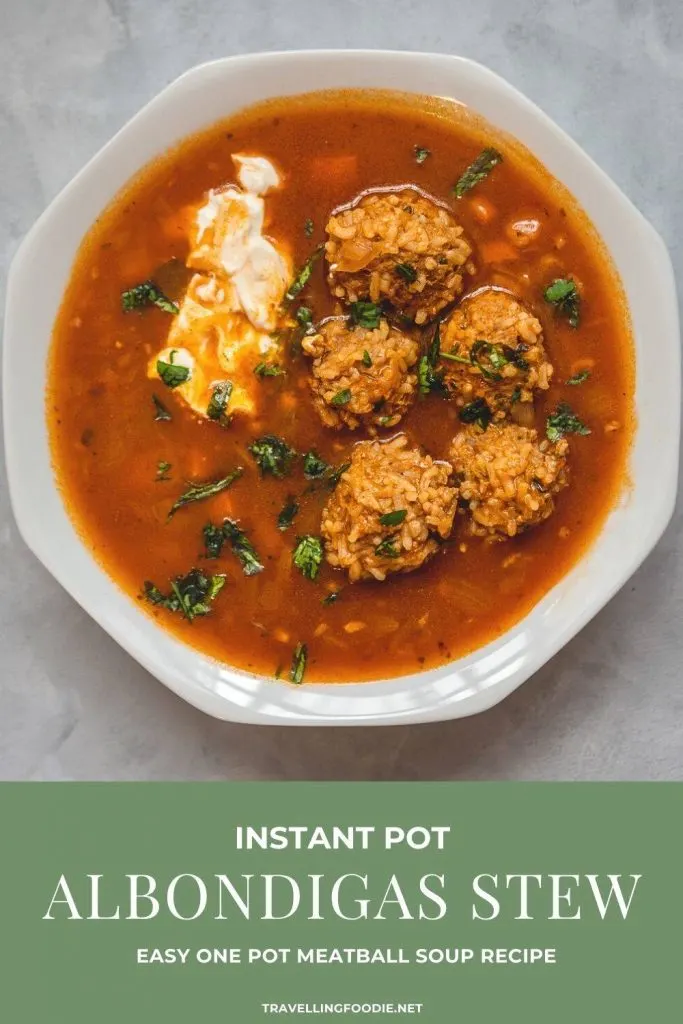 ---
What is Albondigas Soup?
Albondigas is Spanish for "meatballs" so Albondigas Soup literally means Meatball Soup.
This traditional Mexican soup is made with herb and rice infused meatballs (called albondigas) and vegetables simmered in a rich, flavourful tomato broth.
Though Albondigas is popular as a Mexican food, the dish actually originated in Spain.
In Spain, these small meatballs in tomato sauce are typically served as tapas in Spanish bars paired alongside Spanish red wine.
What makes the Mexican albondigas different from the Spanish one is that the Mexican meatballs only use one type of meat, has rice in it and served in a tomato soup or stew with vegetables.
The Spanish meatballs use a mixture of pork, beef or veal, has no rice, and served in tomato sauce (so it is not considered a soup dish).
After making one pot recipes like the Instant Pot Thai Curry Chicken Noodle Soup and Instant Pot Beef Biryani, I was excited to "travel to Mexico" with this Instant Pot Albondigas Soup recipe.
Hope you enjoy it!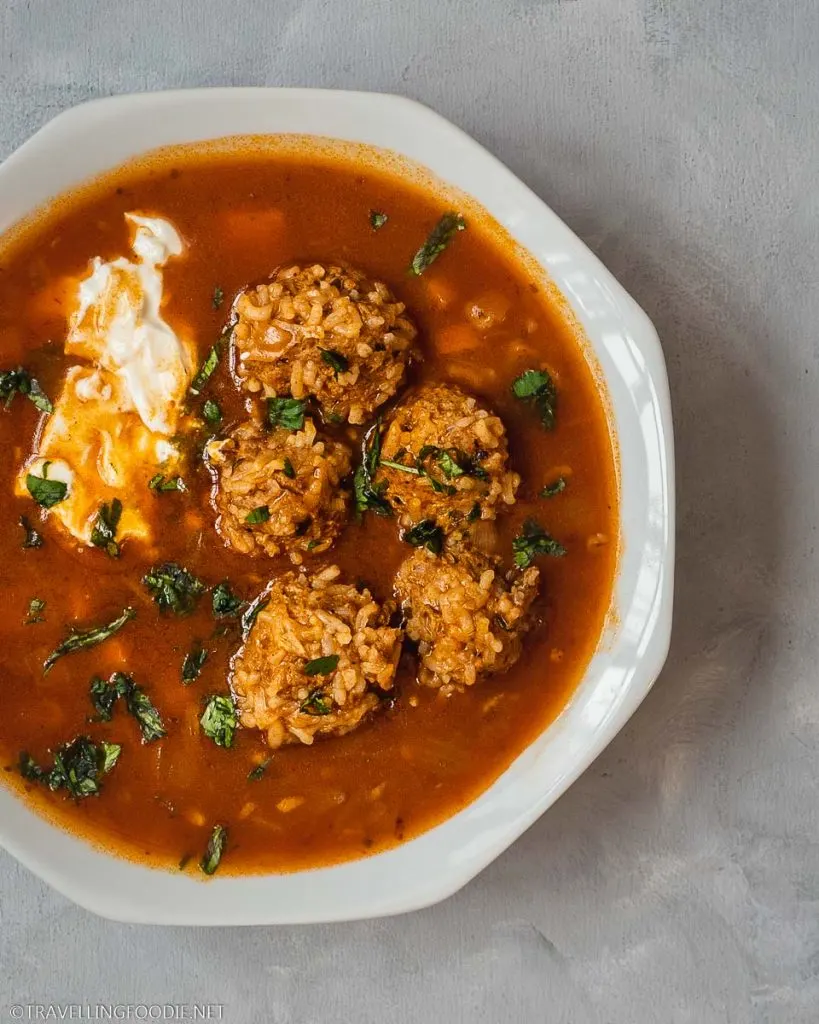 ---
What are Albondigas made of?
There are four main components to this Mexican meatball soup:
Albondigas (Meatballs) – These unique meatballs in traditional Mexican Albondigas Soup are made with minced beef, herbs and spices, and rice as the binding agent.

Though beef is the most commonly used meat, other variations use pork and turkey for the meatballs.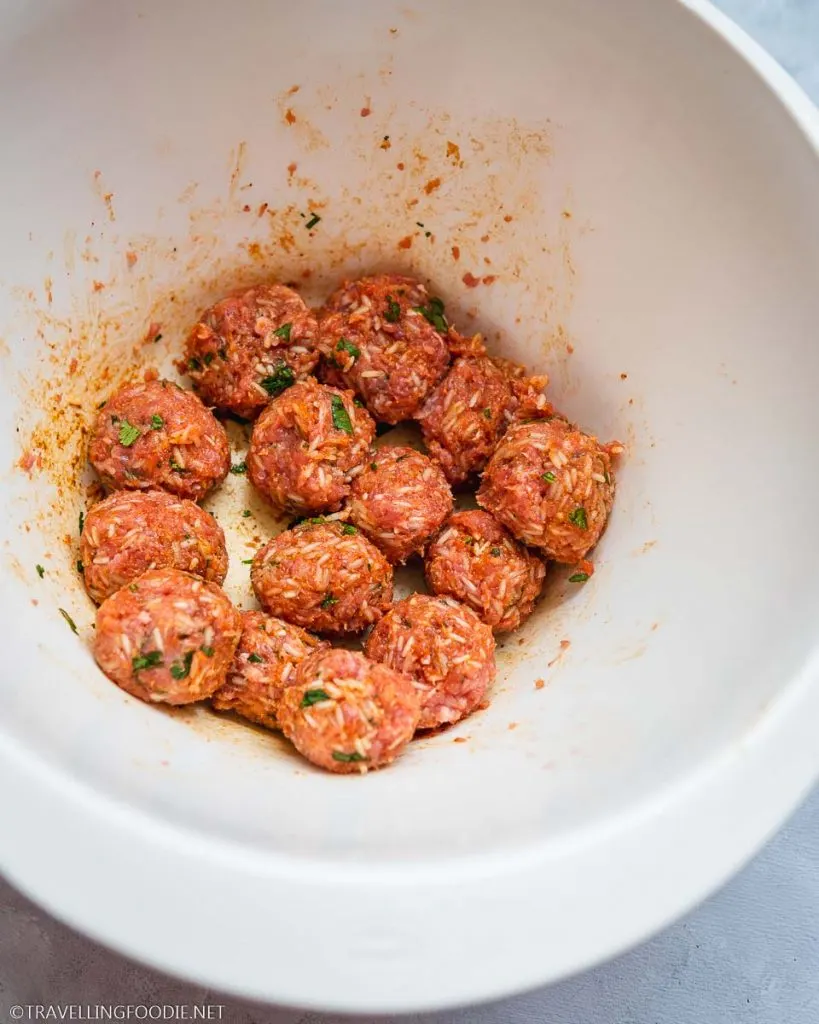 Tomato Broth – The tomato broth makes the soup/stew that is aromatic, flavourful, light and hearty at the same time, using chicken broth, sauteed onions, garlic and carrots, along with various herbs and spices.

The broth is so good that I honestly felt it can stand on its own without the meatballs.
White Rice – The rice is not only for the albondigas. It is also added to the soup to thicken the texture and adds a layer of chew.

Imagine how we typically add curry to rice, adding the white rice to the broth has the same delicious effect!
Vegetables – As a soup/stew, you can customize the vegetables to your liking. It's a great way to use leftover vegetables.

Potatoes are quite common to use on the soup to add chunkiness, but I didn't use potatoes anymore because I had rice in the broth already and think having both in the broth would make it too carb-heavy.

You can definitely have both if you prefer. Also, you can do rice for the meatballs and use potatoes for the broth.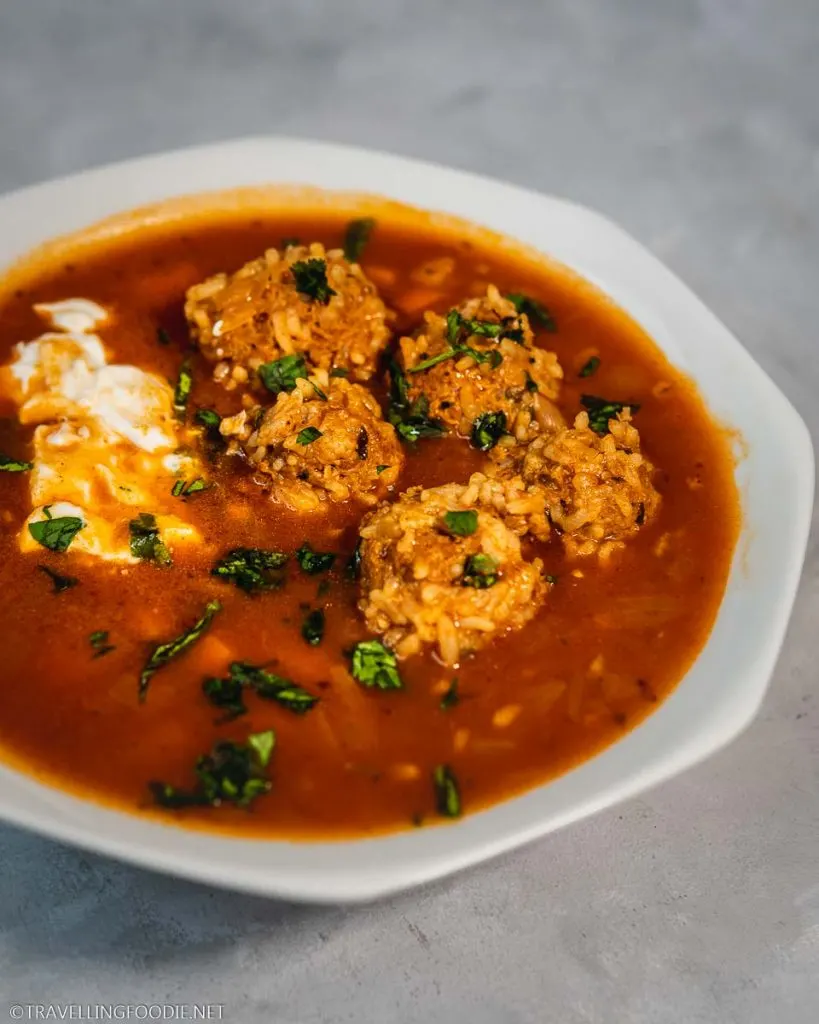 ---
What You Need For Instant Pot Albondigas Soup
Equipment
Multi-Function Pressure Cooker – I use this Instant Pot model here, but any version of Instant Pot should work since all you need is the Pressure Cook and Saute functions.
Albondigas Soup Ingredients
Beef – As I mentioned, you can do pork or turkey meatballs instead.
White Rice – I used Jasmine Rice because it's my favourite white rice and Jasmine rice absorbs the broth so well.
Carrot
Onion
Garlic
Soy Sauce
Chicken Broth Concentrate
Water – You can also use pure Chicken or Beef Broth instead of the concentrate + water combination I did.
Tomato Sauce – You can also use marinara sauce.
Cilantro – I know not everyone loves cilantro so you can substitute it with basil, parsley, or chives.
Spice Mix – I used garlic salt, ground cumin, chili powder, dried oregano and pepper. Since there I used garlic salt already, I didn't find the need for regular salt.
Optional Garnishes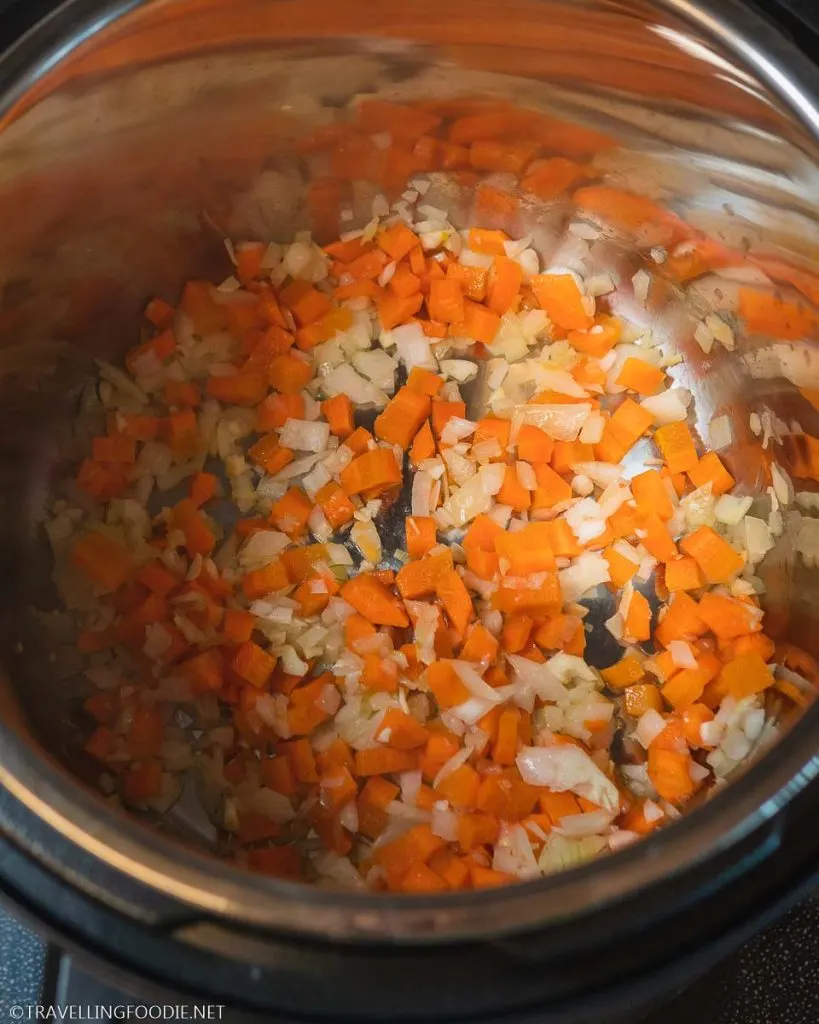 ---
How To Make Mexican Albondigas Soup On Instant Pot
Combine spices in a small bowl for the Spice Mix.
Dice the onions and carrots. Mince the garlic.
Combine in a medium bowl.
Chop the cilantro. Mix the beef, half the rice, half the cilantro and half the Spice Mix together in a medium bowl.
Form the beef mixture into 3/4 to 1-inch sized meatballs.
It should make roughly 14 pieces.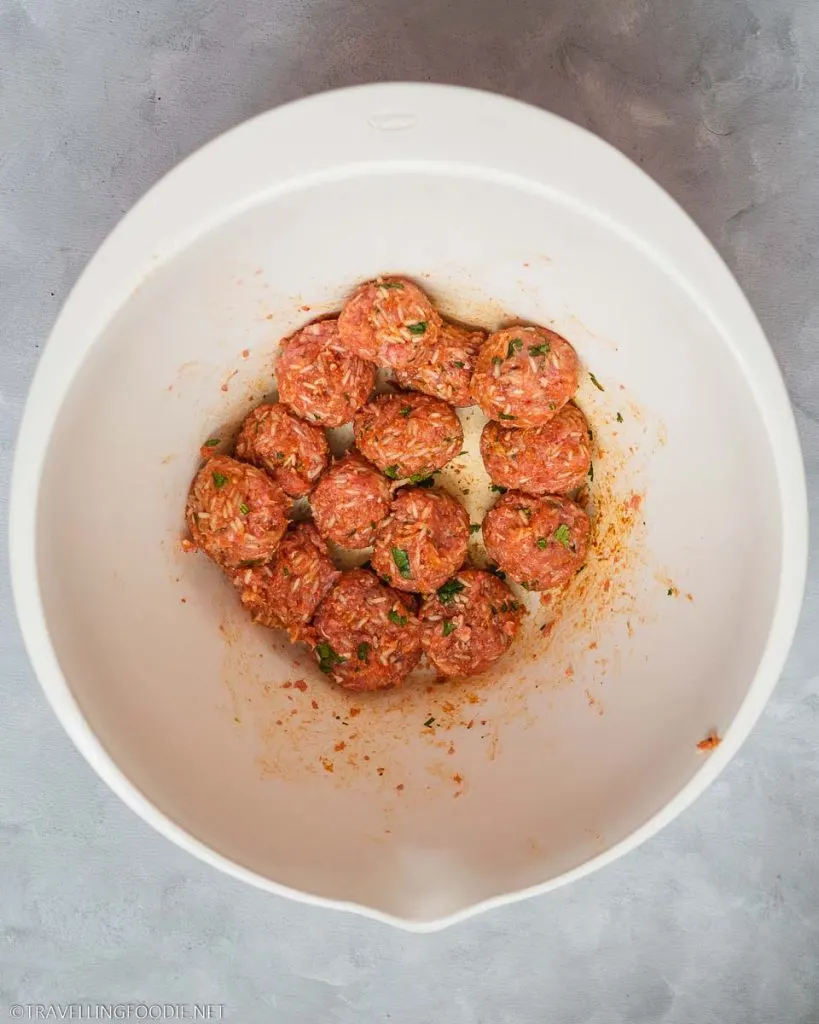 On the Instant Pot, Saute the carrots, onions and garlic for 3 minutes with oil.
Add the rest of the rice and Spice Mix and continue sauteing for 30 seconds.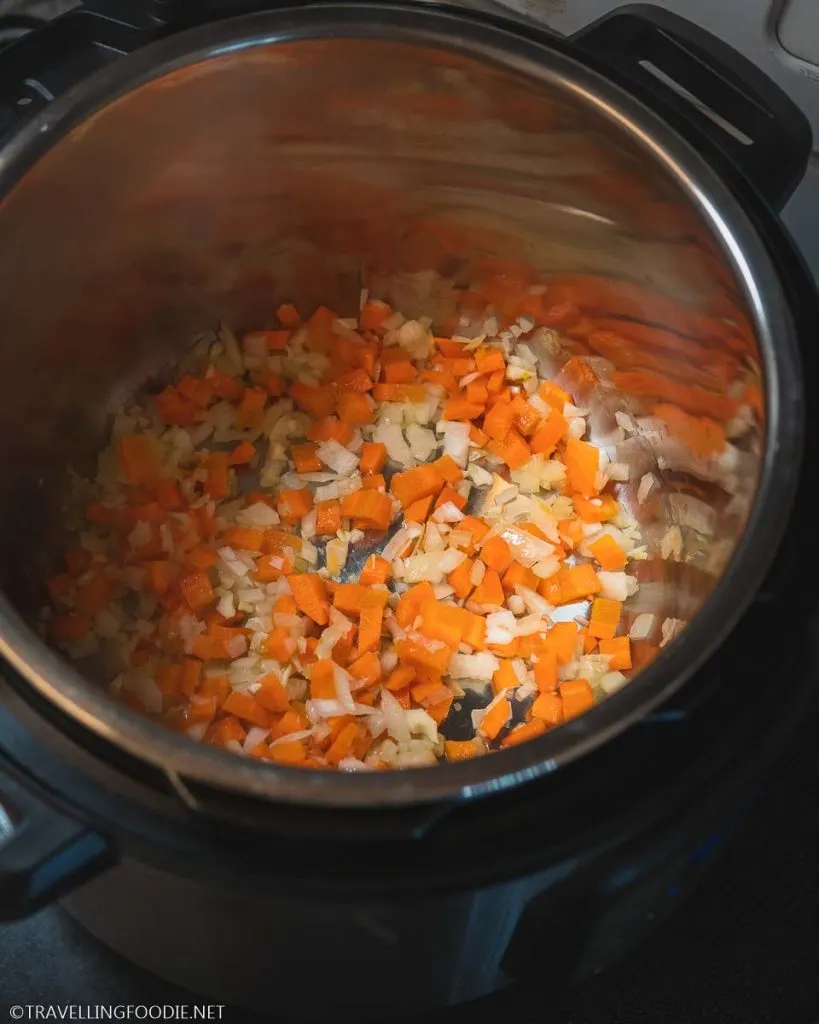 Add tomato sauce, soy sauce, water and chicken broth concentrate.
Deglaze while bringing to a boil.
I used 4 cups of water, but you can reduce or increase this depending on how thick or watery you prefer the soup.
Less water would be more like a stew.
The minimum amount of water is enough water to submerge all the ingredients.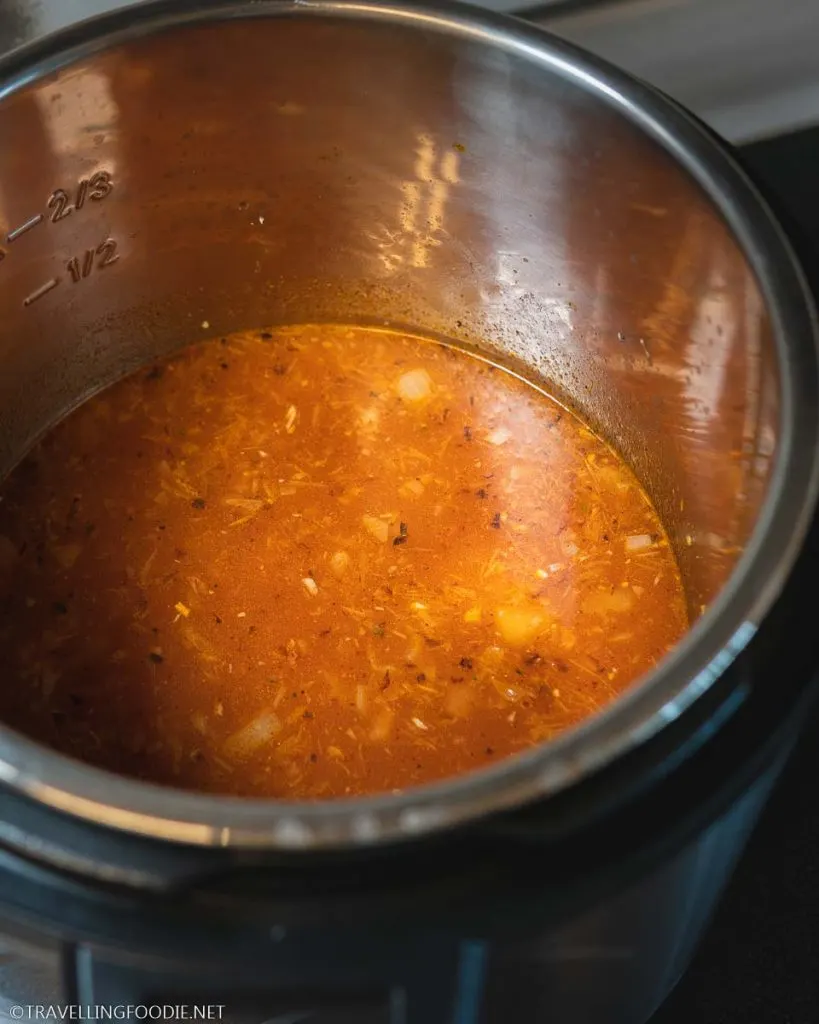 Once the broth is boiling, stop the Instant Pot and carefully add the meatballs into the broth.
We do this so that the meatballs start cooking as you place them into the broth, which prevents them from falling apart.
Turn on Instant Pot and Pressure Cook on HIGH for 4 minutes.
Depending on the type of rice you use, you might need to adjust cook times accordingly (check this post for cook times).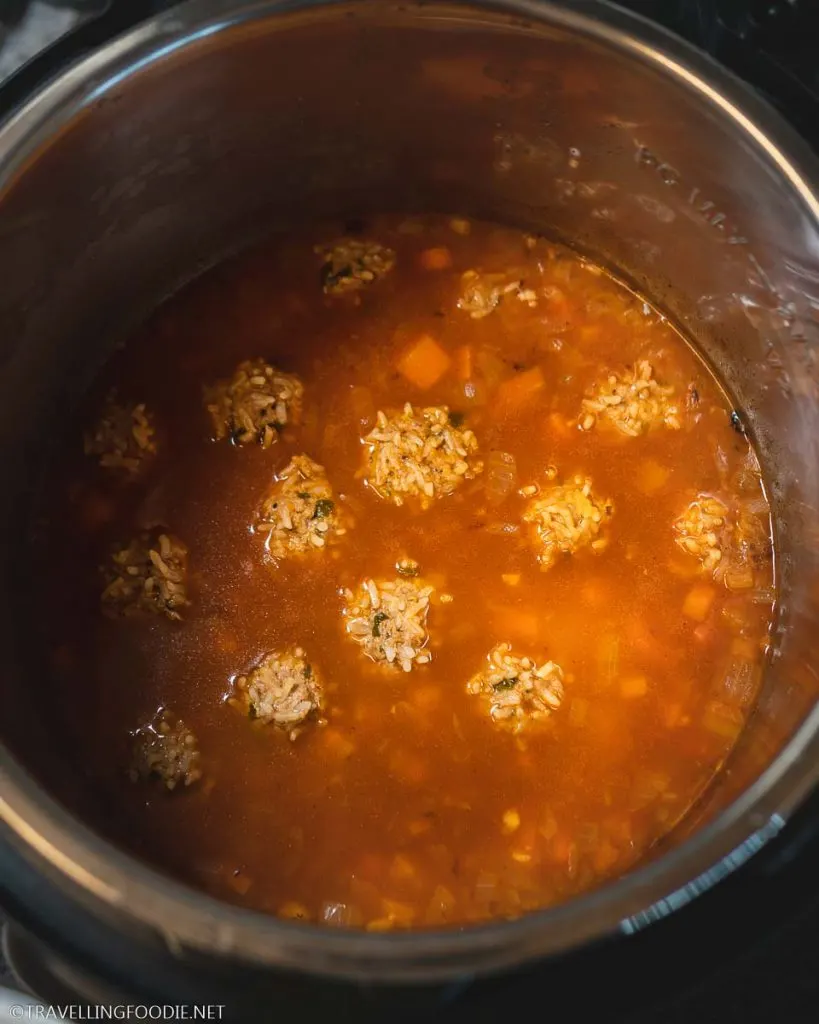 Once Pressure Cooking is done, do Natural Release for 10 minutes followed by Quick Release.
If you are in no rush, you can fully Natural Release.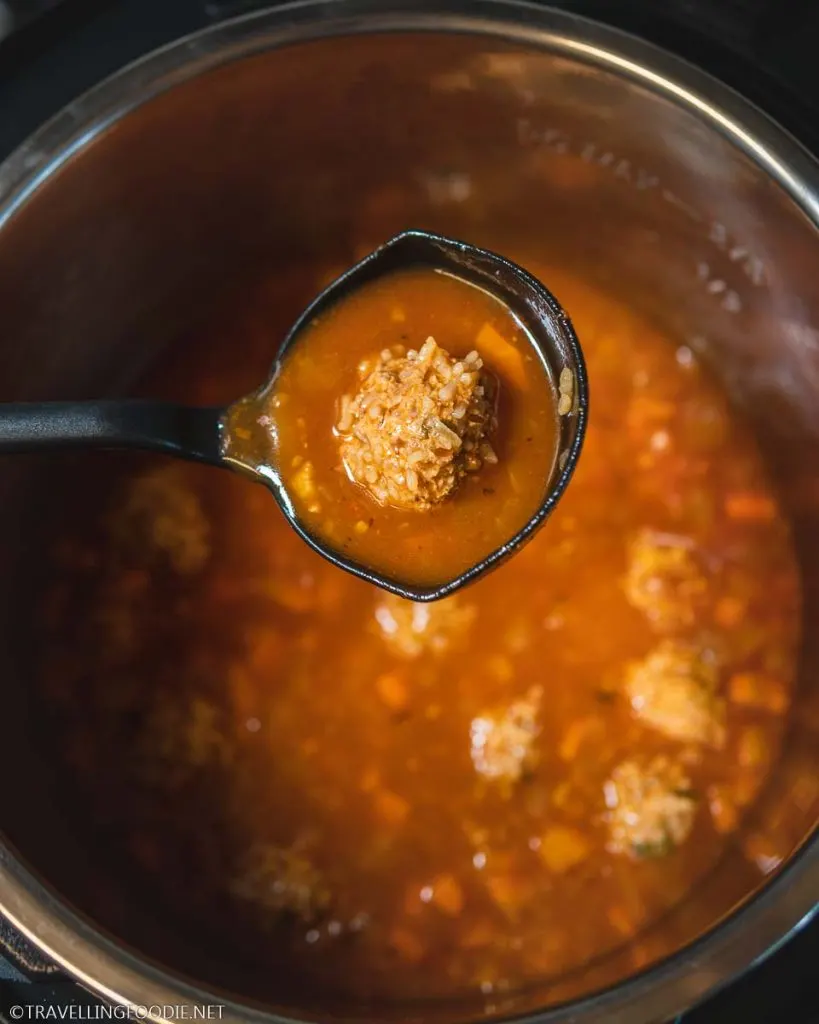 Scoop Albondigas Soup into bowls. Garnish with sour cream and remaining cilantro.
Serve and enjoy this homemade Mexican meatball soup!
If you want a non-traditional way of making this meatball soup, you can try the same process in my Ninja Speedi Italian Meatball Soup.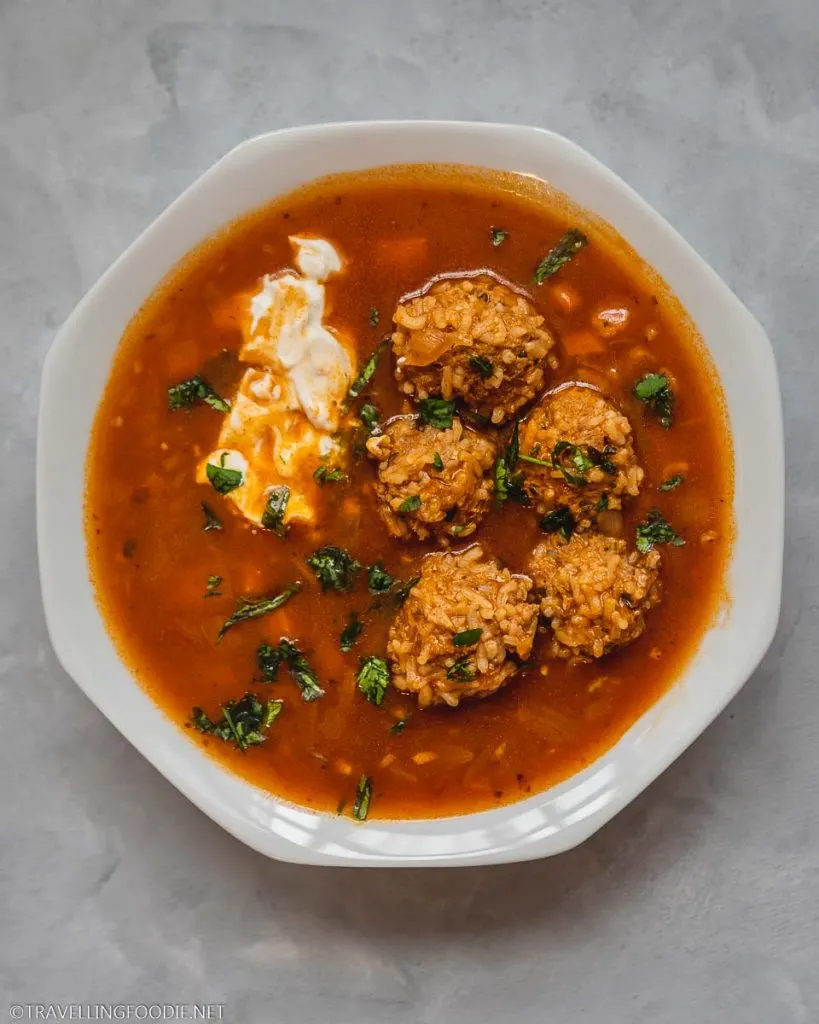 ---
Other Quick and Easy Recipes You'll Love
---
Instant Pot Mexican Meatball Soup Recipe
Be sure to bookmark/save/pin this post so you can easily make Mexican Albondigas Soup on Instant Pot!
I would love to see how this recipe worked for you! Please share your creations with me on social media and tag me so I can check them out: @TravellingFoodie on Instagram & Facebook and @TravellinFoodie on Twitter.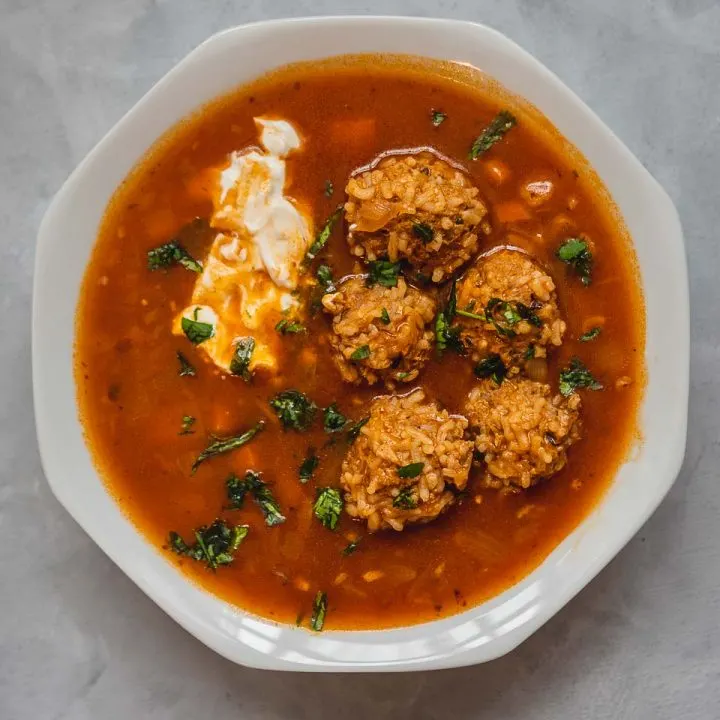 Instant Pot Albondigas Soup
Instant Pot Pre-Heat and Release:
25 minutes
Get a taste of Mexico at home with this Instant Pot Albondigas Soup. A delicious, hearty, comforting meatball soup that's full of flavours!
Ingredients
Spice Mix
Optional Garnish
Instructions
Preparation
Combine Spice Mix in a small bowl.
Peel and dice the Carrots.
Mince the Garlic.
Finely chop the Cilantro.
Drain and rinse the White Rice.
On a bowl, mix Beef, half the Spice Mix, half the White Rice and half the Cilantro.
Form 1-inch Meatballs (around 15 pieces) from the Beef & Rice Mixture.

Make Broth
Turn ON Instant Pot and set to Saute on HIGH for 6 minutes.
When ready, heat Oil then add Onions, Carrots and Garlic.
Cook for 3 minutes.
Add half the Spice Mix and White Rice.
Stir for 30 seconds.
Add Chicken Broth Concentrate, Soy Sauce, Tomato Sauce and Water.
Deglaze while the broth is heating up.

Pressure Cook Meatballs & Rice
Once the broth is boiling, turn OFF Instant Pot.
Add Meatballs to the broth so it slightly cooks.
Make sure the Meatballs are fully submerged in the broth.
Seal Instant Pot with lid.
Turn ON Instant Pot and Pressure Cook on HIGH for 4 minutes.
Natural Release for 10 minutes and Quick Release after.

Garnish & Serve
Plate Albondigas Soup on bowls.
Garnish with Sour Cream and Cilantro.
Serve and enjoy!

Notes
If you're using a different type of rice, you might need to adjust Pressure Cook time to match the rice you use.
Recommended Products
As an Amazon Associate and member of other affiliate programs, I earn from qualifying purchases.
Nutrition Information:
Yield:

4
Serving Size:

1
Amount Per Serving:
Calories:

368
Total Fat:

17g
Saturated Fat:

6g
Trans Fat:

1g
Unsaturated Fat:

9g
Cholesterol:

69mg
Sodium:

1118mg
Carbohydrates:

28g
Fiber:

4g
Sugar:

6g
Protein:

25g
Please note that nutrition information you see is provided and automatically calculated by Nutritionix. This may vary depending on the specific ingredients that you use. To ensure the most accurate information, I suggest entering your specific ingredients into a nutrition calculator.
---
Hope this homemade Instant Pot Albondigas Soup recipe gives you an idea on what Mexican food to have for lunch or dinner!
This Mexican meatball soup is a great comfort food especially when the weather is cold.