Kaiseki Yu-zen Hashimoto is a Michelin Star Kaiseki restaurant and one of best Japanese restaurants in Toronto, owned and run by Chef Masaki Hashimoto along with his son Kei.
When they first opened back in 2009 inside the Japanese Canadian Cultural Centre in North York, they were the most expensive restaurant in Toronto.
With a $300 price tag for dinner ($200 for lunch), you have to wonder why a meal can be this expensive.
But it made sense after I dined in 2016!
Kaiseki Yu-zen Hashimoto is a traditional multi-course Japanese dinner.
I felt it was one of the closest you can get to a 3-Michelin star experience in Toronto.
On September 13, 2022, Kaiseki Yu-zen Hashimoto was awarded One Michelin Star in Toronto's Michelin Guide, the first Canadian edition, making it one of the first Michelin restaurants in Canada.
It's an experience where it's not all about the food, but the art form, the cultural learning, and the story that Chef Hashimoto wants to tell his diners.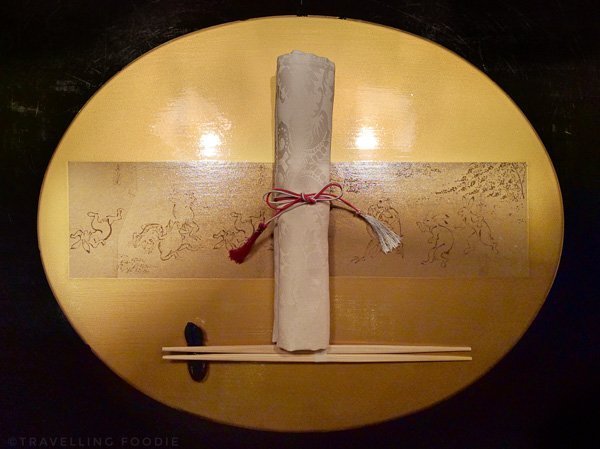 ---
Inside Michelin Star Kaiseki Yu-zen Hashimoto Toronto
Coming into Kaiseki Yu-zen Hashimoto, we were greeted by Kei who has been waiting for us at the entrance to welcome us in.
He took our coats and guided us to our table.
We didn't realize before how intimate and private this experience at Kaiseki Yu-zen Hashimoto would be, as we were ushered into a dining section with just a table and two chairs.
It turns out they only have 3 tables to ensure an exceptional private dining experience.
Therefore, it is best to make reservations at least 1 week in advanced.
Service here is exceptional!
They have really mastered the art of Omotenashi, or Japanese hospitality.
Kei described what to expect in a Kaiseki and mentioned that there is a complimentary tea ceremony as well at the end of the meal if we wish to participate (only available during dinner).
He showed us the tea and alcohol menu, and carefully explained each variation of matcha tea and sake on the menu.
Since we were already doing the tea ceremony after, we opted for a bottle of the Ginjo sake, which has a very full-bodied taste and is the best sake I've tasted so far.
Also Read: Alo Restaurant, Michelin Star Tasting Menu Restaurant in Toronto
---
Michelin Star Kaiseki Dinner at Kaiseki Yu-zen Hashimoto
The full Kaiseki experience at Kaiseki Yu-zen Hashimoto started: Eight courses of carefully crafted dishes with artistry combined.
Kei delivered each course and told us the story behind it and the ingredients associated.
For me, the storytelling is very important in a tasting menu because learning about the dish actually makes you appreciate the dish even more.
A Kaiseki dinner is a great way to get a taste of different traditional Japanese food, while experiencing real Japanese culinary culture.
One thing you'll realize is there really isn't a lot of raw fish here.
There was no sushi course and only one sashimi course with only one type of fish.
Traditional Kaiseki has a fixed structure in the experience with each course being something specific like grilled dish, tempura dish, signature dish, etc.
If you're looking for sushi/sashimi omakase, you would want to visit Zen, Sushi Kaji or Yasu for that.
Favourite Kaiseki Courses
Two of the standout courses for me at Kaiseki Yu-zen Hashimoto were the Shii-zakana (Signature) course and Tome-zen (Main) course.
Shii-zakana (Signature Course)
Kuruma-Ebi (Shrimp), Tachiuo (Belt fish), popped rice, Ginko nuts, mountain potato
Signature Daikon Crane served with Carrot dressing
The Shii-zakana is the epitome of artistry and food combined in the Kaiseki.
Delicious fried shrimp from Japan with very playful popped rice that still resembles unprocessed wheat.
You actually get to play with your fingers as you pop the rice out of the shell to eat, and they were very good.
It was my first time trying Ginko Bilboa nuts as well, having only tried them as a supplement with water.
They are sort of like eating chestnut but with an edamame taste.
Perhaps the most impressive thing in this course was the Signature Daikon Crane.
As a kid, I grew up learning about origami and this beautiful piece of daikon was like a perfectly constructed edible origami.
Try it on its own, then try it with the carrot dressing to see the difference in flavours. Reminds me of the first time I tried sea grapes.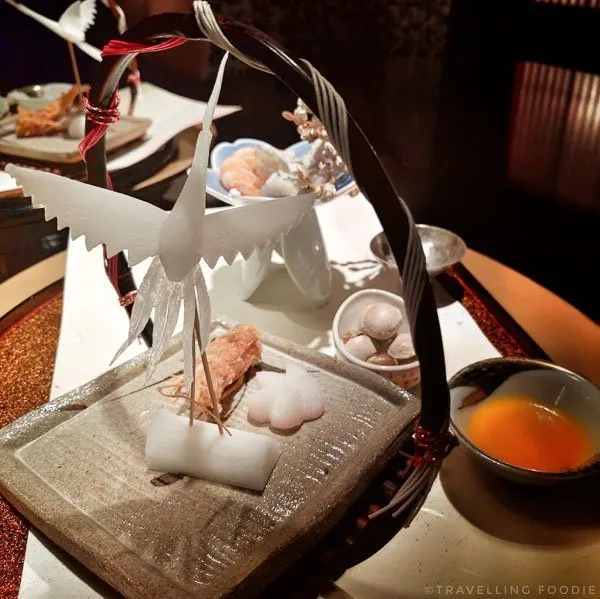 Tome-zen (Main Course)
The main course at Kaiseki Yu-zen Hashimoto was A5 Wagyu Joshu Beef.
Enough said!
The beef was grilled perfectly such that the grill flavour supplements the beef but still maintaining the marbling texture on each bite.
It was placed on a bowl of Japanese sushi rice so the rice soaked up the oil from the beef, which is absolutely delicious.
This course also came with a Soba noodle soup with small red fried shrimp, which is a good accompaniment after the wagyu.
The small red fried shrimp was so full of flavour that the overall soup taste became flavourful as well.
What makes this even better?
We were informed that, in Kaiseki, the Tome-zen course is complimentarily offered for a second round.
So, you can get the A5 Wagyu Beef again, which I obviously did!
I would even do a third-round if they offered it.
As a background, Joshu wagyu is wagyu beef from Japanese Black cattle raised in Gunma prefecture in Japan.
Raised with a unique feed adapted to the environment and advanced fattening technologies, Joshu Wagyu Beef is of the highest level wagyu in the country.
Also Read: Kame Omakase, Best Omakase in Las Vegas
---
Kaiseki Yu-zen Hashimoto Tea Ceremony
After the Kaiseki dinner, we then proceeded to the Tea Ceremony, which is in a totally different room so Kei asked us to gather all our things since we won't be returning to the table.
The traditional Japanese Tea Ceremony is quite elaborate and intricate which I didn't expect.
Kei said a typical Tea Ceremony in Japan lasts 3 hours, but what they offer at Kaiseki Yu-zen Hashimoto is a simplified version which takes 30 minutes since the Kaiseki dinner took at least 2 hours already.
He explained the setup of the room we were in, the tools and equipment for the ceremony laid out on the floor, and started the ceremony.
At any time during the ceremonial sequence, you can ask him questions on what's happening.
It's quite interesting to learn all of this as I never would've imagined how much effort is put into a Japanese Tea Ceremony.
After he instructed us the proper way of drinking the tea during the ceremony, I got to taste the best matcha tea I've had so far.
Kei said they use the highest level of matcha for the ceremony.
---
Meet & Greet with Michelin Star Chef Hashimoto
After the Tea Ceremony, the entire experience at Kaiseki Yu-zen Hashimoto has completed and we realized that we're in Toronto instead of Japan.
Kei told us to wait as we put on our shoes because they usually take photos of their customers to send in email, which also included all the photos of the dishes we had that night.
This is something I've never seen a restaurant do before, and it really makes the experience even more special.
After the photos, he also told us to wait as Chef Hashimoto would like to come out to greet and talk with the diners.
This really added a nice touch to the experience, the same as the one at Los Angeles' two Michelin Star restaurant n/naka.
We got to meet Chef Hashimoto himself, and he's such a nice and talkative person.
You'll definitely see he's very passionate about his craft once you talk with him.
He explained how much thought process goes into his menu for the day as it changes every day based on the ingredients, his mood…
and even the weather outside!
One thing we also learned was that he initially had a different menu in mind for tonight.
He wanted to use a deepwater shellfish that's normally available at this time of cold weather.
However, because the weather the past few days had been warm, the shellfish he wanted to use didn't come out for harvesting.
I love shellfish so I was a little saddened that we missed that course he had in mind.
This means that menu can be very volatile here, and each visit would definitely be different.
Based on what he said, I would recommend visiting Kaiseki Yu-zen Hashimoto during the cold weather.
---
VIDEO: Michelin Star Kaiseki Yu-zen Hashimoto Experience
Here's a quick video of the dinner at Kaiseki Yu-zen Hashimoto.
---
Verdict of Kaiseki Yu-zen Hashimoto Toronto
My verdict is: I highly recommend to try Kaiseki Yu-zen Hashimoto, once at the very least.
The overall experience was exceptional.
As I mentioned, this experience is very similar to that of a three Michelin star restaurant, which you won't really find much in Toronto.
This is also the only restaurant in Toronto that offers an authentic Kaiseki, complete with a traditional Japanese tea ceremony.
If you have the money, by all means, try it as many times as you can.
If money's not an issue, I personally would want to try it each season since they emphasize that "Kaiseki is an exploration of delicate textures, flavours and colours that define each season, Spring, Summer, Autumn, and Winter."
It would be interesting to try and see how each season differs at Kaiseki Yu-zen Hashimoto
Also Read: Top Restaurants in Toronto
---
Kaiseki Yu-zen Hashimoto Menu & Courses
Onjyaku-zen (Amuse Bouche)
Sashimi
Owan-mono (Soup)
Yakimono (Grilled)
Takiawase (Steamed and Stewed)
Shii-zakana (Signature)
Kuruma-Ebi (Shrimp), Tachiuo (Belt fish), popped rice, Ginko nuts, mountain potato
Signature Daikon Crane served with Carrot dressing
Tome-zen (Main)
Joshu Wagyu rice, warm Soba with small red shrimp fried with vegetables
Dessert
Matcha mousse, red beans, pudding, strawberry Agar Agar
House made ice cream; Strawberry, Vanilla, Matcha, and Hojicha
---
Kaiseki Yu-zen Hashimoto
Website / Address: Japanese Canadian Cultural Centre, 6 Garamond Court, Toronto, Ontario, M3C 1Z5