Looking for where to eat in Las Vegas for omakase? Kame Omakase is one of the best sushi restaurants in Las Vegas.
Chef Eric Kim opened Kame next door to his Yummi Grill & Sushi to offer an elevated experience like no other.
Chef Eric sources his seafood similar to other best sushi restaurants in Las Vegas on The Strip but, since Kame is located Off-Strip, he's able to offer a much cheaper price of $165/person in 2017 ($195 as of 2019).
He explains that because he's a Korean doing sushi, he actually works ten times more than Japanese chefs in bringing the sushi experience to his diners.
I went to Kame Omakase with my brother and sister during our Las Vegas trip. The spot is very hidden so your landmark will be Yummi Grill & Sushi, which is where we actually first went into thinking it's the same location.
The sushi bar seats 8 people only and the Omakase lasts for 2 hours, taking you into a journey through the delectable tastes of Japan.
Also Read: Things To Do in Downtown Las Vegas
---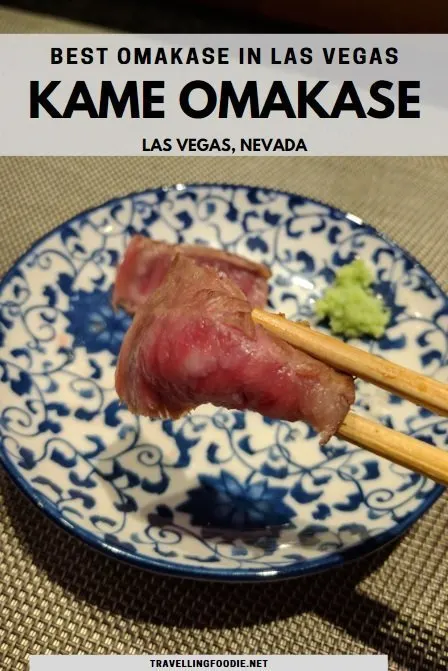 ---
Omakase Dinner at Kame
Without further ado, here's what we had at the Kame Omakase experience! The experience was a mix of kaiseki and edomae style (sushi) omakase.
You can watch the video recap of Kame Omakase here.
Kaiseki-Style Omakase
We started off with some Kaiseki-style omakase:
Kumamoto Oyster: one with uni and caviar, one with toro with caviar
Chilean Seabass with king oyster mushroom
Monkfish Liver (from Alaska) with ocean sea trout eggs
Live Scallop (from east coast) with caviar
A beautiful platter with fresh wasabi consisting of Hairy Crab (from Hokkaido), Baby Abalone (from Seattle) with flying fish egg, Orange Clam (from California) with mustard dressing, Pickled Squash with fresh kelp
Live Lobster (from Maine) with sea urchin (from San Diego), caviar, kamashita toro, 23 karat gold flake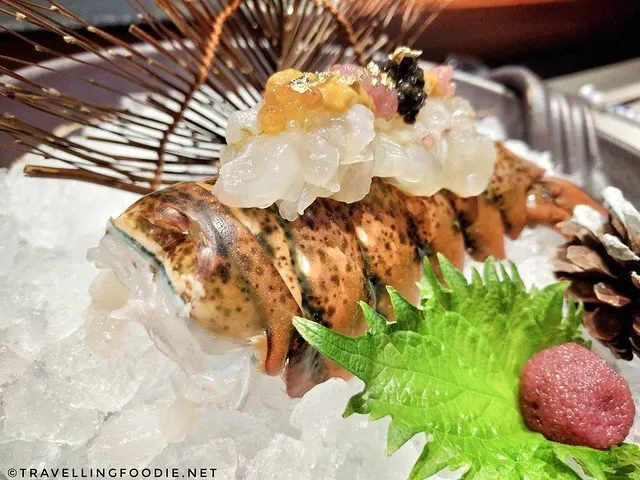 Lobster Soup: Boiled for 3 hours with lobster head roe, manila clam, shimeji mushrooms, enoki mushooms, and lobster ball made from lobster skin
Edomae-Style Omakase
After the soup, we then had the Edomae-style omakase where we were served sushi, masterfully crafter by Chef Eric, one piece at a time.
Ji Kinmedai/Golden Eye Fish with sea salt
Did you know? Ji Kinmedai is higher quality than regular Kinmedai since it comes from another island called Ji.
Madai/Snapper (from Japan) with lime citrus
Kanpachi/Amberjack
Maguro/Big Eye Tuna (from Hawaii)
Blue Fin Tuna/Hon Maguro (from Spain)
Kamachira O-toro (from Spain): Did you know? Kamachira is the part closest to the cheek.
Mirudai/Giant Clam
Shako/Mantis Shrimp
Also Read: Red Sushi at the Golden Nugget Las Vegas
Final Rounds
When you think it's all over, there's still the final rounds of the Kaiseki:
Brown rice mixed with roe of Hairy Crab (Kani Miso) with seaweed, O-toro, Uni, Caviar, Quail egg and Ocean Trout Caviar
Lobster with Sea Urchin Sauvignon Blanc sauce
Supposed to be, it would be the dessert course next but Chef Eric was very happy that night and gave some extra items for all of us:
Organic Pork (from Australia) in Volcano stone with Wakamomo (spring season peach) and sea salt (from Australia): The pig from which the meat came from is fed with acorn and natural grass.
O-toro Sushi with gold flakes
Desserts
Now it's really time for dessert. We got a choice between black sesame or Hojicha green tea ice cream.
I got the Hojicha green tea ice cream, and it was so delicious with its strong umami taste!
---
Chef Eric Kim, Owner of Kame Omakase
When the Omakase was over, all seven of us diners applauded Chef Eric for the amazing experience.
The family dining that night with us was celebrating a birthday so they decided to buy Chef Eric a round of beer. Chef Eric was nice enough to give all of us a round of EchigO beer, a Japanese premium red ale which I've never had before.
When the omakase was really over, we had some time to mingle and thank Chef Eric, and of course, take a photo with him.
Also Read: Other Mama, Seafood Restaurant in Las Vegas
---
Overall Thoughts on Kame Omakase
I'm a big lover of sushi and Japanese cuisine in general. Suffice to say, Kame Omakase was the best omakase experience I've had so far.
Exceptional quality, great presentation, spot-on service, and an amazing and friendly chef. Omakase is undoubtedly one of the best restaurants in Las Vegas I've been to!
Have you been to Kame Omakase? What's the best omakase in Las Vegas for you?
---
Kame Omakase Las Vegas
Website / Address: 7331 W Lake Mead Blvd, Las Vegas, Nevada, USA 89128
---