Looking to do an Ontario road trip? The Lake Temiskaming Tour is one of the perfect ways to explore Northeastern Ontario. This scenic adventure features some of the best things to do in Temiskaming Shores and Area.
I've been exploring beautiful Ontario every year, and it never ceases to amaze me!
That's why when we couldn't fly due to travel restrictions, I urged people to travel locally and enjoy our own backyard.
But for people from Toronto and the southern region, The North can be a mysterious black hole because you don't really know what's there and what you're going to be doing.
Enter Lake Temiskaming Tour!
I did a 2 day road trip from Toronto to do the Lake Temiskaming Tour with a focus on its culinary experiences. I had such a blast, and was amazed by how much Temiskaming Shores has to offer.
Though I've visited Northern Ontario before and have been all the way north to Timmins, the Lake Temiskaming Tour makes it so much easier for you to explore and enjoy the vast Northeastern Ontario region.
In this travel guide, I'm featuring 10 of the best things to do in Temiskaming Shores and Area that we did for the Lake Temiskaming Tour including attractions, restaurants, tours and more!
Note: This Temiskaming Shores travel guide will be updated as we explore the Lake Temiskaming Tour in the future so be sure to bookmark/save/PIN this page.
To get the latest updates, follow Travelling Foodie on Instagram: @TravellingFoodie for Food and @JourneyTraveler for Travel
---
---
Lake Temiskaming Tour – A Scenic Adventure in Temiskaming Shores
The Lake Temiskaming Tour (Tour du lac Témiscamingue) is a cross-province tourism initiative between Ontario and Quebec. This scenic adventure showcases some of the best attractions, things to do, restaurants, local producers and events in 14 communities surrounding Lake Temiskaming.
1 Lake. 2 Provinces. 3 Cultures.
You can imagine this tour as being one big loop or circle tour, which makes for a great road trip whether you're from Ontario or Quebec because you get to enjoy both provinces around the lake!
Plus you can start your tour from anywhere in the loop.
And if you do the entire tourism circuit, you get to enjoy Anglophone (English), Francophone (French) and Algonquin (First Nations/Indigenous) cultures which is quite a unique feat.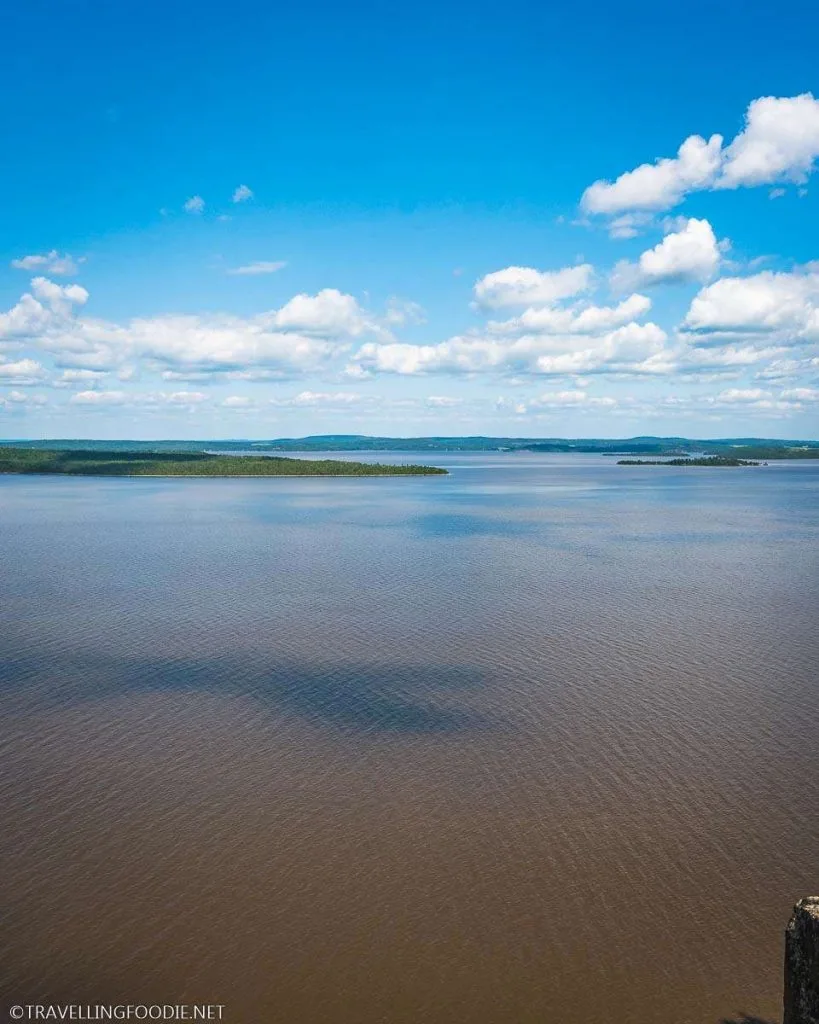 Travel Times For Your Northeastern Ontario Road Trip To Temiskaming Shores
From Toronto, the nearest starting point is North Bay, which is a 3.5-hour drive.
From Ottawa and Montreal, the nearest starting point is Mattawa, which is a 3.25-hour and 5-hour drive, respectively.
From Timmins, the nearest starting points are Earlton / Temiskaming Shores (Ontario side) and Notre-Dame-du-Nord (Quebec side), which are 2-hour and 2.5-hour drives respectively.
This is why you should have the Lake Temiskaming Tour in Temiskaming Shores on your list for weekend getaways or holidays in Ontario and Quebec.
---
VIDEO: Lake Temiskaming Tour Vlog – Ontario and Quebec Road Trip
Watch the travel vlog of our entire trip doing the Lake Temiskaming Tour in Ontario and Quebec with lots of tours, behind the scenes, meeting the producers and farmers and more!
---
Best Things To Do in Temiskaming Shores – A Culinary Tour
The Lake Temiskaming Tour has so much to offer with 20 attractions and 34 culinary-related stops thanks to its rich and pristine agricultural lands that paved way for strong agritourism.
As a travelling foodie, I was amazed with the unique experiences you can do which has a mix of both travel and culinary combined including a true farm-to-fork experiences as you get first-hand activities on the farm all the way to restaurants using local produce and meats from the farm.
Get your stomachs ready! Here are 10 of the things to do in the Temiskaming Shores & Area that we did for the Lake Temiskaming Tour, which makes for a great Ontario and Quebec road trip itinerary!
The White Owl Bistro
Coming from Toronto, our first stop was lunch at the The White Owl Bistro, one of the best restaurants in North Bay and located along the beautiful shores of Lake Nipissing.
Run by husband-and-wife team chefs Rene and Laura, this Feast On certified restaurant offers traditional bistro fare with a focus on farm to table cuisine, supporting farmers and producers in the North.
The best dish to order for a Lake Temiskaming Tour farm-to-fork experience is their Grass Finished Bison and Beef Burger, a mouth-watering 8oz mix of bison and beef with peppered onion bacon jam, Romano cheese, tomato, lettuce, chipotle aioli on a brioche bun.
The bison meat comes from Bison du Nord and the Romano cheese comes from Thornloe Cheese, which are stops on the tour as well.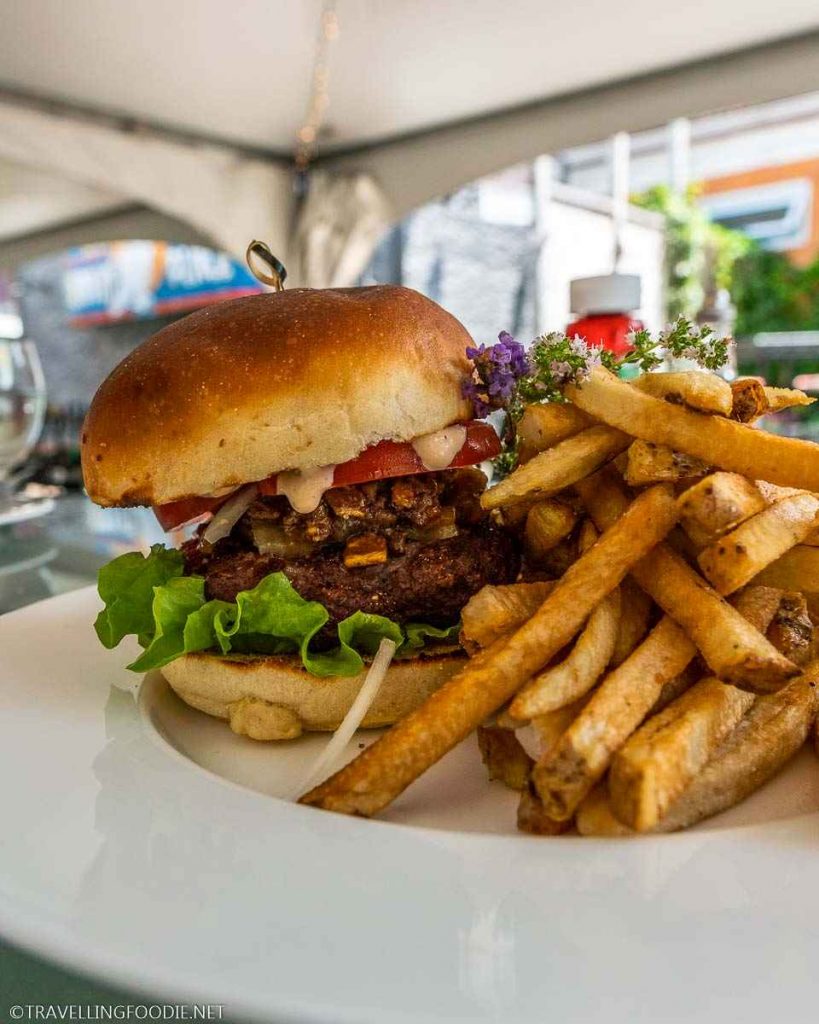 Website / Address: 639 Lakeshore Dr, North Bay, Ontario P1A 2E9
Also Read: Day Trip in Niagara Parks, Ontario
Harvesting in the forest with Vers Forêt
Looking for a unique Northern Ontario experience that combines nature and food? Wild mushroom harvesting in the forest with Vers Foret is one of the best things to do in the Lake Temiskaming Tour.
We did a hike and harvest tour on Devil's Rock with Vers Foret proprietor, Jonathan Jensen-Lynch, an experienced guide and mycologist (a person who works with or studies fungi/mushrooms).
It was my first time doing something like this!
It's such a great way to learn and see first-hand the food that we eat in its natural habitat. We saw russula mushrooms, chanterelle mushrooms, saffron milkcaps (which you can squeeze milk out from under its cap), and so much more.
And it's not just all about mushrooms. Jonathan also pointed out things in the forest that you may have eaten before like cedar and fern.
If you're adventurous, you can also try some of them straight from the forest. Since I'm always down for unique foodie experiences, I tried a russula mushroom to know what acrid tastes like and also winter green tea leaf which had a nice peppermint taste.
And of course, at the end of the hike, which usually takes 20 minutes but took longer because of the foraging, you're rewarded with breathtaking views of Lake Temiskaming as you stand on top of Devil's Rock.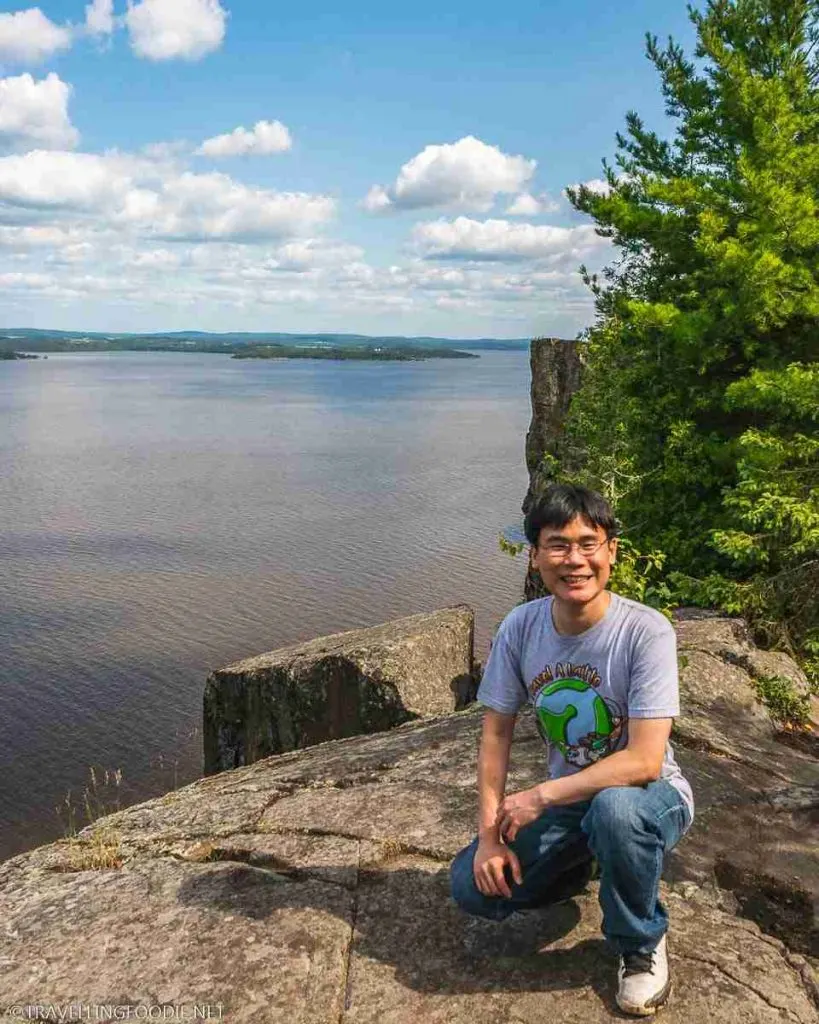 Website / Address: 25 Rue des Pionniers, Angliers, Quebec J0Z 1A0
L'Autochtone Traverne Americaine
The great thing about the Lake Temiskaming Tour is you get to experience the three distinct cultures, and what better way to do this than through food!
One of the best restaurants in Temiskaming Shores that gives you a taste of all three is L'Autochtone Taverne Americaine in Haileybury that specializes in blending foods and preparations from English, French, and First Nations culture with a focus on local and sustainable ingredients.
One of the most popular Indigenous food is Fry bread (or bannock), a deep-fried flatbread generally made with flour, sugar, salt and fat.
You must-try the Roast Garlic Frybread at L'Autochtone! It's perfectly crispy on the outside, and soft and moist on the inside. This elevated bannock was so addicting with the black truffle tarragon butter that comes with it.
You can enjoy their other takes on North American classics as seen through an Indigenous lens like the Wendigo Egg, a beet pickled devilled egg with salsa roja, candied smoky bacon and chive.
Or if you want a safer option, you can't go wrong with "The Burger".
Website / Address: 484 Ferguson Ave, Haileybury, Temiskaming Shores, Ontario P0J 1K0
Whiskeyjack Beer Company
Beer lovers will want to check this local craft brewery out!
Right across from L'Autochtone is Whiskeyjack Beer Company, not just one of the best breweries in Temiskaming Shores but also across Ontario as they've won gold medals for the Ontario Brewing Awards 2020.
Taking the space of Cafe Meteor Bistro, you can enjoy the Sip & Bites Experience as part of the Lake Temiskaming Tour, a tasting flight of their signature beers with each beer paired with flavours highlighting the region's local producers:
Chocolate Stout paired with Les Chocolats Martine
Pale Ale paired with their House-made Kettle Chips
Amber Ale paired with House-made Cookie or Biscuit
Cream Ale paired with Bison du Nord's Bison Pepperettes
Travelling Foodie Tip: Ask them about the name of their Belgian Witbier too. There's a fun fact behind it!
Website / Address: 485 Ferguson Ave, Haileybury, Temiskaming Shores, Ontario P0J 1K0
Zante's Bar and Grill
The best way to end the night? Have delicious dinner while enjoying the sunset views.
This is what you can expect at Zante's Bar & Grill, located in New Liskeard along Highway 11. The Zante's Tap Takeover is one of the best dinners you can have in Temiskaming Shores.
Zante's Tap Takeover is a 6 course dinner event that runs every month. This tasting menu features seasonal dishes highlighting local producers and products in the region along with Ontario craft beer pairings for a full farm-to-table experience.
Most of the ingredients used are from producers found in the Lake Temiskaming Tour like Fromage au Village, Bison du Nord, Verger du Terroir and Thornloe Cheese. Talk about hyper local eats!
Some dishes from our Zante's Tap Takeover experience that feature local producers from the Lake Temiskaming Tour include:
Fresh Summer Salad with shaved Le Fleurs d'Aïl cheese from Fromage au Village
Grass-fed Lamb Slider with local haskap berries from Verger du Terroir and Cru du Clocher Two-Year Reserve Cheddar from Fromage au Village
Grilled Bison Tenderloin from Bison du Nord on Oat and Local Shiitake Mushroom Risotto.
Website / Address: 997461 ON-11, New Liskeard, Temiskaming Shores, Ontario P0J 1P0
Also Read: Alo Restaurant, Toronto's Best Tasting Menu Restaurant
Bison du Nord
Have you ever been on a Bison Ranch?
The next morning, we visited Bison du Nord, one of Canada's oldest bison ranches (over 40 years since 1972) and the largest in Eastern Canada.
I was so excited about this experience especially having tried many bison dishes from Temiskaming Shores restaurants using their bison meat.
For the Lake Temiskaming Tour, this multigenerational family-owned bison ranch in Earlton offers one-hour ranch tours which has you riding on a tractor-towed wagon ride through their 640-acre pastures to see their 300 bisons.
What a wonderful sight it was! Though I've seen bison at national parks before, it was my first time being in a bison ranch and seeing so many up close together.
During the tour, you'll get to learn about Bidon du Nord's farm and facilities on how they sustainably raise these 100% certified grass-fed bison which include recycling the plastic hay-baling material.
Here are some foodie facts I learned from our Bison du Nord tour with founder and owner Pierre Bélanger:
Bison was considered wild/game meat until the late 1960s when bison was allowed to be farmed commercially and owned privately.
You can get about 550 pounds of meat from a 1000-pound bison.
Bison meat has no marbling and very little fat surface so you need to use low cooking temperature and cook slowly for the meat to come out tender.
The Bison du Nord tour is such a unique experience and one of the best activities you can do in Temiskaming Shores.
Website / Address: 86454 Airport Rd, Earlton, Ontario P0J 1E0
Thornloe Cheese
Love cheese? You'll want to drop by Thornloe Cheese, one of Canada's best cheesemakers and first verified grass-fed cheese and butter producer.
Since 1940, this Northeastern Ontario heritage cheese factory and shop is along Highway 11 making it a great pit stop to stock up on some cheeses, goodies and local products to take home.
Or you can enjoy them by the covered patio as well while learning about this 80 year old company from the interactive story board.
I was amazed with the number of flavoured cheese curds they have. The dill flavoured curds is one of their most popular ones, but you can't go wrong with the caramelized onion curds which would be great on pizza and grilled cheese sandwiches.
They also have a blue cheese called Devil's Rock, named after the popular Temiskaming Shores cliff. It's a great blue cheese to start if you've never tried because it's creamy and not as strong and pungent as traditional blue cheese.
One thing's for sure, you have to try butter tart paired with Thornloe's 4-Year Cheddar! It was my first time trying this combination there and was surprised how good it was.
You get the sweetness and butteriness from the tart that gets balanced by the saltiness and creaminess of the cheese.
Website / Address: 999697 ON-11, Thornloe, Ontario P0J 1S0
Also Read: Oxford County Cheese Trail in Ontario
Nordvie
We crossed over to the Quebec side along the Abitibi-Témiscamingue region for our first stop at Ferme Nordvie.
This family farm specializes in organic strawberries, raspberries, rhubarbs and a wide variety of vegetables. And in the summer, they have pick-you-own season for organic strawberries and raspberries.
For the Lake Temiskaming Tour, Nordvie has guided tours that take your around their harvests and farm, as well as behind the scenes of their facilities to learn how they make herbs and spices, sparkling juices and alcohol.
You'll definitely want to try their fresh sparkling strawberry juice straight from the tank. So highly refreshing, especially during the summer!
Another must-try is their fortified strawberry wine, which has tasting notes of dry fruit plus smoke and oak because it's aged in oak barrels. They actually like serving this in campfire so you can smell the scent of smoke while drinking.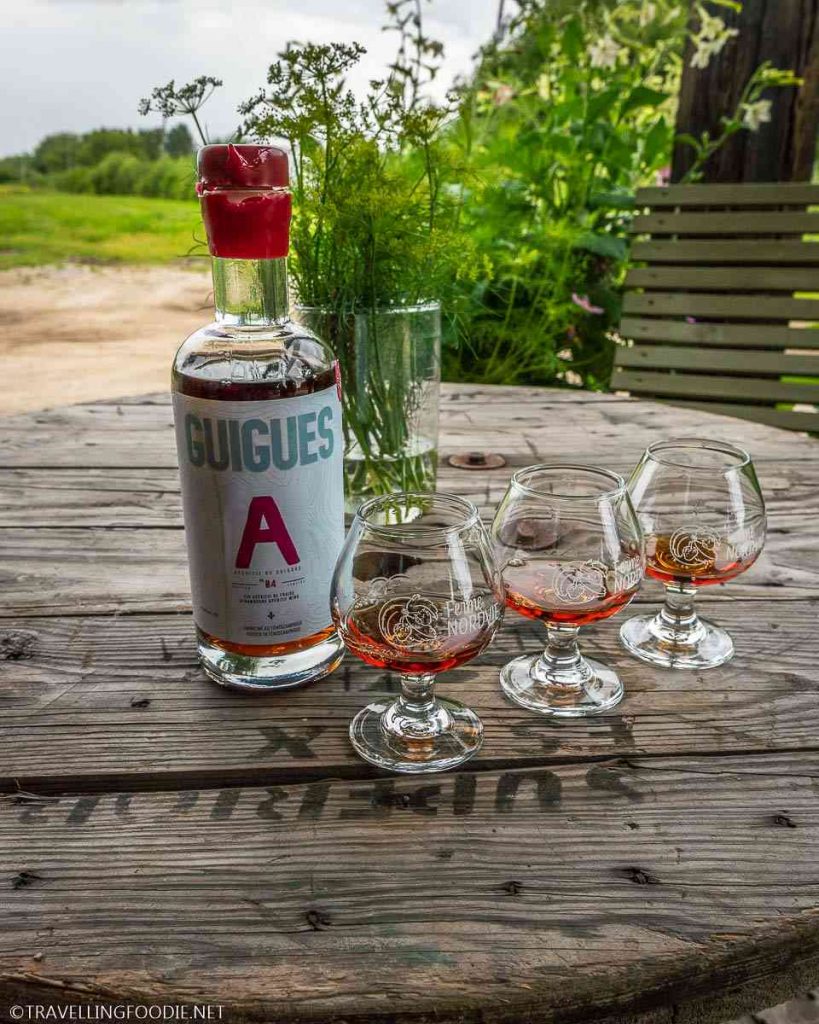 Website / Address: 1049 Chem. des 2e-et-3e-Rangs, Saint-Bruno-de-Guigues, Quebec J0Z 2G0
Fromagerie Le Fromage au Village (Cheese Village Cheese)
The Lake Temiskaming Tour definitely delivers on cheese because you also get to visit one of Canada's best cheesemakers in Quebec, Le Fromage au Village.
Since 1996, this cheese factory has been using local milk and artisanal techniques to make fresh cheese curds, raw milk cheddar, soft cheeses and washed rind cheeses.
You have to come here for the fresh cheese curds. They are so popular for it that during the summer, the entire production schedule is focused on making their famous cheese curds.
IT'S. SO. SQUEAKY!
Le Fromage au Village is also popular for their award winning "La Cure du Clocher" fondue cheese and fresh tortillon (brined cheese curds), which are apparently popular among hunters because it stays fresh longer due to brining.
They also have "Le Coeur du Village," a pasteurized cheddar with the middle layer macerated in red wine jelly from local winemakers Domaine Des Ducs, which is also part of the Lake Temiskaming Tour.
And since you're in Quebec, you'll want to try their squeaky fresh cheese curds in a poutine which you can find in chip stands near Le Fromage au Village.
Website / Address: 83 Rue Notre Dame O, Lorrainville, Quebec J0Z 2R0
Obadjiwan-Fort Témiscamingue National Historic Site (Lieu Historique national d'Obadjiwan-Fort Témiscamingue)
Last stop was all about history, culture and food at the Obadjiwan-Fort Témiscamingue National Historic Site, one of the best attractions in Abitibi-Témiscamingue.
This historic heritage site bears witness to Indigenous communities dating back more than 6,500 years, which includes an enchanted forest where legend has it that souls of ancestors of Timiskaming First Nation watch over the river and forest from atop the twisted trees.
Obadjiwan-Fort Témiscamingue became a Hudson Bay Company trading post in the 17th century for the fur trade route, playing an important role between the rivalry between the French and the British for control of the fur industry.
Did you know? Fur was used as the currency during that period.
Here, you'll learn about the kinds of food they had historically, and also get to taste local products and produce that grow on-site or through regularly scheduled programs and events.
It's one of the best things to do in the Lake Temiskaming Tour that's family-friendly with the pebble beach, a picnic area with playground (along with a mini zip-line), the enchanted forest and 12 outdoor scenographies (depicting scenes of life at the fur trade post).
All of this while being able to admire the views of the Temiskaming Shores.
Website / Address: 834 Chem. du Vieux Fort, Duhamel-Ouest, Quebec J9V 1N7
Also Read: 2 Day Trip in Kingston, Ontario
---
Where To Stay In And Around Temiskaming Shores and Area
Looking for where to stay for the Lake Temiskaming Tour? During our Northern Ontario road trip, we stayed a night in Temiskaming Shores and a night in North Bay to make drive times a little better.
The Waterfront Inn in Temiskaming Shores
Our first night, we stayed at The Waterfront Inn, one of the best hotels in Temiskaming Shores located in downtown New Liskeard.
Be sure to get the room that overlooks Lake Temiskaming!
Check for reviews, prices and availability of The Waterfront Inn on Booking.com / Agoda
Website / Address: 2 Cedar Ave, New Liskeard, Ontario P0J 1P0
Hampton Inn by Hilton North Bay
Our second night, we stayed at the Hampton Inn by Hilton North Bay, one of the best hotels in North Bay, conveniently located just off Highway 11 and 17, and minutes drive from Jack Garland Airport and Lake Nipissing.
It's also walking distance to some of the best restaurants in North Bay including Lot 88 Steakhouse (where we had our last dinner that trip) and Syl's Neighbourhood Kitchen (where we had breakfast the next morning before driving back to Toronto).
Check for reviews, prices and availability of Hampton Inn by Hilton North Bay on Booking.com / Agoda
Website / Address: 950 McKeown Ave, North Bay, ON P1B 9P3
---
Lake Temiskaming Tour Map in Temiskaming Shores
Here's a map of all the attractions, restaurants, producers and more covered in this guide to Lake Temiskaming Tour. For a full map, check out the Lake Temiskaming Tour Lake Tour Passport here.
Hope this travel guide to Temiskaming Shores and Lake Temiskaming Tour gives you an idea on places to visit, where to eat and stay in Northeastern Ontario. This tour really makes for a great Ontario road trip in The North!
I'm always looking for recommendations. Please let me know what you find are the best attractions, things to do and restaurants in the Temiskaming Shores and Area.
---
This post is made in partnership with Northeastern Ontario. As usual, reviews and opinions are 100% entirely my own.
You can learn more about Northeastern Ontario on their website.