If you see me out and about, you'll usually see me with a messenger bag. I have grown used to having one wherever I go because of things I need to bring with me that's not enough for just the pockets.
I bought this Kenneth Cole Reaction Messenger Bag from Wilson's Leather when I went to Las Vegas for the Consumer Electronics Show (CES).
Aside from having it on sale, I found it was very stylish, had a lot of compartments. It's just the perfect size: bigger than pockets and smaller than backpacks.
As I travel both locally and abroad, I found I have a fixed set of things I usually have in my bag.
---
---
Kenneth Cole Reaction Messenger Bag
Just a quick overview of the Kenneth Cole Reaction Messenger Bag I have so you can see how those items can fit.
The messenger bag exterior features durable 1680D and dobby polyester with PVC trim and fully lined interior, roomy, single gusset top zip construction.
The front exterior features an open-top pocket and two zipper pockets for quick access.
The front exterior zipper pocket features an organizer to hold your business essentials. This includes an open-top mesh pocket, a zipper pocket, a phone pocket, and pen holders.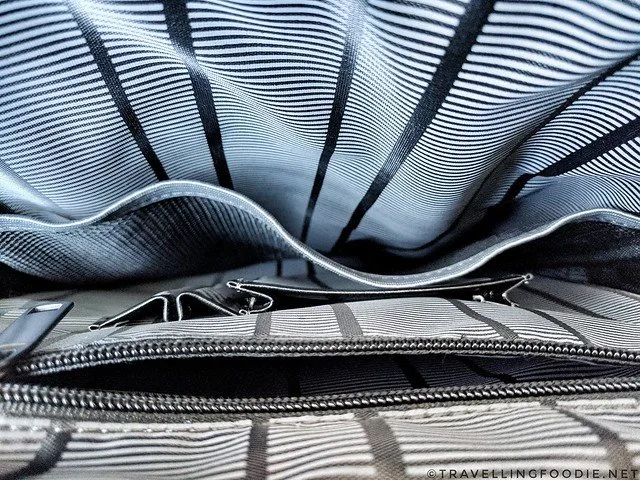 The main compartment includes an iPad/tablet pocket and is padded to hold a 12.1-inch laptop or tablet.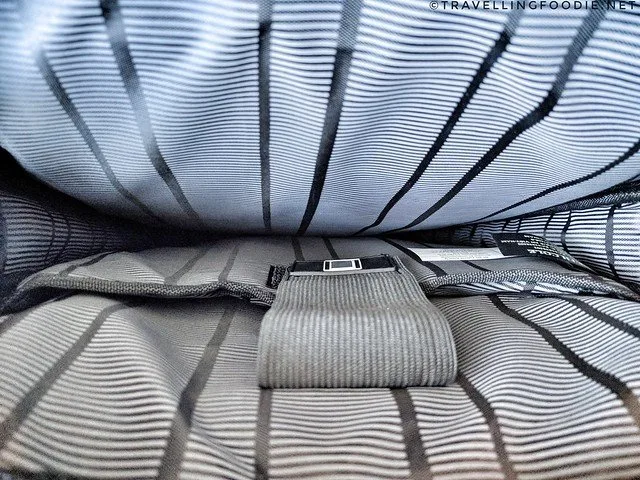 The rear exterior has a grab strap for easy handling, permanent, adjustable, and padded shoulder strap.
I really love this messenger bag and highly recommend it. You can probably buy it from a store or on Amazon.
---
Travel Essentials List: What's Inside Your Messenger Bag?
Electronics that fit in the Messenger Bag
Headphones
Noise can be an issue when travelling. You know you just want to be listening to your own thing when you're commuting on the subway, bus, train or airplane.
If I'm not travelling for work, I would typically bring the Bose QuietComfort 35 headphones. These headphones are so portable that they fit snugly in the bag.
Camera + Gear
If I'm travelling for work, then I put the camera inside instead. The Sony A6500 fits nicely inside the messenger bag, which is why I bought this one to begin with.
On top of the camera, I'm able to fit the other two gears I use for content creation:
Phone, Tablet or e-Reader
With phones getting bigger and bigger, some people prefer storing them inside the messenger bag.
I usually put my smartphone in my pocket. However, when I'm charging my phone with a portable charger or wearing something with smaller/no pockets, I usually put the phone in the bag.
For some people, this can easily be an e-reader or a tablet. Similarly, my Amazon Fire HD 10 Tablet fits nicely inside too.
Portable Charger
You know you don't want to get stuck without your electronics. I actually bring two chargers because, doing this full-time, I cannot have my gadgets die on me.
Luckily, at the CES, I was able to get a myCharge Portable Charger.
Food & Drinks On-The-Go
Snacks
As a travelling foodie, I've learned to always bring snacks with me when I travel. You never know when you will be eating again.
A simple granola bar, chips or the KITKAT Snax easily fit in the bag to make sure you never go hangry.
Water Bottle
It's important to keep hydrated when travelling. Having a water bottle always ensures you have water to drink wherever you go.
As an example, when travelling in Colorado, the high elevation makes you dehydrated so drinkings lots of water is very important.
Similarly, when travelling in India during the summer, you need to stay hydrated to beat the heat of at least 40C (or 104F).
Travel Hygiene & Protection
Hand Sanitizer
Travel hygiene is very important when travelling. You definitely don't want to get sick during a trip.
The easiest way to at least keep in mind is to have your hands always clean. I try to keep a hand sanitizer in my bag, usually the travel-sized Purell hand sanitizer.
Sunglasses
On long trips, especially on tropical countries or when I know I'm driving, I have to bring sunglasses handy.
Identification
Business Cards
You'll most likely have this in your wallet as well. But I keep extras in the bag just in case, and I also keep business cards I receive from other people in the messenger bag when travelling.
Passport
Definitely a must in your messenger bag when travelling outside the country.
A water bottle also helps with sustainable travel because it leads to less use of disposable plastic water bottles, which are not good for the environment.
I typically bring the Swell, stainless steel water bottle, and it fits inside the bag. Similarly, they have different sizes for your needs.
Travel Wallet
This maybe the least common. But no joke, I have an extra wallet for when I travel outside Canada.
My home wallet has many things that I don't really need when I travel. This allows me to organize the wallet better and also allows me to split the currency easily.
Random Things
Coupons/Vouchers
Some of you probably have them in your wallet. I have a stack of these that I keep in the bag so it doesn't become bulky in the wallet.
Right now, my travel wallet's a Tommy Hilfiger trifold wallet.
Small Things
Other small things that can be useful and would easily fit in the bag: pens, vitamins, lip balm, pocket tissues, etc…