Looking for a travel laptop? The Microsoft Surface Laptop 3 is one of the best laptops for travelling!
When I decided to be a full-time travel & food blogger and content creator, I wanted to take my content to the next level.
Armed with a new camera to shoot photos and videos more professionally, I wanted to start editing the content better as well.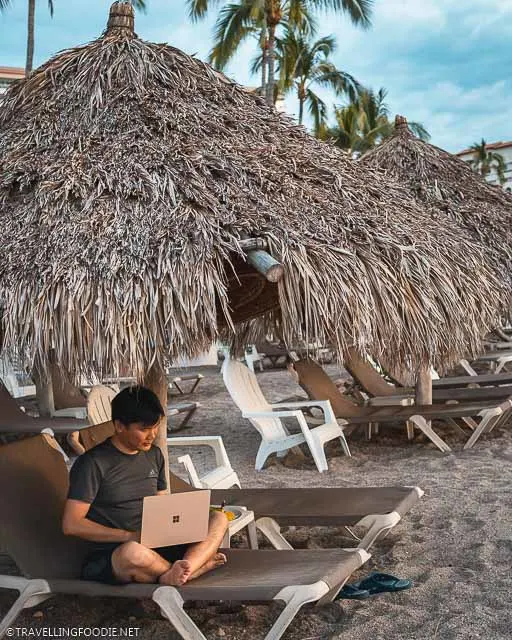 What was stopping me? I was still using my old 2012 laptop and, with today's photo and video editing software, the laptop couldn't handle them anymore.
Adobe Lightroom was usable for editing photos, but slow and lagging that I cannot even use some features effectively. Worse, I cannot even use Adobe Premiere at all as it would just hang.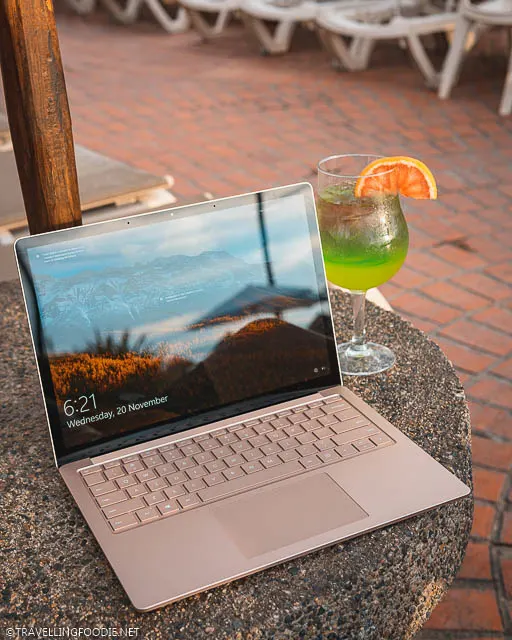 I've also come to realize that my old laptop was too big for travelling. It was a 15.6″ gaming laptop that I bought when I used to play computer games.
Now that I travel a lot and stopped playing computer games, the bulk and weight are travel inconveniences and takes a physical toll on my back and posture. This became evident to me when I travelled for 3.5 months in Asia in 2019, visiting Philippines, Japan, Singapore and India.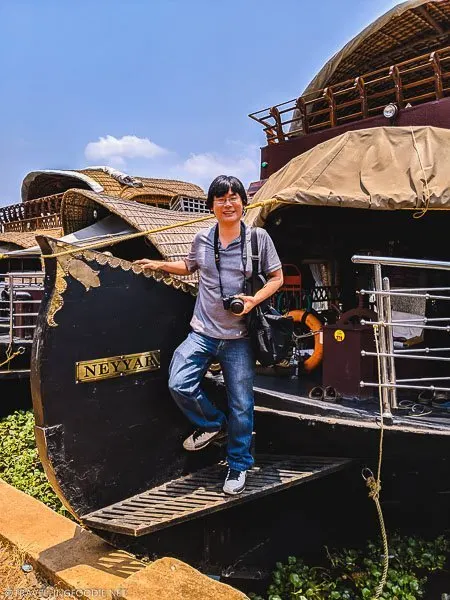 After the Asia trip, I was sure I wanted a new travel laptop that fit my new travel blogging lifestyle, and the first candidate for me was a Microsoft Laptop.
Luckily, the new line of Surface devices were coming out that October so I was eyeing the Microsoft Surface Laptop 3.
My experience with Microsoft goes all the way back to my childhood, as a kid using a computer with MS-DOS with Windows 3.1 and playing some of my favourite games like Prince of Persia, Doom, Archon Ultra and The Secret of Monkey Island.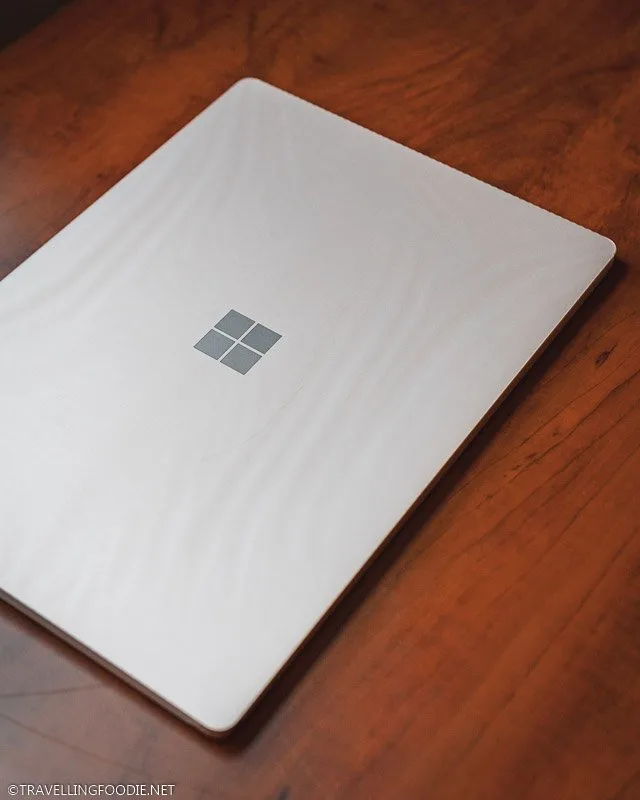 This fascination with computers and games as a child is what got me wanting to learn more about computers, eventually studying Computer Science in university and doing software development before I took the leap of faith to pursue my own passion as a travel & food blogger and content creator.
I've been a Microsoft user since a kid and have never switched to Apple/Linux/Unix so I was tremendously happy to have the opportunity to partner with Microsoft when the Microsoft Surface Laptop 3 came out.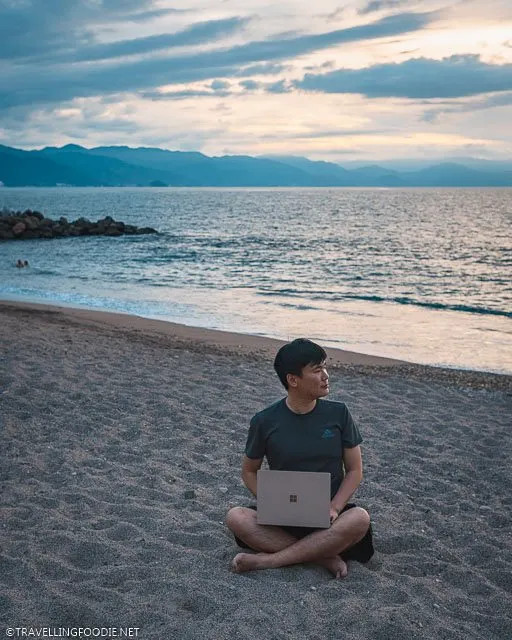 I received the laptop in October 2019 but wanted to make sure I have thoroughly used the laptop for a while and have used it in my travels before writing this post so that the information is true to my experiences.
Also Read: Messenger Bag: Travel Essentials while Travelling
---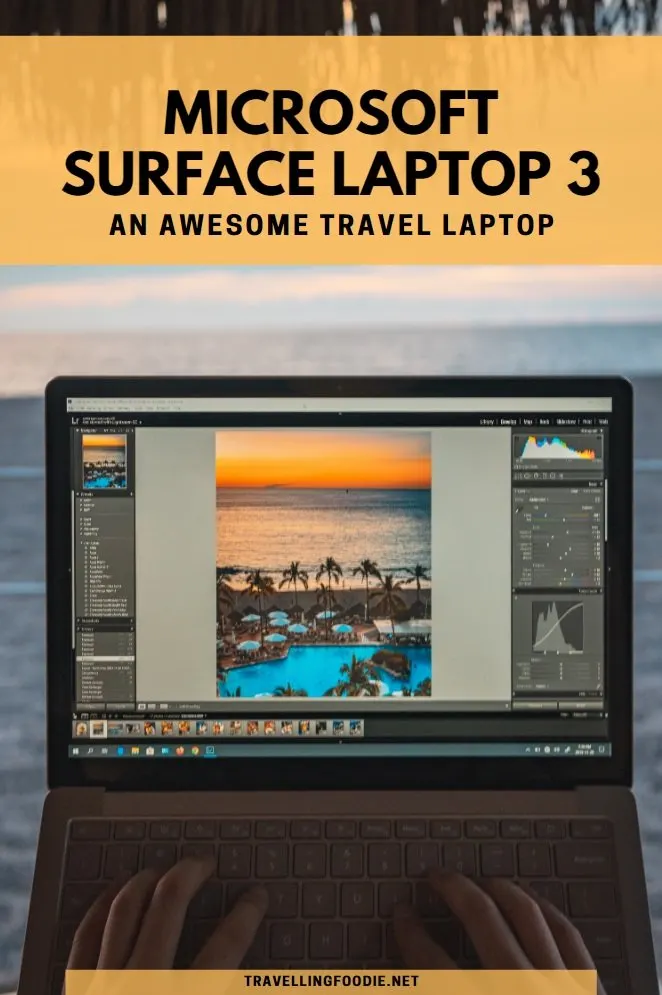 ---
Why Microsoft Surface Laptop 3 is an Awesome Travel Laptop
Since receiving the Microsoft Surface Laptop 3, it has travelled with me (as of Feb 2020) to Mexico, where most of the photos here are from, US Virgin Islands and Nova Scotia.
I can attest that it is such a great laptop for travelling and has made my life as a travel blogger so much easier.
Here's why the Microsoft Surface Laptop 3 is one of the best travel laptops! This review is based on the specific device I'm using in which the technical specs you can find at the end of the post.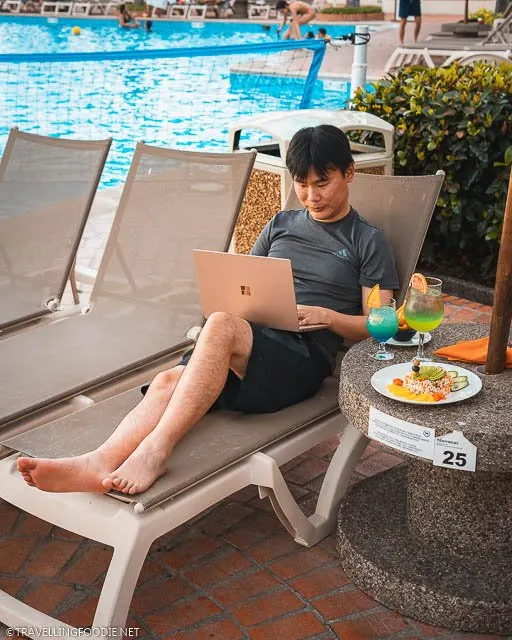 Small and Lightweight
As a travel blogger, I needed a laptop that is easy to carry and takes less space and weight inside the bag when travelling. The Microsoft Surface Laptop 3 is great because of its small, lightweight and sleek design.
Compared to my old laptop that weights 6.40lbs, the Microsoft Surface Laptop 3 only weighs 2.84lbs, making it one of the best lightweight laptops in the market!
During security screenings at the airport, I am able to easily remove the laptop from my backpack and tray and hold it around with one hand.
Carrying the backpack or laptop bag on trips isn't as heavy anymore as well so my back and shoulders don't get sore as much.
With the small sleek design of the Microsoft Surface Laptop 3, I have more space inside my bag to store other things too.
Also Read: Bose QuietComfort 35 Headphones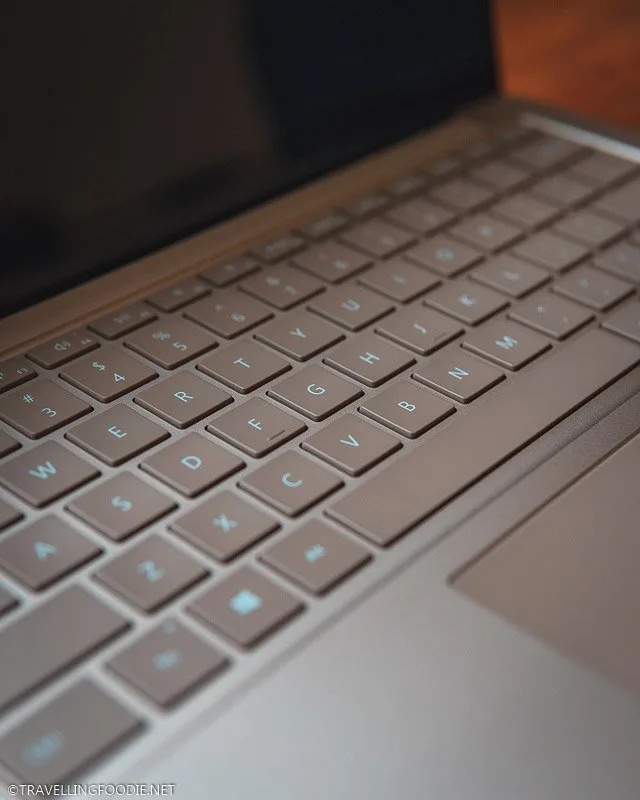 Extremely Powerful & Quick
As a content creator, I needed a laptop powerful enough to run the suite of applications I use for work including Adobe Lightroom, Photoshop and Premiere.
With how powerful and quick the Microsoft Surface Laptop 3 is, I'm able to run all of these applications seamlessly without any problems.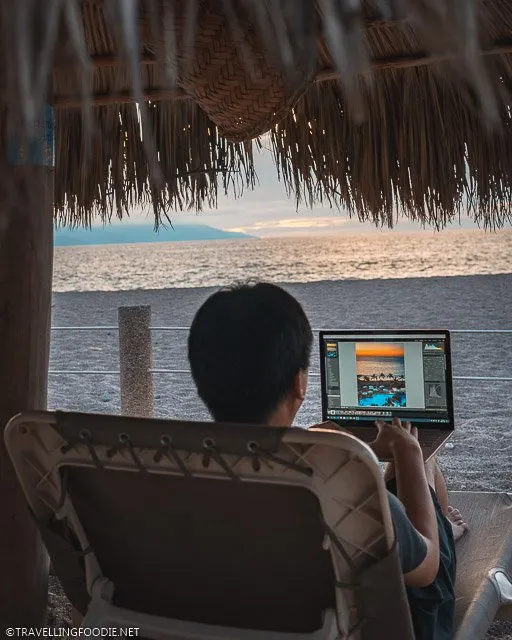 Best of all, I am a multi-tasker, using an external monitor to extend my laptop at home so I can have multiple applications open at the same time.
Usually, when I'm editing photos in Lightroom, I would also have Netflix or YouTube running on the other monitor among other things.
The Microsoft Surface Laptop 3 is so powerful that, on top of being able to do that, I can also have both Adobe Lightroom and Premiere running at the same time without problem.
This really makes my life so much easier as a content creator.
Productivity
On top of the laptop being extremely powerful and quick helping boost my productivity, certain design features of the Microsoft Surface Laptop 3 have made my life easier.
It's funny how certain things you never thought mattered before end up being so useful once it's there. This is my first time using a laptop with a touch display, and I cannot believe how much I use it.
With how much we use touch devices nowadays, I find it comes more natural for me to do certain things with touch gestures instead of the mouse.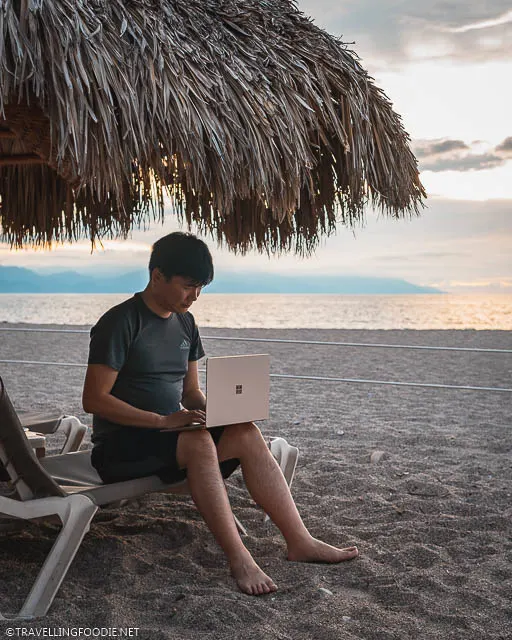 Instead of using the mouse to zoom in and out a photo, I find myself pinching the Microsoft Surface Laptop 3 touch display instead. Similarly, I can draw more precisely and, in certain scenarios, erase more accurately than using a mouse.
The larger touch pad also made it easier for me to rely less on a mouse since I can drag things further or scroll up/down longer in one swipe.
During trips, I sometimes don't even bring my mouse anymore and can suffice editing with just the touch pad and screen.
The Whiteboard App on the Microsoft Surface Laptop 3 has become useful for me on my brainstorming of ideas as well. And with the touch display, it really does give a feel of using a whiteboard.
Also Read: Ultimate Colorado Guide: 7 Day Road Trip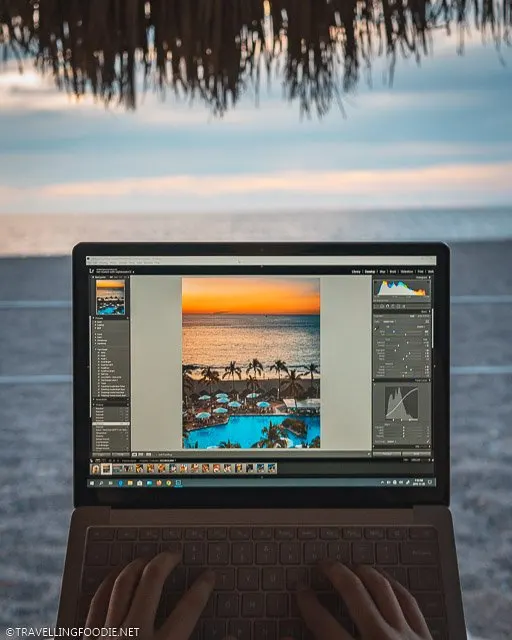 Battery Life
What most people don't realize about travel bloggers is that we still have to work while travelling.
Since the work I do on the laptop is quite intensive and power heavy, I needed a laptop with a good battery life because I will have to work in situations where there is no power outlet like the airplane or on the road.
With my full setup at home, which consists of an external monitor and the attached accessories below, the Microsoft Surface Laptop 3 lasts me a good 3-4 hours of work.
Again, this is with an external monitor via USB-C Hub (which I learned uses a lot of battery) and multiple applications running including Adobe Lightroom and/or Premiere with Netflix/YouTube.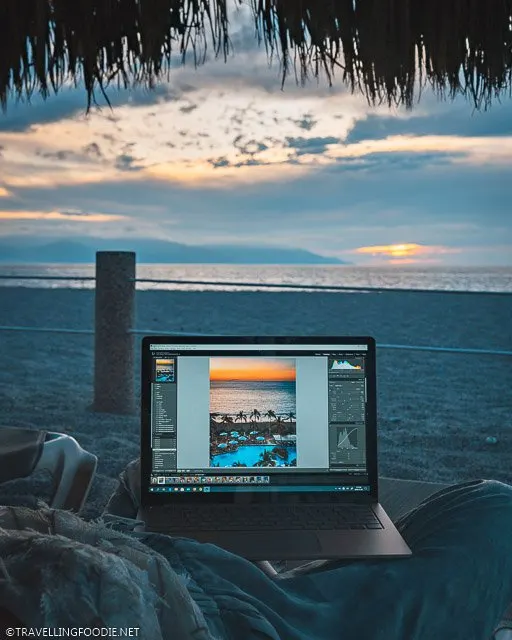 When travelling, the Microsoft Surface Laptop 3, along with the attached accessories, lasts me a good 4-5 hours of work.
This includes transferring files from the SD Card to the laptop through a USB-C Hub, then editing in Adobe Lightroom and Premiere along with some other open applications.
This means you are sure to get even more battery life if you don't use it as heavily as I do.
Check pricing and availability of the Microsoft Surface Laptop 3 on Microsoft / Amazon
---
Microsoft Surface Laptop 3 Accessories
Here are the accessories I have for both home and travel as I switched to the Microsoft Surface Laptop 3 which are useful for my work as a travel blogger and content creator.
Though it's arguable if it's better to have a laptop that would reduce the need for these accessories, I realized this setup is more conducive for me as a travel blogger, especially if having them built-in to the Microsoft Surface Laptop 3 meant that the laptop's weight and size would increase.
This new setup allowed me to only have to bring specific accessories on a needs basis. Also, I can maneuver how to store these accessories better when travelling.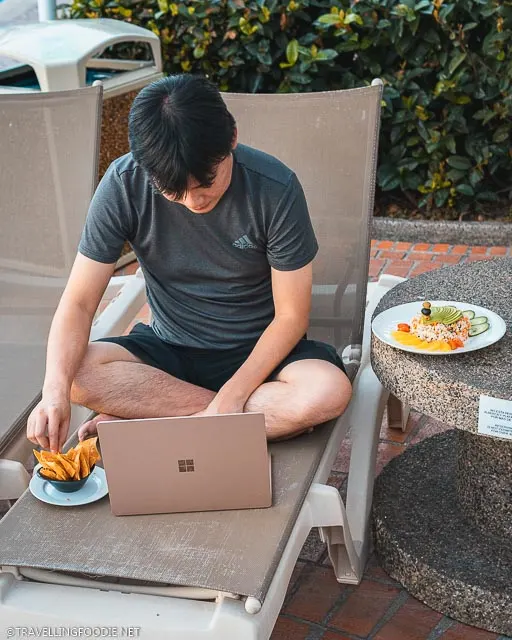 Acer CP3 4K Monitor CP3271K
With the Microsoft Surface Laptop 3, the USB-C 3.1 port can support two 4K monitors at a 60Hz refresh rate so I definitely wanted to leverage that. I've been using an old Acer x213Hbid 21.5″ monitor since 2009, but this only goes up to 1080p.
So it's time for an upgrade!
Acer has a new brand called ConceptD with electronics created specifically for content creators and designers. I wanted a monitor that can be maximized with the Surface Laptop 3 so I went with the Acer ConceptD CP3.
The CP3271K Pbmiippruzx model has 4K Ultra High Definition IPS display with 3840 x 2160 resolution and up to 120hz. With its true-to-life color accuracy with 1.07 billion colors, I am able to edit so much better and in more detail since I edit photos in RAW format and videos in 4K.
Similarly, with the 27″ monitor, I have a much bigger real estate to do my work. I can see all the panels for both Premiere Pro and Lightroom without having to collapse any.
The Acer ConceptD CP3 CP3271K monitor is also great for games! Though I am not as hardcore a gamer as a used to be (I used to be addicted to Dota 2), it's good to know I am covered to play intensive games because the monitor can overclock to 144Hz and is compatible with NVidia G-SYNC and AMD FreeSync features.
The 4K clarity is unbelievable! Watching food from 4K videos on YouTube, it just looks so real like I'm seeing the actual dish right in front of me. Similarly, watching travel 4K videos transport me virtually as if I'm there.
I love that the monitor comes with a stand that can swivel, tilt, pivot and adjust for height.
Tilt: -5°~ 35° (at the highest position)
Swivel: 360°
Height Adjustment: 180mm
Pivot: on Y-axis
I can setup my workstation at home exactly how I want it. I used the height and tilt so I can have the monitor right above the Microsoft Surface Laptop 3. Here's how my setup looks now.
Check pricing and availability of Acer ConceptD CP3 on Amazon
Microsoft Arc Mouse
One of the most surprising things I learned during my transition to the Surface Laptop 3 is that USB 3.0, in general, is known to cause interference with 2.4GHz Wireless Mouse, which is what I was using prior.
Since there is no USB 2.0 slot on the Surface Laptop 3, my old mouse didn't work properly on the laptop anymore. To resolve this, I switched to the Microsoft Arc Touch Mouse.
What I love most about it is it's perfect for travelling! This very slim and lightweight mouse snaps flat to power down so you can fit it nicely inside your bag.
You curve the mouse to power on and it has a battery life of up to 6 months. Another feature I didn't think I'd need is the touch scroll panel which allows both horizontal and vertical touch scrolling and replaces the usual scroll wheel.
The Microsoft Arc Mouse is a Bluetooth 4.0 mouse so it doesn't take up a USB slot. Its BlueTrack technology makes it work on most surfaces, which is great because you never know where you have to use the laptop when travelling.
Check pricing and availability of Microsoft Arc Mouse on Amazon
WiFi 6 Router
As a blogger and content creator, the internet is a necessity for me since my core business is online and I upload a lot of heavy media (photos and videos) to my platforms.
The Microsoft Surface Laptop 3 has support for WiFi 6 (802.11ax), the newest wireless standard that came out in 2019. Before this laptop, my router at home was an old WiFi 4 (802.11n – 2009 standard) router which I had since 2013.
With my need for better Internet speed and connection, getting the new laptop was the best time to also get a new router. And since the Microsoft Surface 3 supports WiFi 6, I wanted a router that supports it too.
I have the TP-Link Archer AX50 Router, which came out on September 2019. This router has everything I need, which will last me a long time similar to my old router.
The TP-Link Archer AX50 supports the latest WiFi 6 technology with backwards compatibility to older WiFi standards, is dual band (2.4GHz and 5GHz), has a long range (2,000 sq. ft), and can support up to 256 devices and 3Gbps speeds.
Check pricing and availability for TP-Link Archer AX50 AX3000 Dual-Band Wi-Fi 6 Router on Amazon
Portable Hard Drive
As a content creator, photos and videos take a lot of space. A RAW photo is already 25MB compared to a JPEG photo which is typically 5MB. Videos take even more space.
My Microsoft Surface Laptop 3 is 256GB though the maximum storage you can get for it is 512GB. I bought a 2TB Seagate Portable Hard Drive to store all my files and leave the laptop storage for Software space and temporary files.
This is a great move for me going forward because I now become computer-independent for my files and don't need to worry about transferring my files between computers in the future. I just stick the portable hard drive then everything's there.
The Seagate Portable Hard Drive is small so I can travel with it easily. I'm also able to share files with family, friends and other content creators much easier now that everything's in the portable hard drive.
Check pricing and availability for Seagate 2TB Portable Hard Drive on Amazon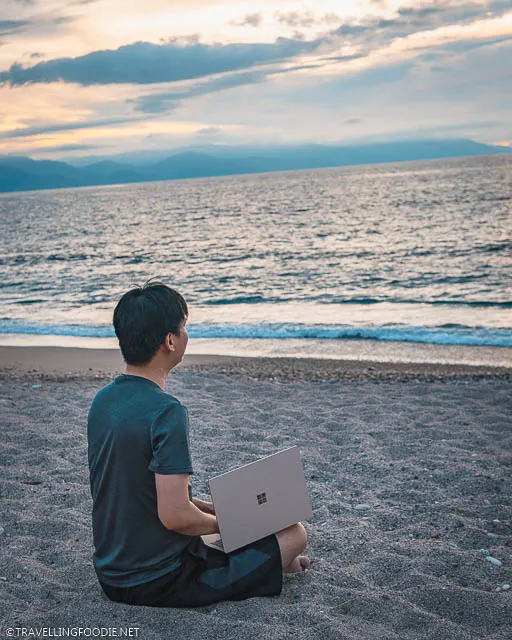 USB-C Hub
The Microsoft Surface Laptop 3 doesn't have an HDMI nor VGI output port for an external display. It also doesn't have an SD Card slot for me to transfer my photos from the camera.
To maintain my existing workflow and work setup at home, I bought the Dodocool 7-in-1 USB-C Hub that had all the connections I needed including 3 USB 3.0 ports, a 4K HDMI video output port, and an SD memory card slot.
This is very useful because now I have more connections than what a laptop would typically have and it can also be used outside the laptop.
Check pricing and availability for Dodocool 7-in-1 USB-C Hub on Amazon
Laptop Bag
Though I have a backpack, I also have a laptop bag. I use one or the other depending on the need.
For the laptop bag, I have a Thule Gauntlet 13-inch Attaché, a molded attaché with a rigid exterior and enhanced corner and edge protection. The Microsoft Surface Laptop 3 fits snugly on the sleeve.
What I love about it is it's smaller than a backpack but bigger than a laptop sleeve. I would sometimes even put the laptop bag inside the backpack when needed.
The clamshell design allows me to work directly out of the case. And it's big enough for me to store the cords and accessories I need, even other things like my Bose QuietComfort 35 Headphones!
Check pricing and availability for Thule Gauntlet 13-inch Attache on Amazon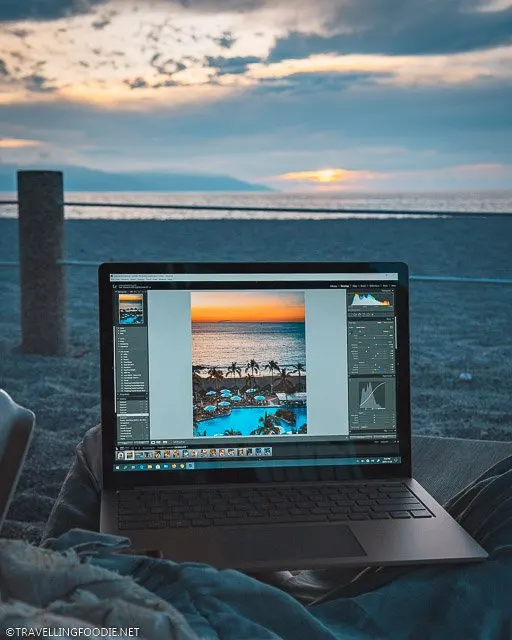 ---
What's In The Box Of Microsoft Surface Laptop 3?
Here are what's included with the Microsoft Surface Laptop 3 out of the box.
Surface Laptop 3
Power Supply
Quick Start Guide
Safety and warranty documents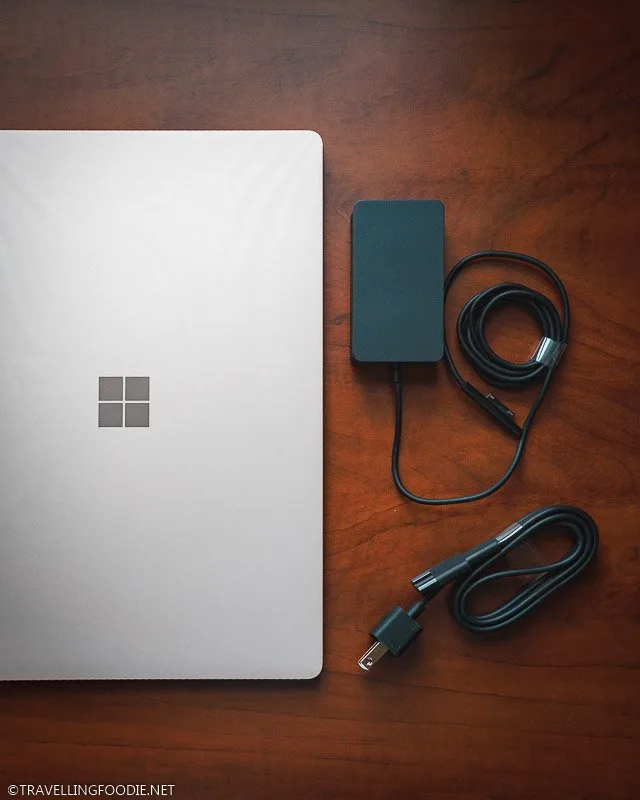 ---
Microsoft Surface Laptop 3 Tech Specs
Here's the technical specifications of the Microsoft Surface Laptop 3 that I have.
Design & Color: Aluminum Casing and Sandstone Color with metal palm rest
Dimensions: 12.1" x 8.8" x .57" (308 mm x 223 mm x 14.5 mm)
Display

Screen: 13.5" PixelSense™ Display
Resolution: 2256 x 1504 (201 PPI)
Aspect Ratio: 3:2
Touch: 10-point multi-touch

Processor: Quad-core 10th Gen Intel® Core™ i7-1065G7 1.30Ghz Processor
Graphics Card: Intel® Iris™ Plus Graphics 950
Memory: 16GB LPDDR4x RAM
Storage: 256GB SSD
Weight: 2.84 lb
Connections

1x USB-C
1x USB 3.0
3.5mm Headphone Jack
1x Surface Connect Port

Price: CAD$2149
---
The Microsoft Surface Laptop 3 is indeed one of the best travel laptops out there. I'm very happy with the laptop and how it has made my life easier as a blogger and content creator.
Hope this laptop review of the Microsoft Surface Laptop 3 helps you decide if it's the right laptop for you!
---
Huge thanks to Microsoft for being a partner on this post. As always, all thoughts/opinions are 100% my own.
You can learn more about the Microsoft Surface Laptop here.