Looking for a special dining experience in Los Angeles? One of the best restaurants in L.A., n/naka is a two Michelin Star restaurant specializing in kaiseki, a Japanese multi-course dinner based on the freshest seasonal produce and ingredients.
Did you know? In 2019, n/naka was listed in Los Angeles Times' 101 Best Restaurants, World's 50 Best Discovery, and Food & Wine's World's Best Restaurants.
As a lover of tasting menus and Michelin dining experiences, n/naka has been on my Los Angeles bucket list restaurants.
After booking my flight to California for December 2021, the first thing I did was try to make reservations for n/naka.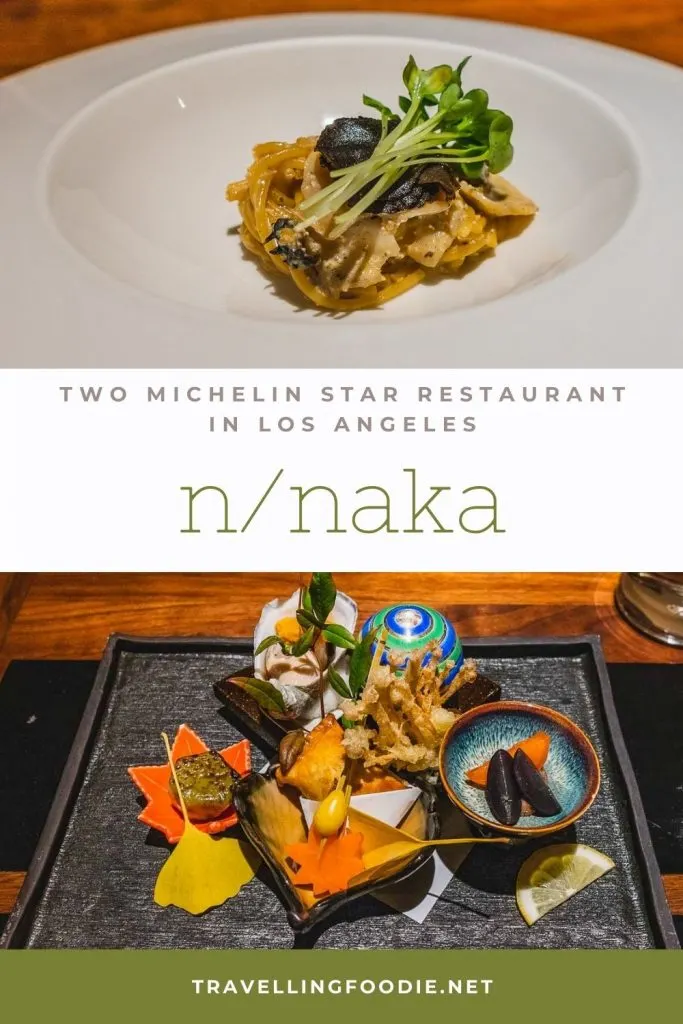 ---
n/naka – Two Michelin Star Restaurant in Los Angeles
Opened in 2011 by Japanese-American chef and owner Niki Nakayama, n/naka specializes in modern Japanese kaiseki cuisine.
Chef Niki wanted to create thoughtful tasting menus that tell a story through its series of courses alongside her wife and sous-chef, Carole Iida-Nakayama.
At her namesake restaurant, Chef Niki still follows the same structure as a traditional kaiseki but allows room for creativity and personalized expression which is why they call it modern kaiseki.
n/naka received its first two Michelin Stars in 2019, one of only five Los Angeles restaurants that received the rating that year.
After Michelin took a break from 2020 guide due to pandemic, n/naka was awarded two Michelin Stars in 2021 again, one of the 90 Michelin restaurants in the entire state of California.
In 2023, n/naka was awarded two Michelin Stars again, among the 87 starred restaurants.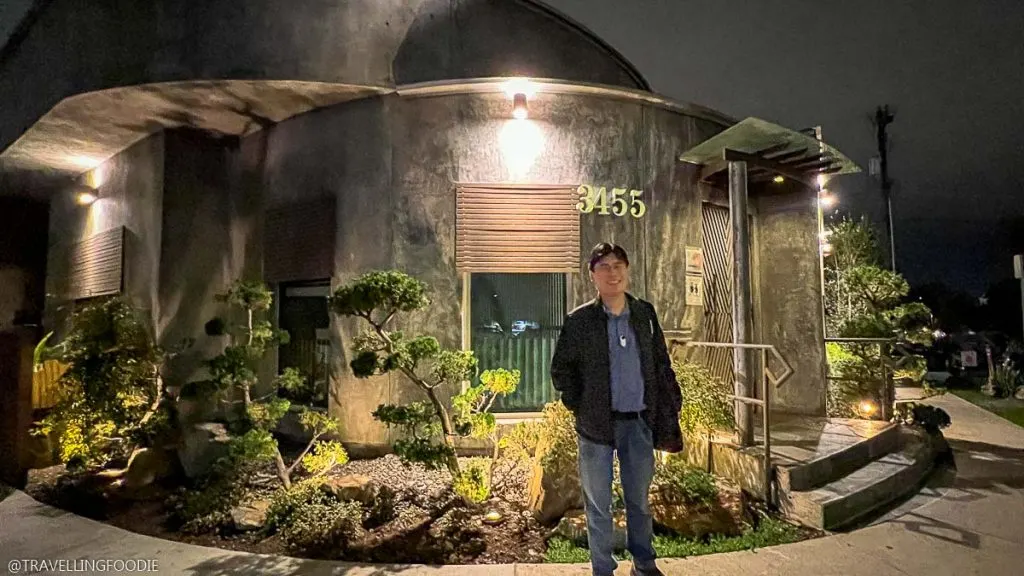 ---
Inside n/naka Los Angeles
Located in the Palms neighborhood, 15 minutes from downtown Los Angeles, n/naka is in a very unassuming place that's easy to miss.
There's no sign that says n/naka, just a big 3455 number and a zen garden around it.
It makes you wonder if you made a mistake in entering the address on your GPS and arrived at someone's home.
But in a way, it is true. Because n/naka is like Chef Niki Nakayama's home.
When you enter the front door, you are greeted by name and, upon validating proof for vaccinations and ID, led to your table.
The minimalistic interior is dimly lit, intimate and tranquil, adorned with wooden panels and dividers reminiscent of a Japanese ryokan.
You'll also find the wine cellar on the way to the washrooms.
How many seats does n/naka have?
There are only 26 highly coveted seats at n/naka, allowing for perfectly timed and executed courses and impeccable service one expects at this caliber of fine dining.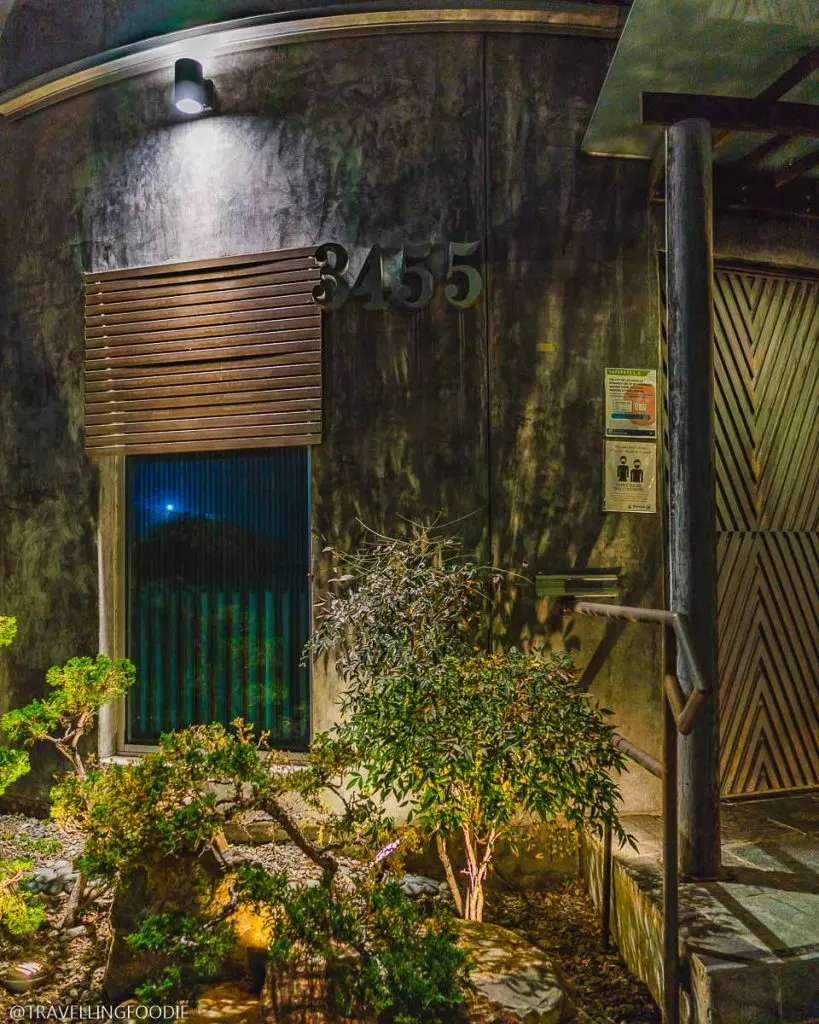 ---
n/naka Menu and Price
Tasting Menus
n/naka has two seasonally changing menus you can choose from. (Prices as of September 2023)
The Modern Kaiseki is thirteen courses for $310, which features a "deep exploration of traditional Kaiseki service with modern accents in technique and flavor pairings."

The Vegetarian Tasting is thirteen courses for $310, which "reinterprets a modest Modern Kaiseki menu with purely vegetarian elements."

Note: They do not have a vegan menu, and respectfully decline vegan requests.
You can indicate your dietary restrictions upon making reservations, but do note that they do not accommodate everything to maintain the integrity of their dishes.
Be sure to check with them in advanced if you have any questions.
Wine and Sake Pairing
n/naka features an extensive list of wines and sakes from around the world.
You can order separately, or do the Wine and Sake pairing for $175.
You get 10 drink pairings with about 50-50 split between wine and sake.
I highly recommend doing this because it's not common to find sake pairings.
---
Modern Kaiseki Tasting Menu at Michelin Star n/naka
Having dined at Michelin restaurants and World's 50 Best Restaurants like El Celler de Can Roca, Oud Sluis, Robuchon au Dôme, Soil Athens and most of Toronto's Michelin Star restaurants, I was excited to try n/naka.
We dined at n/naka on December 22, 2021, making it a winter menu.
This was my second kaiseki experience – the first being in Toronto at Kaiseki Yu-zen Hashimioto which I loved so I was very excited about n/naka.
I love how kaiseki is such a culinary art form that combines storytelling, culture, food and art.
Each individual course is just as important as the whole meal.
We did the Modern Kaiseki along with the Wine and Sake Pairing, which were $285 and $150 at that time.
What I enjoy about this is you don't only get traditional Japanese food, but also unique twists that Chef Niki has created.
The whole experience took around 3 hours.
As the tasting menu is seasonal, these exact dishes may not be on the menu anymore, but will give you a great idea on what to expect.
From what I heard, no dish is ever repeated at n/naka except for one dish, which you'll learn as you read on.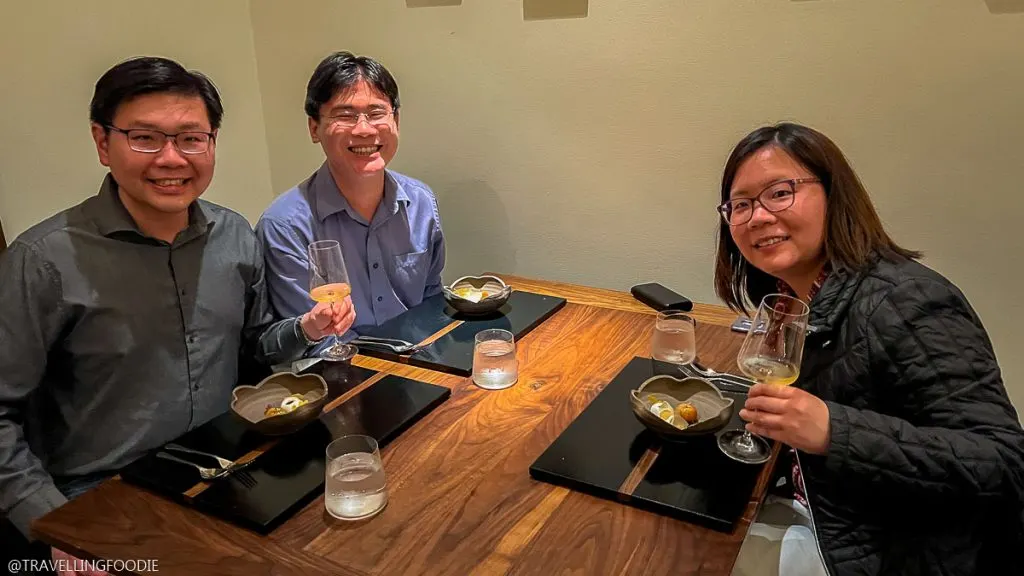 SAKIZUKE
The sakizuke course is a small appetizer served at the beginning of kaiseki similar to the French amuse bouche.
This also came with a Welcome Beverage (outside the drink pairing), Tamagozake, which is like a Japanese eggnog, a festive drink that the Japanese typically drink at the end of the year.
For this course, we had snow crab paired with roasted asparagus puree, pickled ginger, tapioca, minced ginger with a soy sauce tuile on top.
This dish was inspired by a traditional Japanese crab and vinegar dish.
You use the small spoon to crush the soy sauce tuile and have it on each bite.
And it's a delicious bite! Make sure to have a bit of everything on it.
ZENSAI
The zensai course is also an appetizer course.
Chef Niki describes this as like a table of contents, an introduction to the story of your meal.
Here we received a beautifully presented plate consisting of different bite-sized appetizers.
There is no particular order on how you eat the items for the zensai course.
Washington State Shigoku Oysters with Santa Barbara Uni
Chawanmushi – savoury steamed egg custard with a little yuzu cream
Tempura Enoki Mushroom with a small squeeze of lemon
Seasonal Persimmon and Pecan Sumiso
A5 Wagyu Meat Pie
Skewer of Grilled Gingko Nut and Baby Carrot
Grilled Baby Taro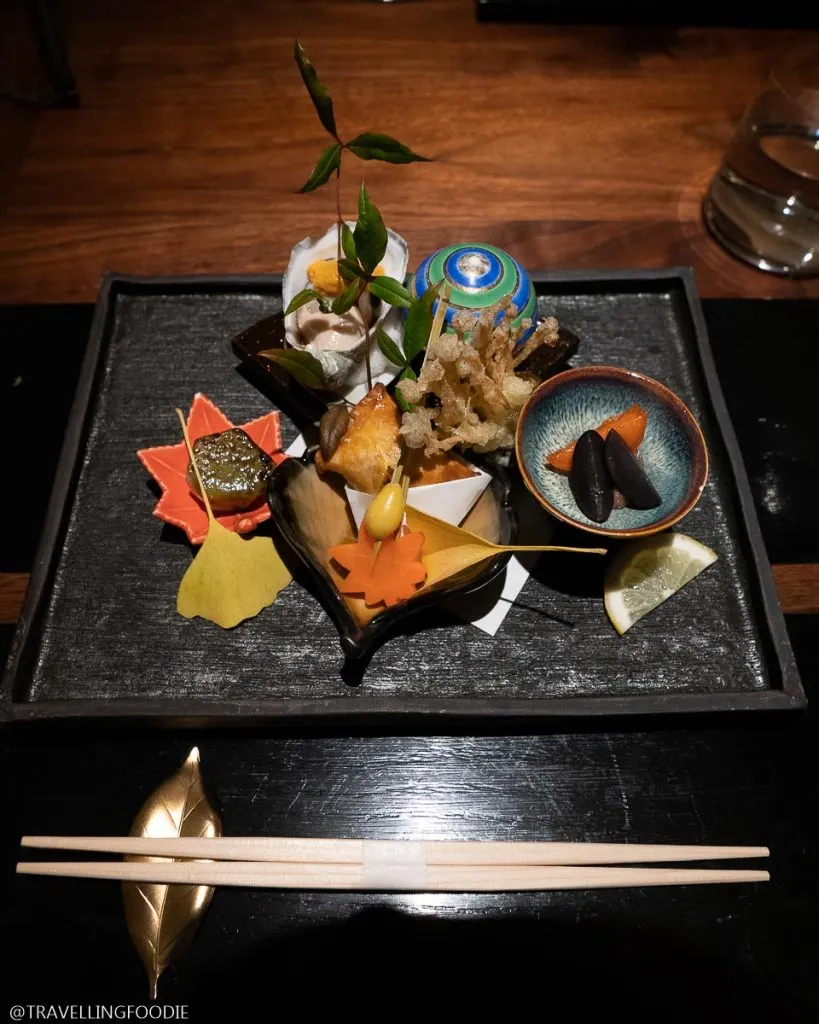 This course was paired with Cremant De Bourgogne from Victorine De Chastenay (Burgundy, France), a lovely sparkling wine using the traditional champagne method.
An enjoyable course as you get to try so many different bites.
My favourites were the tempura enoki mushroom and the oysters with uni.
MODERN ZUKURI
The modern zukuri is something you won't find in traditional kaiseki.
This n/naka course is a modern interpretation of sashimi, allowing Chef Niki to be creative and introduce new flavour profiles to sashimi.
For this course, we had Hokkaido Scallop (Hotate) sashimi with Jicama, Turnip, Chayote and Roasted Pepper Sauce.
The jicama, turnip and chayote on top has been cut into the shape of chrysanthemum.
Beneath the jicama and turnip is hotate, Japanese sea scallop from Hokkaido.
In the centre are some edible plants.
Beneath the chayote is a vinegar based dashi jelly. Break apart the jelly, dip some of the scallop on it.
On the side as accompaniment is Okinawan sea salt.
You'll want to add a pinch on top of the scallop to bring out its natural sweetness.
There's also a dried California chili oil.
You want to have a little bit of everything together and then dip it into the chili oil to add a touch of umami and heat.
This course was paired with Masumi Hiyaoroshi – "Sleeping Beauty" from Masumi Brewery (Nagano, Japan).
The sake has ripened and matured with taste of full dried fruit notes. Its acidity helps bring out the flavour of the scallop.
I loved this course!
It looked so simple, but it had so much depth and complexity with the different textures and flavours combined.
OWAN
Owan is the soup course. Here we had Matsutake Mushroom soup with Snapper and Mitsuba.
The first time I had matsutake mushroom was at Sushi Kashiba in Seattle and also as a soup, and I remember loving it.
It's a very prized and seasonal fall mushroom so I'm happy I got to have it again at n/naka.
The matsutake mushroom here was from Oregon State, and I liked that they actually presented the whole mushroom so you know what it looks like.
Inside the soup bowl, there were slices of matsutake mushroom, snapper (tai) and mitsuba then they pour the soup at the table from a teapot.
Very simple, clean tasting but absolutely satisfying and delicious!
OTSUKURI
Otsukuri is the Traditional Sashimi course. Expect nothing but deliciously fresh raw fish!
Ours came with 2 pieces of each: Maguro (Big Eye Tuna), Kanpachi (Greater Amberjack / Yellowtail) and Sawara (King Mackerel).
Sushi was accompanied with fresh ground wasabi along with soy sauce blended with house dashi and a little bit of sake.
This course was paired with Kaori Junmai Ginjo from Yamagata Honten (Yamaguchi, Japan).
This sake has a much more light and smooth style with a very clean airy finish that is just perfect to highlight and not overpower the fish.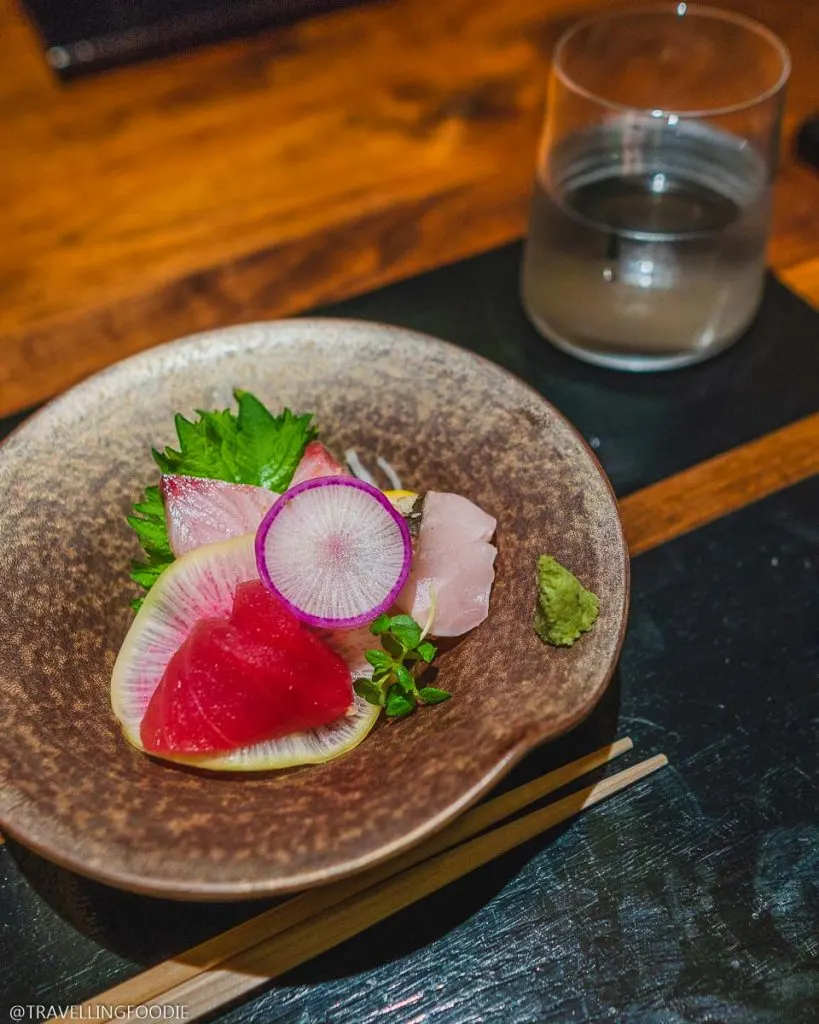 YAKIMONO
Yakimono is the grilled course, which can typically be meat, fish or seafood.
Our yakimono course was Grilled Branzino with Shiitake Mushroom, Sunchoke and Sudachi.
The branzino was grilled to perfection, probably the best branzino I've had!
Also on the plate were little baby spruce tips, which you can use as a condiment for the rest of the dish.
It has a sharp nice flavour that's not for everyone so try one first to see if you like it.
This course was paired with Everlasting Roots Tokubetsu Junmai from Yamada Shoten Brewery (Gifu, Japan).
This sake was kind of earthy and savory: a little bit nutty and full to go with the grilled fish.
MUSHIMONO
Mushimono is the steamed dish course.
Our mushimono was a shrimp ball soup, which is a typical mushimono course in kaiseki.
We had a bowl of dashi broth with yuzu juice and yuzu zest.
In the centre is a shrimp and uni shinjo topped with dehydrated spinach leaf. In the bottom is a kabocha squash mochi.
This was a comforting clean tasting course.
The dashi brought umami. The yuzu brought some tartness.
The shinjo had a nice taste and bite of shrimp although the uni taste was lacking.
I was surprised with how good the kabocha squash mochi was!
This course was paired with Riesling Kabinett 2018 from Schlossgut Diel (Nahe, Germany), which added a welcoming touch of sweetness to balance the yuzu.
Side Note: For the one person in our group who had shrimp allergy, they gave her lobster and uni shinjo instead.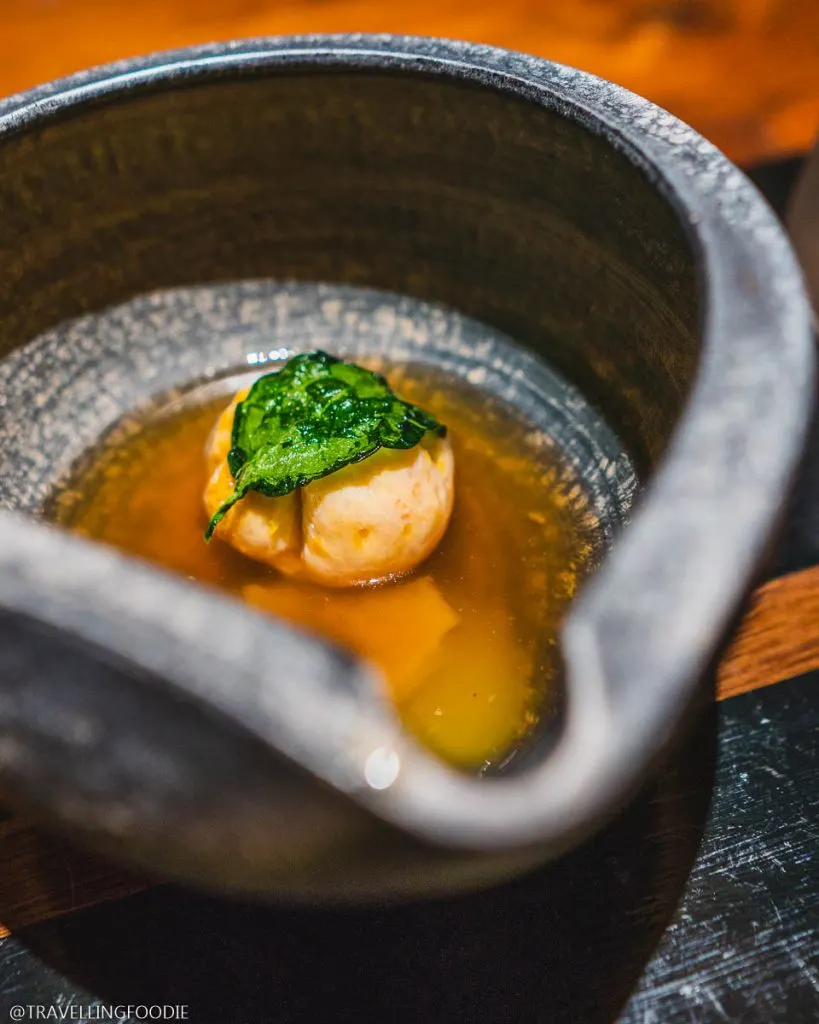 SHIIZAKANA
Shiizakana is the hearty course in kaiseki, which typically features a hot pot or stew.
In this course, Chef Niki breaks away from traditional kaiseki by serving her most famous dish of spaghettini, Monterey abalone, Burgandy black truffle and mentaiko.
This is the only item on the menu that's year round. It never leaves the menu.
And I can definitely see why!
This was such a unique east meets west fusion dish and my favourite course.
Abalone has a particular taste and bitterness, which made Chef Niki think of squid ink and how it added depth to pasta.
She decided to use abalone to make an egg-based sauce that's kind of like a carbonara.
She sautés pieces of abalone and tosses them with the sauce and spaghettini, then garnishes it with truffles, radish, and pickled cod roe.
The result was a rich and creamy abalone-based sauce with chunks of tender (surprisingly not chewy) abalone with earthy taste of truffles and briny taste of cod roe.
This course was paired so well the with Chardonnay "Les Casse-têtes" 2018 from Domaine Chavy-chouet (Meursault, France) with its crisp and fresh minerality balancing with the sauce and bringing out the seafood flavours.
Also Read: Alo Restaurant, Michelin Star Tasting Menu Restaurant in Toronto
NIKU
Niku is the meat course, and I'm so glad they gave us the best meat you can get: A5 Miyazaki Wagyu Beef!
Our wagyu was ribeye cut, dressed with pomegranate and beef jus.
Beside it is spinach puree, arugula salad plus a Tokyo turnip cooked in wagyu fat.
The A5 wagyu had the perfect marbling and just melts as you bite into it.
I personally would've been fine without the jus.
This was my second favourite course of the night.
The only bad thing was I wanted more than a slice!
This course was paired with Cabernet Franc 2018 from Lieu Dit (Santa Ynez Valley, USA).
This restrained old world Cab Franc has soft tannins and bright red fruit notes that play well with the umami flavours of the wagyu and jus.
SUNOMONO
The sunomono course is the small acidic course that acts as a palate cleanser.
Here we had a medley of vegetables and fruits: passion fruit from Chef Niki and Chef Carole's home garden, Japanese cucumber, tomato and aloe vera.
It was a refreshingly fresh bite.
I wished there was a meat or seafood component to it as well.
This course was paired with Yuzu Omoi from Yamamoto Brewery (Kyoto, Japan), a very light yuzu sake with all-natural yuzu to even add more acidity to the course.
If it's your first time trying it like myself, it takes a couple of sips to get used to.
SHOKUJI
Shokuji is the rice and soup course.
Here, we had Nigiri Sushi for the rice and a bowl of miso soup for the soup.
They served the sushi in two rounds.
The first round: Kinmedai (Golden Eye Snapper), Buri (Wild Japanese Yellowtail), Toro (Blue Fin Tuna Belly)
The second round of sushi was Aji (Horse Mackerel), Kamasu (Baby Barracuda), Santa Barbara Uni (Sea Urchin) and Ikura (Salmon Roe).
This course was paired with Okarakuchi Muroka Nama Genshu from Akishika Brewery (Osaka, Japan), a super dry (okarakuchi) sake that's unpasteurized (nama), undiluted (genshu) and unfiltered (muroka).
It's unlike any sake I've tasted.
Its very bold, big and rice-driven taste is quite complex (like the whiskey of sake), adds to the rice taste of the nigiri and cleans the palate for the next fish.
This was my favourite sake of the night!
I enjoyed the variety of sushi which included uncommon ones like the wild Japanese yellowtail and baby barracuda.
The sushi is made in a traditional purist way like how it would be if you go to Japan.
The sushi is very fresh, had the proper ratio of rice and fish, and the right amount of soy sauce.
This concludes the savoury part of the kaiseki. Dessert typically follows after this.
However, if you still have room, they will offer an extra item before dessert.
Be sure to take the extra item because it's complimentary even though they don't mention it.
This is typical of traditional kaiseki that I learned on my first experience where we were offered a complimentary 2nd serving of the last savoury course.
At n/naka, we were offered a blue crab handroll as the extra item.
Crispy nori with sweet blue crab and sushi rice!
MIZUMONO
Mizumono is the dessert course of kaiseki.
This comprised our last two courses for the night.
The first one was Pomegranate and Ginger Sorbet with Compressed Quince and Pear Sake Granita, which was pretty refreshing combination of tart and sweet and acted as sort of a palate cleanser.
The second dessert was Crimson Gold Apple with Apple Butter, Rice Puffs and Ganache Crumble, Fig Leaf Ice Cream, Apple "Leaves" and Balsamic Syrup.
Beautifully plated. Loved the different textures and flavour combination.
Be sure to get a bit of everything on each bite.
The second dessert was paired with Beerenauslese Cuvee 2017 from Kracher (Burgenland, Austria), a very sweet white wine with late harvested Welschriesling and Chardonnay grapes enhancing the apple notes to the dish and ending your dinner on a sweet note.
MATCHA AND MIGNARDISE
As a last hurrah, you get an extra course of matcha and mignardise which is the petit four with coffee/tea common with tasting menu.
We got hazelnut bonbon for the mignardise.
The fresh matcha tea was a great way to end, sort of acting like the "tea ceremony" that is common in kaiseki.
They also gave us a box of treats to take home for the next day.
Inside were carrot cake with apricot as well as a tea bag of sencha matcha with dried fruits.
A great way to continue the amazing dining experience for another day!
---
Chef Niki Nakayama, n/naka Owner and Executive Chef
Once everything's done, Chef Niki Nakayama comes to your table to greet and chat about your experience.
This is such a nice touch because I always love meeting the chefs after experiences like this.
She is such an impressive chef, and I love how nice and humble she is in person given her popularity.
As a background, Chef Niki was born and raised in Los Angeles.
She began her career at Takao restaurant in Brentwood, working under the guidance of chef Takao Izumida.
She went on a three-year working tour in Japan to gain deeper knowledge of Japanese cuisine, including the art of kaiseki at Shirakawa-Ya Ryokan under Chef Masa Sato.
Before opening n/naka, Chef Niki opened two restaurants upon her return in Los Angeles: Azami Sushi Cafe, a sushi restaurant known for omakase, and Inaka, a Japanese takeout joint during the day and a small tasting menu restaurant at night.
In 2015, Chef Niki and n/naka were featured in the critically acclaimed Netflix original series, Chef's Table (Volume 1, Episode 4) with her notable quote:

"The best advice I was given was to never stop learning, because the moment you give up and think you know everything, you're already done as a chef, you should just quit."
Aside from being a Michelin Star chef, Chef Niki is also a James Beard nominated chef.
---
VIDEO: Full n/naka Modern Kaiseki Experience
Get immersed and watch our video of the full Modern Kaiseki with Wine and Sake Pairing experience at n/naka in Los Angeles.
---
Final thoughts on nnaka Los Angeles
I highly recommend a visit to n/naka when you're in Los Angeles, especially if you love Japanese cuisine.
It is one of the best restaurants in Los Angeles for a reason.
There's not a lot of kaiseki-only restaurants available outside Japan, let alone a Michelin-starred one so this experience is really special.
Since this is kaiseki, don't expect very fancy or molecular gastronomy type dishes.
Kaiseki is focused on tradition and a certain structure and storytelling so the food reflects that as well.
Food and service is exceptional and a great way to experience kaiseki/tasting menu and Michelin star restaurants.
This is definitely a special occasion kind of meal with the price.
But in restaurants like this, you are not just paying to get full, you are paying for the entire experience, the culinary journey that Chef Niki takes you on through kaiseki.
I hope this review of n/naka gives you an idea this kind of restaurant is a fit for you.
---
n/naka Reservations
n/naka is open from Wednesday to Saturday with two seatings per night only.
Early seatings start around 5-5:30pm and late seatings are around 8:30-9:00pm.
With only 26 seats, reservations are mandatory because they get fully booked really fast.
How to make reservations for nnaka?
Reservations open on Tock one month in advance, every Sunday at 10am PST.
Click here to check for availability on Tock.
If reservations are full, be sure to add yourself to the waitlist because you can still get lucky in getting spots like I did.
---
n/naka Dress Code
What's the dress code at n/naka?
At n/naka, business casual attire is appropriate, but you can go as fancy as you want.
Definitely no shorts or sandals!
I wore a button down long sleeves shirt with jeans and black sneakers.
You should still be okay with a collared shirt.
---
n/naka Address and Website
nnaka is located at 3455 Overland Ave, Los Angeles, California 90034.
You can visit their website here.