Looking for an easy Speedi Meals recipe for dinner? This Ninja Speedi Mexican Fish & Rice is so easy to make in less than 30 minutes from prep to meal.
Mexican Fish and Rice makes for a great lunch or dinner meal.
The crispy and flaky fish is complemented by flavourful and light golden rice.
And with the Ninja Speedi you can cook the entire thing in one shot, giving you so much time to do other things.
---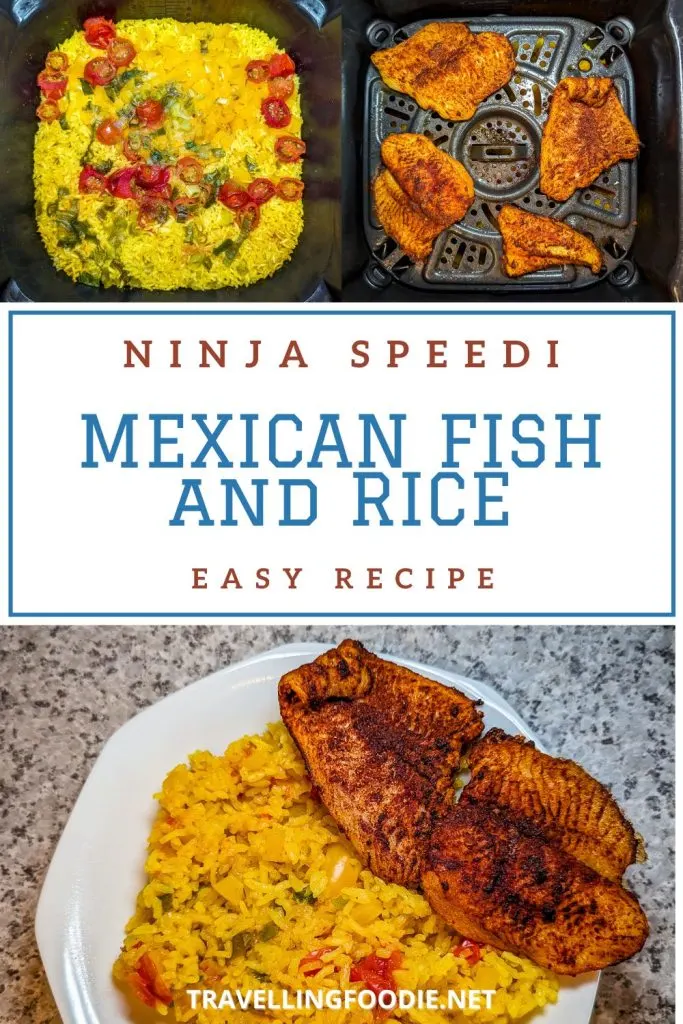 ---
Mexican Fish and Rice
Fish is very popular in Mexican cuisine especially in parts along the coast of Mexico.
It's one of the most common ingredients in tacos (Fish Tacos) and ceviche (Ceviche de Pescado).
With the popularity of my Air Fryer Fried Fish, I thought people would also love a Ninja Speedi recipe using fish.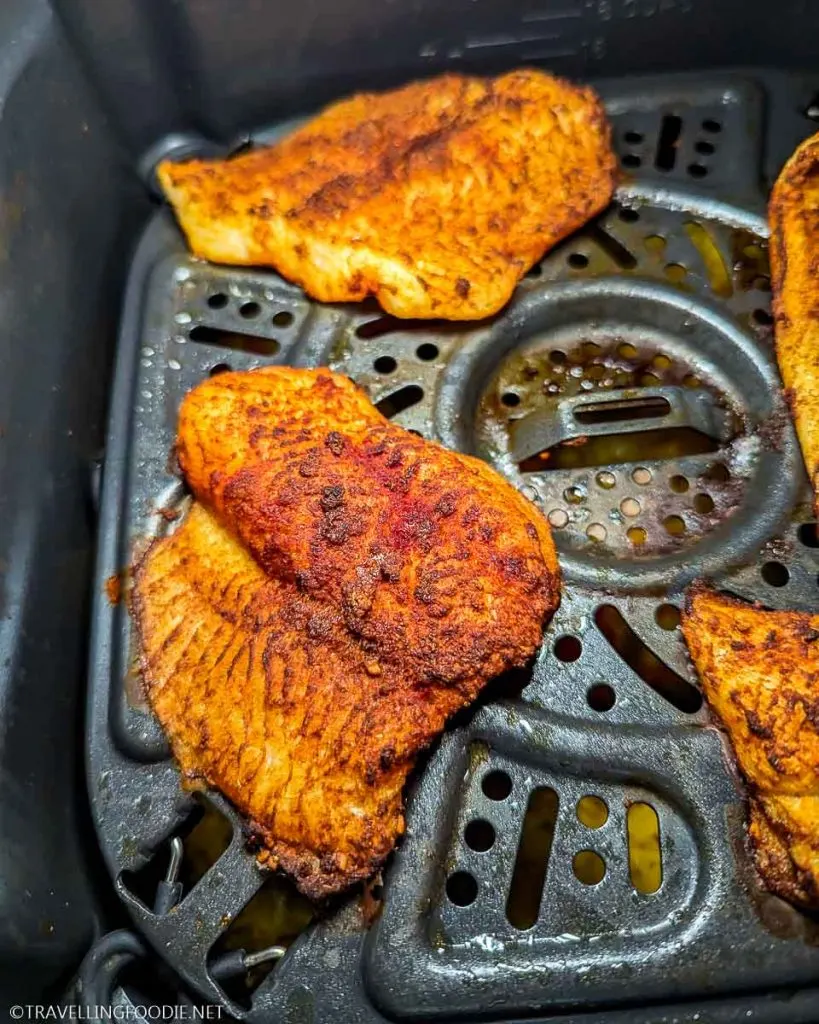 And having made a Ninja Speedi soup recipe as my first, I wanted to make one with rice as my second.
Mexican yellow rice, or Arroz Amarillo, is a popular side dish in Mexico, South America and the Caribbean.
This turmeric rice is an aromatic flavorful rice for any Latin meal.
Plus it's healthy due to the antioxidant and anti-inflammatory properties of turmeric.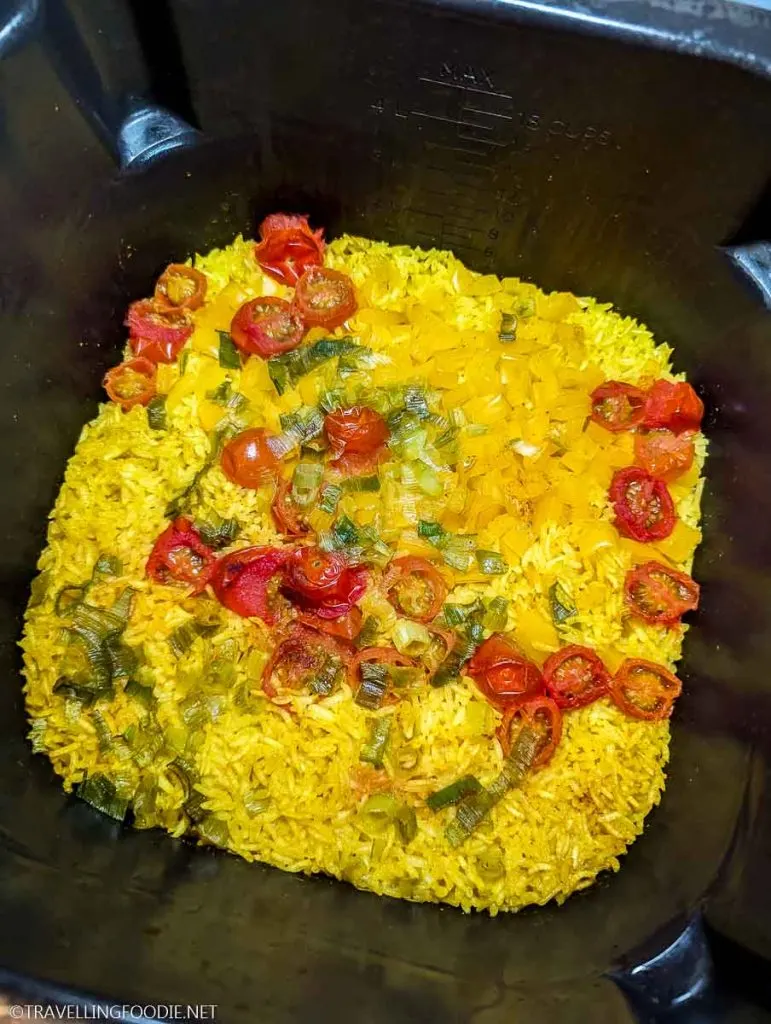 ---
Why Make Mexican Fish & Rice With Ninja Speedi
The Ninja Speedi is so convenient and quick!
Typically, you would be making the fish on a pan and the rice on a separate rice cooker (or Instant Pot Rice).
With the Ninja Speedi, you can make both the fish and the yellow rice in one run in the Ninja Speedi using the Speedi Meals functionality.
Travel to Mexico at home with this delicious Ninja Speedi recipe!
---
What Makes This Ninja Speedi Recipe So Good?
This is why the Ninja Speedi Mexican Fish & Rice recipe is so good:
Easy Recipe: This quick and easy meal is pretty much "dump and push start" recipe. You just dump all the ingredients for the Mexican yellow rice, and put the fish on the crisper tray.
Set and Forget: Once you've placed the ingredients, the Ninja Speedi does the rest without you having to do anything until it's done. This gives you more time to do other things while you wait.
Easy Cleaning: You don't need much kitchen accessories to make this Ninja Speedi recipe for beginners, and the Ninja Speedi is very easy to clean after.
Flexible: Though I made Mexican yellow rice, it doesn't need to be! You can basically use any white rice dish underneath, even plain rice.
Homemade: Surprise your family and friends with this amazing Mexican meal that's so easy to make!
Out-of-the-Box Accessories: I didn't use other Ninja Speedi accessories. All you need is the pot and crisper tray that came in the box.
You can enjoy for lunch and dinner!
---
What You Need For Ninja Speedi Mexican Fish and Rice
Equipment
I used the Ninja Speedi Rapid Cooker & Air Fryer for this recipe, which makes it easy to steam and air fry together.
Ninja Speedi is such a unique air fryer type because its Speedi Meals feature allows you to make "steamed then air fried" meals in one shot with its dual layer rapid cooker functionality.
So you can have your steamed food (the Mexican yellow rice) at the bottom and air fried food (the Mexican fish) on top, cooking at the same time.
You can also use Ninja Speedi accessories like the anti-scalding gripper or silicone mini gloves to easily help you remove the crisper tray.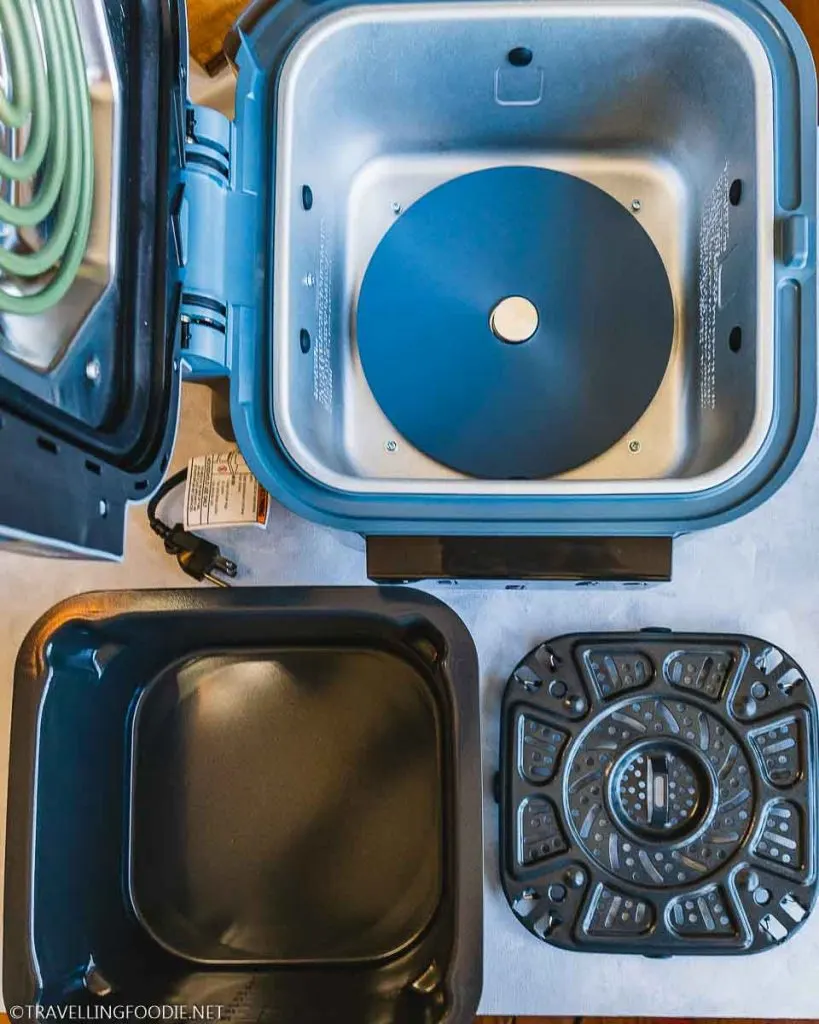 Ingredients
White Fish – I used Basa Fillets but you can also use other white fish like cod or pollock.
White Rice – I used jasmine rice because it's my favourite rice but you can use any long grain white rice.
Water – Liquid for the rice. You can also use chicken stock or broth.
Bell Pepper
Baby Tomatoes
Green Onion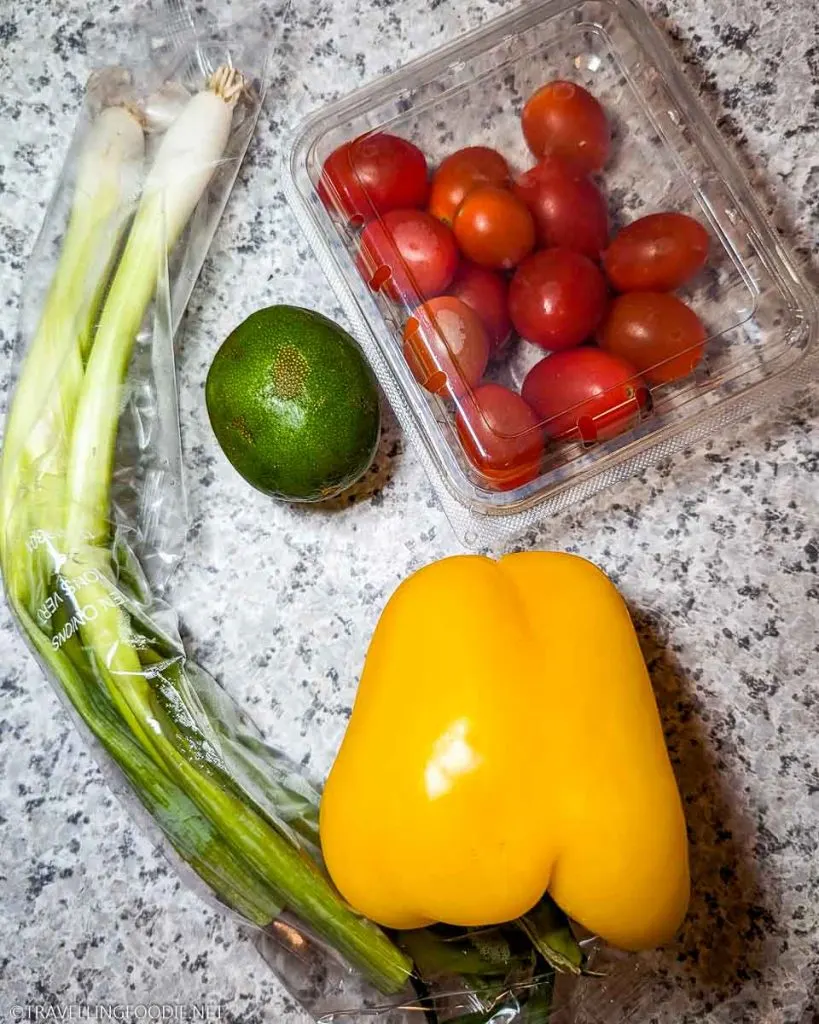 ---
How To Make Mexican Fish and Yellow Rice in the Ninja Speedi
Here's how to make the quick and easy Ninja Speedi Fish and Rice Mexican-style!
Rinse the rice.
Add rice to the bottom of Ninja Speedi inner pot and add water.
Dice bell pepper and add on top of rice.
Cut baby tomatoes in halves and add on top of rice.
Thinly slice green onions and add on top of rice.
Add taco seasoning and ground turmeric on top of rice.
Place crisper tray on elevated position and brush with oil.
Pat fish dry with paper towel.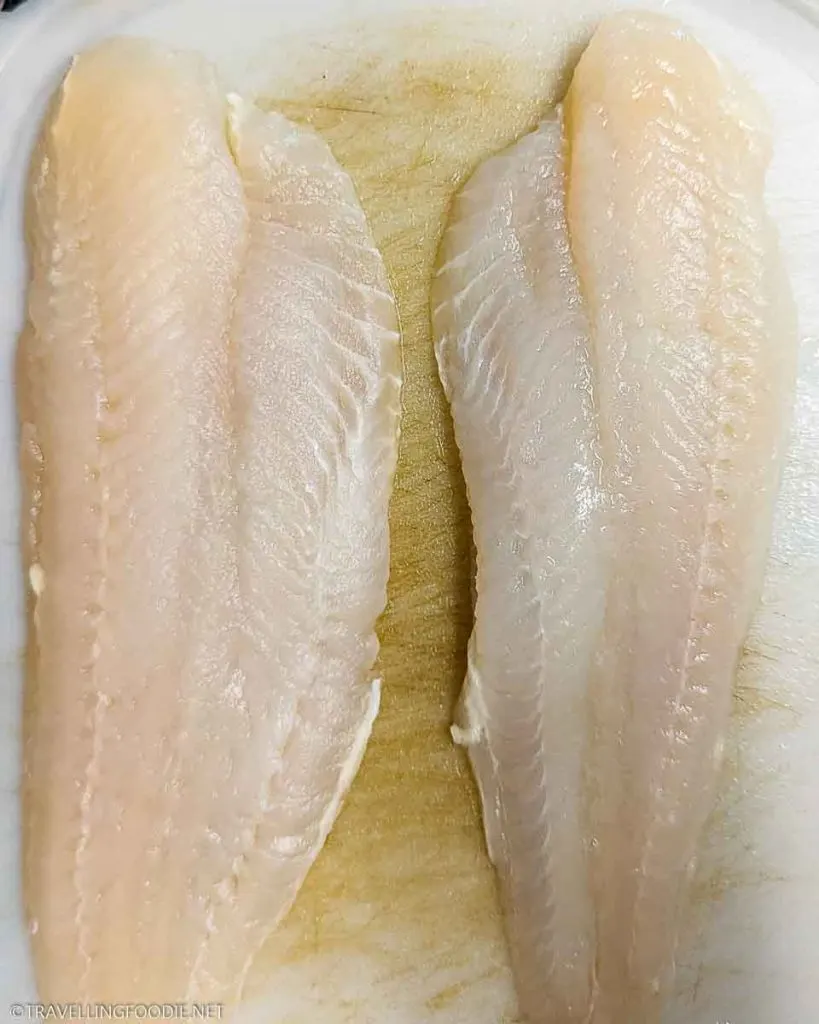 Cut fish fillets in halves.
Season fish with taco seasoning and ground turmeric.
Put fish fillets on crisper tray.
Travelling Foodie Tip: Put fillets on the four corners of the tray.
Close lid and set Speedi Meals to 350F (175°C or 180°C) for 10 minutes and press Start.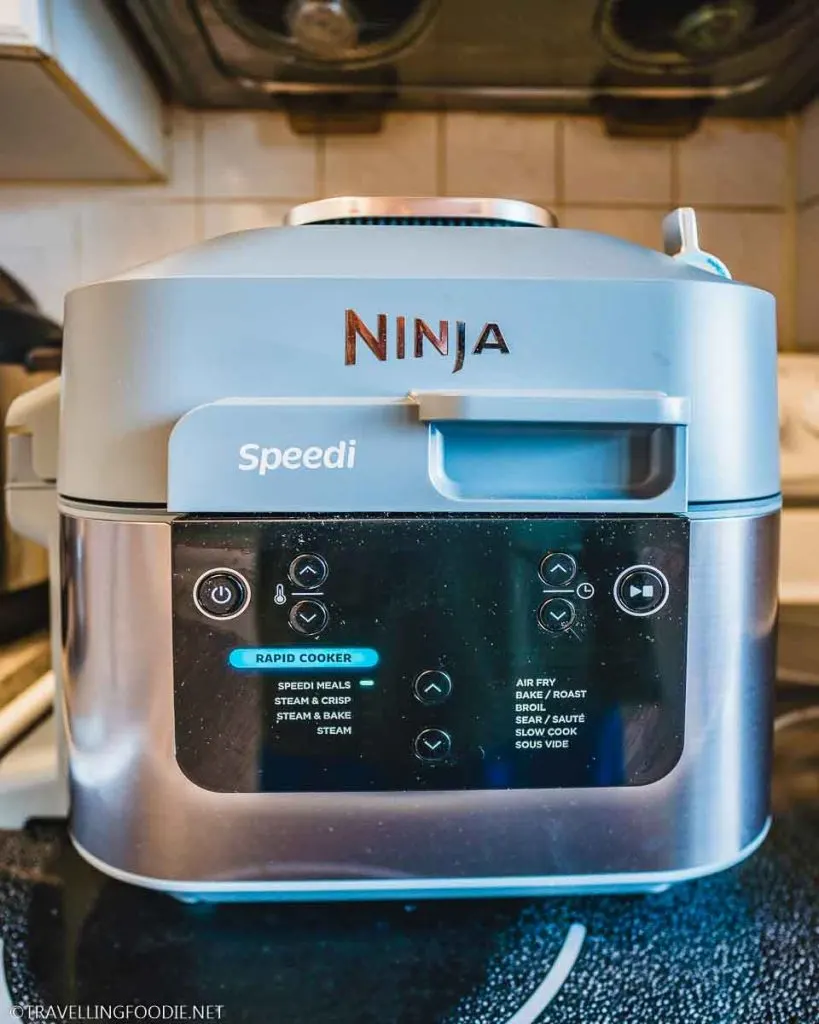 When finished, remove crisper tray.
Fluff rice and plate with fish.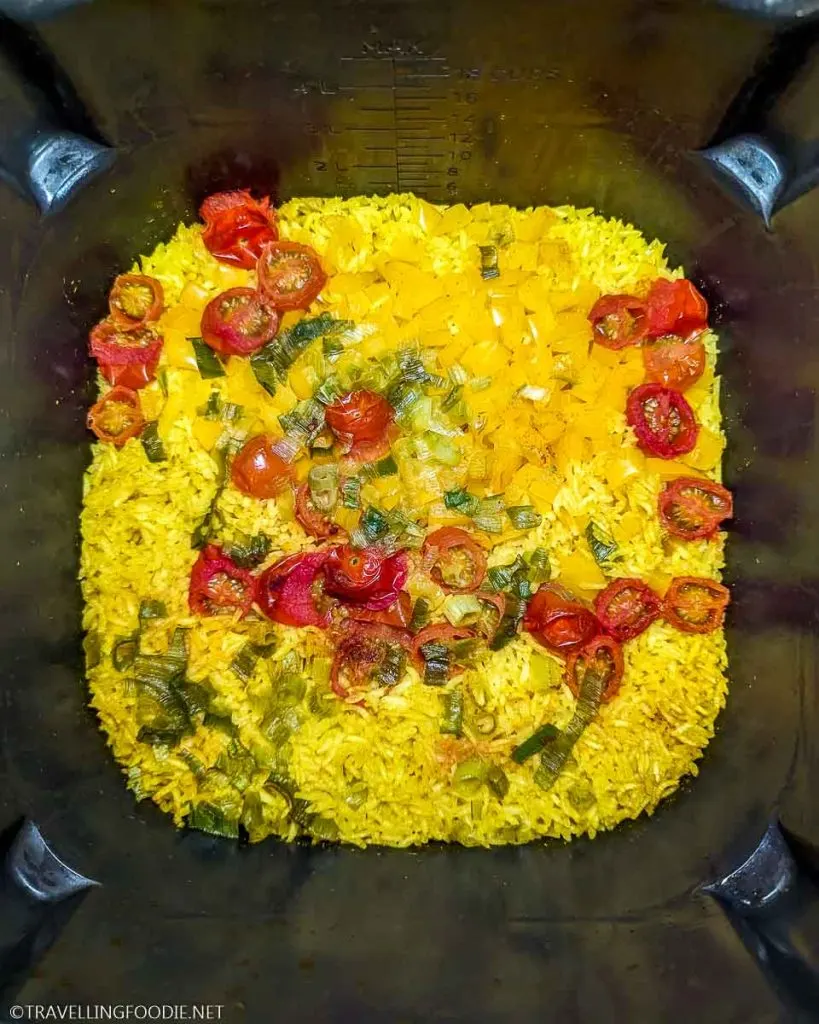 Enjoy the Mexican fish and rice!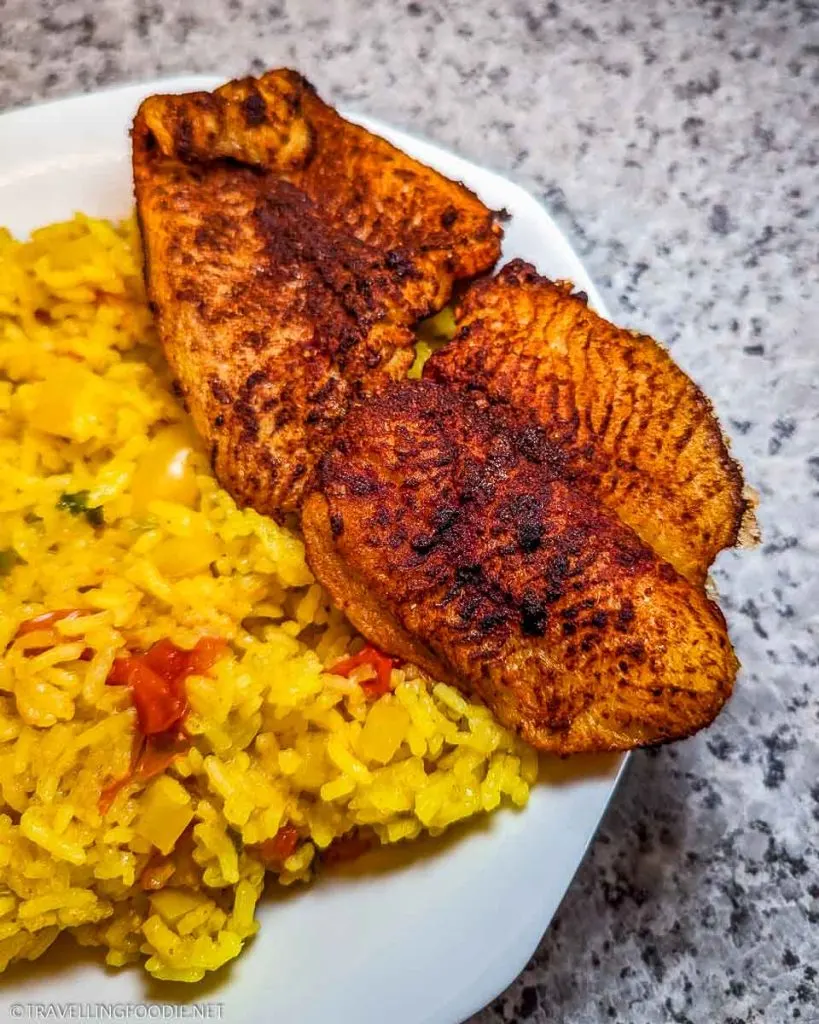 ---
Optional Topping: Lime Crema
Elevate your Mexican Fish and Yellow Rice with Lime Crema sauce.
Using mayonnaise and lime, zest and juice the lime and mix with mayonnaise.
Drizzle on top of your dish!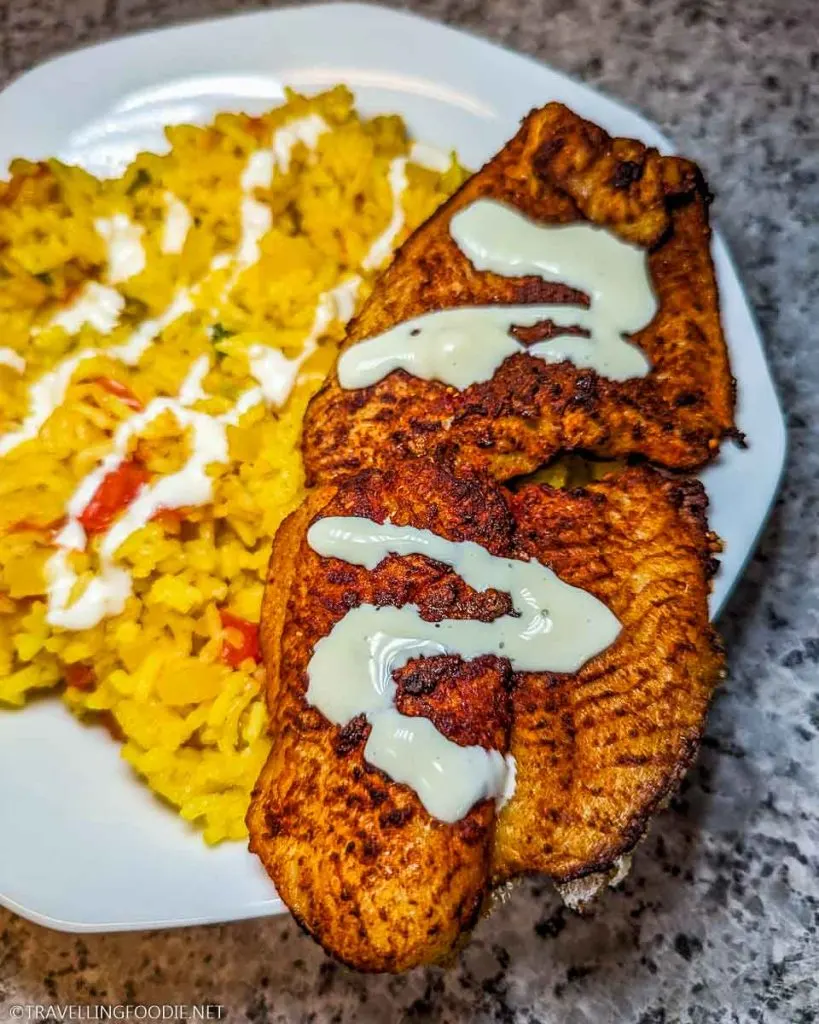 ---
Other Air Fryer Recipes For The Crisper Tray
Note: You may need to adjust the time and temperature of Speedi Meals to fit these dishes:
---
Can You Use Speedi Recipe on the Ninja Combi?
With the Ninja Combi All-in-One Multicooker, Oven and Air Fryer, you might be wondering if Ninja Speedi recipes will work for the Combi as well.
I don't have a Ninja Combi, but, on researching the functionalities and customer feedbacks who have both, here are my findings:
Ninja Combi seems to be just an updated version of the Ninja Speedi.
The Combi basically has the same features as Ninja Speedi.
It's just that Ninja Combi is bigger and in a oven-style, loading from the front instead of the top.
Instead of Speedi Meals, you use Combi Meals function.
The Speedi has inner pot and crisper tray and the Ninja Combi has a bottom pan and bake tray for the two-level cooking.
Whereas the Speedi is good cooking meals for 1-2 people, the Combi is good for families and parties.
Customers who have used both Speedi and Combi say the recipes are interchangeable because of the same setup and features.
So it seems like Ninja Speedi Recipes can be Ninja Combi Recipes.
If you've tried a recipe in both Speedi and Combi, let me know your experience.
---
Ninja Speedi Mexican Fish and Rice Recipe
Be sure to bookmark/save/pin this post so you can easily make fish and rice Mexican-style in the Ninja Speedi Rapid Cooker & Air Fryer!
I would love to see how this recipe worked for you! Please share your creations with me on social media and tag me so I can check them out: @TravellingFoodie on Instagram & Facebook and @TravellinFoodie on Twitter.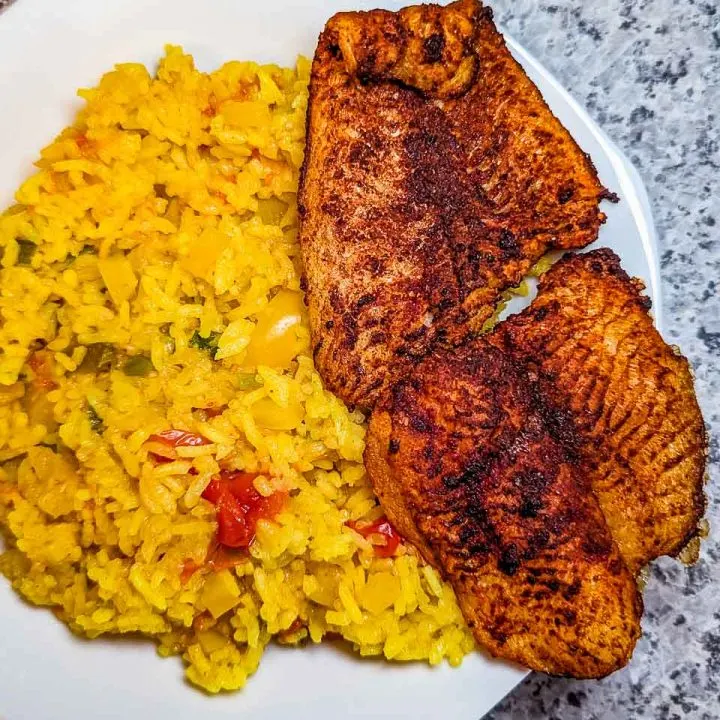 Ninja Speedi Mexican Fish & Rice
Additional Time:
10 minutes
This Mexican-inspired Fish and Rice with Ninja Speedi is light and fresh! A crisp and flaky fish with flavourful golden rice in 10 minutes with this easy Ninja Speedi recipe!
Ingredients
Mexican Fish and Rice
285 grams Basa Fillets
1 cup Jasmine Rice, rinsed
1.75 cup Water
1 piece Bell Pepper, diced
110 grams Baby Tomatoes, halved
2 pieces Green Onion, thingly sliced
1 tbsp Taco Seasoning
1 tbsp Turmeric
Lime Crema (Optional)
Instructions
Mexican Fish & Rice with Ninja Speedi
Add rinsed rice on the Ninja Speedi Pot
Add water to rice
Add bell peppers, baby tomatoes and green onions on top of rice
Mix taco seasoning and ground turmeric
Add half the seasoning mixture on top of rice
Pat dry the fish fillets with paper towel
Slice fish fillets in half crosswise
Season fish with remaining mixture
Place crisper tray on elevated position and brush with oil
Place the fish fillets on the four corners of crisper tray
Close the lid and flip the SmartSwitch™ to RAPID COOKER.
Select SPEEDI MEALS, set temperature to 350°F (175°C or 180°C), and set time for 10 minutes.
Press START/STOP to begin cooking (the unit will steam for approximately 10 minutes before crisping)
Plate the Mexican Fish and Rice
(Optional) Lime Crema
Zest the lime and squeeze the juice
Stir the lime zest, mayonnaise and the lime juice
Top off your Ninja Speedi Mexican Fish & Rice with lime crema
Recommended Products
As an Amazon Associate and member of other affiliate programs, I earn from qualifying purchases.
Nutrition Information:
Yield:

2
Serving Size:

1
Amount Per Serving:
Calories:

547
Total Fat:

30g
Saturated Fat:

5g
Trans Fat:

0g
Unsaturated Fat:

22g
Cholesterol:

105mg
Sodium:

654mg
Carbohydrates:

39g
Fiber:

5g
Sugar:

5g
Protein:

31g
Please note that nutrition information you see is provided and automatically calculated by Nutritionix. This may vary depending on the specific ingredients that you use. To ensure the most accurate information, I suggest entering your specific ingredients into a nutrition calculator.
---
Hope this Ninja Speedi Mexican fish and yellow rice recipe gives you an idea on what to have as a main course for lunch and dinner!
It's such a quick meal to make when you're running out of time or on-the-go!