Want to know how to cook steak in Ninja Speedi?
Steak is one of the most simplest dishes you can make at home.
But it can also get overdone easily when not cooked properly.
This Ninja Speedi Steak is simple cooking at its best when you need a main dish for lunch or dinner.
It's easy, quick and oh so juicy!
---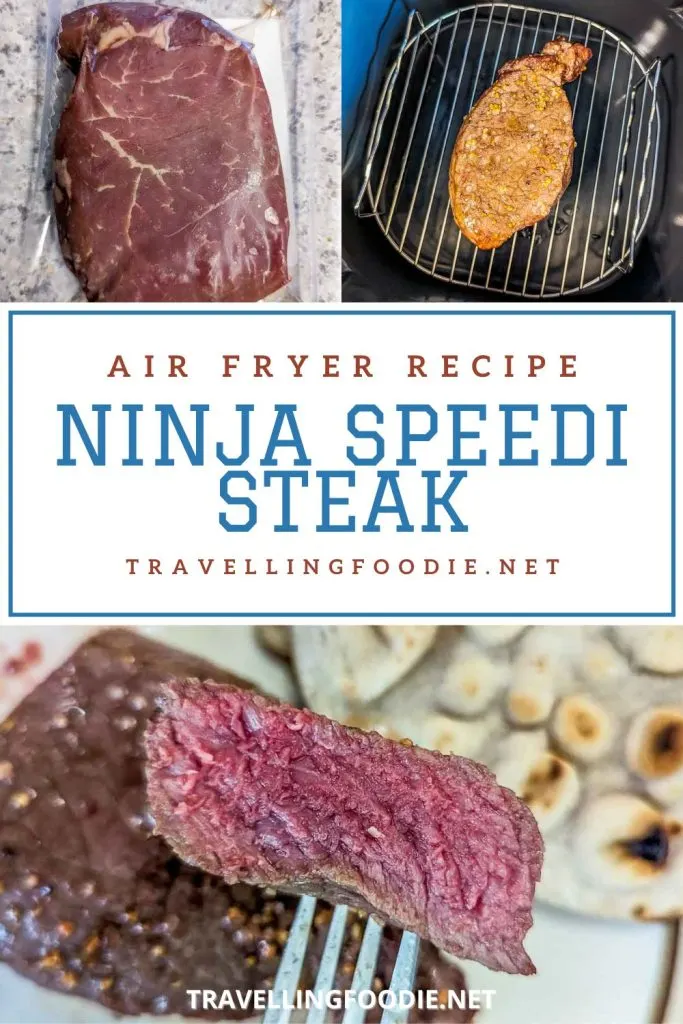 ---
Why Cook Steak in Ninja Speedi
Steak is one of the easiest Ninja Speedi recipes you can make.
As a type of air fryer, Ninja Speedi can make delicious air fried steak very fast and it comes out perfect.
This is useful when you want set and forget the steak being made.
It's also great for people who don't have a grill or live in a condo.
Ninja Speedi steak is like making grilled steak without the grill because the steak comes out tender and juicy with a crisp, brown crust.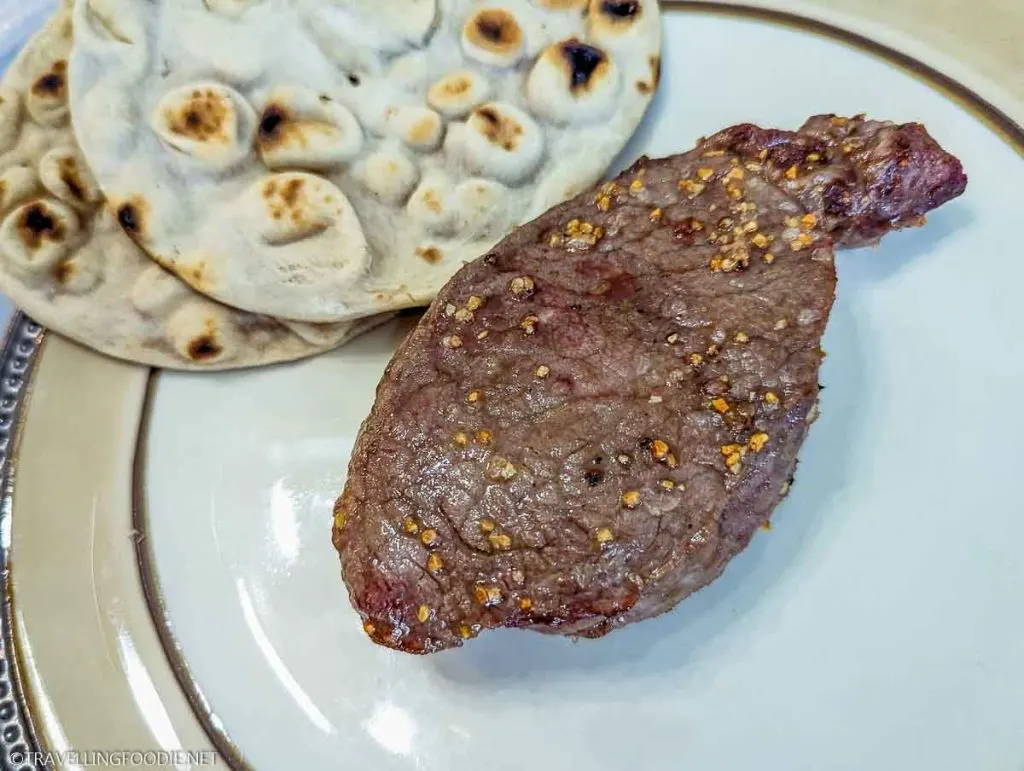 ---
What You Need For Ninja Speedi Steak
Equipment
We are using the Ninja Speedi Rapid Cooker & Air Fryer to cook steak.
I also used a different air fryer rack instead of using the crisper tray that comes with the Speedi.
You can still use the crisper tray instead of this Ninja Speedi accessory, but I'll explain on the instructions why I used the rack instead.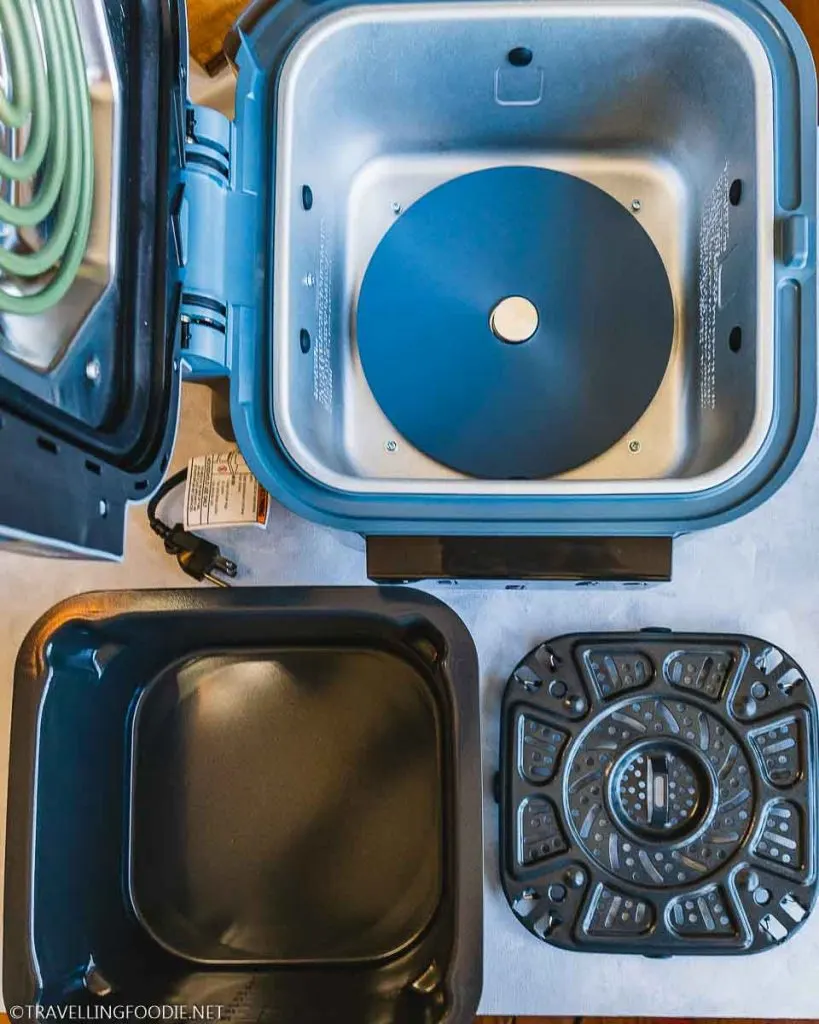 Ingredients
Steak – I used sirloin, but you can use your cut of choice like ribeye, striploin, flat iron, etc.
Your choice of seasoning like salt and pepper. I love having garlic on my steak so I also used granulated garlic.
---
How To Cook Steak in Ninja Speedi
It's very easy to cook steak in Ninja Speedi, and it's a set and forget way of making them unlike grilling.
Let me show you how.
Pat the steak dry.
Season both sides of the steak evenly.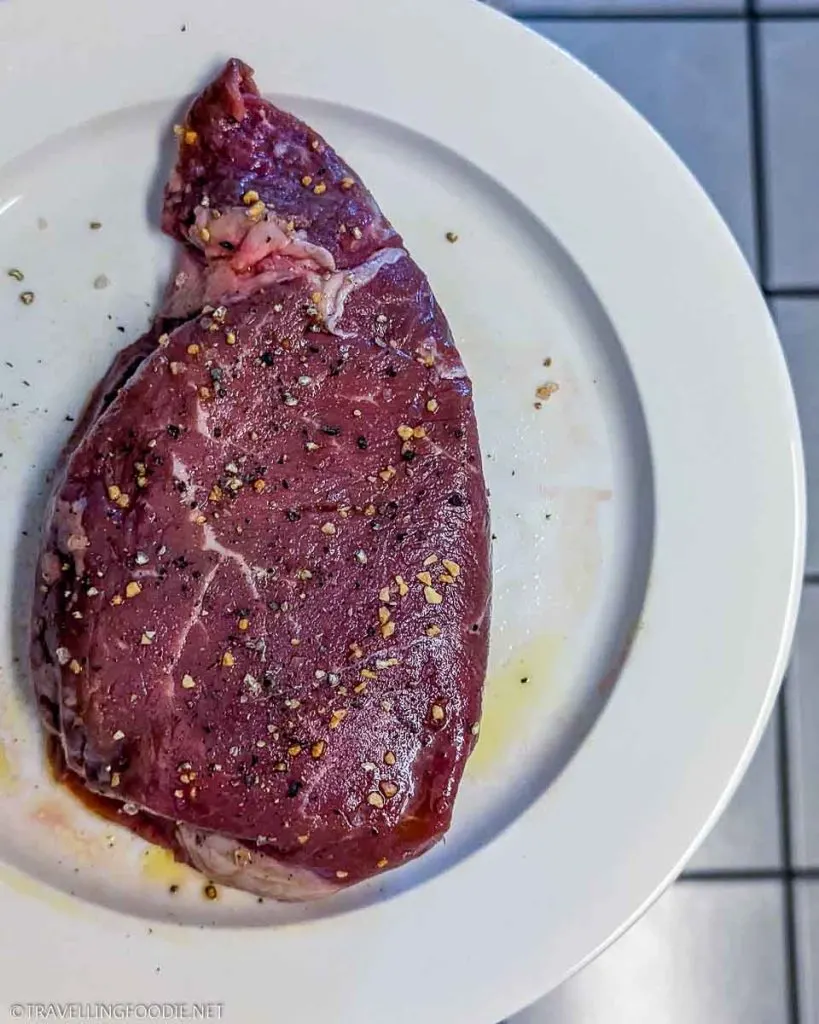 Place air fryer rack on raised position (the side of the air fryer rack that is more elevated).
The reason I used an air fryer rack instead of the crisper tray is because the crisper tray has less air space for even circulation for the bottom side.
The crisper tray is also much lower (when in bottom position) or higher (when in elevated position), which makes the cooking of one side uneven.
Put the steak on the center of the air fryer rack for the most even circulation.
Close the Ninja Speedi lid and turn the unit on.
Flip the switch to AIR FRY and select AIR FRY function.
Set temperature to 390F (or 200C)
Set timer to 7 minutes.
When cooking is complete, open the lid and remove steak.
Let the steak rest.
Enjoy this easy steak with Ninja Speedi!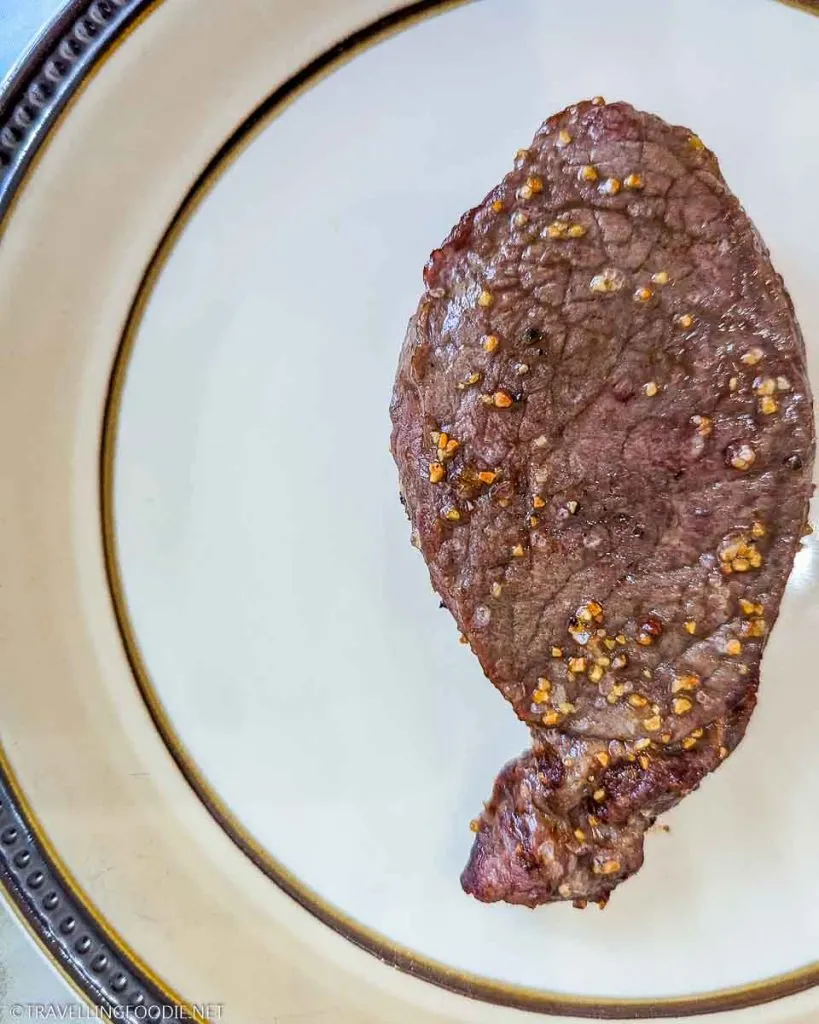 ---
Tips for Ninja Speedi Steak
Here are some tips for the easy Ninja Speedi Steak recipe:
Recommended rest time for steak is 5-10 minutes.
Use steak that's 1-1.5 inch thick.
Don't cook the steak cold. Let it defrost/rest to room temperature before cooking.
The provided instructions is for a medium rare steak, which is how I like my steak.

You can adjust timing based on your preferred doneness.

If you don't have a separate air fryer rack (or don't want to buy one), you can still use the Ninja Speedi crisper tray.

Set the crisper tray to bottom position and increase time by 2 minutes to account for the steak being cooked at a lower height.
---
What To Serve with Steak
---
Can You Use Speedi Recipe on the Ninja Combi?
With the Ninja Combi All-in-One Multicooker, Oven and Air Fryer, you might be wondering if Ninja Speedi recipes will work for the Combi as well.
I don't have a Ninja Combi, but, on researching the functionalities and customer feedbacks who have both, here are my findings:
Ninja Combi seems to be just an updated version of the Ninja Speedi.
The Combi basically has the same features as Ninja Speedi.
It's just that Ninja Combi is bigger and in a oven-style, loading from the front instead of the top.
Instead of Speedi Meals, you use Combi Meals function.
The Speedi has inner pot and crisper tray and the Ninja Combi has a bottom pan and bake tray for the two-level cooking.
Whereas the Speedi is good cooking meals for 1-2 people, the Combi is good for families and parties.
Customers who have used both Speedi and Combi say the recipes are interchangeable because of the same setup and features.
So it seems like Ninja Speedi Recipes can be Ninja Combi Recipes.
If you've tried a recipe in both Speedi and Combi, let me know your experience.
---
Ninja Speedi Steak Recipe
Be sure to bookmark/save/pin this post so you can easily cook steal in the Ninja Speedi Rapid Cooker & Air Fryer!
I would love to see how this recipe worked for you! Please share your creations with me on social media and tag me so I can check them out: @TravellingFoodie on Instagram & Facebook and @TravellinFoodie on Twitter.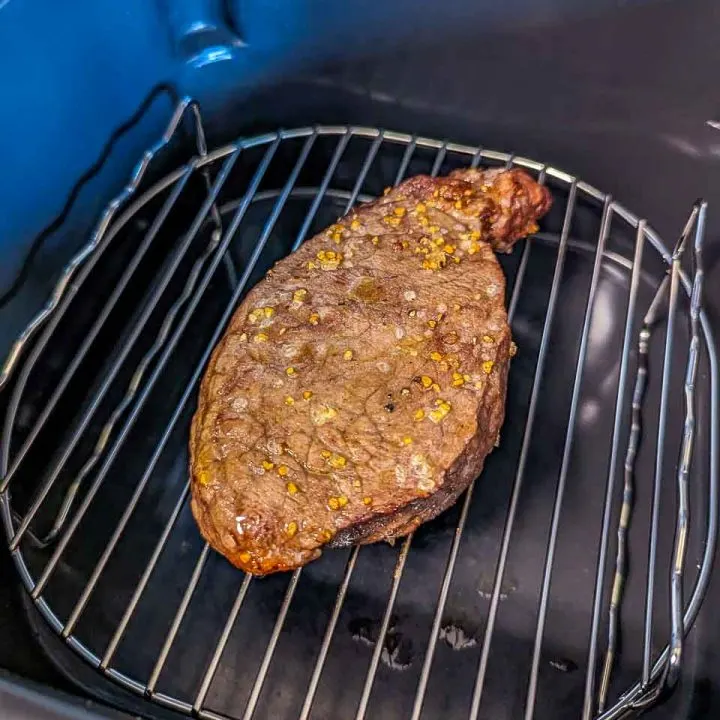 Ninja Speedi Steak
Looking for an easy main dish to serve? Make this quick and perfect steak with Ninja Speedi in a short time!
Ingredients
227 grams Steak
1 tsp Sea Salt
1 tsp Black Pepper
1 tsp Granulated Garlic
Instructions
Pat Steak Dry
Season steak on both sides with sea salt, black pepper and granulated garlic
Place Air Fryer Rack in raised position on the Ninja Speedi pot
Place steak at the center of the rack
Close the lid and flip the SmartSwitch™ to AIR FRY
Select AIR FRY, set temperature to 390°F (200°C), and set time for 7 minutes
Press START/STOP to begin air frying
Once completed, open lid and let the steak rest
Enjoy your Medium Rare Ninja Speedi Steak!
Notes
Current time is for medium rare. Adjust timing based on your preferred steak doneness.
Recommended rest time for this Ninja Speedi Steak recipe is 5-10 minutes.
You can use the Ninja Speedi Crisper Tray instead of the Air Fryer Rack. In this case, put tray on bottom position and add 2 minutes to the air fry time.
Recommended Products
As an Amazon Associate and member of other affiliate programs, I earn from qualifying purchases.
Nutrition Information:
Yield:

1
Serving Size:

1
Amount Per Serving:
Calories:

648
Total Fat:

42g
Saturated Fat:

17g
Trans Fat:

0g
Unsaturated Fat:

19g
Cholesterol:

220mg
Sodium:

2446mg
Carbohydrates:

4g
Fiber:

1g
Sugar:

0g
Protein:

60g
Please note that nutrition information you see is provided and automatically calculated by Nutritionix. This may vary depending on the specific ingredients that you use. To ensure the most accurate information, I suggest entering your specific ingredients into a nutrition calculator.
---
Hope this Ninja Speedi Steak recipe gives you an easy lunch or dinner idea for main course!
And you can probably use this for Ninja Combi as well!