Love rice bowls? This Ninja Speedi Thai Beef Bowl recipe is quick & easy and comes out so delicious in under 30 minutes from prep to end!
Rice bowls make such delicious meals especially when you don't know what to make for lunch or dinner.
It's basically just rice with all sorts of toppings.
This Thai Beef Bowl has flavourful spiced beef with aromatic jasmine rice and vegetables.
Get a taste of Thailand with this Ninja Speedi recipe!
---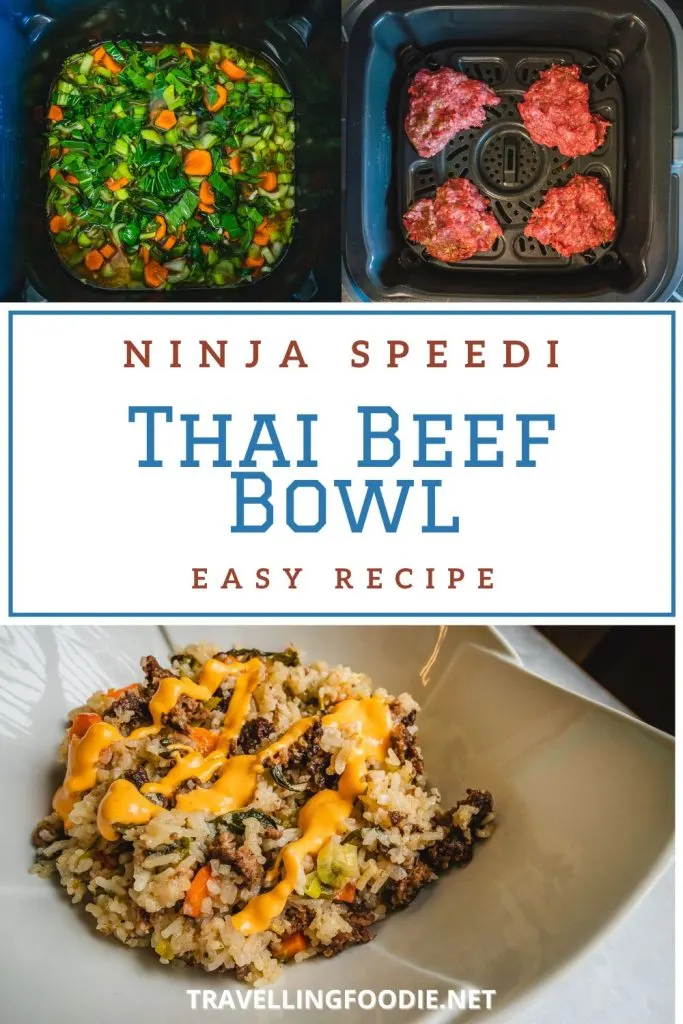 ---
Thai Beef Rice Bowl
Thai cuisine is known for flavourful dishes with a combination of sweet, spicy, tangy and umami.
Most bowl recipes start with a base grain like rice, potatoes, quinoa, etc.
Since rice is the primary food staple in Thailand, it's no brainer to use Thai jasmine rice which is considered one of the world's most delicious varieties of rice.
Though pork and chicken are the more popular meat in Thailand, I like beef more and feel it gives more flavour to the rice bowl.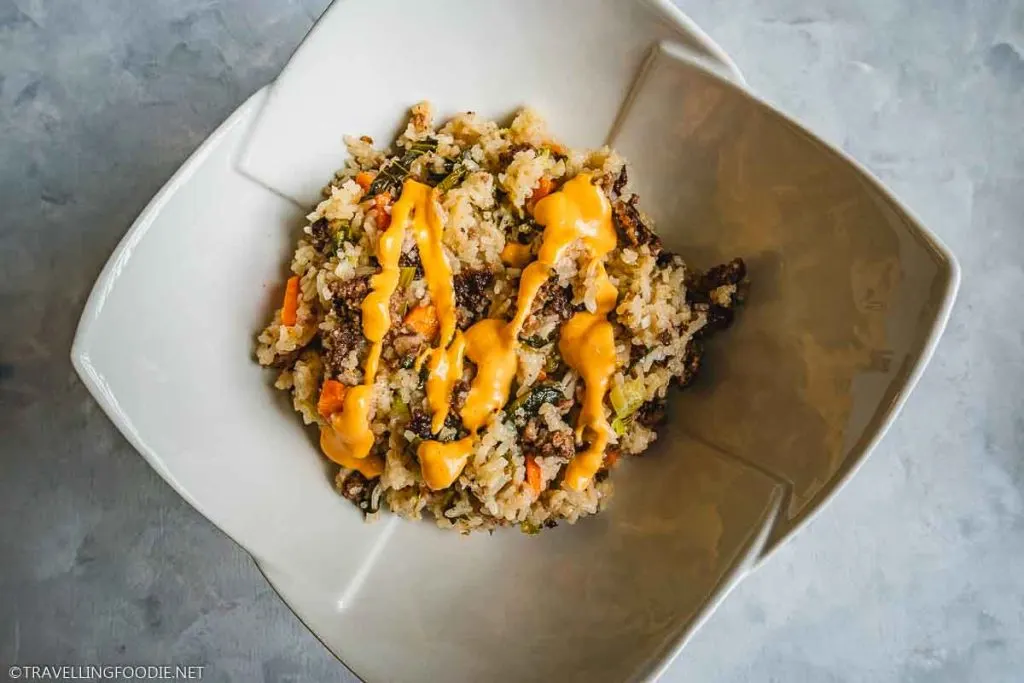 ---
Why Make Thai Beef Bowl With Ninja Speedi
With the Ninja Speedi, you can make a good rice bowl dish in one shot.
Similar to the Ninja Speedi Italian Meatball Soup, you'll have the rice at the bottom and the beef mixture on top.
The spiced beef gets air fried to provide a crispy dimension to the rice bowl.
Air frying keeps the juices inside the beef as it sears the outside.
And the rice gets extra flavourful because, as the beef steams in the beginning, the beef fat and some juices would fall from the crisper tray to the inner pot where the rice and vegetables lies, infusing the them with the juices.
You're going to love this Ninja Speedi Thai Beef Bowl!
Want more recipes? Check out this list of best Ninja Speedi recipes!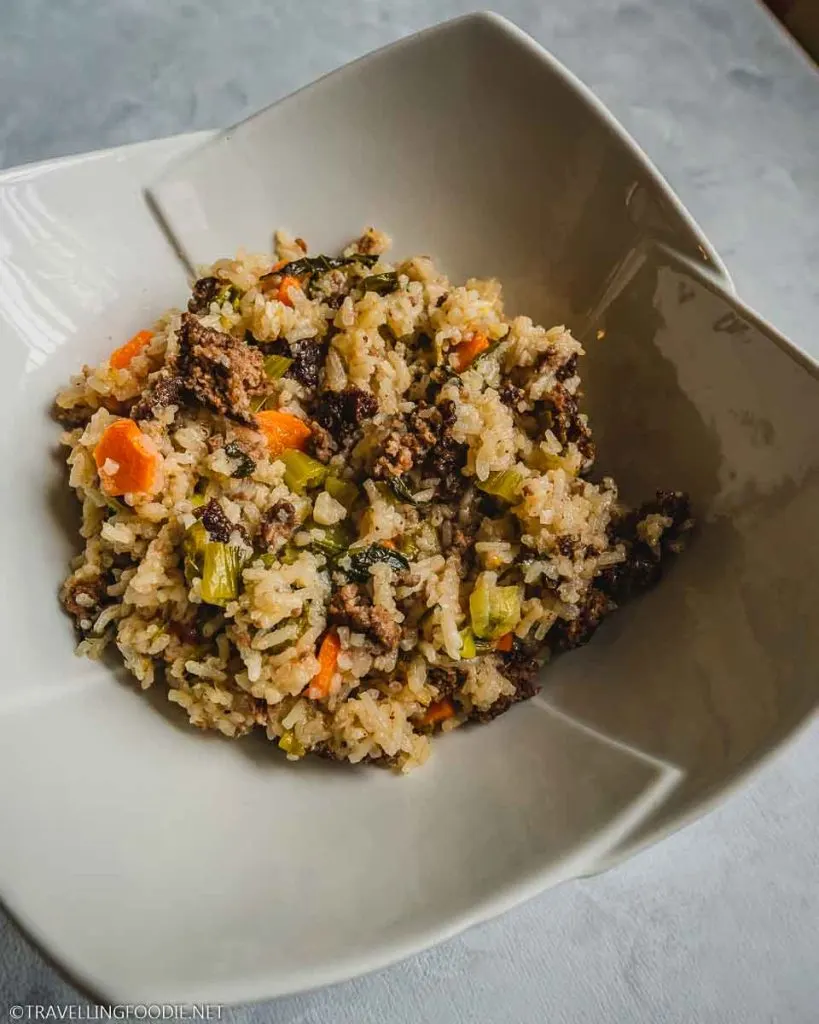 ---
What Makes This Ninja Speedi Recipe So Good?
This is why the Ninja Speedi Thai Beef Bowl recipe is so good:
Easy Recipe: This quick and easy meal is pretty much "dump and push start" recipe.
Set and Forget: Once you've placed the ingredients, the Ninja Speedi does the rest without you having to do anything until it's done. This gives you more time to do other things while you wait.
Easy Cleaning: This rice bowl recipe works with Ninja Speedi out of the box, and the Ninja Speedi is very easy to clean after.
Flexible: Though I made I used Thai Jasmine rice and beef, it doesn't need to be! You can basically use this recipe as guide for your own Ninja Speedi Thai rice bowl recipe by changing meat, herbs, spices, rice, etc.
Homemade: Surprise your family and friends with this amazing rice bowl that's so easy to make! If you want to reduce further steps or time, you can use frozen meatballs or beef patties instead of homemade beef.
Meal Prep: The Ninja Speedi Thai Beef Bowl is perfect for meal prepping since it's kind of like a fried rice that you can make in big batches, store in tupperwares and reheat as needed.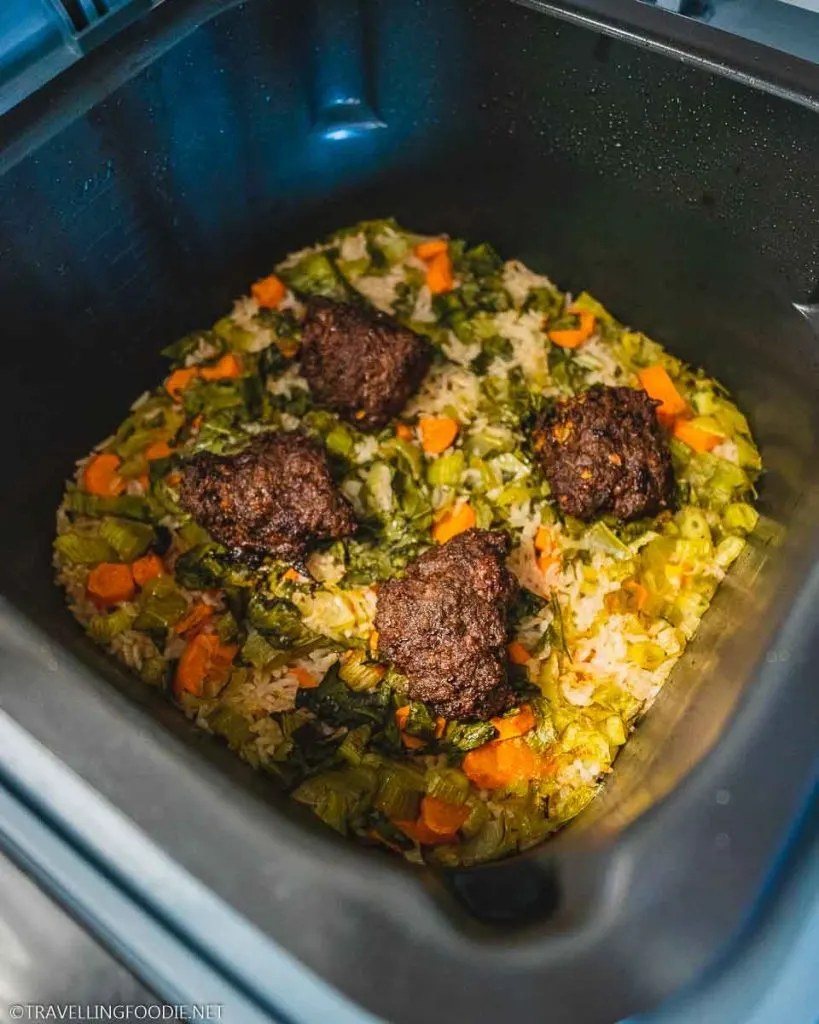 ---
What You Need For Ninja Speedi Thai Beef Bowl
Equipment
I used the Ninja Speedi Rapid Cooker & Air Fryer for this recipe, which makes it easy to steam and air fry together.
Ninja Speedi is such a unique air fryer type because its Speedi Meals feature allows you to make "steamed then air fried" meals in one shot with its dual layer rapid cooker functionality.
So you can have your steamed food (the rice) at the bottom and air fried food (the beef) on top, cooking at the same time.
You can also use Ninja Speedi accessories like air fryer pot so you can remove and eat from the pot directly, or the gripper to easily help you remove the crisper tray.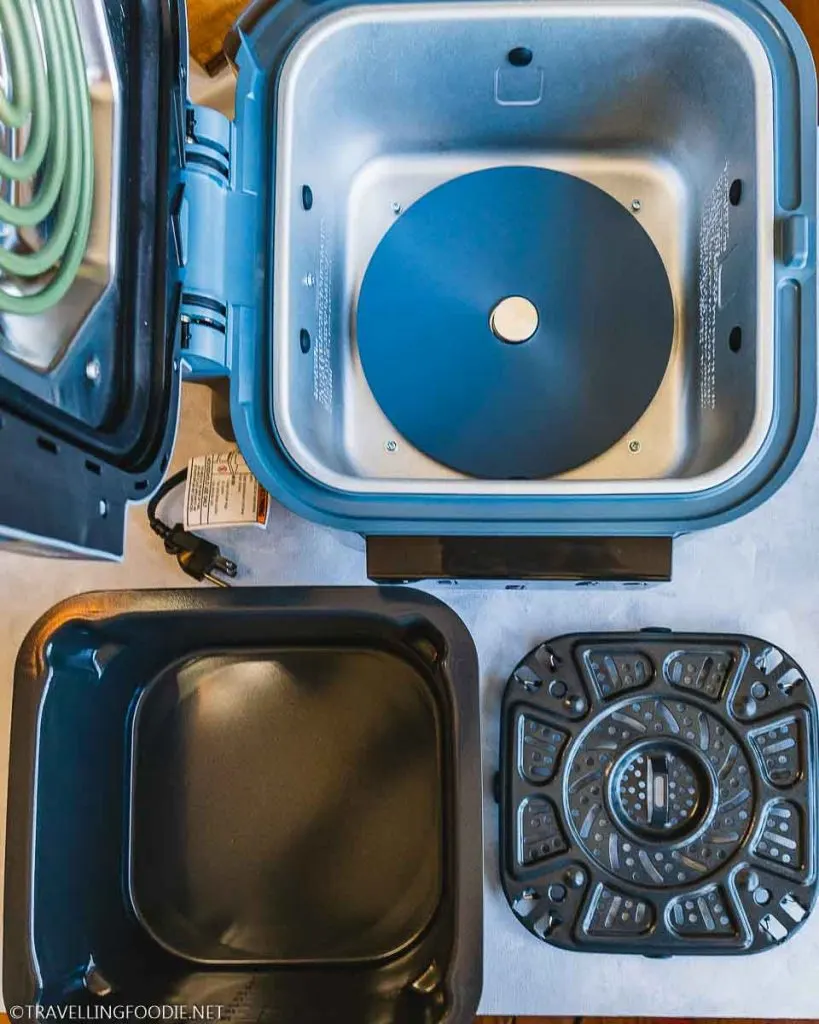 Ingredients
Bok Choy
Carrot
Green Onion
Water
---
How To Make Thai Beef Bowl in the Ninja Speedi
Here's how to make the quick and easy Ninja Speedi Thai Beef Rice Bowl.
Rinse the rice on the Ninja Speedi pot.
Add water to the rice.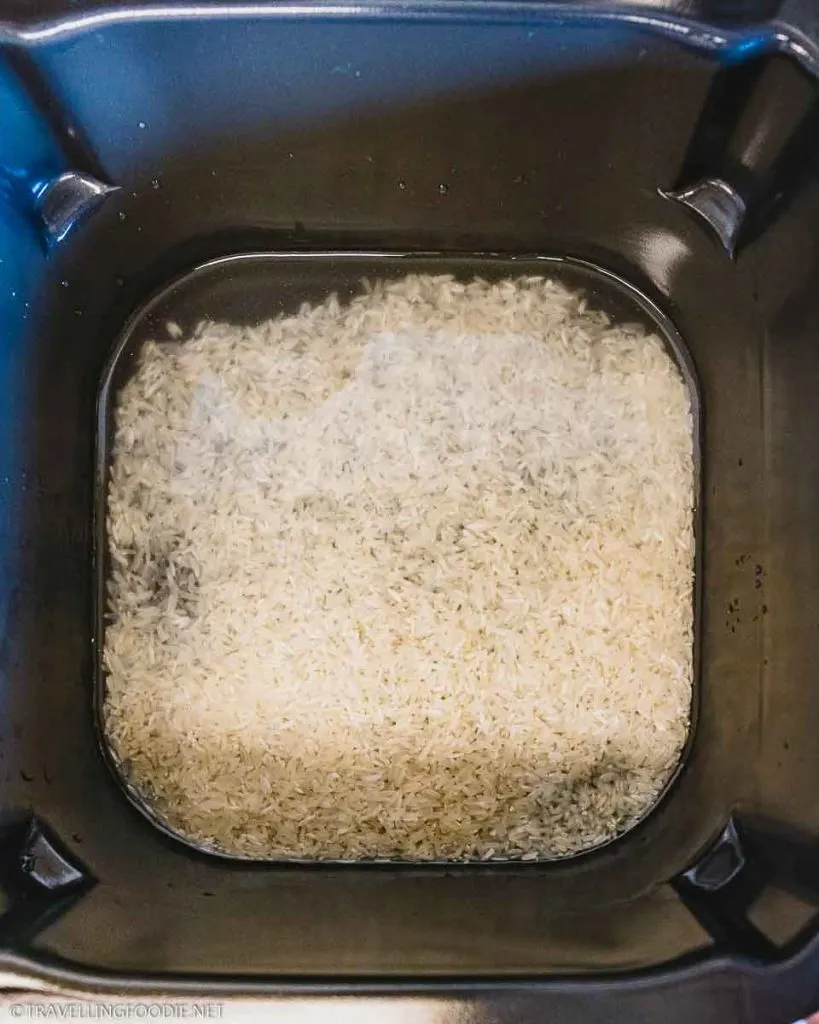 Chop the bok choy and add to the pot.
Dice the carrot and add to the pot.
Mince the garlic and add to the pot.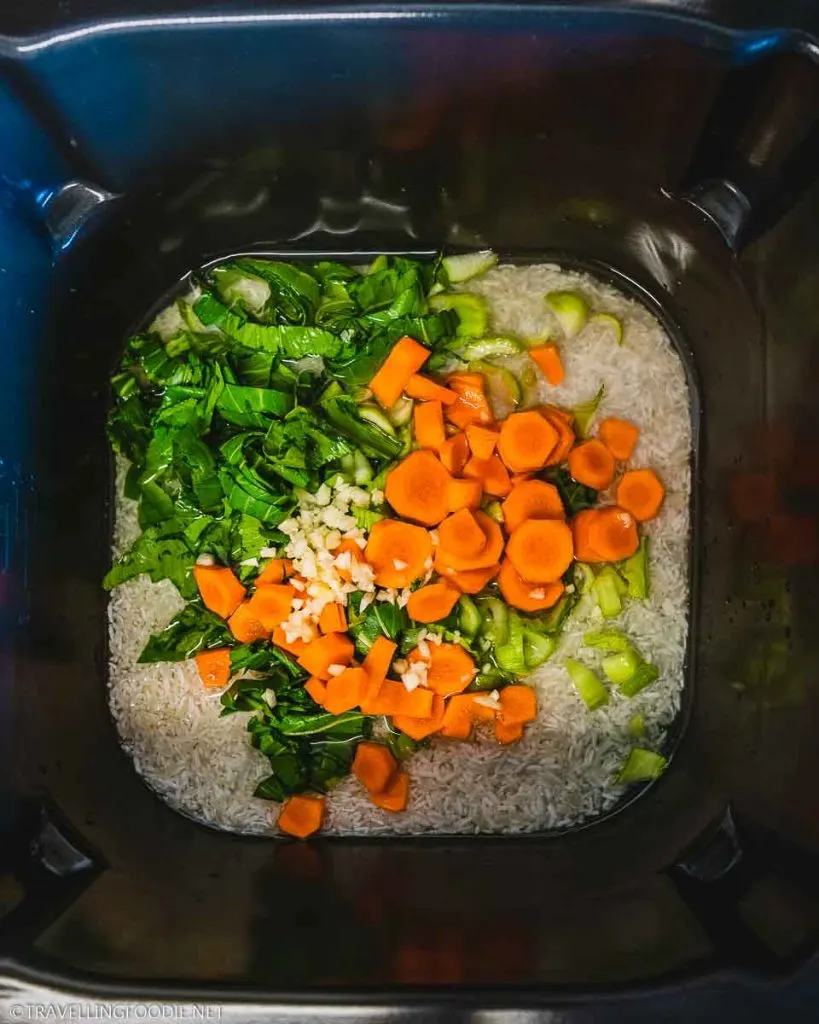 Thinly slice the green onion and add to the pot.
You can also only use half of the green onion here, and use the remaining half as toppings after.
Add soy sauce, white wine vinegar and Thai spice blend to the pot.
Mix everything well until sauce and seasonings combine.
Make sure the rice is fully submerged in the water.
In a bowl, add ground (or minced) beef, minced garlic and Thai spice blend.
Mix everything until combined.
Pull out the legs of the Ninja Speedi Crisper Tray.
Place the Crisper Tray on the elevated position in the pot.
Using your damp hands, make 4 beef patties (equally sized) and place them on the corners of the Crisper Tray.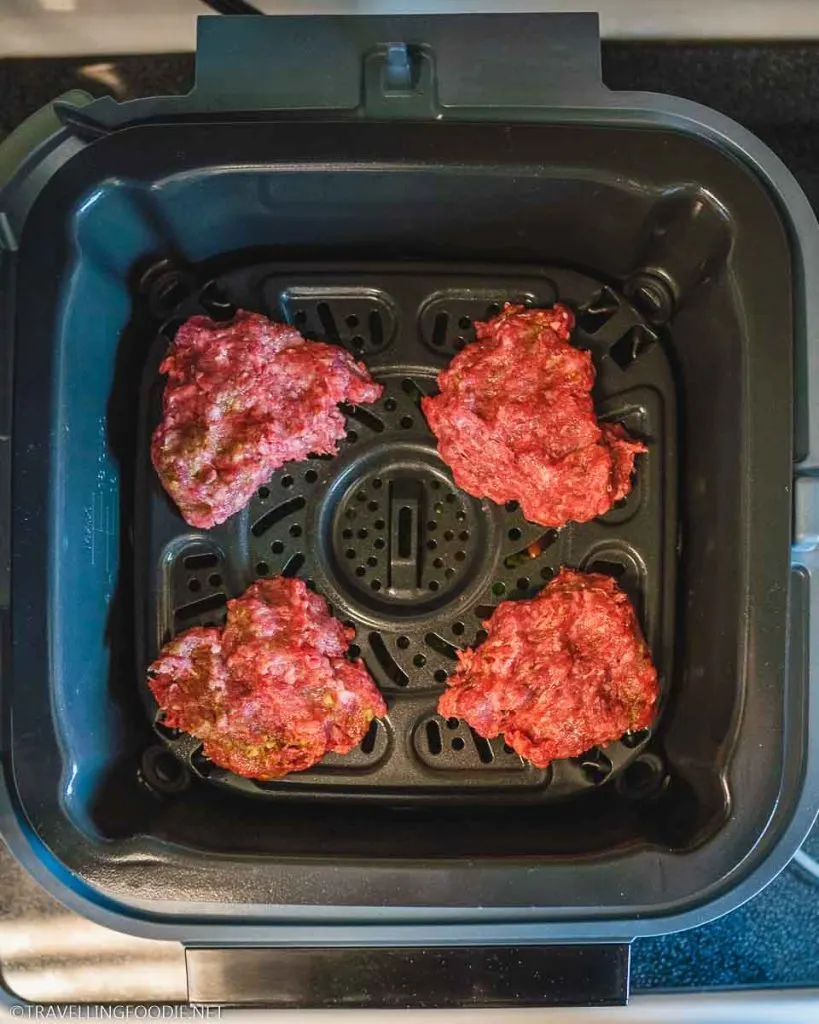 Close the Ninja Speedi lid and turn the unit on.
Flip the switch to Rapid Cooker and select Speedi Meals.
Set the temperature to 350F and time to 12 minutes.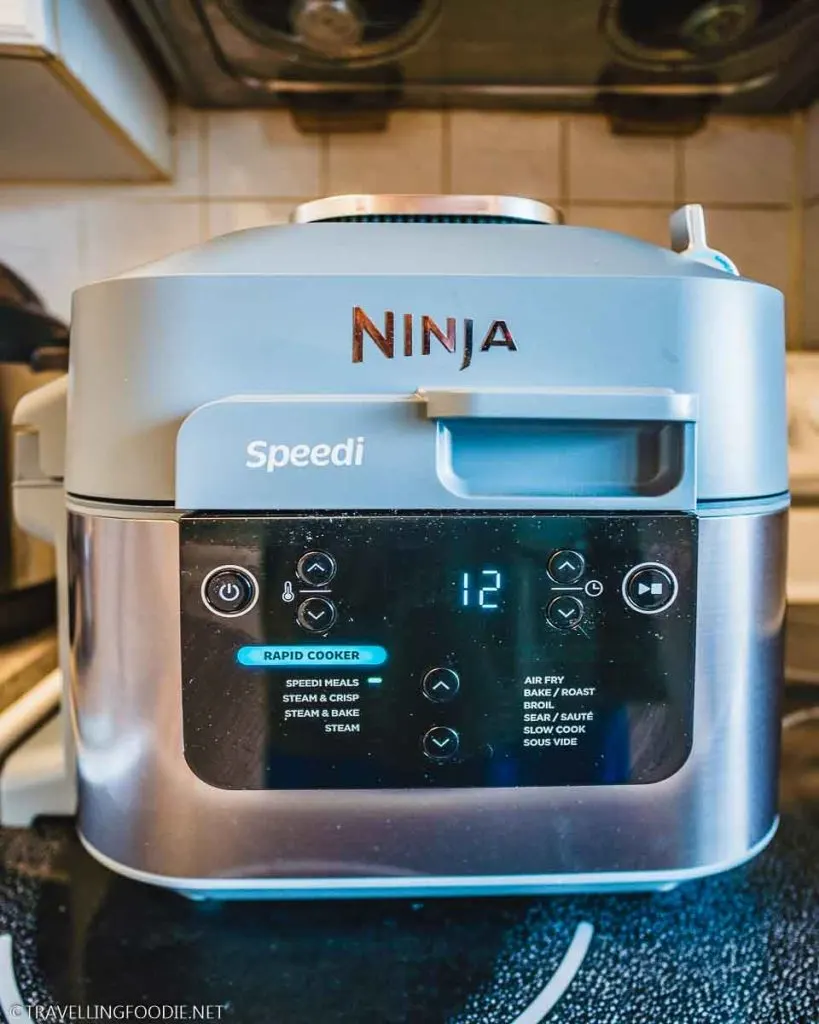 Press Start.
Note: It takes around 5-10 minutes to build steam before crisping.
When cooking is complete, use silicone-tipped tongs, anti-scalding gripper or silicone mini gloves to grab the center handle and remove the crisper tray from the Ninja Speedi.
Drop beef patties on top of rice.
Break the beef patties as you fluff and mix rice with vegetables.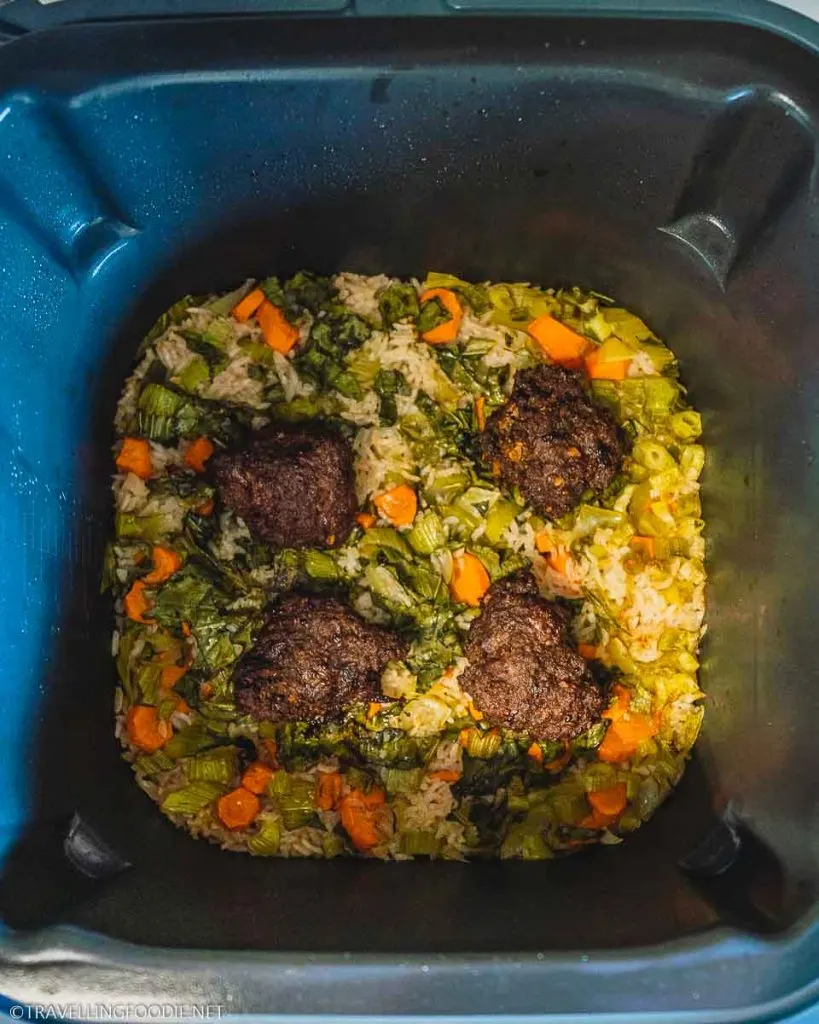 Scoop the Thai beef and rice into bowl.
Enjoy this Ninja Speedi Thai Beef Bowl!
---
Elevate your Thai Rice Bowl with Toppings
To enhance your Ninja Speedi Thai Beef Bowl, try these toppings:
Chopped Peanuts
Sriracha Mayo: With 10 ml Sriracha and 50 grams of Mayonnaise, mix both to combine and drizzle on top.
Crispy Onion Strings
More green onions
Sesame Oil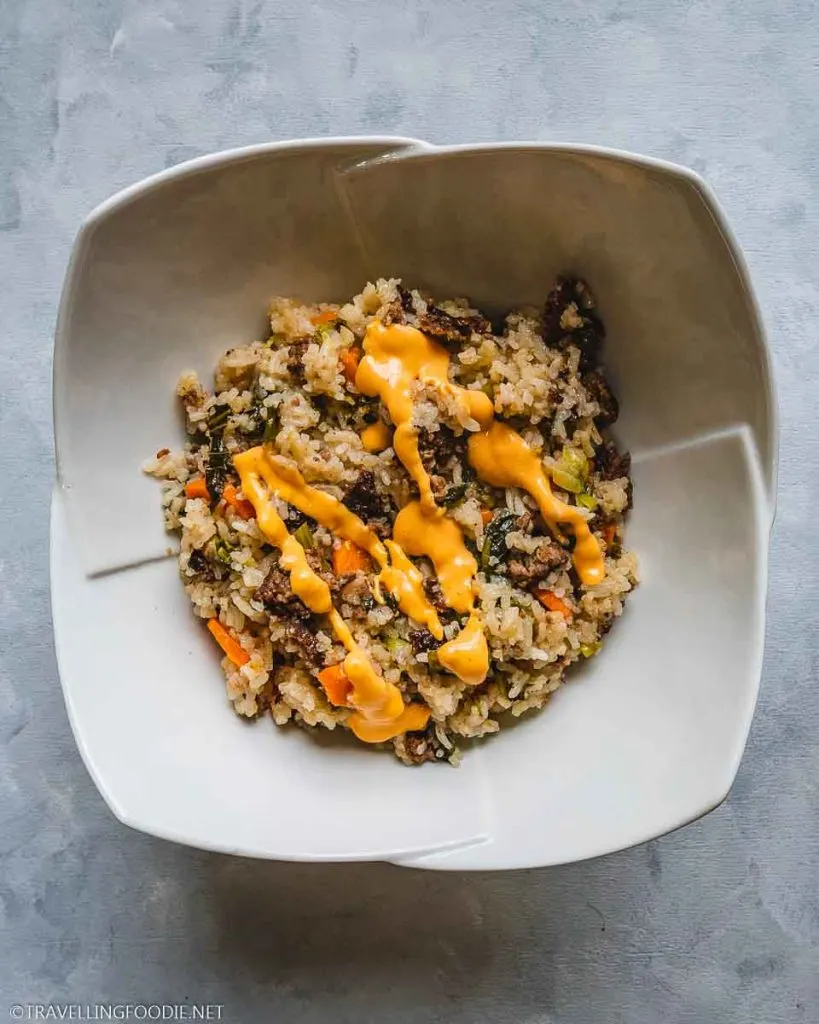 ---
Tips for Ninja Speedi Thai Beef Bowl
Here are some tips for the Ninja Speedi Thai Beef & Rice Bowl recipe:
Don't use 100% lean beef so the beef patties don't become too dry.
But also don't use very fatty ground beef so the rice bowl doesn't accumulate too much grease.
Aim for 70-80% fat so it adds a nice balance of flavour and juiciness.
For an even healthier Thai rice bowl, use turkey or chicken instead of beef since they are generally lower in saturated fat than beef.
You can use other white rice instead of Jasmine rice.
---
Other Bowl Recipes You'll Love
---
Can You Use Speedi Recipe on the Ninja Combi?
With the Ninja Combi All-in-One Multicooker, Oven and Air Fryer, you might be wondering if Ninja Speedi recipes will work for the Combi as well.
I don't have a Ninja Combi, but, on researching the functionalities and customer feedbacks who have both, here are my findings:
Ninja Combi seems to be just an updated version of the Ninja Speedi.
The Combi basically has the same features as Ninja Speedi.
It's just that Ninja Combi is bigger and in a oven-style, loading from the front instead of the top.
Instead of Speedi Meals, you use Combi Meals function.
The Speedi has inner pot and crisper tray and the Ninja Combi has a bottom pan and bake tray for the two-level cooking.
Whereas the Speedi is good cooking meals for 1-2 people, the Combi is good for families and parties.
Customers who have used both Speedi and Combi say the recipes are interchangeable because of the same setup and features.
So it seems like Ninja Speedi Recipes can be Ninja Combi Recipes.
If you've tried a recipe in both Speedi and Combi, let me know your experience.
---
Ninja Speedi Thai Beef Rice Bowl Recipe
Be sure to bookmark/save/pin this post so you can easily make Thai beef rice bowl in the Ninja Speedi Rapid Cooker & Air Fryer!
I would love to see how this recipe worked for you! Please share your creations with me on social media and tag me so I can check them out: @TravellingFoodie on Instagram & Facebook and @TravellinFoodie on Twitter.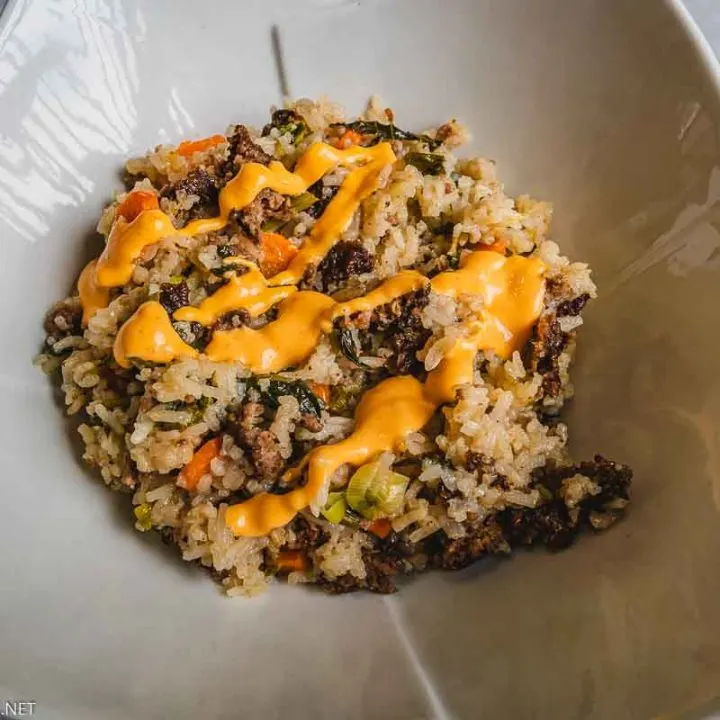 Ninja Speedi Thai Beef Bowl
Additional Time:
10 minutes
This Thai Beef Rice Bowl with Ninja Speedi is so simple and gives you a taste of Thailand! Enjoy aromatic spiced beef and savoury rice with vegetables from this easy Ninja Speedi recipe!
Instructions
Add rinsed rice on the Ninja Speedi Pot
Add water to rice
Add bok choy, carrot, half the garlic, green onion on top of rice
Add soy sauce, white wine vinegar, and 0.5 tbsp of Thai Spice Blend on top of rice
Combine and mix the rice, making sure all rice is submerged in water
In a small bowl, mix ground beef, half the garlic and remaining Thai Spice Blend
Place crisper tray on elevated position
Make four patties out of the beef mixture and put them on the four corners of crisper tray
Close the lid and flip the SmartSwitch™ to RAPID COOKER.
Select SPEEDI MEALS, set temperature to 350°F (175°C or 180°C), and set time for 12 minutes.
Press START/STOP to begin cooking (the unit will steam for approximately 10 minutes before crisping)
Remove crisper tray and put beef on top of the rice
Fluff rice while breaking the beef to mix with rice
Plate the Thai Beef Bowl and Enjoy!
Notes
To elevate your Ninja Speedi Thai Beef Bowl:
Drizzle with Sriracha Mayo
Add chopped peanuts as toppings
Recommended Products
As an Amazon Associate and member of other affiliate programs, I earn from qualifying purchases.
Nutrition Information:
Yield:

2
Serving Size:

1
Amount Per Serving:
Calories:

475
Total Fat:

22g
Saturated Fat:

8g
Trans Fat:

1g
Unsaturated Fat:

10g
Cholesterol:

111mg
Sodium:

450mg
Carbohydrates:

28g
Fiber:

2g
Sugar:

2g
Protein:

39g
Please note that nutrition information you see is provided and automatically calculated by Nutritionix. This may vary depending on the specific ingredients that you use. To ensure the most accurate information, I suggest entering your specific ingredients into a nutrition calculator.
---
Hope this Ninja Speedi Thai Beef Bowl recipe gives you an idea on what to have for lunch and dinner, or for meal prepping food for the week!