Looking for the best distilleries, Bourbon-centric bars and restaurants in Northern Kentucky? Enter The B-Line®!
The B-Line is self-guided Bourbon tour that showcases the best of Northern Kentucky's craft distilleries, bars and restaurants.
I've visited Northern Kentucky twice now and got to explore most of The B-Line, and let me tell you…
It will lift your spirits!
Whether you want to sip, savor or explore, The B-Line has something for everyone who loves Bourbon.
This ultimate guide to the Northern Kentucky Bourbon Tour features all the NKY distilleries, bars and restaurants I experienced on The B-Line.
Be sure to BOOKMARK/SAVE/PIN this post since it will get updated as I try new spots on the Northern Kentucky Bourbon Tour.
---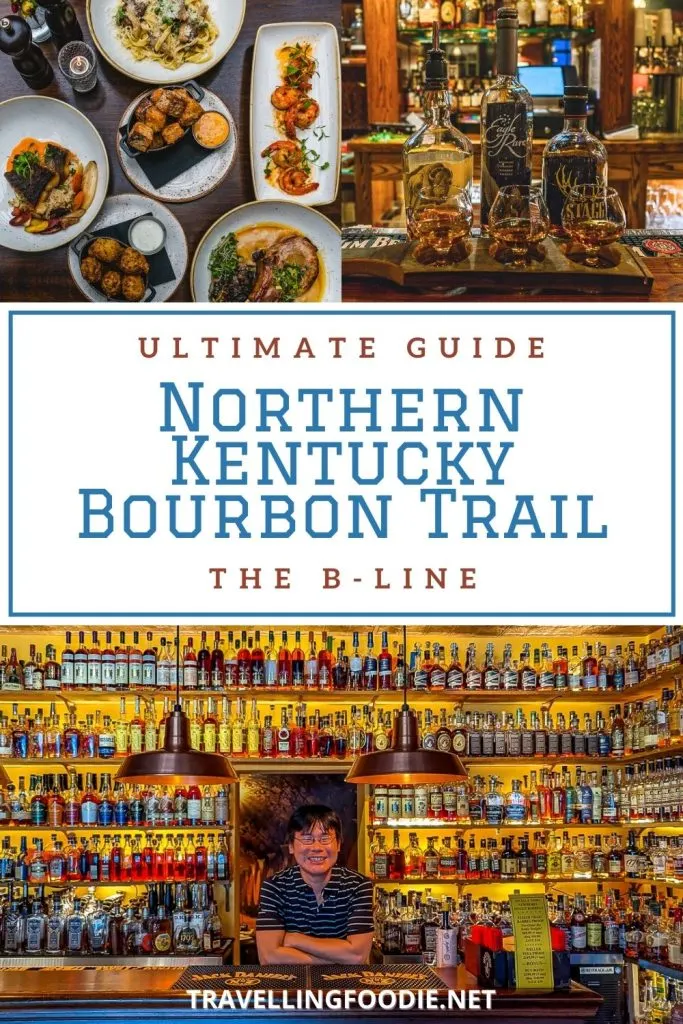 ---
What is The B-Line, Northern Kentucky's Bourbon Tour?
Northern Kentucky is the North's gateway to Bourbon Country.
Once you cross the Ohio River, the best way to start getting a taste of Kentucky's rich bourbon culture and history is through The B-Line.
I was in awe with the Bourbon culture in Northern Kentucky.
As one of the best things to love about the Cincy Region, what I loved about The B-Line and what makes unique to other Bourbon tours and experiences is not only does it cover distilleries, but it also covers Bourbon-centric bars and restaurants.
This allows you to also enjoy and experience Northern Kentucky's food and drinks scene!
How many stops are on the Northern Kentucky Bourbon Tour?
There are a total of 23 stops on The B-Line: 5 craft distilleries, 9 bars and 9 restaurants.
The B-Line is a great way to explore Northern Kentucky because the stops are located throughout Covington, Newport, Independence, Sparta, Augusta, and Maysville, Kentucky.
Travelling Foodie Tip: Be sure to bring the Line Guide (either paper or digital copy), collect stamps to earn a free B-Line swag your choosing (e.g. a B-Line hat, t-shirt, engraved Glencairn glass, and more).

You only need stamps from two distilleries, two bars and two restaurants on The B-Line trail.
---
The B-Line Criteria: What does it mean to be on the Northern Kentucky Bourbon Tour?
Being a stop on the Northern Kentucky B-Line is not as simple as serving Bourbon.
There's a general operational criteria in which the establishment must have been opened consistently for at least one full year and be locally owned in the Cincinnati region or Commonwealth of Kentucky.
The establishment must also have a local Northern Kentucky address.
There are also specific requirements depending if you're a distillery, restaurant or bar:
Distilleries have the shortest criteria: they must be making Bourbon and be on The Kentucky Bourbon Trail Craft Tour®.
For bars to be on The B-Line, they must meet the following criteria:
Must stock at least 100 labels of Bourbon with a preference for Kentucky Bourbon
Must stock all local varieties of The B-Line distilleries
Offer Bourbon Flights and specialty Bourbon cocktails
Host Bourbon related events when available
For restaurants to be on The B-Line, they must meet the following criteria:
Must stock at least 50 labels of Bourbon with a preference for Kentucky Bourbon
Must stock all local varieties of The B-Line distilleries
Offer Bourbon Flights and specialty Bourbon cocktails
Host Bourbon related events when available
Have at least one signature Bourbon infused menu item
---
What is the best airport for The B-Line?
Though you can arrive at any airport in Kentucky, the best airport to use is the Cincinnati/Northern Kentucky International Airport (CVG).
The CVG Airport has 50+ non-stop flights to major hubs including Austin, Los Angeles, Seattle, Tampa and Toronto.
I took the direct flight from YYZ (Toronto) to CVG via Air Canada.
After a quick 1.5-hour flight, I arrived in Northern Kentucky and ready to do The B-Line trail!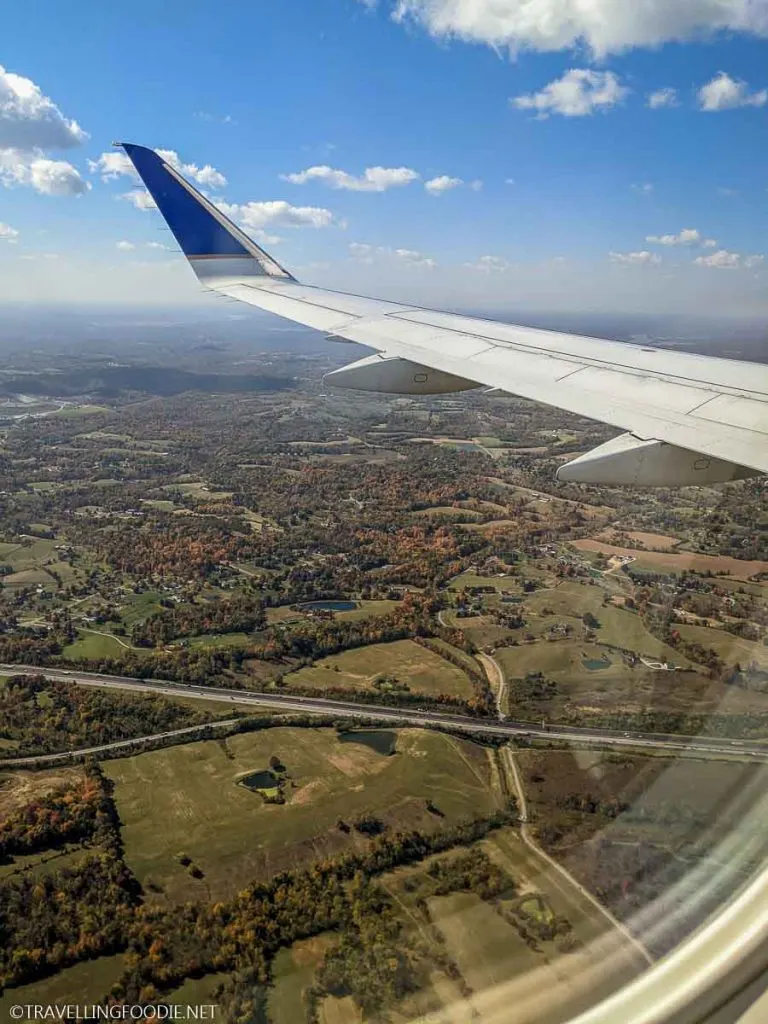 ---
The B-Line Guide: Northern Kentucky Distilleries, Restaurants and Bars
In this guide to The B-Line, I'm covering all 16 of the distilleries, restaurants and bars in Northern Kentucky Bourbon tour that I've experienced.
Northern Kentucky Distilleries on The B-Line
These Northern Kentucky craft distilleries on The B-Line are also part of the Kentucky Bourbon Trail Craft Tour distilleries.
Boone County Distilling Company
If you are looking for a taste of history and tradition, look no further than Boone County Distilling Co. in Independency, KY.
Founded in 2015 by Jack Wells and Josh Quinn, this craft distillery revives the legacy of the original Petersburg Distillery, which was the largest distillery in the state in the 19th century.
During the Boone County Distillery Tour, you'll get to learn the history and why they say their spirits are "made by ghosts."
This small batch distillery is the only one I visited that has a hybrid still that's part pot still and part column still.
I like how they did the sampling at the end of the tour.
They showed a way to tasting and smelling spirits that no other distillery has taught me before.
There's an information sheet where each spirit would be placed so you have an idea on aroma and tasting notes.
They also give some snacks to go with the samplings, which none of the other distilleries do.
You'll get to sample four of their signature spirits including their 120 proof white whiskey, Tanner's Curse, which is like Boone County Distilling's initiation spirit.
There's an interesting story behind the name Tanner's Curse which you'll find out in the tour.
I love their Bourbon Cream!
It's so smooth and creamy. It honestly feels like you're just drinking milk.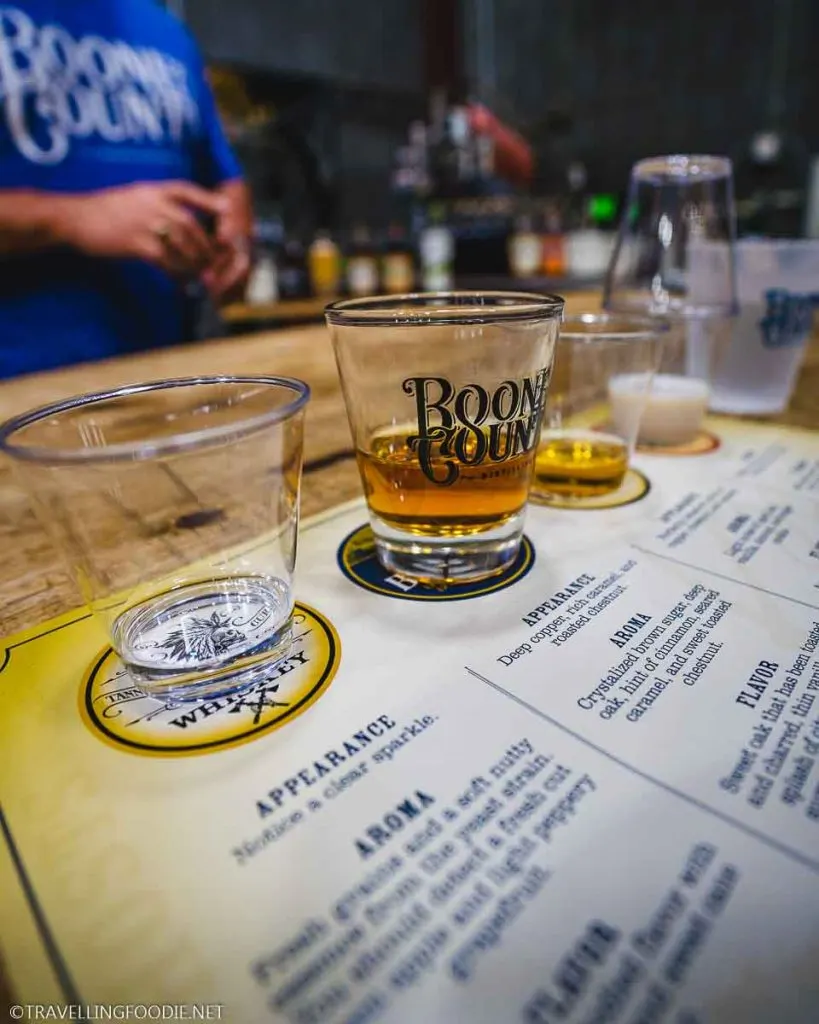 Boone County Distilling Company Information
Website
Address: 10601 Toebben Dr, Independence, Kentucky 41042
Neeley Family Distillery
If you are a fan of authentic Kentucky Bourbon and moonshine, you'll want to visit Neeley Family Distillery.
This craft distillery has a family history of distilling and bootlegging illegally in the mountains of Eastern Kentucky for 11 generations.
In 2015, Roy and his son Royce Neeley decided to take the family business legal for the first time ever, and opened their state-of-the-art distillery in Sparta, Kentucky.
During the Neeley Family Distillery tour, you'll learn about their intense family history, including Royce's great-great-grandfather shooting another moonshiner!
You'll also see their triple pot distillation process, a unique thing to see since they're the only Northern Kentucky distillery to do this.
If you're lucky during the tour, you might even get to taste moonshine directly from the worm tub!
At the tasting room, you can sample their delicious products, such as Bourbon, rye whiskey, brandy, and moonshine.
I really loved their Kentucky Single Barrel Straight Bourbon.
It was rich and complex in flavours while being smooth for a high proof Bourbon at 109.8 (54.9% alcohol).
And don't forget to try their absinthe, which they make using a pre-ban still from France and is the only North American absinthe to ever win a double gold medal.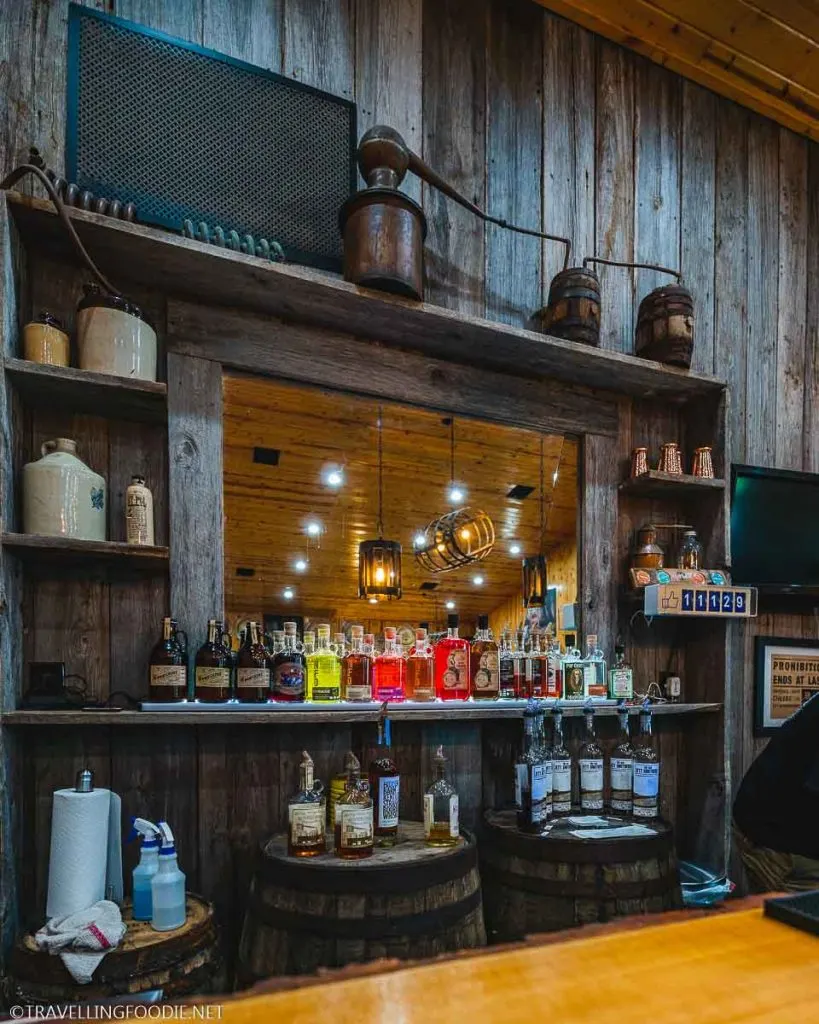 Did you know? Whereas most absinthe uses wine (like Champagne) as base, they use their moonshine as base.
I was surprised to find them having a wide variety of flavoured moonshine and whiskey.
Be prepared to be mind blown when you combine their Bourbon Ball Moonshine Cream and Kentucky Salted Caramel Whiskey.
Neeley Family Distillery Information
Website
Address: 4360 KY-1130, Sparta, Kentucky 41086
New Riff Distilling
If you're looking for "new riffs" on an old tradition of Kentucky Bourbon and rye whiskey, you'll want to visit New Riff Distilling.
Founded in 2014 by a former liquor retailer Ken Lewis, this craft distillery in Newport, KY is set in a modern state-of-the-art facility housing a three story copper column still for Kentucky Bourbon and Rye Whiskey and a copper pot still for Malt Whiskeys.
New Riff Distilling is the only Northern Kentucky B-Line distillery that makes gin.
During the New Riff Distilling Bonded Tour, you'll learn about their whiskey-making process and their commitment to innovation and collaboration.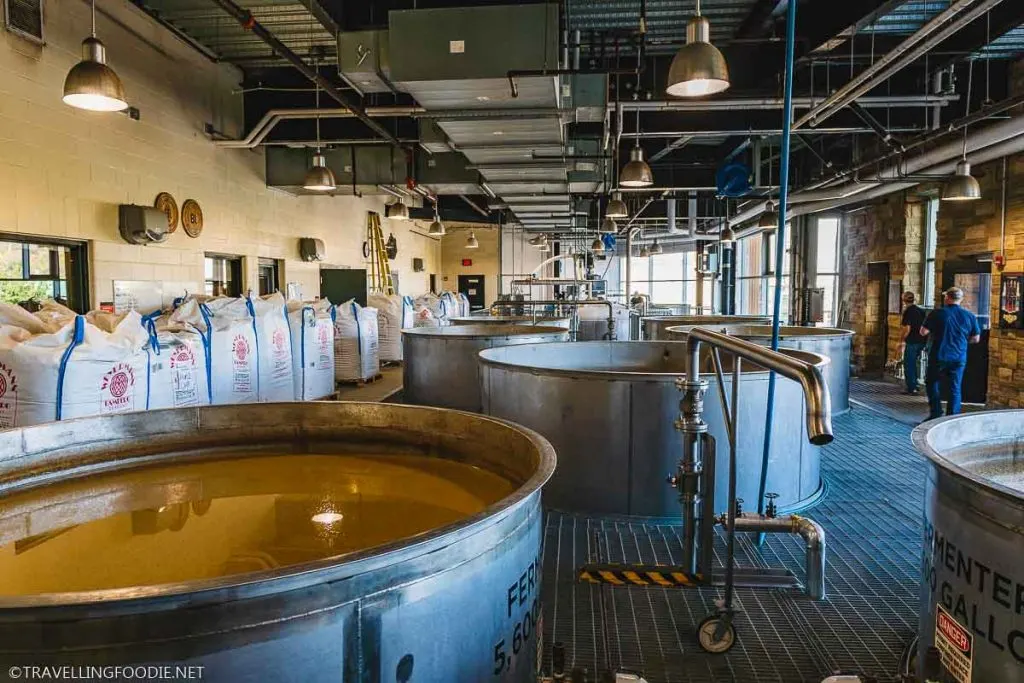 They have some unique and specialties whiskeys like the New Riff Winter Whiskey made with malted oat and chocolate malt.
And speaking of collaboration, they have a Balboa Rye Whiskey made with a local heirloom grain (balboa rye) grown by their corn farmer in Indiana.
At the end of the tour, you'll get to taste six New Riff whiskeys from straight and single barrel to Bourbon and rye, including the Balboa Rye Whiskey.
New Riff Distilling Information
Website
Address: 24 Distillery Way, Newport, Kentucky 41073
Second Sight Spirits
If you're looking for an artistic distillery with a visionary experience, Second Sight Spirits in Ludlow, KY is a must!
Founded by two high school best friends, Rick Couch and Carus Waggoner, this ultra small-batch craft distillery showcases their one-of-a-kind, self-built still that brings their vision for making spirits a reality.
During the Second Sights Spirits tour, you'll learn about their interesting journey and creative process that led them to where they are today.
Rick and Carus used their backgrounds in engineering and industrial design along with their experience working at Cirque du Soleil Las Vegas to create their fortune telling-themed distillery using scraps they've bought from Craigslist.
I was amazed walking into the distillery as I felt like I stepped into an entertainment stage.
You'll find a lot of interesting details throughout Second Sight Spirits like a fortune-telling fish and a drawing that shows Cincy Region with the Roebling Bridge… being attacked by Godzilla.
It's rum-believable!
Second Sight Spirits is the only distillery on The B-Line trail that also produces rum on top of Bourbon and moonshine, and you'll get to sample their products at the end of the tour.
I really enjoyed the spiced rum and, as someone who loves Ferrero Rocher, their Queen Mab Hazelnut Liqueur.
Second Sight Spirits frequently collaborates with local artists, and one of the artists they have collaborated with is Marvel Comic artist Brian Level.
You'll want to try the Black Belly Navy Strength Rum, developed with Brian's vision for a Japanese-inspired rum with black tea, spearmint, and vanilla beans.
Brian's artwork on the bottle is of a Japanese mask, inspired from his love of traditional Japanese tattoo design.
Fun Fact: In a reference to Second Sight Spirits in a Marvel comic that Carus will show during the tour and tasting, you'll find Nick Fury flings a bottle of Second Sight spirits at an enemy!
Second Sight Spirits Information
Website
Address: 301 Elm St, Ludlow, Kentucky 41016
Northern Kentucky Restaurants on The B-Line
These restaurants on the Northern Kentucky Bourbon Experience are Bourbon-centric with fresh tastes and culinary delights.
Bouquet Restaurant
Opened in 2007 by Chef Stephen Williams, Bouquet Restaurant is an upscale bistro in Newport, KY known for its constantly changing menu that showcase the best products from over fifty farmers and purveyors.
Named one of the 100 restaurants the U.S. can't afford to lose by Esquire Magazine, this farm-to-table restaurant with a smaller bar on the first floor and an intimate dining room upstairs.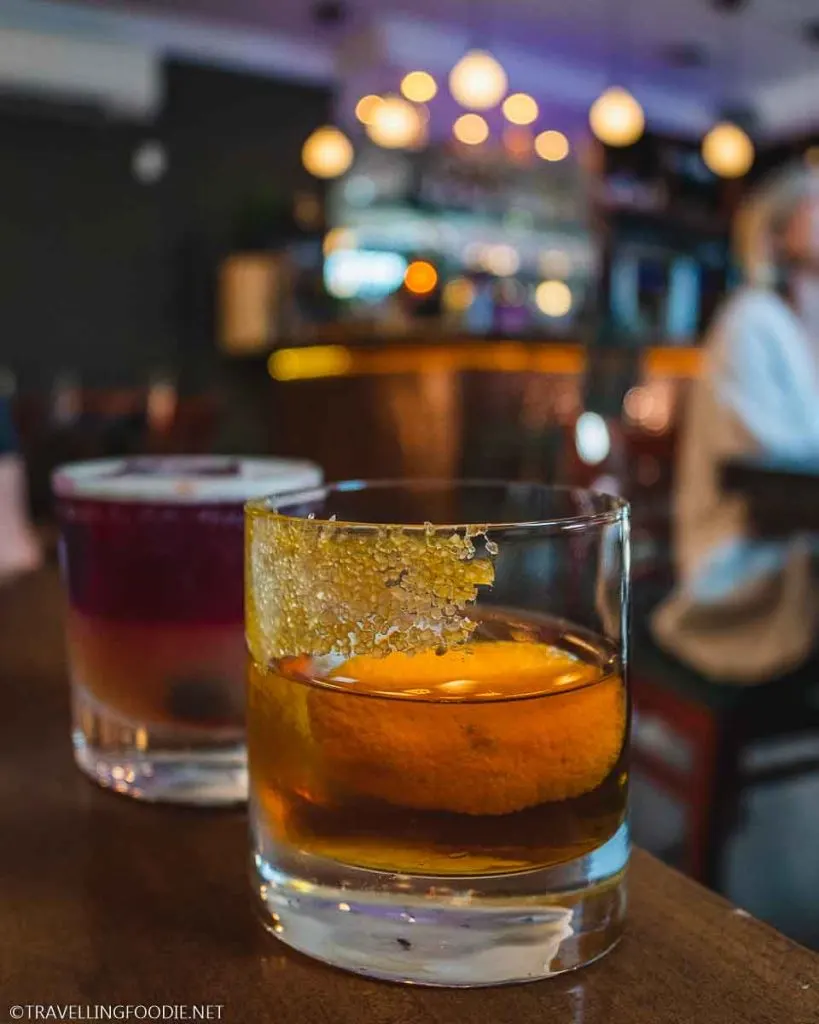 Start your night with their delicious charcuterie boards to share.
Their menu is in a tasting menu format broken into three course with options for each course, but you can still order ala carte.
The saffron risotto here is perfection with asparagus, English peas, mushrooms, ramp vinaigrette and parmesan.
And don't sleep on their old fashioned, in which they have a dedicated menu section of four choices to enjoy!
Bouquet Restaurant Information
Website
Address: 519 Main St, Covington, Kentucky 41011
Coppin's Restaurant & Bar
Located in the award-winning Hotel Covington, Coppin's Restaurant & Bar is a place where you can experience the history and culture of Covington, while savoring a delicious meal from their rotating seasonal menu.
I enjoyed their breakfast on my first trip to Cincy Region so I was excited to try dinner.
You do not want to miss their "Tots"!
These unique parmesan potato bites are ultra thin layers of potatoes stacked into cubes and fried to a crisp.
My other favourites include:
Grilled Oishii Shrimps – grilled perfectly with a nice chili oil like the ones you get at dim sum
Tomahawk Pork Chop – tomahawk is uncommon to find on menus and theirs was tender, juicy with nice marbling
Aside from craft cocktails, they have an extensive Bourbon collection with exclusive barrel Bourbon picks.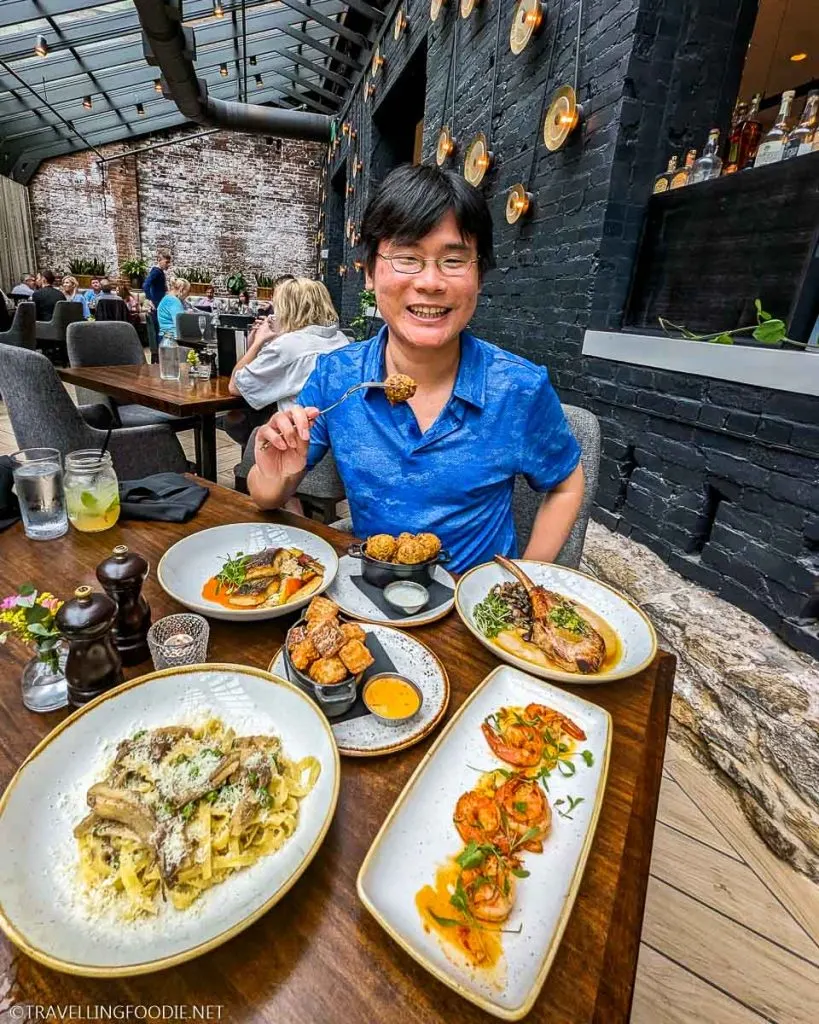 Coppin's Restaurant & Bar Information
Website
Address: 638 Madison Ave, Covington, Kentucky 41011
Libby's Southern Comfort
Named after owner Brad Wainscott's daughter Libby, Libby's Southern Comfort in Covington, KY specializes in Southern cuisine and comfort food like fried chicken, shrimp and grits and fried catfish.
Stepping into this homey restaurant feels like going into your friend's fancy garage turned into restaurant complete with patio.
Why am I not surprised to find Bourbon Slush in Northern Kentucky.
The Cheerwine Bourbon Slush is a must try, and it's made with Southern Cheerwine soda and Kentucky Bourbon.
It will definitely give you a cheer!
Goetta is a local dish unique to the Cincy Region so I love seeing a Southern twist to it at Libby's with their goetta hash puppies.
The Fresh Oyster sign right above the kitchen pass got me enjoying both their delicious raw and fried oysters.
Libby's Southern Comfort Information
Website
Address: 35 W 8th St, Covington, Kentucky 41011
Purple Poulet
Opened in Newport, KY's historic Green Derby building in February 2022, Purple Poulet is a Southern Bourbon bistro fusing Charleston, New Orleans and Kentucky cuisine.
I love the interior as it's like a cross between an intimate French bistro and a Bourbon bar, and I love the purple theme in the interior to match their name.
As with their name (Poulet means chicken in French), their most popular dish that people flock for is the "Claim to Fame" – Fried Chicken Dinner, which was named "Best Fried Chicken" in Kentucky by Southern Living Magazine.
It's a big plate with 4 pieces of tender and juicy fried chicken so it's actually good for sharing since it comes with sides as well!
Aside from the fried chicken, my other top picks include the following dishes:
Fried Deviled Eggs: first time seeing deviled eggs fried, and it was eye-opening
"Our Favourite" Oysters: topped with crawfish, bacon, mornay, parmesan breading
"Swanky" Shrimp-n-Grits: a unique twist with the delicious Bourbon-cream pan gravy
The Purple Poulet Information
Website
Address: 846 York St, Newport, Kentucky 41071
Tousey House Tavern
Transporting you back to the past with its historic building, antique decor and Southern hospitality, Tousey House Tavern in Burlington, KY specializes in Southern and Kentucky cuisine with classic dishes and comfort food.
As you step into this charming 200-year-old building, you'll find a cozy dining room to your left and an intimate Bourbon bar to your right.
I was able to try some Southern and Kentucky dishes I've never had before like Fried Green Tomatoes (a must-try here), bean soup and Kentucky Hot Brown.
If you haven't tried a Kentucky Hot Brown, I highly recommend trying their Tousey Hot Brown, but also sharing it!
This beast of a sandwich is made with oven roasted turkey breast, thin sliced country ham, melted cheese, and mornay sauce over toast points, then topped with pecan-wood smoked bacon and tomato.
You must also try their fried chicken which was pressure fried to perfection, making it so tender, juicy and crispy.
It has a different breading than what I've typically had for Southern fried chicken.
They don't have a fixed menu for dessert but, if the Peach White Chocolate Bread Pudding is available, order it!
Tousey House Tavern Information
Website
Address: 5963 N Jefferson St #9596, Burlington, Kentucky 41005
Northern Kentucky Bars on The B-Line
These bourbon-centric bars in the Northern Kentucky B-Line are all listed in The Best Bourbon Bars in America by The Bourbon Review.
Old Kentucky Bourbon Bar
Located in the historic Mainstrasse Village in Covington, KY, Old Kentucky Bourbon Bar is a must for Bourbon and cocktail lovers boasting nearly 1000 Whiskeys, including over 700 Bourbons and 200 American Whiskeys.
I love the vibes here!
It is very cozy and relaxing, and exactly what I expected a traditional Bourbon bar to be.
When you enter, you'll find multiple chalk boards where you'll find daily specials, cocktail suggestions and the cocktail of the day, a special cocktail created by the bartender that day.
Thursdays is a fun day with a Pull N' Pray where you take a folded paper from a magician's hat and whatever drink you get there is $5.
I pulled a Benchmark Full Proof.
As a lover of whiskey sour, I highly recommend their Bourbon sour!
Be sure to check out their seasonal offerings menu, and try one of their OKBB Bourbon that's rare and from the vault.
Old Kentucky Bourbon Bar Information
Website
Address: 629 Main St, Covington, Kentucky 41011
Prohibition Bourbon Bar
Opened in 2015 as an expansion to Newberry Bros. Coffee, the Prohibition Bourbon Bar takes you back to a small and intimate prohibition-era speakeasy.
While The B-Line Criteria only requires 100 labels of Bourbon, this unassuming bar takes it to the max with the self-proclaimed largest Bourbon and rye whiskey collection in the world of over 6,000 and counting!
With all the Pappy Van Winkle Bourbon and rye expressions, merchandise and even signed books from Pappy's descendants, you'll come to understand why Prohibition Bourbon Bar proudly claims the "PAPPYiest Place on Earth."
But on top of being the "PAPPYiest Place on Earth," it may also be the happiest bar in Northern Kentucky.
I love this bar so much, and it's become one of my favourite bars ever!
The vibes here are immaculate, and the whole experience complete thanks to the owners that run Prohibition Bourbon Bar.
When you enter, you are warmly welcomed by the super friendly owners, Peter and Kim Newberry, who take their time to know everyone visiting.
Peter is also the bartender and baker, and he is an absolute hoot and you'll likely even see him proudly wearing the "PAPPYiest Place on Earth" t-shirt (which you can buy as merch).
Honestly reminds me of the show Cheers, queue song Where Everybody Knows Your Name!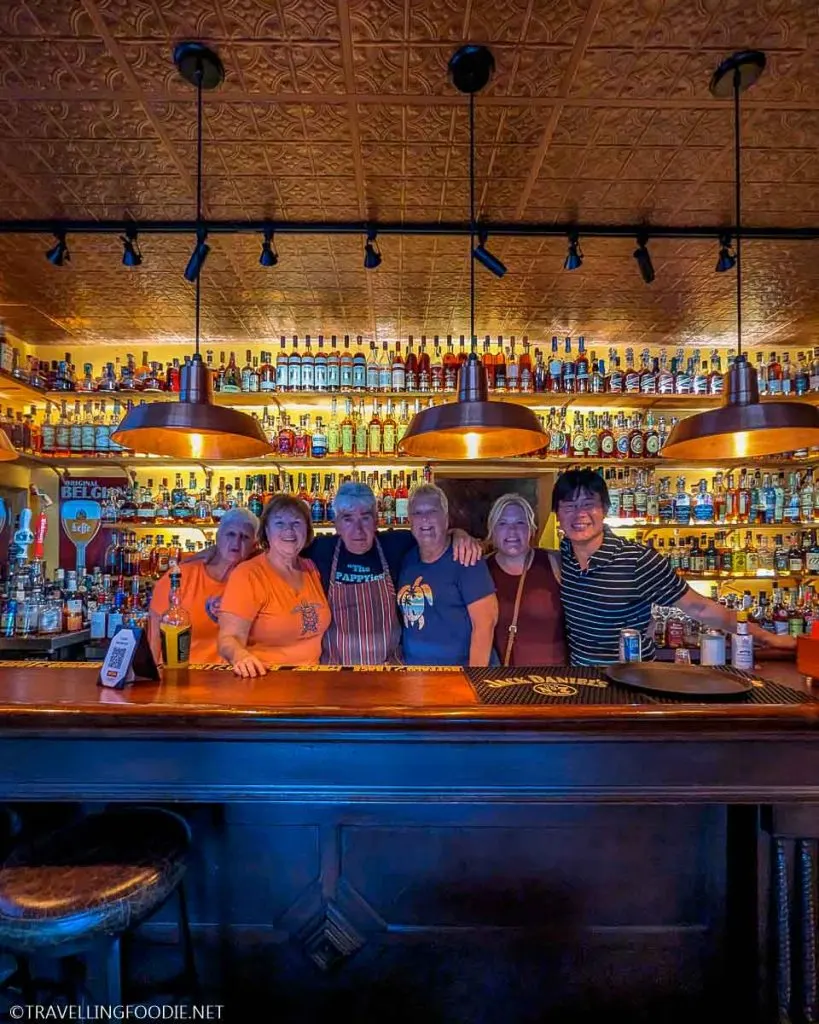 When you come here, let Peter surprise you with drinks based on your tastes as he can pick the right spirit in his collection or craft you a surprise cocktail.
Since it's also a cafe with Newberry Bros. Coffee, if you love coffee and baked goods, they roasts beans on-site and Peter bakes the bread and pastries.
They are only open on Fridays and Saturdays so if you're doing The B-Line trail on those days, Prohibition Bourbon Bar is a must!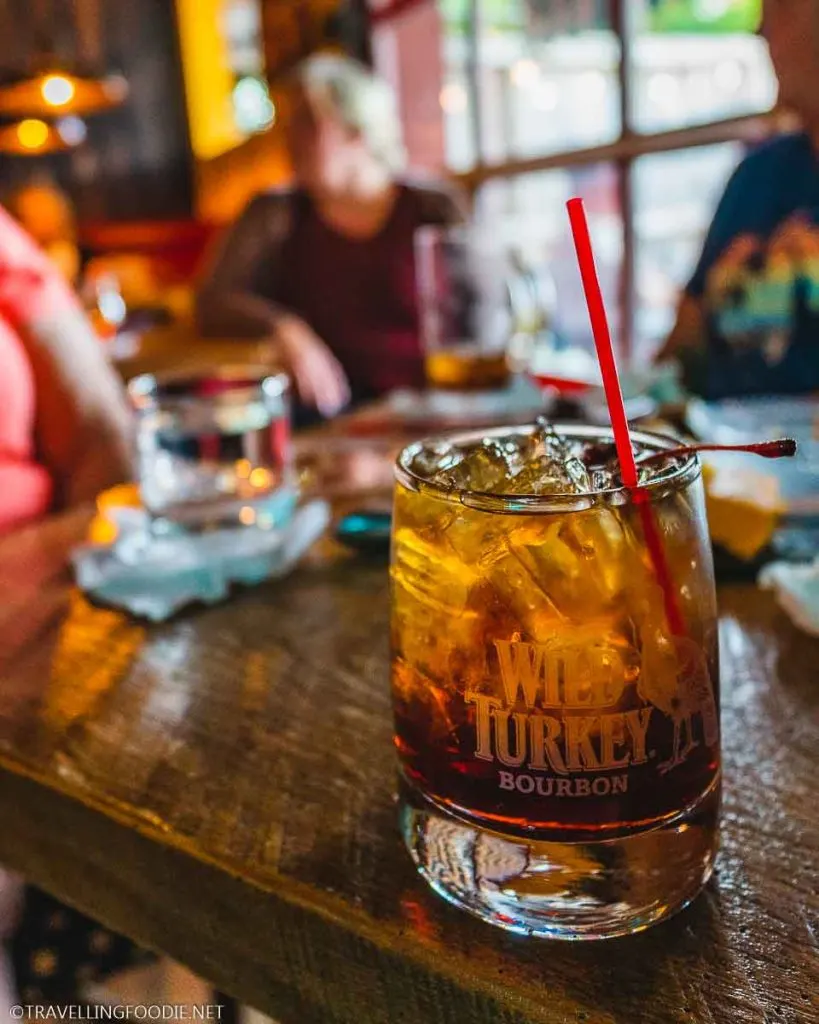 Prohibition Bourbon Bar Information
Website
Address: 530 Washington Ave, Newport, Kentucky 41071
Revival Vintage Spirits & Bottle Shop
Northern Kentucky is home to one of the most unique liquor shops I've ever been to, Revival Vintage Spirits & Bottle Shop.
As soon as you step inside, you'll feel like you've entered a time machine that takes you back to a bygone era of Bourbon history.
I'm amazed by their over 1,000 bottle collection of rare & vintage spirits at Northern Kentucky B-Line stop.
I call it the Willy Wonka shop for rare spirits and Willy Wonka is co-owner Brad "Dusty" Bonds, who has a wealth of knowledge and so passionate about spirits.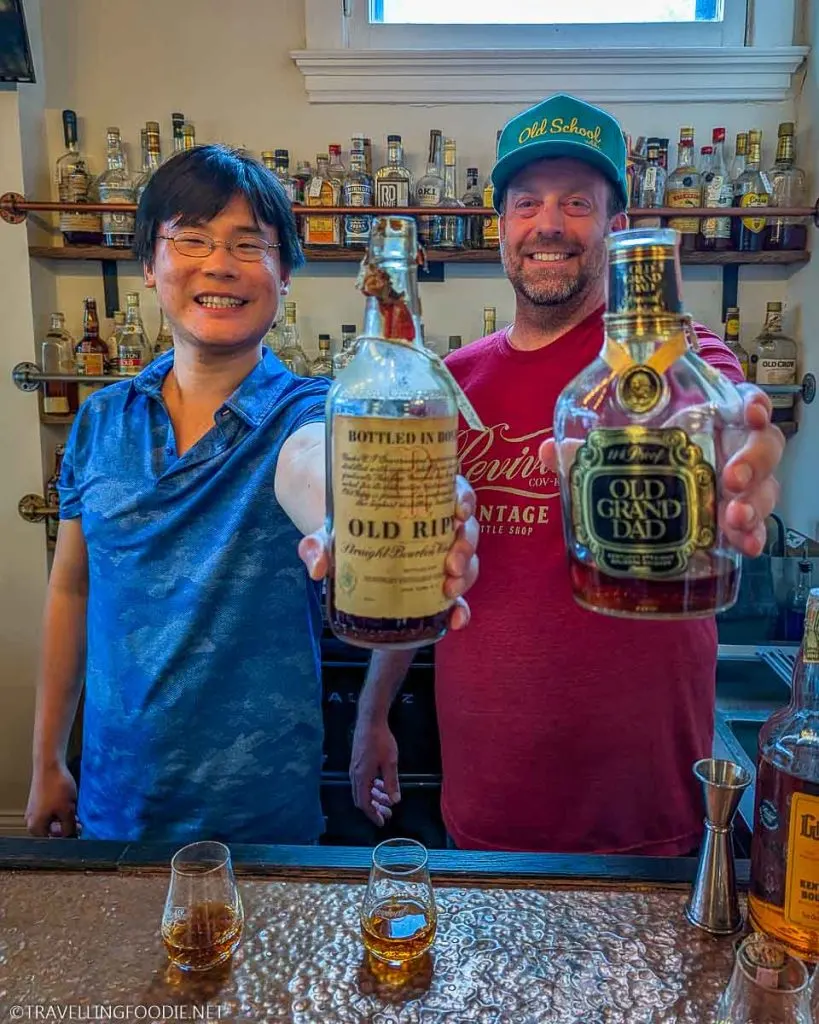 The shelves are lined with impossible-to-find antique spirits and rare bottles, some over 100 years old!
You'll find spirits from the 30s and 40s, ryes from the 1870s, Bourbons from the Prohibition era, and much more.
When I came back a second time within less than a year from the first, I saw so many interesting bottles that weren't there previously.
You can actually taste these vintage spirits at Revival's bar.
And what's even more amazing is that they make these rare spirits very accessible and affordable with a flight of four different spirits for as low as $20, or a single pour for as low as $5.
You can spend hours just sitting at the bar, enjoying a vintage spirit tasting surrounded by rare spirits while chatting with Brad!
I can never imagine being able to do a side-by-side tasting of Bourbon from the same distillery that's 90-110 years apart.
Talk about going on a spirited adventure and tasting history at Revival Vintage Spirits!
Revival Vintage Spirits & Bottle Shop Information
Website
Address: 5 E 8th St, Covington, Kentucky 41011
Rich's Proper Food and Drink
Opened in 2018 in downtown Covington by Bill Whitlow, Rich's Proper Food & Drink specializes in Creole-inspired cuisine in a casual and relaxing atmosphere.
This restaurant and bar is known for their award-winning Mint Julep, a classic Bourbon drink that's the signature drink of the Kentucky Derby, a famous horse race held annually in Louisville, KY.
Rich's Proper Food & Drink won the title of the "Best Mint Julep in Kentucky" at the Kentucky Derby Festival in 2019.
And it's a must try!
Their Mint Julep has crushed ice, crushed mint leaves and Four Roses single barrel Bourbon then garnished with powdered sugar to add a touch of sweetness, something different from other Mint Juleps I've had before.
Watch how they make it here.
Let's also talk about the Food part of Rich's Proper Food & Drink.
You can't go wrong with a classic Rich's Proper Burger.
But you'll want to try their New Orleans-inspired dishes like the Broiled Oysters and, my top pick, the hearty and flavourful Kentucky Bluegrass Jambalaya in which they've also added chunks of bluegrass country ham.
Rich's Proper Food and Drink Information
Website
Address: 701 Madison Ave, Covington, Kentucky 41011
Smoke Justis
Did you even go to The South if you didn't have BBQ?
Located in the historic Citizens Telephone Building in Covington, KY, Smoke Justis is a restaurant and bar that pays tribute to baseball legend Walter "Smoke" Justis who had a minor league record of four no hitters in the 1908 season.
As you step into the restaurant, you are invited to a relaxed and casual atmosphere with exposed brick walls, wooden floors, and vintage baseball memorabilia.
Smoke Justis is my kind of B&B: BBQ and Bourbon!
They offer some of the best smoked meats in Cincy Region with my favourites being their flavourful baby back ribs, moist brisket, and fried smoked wings (quite uncommon to find wings made this way!).
Watch my behind-the-scenes of their dishes and cocktail from smoker-to-table here.
On weekends, they also have a special brunch menu on top of the regular menu.
And of course, it uses their smoked meats too like the Smoked Chicken & Waffles having the house smoked chicken wings or the Bloody Mary garnished with a smoked chicken wing.
Go towards the back of the restaurant and you'll find the beautiful Bourbon Lounge, which has live music every weekend.
While you can order the same drinks at the restaurant, I recommend sitting at the lounge for drinks so you can enjoy the different atmosphere and watch the bartenders in action.
You can sample different Bourbons from their extensive collection of over 200 varieties including exclusive Bourbon (like their Roebling Rare), or order one of their craft cocktails made with fresh ingredients.
Their Smoked Old Fashioned is a must, and it was cool seeing it smoked via a pineapple globe infuser.
Justis is served on The B-Line!
Smoke Justis Information
Website
Address: 302 Court St, Covington, Kentucky 41011
The Globe
Located in the heart of downtown Covington, KY in a previous gentleman's club, The Globe is a neighbourhood bar that celebrates the art of mixology and the culture of Bourbon.
This unassuming hidden gem is a local gathering hole that's welcoming and cozy.
A must try on The Globe's menu is the 5th Street Manhattan!
Aside from New Riff Bourbon, Dolin sweet vermouth, black walnut bitters, they add an Italian cordial, Amaro Meletti to add a touch of sweetness and complexity.
This cocktail is smooth, balanced, and delicious, and it showcases the rich flavor and smoothness of New Riff Bourbon.
The Globe Information
Website
Address: 12 E 5th St, Covington, Kentucky 41011
Wiseguy Lounge
A hidden gem in Mainstrasse Village, Wiseguy Lounge is a speakeasy-style (no-password) bar that is located above Goodfellas Pizzeria, one of the best pizza spots in the Cincy Region.
Goodfellas Pizzeria specializes in New York-style pizza with a variety of toppings that change daily, or go for one of their specialty pizzas.
Their most popular specialty pizza is the Tommy "Two Times", which has twice the amount of pepperoni for a meat lover's dream.
A must-try is the Fuhgetaboutit pizza, which has all the available toppings.
Yes, ALL, and I was impressed that you can still hold the pizza properly!
Head upstairs and be transported to Wiseguy Lounge with a beautiful classic whiskey bar and lounge atmosphere.
It's a Bourbon lover's paradise with over 860 unique Bourbons to choose from, ranging from rare and exclusive bottles to classic and familiar ones.
They have an ultra rare Old Rip Van Winkle Bourbon (100 proof, 25-year aged) that's $1,000/oz and goes higher as each oz is drank, or buy the entire thing for $30,000, because it's one of the few remaining bottles left.
You can order by the ounce, or try one of their many curated Bourbon flights that will take you on a journey through different styles and flavors of Bourbon.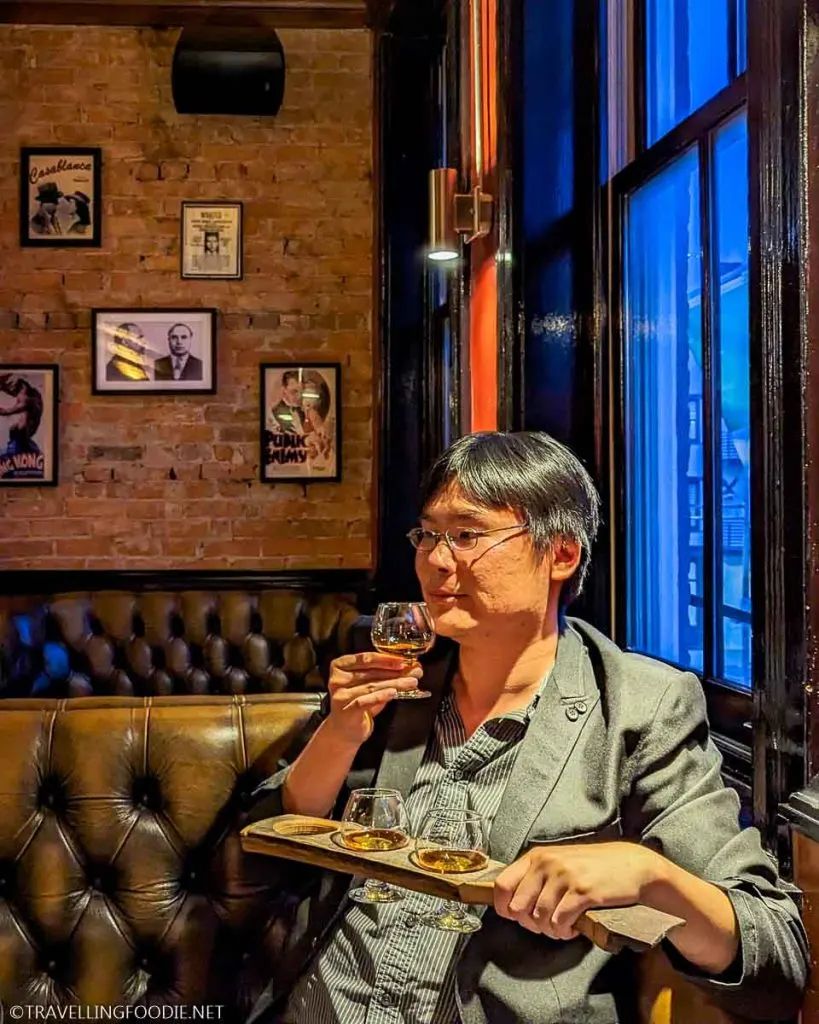 I highly recommend the #1 Bill, a flight of Mash Bill #1 (low-rye) Bourbon from Buffalo Trace Distillery, including some Wiseguy-exclusive ones:
The Eagle Rare Wiseguy "Power Trip" Bourbon, which is 90 proof and aged 10 years, was probably the smoothest Bourbon I tried on my B-Line trip.
The 8-year aged Stagg Wiseguy "Extinct" was so smooth for a 136 proof, which is the highest proof Bourbon I've ever tasted, giving that nice Kentucky hug!
This "Extinct" Wiseguy personal pick of Stagg Jr. is one of the true unicorns of their collection because Buffalo Trace discontinued their Stagg Jr. collection in early 2023 to create Stagg.
Their unfiltered and uncut version of George T. Stagg is one of the last 50 bottles of Stagg Jr. produced.
And as a true unicorn, it's one of the only releases of Stagg Jr. ever not to have the JR in the label.
Be sure to try their unique craft cocktails like, one of their signature, the Broken Hatchet, which has Four Rouses Bourbon, house brandy cherry, orange, hazelnut, black walnut, rye bitters, cinnamon, creme brulee.
You'll want to watch how they make the Broken Hatchet!
But don't sleep on the seasonal cocktails as well which are so creative: all their bartenders come up with ideas and, after trying all of them, they vote on which one goes on the menu.
On my visit, I tried the People Do Crazy Things cocktail by Matt, which had an interesting combination of turmeric-infused gin, feta-infused vodka, orgeat, elderflower and basil!
You can enjoy both pizza and drinks together at Wiseguy Lounge or at the nice outdoor dining.
Goodfellas Pizzeria and Wiseguy Lounge Information
Website
Address: 603 Main St, Covington, Kentucky 41011
---
Where To Stay for the Northern Kentucky Bourbon Tour
Where should you stay when you're doing The B-Line?
Hotel Covington
Covington, KY has the most B-Line stops so ideally you'd want to be staying in this city when doing The B-Line trail.
Conveniently located in downtown Covington, Hotel Covington is the best place to stay when doing the B-Line since Coppin's Restaurant and Bar is inside the hotel and Rich's Proper Food and Drink is diagonally across the intersection.
This award-winning boutique hotel occupies the former Coppin's Department Store building, which was built in 1907 after John Coppin won a horse race with a longshot named Knowledge.
I stayed at Hotel Covington on my first trip, but this time I stayed at their expansion North by Hotel Covington.
While the room at Hotel Covington was more vintage elegant, the room at North was more modern luxury with a sleek minimalist design.
I stayed at the North Signature King which was very nice and spacious with a large bathroom and a kitchenette featuring counter seating, refrigerator, microwave, and Nespresso coffee maker.
Having stayed at both Hotel Covington and North by Hotel Covington on my two trips, I highly recommend them to anyone who wants to experience The B-Line in style.
They each have their own personality and vibe, but they both offer excellent hospitality and comfort.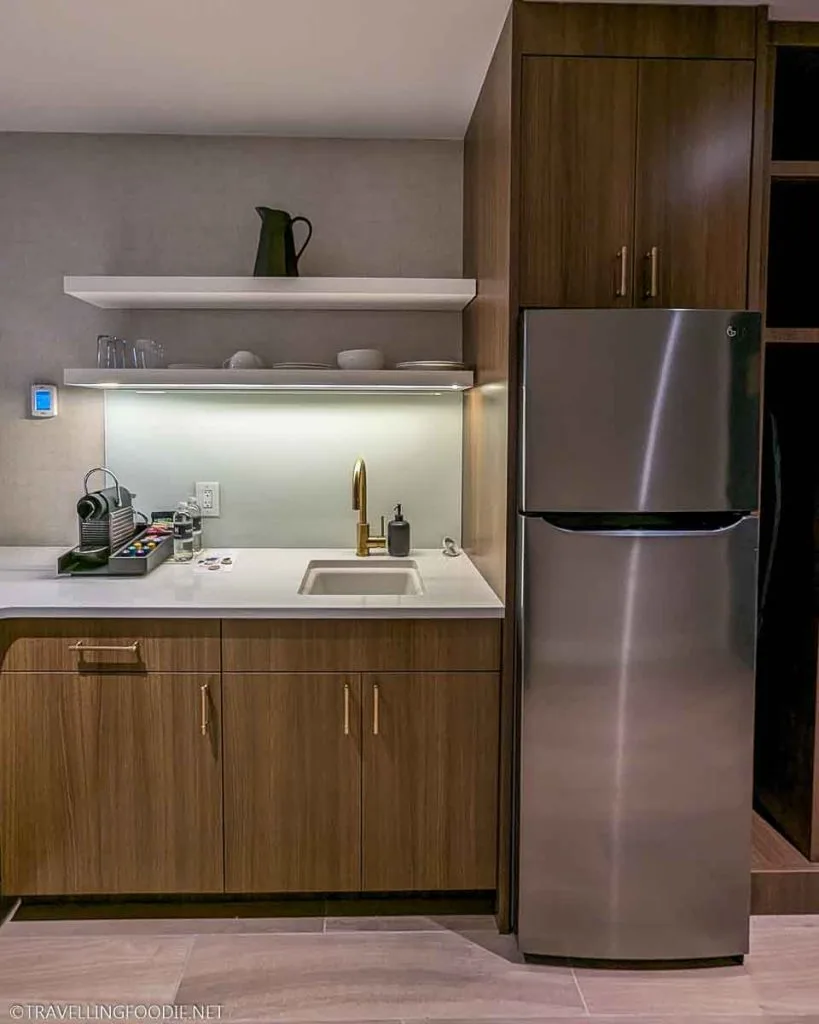 Hotel Covington Information
Website
Address: 638 Madison Ave, Covington, Kentucky 41011, United States
Check reviews, availability and pricing of Hotel Covington on Booking.com / Agoda
Best places to stay in other parts of the Northern Kentucky B-Line
If you're not looking to stay in Covington, here are best places to stay in other parts of The B-Line as found on Booking.com:
---
Northern Kentucky Bourbon Tour: The B-Line Trail Map
Here's a map that shows all the NKY distilleries, bars and restaurants on The B-Line trail featured in this Northern Kentucky Bourbon Tour guide.
---
Hope this comprehensive guide gives you an idea on The B-Line and which NKY distilleries, bars and restaurants you'd want to visit.
Now, the only thing left is planning for your trip to do the Northern Kentucky Bourbon Tour!
Have you been on The B-Line already?
I know I haven't completed the entire B-Line trail and the list is changing every year, so I'm always taking notes for my next trip.
I would love to hear your recommendations for favourite spots or food/drinks that you tried on the Northern Kentucky Bourbon Tour!
---
Huge thanks to meetNKY for hosting me and sponsoring this post! As usual, all thoughts and opinions are 100% my own.
You can learn more about meetNKY on their website here.