How do you like to eat lobster? You can try so many variations of Nova Scotia lobster dishes across the province.
Nova Scotia Lobster is one of the most renowned seafood in the world and for good reason!
They have made it their life's work to bring the best Atlantic lobster to our tables.
Nova Scotia is so proud of their lobster that it's part of their culture from seafood restaurants specializing in lobster and lobster experiences all around the province.
Something unique to Nova Scotia is The Nova Scotia Lobster Trail, which has dozens of restaurants, retail and fisheries that feature some of the freshest lobster dishes and lobster-related experiences in the Province.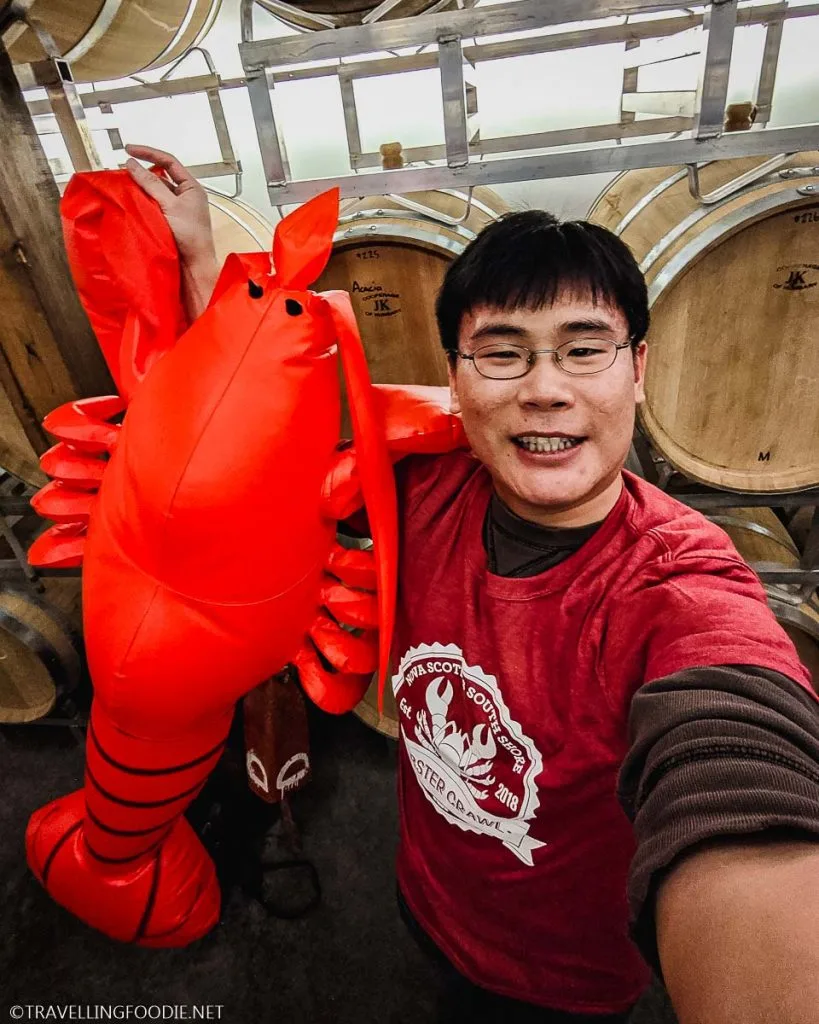 Also, every year in February, Nova Scotia hosts the Nova Scotia Lobster Crawl Festival, a month-long celebration about all things lobster.
This annual event on the South Shore have more than unique 150 amazing Lobster experiences to sip, savour, shop, stay and enjoy.
It's no denying that the lobster industry is huge in Nova Scotia.
As a matter of fact, the Municipality of Barrington is known as The Lobster Capital of Canada.
It's amazing how much love there is for lobster that there are so many ways to enjoy them in Nova Scotia.
And some are so unique that I've only ever had them in the province.
So when you visit Nova Scotia, here's a fun checklist guide of lobster dishes you can plan out for your trip!
More behind the scenes on Travelling Foodie Instagram: @TravellingFoodie for Food and @JourneyTraveler for Travel
---
What is Nova Scotia Lobster?
Nova Scotia Lobster is one of Canada's most valuable seafood export, harvested from the cold, clean, pristine waters along the Atlantic Coast.
Nova Scotia has some of the most fertile lobster fishing grounds in the world, which are Marine Stewardship Council certified (MSC) to ensure wild seafood sustainability.
The short time between harvesting and processing ensures that the lobster tastes as fresh as the day it was caught.
It's funny to think that lobster now is considered high-end that people pay good money for when, back in the day, lobsters were considered poor man's food and were served in prisons.
Is Nova Scotia Lobster Healthy?
These lobsters are healthy for most diets too.
Known for its hard shell and full sweet meat, Nova Scotia lobster is low in fat and calories, and provides good amounts of protein.
Aside from being a great source of selenium and omega-3 fatty acids, they can also help protect against thyroid disease, depression, and anemia.
Now that's lobsterrific!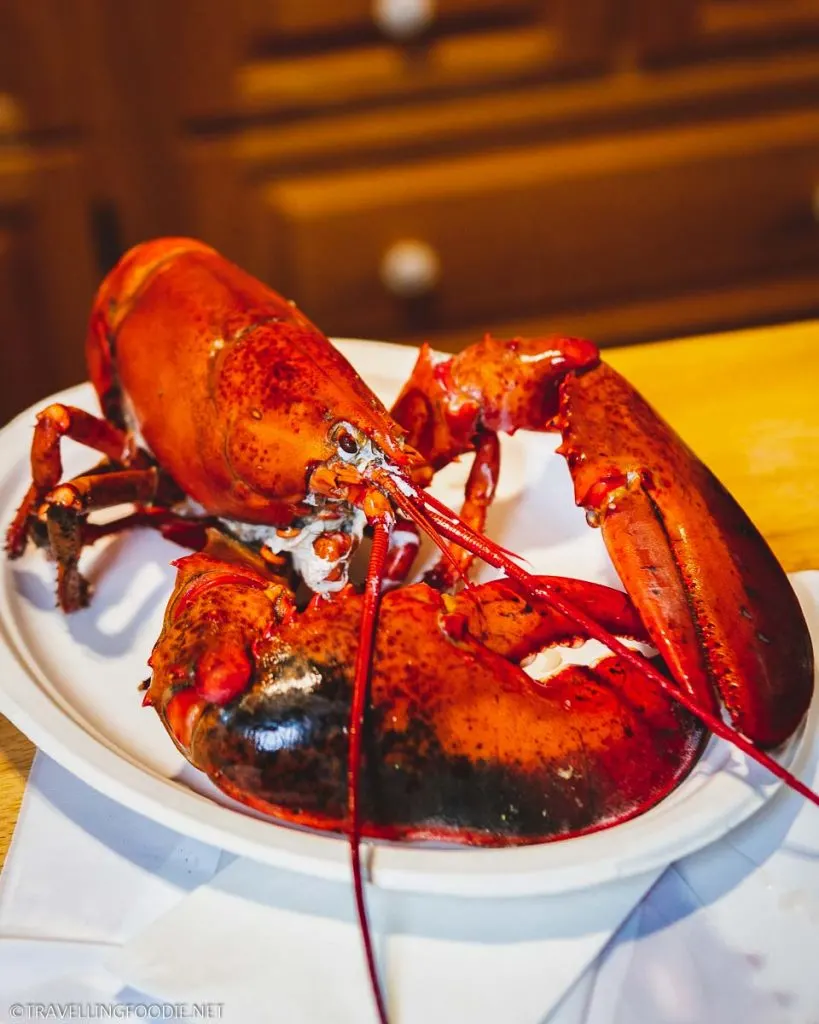 How Long is Lobster Season in Nova Scotia?
Though lobster is available fresh all year-round in Nova Scotia, each fishing area has different times when lobster is in season and can be harvested, which accounts for the varying lobster prices.
This is one of the ways they maintain sustainability.
Did you know? The Guinness World Record for the largest caught lobster was set in Nova Scotia. The lobster caught in 1977 and weighed 44 lbs 6 oz (20.14 kg).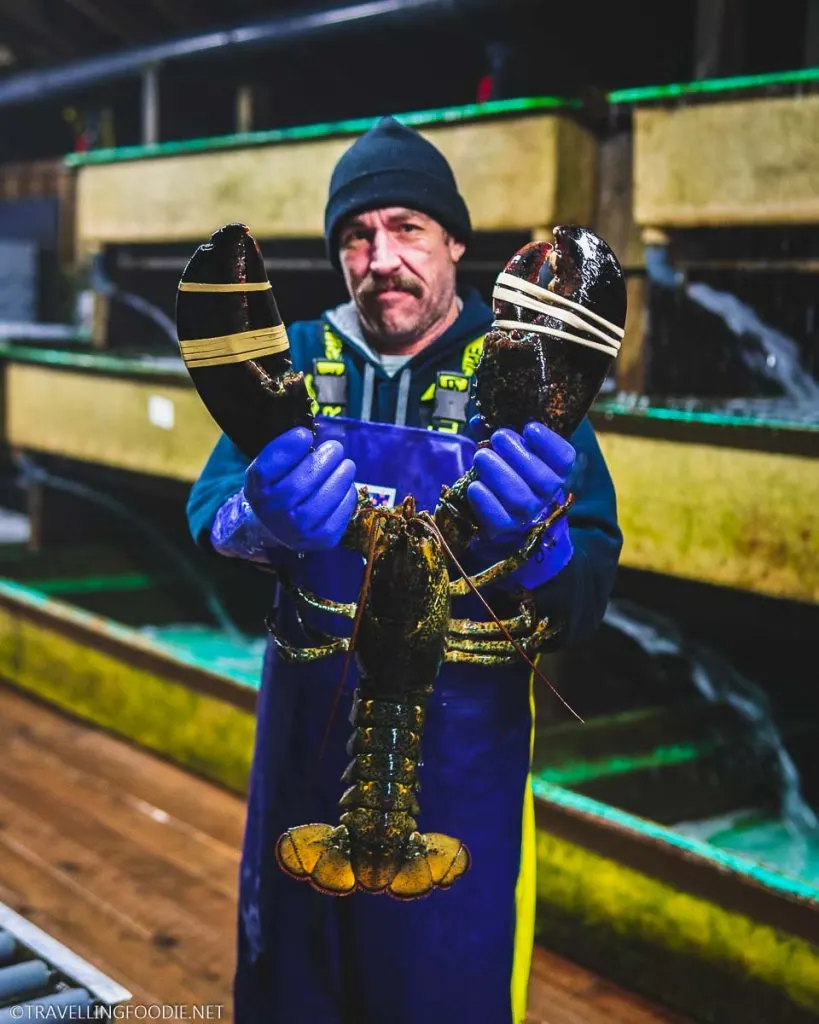 ---
Nova Scotia Lobster Dishes To Try
If you didn't have lobster in Nova Scotia, did you even go to Nova Scotia?
A trip to Nova Scotia wouldn't be complete without having lobster.
Out of all the Nova Scotia food, Lobster is definitely the most popular.
I've been to Nova Scotia many times and have enjoyed lobster all across the province.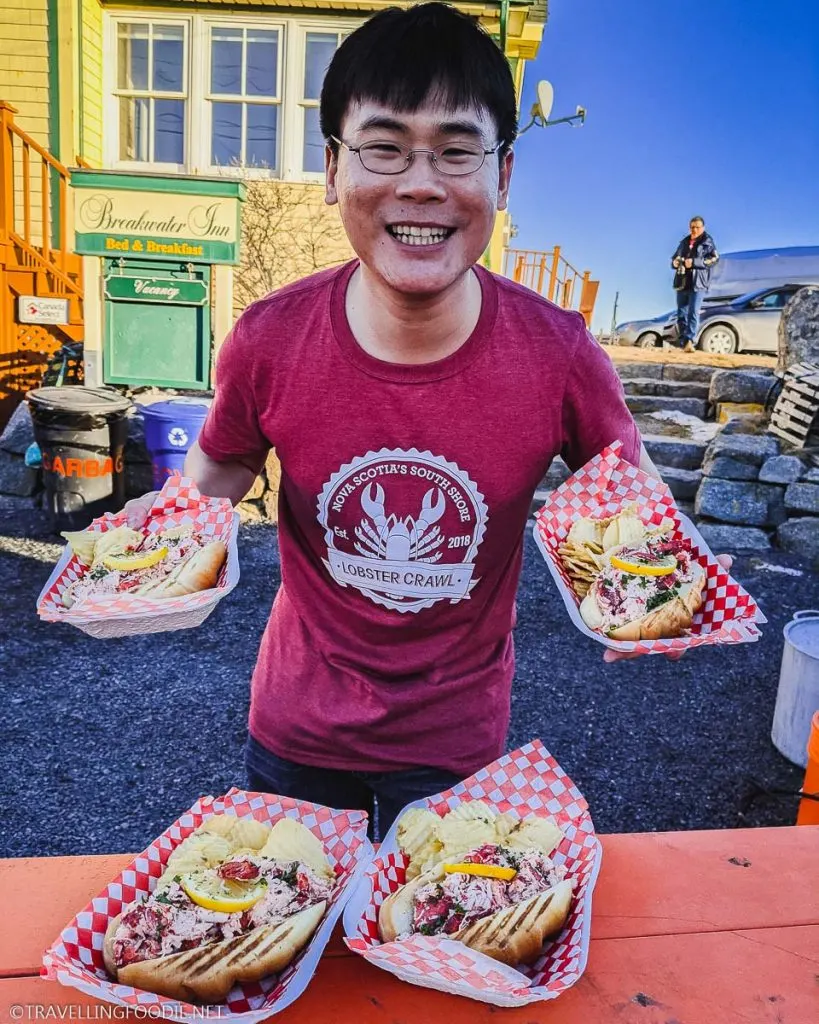 Similar to when I did the BC Seafood Festival, when I did the Nova Scotia Lobster Crawl Festival, I was eating lobster for breakfast, lunch and dinner.
Every day. And I was never tired of it!
As a travelling foodie, I'm always on the look out for different ways lobster is served, and it amazes me that I'm always finding new ways.
Nova Scotia can get really creative with lobster.
In this Nova Scotia lobster guide, I'm featuring all the ways I've enjoyed lobster in Nova Scotia during my trips and where I tried them.
Note: I'll be updating this list as I try more so be sure to BOOKMARK/SAVE/PIN this page for future reference.
Traditional Nova Scotia Lobster Dinner
The most common and popular way, the traditional Nova Scotia Lobster Dinner is simply steaming or boiling fresh live lobster then served on a plate with a side of melted butter and a lemon wedge.
When lobster is this fresh and delicious, simple is sometimes the best way!
And what's the best drink to pair this with? Some Tidal Bay wine.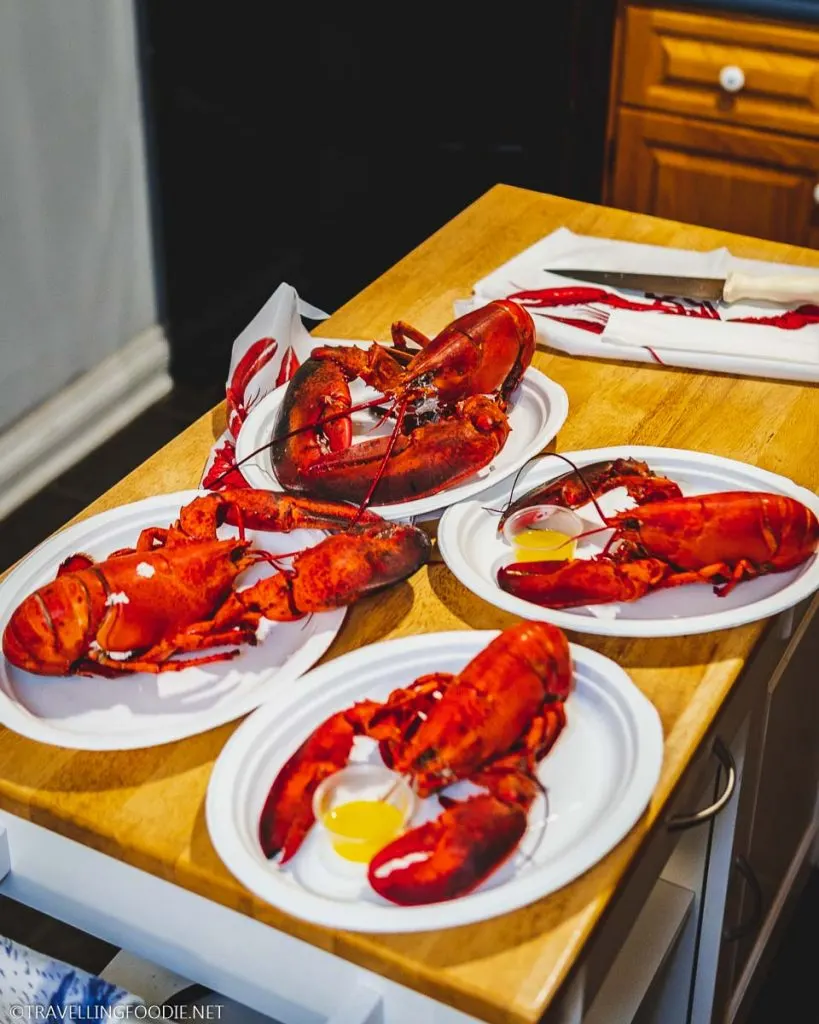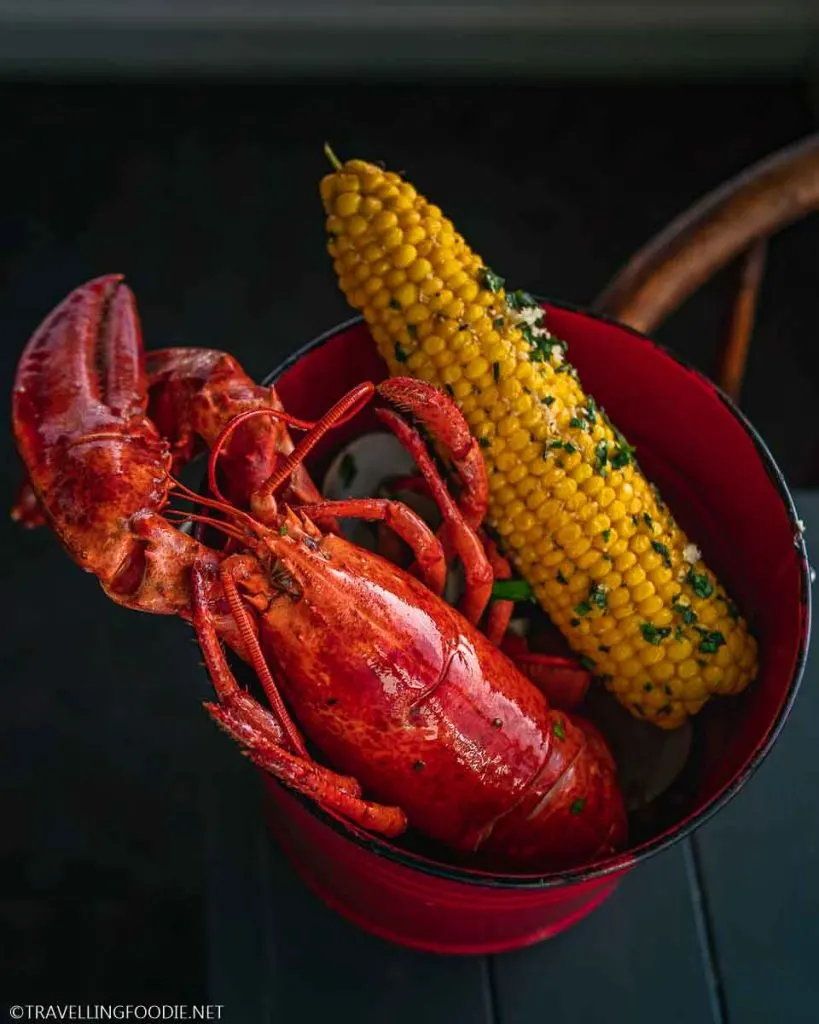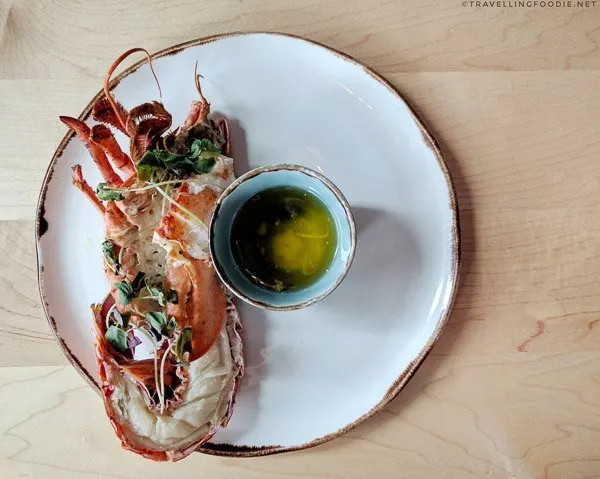 Also Read: Best Restaurants in Halifax, Nova Scotia
Nova Scotia Lobster Roll
The next most popular lobster dish is the lobster roll, widely available in the Canadian Maritimes and US New England.
Lobster roll is a grilled hot dog-style bun with an opening on top filled with lobster meat.
Restaurants differ on a variety of ways: different bread, different garnishes, amount of mayo, and how the lobster meat is broken up.
Lobster Rolls are such a big deal in Nova Scotia that there's even a South Shore Lobster Crawl Lobster Roll Challenge to determine which roll reigns supreme!
Nova Scotia Creamed Lobster
Creamed Lobster is a lobster dish unique to Nova Scotia created by Clara Harris, a local restaurant owner in Yarmouth & Acadian Shores.
A Southwest Nova Scotia staple, creamed lobster is made with four simple ingredients: lobster meat, butter, cream, and vinegar.
You'll typically find creamed lobster on the menu either as-is or poured on top of something.
The first time I had it. I was hooked.
It's dangerously addicting!
And the best part is eating whatever is underneath, like toasted bread, which has soaked up all the creamy goodness.
Creamed Lobster Chicken Kiev
This creamed lobster variant is the first I've seen so it deserves its own entry.
Creamed lobster is commonly topped on toasted bread, fried haddock or fries.
This one has creamed lobster topped on Chicken Kiev, a Russian dish made with chicken breast stuffed with garlic butter which blended nicely when mixed with the creamed lobster.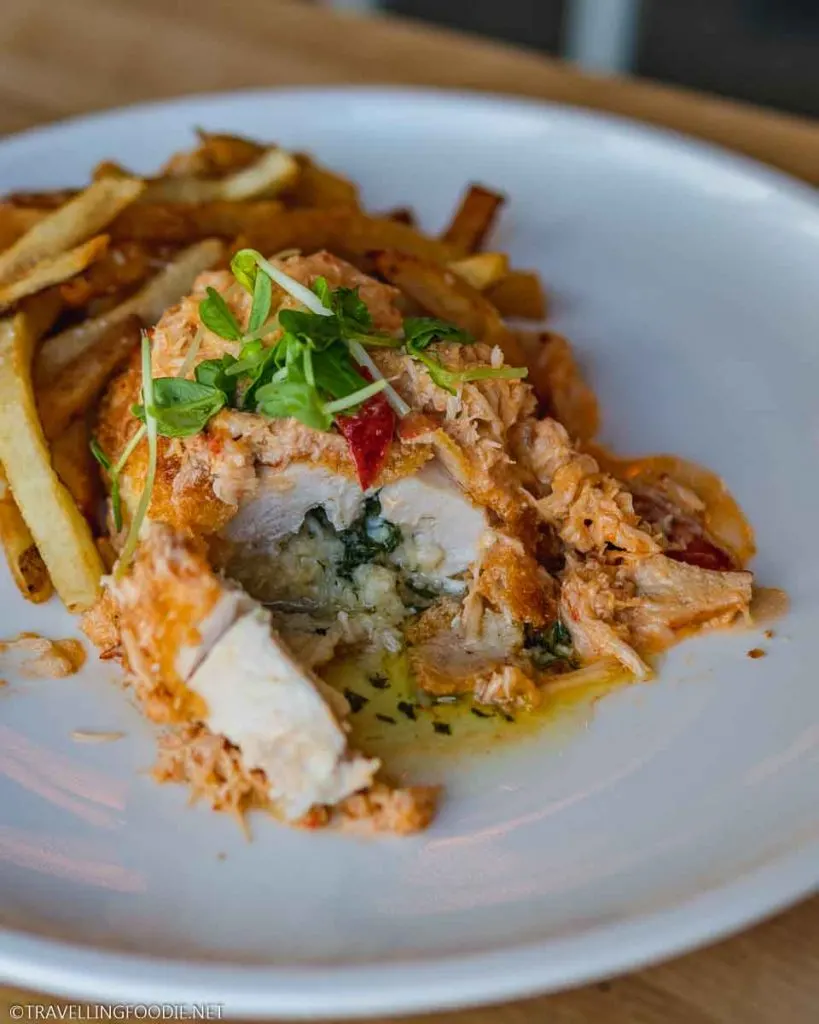 Lobster Bisque
A popular cream based soup, lobster bisque is the soup that best leverages Nova Scotia lobsters.
The initial stock is made with lobster shells and the final bisque uses this stock along with pureed lobster meat.
It's smooth, creamy, comforting and packed with flavours of lobster!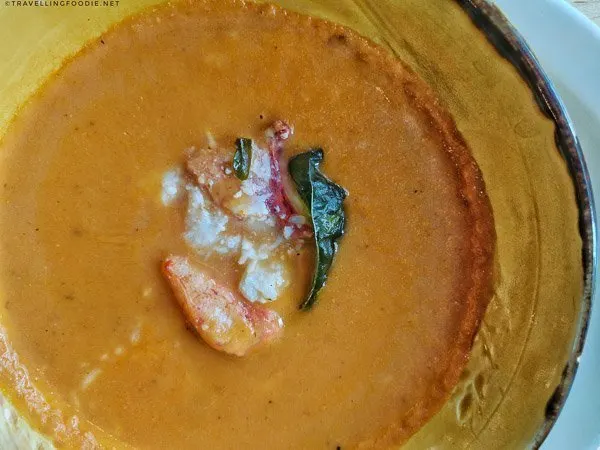 Lobster Beer
One of the mind-blowing lobster creations you can find in Nova Scotia is the Lobster Beer.
I first had it at Saltbox Brewing and didn't know what to expect.
But WOW!
You can taste the lobster but, interestingly enough, it's at the finish.
The initial taste is that of pilsner that serves to palate cleanse your tongue then hits you with with the taste of lobster and sea salt along with a hint of tomalley.
Also Read: Alexander Keith's Brewery Tour in Halifax, Nova Scotia
Lobster Burger
Being one of the most popular foods in North America, it's not surprising that you'll find lobster make its way to a burger.
Unlike lobster rolls which only use lobster meat, lobster burgers tend to have a beef patty along with the lobster meat.
It's basically Surf N Turf in burger form.
And it's delicious!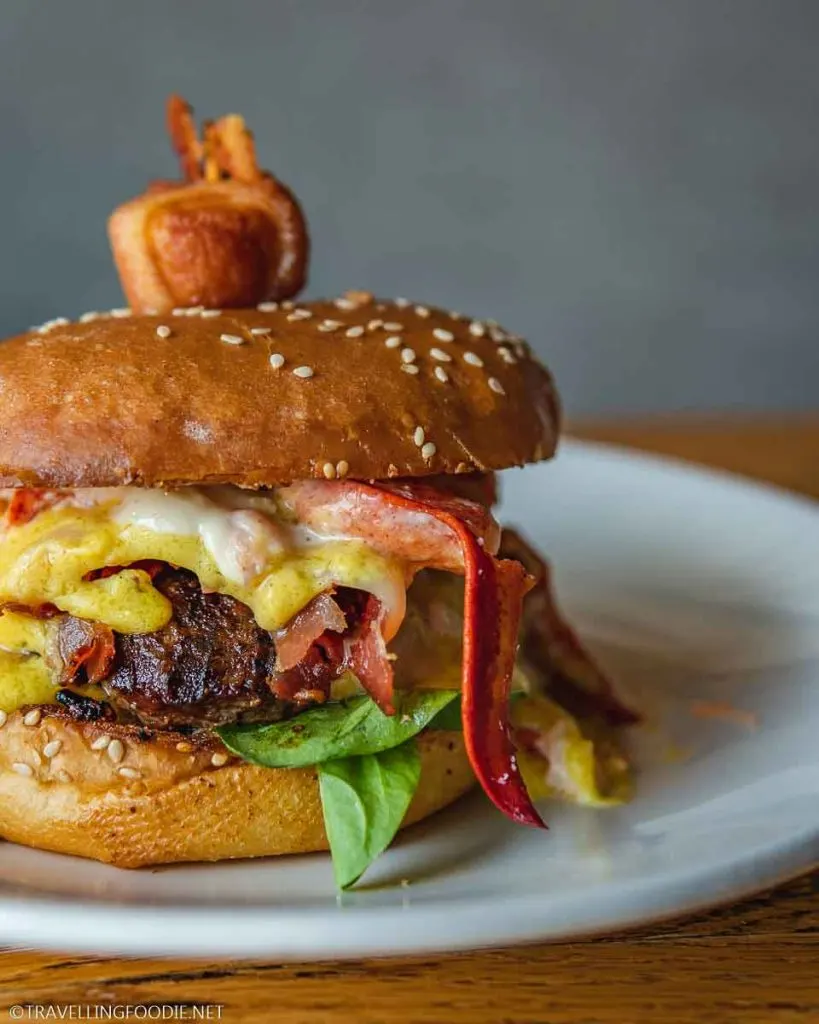 Lobster Canapes
Canapes are small bites made with a base (like bread or crackers) and topped with a savoury food and garnish, and typically held in the fingers and eaten in one bite.
What's a better topping than Nova Scotia lobster.
Lobster Congee
Congee is a type of porridge using rice, and is a staple dish in China as an everyday meal especially for breakfast.
Savoury congee is often cooked with flavourful ingredients and meats.
It's not very common to find Asian food in Nova Scotia outside Halifax let alone find congee.
So I was very excited and happy when I was served lobster congee at The Breakwater Inn.
Lobster Eggs Benedict
One of the most popular breakfast or brunch dishes is Eggs Benedict, consisting of two halves of an English muffin, each topped with a protein, a poached egg, and hollandaise sauce.
Common toppings for Eggs Benedict are smoked salmon, bacon, ham, steak, and sometimes crab cakes.
But in Nova Scotia, the common topping is lobster.
Who doesn't want lobster for breakfast or brunch?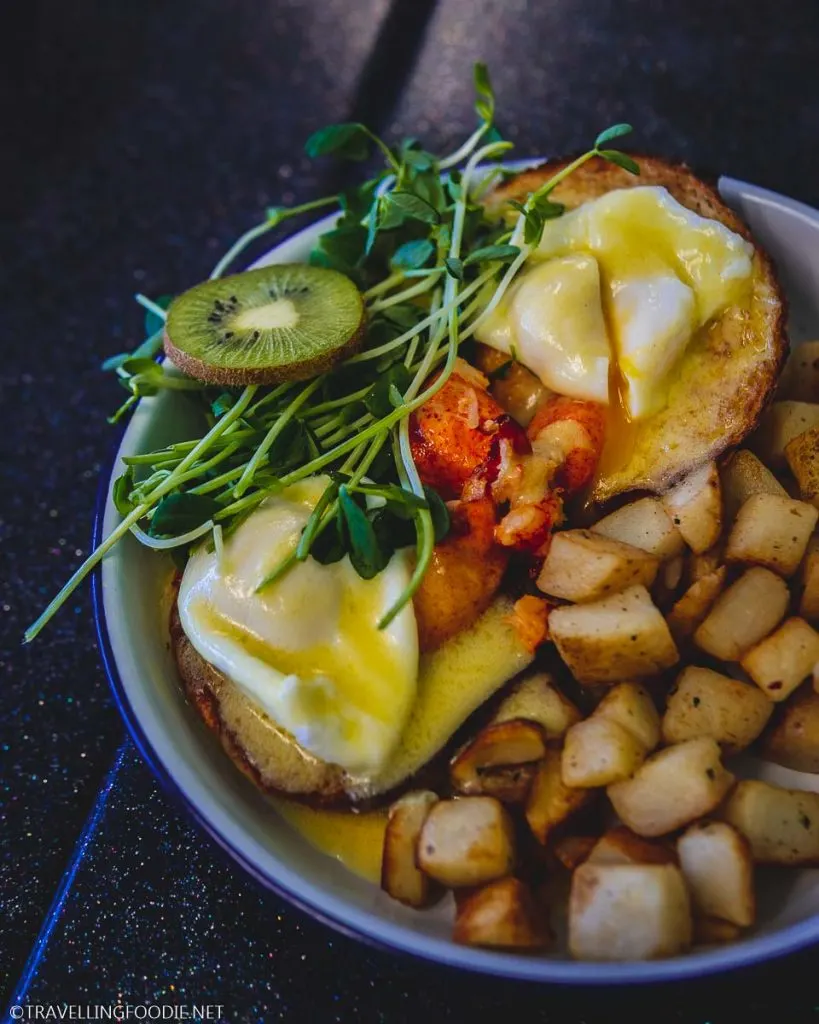 Lobster Fondue
Fondue is a melted cheese dish served in a communal heated pot and eaten by dipping bread or other bite-sized food into the cheese using long-stemmed forks.
A dessert version of fondue sees the use of melted chocolate as the dip.
In Nova Scotia, the lobster fondue is a variant of creamed lobster and fondue, where, instead of melted cheese, they use lobster cream for dipping.
And you're dipping bread and lobster into it.
Lobster Fritters
Deep fried ball of lobster and pasta. Enough said.
Lobster Omelette
One thing I've always enjoyed with omelettes is the variety of toppings you can have on it.
My favourite toppings are bacon, mushrooms, brie (or other cheeses) and, of course, Nova Scotia lobster.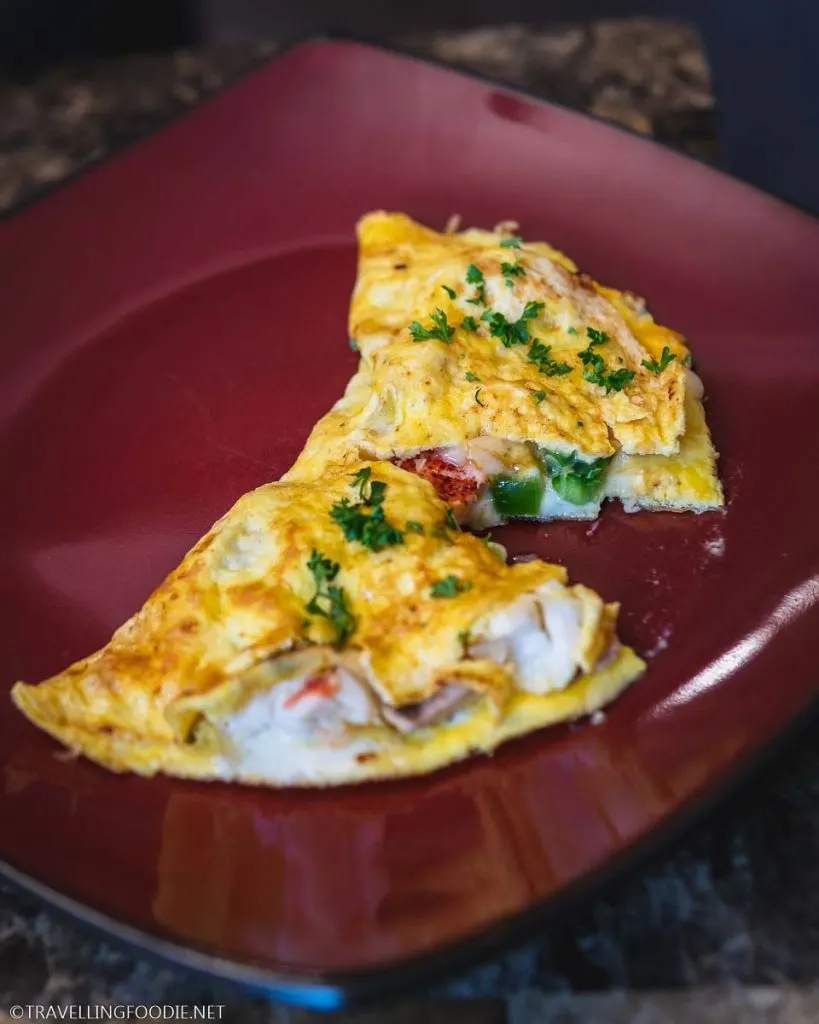 Lobster Gelato
A crazy lobster creation that I've only had in Nova Scotia is lobster gelato.
I was mind-blown with how unique it tastes.
It was slightly sweet with a slight savoury taste of lobster.
It may taste weird at first as you process the idea of lobster gelato.
But once you get used to it, you realize that it's so good!
Also Read: Avocado Blueberry Popsicles Recipe
Lobster Pasta
With the abundance of lobster, it's not surprising Lobster Pasta is very prevalent in Nova Scotia.
You can find lobster pasta in both casual and fine dining restaurants.
When it comes to lobster and pasta, the pasta-bilities are endless!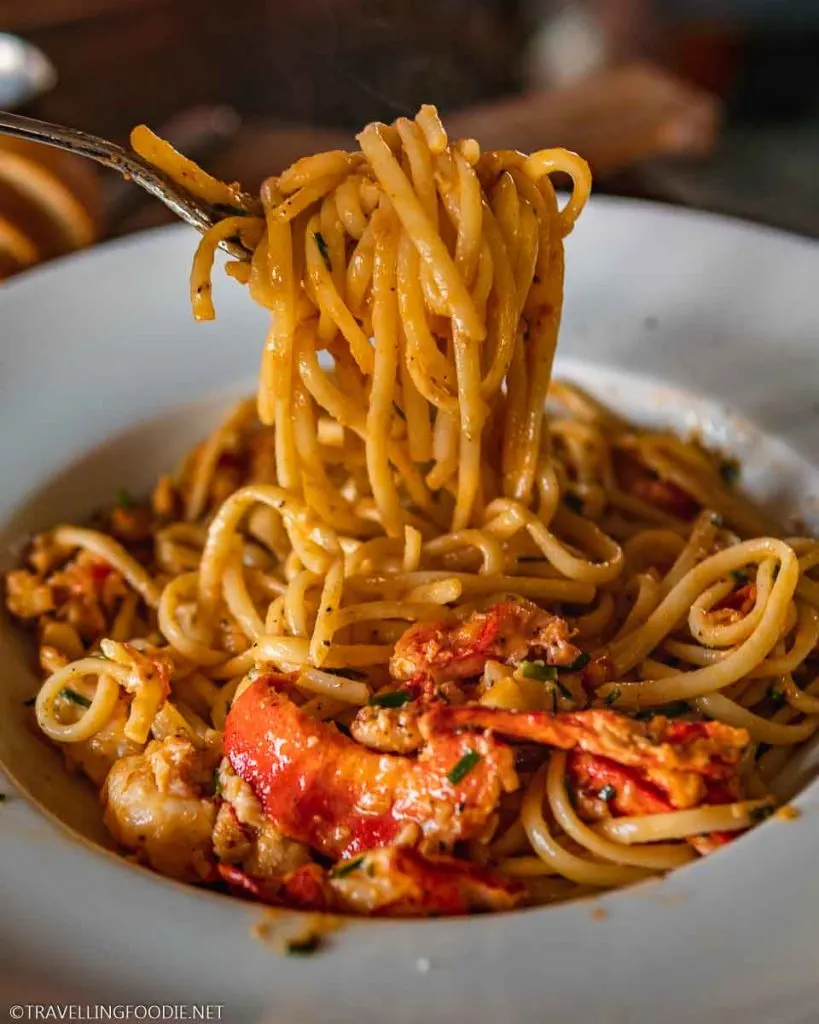 Lobster Pizza
Unlike Lobster Pasta which is easy to find in Nova Scotia, Lobster Pizza tends to be harder.
I've only seen it at one place so far, The Port Grocer.
It was my first time trying lobster pizza, and it really should be more popular: an oatmeal crust with white wine sauce, mozzarella, swiss cheese and parmesan topped with big chunks of lobster.
Amazing!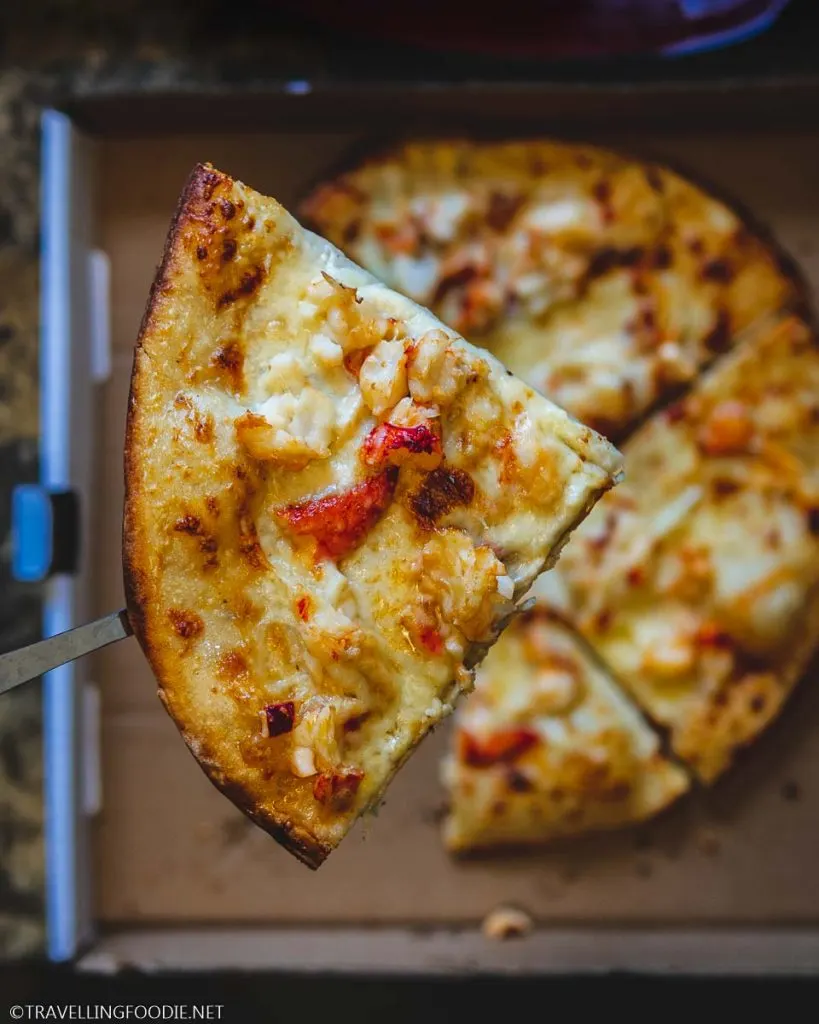 Lobster Poutine
Lobster Poutine in Nova Scotia is a twist to the ultimate Canadian comfort food poutine.
Instead of the usual gravy, creamed lobster is poured on top of fries.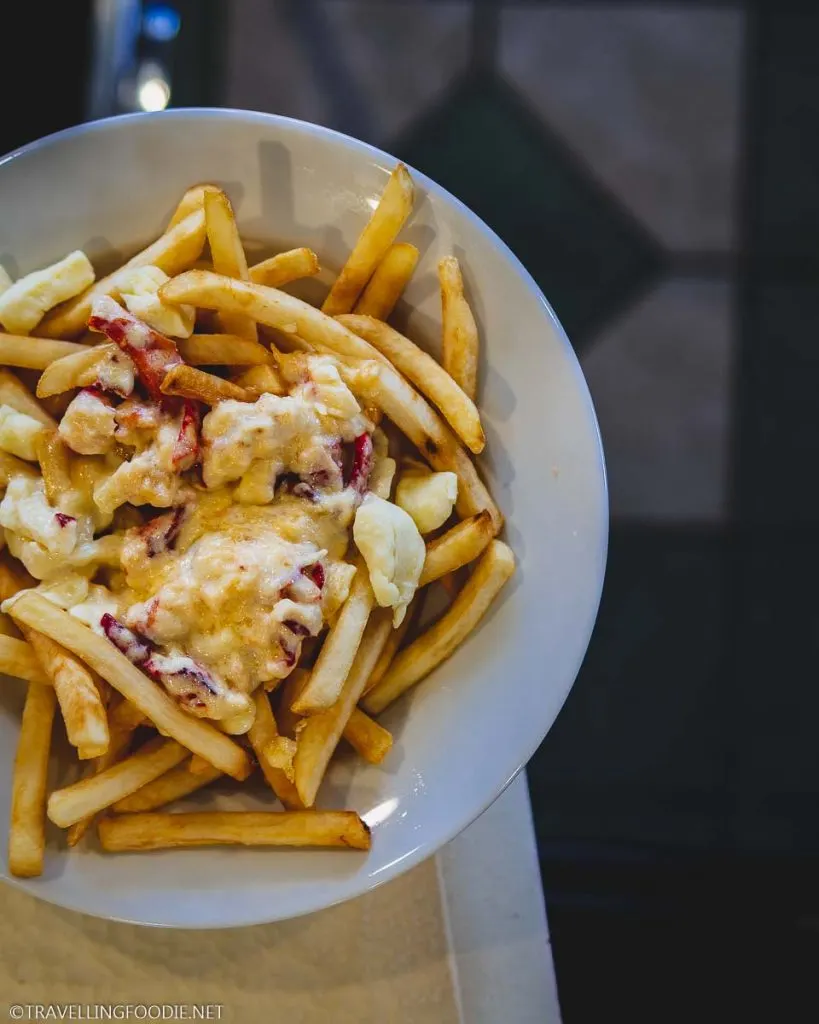 Lobster Tempura
Tempura is a Japanese dish of meat, seafood or vegetables that are battered then deep fried.
Typically in a Japanese restaurant, you can find shrimp, squid, scallop, crab meat, yam, onion and vegetable tempura.
It's very rare to find lobster tempura in general even in Japan, but you can sometimes find them in Nova Scotia.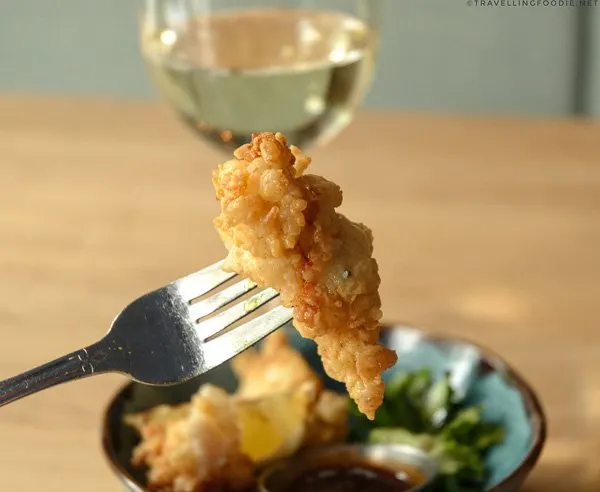 Poached Nova Scotia Lobster
Poached lobsters are less common to find in Nova Scotia because boiling and steaming is the traditional way.
But you can get some delicious tasting lobster with this technique based on the liquid used when slow cooking at low temperature.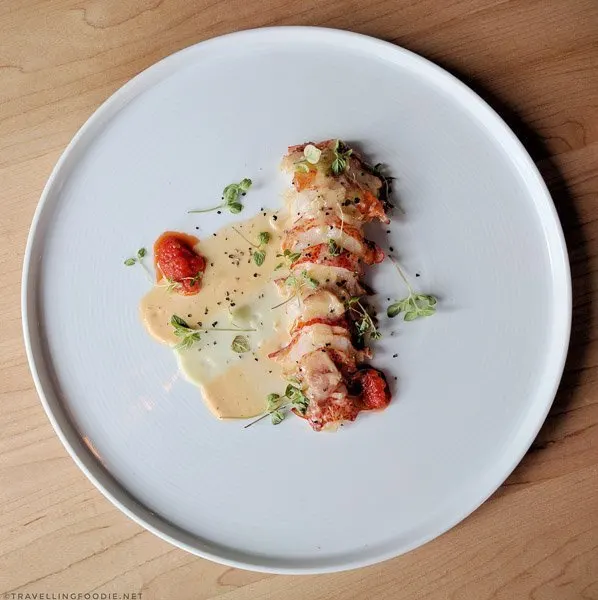 Seafood Boil
Seafood Boils are a popular way of eating seafood in the USA, where a large pot of mixed seafood is boiled with a flavourful broth.
Once cooked and removed from the pot, it is often then tossed/mixed with sauce and seasoning, commonly shaken in a plastic bag for Cajun-style seafood boil.
Seafood Boils became a food trend in Toronto back in 2015, but I've only seen it in one local restaurant in Nova Scotia, Shuck Seafood + Raw Bar.
At Shuck, the seafood boil is tossed tableside with the boil sauce, which is a reduction from the seafood, white wine, black garlic and chive butter.
Seafood Chowder
The other popular cream-based soup is seafood chowder, a hearty soup chock full of chunky seafood, potatoes and other ingredients.
Seafood Chowder is serious business in Nova Scotia.
In fact, every year during the Lobster Craw Festival, there's an Annual Lobster Chowder Chowdown Showdown held in Chester.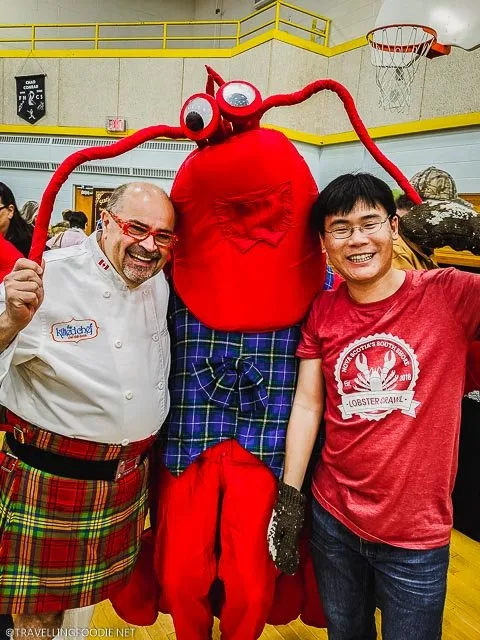 In Nova Scotia, you'll tend to find two variations for chowder.
One that is milkier (more liquid consistency) and one that is creamier (thicker consistency).
Did you know? Nova Scotia chowder historically used canned milk as the base back in the day because it is more reheatable and less expensive than cream.

This version tends to be less thick in consistency than what we're used to now.
For soups with lobster, Seafood Chowder is the most common to find in Nova Scotia.
But be sure to look at the menu description because not all restaurants in the province use lobster as part of their chowder.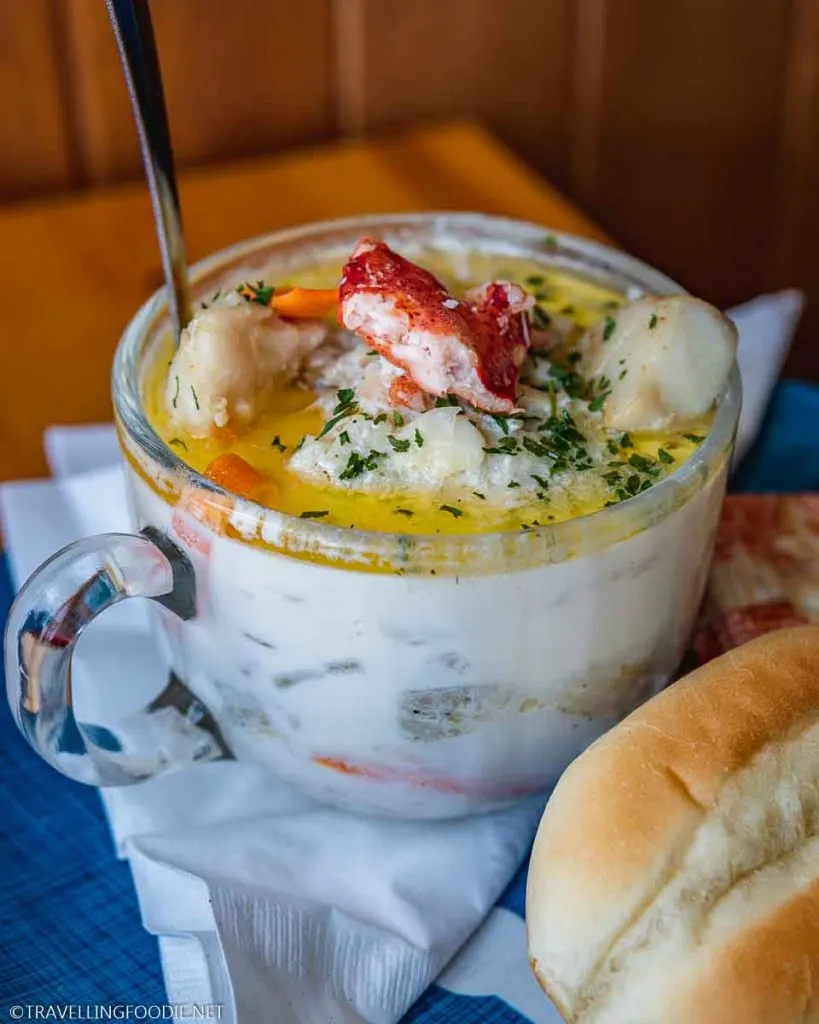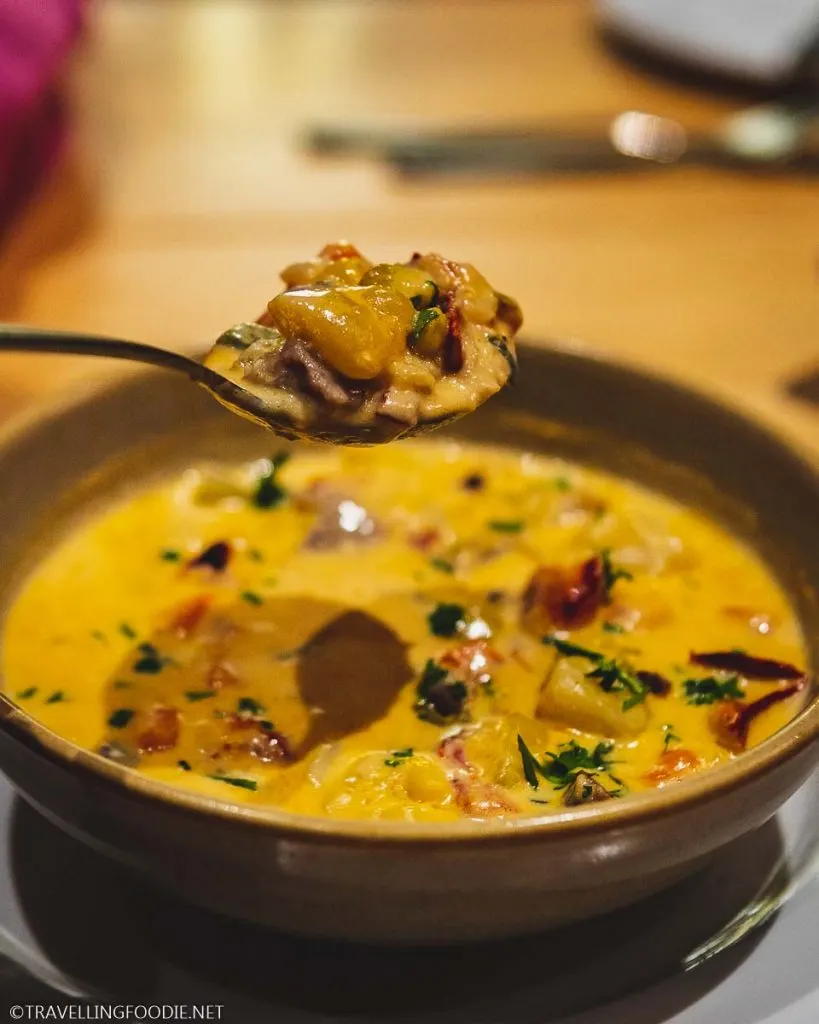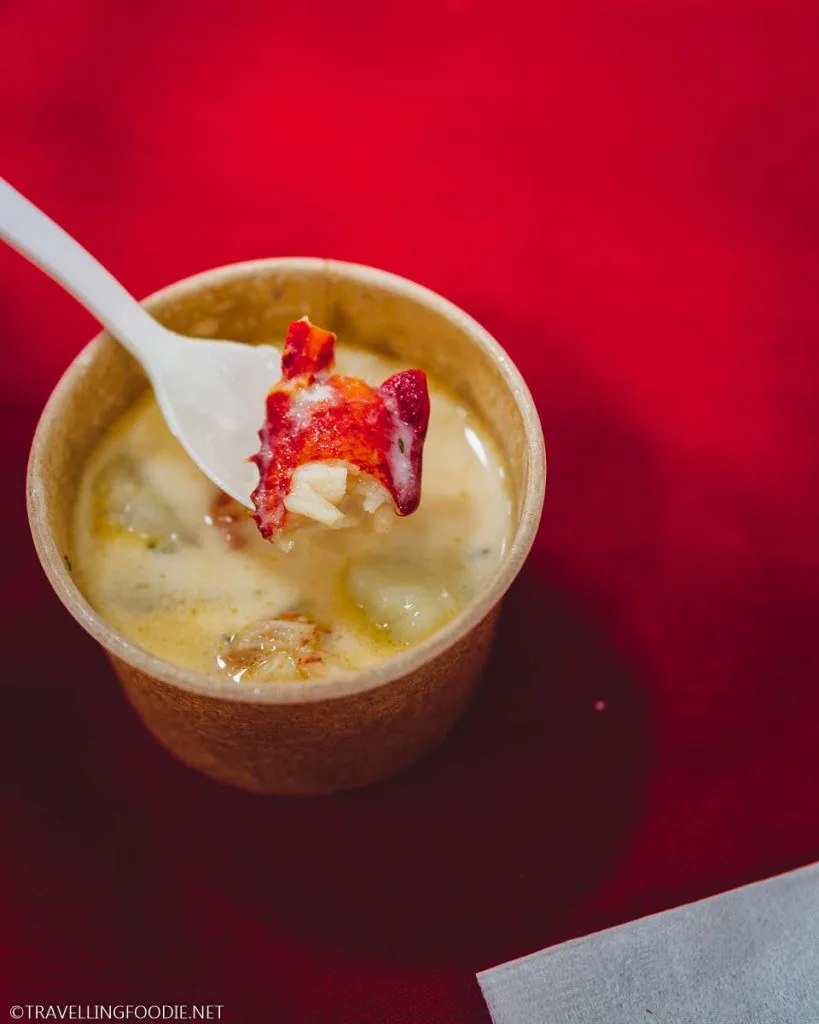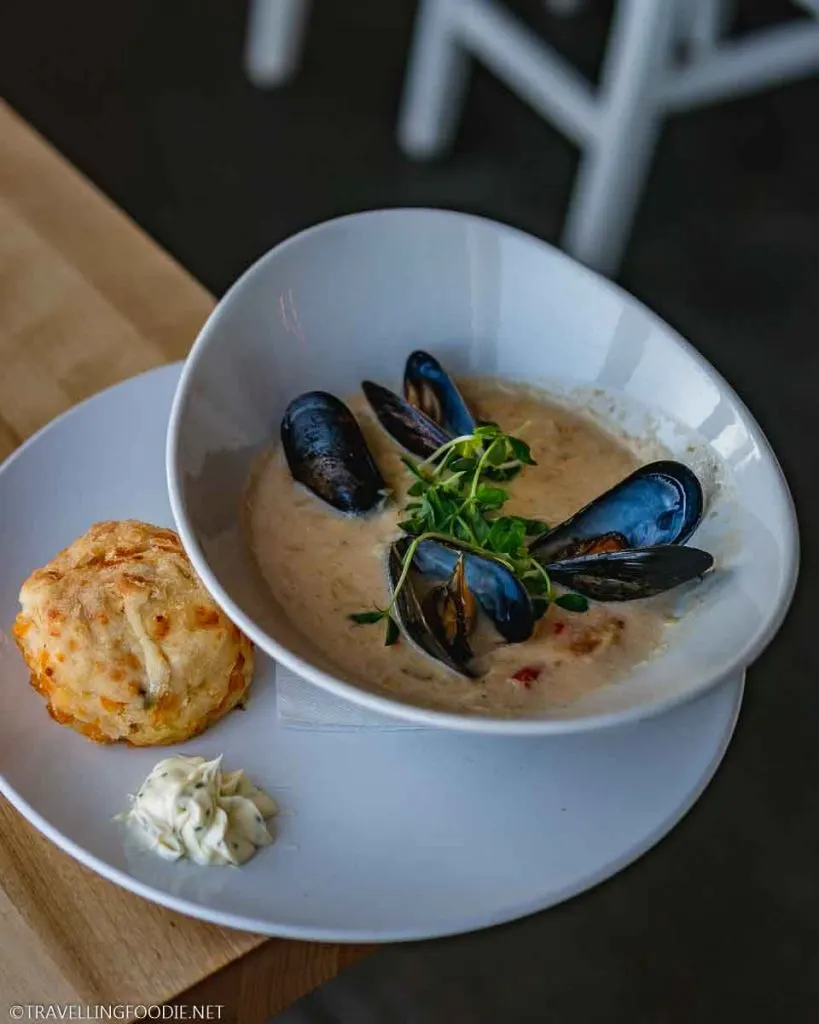 Seafood Platter
When you venture outside Halifax, seafood platters are pretty common.
This is a platter of fried seafood, typically of fish, shrimp, clams and scallops.
It just makes sense to add lobster to complete the seafood platter experience, even though the lobster may not be fried.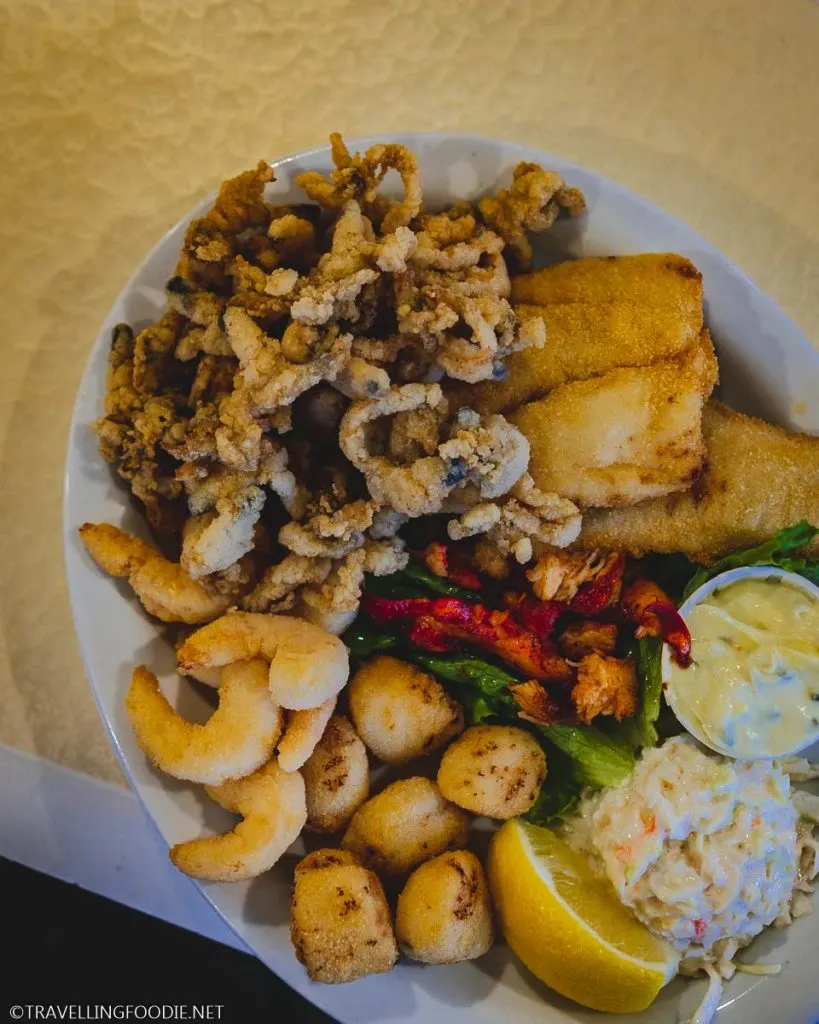 ---
VIDEO: 22 Ways To Enjoy Lobster in Nova Scotia
Pictures only give you a snapshot of these delicious dishes.
Watch this delicious video featuring the Nova Scotia Lobster dishes we covered.
---
MAP: Nova Scotia Lobster Dishes
Here's a map of all the places to eat and drink covered in this list for Nova Scotia Lobster dishes!
Hope this Nova Scotia Lobster Guide gives you an idea on the different lobster dishes you can enjoy in the province. It's really amazing to see the lobster culture here.
I'm always looking for the best places to eat and drink lobster creations in Nova Scotia. Let me know what lobster dishes I missed and where to eat them.
Be sure to PIN or Bookmark this page because the guide will be updated as I try more.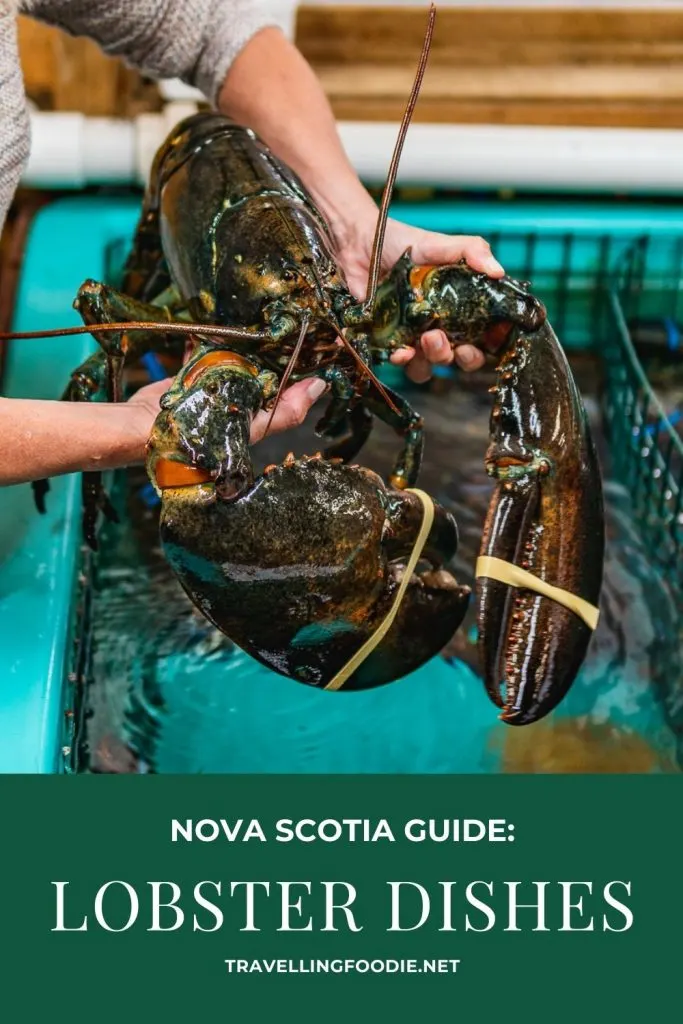 ---
This post was done in partnership with Tourism Nova Scotia. As usual, reviews and opinions are 100% entirely my own.
You can learn more about Nova Scotia on their website.