It's nice to look back and see how Toronto's food scene has changed. Let's take a look at the top overseas restaurants that opened in Toronto.
A lot of the times, food trends are the reasons why overseas restaurants open in Toronto. For example, 2017 brought us bingsu, large fried chicken, crossing the bridge noodles, and charcoal items like ice cream and coffee.
But what I found more interesting was that, Toronto is graced by overseas restaurants finally opening a location in the city. This signals that Toronto is starting to be recognized as a foodie destination.
As is typical for Torontonians, lineups were obvious during the grand opening as diners want to be one of the first to try these new restaurants.
Also Read: Top Restaurants in Toronto
---
The Halal Guys
On May 5, 2017, The Halal Guys finally opened its first Toronto location. This New York-based chain, which started as a food cart in 1990, is famous for its gyros with their signature white sauce and hot sauce.
Did you know? Its first Canadian location is in Montreal.
Because of its popularity in New York, people were quick to lineup on its opening day, going around the block on a rainy day.
The white sauce is definitely addicting, and something you'd want to smother on anything you're eating. But the hot sauce is also a winner for spicy lovers!
Did you know? One packet of The Halal Guys white sauce contains 330 calories.
Though the overall taste of the gyro ($6.99/sandwich) is good, it wasn't something I saw myself lining up for. The sauces definitely made the difference.
I think it's because Toronto has a lot of great gyro places already. At the same time, I heard from friends and other people, who have been to the New York location, that the one here doesn't quite taste the same.
What do you think?
Website / Address: 563 Yonge St, Toronto, Ontario M4Y 1Z2
---
Pablo Cheese Tart
On August 18, 2017, Pablo Cheese Tart opened its first Canadian location. Originating from Osaka, Japan, Pablo is famous for their medium-rare Japanese cheese tarts.
Did you know? The name Pablo is inspired from Spanish artist, Pablo Picasso.
They came at the perfect time when the Japanese cheese tart craze was happening (Uncle Tetsu, Love Me Sweet, and Cheese Garden).
People were so excited for this because, let's face it, there's a Japanese food craze going on in the city. During the grand opening, lineups were 3 hours long!
After the grand opening, reviews on the Japanese cheese tarts ($15) were mixed with either hit or miss, and not much in-betweens.
Though I haven't had the one in Japan to compare, I personally found the one here had little to no cheese flavour, sweeter, and with a gelatinous texture.
I prefer strong cheese taste since I love cheese. The pastry crust was good though. (P.S. my favourite cheese tart is from Cheese Garden)
Also Read: Where To Eat in Tokyo
Website / Address: 114 Dundas St W, Toronto, Ontario M5G 1C3
---
The Cheesecake Factory
On November 21, 2017, The Cheesecake Factory opened its first Canadian location in Yorkdale Shopping Centre.
This American chain restaurant, which started as a small cheesecake shop, is now known for both its extensive menu of over 250 dishes and over 50 cheesecake selection.
I visit The Cheesecake Factory a lot in the USA and love it. My must-orders are the Avocado Eggrolls and Chocolate Hazelnut Crunch Cheesecake.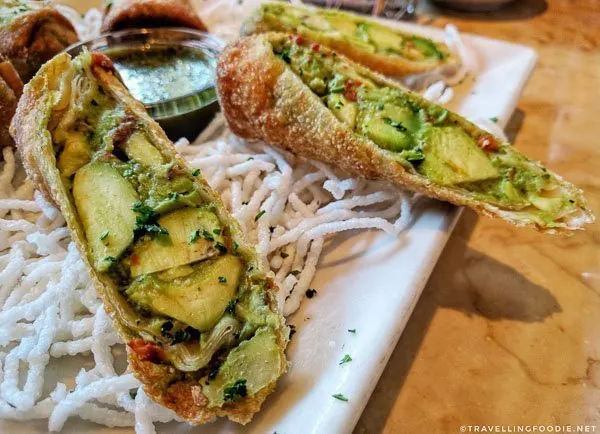 For the grand opening, wait times were reported to be as long as 5 hours. I think going to Buffalo location would be faster?
But at least, from what I read and heard from others, the prices, portions and quality are similar to the USA, which is what makes The Cheesecake Factory a winner.
Website / Address: 3401 Dufferin Street, CRU#02, North York, Ontario M6A 2T9
---
Konjiki Ramen
On December 8, 2017, Konjiki Ramen opened its first overseas location (outside Japan).
This Michelin Bib Gourmand Recommended restaurant is known for its unique signature clam broth whereas typical ramen uses pork or chicken broth.
This is a major step for Toronto to have a highly-rated non-chain restaurant to open its second location here. Chef Atsushi Yamamoto chose Toronto for its multiculturalism, diversity and abundant resources.
I think it also helps that Torontonians love their ramen especially during the cold season, making it the perfect time for them to open.
Also Read: Zen Japanese Restaurant, Best Sushi in Toronto
Try their Signature Clam Broth Shoyu Ramen, which is what made Konjiki Ramen to be awarded with Michelin Recommended. I loved the clam broth and found the taste very unique, unlike other broths in the city.
Depending on your preference, the house made noodles are more on the thin and firm side. Hopefully they'll have other noodle options.
The sous vide pork is very tender, but is lacking the grilled taste I like from other ramen places.
Note, the soft boiled egg (nitamago) is extra $1.50.
Saryo Cafe shares the same place for its first overseas location. This Tokyo cafe, established over 20 years, is known for their homemade desserts and teas.
The Uji Matcha Rare Cheesecake has a strong matcha taste and a fluffy texture like tofu cheesecake.
Konjiki's website / Saryo Cafe's website
Address: 5051 Yonge St, North York, Ontario M2N 5P2
---
Laduree
On December 14, 2017, Laduree opened its first Toronto location in Yorkdale Shopping Centre. This world-renowned French patisserie is known for having the world's best macarons.
Did you know? Laduree's first Canadian location is in Vancouver.
Yorkdale seems to be the place for lineups. Much like The Cheesecake Factory, Laduree's opening also drew in long lines.
There are 14 flavours of Macarons available.
The price is $3.15/piece, making it Toronto's most expensive macaron place. A gift box of 6 macarons goes for $28.
I've been to the Laduree in Paris back in 2015, but, at that time, I haven't tried enough to get a basis for comparison. I would love to try this again and see how it compares with my Toronto favourite, Nadege.
Website / Address: 3401 Dufferin St, Toronto, Ontario M6A 2T9
---
MAP: Toronto Top Overseas Restaurants
Here's a map of the top Toronto overseas restaurants covered in this food guide.
---
Hope this gave you an idea on some of the top overseas restaurants to try Toronto. It's always interesting to see what restaurants open from abroad every year.
Do you find these overseas restaurants to be better than the best local restaurants in Toronto? Let me know what you think.