Being the Dairy Capital of Canada, Oxford County in Ontario's Southwest is a haven for cheese and dairy. This food guide covers Oxford County Cheese Trail featuring some of the best things to do, restaurants and accommodations in the county.
Did you know? Oxford County produces 286,000,000 litres of milk each year. That's 1.14 billion glasses of milk, making them the biggest producer of milk in Ontario.
Cheese is such a highlight in Oxford County, having five local cheese makers: Bright Cheese and Butter, Gunn's Hill Artisan Cheese, Local Dairy Products, Mountainoak Cheese and Quality Sheep Milk.
As a matter of fact, in the 1800s, there were 98 cheese factories in the county!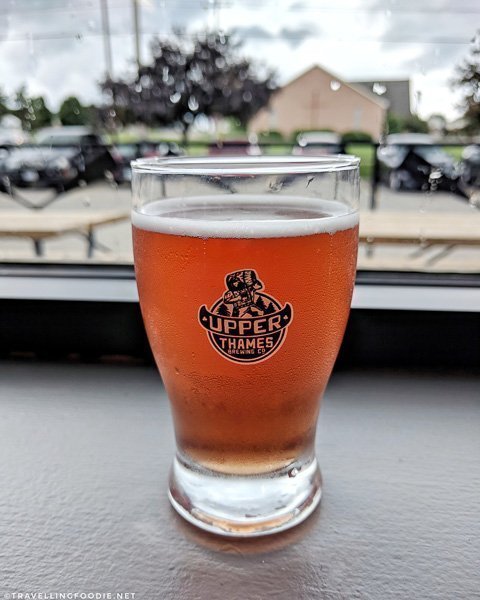 If you love cheese and dairy, you'll definitely want to try the Oxford County Cheese Trail, a trail of 24 stops featuring cheese, dairy and related offerings for visitors to experiences.
This trail isn't just about food though as other stops include museums, farm adventures and shopping. It's only a 90-minute drive from Toronto so it's a great day trip or weekend getaway for Travelling Foodies and families!
What's great about the Cheese Trail is it pretty much features some of the best restaurants, things to do and places to stay in Oxford County. I did the trail for two days and visited 12 stops, which means I need to come back and finish the trail!
After all, I had sweet dreams after doing the trail because sweet dreams are made of cheese. Who am I to dis-a-Brie?
Follow on Instagram @TravellingFoodie for more food inspirations
---
Watch the full YouTube video for Ontario's Oxford County Cheese Trail here.
Also Read: 2 Day Trip in Norfolk County, Ontario
---
Oxford County Cheese Trail Stops
Mountainoak Cheese
You cannot have a cheese trail without cheese. And one of the best places for cheese in Oxford County is Mountainoak Cheese.
Started in the summer of 2012, Mountainoak Cheese specializes on Dutch gouda offering almost 20 different flavours including cumin, black truffle, chili pepper smoked and celery.
They also offer fresh curds weekly and have an on-site retail store where you can sample and buy their cheeses.
You'll see at the store that they've won a lot of awards. Upon sampling, you'll see why as their cheeses are very gouda!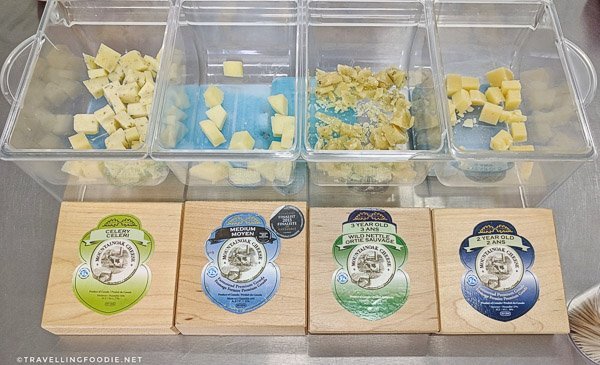 Mountainoak Cheese Owners Adam and Hannie van Bergeijk are a family of farmers and cheese makers in The Netherlands and have brought their traditional Dutch cheese making techniques and special recipe to Canada after moving in 1996.
Did you know? The owner's name van Bergeijk translates to Mountainoak!
On-site, you'll see they grow their own crops to feed their herd of 220 milking cows, that produce 4,000 liters of milk to make 39 cheese wheels. Their fresh milk is used immediately. The milk is never cooled or made to wait.
Be sure to do the factory tour at Mountainoak Cheese where you'll get to see what it means to craft cheese from farm to table.
The most exciting thing here is to see the aging room where every day someone has to flip all the cheese wheels, and apply the rind coating three times, one every two days!
Website / Address: 3165 Huron Road, New Hamburg, Ontario N38 3C3
---
Bright Cheese & Butter
Established in 1874 by a group of local farmers, Bright Cheese and Butter is Canada's oldest registered independent cheese company being the oldest remaining of the 1,242 cheddar factories in Ontario at the turn of the 20th century.
Did you know? They are still in the original location from 1874.
Their cheeses are all natural, naturally-aged and made with 100% local whole milk. They specialize in cheddar cheese, but still offer other cheeses like Asiago, Feta, Colby and Mozzarella.
Bright Cheese & Butter even has a cheese designated as Chalav Yisrael (ultra kosher), where each ingredient used in the cheese has undergone strict supervision with a Rabai or Mashgiach.
You can buy and sample their cheeses at the on-site retail store.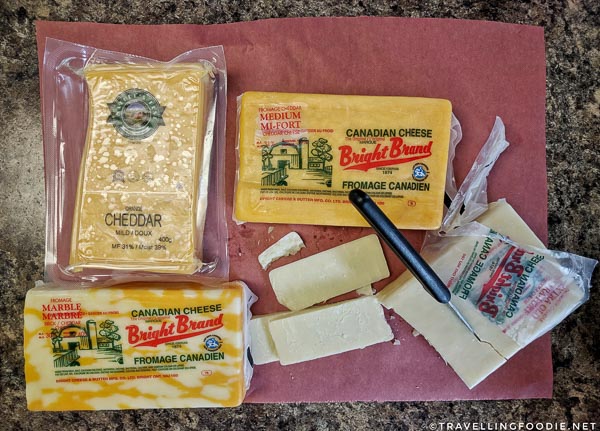 Website / Address: 816503 22, Bright, Ontario N0J 1B0
Also Read: Best Things To Do in Timmins, Ontario
---
Charles Dickens Pub
One of the best restaurants in Woodstock, Charles Dickens Pub is owned and operated by a British family since 1996. I really love its authentic British pub atmosphere which is not very common to find.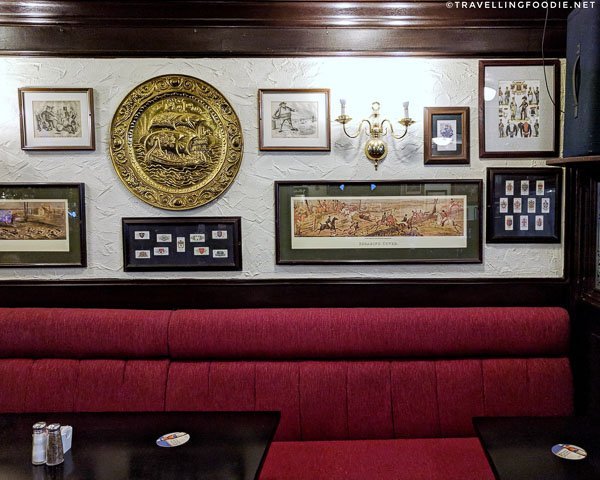 As a British pub, definitely try their British fare. The Fish and Chips doesn't disappoint! For dessert, you got to try the Sticky Toffee Pudding ($5.99).
For the Oxford County Cheese Trail, they have a rotating Cheese Trail menu where all items include local cheese. I upgraded my chips to the Gunn's Poutine which uses curds from local Gunn's Hill Artisan Cheese.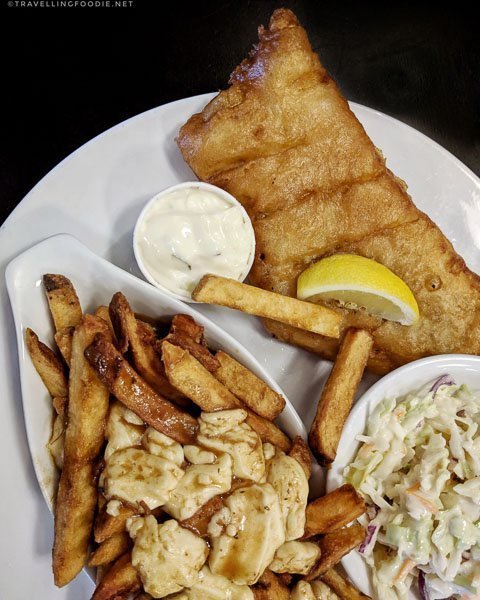 Be sure to check out their daily specials, where the Fish and Chips are two for one on Mondays.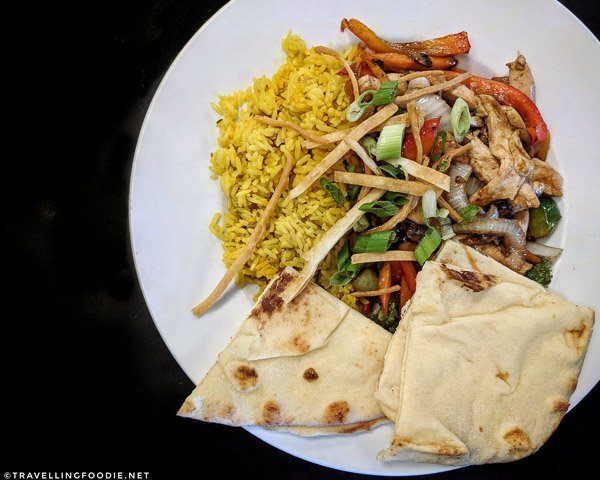 Website / Address: 505 Dundas St, Woodstock, Ontario N4S 1C4
---
Upper Thames Brewing Co.
Opened in 2016, Upper Thames Brewing is the first craft brewery in Woodstock and Oxford County.
Co-owner and veteran firefighter Carl Bloomfield thought Woodstock needed a brewery after visiting hundreds of breweries and brew pubs. In fact, they are opening a brew pub sometime in fall 2018.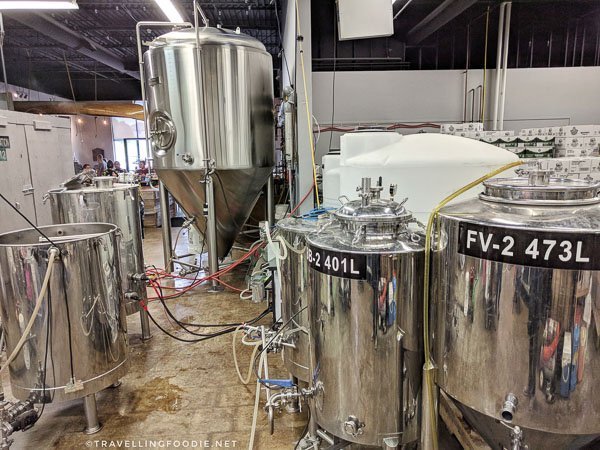 Their beers are crafted in-house in small batches by Brewmaster Drake Merritt and Brewer Nigel Inglis using mostly local ingredients: Ontario malt but Belgian yeast. In fact, they have the Dead Reckoning Ontario Pale Ale (OPA) which uses all Ontario ingredients!
One thing I noticed about the beers at Upper Thames Brewing is they are less carbonated than usual. This was perfect for me since I feel less bloated after drinking it, which means I can drink more!
They have a mix of core brews and seasonal brews like the Light Speed Coffee Porter and Barrel-Aged Scotch Sour which I both enjoyed.
Upper Thames Brewing also has a rotating guest tap, which was Pommies Cider when I went. They even have a wine barrel-aged beer which I want to try.
For the Oxford County Cheese Trail, you can pair your pint or flight with their locally inspired charcuterie board which features cheeses from Oxford County. Definitely a great way to cure your ale-ments!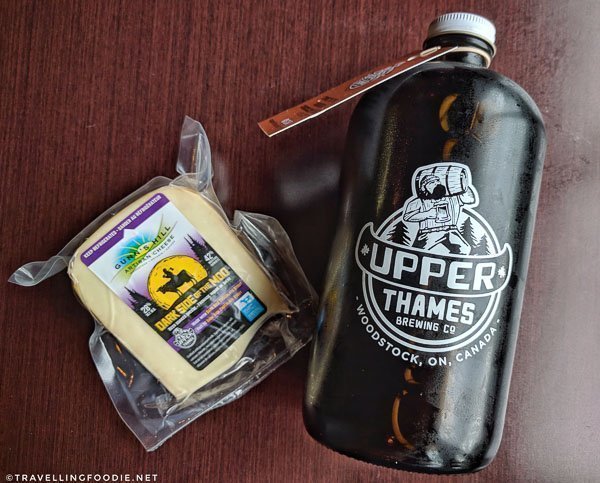 Website / Address: 225 Bysham Park Dr #9, Woodstock, Ontario N4T 1P1
Also Read: Best of Windsor-Essex County, Ontario
---
The Elm Hurst Inn & Spa
A historic landmark since 1872, The Elm Hurst Inn & Spa was once the property of Ingersoll's famous cheese maker James Harris whose family was pioneers of the Canadian cheese industry having erected Ingersoll District's first cheese factory on the grounds in 1865.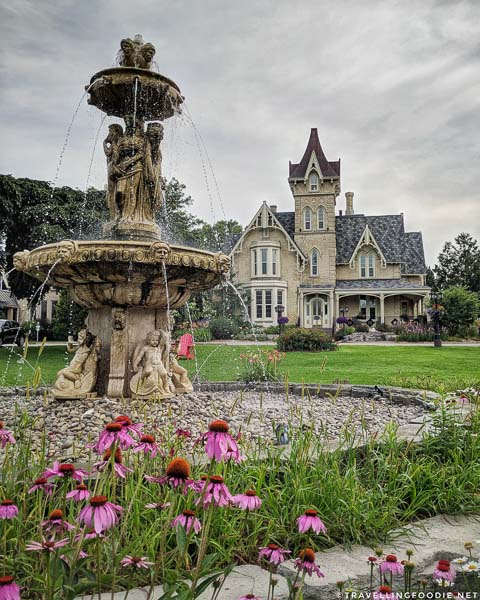 Nestled on a picturesque 32-acre land, this member of Ontario's Finest Hotels, Inns & Spas is one of the best places to stay in Oxford County, complete with guestrooms, an Aveda concept spa and a restaurant.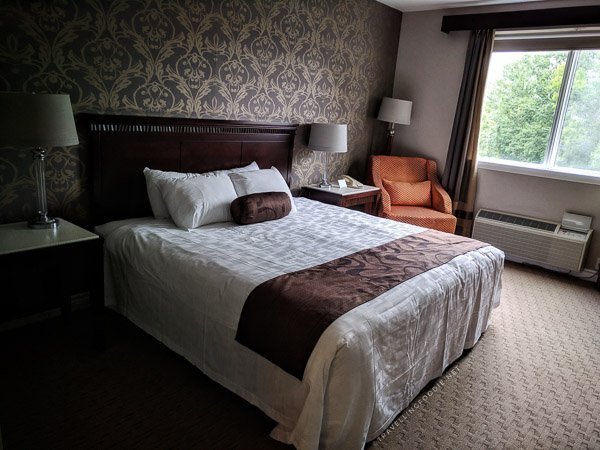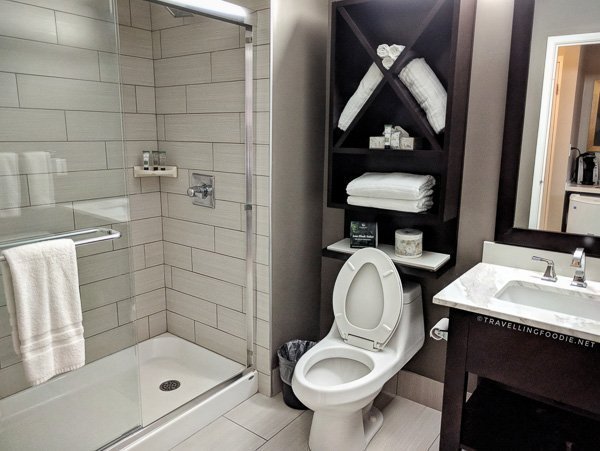 Continental breakfast is included with your stay in this luxurious, historic mansion.
If you love patio season and live music, be sure to check them out on Thursdays for Patio Night. Either way, be sure to dine at their Victorian Mansion restaurant built in Gothic Revival Style.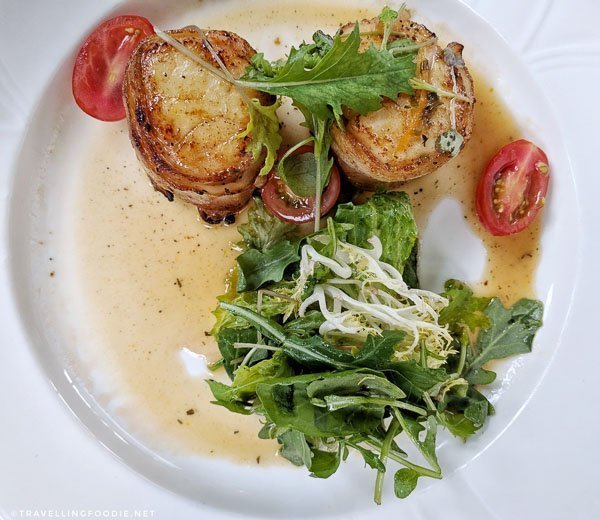 Their Bacon Wrapped Filled Diver Scallops was very unique with the BBQ spiced salmon and shrimp mousseline in the center.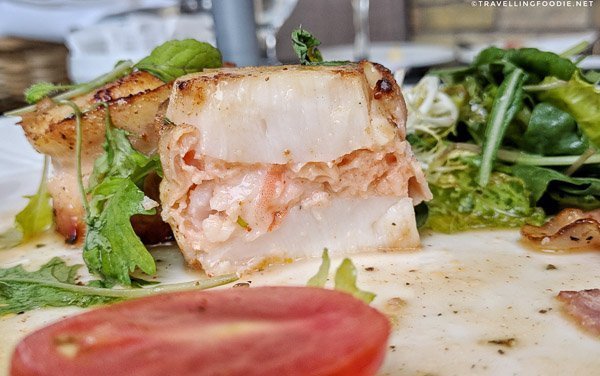 One must-order at Elm Hurst Inn is the Grilled Lemon-Rosemary Ouzo Lamb Chops. These were fantastic!
Perfectly cooked, tender and juicy with a nice char taste. The crumbled feta cheese gratin adds a nice tanginess to balance the gaminess of the lamb.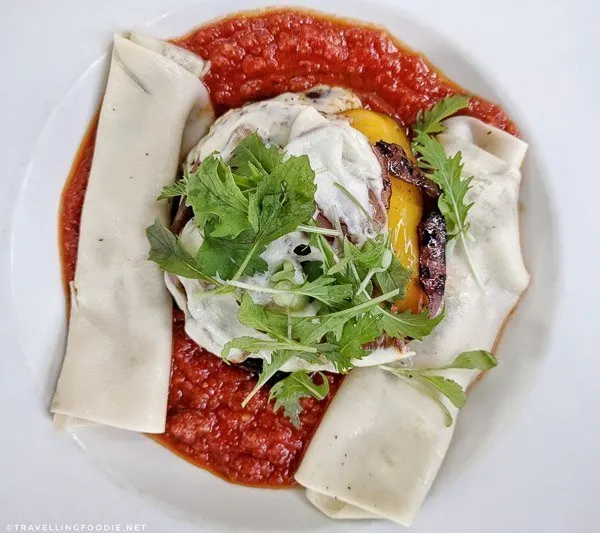 For desserts, get the Butterscotch Budino if you have a sweet tooth, or the Hazelnut Tart if you prefer something nutty.
Or, get both to share as they are both delicious on its own way, and have a good contrast with each other.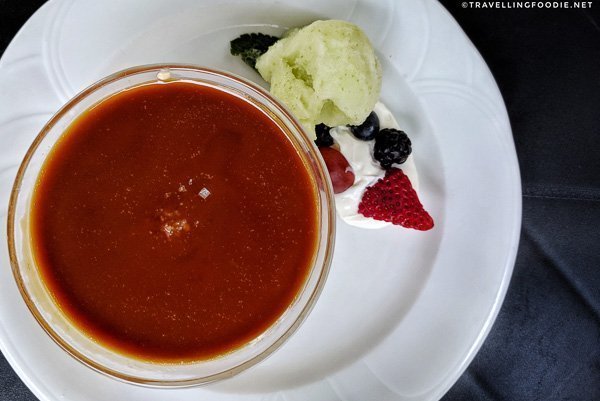 If you're here for the Oxford County Cheese Trail, the Elm Hurst Inn & Spa have a Create Your Own Cheese Board featuring cheeses from all 5 cheese makers in Oxford County: Gunn's Hill Cheese, Mountainoak, Bright's Cheese & Butter, Local Dairy and Quality Sheep Milk.
Each cheese is $7.75 for 2oz accompanied by seasonal fruit and artisan crackers.
For couples on a romantic getaway, they also offer a Oxford County Cheese Trail Package which includes an overnight stay, Ontario wine, a gourmet cheese tray from Oxford County Cheese Artisans, a selection of local chocolates from Chocolatea (which is one of the stops too), and breakfast for two at the Elm Hurst Mansion Restaurant!
Check pricing and availability of Elm Hurst Inn on Booking.com / Agoda
Website / Address: 415 Harris St, Ingersoll, Ontario N5C 3J8
---
SixThirtyNine
Opened in 2005 by Chef and Owner Eric Boyar, SixThirtyNine is all about the ever changing, locally sourced, seasonal menus. In fact, they are Oxford County's only FeastON certified restaurant with Ontario Culinary.
The ambiance at SixThirtyNine is intimate but with simple elegance. There are only 30 seats so be sure to reserve.
Better yet, there is seating up to four people at the Chef's Table if you want to watch the kitchen in action.
For the Oxford County Cheese Trail, you must try their Smoked Five Brothers Arancini! This fried risotto ball was exploding with flavours on each bite.
As their menu changes frequently, be on the look at for a changing variation of the arancini!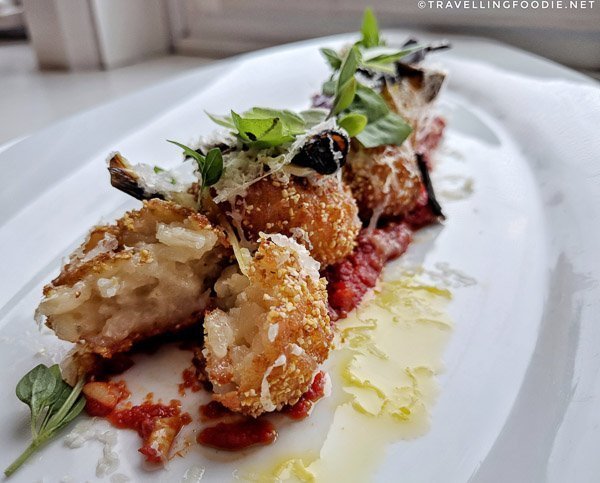 As with fine dining restaurants, SixThirtyNine provides some extra courses to elevate your experience including housemade brea, an amuse bouche and a palate cleanser before dessert.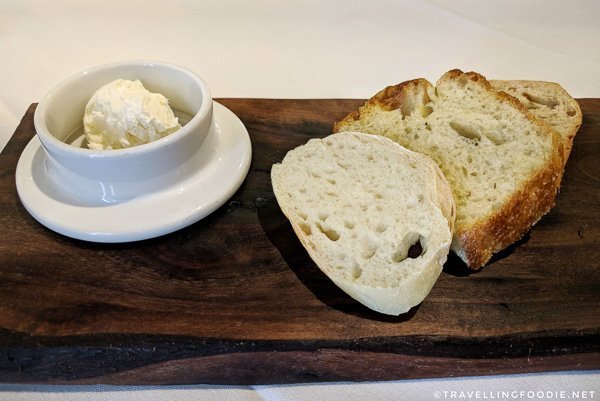 Website / Address: 639 Peel St, Woodstock, Ontario N4S 1K9
Also Read: Wineries on Niagara-on-the-Lake
---
The Olde Bakery Cafe
Located in a renovated building in the heart of downtown Ingersoll, The Olde Bakery Cafe offers homemade breakfast and lunch items in a cozy cafe setting with exposed brick walls and restored tin ceiling.
They make everything from scratch, except for their butter tarts, from old family recipes. They also serve an assortment of Ontario roasted coffee from Reunion Island, Las Chicas del Cafe Coffee and Kintore Coffee.
For the Oxford County Cheese Trail, the Olde Bakery Cafe offers a variety of items featuring local cheese and dairy including the Gunn's Hill Breakfast Sandwich, and mini cheesecake that uses creme fraiche from Local Dairy Products.
Another popular Cheese Trail item, and one I highly recommend, is their Mexican Cajetta Latte which uses local goat's milk caramel from Local Dairy Products.
This is the first time I've had this, and I don't even think any Toronto cafe serves this. I love that the goat's milk caramel was rich without being overly sweet, and it wasn't sugary sweet as well.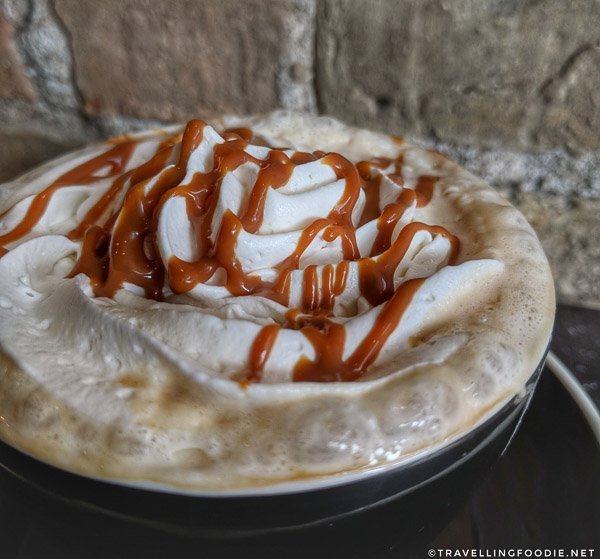 Website / Address: 120 Thames St S, Ingersoll, Ontario N5C 2T4
Also Read: A Summer Day Trip in Port Hope, Ontario
---
Leaping Deer Adventure Farm and Market
Opened in 2006 by owners Julie and Don Budd, Leaping Deer Adventure Farm is one of the best things to do in Ingersoll, offering family fun farm adventures from baby farm animals to games, and Oxford County's largest corn maze (10+ acres)!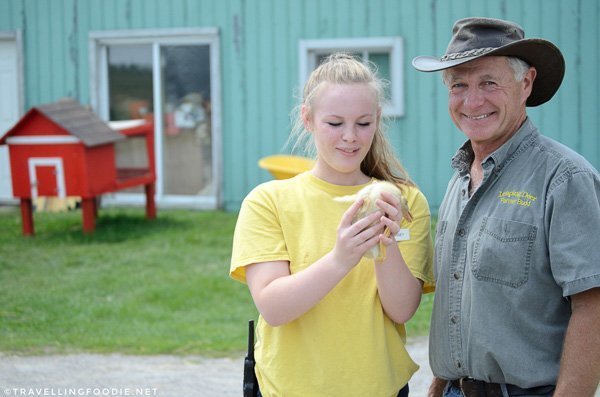 Take the wagon tour around the Leaping Deer Adventure Farm to discover what the farm has to offer, including its trails.
You'll also be taken to an area with Alpacas where Farmer Don showed us which plants to grab from the ground to feed to them.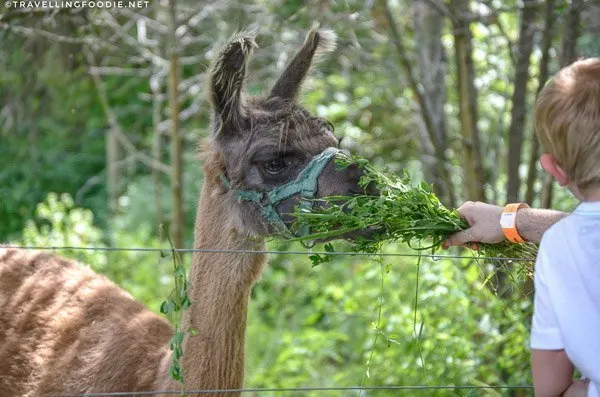 Back at the farm, there's a barn with various animals, including baby ones, that you can pet. We saw goats, pigs, rabbits, chickens, and more.
Leaping Deer Adventure Farm and Market expanded with the addition of the store and cafe in 2009 and a scratch bakery in 2010.
For the Oxford County Cheese Trail, they are offering an Apple Pie Bread Grilled Cheese, their twist on apple pie and cheese made with two slices of their apple pie bread and cheddar from Bright Cheese!
Website / Address: 544212 Clarke Rd, Ingersoll, Ontario N5C 3J8
---
Louie's Pizza & Pasta
An Ingersoll tradition since 1994 and featured in Food Network Canada's You Gotta Eat Here in 2016, Louie's Pizza & Pasta is Home of the Big Ass Panzerotti! But seriously though, they are known for their generous servings in general, not just the panzerotti.
For the Oxford County Cheese Trail, they have a pizza of the month featuring local cheeses. And on top of that, they have other shareable comfort food dishes like the Gunn's Hill Charcuterie, Fried Gunn's Hill cheese curds with house made marinara and Steak "Queso"-dillia.
Their pizzas and panzerottis are made with homemade sauce and dough. Pizzas are oven baked.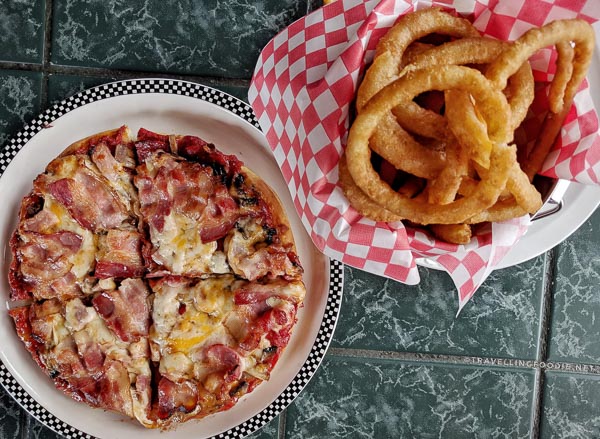 Website / Address: 440 Bell St, Ingersoll, Ontario N5C 2P6
Also Read: Prosciutto Arugula Pizza Recipe
---
Ingersoll Cheese & Agricultural Museum
With a history dating back to 1795 when Thomas Ingersoll first settled in the original village of Oxford-on-the-Thames and more than 150 years of cheese history, the Ingersoll Cheese & Agricultural Museum bring these stories to life with historic artifacts, informative displays and demonstrations across.
Did you know? Thomas Ingersoll is the father of Laura Secord, who you might have heard of because of the popular chocolates.
The replica 19th century Cheese Factory building was the first structure to be erected in 1977 to commemorate the importance of the dairy and cheese industry in and around Ingersoll.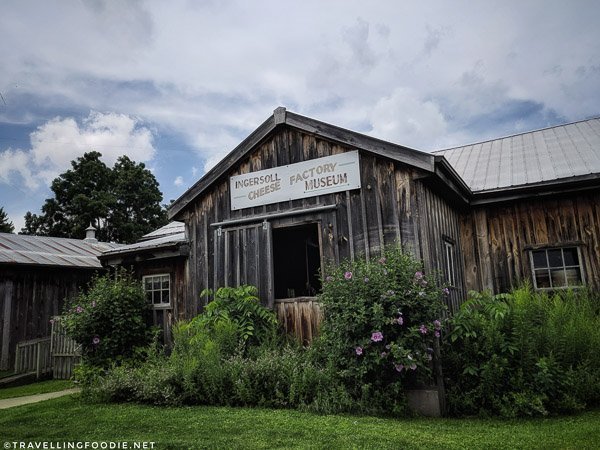 Inside the Cheese Factory Building, you'll learn the process of making cheese the traditional way. It's interesting to note that some steps have changed from today's process with advances in technology.
Canada's first cheese factories opened in Oxford County in 1864.
Did you know? As part of its promotional campaign in 1866, local cheese factories joined to create a 7300-pound cheese of mammoth proportions to market Oxford County cheddar cheese to England.

The cheese was shipped to England, where it proved to be very popular. For many years following the marketing campaign, Oxford County exported a large portion of its cheddar cheese to England.
There are seven on-site buildings and exhibits including a blacksmith shop, the Sherbrooke Barn, and the Oxford County Museum School where you can tour the one-room classroom and school displays.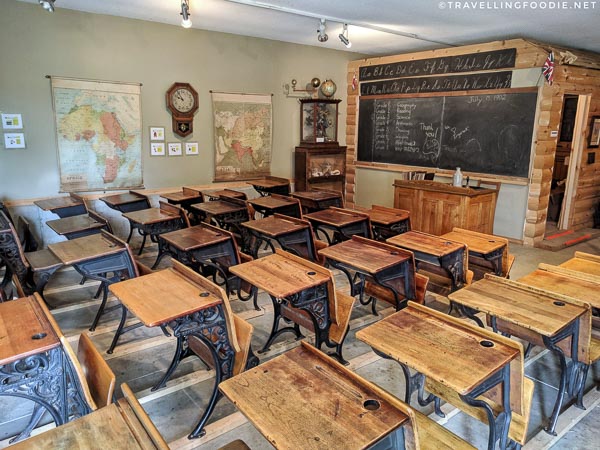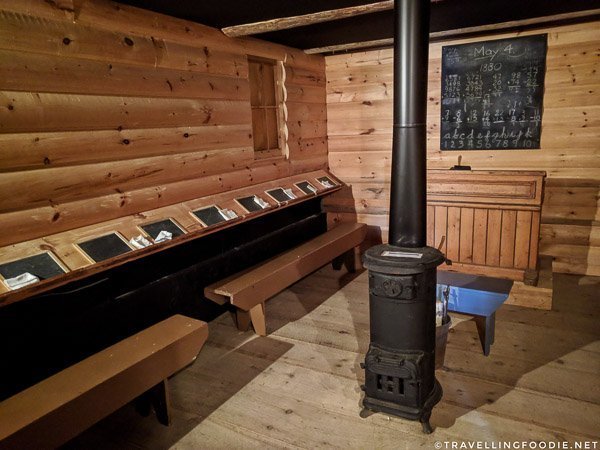 Website / Address: 290 Harris St, Ingersoll, Ontario N5C
Also Read: Diwan Restaurant in Aga Khan Museum in Toronto
---
The Wine Cellar & Cheese Shop Ingersoll
If you love wine and cheese, you'll have to check out The Wine Cellar & Cheese Shop Ingersoll, which started out as a make your own wine shop but has expanded to offer a vast selection of 30-50 local and international cheeses due to the county's cheesy history.
Here you'll want to sample cheeses before you buy because they have a lot of unique cheeses like the Caramelized Onion Cheddar and Sticky Toffee Cheese from England, and a 14 year old cheddar!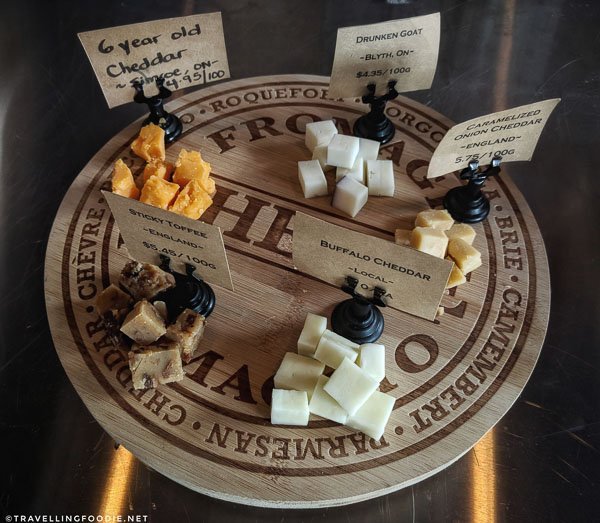 If you love spicy, you have to try this Spicy Chihuahua from Local Dairy Products. This Mexican semi-soft cheese made from pasteurized cow's milk has hot peppers to give it that kick!
Did you know? Though the taste is similar to Old Cheddar, it is actually only aged for 1 week.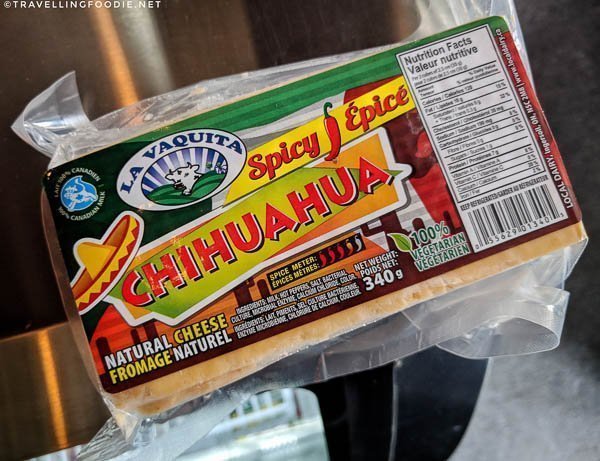 They also offer artisan cheese catering which is popular for their artisan cheese platters and trays accompanied by gourmet crackers and fresh seasonal fruits.
Website / Address: 188 Thames St S, Ingersoll, Ontario N5C 2T5
---
Chocolatea
Where to eat in Oxford County for the chocoholics? You'll want to check out Chocolatea. Owner and chocolatier, Cindy Walker, makes handcut chocolates right in her store using local cream!
Did you know? Before opening Chocolatea in November 2014, Cindy used to sell her chocolates in various markets.
The store is also a tea shop because Cindy is a tea sommelier herself so you can ask her on pairing tea with the chocolates.
Note: As of 2021, Chocolatea has moved to Nova Scotia.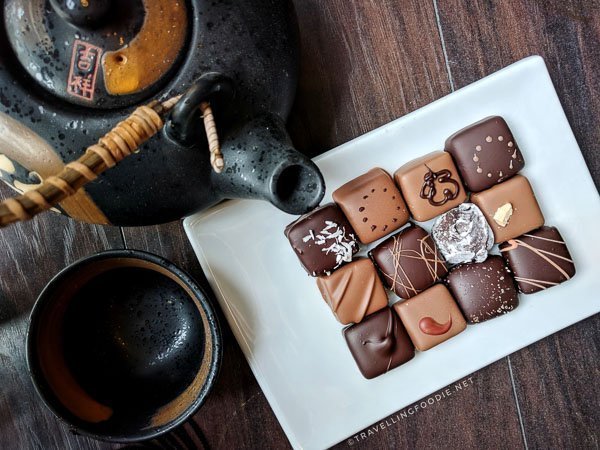 There are usually 18 different chocolates to choose from including a rotating variation of peanut butter, caramel, coffee and meltaway chocolates. She tries to come up with unique chocolate flavours like stout, lime & basil, and coconut & cardemom.
If you're looking to learn about chocolate making, check out her Truffle Camp where you get to learn how to handcraft your own gourmet truffles. In my quick visit, I was able to learn how to do Chocolate Dipping!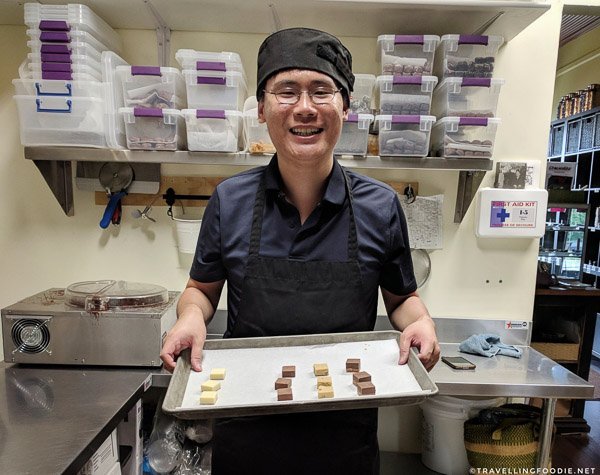 ---
Oxford County Cheese Trail Map
Here's the map with all the places to eat, drink and play in the Oxford County Cheese Trail covered in this travel guide.
---
Hope this food guide gives you an idea of Oxford County Cheese Trail in Ontario's Southwest! Even if you're not into cheese, the trail offers some of the best things to do, places to eat and stay in the Dairy Capital of Canada.
There is something for everyone in this area of Ontario's Southwest. Are you ready to #TryTheTrail? Learn more about the Oxford County Cheese Trail here.
---
Huge thanks to Ontario's Southwest and Tourism Oxford County for sponsoring this post. As usual, reviews and opinions are entirely my own.
You can learn more about Ontario's Southwest thru their website, or find them in Facebook, Twitter and Instagram.
… and about Tourism Oxford County thru their website, or find them in Facebook, Twitter and Instagram.