The first time we visited Port Hope, Ontario was during the winter time. We came back to Port Hope in the summer for one day and night trip, and we're covering the itinerary in this travel guide.
When we visited the Ganaraska Conservation Centre for Maple Syrup Day, we knew they offered treetop trekking/zip line in the non-Winter times. This was definitely something we wanted to do coming back to Port Hope in the summer.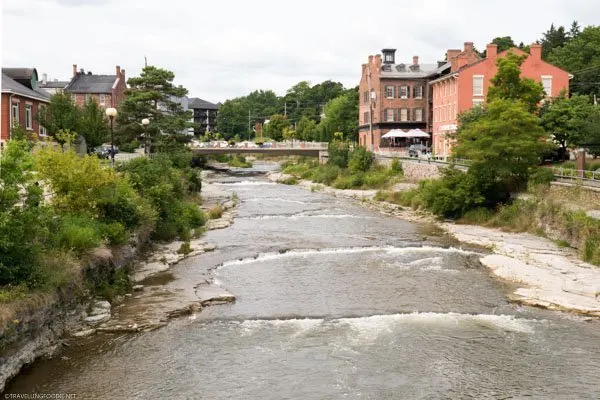 Between August and September, it is also the Cinook and Coho salmon migration up the Ganaraska river from Lake Ontario for spawning.
Therefore, we were excited to do a short day trip with overnight in Port Hope again as a summer weekend getaway before August ends.
Also Read: Winter Day Trip in Port Hope, Ontario
---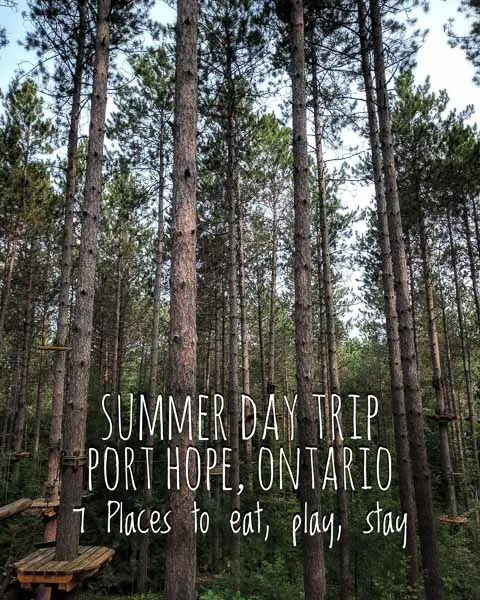 ---
Port Hope Summer Day Trip Itinerary
Treetop Trekking Ganaraska
On a Saturday morning, we started our summer day trip in Port Hope with some exercise in the form of treetop trekking.
For those not familiar with this, it is a game park filled with obstacles to challenge your balancing and strength skills.
Perfect for us foodies who may had eaten a bit too much the week before this trip!

On every visit to this park, all participants must go through a safety training (which includes passing a drop test to ensure you can get back up on the wire without any assistance) and the entire beginner course.
Treetop Trekking's Port Hope location is home to the famous "Timberwolf", the most challenging aerial course in Ontario.
We were told by our guides that an 'average fit person' will need minimum 45 minutes to get through this course.
Aside from this expert course, they have 2 beginners, 1 intermediate, and 2 advance level courses.
These courses include zip lines, hammock nets, swinging logs and suspension bridges.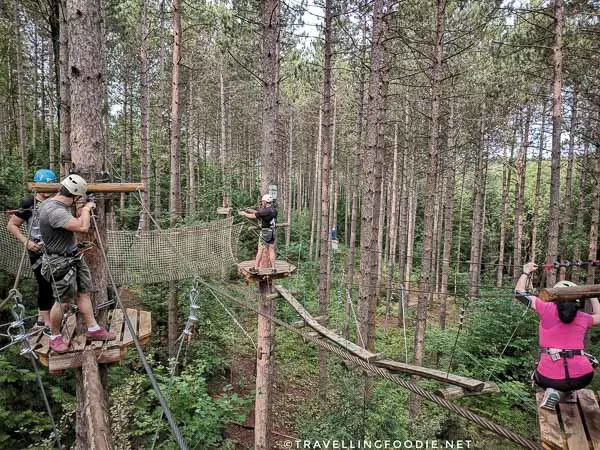 We felt quite tired after just doing the beginner course, and one of the advanced courses.
It is quite unbelievable how much of a workout all the balancing on wires and logs is!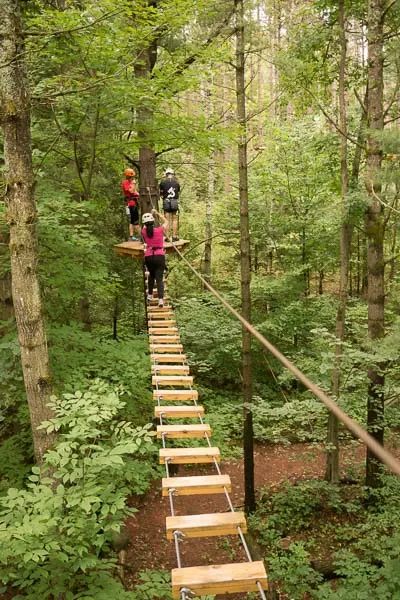 For our last course, we did the other advanced course, known as the "Flying Falcon".
It is actually a course consisting of 4 ziplines and 3 suspension bridge obstacles.
Why is it considered advanced for zipline?
It's because the distance for each zipline is far apart, with the longest being about 450 meters apart.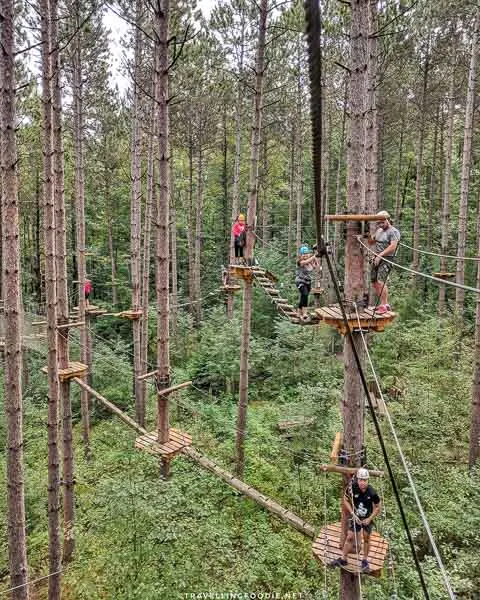 Compared to the treetop trekking in Norfolk County, there is minimal help from guides available at Treetop Trekking Ganaraska.
If you do get stuck not making it across completely, you will have to pull yourself along the wire back to either side of the zip line.
You can easily spend a full day here!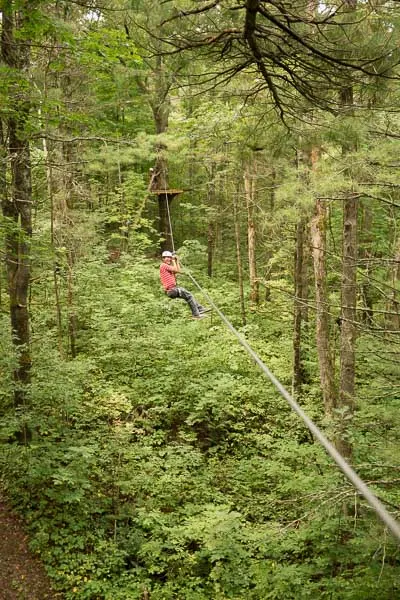 Travelling Foodie Tip: It's a good idea to bring some gloves and stretch before attempting the courses!
Website / Address: Located within the Ganaraska Forest Centre – 10585 Cold Springs Camp Road, Campbellcroft, Ontario L0A1B0
---
Olympus Burger
For those who loves a good burger like we do, Olympus Burger is one of the best restaurants in Port Hope.
It will not disappoint with the variety of burgers they carry.
Did you know? Each burger here is named after Greek Gods and Goddesses.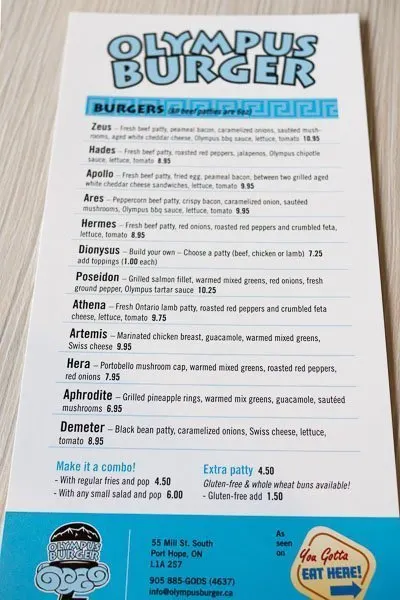 Olympus Burger was featured on Food Network's "You Gotta Eat Here" in 2016, and was voted winner of Best Burgers in Canada, by Canadian Living Magazine in 2017.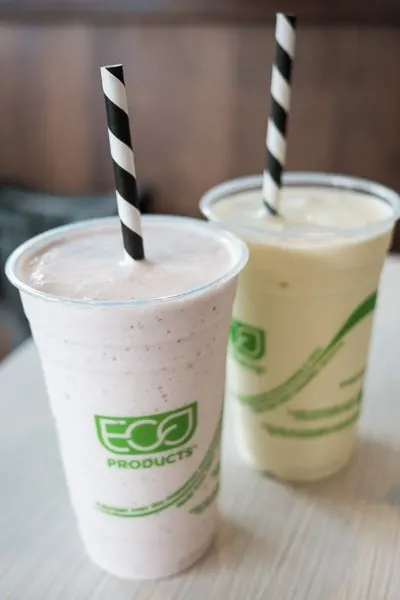 As if only 12 choices of burgers is not enough, they also have a secret menu which you can only find on their website.
Owner Giorgos Kallonsakis told us that he chose not to show the secret menu in the restaurant so that patrons are not overwhelmed with the amount of choices they can choose from.
We agree on this decision as we totally were!
We sat in the car for a good 5 minutes looking at the menu online to decide before walking into the restaurant.
We ended up ordering from the secret menu for some adventurous toss up along with delicious milk shakes to go with our awesome burgers.
For those up for a challenge, the regular menu also features what is known as the Labour of Hercules.
Completing the challenge will earn you a free T-shirt, and future 10% discount on meals. Note, a waiver must be signed to participate in this.
The burger consists of: 6oz beef patty, crispy bacon, lettuce, tomato, caramelized onions, jalapenos, habanero peppers and secret Olympus hot sauce. A milkshake is included after the challenge.
Website / Address: 55 Mill St. South, Port Hope, Ontario, L1A 2S7
Also Read: 2 Day Trip in Kingston, Ontario
---
Annual Salmon Migration
Every year, trout and salmon migrate up along the Ganaraska river from the Lake Ontario to spawn.
This is one of the most popular attractions in Port Hope.
Rainbow Trout (also known as Steelhead) spawns between late March to early May, or from October to mid-December.
Cinook and Coho salmon spawns between mid-August to early October.
Separating the river and the Ganaraksa Millennium Conversation Area is Corbett's Dam.
In order to aid the salmon/trout in the migration to the spawning area, a man-made fish ladder was built.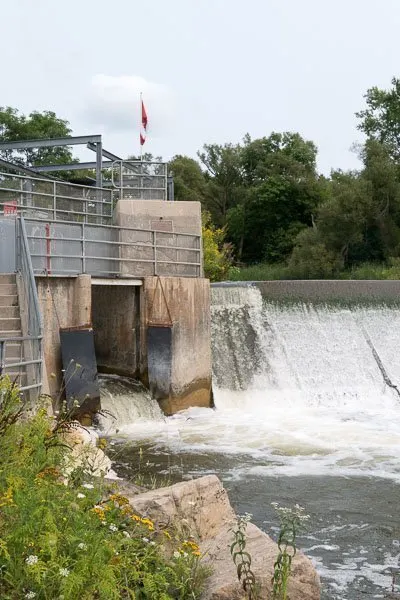 During our visit, however, the locals said we were one week ahead, so we will need to try our luck in another visit.
---
Barn Quilt Trail
The Port Hope historic barn quilt trail was put together last year by the Architectural Conservancy of Ontario (ACO), Port Hope branch, to celebrate Canada 150.
These 23 barns represent both an architectural significance, and economic contribution to the Port Hope community.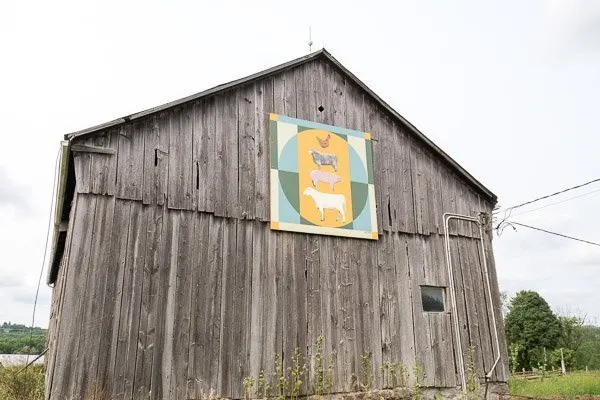 These barn quilts are hand-painted square tiles decorated with patterns that represent the specific farm.
We did a short road trip in between our various destinations today to soak in their history.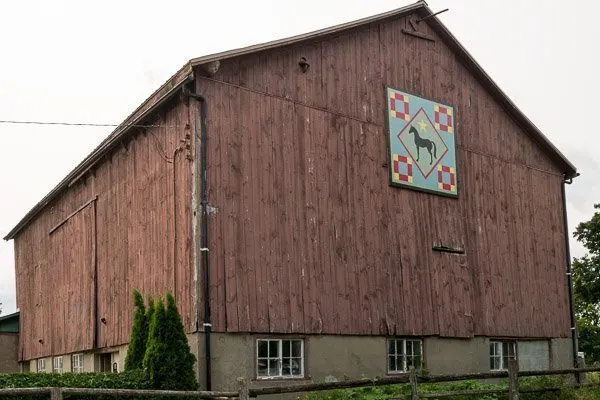 Travelling Foodie Tip: The only challenge we had was that rural roads are not the easy distinguished by Google Maps. If you do go on this trail, use both the map provided by the website, in addition to your GPS.

Be sure to read up on each of their summary from the website/guide book while enjoying the artwork on the tiles. We visited 5 of the 23 barns during the trip.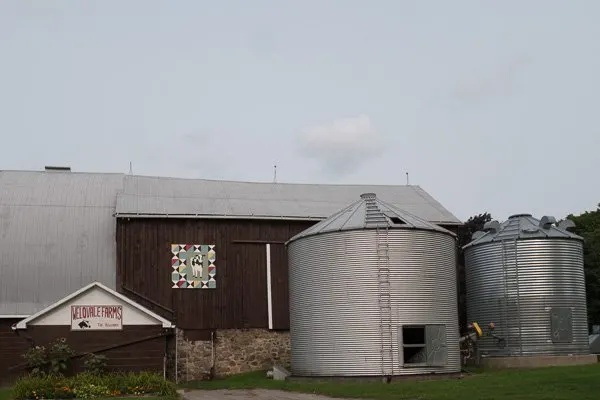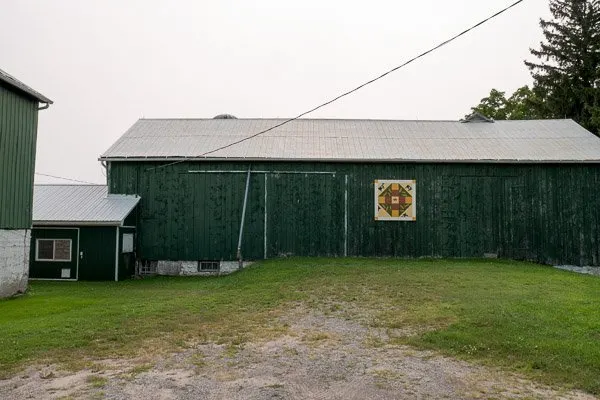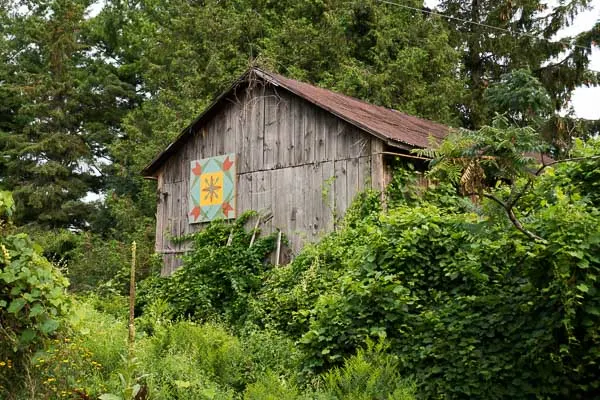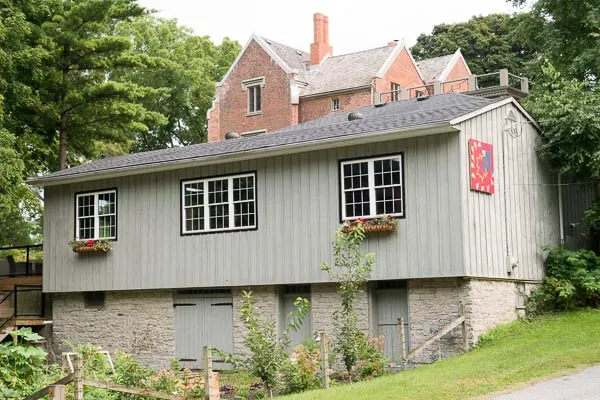 Website / Address: Various locations in and around Port Hope, Ontario
Also Read: Oxford County Cheese Trail in Ontario
---
Local No. 90 Bar + Kitchen (CLOSED)
We had an early dinner at Local No. 90 before our booked show at the Capitol Theatre.
Located at the fork of Mill Street and Ontario Street, the restaurant is hard to miss if you are driving south into the town.
NOTE: Local No. 90 Bar + Kitchen has permanently closed, but we're leaving the section here so you can enjoy the article's original context.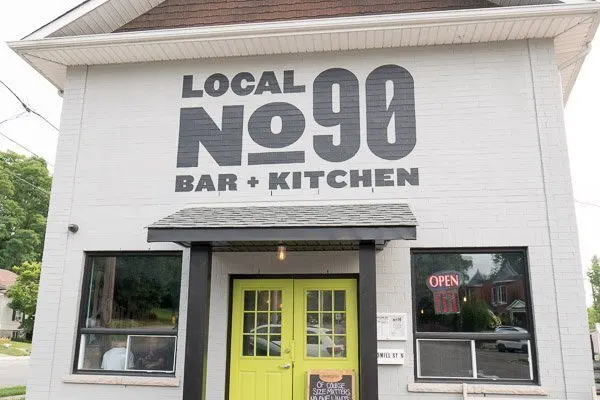 This little gem has only opened in 2017 according to owner Dana Hubbard.
When we asked her about the type of cuisine the restaurant serves, she tells us it is different every day!
Most of the food at Local No. 90 Bar + Kitchen are locally sourced from nearby farms.
Therefore, the menu is determined by the food delivered to them from their sources, then Chef Jonny will work his magic to design the menu for the day.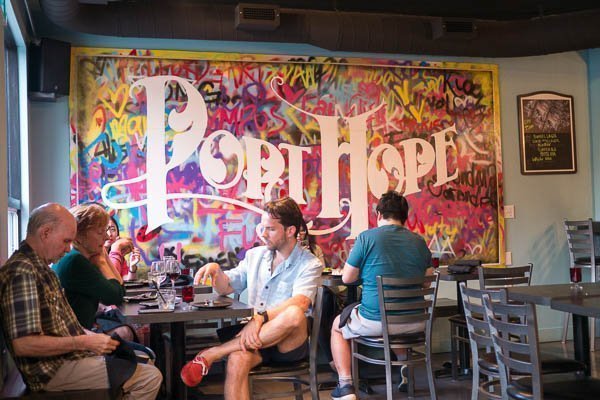 For example, 25 ducks were purchased, then Chef Jonny checks and see what other veggies he can become innovative with the duck.
Ta da, a new dinner is served until all ducks are sold out.
If you get the chance to see this duck dish on the menu, order it as it was delicious!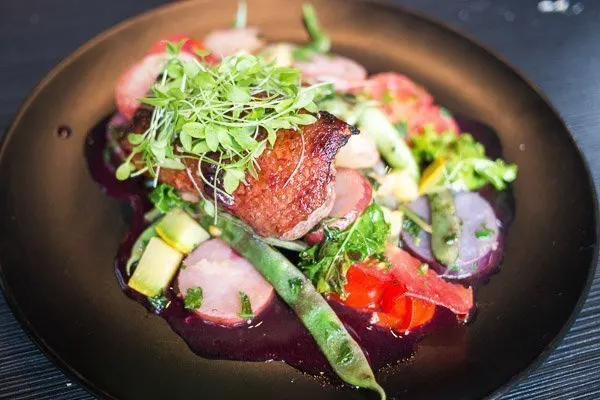 There's no menu posted on the website because the food changes every day or even throughout the day as items are sold out.
Dana had a printed menu for the day, but also a notebook with a handwritten menu specials as well.
Even though Local No. 90 Bar + Kitchen is not big, it felt very homey.
You'll definitely get to meet Dana as she goes around to talk to the customers. She was so easy and fun to talk to.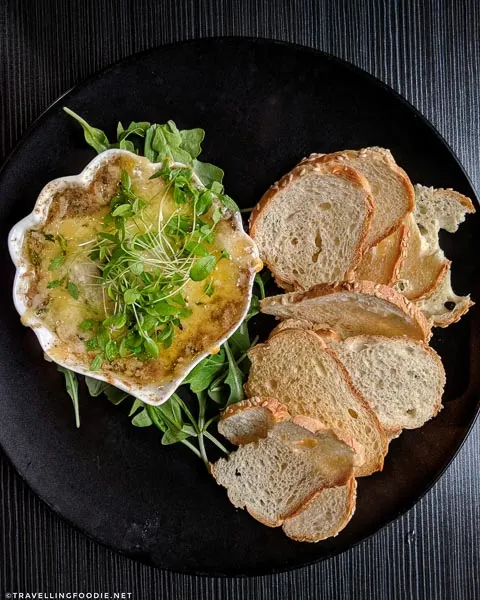 As we had a heavy lunch earlier at Olympus Burger, we didn't have any beer along with our dinner but they are known for having an always changing bottle selection.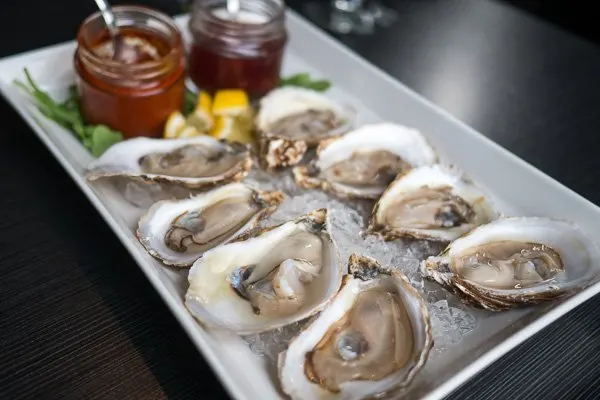 Local No. 90 Bar + Kitcheni is definitely a place to hit up for both locals and tourists for sure!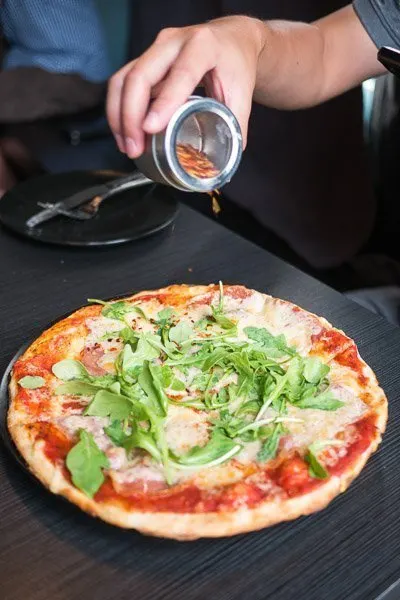 Address: 90 Mill Street N, Port Hope, Ontario L1A 2T2
---
Capitol Theatre
The Capitol Theatre is a landmark designated as a National Historic Site in 2017.
Built in 1930, it is one of the last operational atmospheric theatres in Canada, seating up to 380 guest inside its venue.
Watching a show here is one of the best things to do in Port Hope.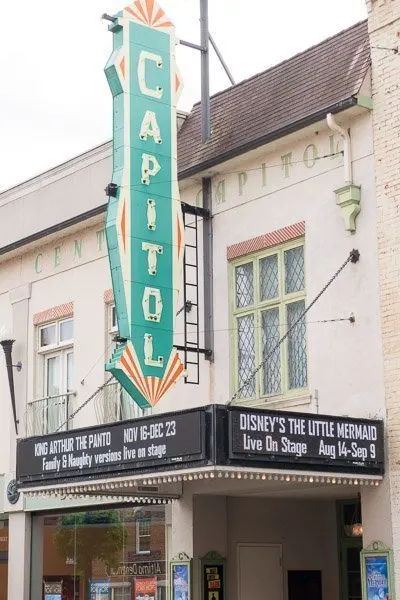 What it means by "atmospheric theatre" is that, instead of seating guests in box-like formal environment for the performance, the entire theatre is designed to be set under an outdoor European garden setting.
The Capitol Theatre mimics an English garden, complete with blue sky, clouds and a twinkling star ceiling.
Original 1930's fixtures as well as art deco design were all restored.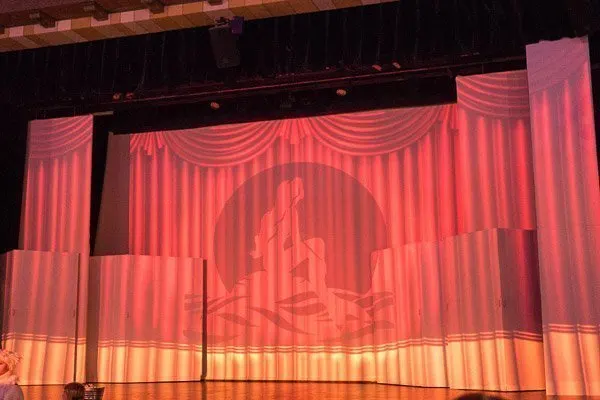 This theatre currently operates year round.
We were delighted to be invited to watch Disney's The Little Mermaid (on stage between August 14 to September 9, 2018) in this beautiful venue.
Other shows that have played here: Fiddler on the Roof, The 39 Steps, Wait Until Dark and King Arthur the Panto.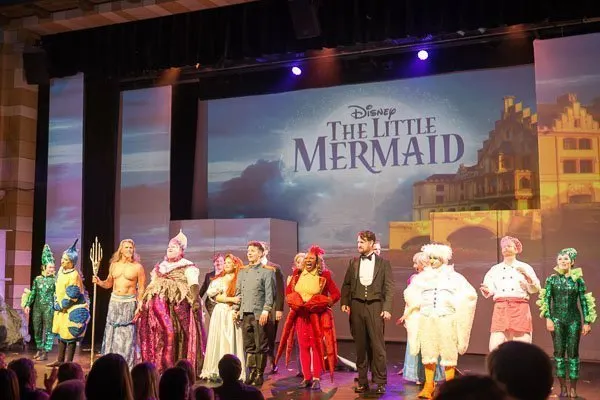 Website / Address: 20 Queen St. Port Hope, Ontario L1A 3Z4
---
Haute Goat Farm – Bed & Breakfast
Haute Goat Farm is no stranger for us.
We made a visit here the last time and participated in their goat shmurgle during the winter.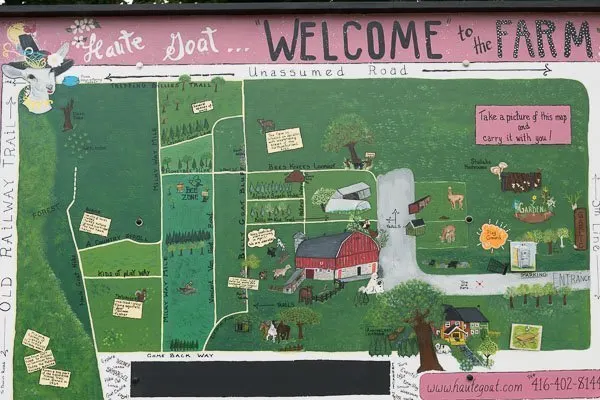 After spending the summer day in this Port Hope trip, we stayed overnight at the farm at Haute Goat's bed & breakfast that owners Debbie & Shain manage.
Aside from interacting with our lovely hosts, the benefit of staying here is the other members of the household including dogs, goats, chickens, horses and alpacas.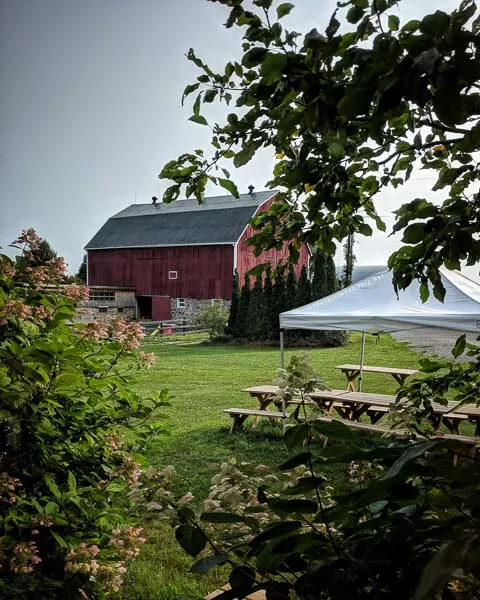 We stayed at the top floor of the Haute Goat house which is very spacious and the bed was comfortable to sleep in.

I took an early morning walk, led by the family dogs on the trails surrounding the farm.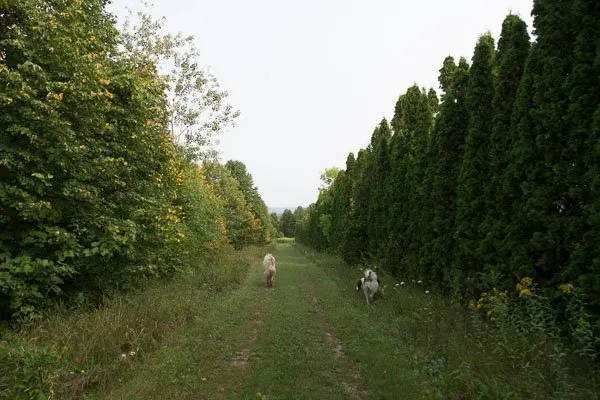 This time, I was also able to look at the map, and went to discover the mushroom and vegetable garden we had missed last time.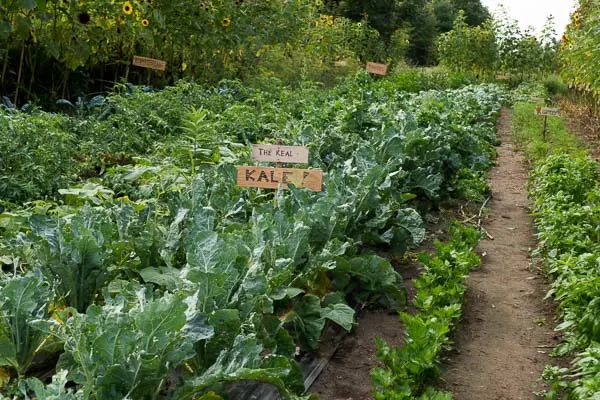 Early morning walk at Haute Goat Farm also means witnessing all the animals have their breakfast.
I was very happy to see them again, especially my partner goat Lil Bear, who have now grown up and is more 'calm' than the last time I met her.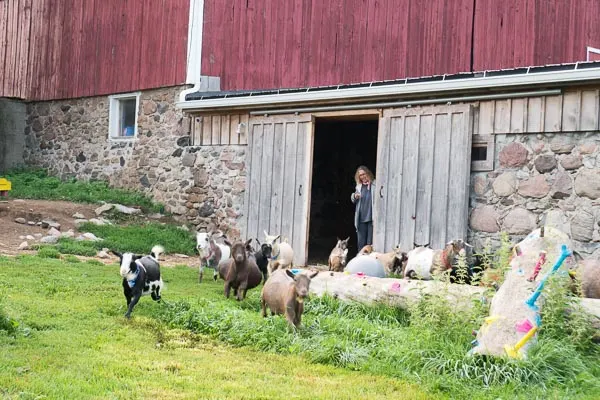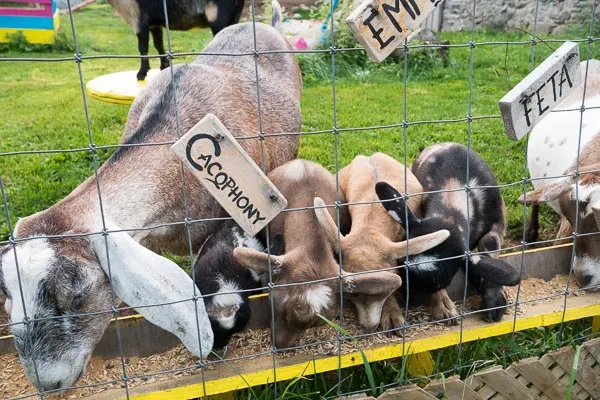 For the second B in B&B, Shain also made us farm breakfast in the morning.
Ingredients came from the garden, very lovely!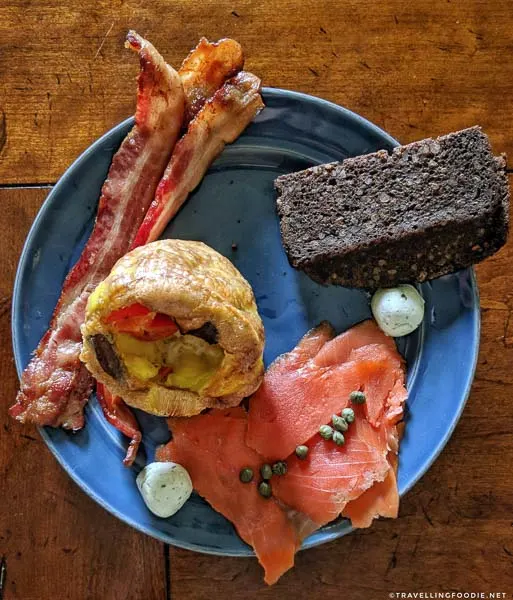 Website / Address: 1166 5th Line, Port Hope, Ontario L0A 1J0
---
VIDEO: Port Hope Summer Overnight
Watch how our summer overnight trip to Port Hope, Ontario looks like!
---
MAP: Summer Port Hope Day Trip
Here's a map of all the places to eat, play, stay in this day trip with overnight stay in Port Hope, Ontario.
---
Hope this travel guide gives you an idea on things to do, where to eat and stay in Port Hope, Ontario.
Now you know how to spend an overnight trip, or even just a day trip, during the summer at "Ontario's Favourite Small Town".
I'm always looking for new places to visit. Please let me know what you find are the best attractions, restaurants or accommodations in Port Hope!
---
Huge thanks to the Municipality of Port Hope for hosting the trip. As usual, reviews and opinions are entirely our own.
You can learn more about Port Hope through their website, or find them in Facebook, Twitter and Instagram.
---
Article written by Veronica Chiu.