Prosciutto Arugula Pizza is a delicious Italian meal for your next pizza night! This easy pizza recipe only uses 4 ingredients and takes 25 minutes to make. Buon Appetito!
---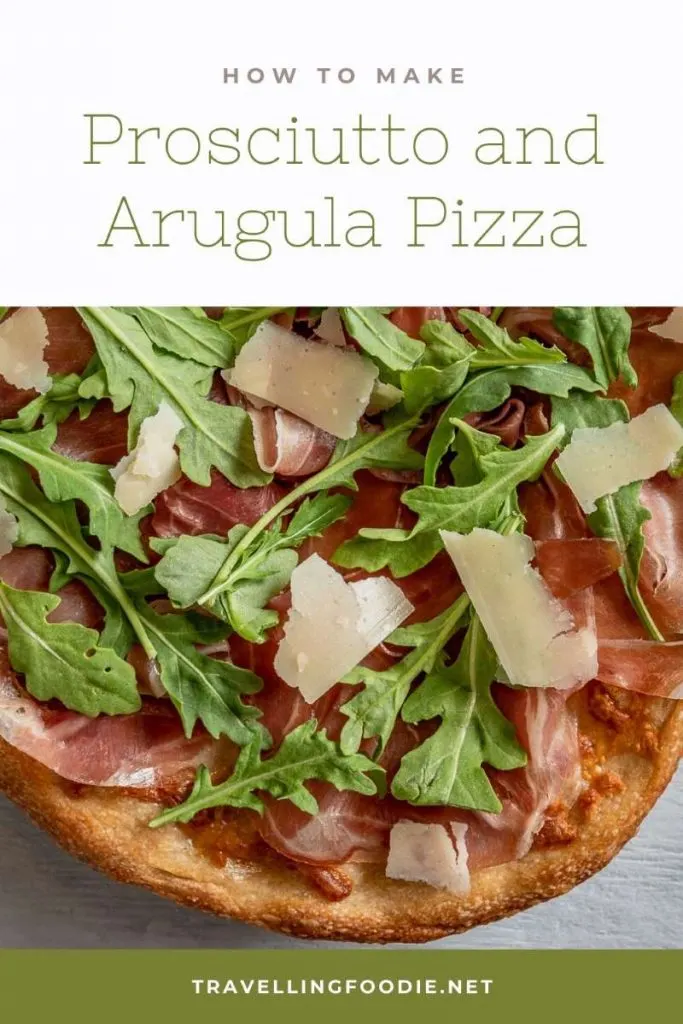 ---
Why Prosciutto Arugula Pizza?
Prosciutto Arugula Pizza is one of my favourite pizzas to order whenever I'm in authentic Italian pizza restaurants. I love the combination of fresh ingredients.
It's such a simple pizza that delivers big flavours: The buttery saltiness of the prosciutto and the bitter peppery taste of arugula along with the milky cheese taste.
I showed you how to make Prosciutto and Cheese Cupcakes before. Now, I'm here to show you how to make pizza with Prosciutto di Parma, arugula and cheese using fresh authentic Italian ingredients.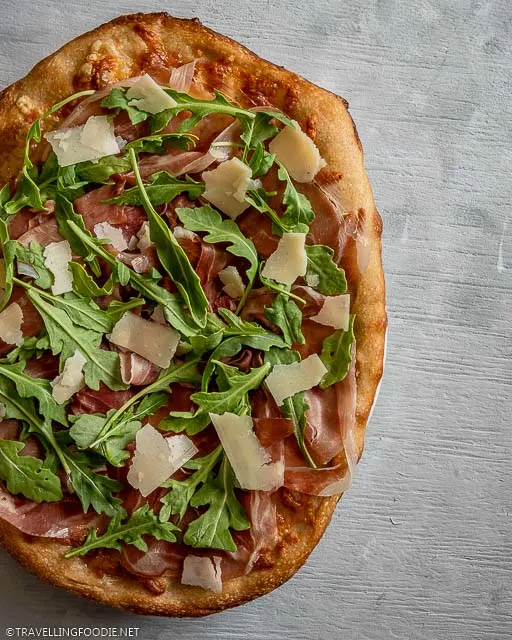 ---
What Makes This Pizza Recipe So Good?
This Prosciutto Arugula Recipe is so easy to make, only requiring four ingredients. And it's quick too, only taking 25 minutes from start to end and this timing includes the optional rest time.
I'm also using some authentic Italian products for this pizza recipe. Prosciutto is the most important component of this pizza so this recipe uses the world famous prosciutto most people knows of, Prosciutto di Parma PDO.
For the optional garnish, I also used a hard grating Italian cheese.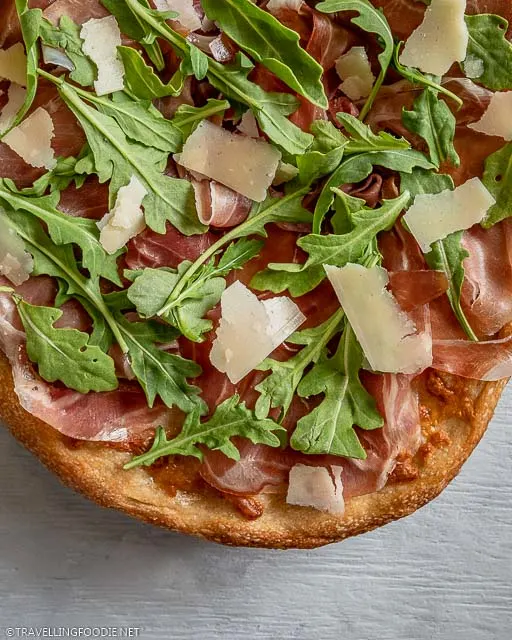 ---
Why Use Prosciutto di Parma PDO?
I mentioned that I order Prosciutto Arugula Pizza in authentic Italian pizza restaurants, and not American pizzerias or something else. There's a specific reason for that.
Dining in authentic Italian pizzerias guarantees authentic Italian ingredients. There is a black market for fake Parma Ham and you want to be sure you're getting the real thing.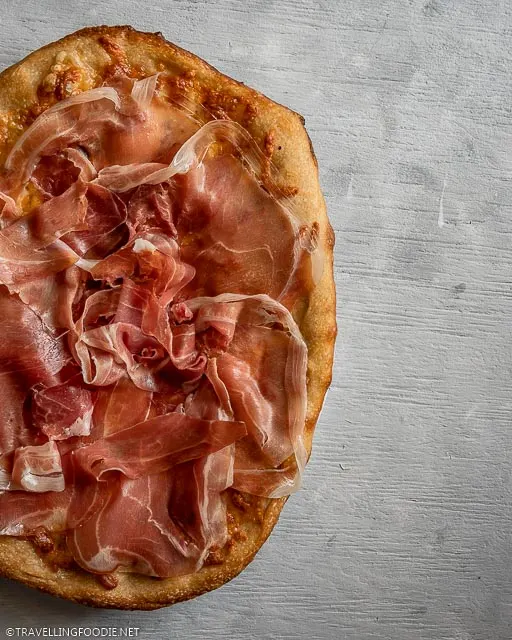 Prosciutto Arugula Pizza typically uses Prosciutto di Parma PDO, which is 100% all-natural, gluten-free product, completely free of preservatives, additives and hormones made with only four ingredients: pork, sea salt, air and time.
What does PDO mean? PDO is the term for "Protected Designation of Origin," which refers to products that are uniquely linked to the geographical area of their name.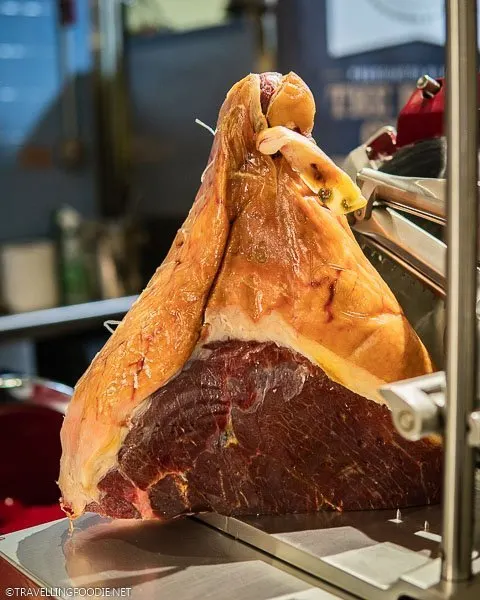 For Prosciutto di Parma, this means it can only be produced from the countryside surrounding the city of Parma in North-Central Italy using Italian-born and bred pigs raised according to the highest standards, on which they are monitored, inspected and traced.
You can learn more about Prosciutto di Parma from their website.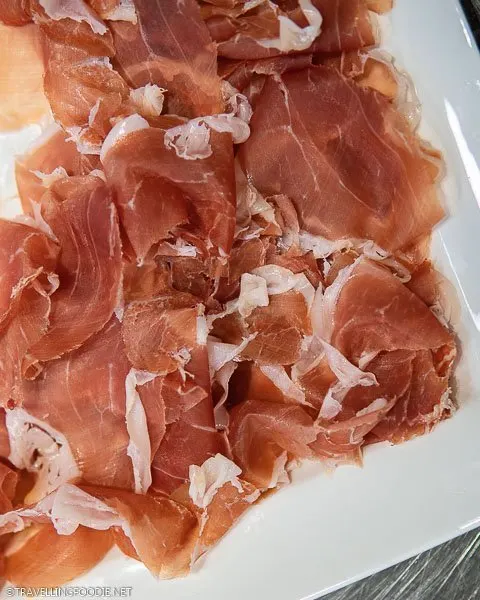 Where Can I Find Authentic Prosciutto di Parma in Canada?
With the protection of Geographical Indications under CETA, Canadian consumers can find the authentic, 100% all-natural ham at local retailers across the country under the correct designation, Prosciutto di Parma.
How Can I Check Authenticity of Prosciutto di Parma?
Here's the two best ways to check authenticity for Parma Ham:
When buying in a store, be sure to specifically ask for "Prosciutto di Parma," not just "Prosciutto." Mentioning the production area is crucial because there are a lot of Italian prosciutto in different areas.
Be sure to look for the Parma designation, a five-point "Ducal Crown" with the word "Parma" written inside. This designation is governed by the Consorzio and guarantees the authenticity of the Prosciutto di Parma.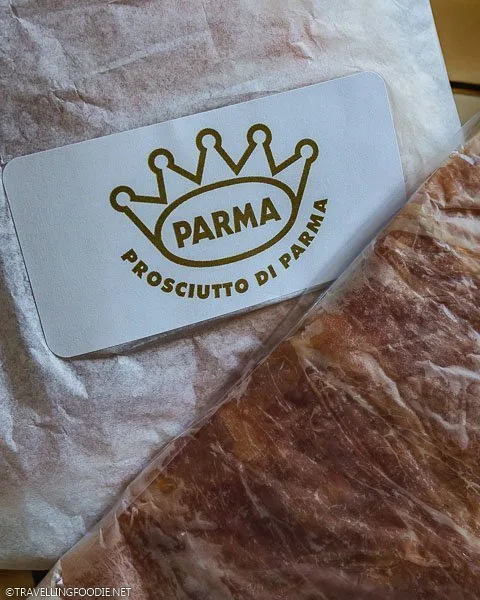 Also Read: Easy 30-Minute Recipes: Meals and Snacks in 30 Minutes or Less
---
What You Need For Prosciutto Arugula Pizza
Equipment
Oven
Baking Pan or Pizza Stone
Pizza Ingredients
Pizza Dough
Mozzarella
Prosciutto di Parma
Arugula
Optional Pizza Toppings
Hard Grating Italian Cheese
Cracked Black Pepper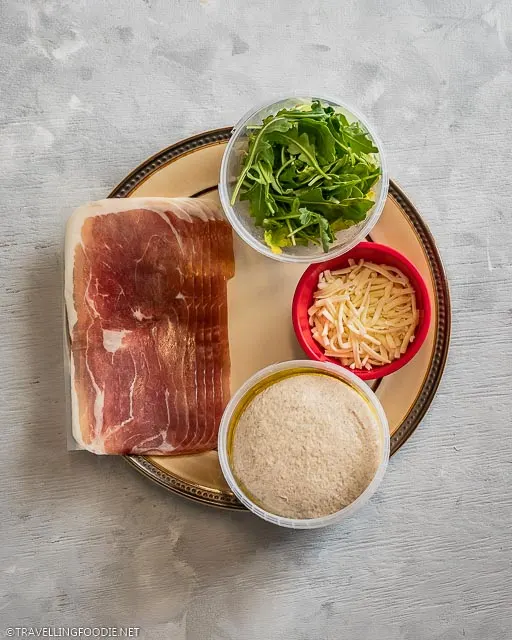 Also Read: Beef and Cheese Wrap Recipe
---
How To Make Arugula and Prosciutto di Parma Pizza (with Photos)
Drizzle some oil on the pan. Place the dough on the pan and flatten it by pressing down and stretching it out with your hands.
You'll want to flatten it to make a 9 to 10 inch pizza. Note, you can use store-bought or homemade dough.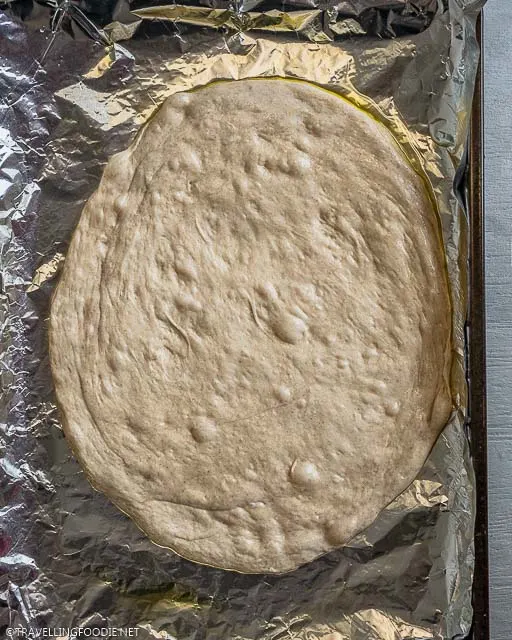 Evenly add slices of Prosciutto di Parma to the dough. This layer lubricates the dough with the prosciutto's fat so it becomes crispier.
Similarly, baking the Parma Ham adds a crispy layer to the pizza.
Evenly add the mozzarella cheese on top. You'll want enough cheese to fully cover the Prosciutto di Parma when it melts for that ooey gooey bite.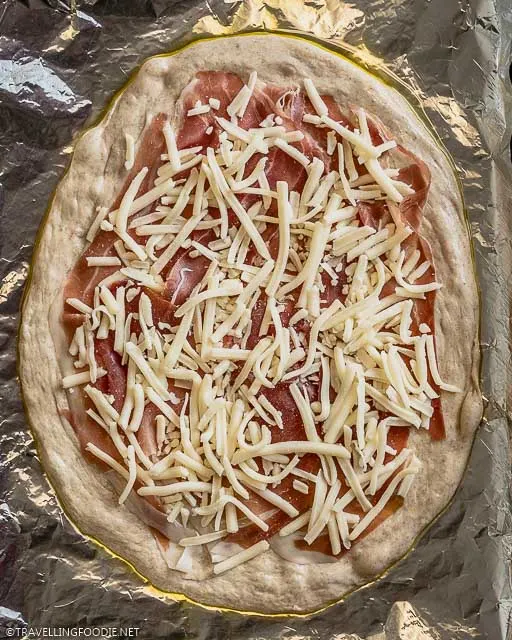 Bake in the oven at 450F for 12-15 minutes, depending on desired brownness. 15 minutes will make the dough toasted with a crispy exterior and gives a cheesy crust like the photo below.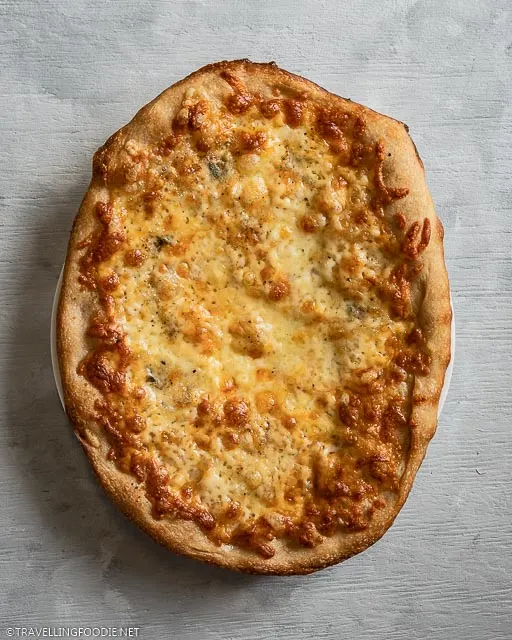 Remove the pizza from the oven and let it rest for 5 minutes. Evenly add slices of Prosciutto di Parma on top.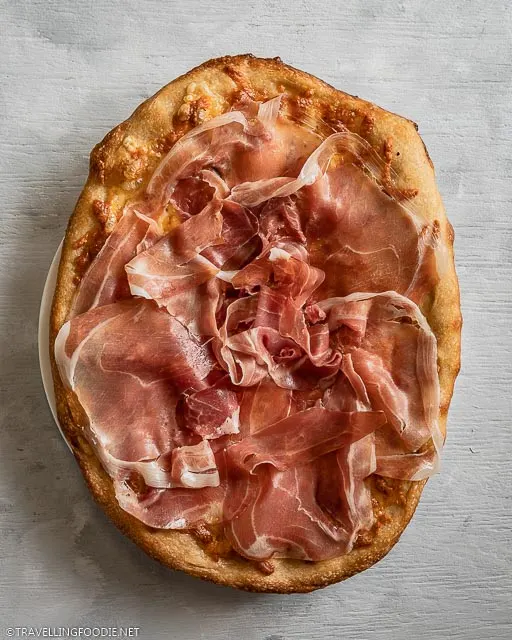 Top with arugula. Plate it in a way where you're not entirely covering the Prosciutto di Parma underneath.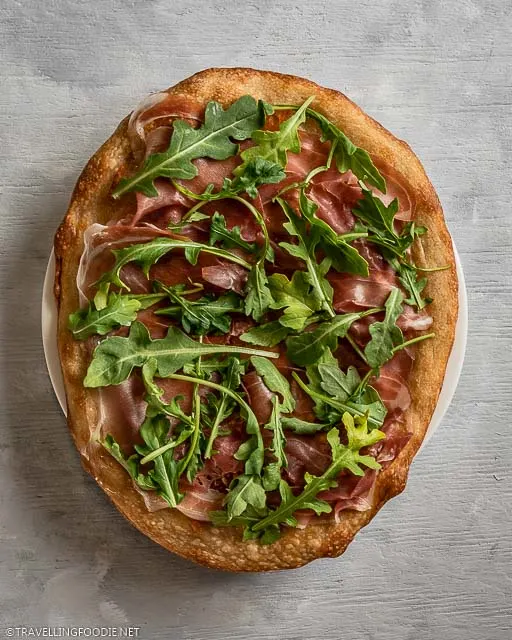 Optional: Garnish with fresh cracked black pepper.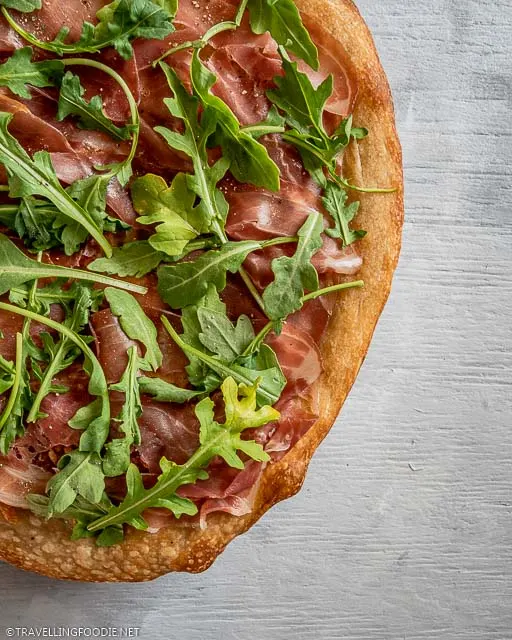 Optional: Garnish with hard grating Italian cheese.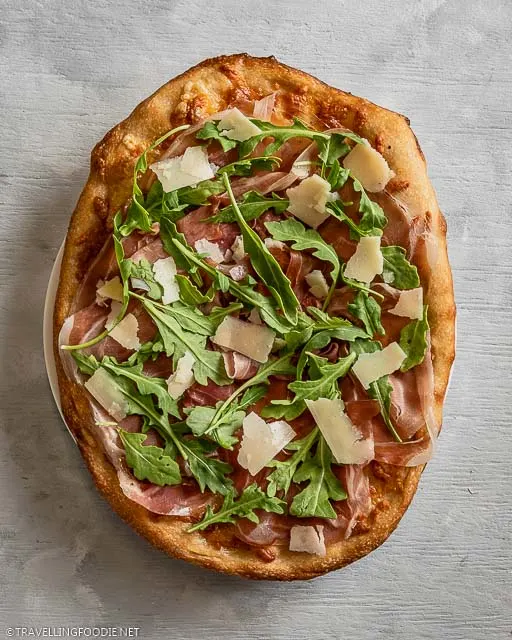 ---
Side Dishes To Serve For Your Pizza Night
---
Prosciutto and Arugula Recipe
Be sure to bookmark/save/pin this post so you can easily make this Prosciutto Arugula Pizza!
I would love to see how this recipe worked for you! Please share your creations with me on social media and tag me so I can check them out: @TravellingFoodie on Instagram & Facebook and @TravellinFoodie on Twitter.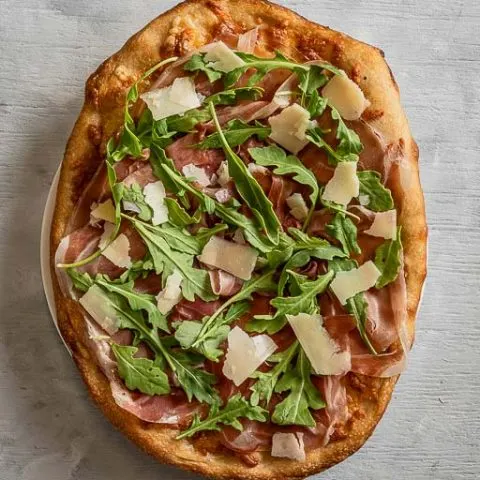 Prosciutto Arugula Pizza
Additional Time:
5 minutes
Make this Prosciutto Arugula Pizza in 25 minutes! This 4-ingredient pizza recipe is an easy way to make a delicious Italian meal.
Ingredients
Pizza
15g Baby Arugula
250g Dough
128g Mozzarella Cheese, shredded
6 slices Prosciutto di Parma
Garnishes
5g Hard Grating Cheese, shredded
1g Black Pepper, freshly cracked
Instructions
Preheat oven to 450F. Apply small amount of oil in the pan.
Flatten the pizza dough.
Evenly add 3 slices of prosciutto.
Evenly add the mozzarella.
Bake the pizza dough in the oven for 12-15 minutes.
Remove out of the oven. Top the pizza with remaining slices of prosciutto and baby arugula.
(Optional) Top the pizza with hard grating cheese and black pepper.
Recommended Products
As an Amazon Associate and member of other affiliate programs, I earn from qualifying purchases.
Nutrition Information:
Yield:

6 slices
Serving Size:

1
Amount Per Serving:
Calories:

310
Total Fat:

17g
Saturated Fat:

7g
Trans Fat:

0g
Unsaturated Fat:

8g
Cholesterol:

35mg
Sodium:

1086mg
Carbohydrates:

23g
Fiber:

1g
Sugar:

1g
Protein:

14g
Please note that nutrition information you see is provided and automatically calculated by Nutritionix. This may vary depending on the specific ingredients that you use. To ensure the most accurate information, I suggest entering your specific ingredients into a nutrition calculator.
---
Hope this Arugula Prosciutto di Parma Pizza recipe gives you an idea on what Italian food to have for lunch or dinner. Perfect for those pizza nights!
---
This pizza prosciutto recipe was made in partnership with Prosciutto di Parma to raise awareness and emphasize the importance of its quality, authenticity and tradition.