Based on the popular snacks Pigs in a Blanket, Cheesecakes in a Blanket are savoury cheese cupcakes (the cheesecake) wrapped in prosciutto (the blanket) then topped with prosciutto buttercream.
Did you know? Italy is home to the world's best known and finest air-cured prosciutto.
For this savoury cupcake recipe, I'm happy to be using the most popular Italian prosciutti and cheese, which I all love: Prosciutto di San Daniele PDO, Grana Padano PDO and Prosciutto di Parma PDO.
All three products are PDO (Protected Designation of Origin)-certified by the EU, which means they are classified as an authentic, high-quality European food, made according to traditional methods in a specific geographic region in Europe.
Prosciutto is most often eaten as-is, and I totally agree it is delicious as-is! I remember when I visited Rome and would just go to random delis to stuff my face with freshly shaved Parma Ham (or Prosciutto Pizza) with a glass of red wine.
Also Read: Wineries on Niagara-on-the-Lake
Travelling Foodie Tip: When buying prosciutto, be sure to specifically ask for prosciutto by production area (e.g. San Daniele or Parma) to guarantee it is 100% authentic as shown by the designation symbol branded into the ham.
At events, you'll usually find me near the charcuterie board looking for prosciutto and cheese. But that's probably the most common way to eat prosciutto.
What's awesome about this Prosciutto & Cheese Cupcakes recipe is it uses prosciutto in such a unique way. Best of all, it's so easy to make!
Also Read: Easy 30-Minute Recipes: Meals and Snacks in 30 Minutes or Less
---
---
Cheesecakes in a Blanket: What makes these Prosciutto and Cheese Cupcakes SO GOOD?
Grana Padano in the Cheese Cupcakes
For the cupcake, we use Grana Padano PDO, Italy's most popular hard grating cheese, made with partially skimmed raw cow's milk.
Did you know? "Grana" means hard grating cheese and "Padano" is the Northern Italy region where the cheese must be produced.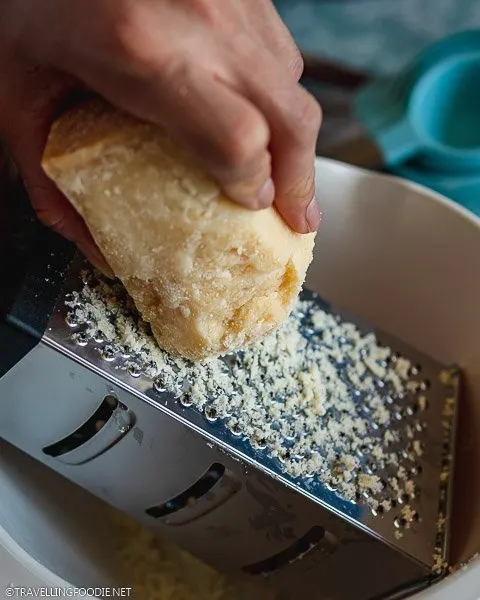 Grana Padano works very well in the cupcake because of its fine, grainy texture giving a dry yet flaky bite than a typical cupcake which is denser.
Because of its mellow and less salty taste, Grana Padano is perfect where it doesn't make the cupcake too salty unlike cheddar or parmesan and the taste lingers. I actually got addicted even of just the Grana Padano cupcake itself.
Also Read: The Oxford County Cheese Trail in Ontario's Southwest
---
Prosciutto di San Daniele as the Blanket
Grown in North-Eastern Italy in the Friuli Venezia Giulia region, Prosciutto di San Daniele uses selected thighs from Italian pigs which are dry-cured with sea salt in natural air for at least 13 months.
Did you know? Prosciutto di San Daniele is traditionally pressed into a guitar shape to give it a distinctive appearance.
Because it is sweeter and fattier, Prosciutto di San Daniele is used as the blanket, which acts as the cupcake liner due to its fattiness.
Its inherent sweetness complements the cheese cupcake and doesn't make the cupcake saltier.
---
Prosciutto di Parma in the Buttercream
Also called Parma Ham, Prosciutto di Parma is made from specially bred Italian pig that only eats a mixture of cereals, grains and the same whey from Parmigiano-Reggiano production.
It is then air-cured for at least 400 days with sea salt in the rolling countryside of Parma in the foothills of the Apennines.
Did you know? The Parma designation, symbolized by a crown, is governed by the Consorzio. The designation is so hard to get that there is a black market for selling fake Prosciutto di Parma.
When cooked to a crisp, the parma ham becomes quite salty, which makes it a perfect addition to the sweet buttercream. To make it crispy fast, we used an Air Fryer.
Check pricing of Air Fryer on Amazon
The Prosciutto Buttercream ends up having both creamy and crispy textures as well as sweet and salty flavours!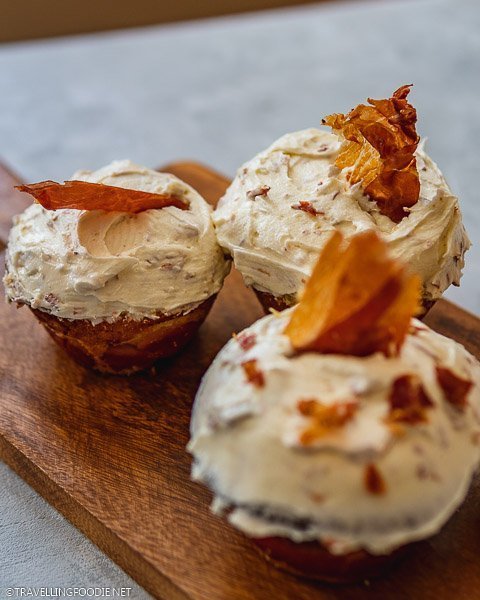 Putting it on the Cheesecake in a Blanket, the Prosciutto Buttercream brings moistness. The cupcake dilutes the sweetness of the buttercream, giving a perfect combination of sweet and savoury in one delicious cupcake!
Also Read: Air Fryer Bacon Cheese Tater Tots
---
Cheesecakes in a Blanket Recipe
Here's the recipe for Cheesecakes in a Blanket: Prosciutto and Cheesecupcakes!
I would love to see how this recipe worked for you! Please share your creations with me on social media and tag me so I can check them out: @TravellingFoodie on Instagram & Facebook and @TravellinFoodie on Twitter.
Prosciutto and Cheese Cupcakes
A play on pigs in a blanket, these Cheesecakes in a Blanket are easy to make prosciutto and cheese cupcakes giving the perfect sweet and salty combination! These are now my favourite savoury cupcakes.
Ingredients
Cheesecakes in a Blanket
250 grams unsalted Butter, room temperature
250 grams Self-Rising Flour
100 grams Grana Padano cheese, grated
250 grams White Sugar
3 eggs
6-8 slices Prosciutto di San Daniele, 1 slice per cupcake
Prosciutto Butter Cream
200 grams Confectioners Sugar
200 grams Butter
6-8 slices Prosciutto di Parma, 1 slice per cupcake
Instructions
Prosciutto & Cheese Cupcakes
Preheat oven to 360F (170C).
Add the sugar and butter to a large mixer bowl, then beat until whipped cream texture
Add the eggs one at a time into the large mixer bowl. Mix well before adding the next egg.
Fold in self-rising flour to the batter.
Add grated Grana Padano cheese to the large mixer bowl then combine.
On the cupcake tray, surround the base and sides of each mold with one Prosciutto di San Daniele
Fill the cupcake mold 2/3 deep with cupcake batter as flat as possible.
Bake for 25 minutes, or until a toothpick comes out with a few moist crumbs.
Crispy Prosciutto
Air Fryer: Lay the Prosciutto di Parma in the Air Fryer tray in a single layer. Air Fry for 3 minutes at 400F (204C).
Oven-Baked: Lay the Prosciutto di Parma in a baking tray in a single layer. Bake together with cupcakes on the lower level. Check every 5 minutes if the prosciutto is crisp.
Prosciutto Buttercream
Add butter on medium mixer bowl then whip until pale color.
Slowly add confectionary sugar, 1/3 at a time. Completely blend it in before adding the next round of sugar.
Cut the slices of the crispy prosciutto in half, lengthwise.
Crush half of the crispy prosciutto and combine with the buttercream.
Apply (or pipe) the prosciutto buttercream onto the cupcakes.
Take the remaining halves of crispy prosciutto and stick one on top of each cupcake.
(Optional) Sprinkle grated Grana Padano cheese on top of each cupcake.
Nutrition Information:
Yield:

6 cupcakes
Serving Size:

1 cupcake
Amount Per Serving:
Calories:

1323
Total Fat:

80g
Saturated Fat:

46g
Trans Fat:

2g
Unsaturated Fat:

29g
Cholesterol:

329mg
Sodium:

2985mg
Carbohydrates:

120g
Fiber:

2g
Sugar:

85g
Protein:

34g
Please note that nutrition information you see is provided and automatically calculated by Nutritionix. This may vary depending on the specific ingredients that you use. To ensure the most accurate information, I suggest entering your specific ingredients into a nutrition calculator.
---
Hope you enjoy this delicious and easy-to-make Prosciutto & Cheese Cupcakes recipe!
Now you can surprise your family and friends with these Cheesecakes in a Blanket on your next meal or party!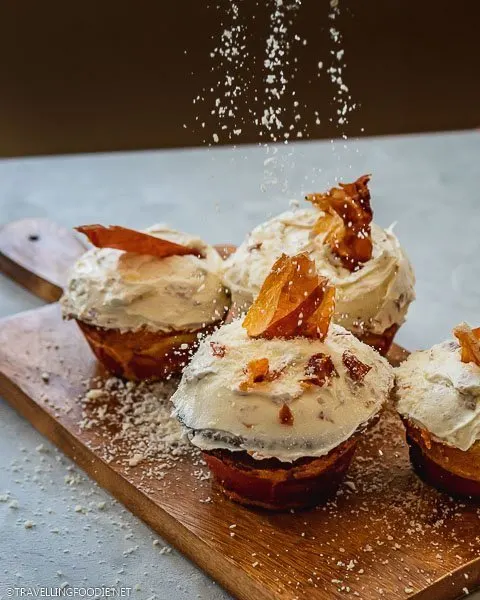 ---
This recipe was done in partnership with Icons of European Taste to raise awareness of the uniqueness, quality and authenticity of Prosciutto di San Daniele PDO, Grana Padano PDO and Prosciutto di Parma PDO among American and Canadian retailers and consumers.
You can learn more about Icons of European Taste from their website.