Public House at the Venetian is a contemporary gastropub and beer lover's paradise as Las Vegas' first gastropub. The menu consists of elevated comfort food in which almost all being "beer infused".
The bar staff are all Certified Cicerones (the beer equivalent of wine sommelier) and offer more than 200 beer selections, including 24 beers on tap and three seasonal cask beer selections from specialty artisanal cask brewers. They also have an in-house sommerlier, Bernard, for wine drinkers or if you just want to pair your food with wine instead.
The general atmosphere of the bar and lounge area is fun and casual with dim lighting, lots of comfortable leather seating and wood accents. I didn't really get to see the dining room properly because it was already re-arranged for the private function. Beside the hall to the washroom, there's a wine cellar where the sommelier resides.
We came on a Friday night during CES, and it was packed especially because of an unexpected overflow buyout in the restaurant for CES. We were seated at the private room in the lounge.
Travelling Foodie Favourites
My favourites were the Cicerone Selection Beer Flight, Imperial Farms Wagyu Flat Iron and the Baker's Block.
For the Cicerone Selection, we were given the following: Stone Beer from the Cask Barrel, Duchesse de Bourgogne from Belgium, Dragon's Milk from Holland, Black Ops from Brooklyn. My favourite was the Dutchess Beer as it was light yet had a sour kick which I found refreshing. My siblings and I generally don't like bitter beer so we disliked Dragon's Milk the most. Good thing the server was nice enough to change it to a light beer since we said it was too bitter for out liking. He replaced it with the Blanche De Bruxelles (Manneken Pis Belgian White) Beer. This ended up being my favourite because I just love light and refreshing wheat beer similar to Stella Artois.
One thing to note about their ribeye. We were told by the server (coming from the chef) that their cut of ribeye is different than other steakhouses. It is much leaner and has less marbling than what I'm used to for ribeyes. Therefore, if you have the same taste as me for ribeye, I recommend to go with the Imperial Farms Wagyu Flat Iron. This satisfied my steak craving as it was marbled and tender, and perfectly cooked with my doneness of medium rare.
What surprised me the most was their Baker's Block dessert. Everything in this block was made in-house and was just so good! My favourites in the block were the irish coffee cheesecake, banoffee tartlet, chocolate stout trifle and brown ale creme brulee.
Orders
– Cicerone Selection – $24 – Chosen by our Cicerone program trained bartenders; Based on the rarest and most delicious beers currently on draft.
From right to left: Stone Beer from the Cask Barrel, Dutchess Beer from Belgium, Dragon's Milk from Holland, Black Ops from Brooklyn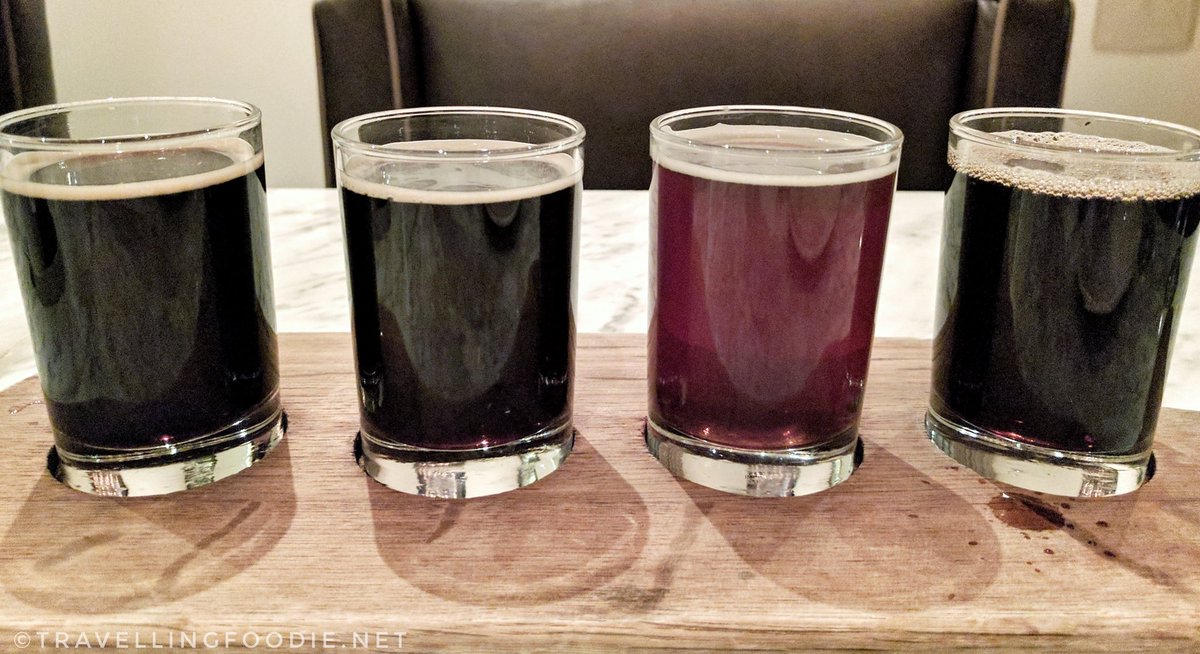 – Tuna Poke – $17 – soy stout glaze, asian pear, jalapeno, shiso, crispy lotus root & wasabi tobiko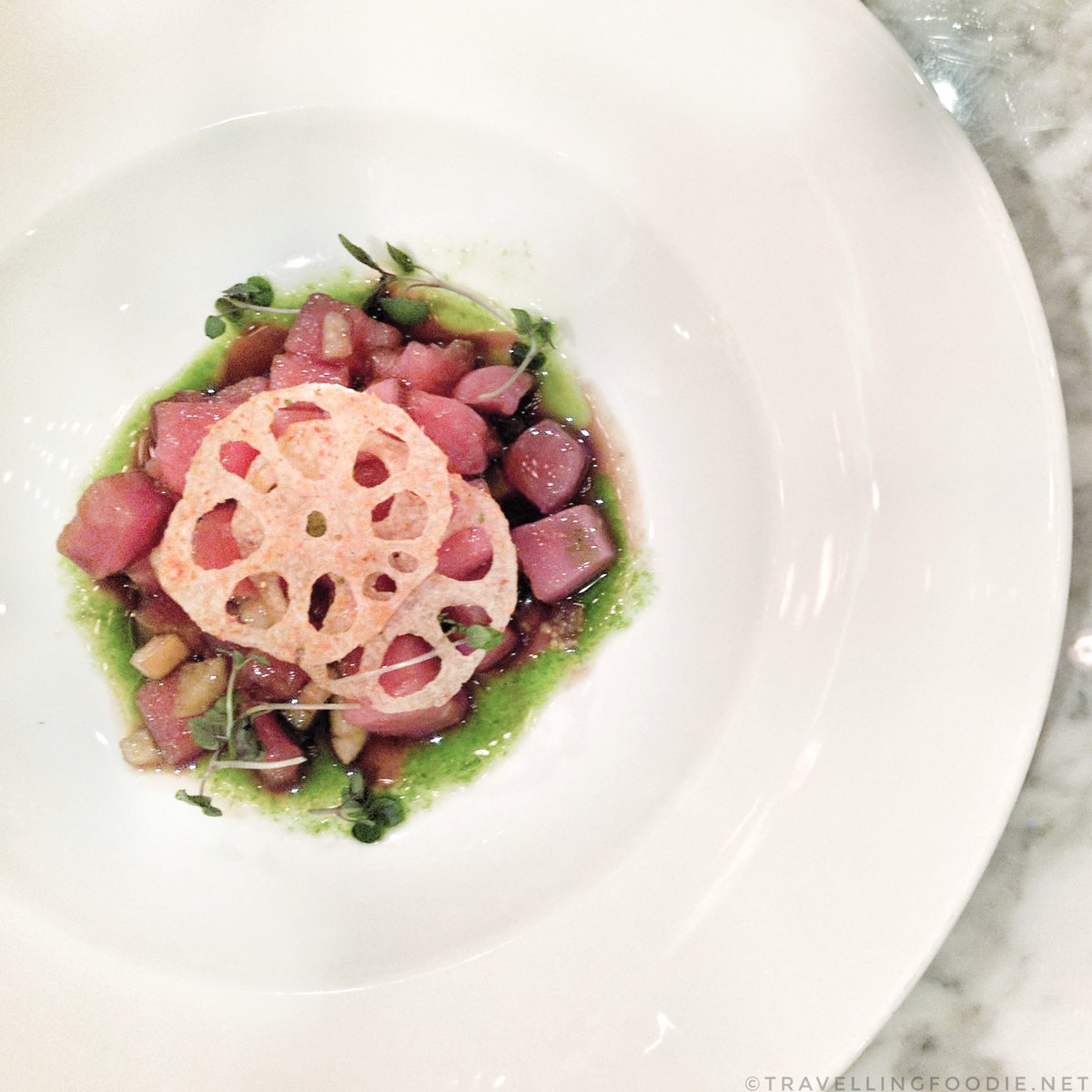 – Dry Age Ribeye – $55 – 18oz (bone in)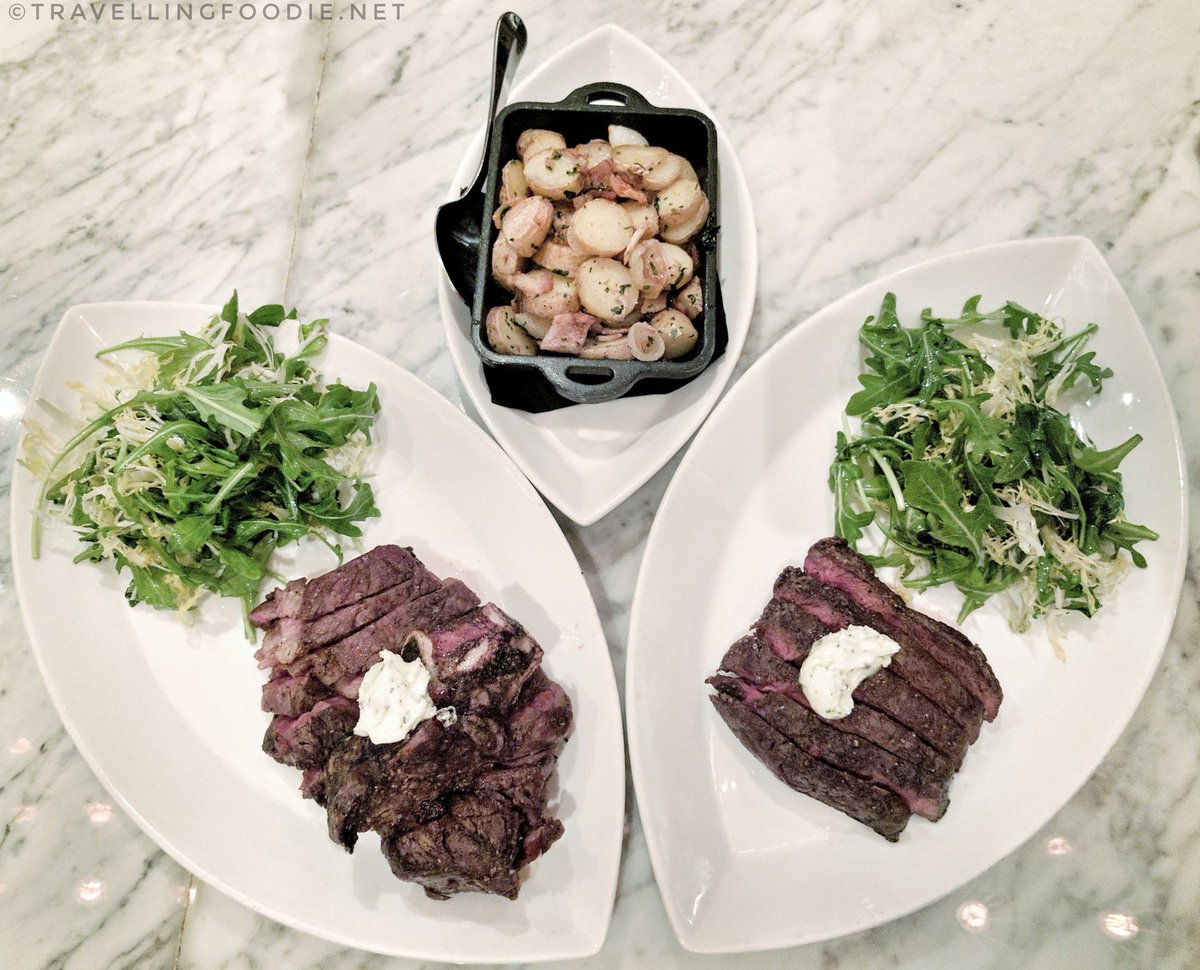 – Imperial Farms Wagyu Flat Iron – $42 – 8oz

– Fingerling Potato Hash – $8 – Pork Belly
– Baker's Block – $17 – raspberry lambic cocoa nib caramel corn, cherry beer marshmallow, brown ale crème brûlée, apple hand pie, irish coffee cheesecake, chocolate stout trifle, nutella cookie, banoffee tartlet

---
For more photos/videos:
---
RESTAURANT:
Public House
The Grand Canal Shoppes at the Venetian
CASINO:
The Venetian
3355 S Las Vegas Blvd, Las Vegas, NV 89109, USA
---
Disclaimer: Although the food was subsidized, the opinions expressed here represent my own and not those of the companies.
Updated: