Sandals Montego Bay is an All-Inclusive Resort in Jamaica, winner of the World Travel Awards for Jamaica's Leading Resort for 2018 and 2019.
Did you know? Sandals Montego Bay is the first and flagship resort of Sandals, which opened in 1981.
I had an awesome experience there.
Aside from it was my first time in Jamaica, it was also my first time being in an All-Inclusive Resort.
Suffice to say, I was spoiled… in the best way possible.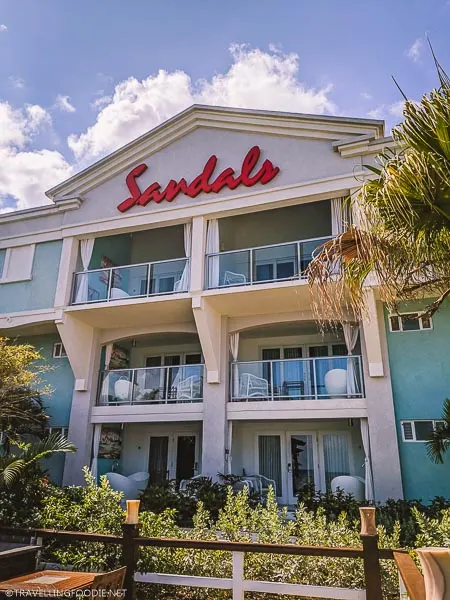 As a travelling foodie, food and drink is a priority when going on vacation.
I enjoy cruises but have never really considered all-inclusive resorts as a way of vacationing, primarily because of the feedback I got when I asked how's the food there.
This all changed after experiencing Sandals Montego Bay and their 5-Star Global Gourmet Program.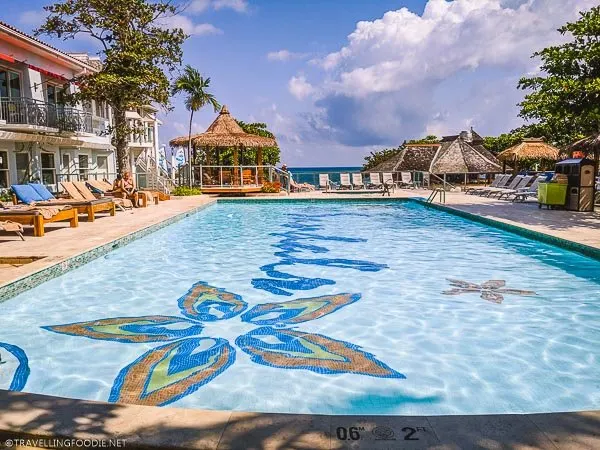 Also Read: Where To Eat and Drink in St. Croix, USVI
What is the 5-Star Global Gourmet at Sandals Resorts?
The 5- Star Global Gourmet is the culinary-focused program at all Sandals Resorts where they strive to serve the best of the dish in the most authentic setting.
This program consists of 6 pillars:
Variety – offering more restaurants with more variety
Authenticity – do food and beverage exactly how it should be done
Quality – what distinguishes themselves
Value – value for money especially for an All-Inclusive
Consistency and Standardization – applying the same quality and standards across the board in all the resorts to provide a familiar experience regardless of the location. Most of their customers are 60-70% repeats.
Modernization – keeping up-to-date and ahead of the game. They are a constant innovator in the industry with their offerings: first swim-up bar, first smoked cocktails, first Indian restaurant and first speakeasy bar.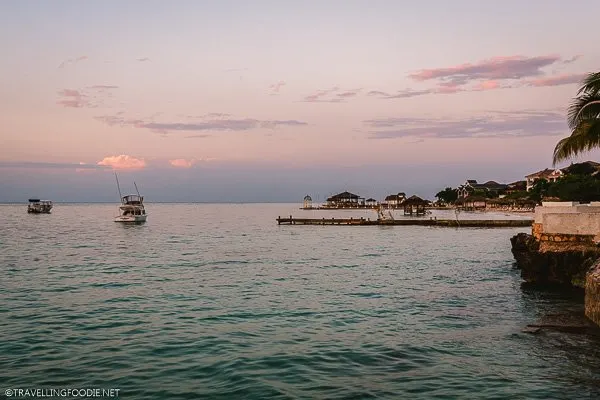 Having experienced the 5-Star Global Gourmet Program at Sandals first-hand, I was impressed that an All-Inclusive Resort can be a foodie destination!
Here are 10 Reasons Why Foodies Will Love Sandals Montego Bay, one of the best resorts in Jamaica for food.
Check for prices and availability on Booking.com / Agoda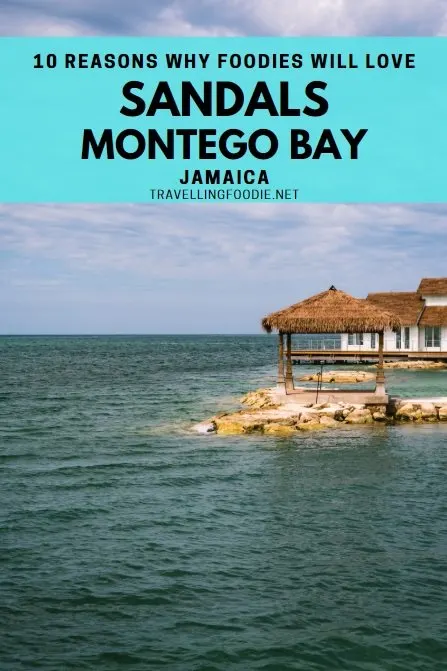 ---
Enjoy high-quality sit-down restaurants instead of buffet
Sandals Montego Bay changed my impressions about food at All-Inclusive Resorts.
I've always thought all-inclusive resort food meant buffets with the same food over and over without much quality.
In fact, on my flight back to Toronto, I was talking with the person next to me.
He said that the all-inclusive resort he stayed at was buffet only, and he got tired of the food after a few days.
Luckily, this is not the case at Sandals Resorts.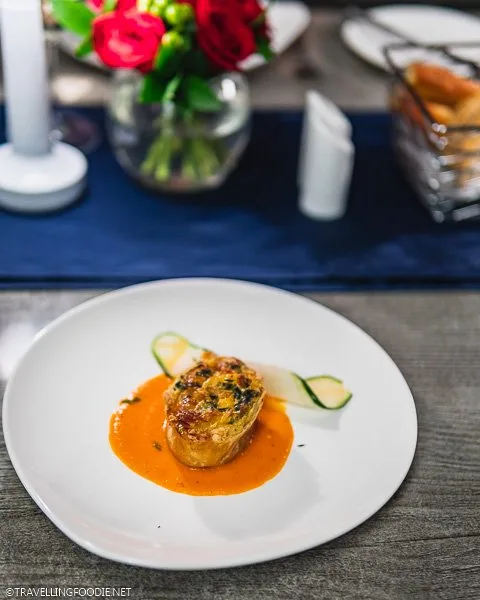 At Sandals Montego Bay, there are 12 restaurants, and only 1 is a buffet restaurant.
The rest are sit-down made-to-order restaurants offering various themes and cuisines.
Did you know? Sandals Resorts was the first to offer a la carte restaurants since the early 1980s.
With the completed renovations this year, Sandals Montego Bay has two new restaurants: Butch's Steak & Seafood and Soy Sushi Bar.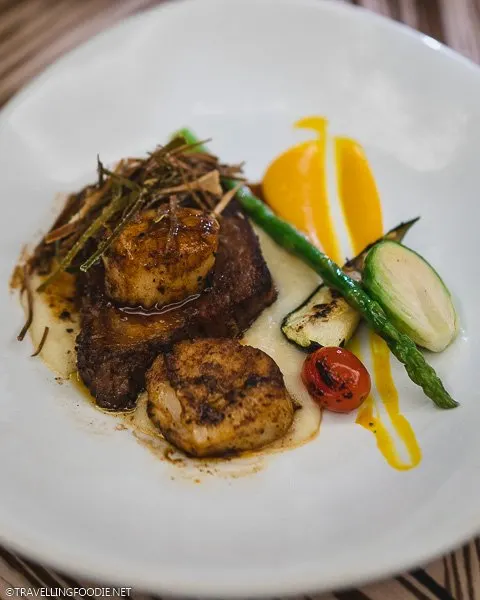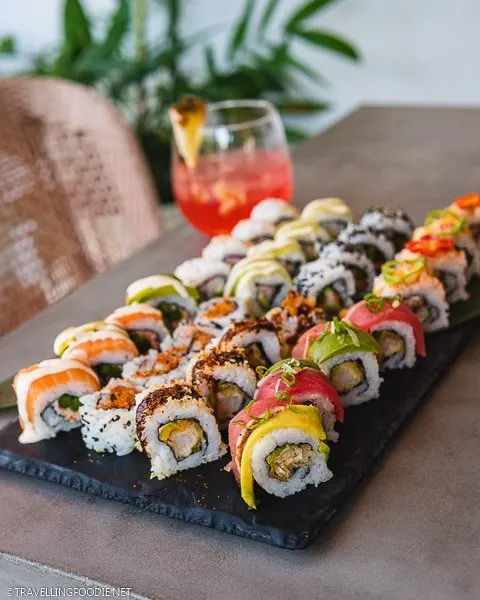 How's the food at Sandals?
I cannot stress enough the food selection and level of quality here.
It really is one of the All-Inclusive Resorts with the best food!
Prime Rib, Scallops, Berkshire Pork, Grilled Lamb Chops, Sushi and Sashimi – all made to order!
These kinds of dishes are quite expensive when ordering from a normal restaurant, but it's all part of the All-Inclusive at Sandals.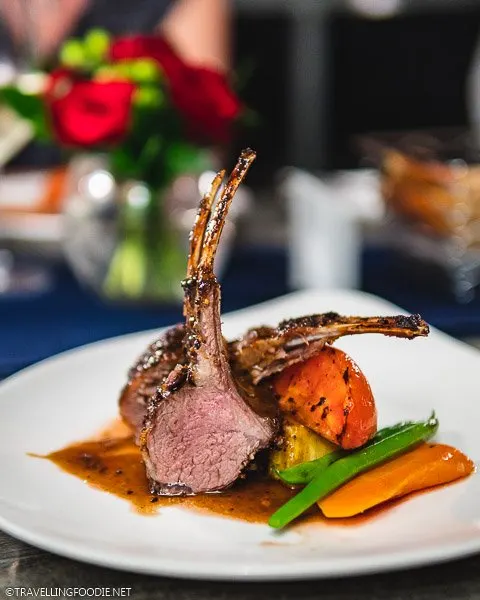 I was very impressed with Butch's Steak and Seafood.
You're getting the same quality and service as in a fine dining steakhouse where you would typically pay at least $60 for a steak dinner.
With the dishes I tried including the drinks, my meal there would be around $200 in a steakhouse.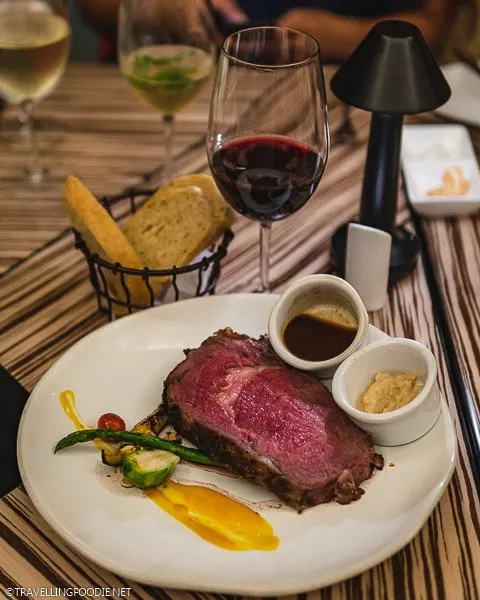 The Bayside Restaurant is the only buffet restaurant, serving buffet for breakfast and lunch.
At dinner, it becomes an a la carte French Brasserie.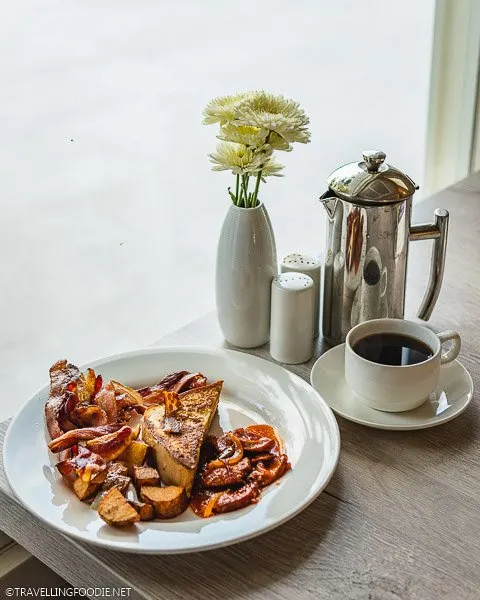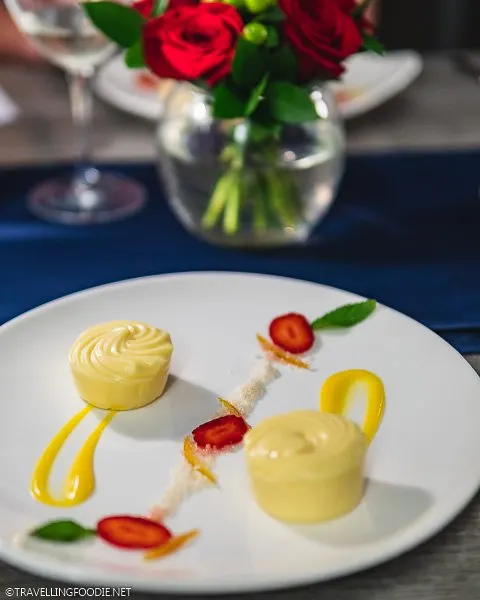 Also Read: Gran Muthu Imperial Cayo Coco, 5-Star Cuba All Inclusive Resort
---
Dine around the world at Sandals Montego Bay
Travelling foodies love trying different cuisines from around the world.
At Sandals Montego Bay, you'll get to do this as part of your stay, from local Jamaican food to casual Thai dishes to fine dining French food!
Did you know? There are a total of 23 unique culinary concepts available across Sandals Resorts.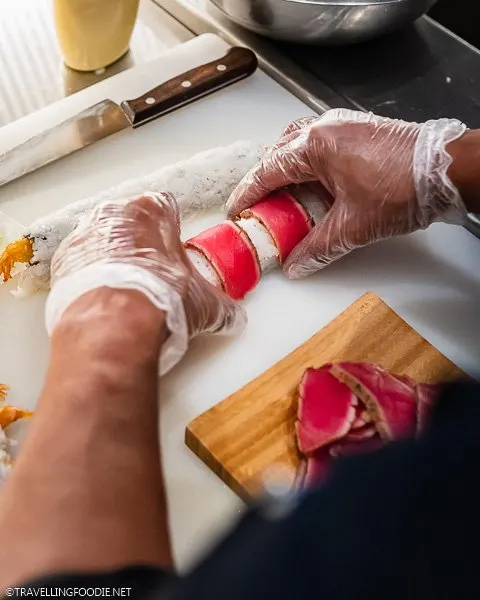 With authenticity as one of the pillars of the 5-Star Global Gourmet program, I was surprised to learn that their restaurants have chefs that are local to the cuisine.
For example, the chef at Cucina Romana is an Italian chef who moved from Grado, Italy to the Caribbean in 2011 bringing authentic Italian recipes.
Royal Thai Restaurant at the Sandals Royal Caribbean serves up some authentic Thai dishes made by a Thai chef.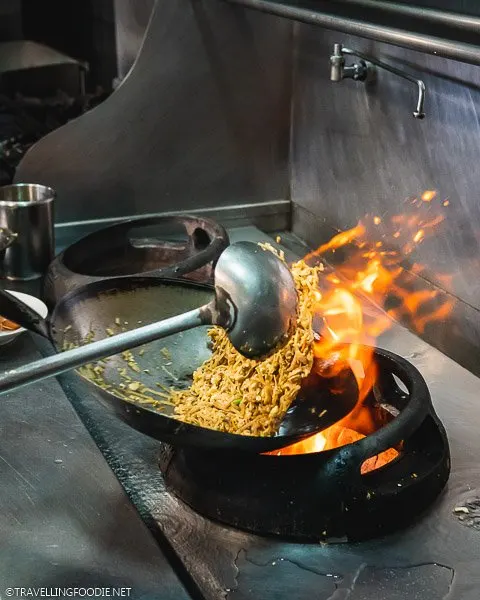 You cannot be in Jamaica without having Jamaican food.
The Jerk Shack serves traditional and contemporary Jerk Style Cuisine like the classic jerk pork, chicken and sausage jerk along with some scotch bonnet pepper sauces.
Did you know? Scotch Bonnet is the most popular hot pepper in Jamaica.
Also Read: Instant Pot Jerk Ribs Recipe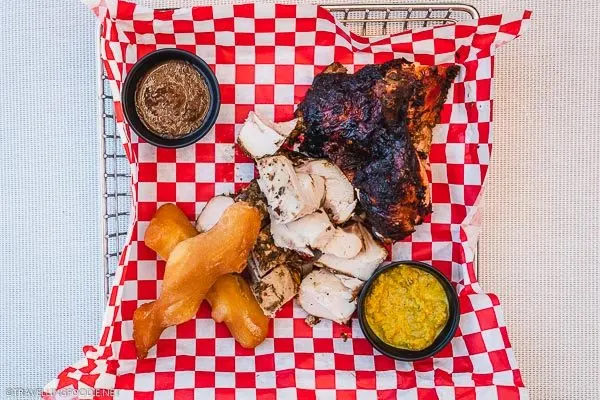 You can even have Jamaica's National Dish, Ackee and Saltfish, at Cucina Romana.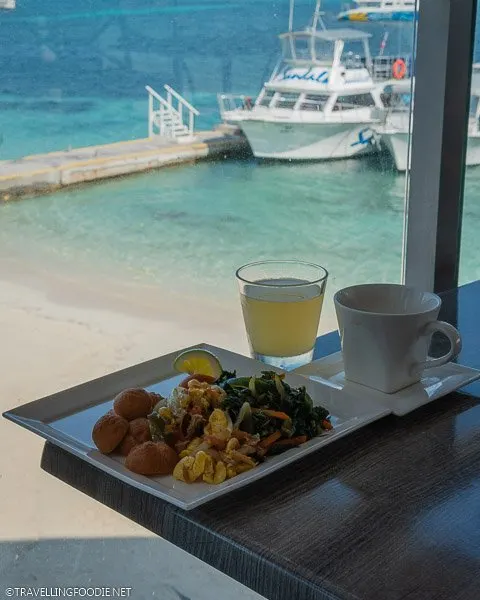 The new restaurant, Soy Sushi Bar, serves not only sushi and maki rolls but also udon and sukiyaki hot pot.
I was quite impressed with the fish quality as it's far superior to all-you-can-eat sushi joints, fast-food and small sushi restaurants in Toronto.
Be sure to try the hamachi sashimi!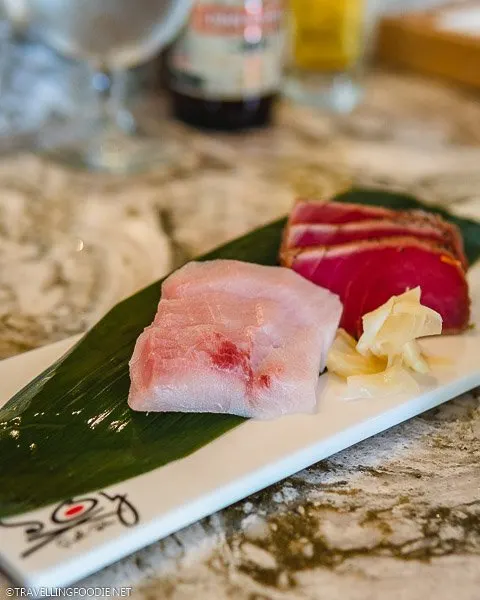 ---
Aside from the food, I was also impressed with the premium selection of alcoholic beverages.
Sandals Resorts offers six varietals of Robert Mondavi Twin Oaks wines as part of an exclusive partnership.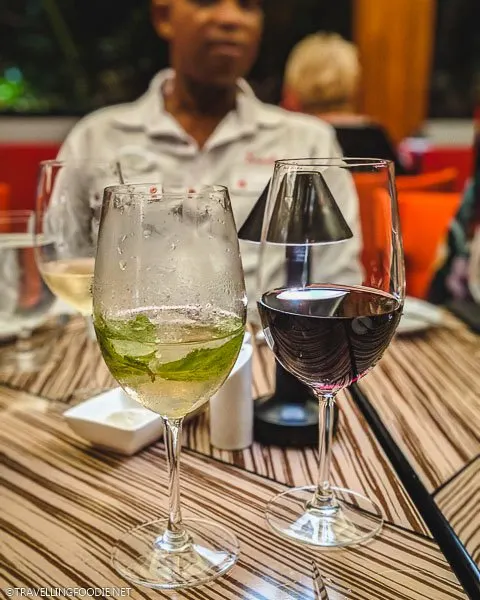 If you're more into spirits, they only serve premium brand liquors like Bombay Sapphire, Johnnie Walker, Jack Daniels, Rémy Martin, Glenfiddich and Tito's Vodka, along with Appleton Estate, Jamaica's internationally acclaimed rum brand.
I enjoyed the Appleton Estate Reserve Blend with the taste of orange peel due to its distillation in a pure copper pot still.
One cool concept Sandals Resorts has with its restaurants is that each restaurant has a unique signature cocktail to enhance the dining experience.
Butch's Steak and Seafood has an interesting Sparkling Rye Cocktail, and Soy Sushi Bar has a Sake Cruise Cocktail, which is a favourite among guests.
The drinking doesn't stop when you get back to your room.
Each room has a fully-stocked bar with wines and Red Stripe beers and, for Club level and higher, liquors as well.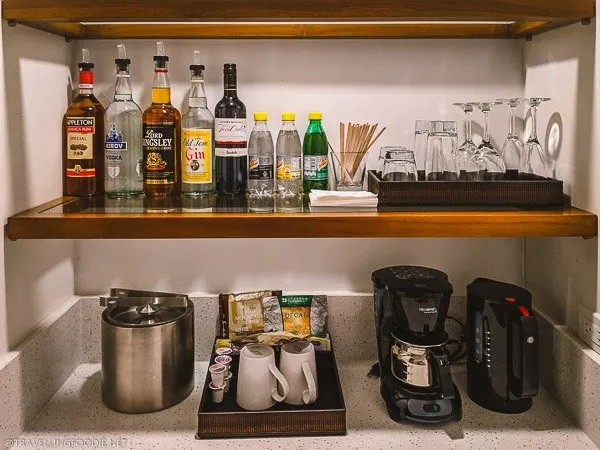 ---
Bar-hopping to the next level at Sandals Montego Bay
With 6 bars, including swim-up bars, bar-hopping is quite an experience at Sandals Montego Bay.
Did you know? Sandals Resorts was the first resort to have a swim-up pool bar back in 1981. And now they have the first over-the-water bar.
I loved the Latitudes Bar at Sandals Montego Bay.
This over-the-water bar has 360° ocean views just off the coast from the beach with fire pits and hammocks suspended on the water.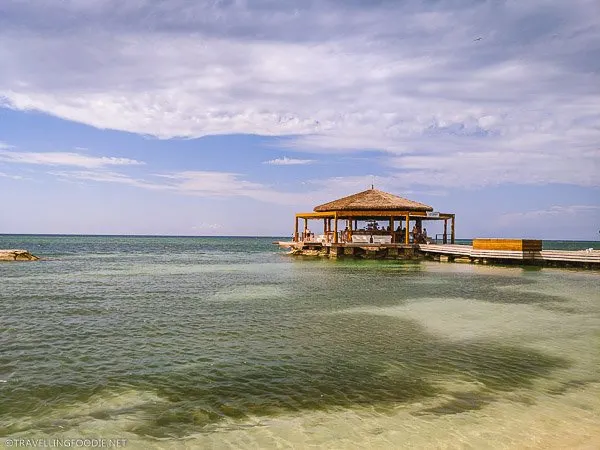 If you're into chasing sunsets like me, the Latitudes Bar would be one of the best places to do it.
The bar at Soy Sushi has infused sake and sake cocktails.
Try their Tropical Sake which has mango and pineapple infused in sake for 24 hours.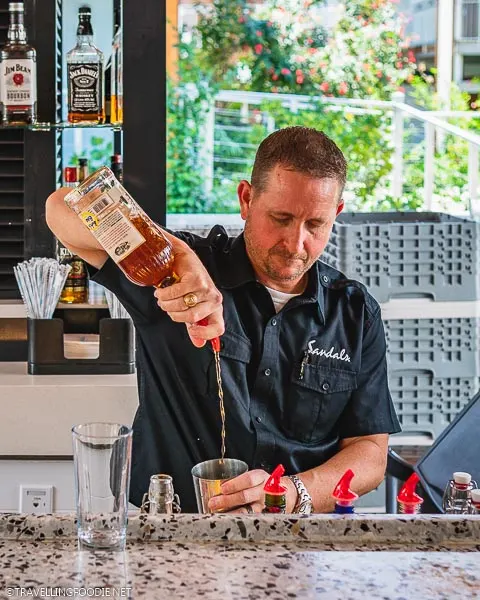 Also Read: St. Augustine, Florida Food Scene
---
Drink and Dine with the best views of the Caribbean Sea
As a beachfront resort, there is no shortage of picturesque views of the Caribbean Sea at Sandals Montego Bay.
I stayed at the Oceanfront Penthouse Club Level Junior Suite which has spectacular views from the balcony.
You can even admire the views while soaking in the tub.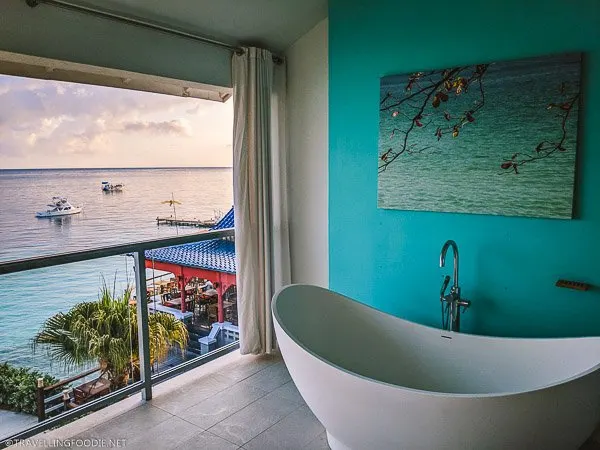 This means room service dining in the balcony is a must!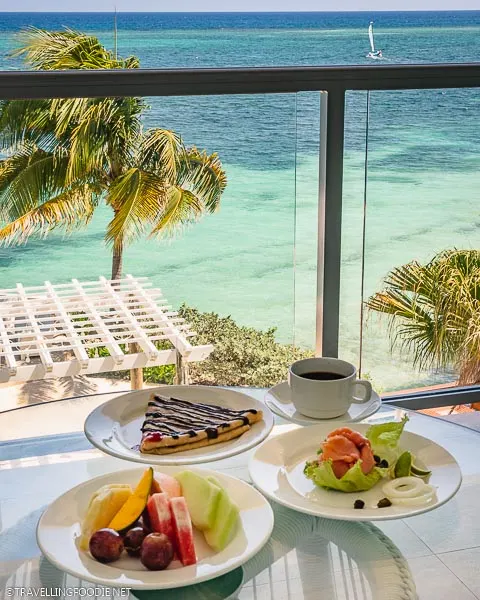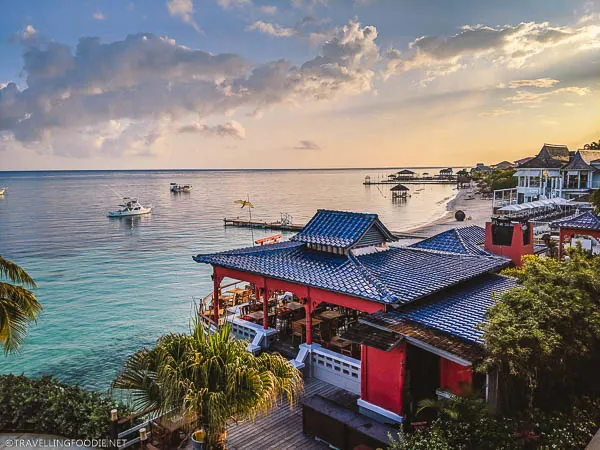 Dining with a view is quite common in Sandals Montego Bay.
The patio at the Oleander Room has panoramic views of the water.
And don't forget the drinks!
Lying on an over-the-water hammock, sipping on a cocktail, enjoying the views was definitely a first for me.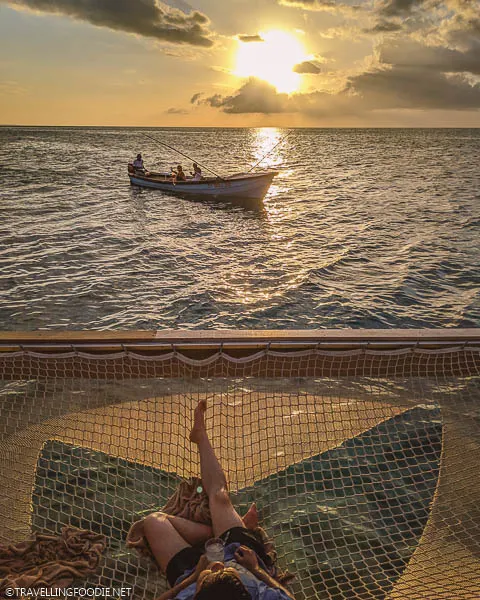 ---
Top notch service without worrying about tips, taxes and gratuities
Friends who've been to all-inclusive resorts told me that service is a hit-or-miss based on how you tip.
Sometimes it can get awkward when the staff is waiting for you to tip or hints for a tip.
And I agree because I felt the same on my all-inclusive stay at Gran Muthu Imperial in Cayo Guillermo, Cuba.
In cruises, tipping is usually at the end of the trip with some cruises automatically charging passengers a fixed amount per night, unless you manually request changes by going to the front desk.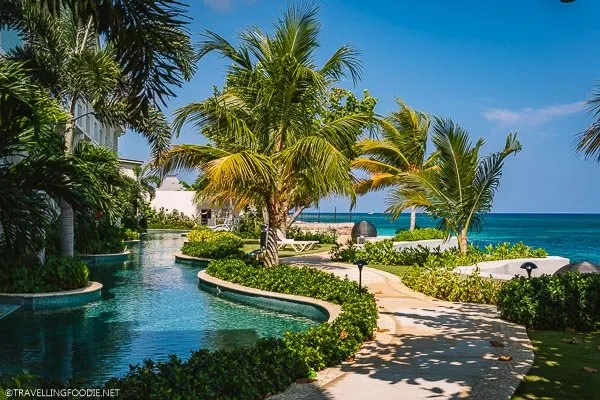 At Sandals Montego Bay, there is no stress in regards to this because tips, taxes and gratuities are already included in your stay.
It brings a peace of mind knowing that there are no extra expenses on top of what you already paid for, except if you avail of services outside the All-Inclusive like the spa and tours.
This is also a big relief for foodies because taxes, tips/gratuities add up when dining out a lot like we do.
Since tips are included, service at Sandals Montego Bay is consistent for everyone.
And it is impeccable!
---
Next level food tripping in Montego Bay with 20 restaurants across 2 resorts
Foodies love to food trip, hitting multiple restaurants across a destination in a day to try as much dishes as possible.
Perhaps the biggest feature that surprised me at Sandals Montego Bay is the exclusive Stay at 1, Play at 2 Exchange Program.
This means you can also visit Sandals Royal Caribbean in Montego Bay and enjoy its beaches, amenities and restaurants.
It's like having 2 vacations in 1!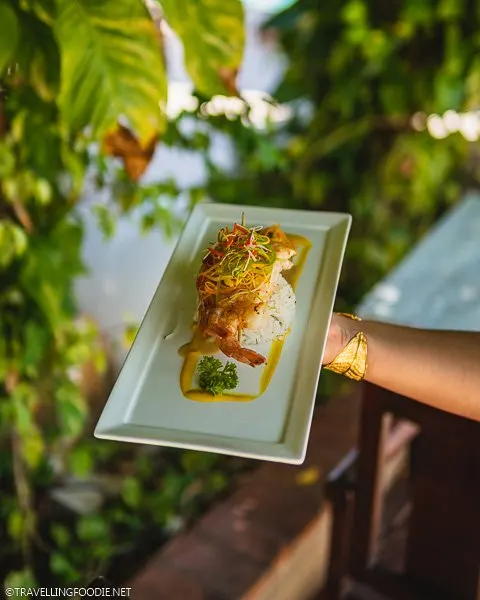 What this means for foodies is your restaurant selection expands to a total of 20 restaurants: 12 from Sandals Montego Bay and 8 from Sandals Royal Caribbean.
Since free transfers between resorts are provided, a food trip is a must!
Because of this program, I was able to explore Sandals Royal Caribbean and have a food trip there.
You'll want to visit Sandals Royal Caribbean because it has its own private island, Sandals Cay, which was created over thousands of years of coral nurturing.
Did you know? Some people go to Sandals Clay to look for clams and oysters on the shore.
Sandals Cay is where you'll find the beautiful over-the-water bungalows.
On top of that, you'll also find a swim-up bar, another Jerk Shack, and the Royal Thai Restaurant which is unique to Sandals Royal Caribbean.
Can you just imagine having authentic Thai food on a private island?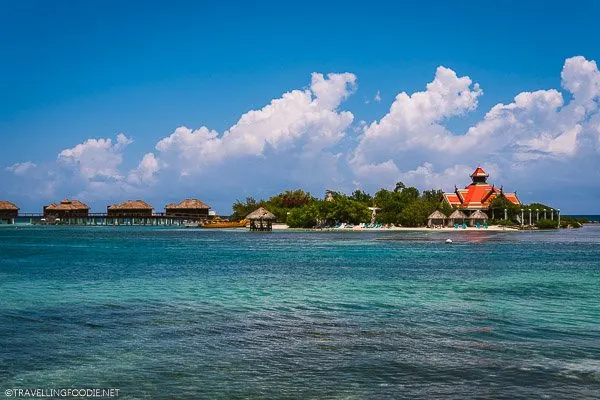 With so many restaurants to choose from, how can one decide?
I asked Sandals Resorts' Senior Group Executive Chef Glenroy Walker what his favourite dishes are among the two resorts:
Prime Rib and Beef Brisket at Butch's Steak and Seafood in Sandals Montego Bay
Coquilles St. Jacques (Scallops and Chorizo) at Le Jardinier Restaurant in Sandals Royal Caribbean
Lamb Osso Bucco at The Regency Restaurant in Sandals Royal Caribbean
Pad Thai at Royal Thai Restaurant in Sandals Royal Caribbean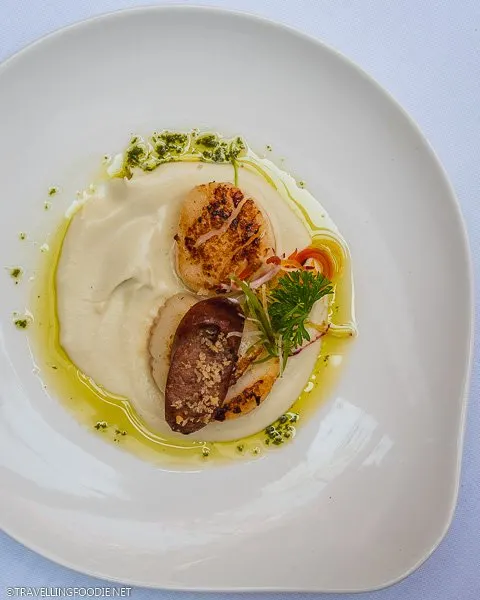 Dining with a view can also be had at Sandals Royal Caribbean with a backdrop of the overwater bungalows.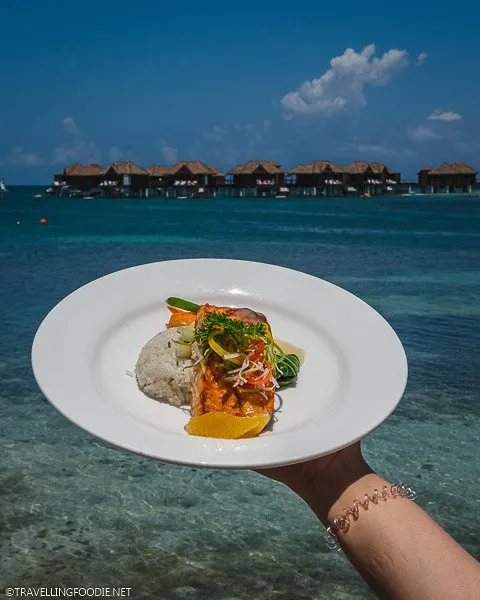 Consistency is key and restaurants here also have their own signature cocktail.
---
Jamaican Blue Mountain Coffee!
Coffee aficionados will be in heaven at Sandals Montego Bay!
Sandals Resorts exclusively serves Jamaican Blue Mountain Coffee, Jamaica's most popular specialty coffee grown in the Blue Mountain range.
Did you know? On average, 30,000 cups of Jamaica Blue Mountain Blend Coffee is poured per day at all Sandals Resorts.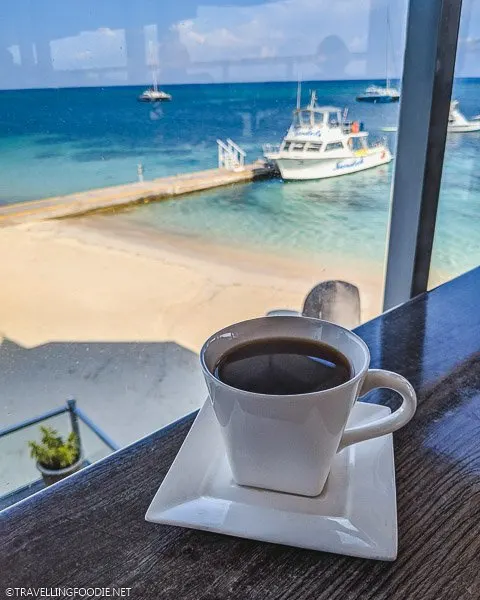 ---
All Included. All Unlimited. All The Time at Sandals Montego Bay.
A major issue I had with cruises is that not everything is included.
You have to pay for alcohol, some specialty restaurants, and even some activities and entertainment.
The best part about staying at Sandals Montego Bay is that everything discussed so far is all included, all unlimited, all the time!
There are no restrictions on any of the restaurants.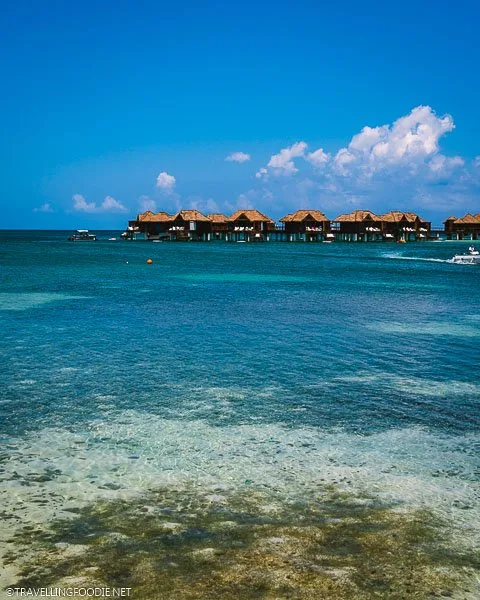 You can go to Butch's Steak and Seafood for dinner every night if you wanted to.
You can order as many dishes as you want.
You can drink as much as you want (even in your room).
---
Experience the best restaurants and things to do in Jamaica with Island Routes
There's always that dilemma when being in a resort.
Do I leave the resort and explore outside, or do I stay put and enjoy the resort?
As a travelling foodie, I'm a big advocate for exploring outside and experiencing the destination.
At Sandals Montego Bay, you'll find a booth for Island Routes, the certified award-winning provider of excursions for Sandals Resorts.
Did you know? Island Routes has won the World Travel Award for "World's Leading Caribbean Attraction Company" and "Caribbean's Leading Adventure Tour Operator".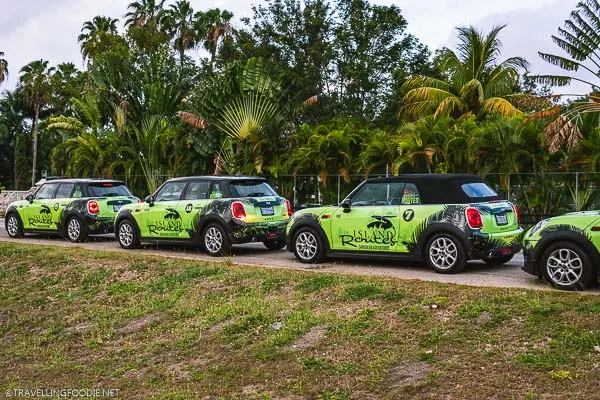 I recommend doing their MINI Routes tour, a unique tour where you get to drive a MINI Cooper along scenic routes to tour local restaurants and landmarks.
For foodies, do the MINI Routes tour to Ocho Rios which has you visiting some of the best restaurants and things to do in Ocho Rios and Jamaica in one day (about 6.5 hours round-trip).
You can watch the video of our MINI Routes Tour to Ocho Rios on YouTube here.
The guides are all locals who are very friendly and knowledgeable about Jamaica.
One fun fact I learned: Jamaica is said to be one huge crystal because it is made of 75% limestone. Limestone is used in a lot of cosmetic products in Jamaica because of its healing properties.
From Sandals Montego Bay, Island Routes will have a shuttle that will bring you to their site where you do the orientation and get the MINI Coopers.
The first stop was at Columbus Park at Discovery Bay, the site where Italian explorer Christopher Columbus first set foot in Jamaica back in May 14, 1894.
You cannot go to Jamaica without trying the ever popular Jamaican Patties.
Travelling Foodie Tip: We went to one of the best places for Jamaican patties, Juici Patties! This stop is a secret one – it's not listed on the Island Routes site, but you can request it (or the guide will ask the group).
Juici Patties is the largest Jamaican patty chain in Jamaica.
This was already better than any Jamaican patty I've had outside Jamaica.
The shell was so flaky, and the filling was just full of flavour.
And they have Beef and Cheese Patty!
Next stop is to Dunn's River Falls and Park, one of the best things to do in Jamaica.
Here you can climb the 600-feet waterfalls.
Be sure to bring water shoes if you are planning to do so!
At the very base of the park is a beautiful beach.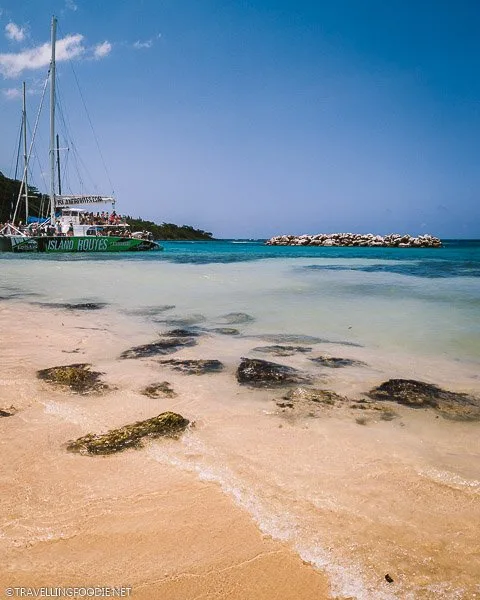 This is where you'll find the starting point to climb Dunn's River Falls.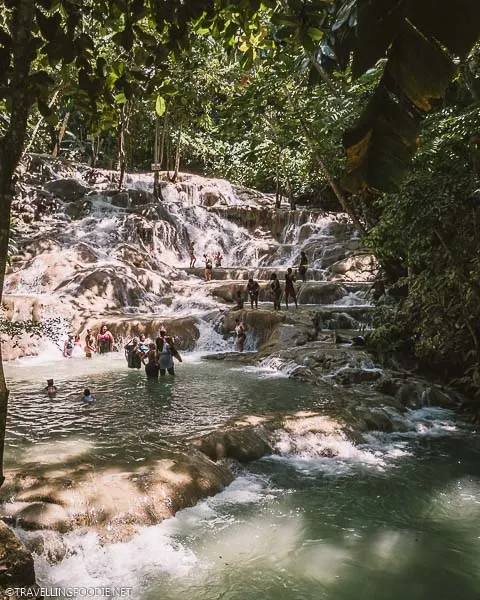 This spot marks the end of the climb.
There are several viewpoints and entry points along the climb if you don't want to start from the base.
Next stop is lunch at one of the best restaurants in Jamaica, Miss. T's Kitchen, featured in Guy Fieri's Food Network Show "Diners, Drive-Ins & Dives".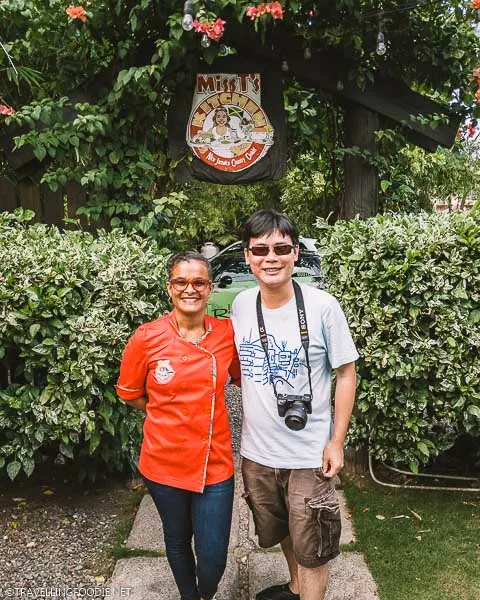 We had a family style feast which included Boneless Oxtail Pasta, Curried Goat, Sliced Sea Trout Escoveitch and Bar-B-Fried Chicken.
All the dishes we had were delicious (not something I say often)!
The Curried Goat here was the best I've had.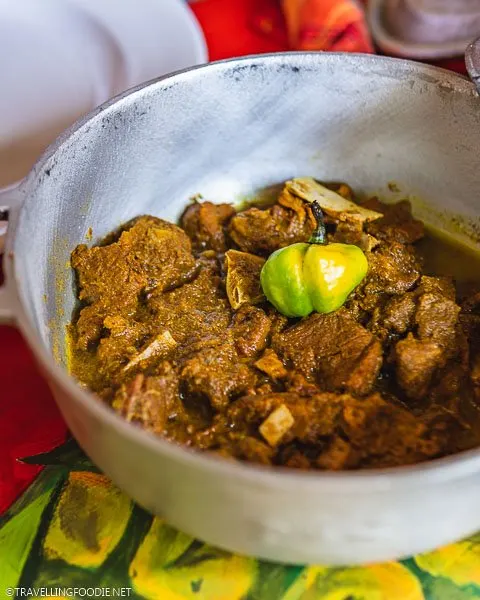 Chef Anna-Kay Tomlinson also loves adding twists to Jamaican food.
The Boneless Oxtail Pasta is a must-try with its tender and flavourful oxtail on creamy Mornay sauce.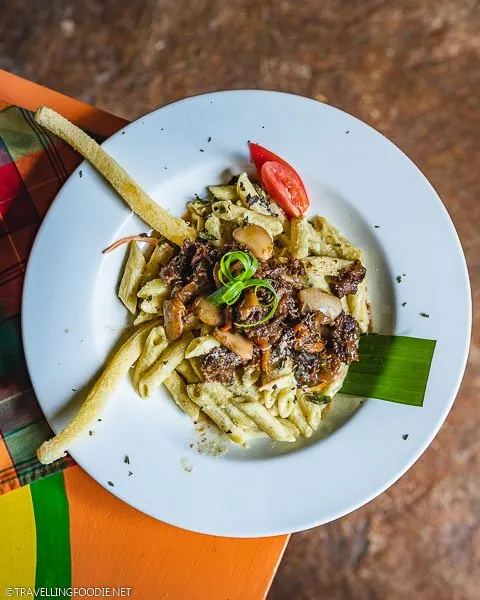 Our last stop is dessert at a local favourite, Jus Coool, one of the best places for Jamaican pudding.
It's so popular that owner Edgar Wallace has been nicknamed the Pudding Man!
Outside the store, you'll see the pudding being made.
It's' quite interesting!
The container that holds the pudding is a tire rim, in which they attach 4 legs to it.
They put coals at the bottom of the rim, then the pudding, then place a lid to close it, then add more coals on top.
It takes 35 mins for the pudding to be ready.
This award-winning pudding comes in four flavours: sweet potato, cornmeal, pumpkin, toto (coconut).
Be sure to come early because it sells out fast.
I only got to try sweet potato and pumpkin because the other two were sold out when we arrived.
I loved the pudding.
It's not the typical custard or cream-like pudding, but more solid like a cake but has a smooth starchy texture.
The pudding is primarily made up of the main ingredient so the sweet potato pudding uses mostly grated sweet potato.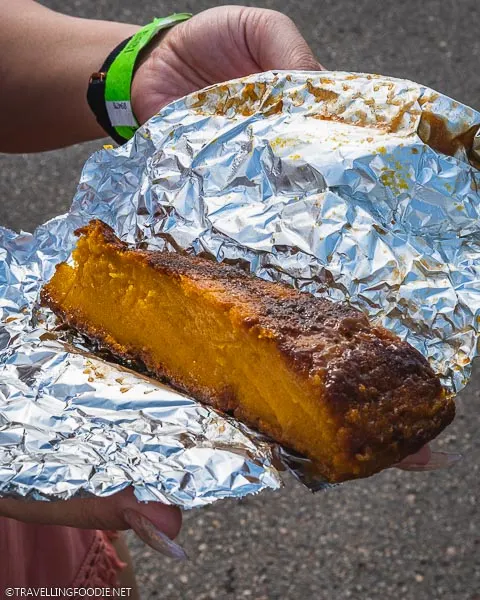 After dessert, you drive back to Island Routes and take the shuttle back to Sandals Montego Bay, where you can hit the beach and enjoy a delicious dinner afterward.
---
With how much they offer, no wonder Sandals Resorts is one of the best resorts in the world and the World's Only 5-Star Luxury All-Inclusive Resort.
Hope this helps you decide if Sandals Montego Bay is where to stay in Jamaica for you.
Check for prices and availability on Booking.com / Agoda
---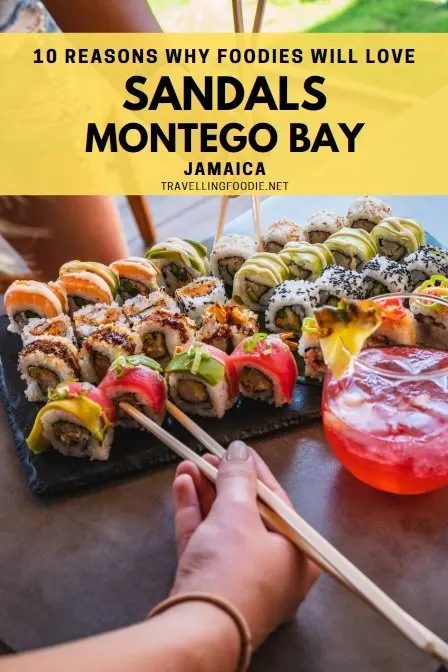 This post was done in partnership with Sandals Resorts. As usual, reviews and opinions are 100% entirely my own.
You can learn more about Sandals Montego Bay thru their website, or find them in Facebook, Twitter and Instagram.