Looking for a unique and memorable fine dining experience in Athens? Soil Restaurant is a Michelin starred restaurant that offers a creative and innovative cuisine based on nature and sustainability.
Athens is a city that offers a rich and diverse culinary scene with restaurants that cater to every taste and budget.
But if you are looking for something more than just a meal, Soil Restaurant will take you on a culinary journey.
Opened in December 2021, Soil Restaurant achieved an amazing feat of being awarded not only a One Michelin Star but also the only Green Star in the Athens Michelin Guide 2022.
Did you know? A Green Star is MICHELIN's sustainability award which means the restaurant is a leader when it comes to sustainable practices and accountability for both ethical and environmental standards.
Soil is also on The World's 50 Best Restaurant' 50Best Discovery in Athens 2022.
Let me share with you what it's like to dine at Soil Restaurant.
---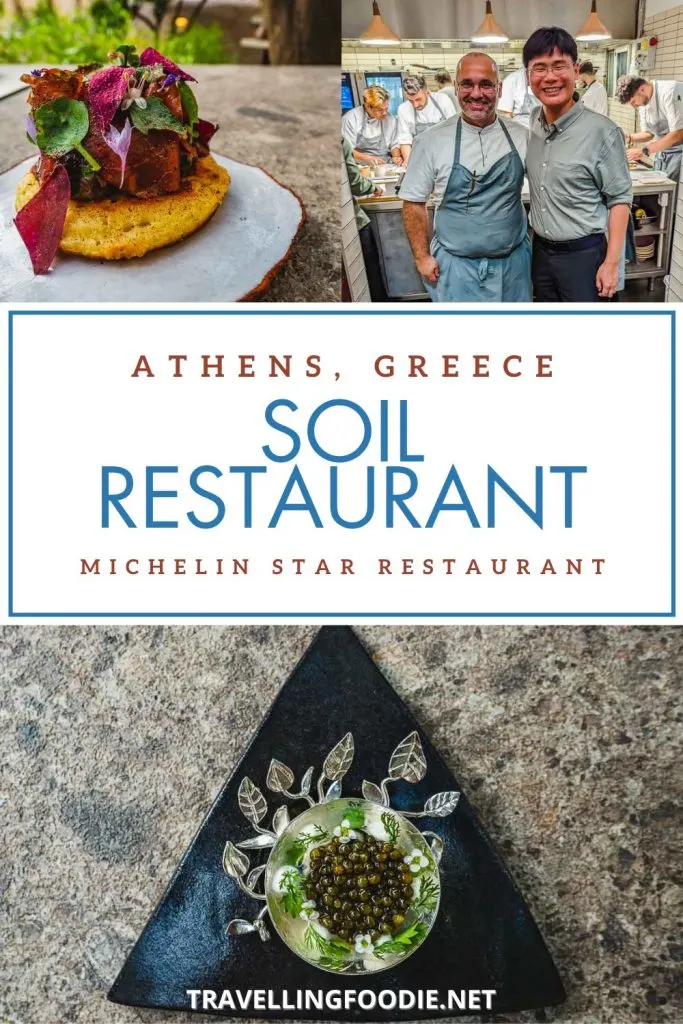 ---
Inside Soil Athens
Soil Restaurant is located in a beautiful neoclassical house in the Pangrati neighborhood, behind the Panathenaic Stadium, where the first modern Olympic Games were held.
This Athens fine dining restaurant also provides parking for its guests, making it easy to access.
From the street, it's quite easy to miss Soil Restaurant with its unassuming facade and small sign.
The door is locked and you need to knock/ring the doorbell for the host to let you in.
When you step through the door at Soil, on your immediate left is the kitchen and on the right is a dining room for Chef's Table.
As you continue through the hallway, you'll find a staircase to the second floor on your right and the patio-terrace straight ahead.
This Michelin star restaurant has a cozy and elegant interior, as well as a romantic courtyard surrounded by orange trees and plants.
The atmosphere is relaxed and intimate with soft music playing in the background.
When the weather is nice, I highly recommend dining at the terrace.
It turns magical especially at night.
---
Soil Restaurant Price
Soil Restaurant offers one tasting menu showcasing the best and freshest ingredients of the season, which also means the menu changes every season.
When I dined at Soil Restaurant Athens on June 29, 2023, the price was €95 for the summer tasting menu.
The optional wine pairings were €75 for Sommelier's pairing and €145 for the Premium Sommelier's pairing.
The menu is a unique farm-to-table approach in what they call "Earthy Gastronomy" which focuses on purity of ingredients and the love of nature.
In fact, a lot of the vegetables, herbs, flowers and spices used at Soil are from Chef Tasos Mantis' own garden in Alepochori village in Greece.
The creative dishes are inspired by Greek traditions and products, as well as international cuisines and techniques.
The wine list at Soil Restaurant is also impressive, featuring a selection of Greek and international wines that pair well with the dishes.
---
Tasting Menu at Michelin Star Soil Restaurant
Having dined at Michelin restaurants and World's 50 Best Restaurants around the world like Alinea, n/naka, El Celler de Can Roca, Oud Sluis, Robuchon au Dôme and most of Toronto's Michelin Star restaurants, I was very excited to dine at Soil Restaurant.
Soil Restaurant Athens marked my first Michelin Star restaurant in Greece, my first European one after the pandemic, and my first Michelin Green Star restaurant.
Since I was there in June, I had Soil's Summer Menu which was 15 courses and had optional add-ons to change the Scallop Course to Lobster, add Ossetra or Beluga caviar to the Cod Course, and add a Japanese A5 Wagyu Course.
For wine pairing, I asked if I can do the Sommelier's pairing but with half pours since I didn't want to drink too much that night since I had an early next day.
I was dining alone and had nobody to share a wine pairing with.
Unfortunately Soil doen't allow it, but what sommelier Takis Mavros suggested instead was to tell him how many half pours I'm willing to do, and he would curate pairings from the wine list based on the tasting menu and my taste preferences in wine.
This was perfect for me, and what I ended up doing: 4 half pours of wine and a cocktail.
I highly recommend doing this as a solo diner if you enjoy wine!
Here's what you can expect with the tasting menu at Soil Restaurant in Athens.
Course 1: Shrimp
The shrimp course was quite a presentation.
Gambari shrimp was marinated inside a nest of seaweed kombu with amaracus, fennel, marigold and goldflower, all grown on the chef's garden
They said to the shrimp on its own before trying it with the other components.
The shrimp itself was so sweet and reminds me of botan ebi.
Once I tried with other components and the spoon, the flavors mixed so well with the cream, the citrus and the herbs.
Starting off the tasting menu wine pairing was Migma Petnat, an original Greek white naturally sparkling wine.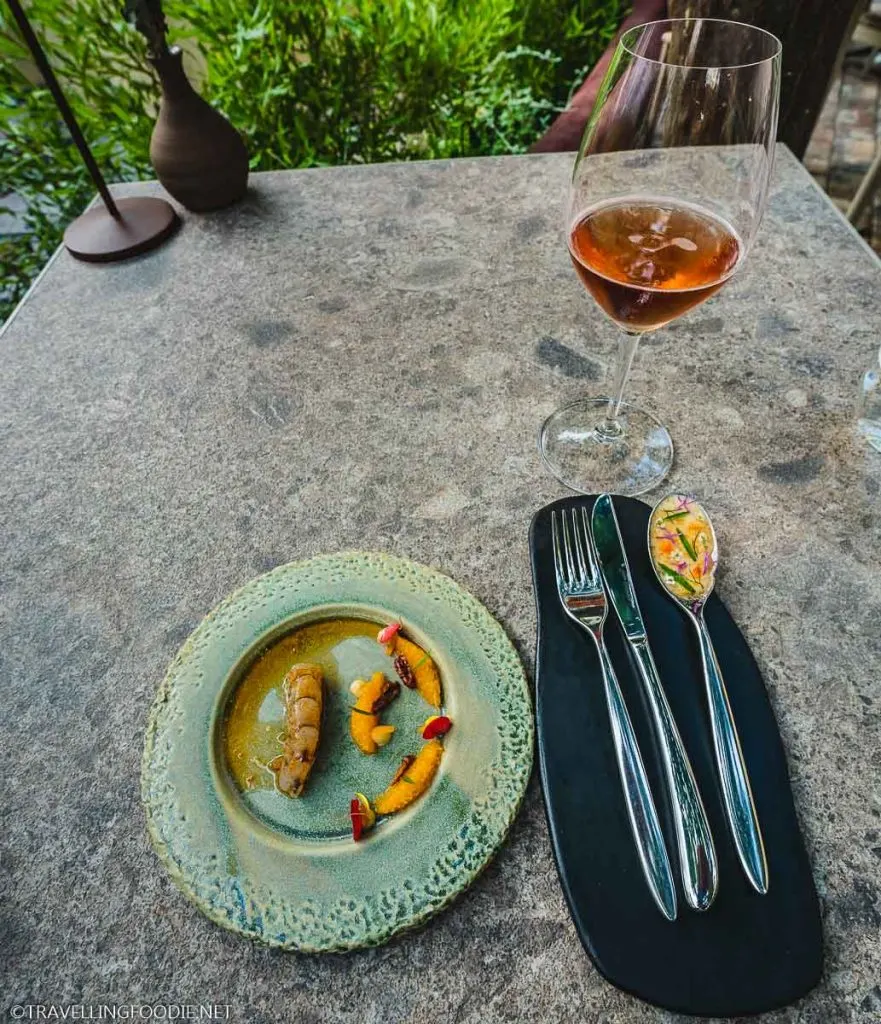 Course 2: Oyster
The oyster course was plated so perfectly and almost too beautiful to eat. Almost!
They said to eat this dish in one bite.
And what a bite it was.
A flavour explosion like you're tasting the sea!
Course 3: Amberjack
When the Amberjack course arrived, they presented the Alepochori Box to show you the bounty and the produce that comes from Chef Tasos Mantis' garden in the village of Alepochori in Greece.
This box also included the meat and seafoods from local producers that you will have have in the courses.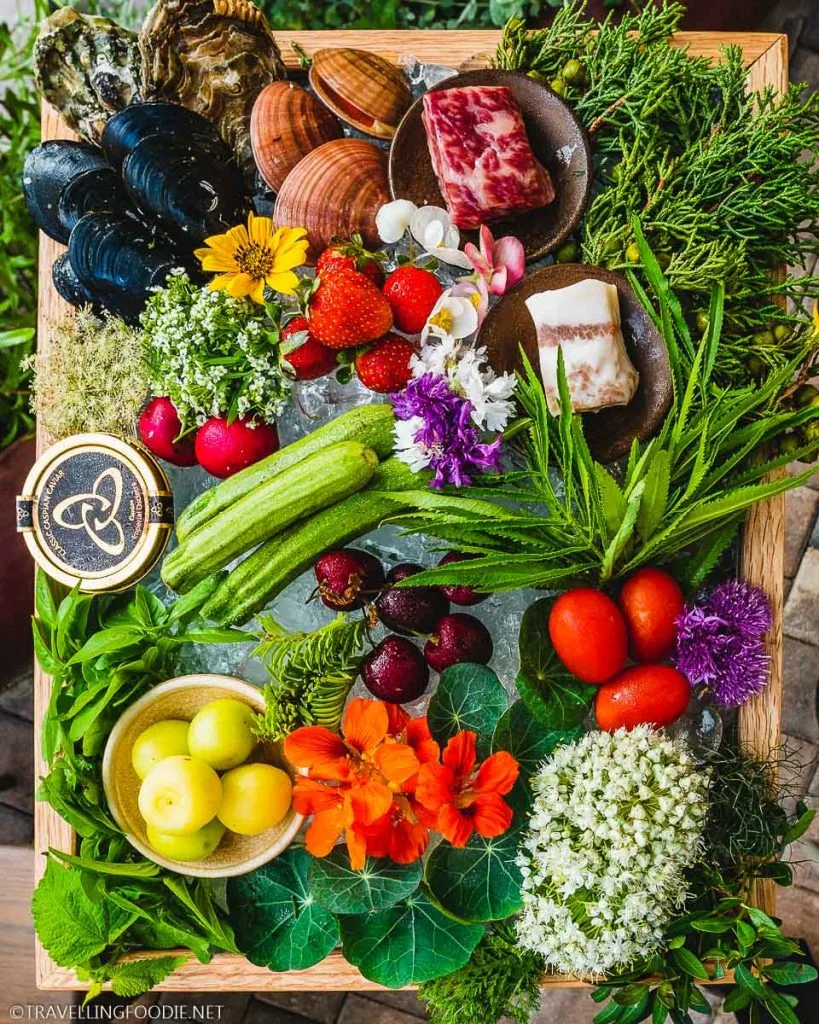 You can see a lot of the herbs and flowers from that garden in this amberjack course.
Course 4: Tomato
The Tomato course was such a beautiful dish.
The acidity from the tomato really mixed well with the sweetness of the strawberry.
It's so fresh!
And the basil adds some kick to it.
The start of a new white wine pairing was Pyritis 2019 from Artemis Karamolegos in Santorini.
It uses the grape Assyrtiko, which is the most popular grape in Greece.
Course 5: Eel
The eel course was smoked eel with teriyaki and miso.
It was so flavourful and had a nice chew.
And the meat was still very tender but the exterior was smoked really well and shined through.
Course 6: Eel Mini Burger
The Eel Mini Burger was a delicious one-biter.
I did not expect the cream to be so rich and flavorful!
The mini bun soaked up all the juices so that the juice released when you bite into the bread.
Course 7: Beef
The Beef course was beef tartare with horseradish, ramson caper, and then the powder is actually plum.
The beef tartare was so fresh.
Course 8: Lobster
This course at Soil's tasting menu was supposed to be the Scallop course, but I decided to do the supplement to change it to Lobster for an extra 45€.
A new white wine pairing was served starting from this course: Asprouda of Serres.
Asprouda is a grape varietal that can only be found in the Serres region which is in the northern part of Greece.
I wasn't sure what to expect and thought I would only get one dish, but it turned out to be three small courses of lobster.
One was a lobster soup.
The broth was made from the shell of the lobster, and it was so good!
You can really taste the concentration of lobster in that broth that I didn't even want to waste a single drop.
There was a lobster dish that had cream of lobster, which was my favourite out of the three.
I recommend adding a bit of everything to get a better balance since the cream of grape adds acidity and the tanginess to the heavier, richer cream of lobster.
The lobster meat dish was the simplest with different herbs and flowers on top.
Simplicity at its best.
The lobster meat on its own was already delicious but having the herbs and flowers adds that extra dimension to it.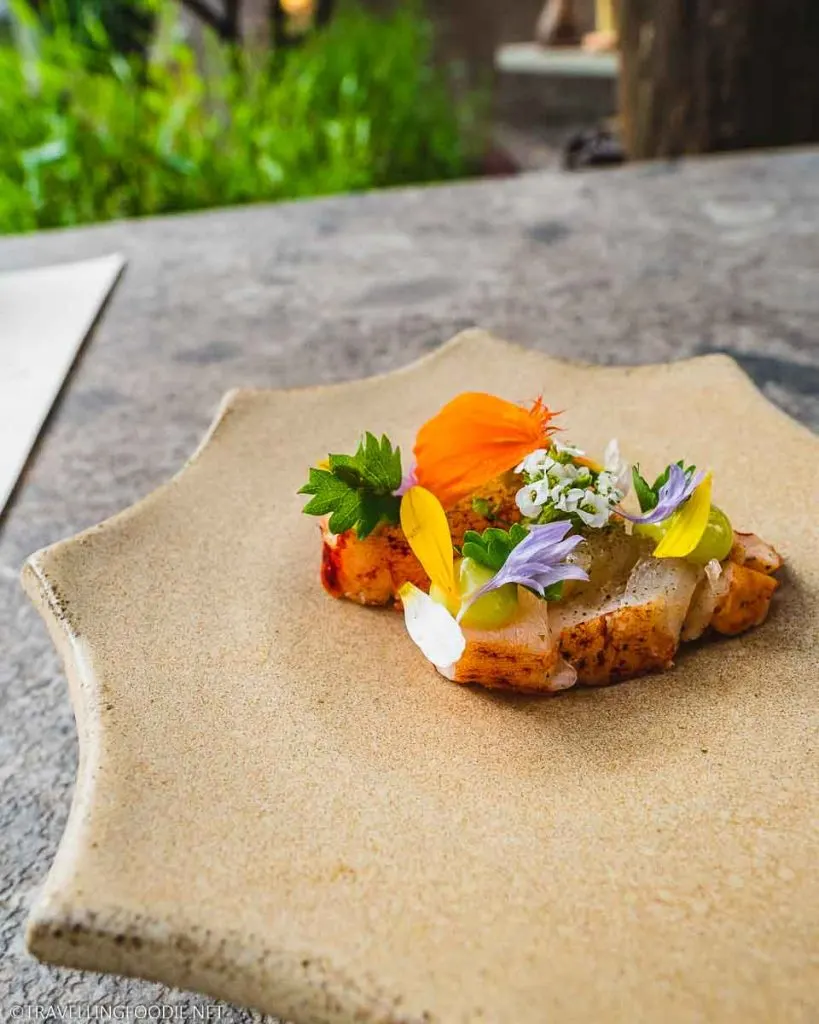 Surprise Course: Homemade Bread and Butter
A surprise bread course came, which had a unique purpose later, which I'll let you know.
The homemade bread with nuts came with homemade butter from goat's milk.
Course 9: Cod
This Cod course had very tender cod and a flavourful kombu beurre blanc with white garlic and chives.
Course 10: Goat
The Goat course had the most tender goat I've had.
Underneath you have the aspromitiko bean from Limnos made into a cream with an XO sauce surrounding it.
This also started the red wine pairing with Kayafas 2018 from Thymiopoulos Vineyards, which I found interestingly sweet for a red with complex flavours and rich texture.
Course 11: Wagyu (Add-on)
This was the add-on course at Soil Restaurant: A5 Wagyu from Kagoshima, Japan for 36€.
The Japanese wagyu was melt-in-your mouth and had a nice kick from the mustard seeds, chives, some sauce.
Course 12: Lemon
The Lemon course served as a delicious palate cleanser.
There were lemon sorbet, lemon curd topped with caramel on it and various flowers like marigold.
What's interesting was they also poured tea on the bowl for that umami taste.
Course 13: Bread
Before dessert courses came, Soil sommelier Takis Mavros asked if I would rather do a cocktail instead of a dessert wine for my last pairing.
I was sold on Espresso Martini when I asked which cocktail he had in mind since that's one of my favourite cocktails and want to try one in Greece, knowing the country has a strong coffee culture.
The espresso martini was very strong – you're going to love it!
The Bread Dessert course was so unique because it tied back to the surprise bread course they gave.
It's the homemade bread turned into a dessert: caramelized "bread" topped with sabayon made from the similar ingredients as the butter that was served a while ago.
It was so creamy and addicting!
Course 14-16: Macaron, Pate de Fruit, Chocolate
The remaining dessert courses at Soil Restaurant were served together.
Along with that were the rolled souvenir menu for you to take home and a small box with your bill for the night.
The Macaron course had a nice balance of mint and cocoa, which I didn't expect.
The Pate de Fruit was a very sweet bite with notes of chamomile and lime.
For the Chocolate course, they presented and opened a box with 4 different kinds of chocolates.
It's for you to pick and you can choose to try all four, which of course I did!
My chocolate box had a nice mix of different tasting chocolates:
Praline of Pine – really tasted like pine
Lime – cream of lime hits you like a palate cleanser
False Pepper – the most unique: has the spiciness of pepper without using an actual pepper
100% Cacao – so rich, dark and bitter to end the meal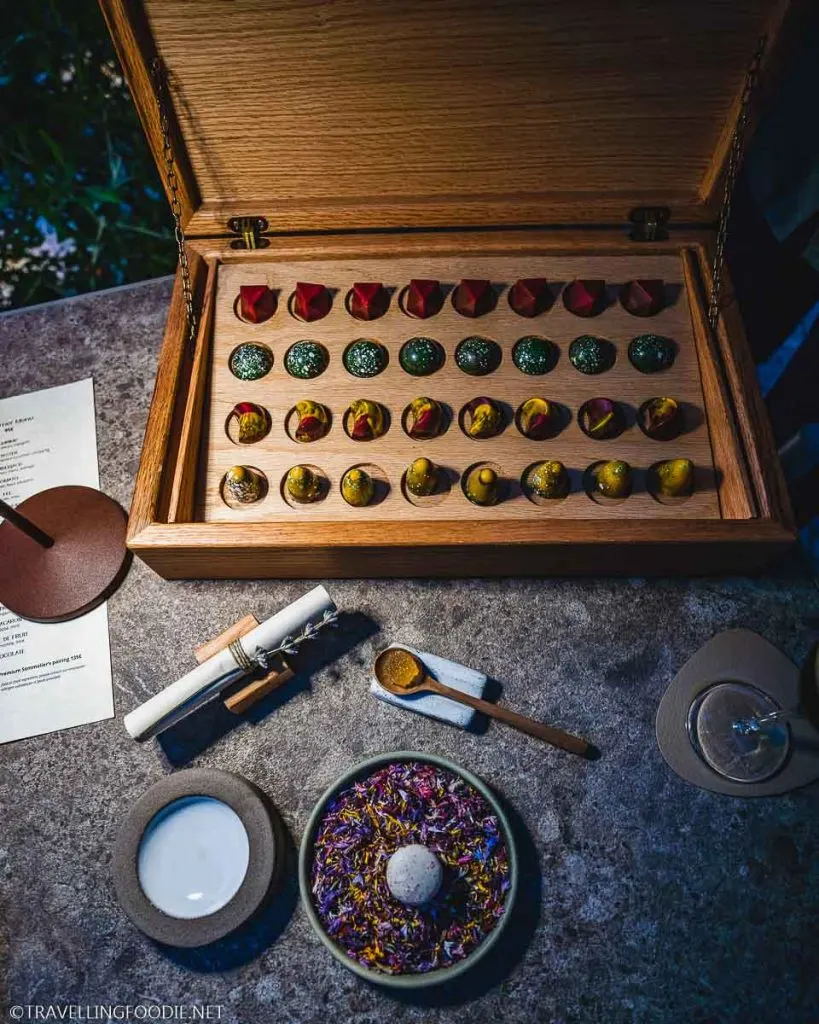 ---
Soil Athens Service
The service at Soil was as expected on Michelin Star level: attentive and professional with the staff explaining each dish and wine in detail.
They even accounted for the timing needed for me to take photos and videos of my experience, and spaced out the courses accordingly.
Each course would get cleared, and the table would be cleaned for the next course.
One thing I noticed after the fact: typically when you do supplementary additions at tasting menu restaurants, these add-ons would get added on the souvenir menu you take home.
However, the souvenir menu I got was the same as the initial menu.
I wish they would change this because, for me, the souvenir menu is meant to document the list of courses and pairing I experienced that night.
I would've loved to have my souvenir menu showing the Lobster and Wagyu courses with proper descriptions, instead of showing the Scallop course that I replaced for Lobster.
Usually, the souvenir menu would also include the wine and cocktail and which course it was served.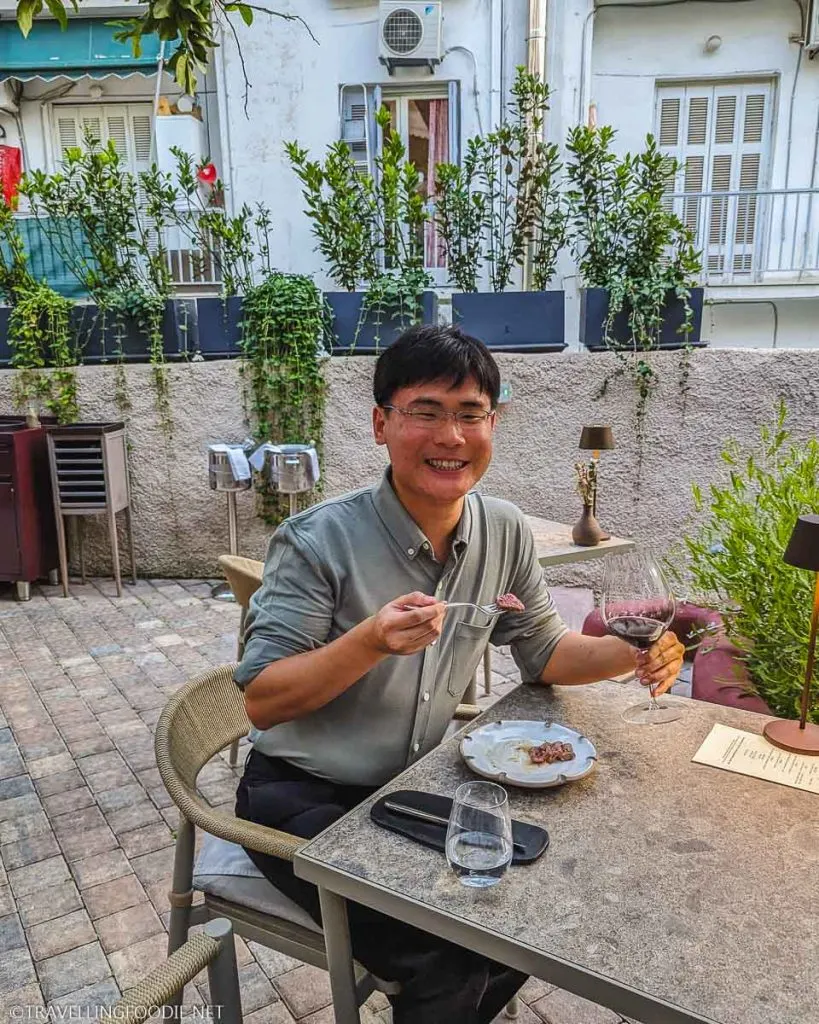 ---
Michelin Star Chef Tasos Mantis, Soil Restaurant Owner and Executive Chef
The chef and owner of Soil Restaurant is Tasos Mantis, who has a passion for botany and gardening.
He grows his own herbs and vegetables in his garden in Alepochori, a seaside town near Athens, and uses them to create dishes that are full of surprises and flavors.
Chef Tasos Mantis also sources his ingredients for Soil from local producers who share his vision of quality and respect for the environment.
Prior to settling in Greece to start Soil Restaurant, he worked in the kitchens of Michelin-awarded restaurants, such as 3 Michelin Star restaurants: Hof Van Cleve in Belgium, Geranium in Copenhagen, Frantzén in Stockholm and Fat Duck in the UK.
I got a meet & greet with Chef Tasos Mantis after the Soil tasting menu, and I was surprised how friendly and humble he was.
In asking about the inspiration for his cooking, his dishes and the success of Soil, he attributes them to his philosophy of cooking, his garden in Alepochori and his dedicated team.
---
How To Make Reservations for Soil Restaurant Athens
If you want to dine at Soil Restaurant in Athens, you most definitely need to make reservations.
There are 7 different time slots, and you can choose the seating:
Chef's Table
Inside Area
Outside Area
Reservations are required, and you can book it here.
Things to know regarding Soil Restaurant reservations:
A deposit οf 60 euros per person is required for parties of 5 guests or more and for all reservations on Fridays and Saturdays. Deposits are NON-REFUNDABLE but can be redeemed at an alternative date, depending on availability.
Your table will be available for 2 and a half hours from the confirmed reservation time.
Soil Restaurant has the option of releasing your table in case you are more than 20 minutes late from the confirmed reservation time.
Soil Restaurant welcomes guests from the age of 6 and above.
One day prior to your reservation you will receive a phone call from Soil to confirm your reservation, that you need to respond to. Unconfirmed reservations are not valid and will be released.
For parties of 9 people or more please email Soil Restaurant at [email protected] or call them at 2107513505.
Soil Restaurant's garden is open until midnight.
Cigar smoking is not permitted in the garden dining area.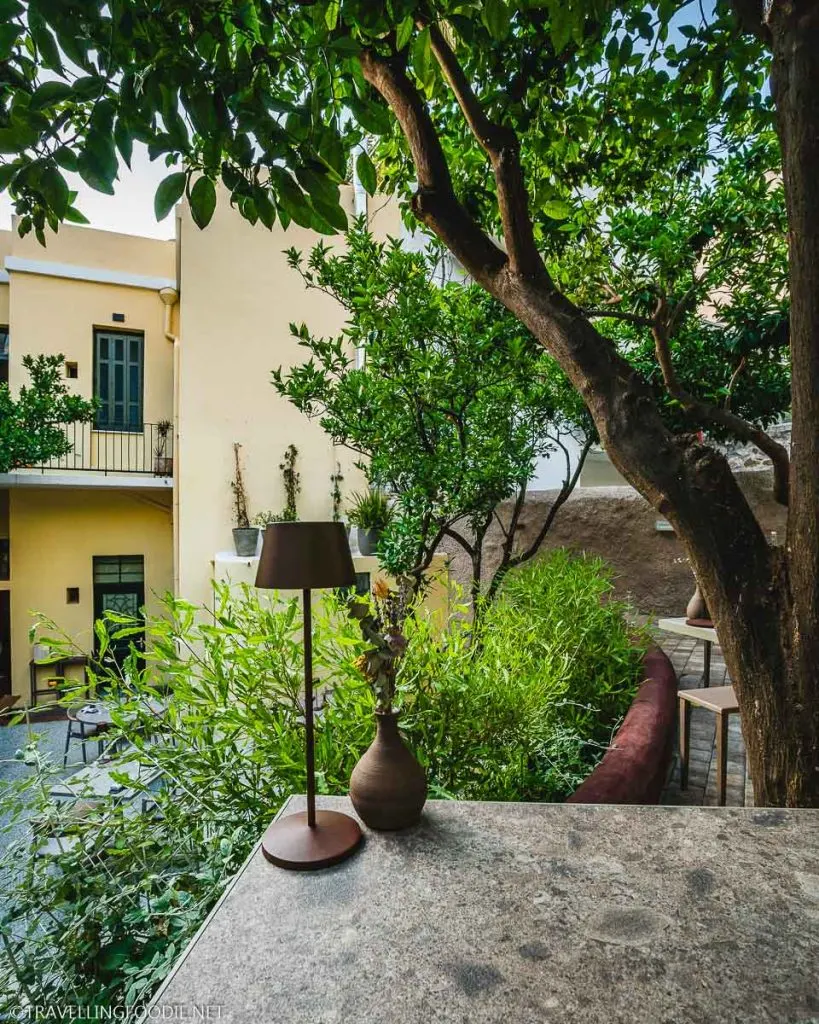 ---
VIDEO: Michelin Star Experience at Soil Restaurant in Athens
Watch the full experience of my visit to Soil Restaurant including a tour of the restaurant, the full tasting menu review and a meet & greet with Chef Tasos Mantis.
In this video, you'll find commentary and review not found on this article:
---
Overall Thoughts on Soil Restaurant Athens
If you are looking for a Michelin starred journey through nature in Athens, Soil Restaurant is the place to go especially for creative Greek cuisine.
Soil Restaurant is not just a restaurant, but an experience that stimulates all your senses.
Don't expect theatrical dishes. Soil focuses on bringing out the best of ingredients that work amazingly well together.
Soil's tasting menu, even without any additions, is already an amazing culinary experience on its own.
The price of the tasting menu is very good for a one Michelin Star restaurant: 95€ (~CAD140) for 14-15 courses, especially having done most Michelin Star restaurants in Toronto which are typically at least CAD200 for less courses.
Add to the fact that Soil Restaurant's culinary philosophies and practices are rooted in sustainability and Chef Tasos Mantis' is so passionate about Earth to have his own garden to source ingredients, I highly recommend adding Soil Restaurant to your bucket list of restaurants to try in Athens!
---
Soil Restaurant
Website / Address: Ferekidou 5, Athens116 35, Greece