Some posts on this site contain affiliate links. If you book or purchase something through one of these links, I may earn a small commission at no extra cost to you. Read the full disclosure policy here.
Founded by Spanish explorers in 1565, St. Augustine, Florida is very rich in culture and history. In fact, it is the oldest city in the USA. In this food guide, we're dishing out 12 things to love about the St. Augustine food scene.
What I was most in awe about St. Augustine is that it has kept its Spanish influences all over the historic colonial district. It really feels like you're not in the US anymore.
Did you know? St. Augustine is listed as one of The Most Beautiful Towns in America by Condé Nast Traveler.
I'm originally from the Philippines, which was colonized by Spain, so I kind of felt I was back there as I strolled thru the historic district.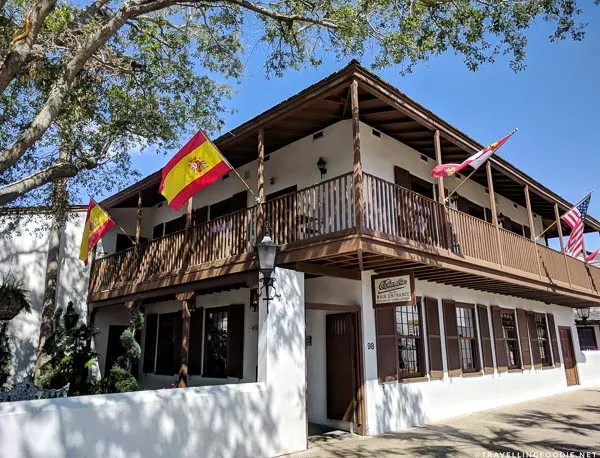 With over 450 years of history and diverse cultures, and being along the coast, there is so much to love about the St. Augustine food scene!
One thing you'll quickly realize is most of its culinary aspect has a bit of travel aspect involved whether history, sight-seeing, or nature!
In this food guide, I've broken them down into 12 things based on my 3-day visit to Florida's Historic Coast! This includes some of the best restaurants and things to do that highlights the food scene in St. Augustine.
Also Read: Day Trip in St. Augustine, Florida
---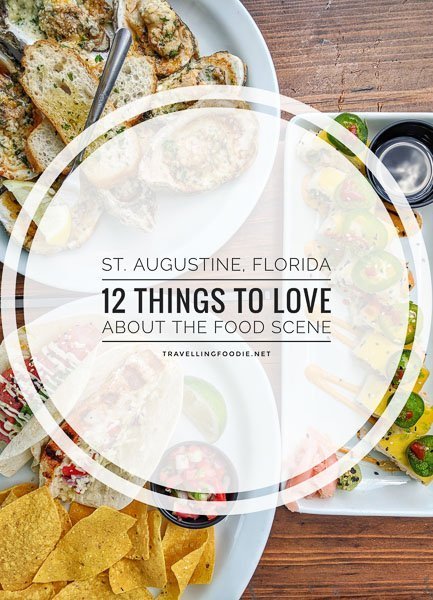 ---
Eat, drink, sleep and swim while overlooking the bay and marina
For three nights, I stayed at the Marker 8 Hotel & Marina, which is one of the best hotels in St. Augustine with awesome views of the marina and Matanzas Bay.
The hotel is also conveniently situated a good 10-minute walk to historic downtown across the Bridge of Lions.
Everything you do at the hotel has views overlooking the river:
Eat: Complimentary made-to-order breakfast is at the second floor dining room. Both indoor and outdoor dining has awesome views.
Drink: Complimentary wine at the first floor bar during social hour for each night of your stay. The bar is adjacent to the outdoor pool and lounge, with windows overlooking the marina.
Swim: The outdoor pool and lounge is right by the marina and river.
Sleep: The 26 guestrooms all have either a patio or balcony (depending on the floor), all of which overlooks the river.
Staying at Marker 8 Hotel & Marina is a great way to start enjoying the St. Augustine food scene!
Check availability and pricing of Marker 8 Hotel & Marina on Booking.com / Agoda
Website / Address: 1 Dolphin Dr, St. Augustine, Florida 32080, United States
---
Feast with a view of St. Augustine Beach
All about that salt life? Salt Life Food Shack lets you eat, drink and be salty while enjoying the views of St. Augustine beach.
Did you know? The term Salt Life was originally a phrase used on a spearfishing trip, but is now widely used for everyone who loves the beach life culture.
Salt Life Food Shack serves an eclectic menu ranging from seafood dishes, to sushi rolls, to burgers and street tacos. The restaurant's casual open air-space makes you feel close to the beach.
If you love oysters, I highly recommend the grilled garlic parm oysters. It's a half dozen fresh oysters, chargrilled in garlic butter sauce then topped with parmesan. It's not something you find most of the time for oysters.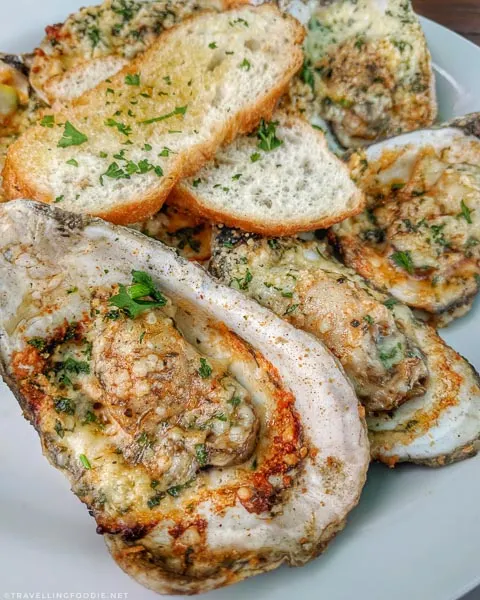 I also really enjoyed the poke tuna taco at Salt Life Food Shack. With poke becoming such a trend, I'm quite surprised it's the first time I've seen poke taco.
The tuna was really fresh and buttery complimented with the right amount of sesame soy dressing and wasabi cream that doesn't overpower the tuna.
Travelling Foodie Tip: They offer free rides to the shack if you live, or are staying, within parameters around the shack.
Website / Address: 321 A1A Beach Blvd, St. Augustine, Florida 32080, United States
Also Read: A Day Trip in Jacksonville, Florida
---
Dine in one of the oldest houses in the historic district owned by a James Beard nominated chef
My favourite meal was at Preserved Restaurant, one of newest and best restaurants in St. Augustine.
Owned by 2015 James Beard nominee and Executive Chef Brian Whittington, Preserved Restaurant features Southern cuisine that showcases local farmers in one of the oldest houses in historic Lincolnville built between 1865-1885.
Did you know? The restaurant is named Preserved because they have preserved the original structure of the house, even tearing down everything that was not original to maintain its Victorian character.
Their popular item that's perfect for sharing is the House Charcuterie Board.
The short rib rillettes is a standout on this board as it comes with a layer of fat on top that you mix with the rest of the jar to add that extra level of richness and creaminess.
When you explore St. Augustine's food scene, you'll see oysters done in interesting ways. I just had to try the Roasted East Coast Oysters.
The house bacon lardon added a nice hint of saltiness without being overpowering.
If you're looking for that really Southern taste of cajun/creole, I highly recommend the Local Caught Fish at Preserved Restaurant.
It comes with very flavourful crawfish etouffee, a Cajun-style stew made by smothering seafood with a buttery rich sauce made with roux served over rice (in this case, rice middlins).
It was my first time having rice middlins, or rice grits. The texture reminded me of risotto.
Website / Address: 102 Bridge St, St. Augustine, Florida 32084
---
Try a unique version of clam chowder
One thing I was most surprised to learn about St. Augustine's food is they have their own signature clam chowder called the Minorcan Clam Chowder, created by Minorcan settlers who came to Florida to work as indentured servants on New Smyrna Beach's indigo plantation.
What makes it unique? It's deep red in color because it uses a tomato base. But the main thing about Minorcan Clam Chowder is it uses a key ingredient called datil pepper that gives a spicy kick.
Did you know? Datil pepper is a popular locally grown product in St. Augustine. It is hotter than jalapeno, but less than habaneros.
We went to Catch 27, a fresh-catch seafood restaurant in the historic district. All their seafood are caught fresh and locally in Florida.
Even the fish, shrimps and clams at Catch 27 are caught in Florida waters daily. That's why we definitely wanted to try the Minorcan Clam Chowder here.
Be sure to also try their Deviled Egg BLT with Southern Fried Oysters as well – I told you there's so many unique oyster dishes here!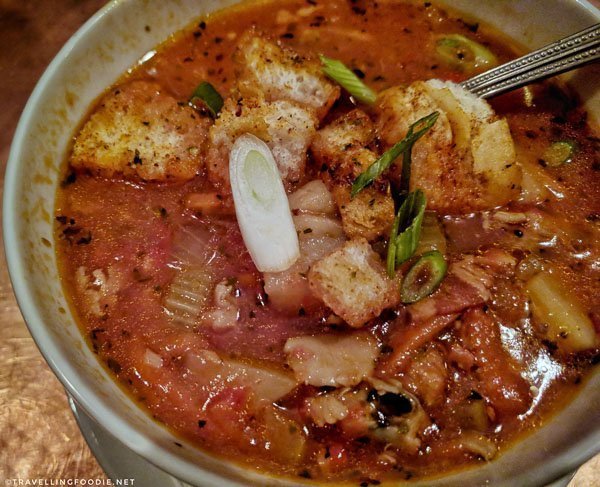 For someone who love New England Clam Chowder, Minorcan Clam Chowder is definitely a different experience to get used to since it is more of Manhattan-style chowder.
I definitely enjoyed the spicy kick the datil pepper brings, but still prefer the creaminess and none tanginess of the New England version. Definitely worth a try to taste something truly St. Augustine!
If you share the same chowder preferences as me, a local told me I would probably enjoy St. Augustine Seafood Company because they serve one called "Half & Half" that combines Minorcan Conch Chowder and New England Clam Chowder. You can check out St. Augustine Seafood Company here.
I wasn't able to try this, so do let me know what you think! I still think you have to try the original because you still have to try the real thing, but then also try this one to see which one you like more.
Website / Address: 40 Charlotte St, St. Augustine, Florida 32084
Also Read: 2 Day Trip in Daytona Beach, Florida
---
Dine in America's oldest street
Just by the Plaza de la Constitucion in St. Augustine's Historic District, you'll find Aviles Street, the oldest street in the United States. It's not hard to miss because the entrance is denoted by a stone archway.
This historic brick street is home to St. Augustine's arts district with several galleries. The street was renovated and became sidewalk friendly allowing outdoor seating from independently owned restaurants and cafes.
We went to La Herencia Cafe, a traditional Cuban cafe serving Cuban food from family recipes. They are known for their all day breakfast as well.
We went here for breakfast, and I tried the Guajiro, which has a delicious mix of ingredients I wasn't expecting to have for breakfast.
Website / Address: 4 Aviles St, St. Augustine, Florida 32084
---
Tour a distillery in a historic ice plant and sample spirits for FREE
The St. Augustine Food Scene is not just all food. It includes drinks too!
Housed in a historic 1920s ice manufacturing plant, the St. Augustine Distillery produces a variety of spirits including vodka, gin, rum and bourbon.
They have free tours and tastings that begin every half-hour on Monday-Sunday from 10:30am to 5pm.
Our tour guide, Brian, was very knowledgeable about the history of St. Augustine Distillery and distilling process while adding a bit of comedy in his delivery.
After the tour, we were able to sample four different cocktails that use each of their spirits: Florida Mule for vodka, Rum Tiki Cocktail for rum, Grapefruit Hibiscus for gin, and the Old Fashioned for bourbon.
We also got to sample their Double Cask bourbon and limited edition Port Finished bourbon, which is aged using port wine barrels from St. Augustine's San Sebastian Winery. You can learn more about San Sebastian Winery here.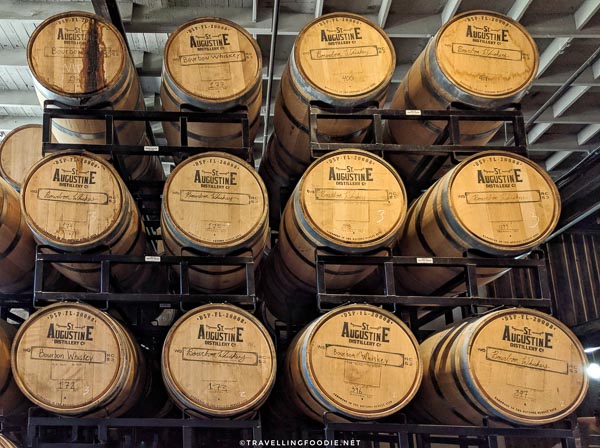 Website / Address: 112 Riberia St, St. Augustine, Florida 32084
Also Read: 2 Day Trip in Ocala/Marion County, Florida
---
Enjoy fresh local oysters overlooking Matanzas River
One of the best things about St. Augustine's food scene is dining with a view. There are a lot of restaurants in St. Augustine's historic district that has views of the Matanzas River.
For this, we went to Meehan's Irish Pub & Seafood House at night.
Travelling Foodie Tip: Head upstairs to Johnny's Famous Oyster Bar at Meehan's, and onto balcony for fresh air and beautiful views as you dine.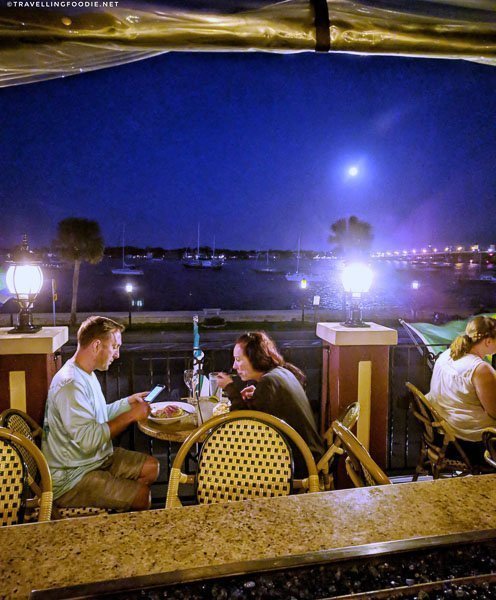 When you reach the second floor of Meehan's Irish Pub & Seafood House, you'll see their display of fresh raw bar selection. I was very fortunate that the local St. Augustine oysters were available that night!
I definitely had to try them, and they were so fresh and delicious: mid-sized, creamy in texture and quite sweet.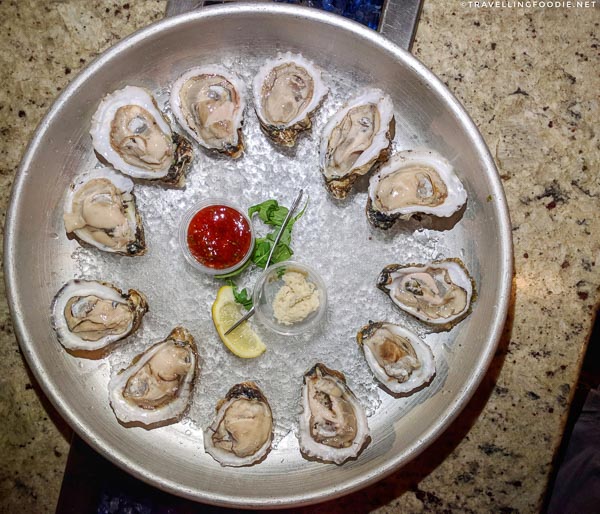 Being an Irish pub, you have to try their Reuben Sandwich, which was piled high with very marbled and flavourful corned beef.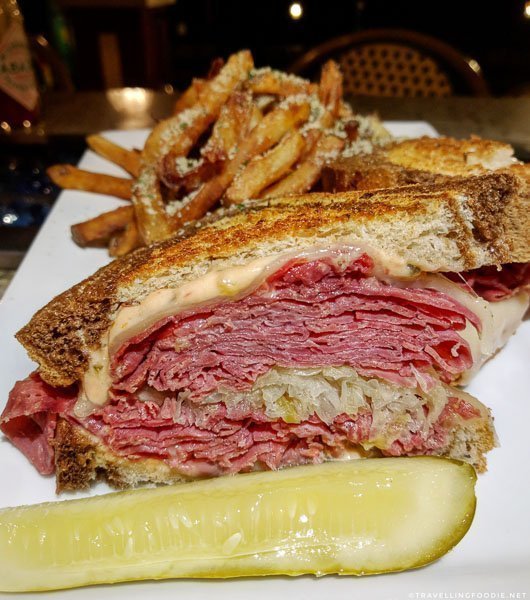 If you like calamari, you'll definitely want to try the Cast Iron Calamari at Meehan's Irish Pub as it's pretty unique.
Served on a hot cast iron which withstood the cold night we had, the calamari was very flavourful with the burst of lemon garlic and fresh herbs.
The squid was so fresh that I can still taste the squid even with the sauce they had on the skillet.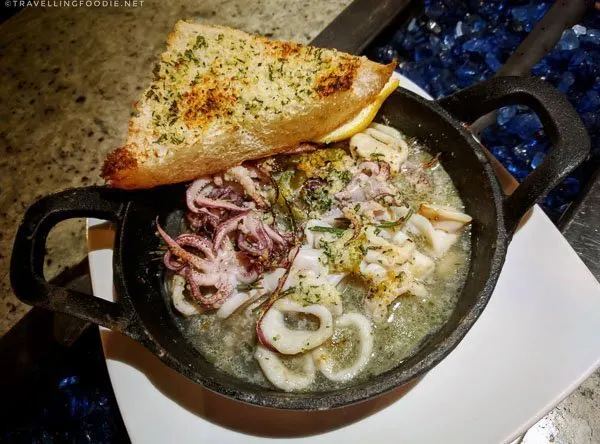 Website / Address: 20 Avenida Menendez, St. Augustine, Florida 32084
---
Sail through the sunset while sipping on drinks
Being on the coast, sailing on the waters is a great way to explore St. Augustine. I did the sunset sail aboard Schooner Freedom, and it was such a great experience!
Did you know? Freedom is an authentic replica of a 19th century blockade-runner.
Imagine sailing for two hours, spotting some dolphins (if you're lucky), and admiring the sunset while sipping wine (or your drink of choice) and having fun conversations with the passengers… That's the life right there!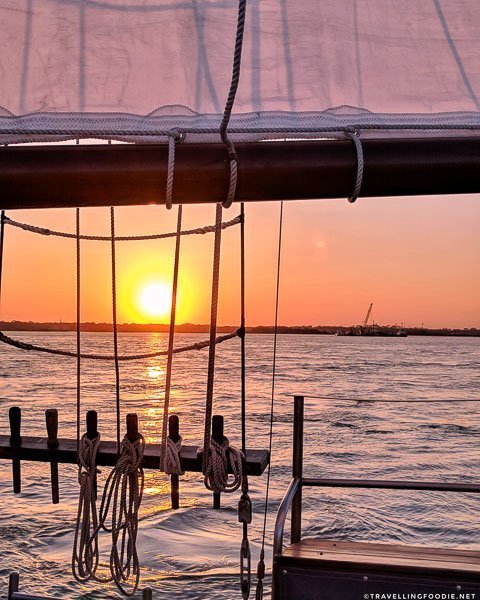 Travelling Foodie Tip: If you also want to learn some sailing, passengers are more than welcome to help set sail and maybe even take the helm.
Website / Address: 111 Avenida Menendez, St. Augustine, Florida 32084
Also Read: Where To Eat in Jacksonville, Florida
---
People watch while sipping sangria at the historic pedestrian-only street
When in St. Augustine, you can't miss St. George Street, the most touristy street in the city. This pedestrian-only brick street spans four city blocks filled with shops, restaurants, museums, hidden courtyards and a lot of history.
One thing you'll notice strolling the street are all the bars and taverns serving sangria. We went to Sangrias Wine and Tapas Piano Bar for their specialty sangrias.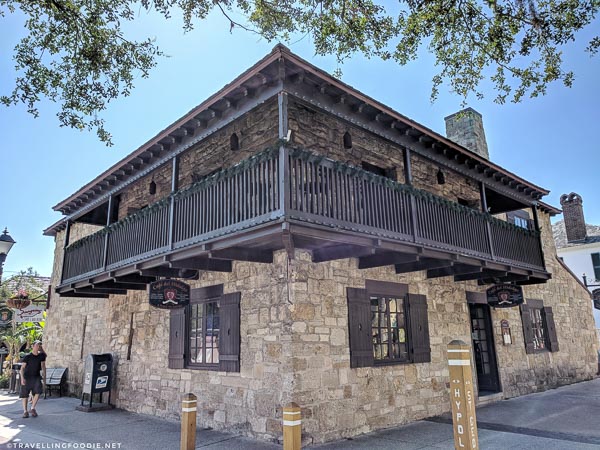 They have a beautiful balcony which overlooks St. George Street so you can see all the action.
Travelling Foodie Tip: Sangrias Wine and Tapas Piano Bar has live music mostly every night.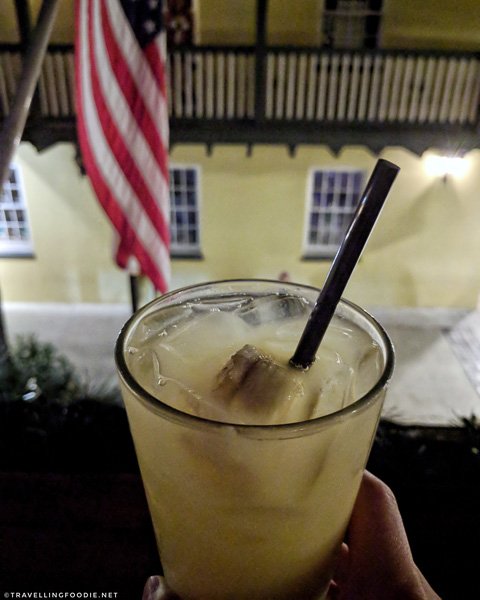 Website / Address: 35 Hypolita St, St. Augustine, Florida 32084
---
Dine inside the former world's largest indoor swimming pool
St. Augustine's history is also built in luxury. In the late 1800s, the city was a frequented resort destination for the rich thanks to Henry Flagler opening the Ponce de Leon Hotel and the Hotel Alcazar.
An 1887 Spanish Renaissance Revival style building, Hotel Alcazar had the largest indoor swimming pool in the world at that time.
The hotel is now the Lightner Museum, but the swimming pool has been transformed into Cafe Alcazar for people to enjoy a unique dining experience surrounded by history.
Travelling Foodie Tip: Get a 10% discount when you bring your Lightner Museum entrance ticket!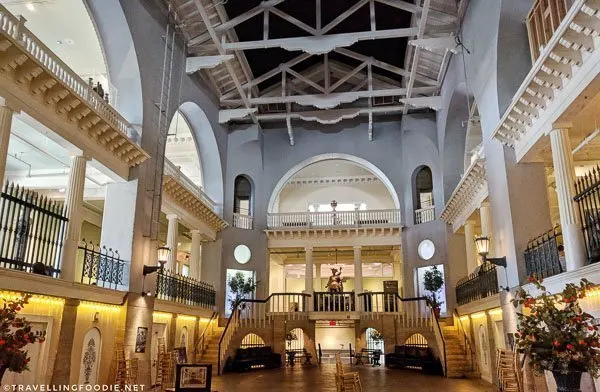 Website / Address: 25 Granada St, St. Augustine, Florida 32084
---
Wine and dine around while touring the city
Want to combine eating, drinking and touring? You'll want to check out The Tasting Tours, voted best "crawl" in St. Augustine by Travel and Leisure Magazine.
Unlike other food tours that just take you to various restaurants, this 3-hour walking tour also takes you around the city where you'll learn something fun and informative.
Our tour route took us around Flagler College, Casa Monica, Lightner Museum, Aviles Street, Plaza de la Constitucion, and St. George Street.
We did the Corks and Forks Pairing Tour (food and wine) with our tour guide, Molly Verlin, who is very knowledgeable about St. Augustine, the arts and architecture with her background in art history.
The great thing about this tour is we got to do some of the things already in this list, including dining at Cafe Alcazar and dining along Aviles Street.
Stop 1: The Gifted Cork
This was the tour meeting point and also the first stop. Here, we were able to sample four different wines of our choice based on a selection of California wines.
It was paired with three kinds of cheeses: champagne, asiago and gouda.
Stop 2: Old City House Inn & Restaurant
We seated at the garden area and had beef raviolis with a glass of red wine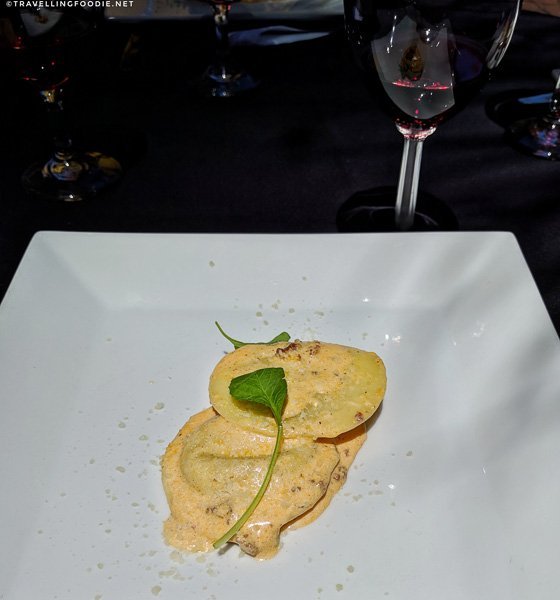 Stop 3: Cafe Alcazar
We shared a Hummus Salad and Italian micro pizza with a glass of white wine.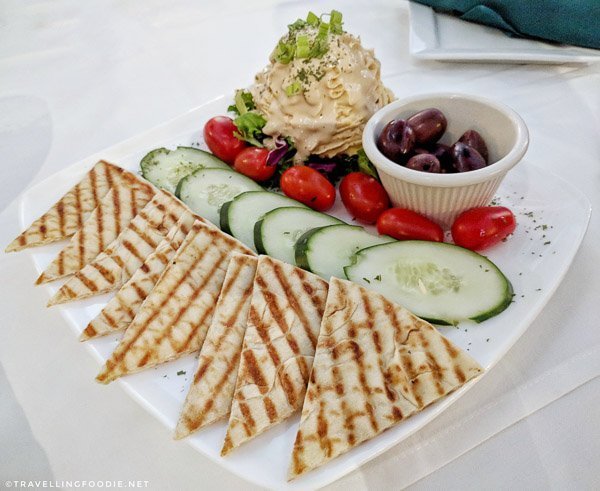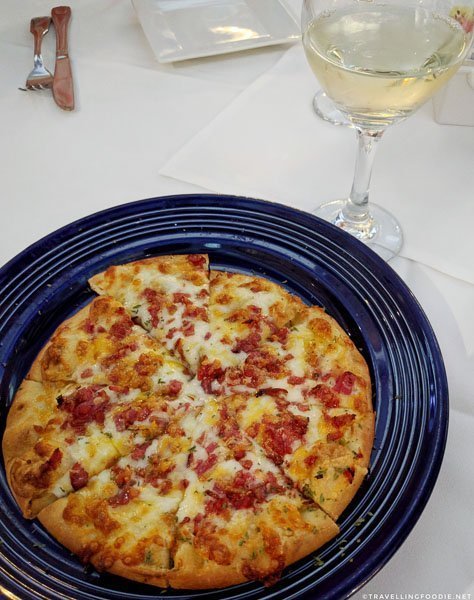 Stop 4: Gaufre's and Goods along Aviles Street
We had two kinds of pierogis and fresh sugar waffle with a glass of white Banatski (Serbian) wine.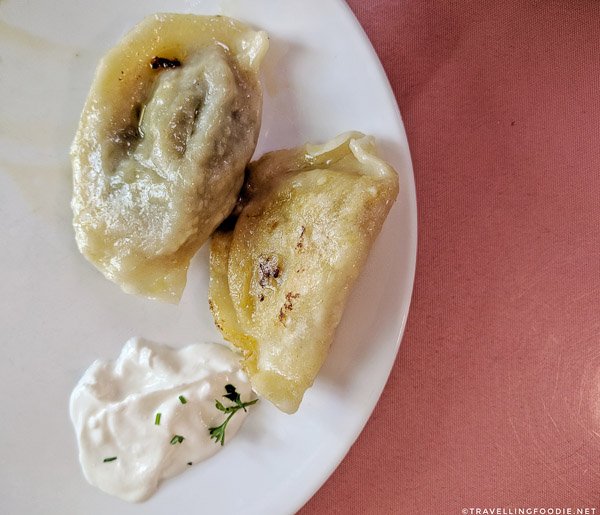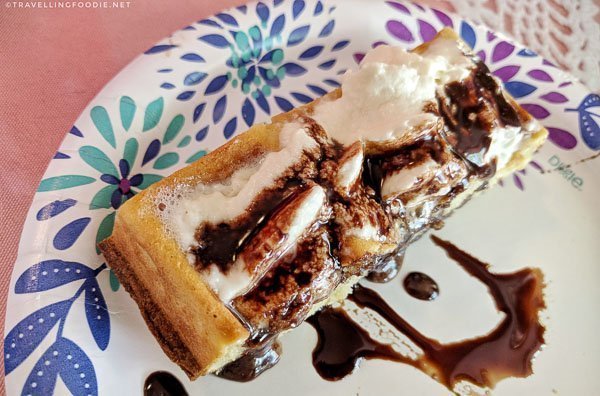 Stop 5: Peace Pie along Aviles Street
We sampled three of their ice cream sandwiches: Pecan Pie, Salted Caramel Brownie and Chocolate Mint.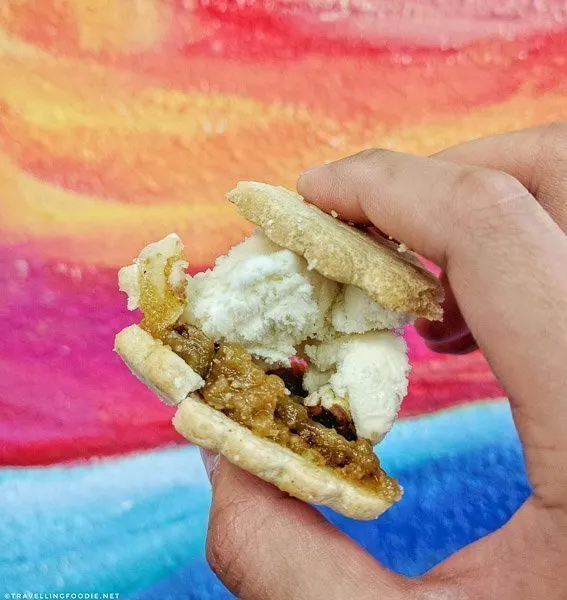 Learn more about The Tasting Tours on their website.
Also Read: Where To Eat in West Volusia, Florida
---
Taste local flavours with food festivals
With an abundance of fresh seafood year-round, a diverse culture rooted in history, and a strong Spanish influence, St. Augustine's food festivals are also quite diverse and unique.
Examples of which include the St. Augustine Spanish Wine Festival in September, Datil Pepper Festival in October, Annual Great Chowder Debate in November, and the Lions Seafood Festival in March.
Taste of St. Augustine Festival
During my visit in April, I had the opportunity to attend the 22nd Taste of St. Augustine Festival at the St. Augustine Amphitheatre.
All proceeds of this annual fundraising event goes to EPIC Behavioral Healthcare to support substance abuse prevention, intervention, outpatient treatment and aftercare services.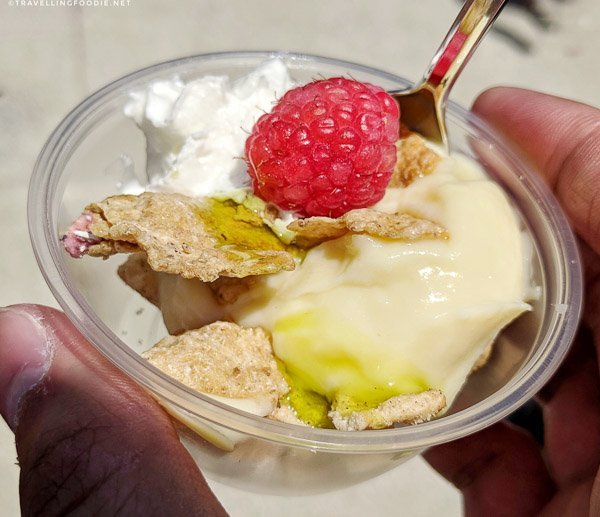 The Taste of St. Augustine Festival featured local tastes from over 25 restaurants and vendors with live music and other activities. Entrance was $5, and food range from 2-5 tickets (1 ticket is $1).
My two favourite dishes were the gator & shrimp creole from Raintree Restaurant and blackened shrimp & grits from South Beach Grill.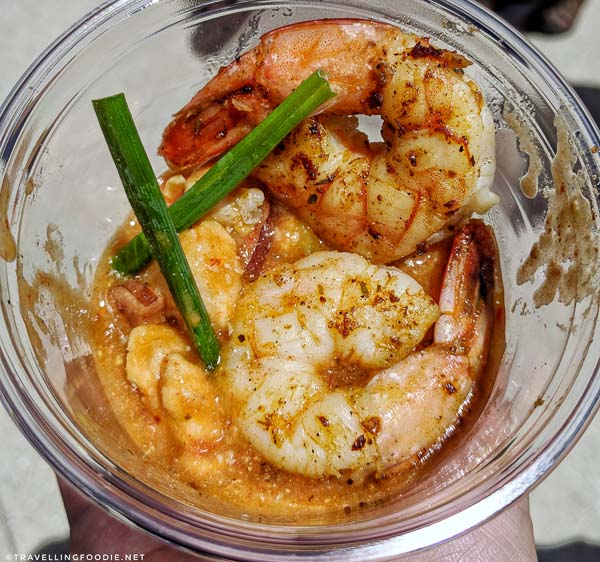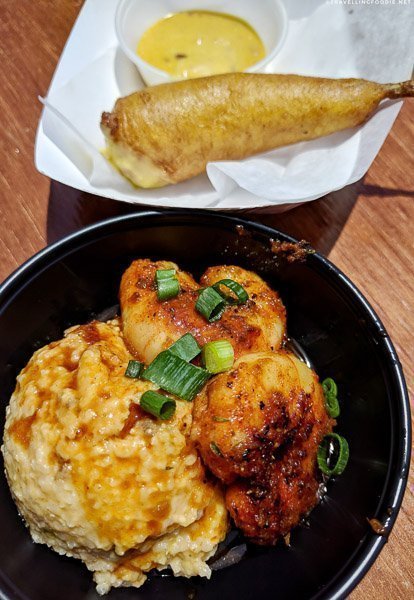 I'm glad I got to try the popular gourmet ice pops from The Hyppo which are all-natural and handmade.
They didn't have the toasted black sesame that I initially wanted to try, so I went with the mango champagne, which was actually better because the tropical taste made it so refreshing on the hot day.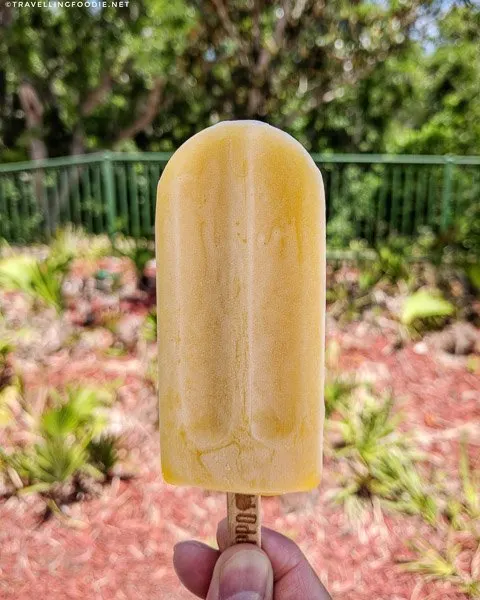 Also Read: Best Restaurants in Tampa Bay, Florida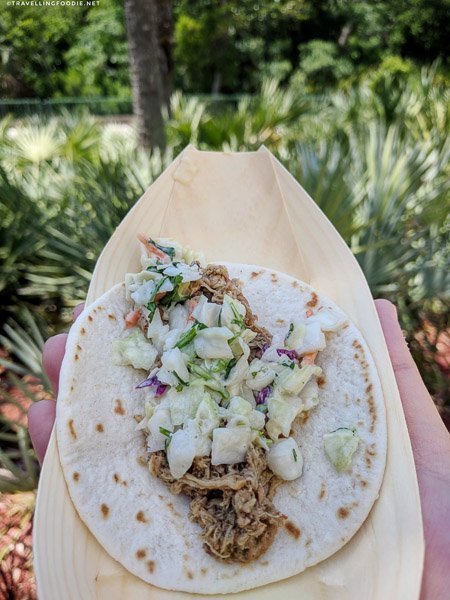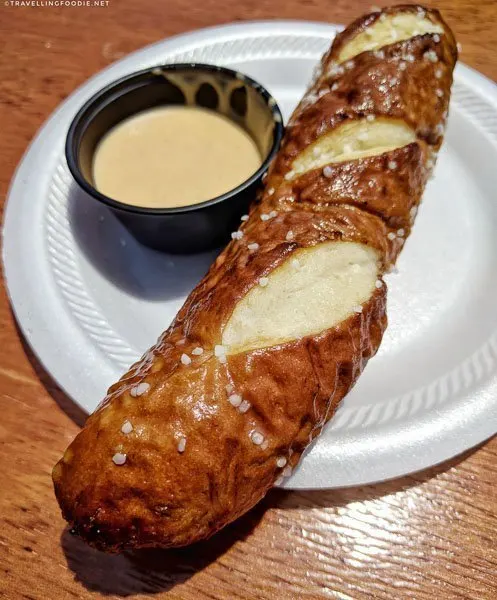 ---
Hope this food guide inspires you to visit Florida's Historic Coast and help you decide what to do, where to eat and stay in St. Augustine, Florida!
I'm always looking to try new things so please let me know what you find are the best things to do, restaurants and accommodations that highlights St. Augustine Food Scene.
---
Huge thanks to St Augustine, Ponte Vedra, & The Beaches Visitors and Convention Bureau for sponsoring this post. As usual, reviews and opinions are entirely my own.
You can learn more about Florida's Historic Coast thru their website, or find them in Facebook, Twitter and Instagram.
Updated: