---
Some posts on this site contain affiliate links. If you book or purchase something through one of these links, I may earn a small commission at no extra cost to you. Read the full disclosure policy here.
---
Want to do a day trip in Stratford this summer? Here's an itinerary on how you can spend one day in Stratford, Ontrario.
Stratford is such a quaint and charming little town that has so much to offer from nature and history to arts and music to a strong food and drink scene.
I've visited Stratford for many years and in different times of the year, having written about Spring and Fall before.
Now it's time for Summer!
We're always looking for Ontario day trip and road trip ideas during the summer. And if you haven't been, you'll want to add Stratford to your list!
This Stratford summer travel guide features a full day itinerary of fun and deliciousness with some of the best attractions, things to do, restaurants and places to eat & drink in Stratford from morning to night (plus if you wanted to stay overnight!).
---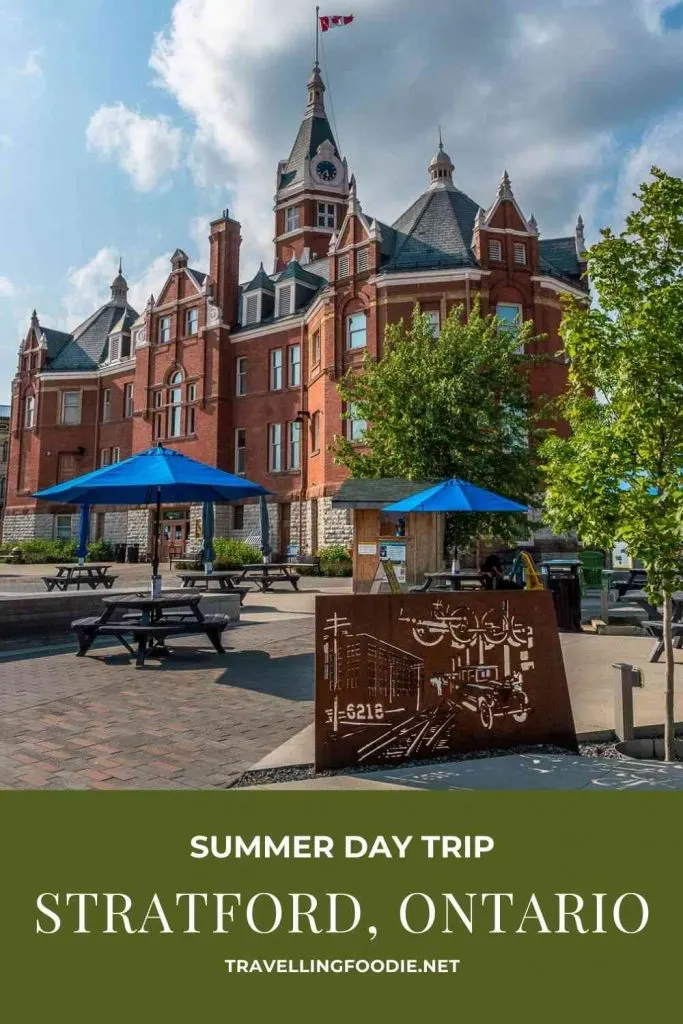 ---
Visiting Stratford in the Summer
Stratford makes for a great Ontario day trip or road trip getaway. Here are some driving times from different places in Ontario to Stratford:
There's ample paid street parking at the main Stratford downtown district. But you can also park for free at the free Municipal Parking Lots:
Cooper Parking Lot – 105 St. Patrick Street
Downie Parking Lot – 350 Downie Street
---
Summer in Stratford, Ontario – One Day Trip Itinerary
Here's how you can spend a day trip in Stratford during summer! I've made this itinerary in a fun "pick your own adventure" format.
Pro Tip: If you were to do everything in this guide, it's actually perfect for a 2 day trip or a weekend getaway in Stratford!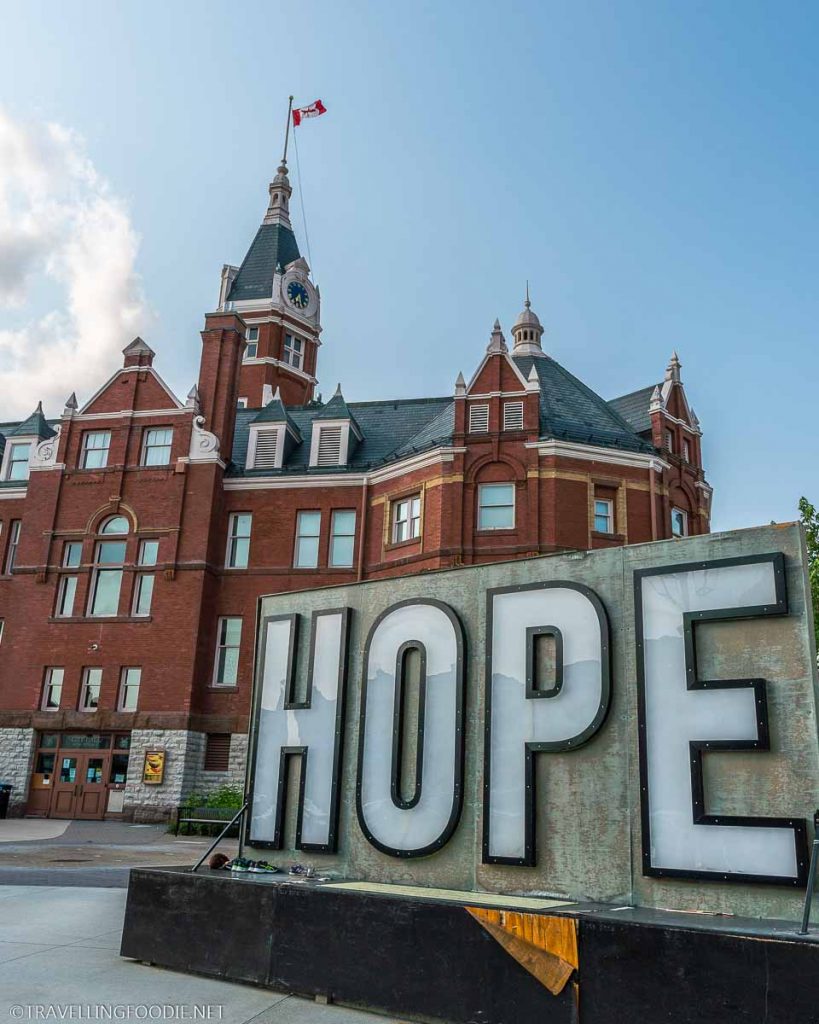 Breakfast: Cafe OR Diner in Stratford
Start your day with some breakfast to fuel you up for the rest of the day! And Stratford has a strong cafe and diner scene that keeps you covered.
Revel
One of my favourite cafes in Stratford with a nice front and back patio in the market square, Revel offers direct trade coffee and fresh homemade pastries to start your day.
My go-to is their signature mocha (with fair trade cocoa and steamed milk) and croissants (popular for chocolate and almond croissants, but their ham and cheese croissants is a tasty option if you're looking for a savoury option).
They also have a unique blue matcha latte, which is made with blue butterfly pea flowers and gives you a floral taste instead of the earthy umami taste of matcha.
Website / Address: 37 Market Pl, Stratford, Ontario N5A 1A4
Madelyn's Diner
Located a few minutes drive from downtown Stratford with a nice big patio space and parking, Madelyn's Diner is a family-run diner for over 35 years that's been a favourite among locals.
With a focus on home-style diner food using local products from around the area, you'll want to try their Perth Pork Platter or Breakfast Burger which is made with deliciously juicy sausage patties from Perth Pork Products. These come with hand cut home fries that are like chips.
But whatever you do, make sure to order their butter tarts!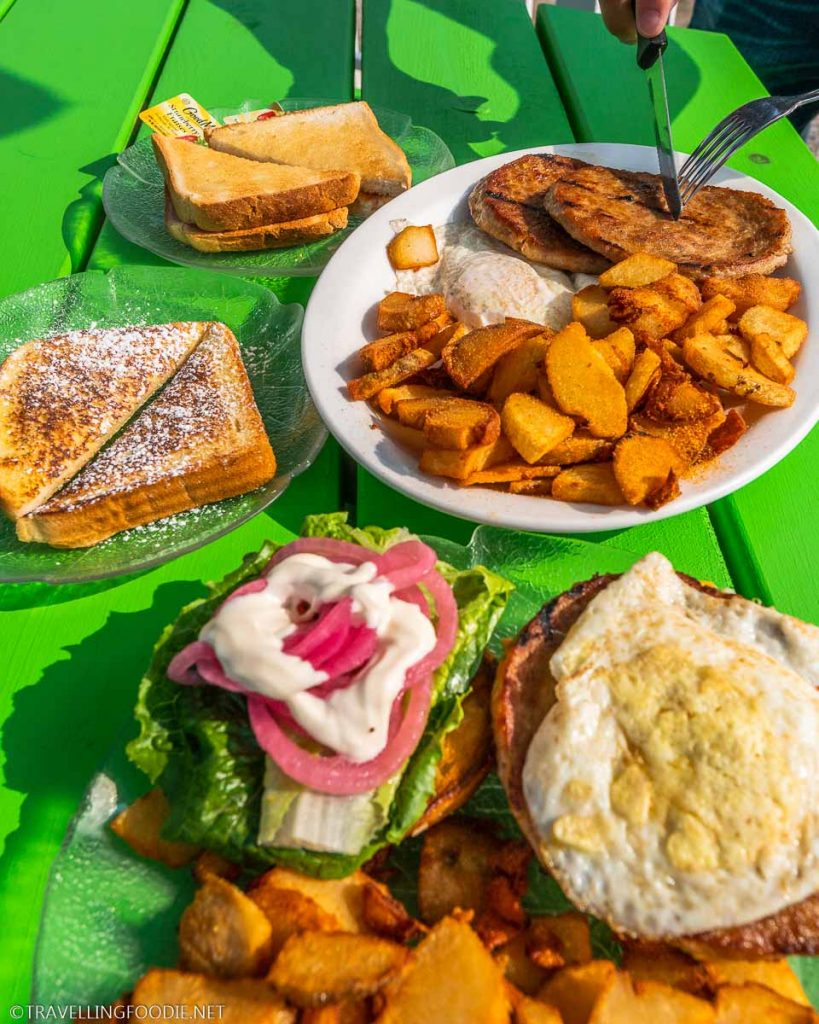 Website / Address: 377 Huron St, Stratford, Ontario N5A 5T6
Also Read: One Night in Middlesex County, Ontario
Morning Activity: Paddling OR Strolling in Stratford
After a hearthy breakfast, it's time to explore!
Avon River Boat Rentals
One of the best things to do in Stratford in the summer is paddling on the Avon River. I put this as a morning activity so it's less hot and less people as well.
You can rent kayaks, canoes and paddle boats by the hour. But if you prefer something less physical, you can do The Juliet III Boat Tours.
I highly recommend doing this! This is something you can only do during the summer time as they operate from the beginning of May to October Thanksgiving weekend only.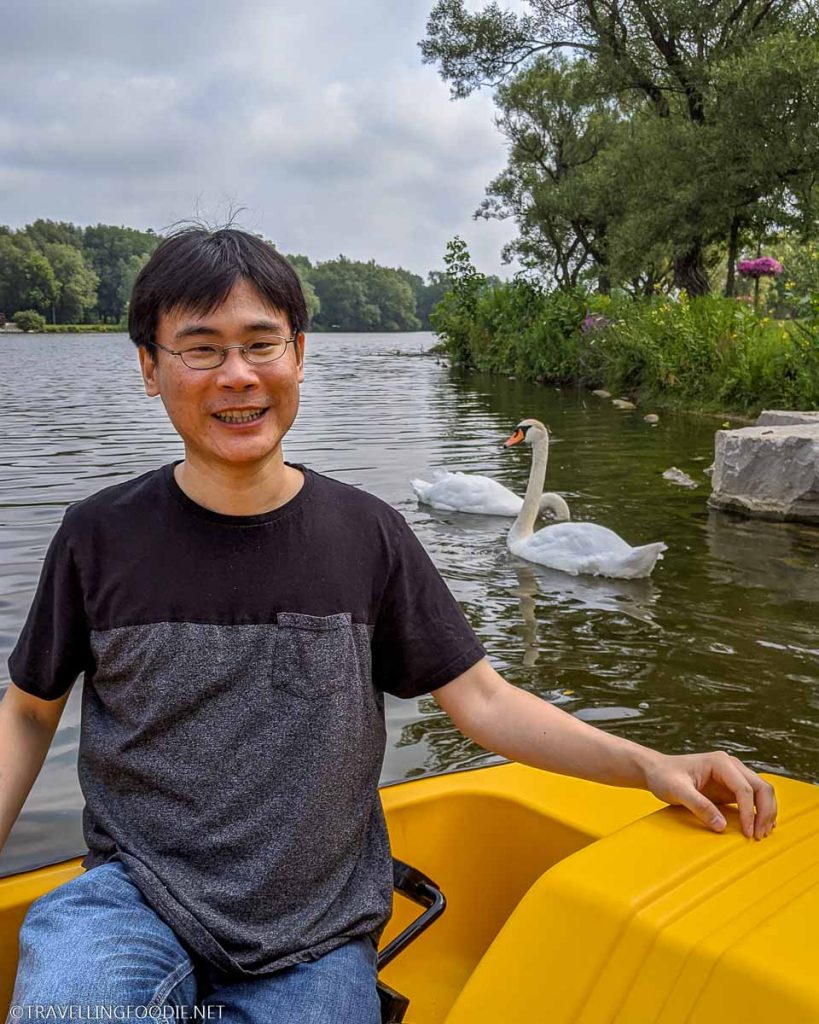 Website / Address: 30 York St, Stratford, Ontario N5A 1A1
Strolling Activities
Stratford is such a walkable city so you can explore most of its attractions by walking. Here are some of the best things to do by foot in Stratford (that's free!):
Free self-guided audio walking tours with different themes like Art Walk, Stratford Gardens, Justin Bieber (did you know Stratford's his hometown?) and Insta-Worthy Spots.
Admire the free outdoor exhibits at the Gallery Stratford (the indoor exhibit has a fee).
Stroll along the Avon River and go on a hike on the connected trails.
Food Trails in Stratford: Chocolate OR Bacon and Beer
One thing I always tell people when they visit Stratford is to do one of the food trails.
It's such a fun, unique and delicious way to explore the city. The trail offerings change yearly so it's always interesting to see what's new every year!
Bacon and Ale Trail – For $30 (+HST), you get to choose 5 stops in a list of 15 stops that offer something bacon and/or beer related. I'm glad they brought this trail back in 2021 because it's a great way to celebrate Stratford's food & beer scene combined. More information including map, stops and hours here.
Chocolate Trail – For $30 (+HST), you get to choose 6 stops in a list of 21 stops that offer something chocolate. More information including map, stops and hours here.
You can do the trail throughout the day based on how it fits with your schedule. Just take note of closing times for the stops you want to visit.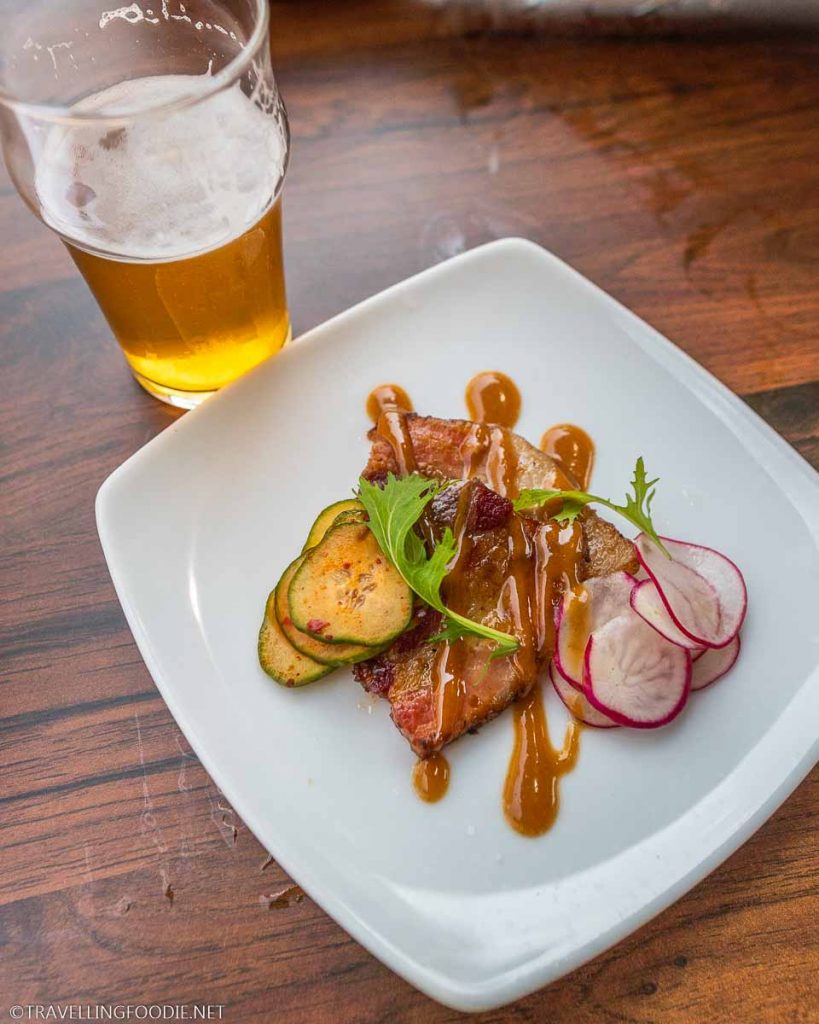 Lunch: Fine Dining OR Al Fresco Dining in Stratford
Now it's time to refuel for the afternoon! Stratford has all types of restaurants from takeout-only to casual to fine dining.
And with the success of Stratford Al Fresco in 2020, it came back in 2021 so visitors can order takeout and accompanying drinks from Stratford restaurants and enjoy them in designated safe outdoor dining areas.
The Restaurant at The Bruce
A few minutes drive from downtown Stratford and you're taken to a beautiful 6.5 acre estate where you'll find The Restaurant at The Bruce Hotel, a fine dining restaurant with exceptional service and creative dishes by Executive Chef Brandon Clemens.
You must-try the 3-course Table d'Hôte if you're here for lunch! I was so impressed that I cannot wait to experience their Tasting Menu Culinary Experience for dinner next time.
Website / Address: 89 Parkview Dr, Stratford, Ontario N5A 4R5
El Cactus Taco Shop
One of the newest restaurants in downtown Stratford, El Cactus Taco Shop is a farm-to-table taco bar run by owner and chef Alondra Galvez, a Stratford Chefs School graduate who was born in Reynosa, Mexico.
Expect homemade fresh tasting tacos, burritos and botanas (little snacks) at Stratford's only local Mexican joint. You must-try their scallop ceviche tostada, an addicting piece of crispy tortilla topped with citrus cured scallop with avocado cream and pico de gallo.
Eat at the taco bar or get it to-go and enjoy at one of the many tables in Market Square, or along the Avon River.
Website / Address: 2 Ontario St, Stratford, Ontario N5A 3G8
Also Read: Festival Gourmet International in Puerto Vallarta, Mexico
Afternoon Activity: Play OR Music in Stratford
Stratford is known as Canada's Premier Arts Town and for good reason: this quaint little town is filled with theatre, music and visual arts!
Most of the performing arts events happen in the summer so it's one of the best things to do when you visit!
Here For Now Theatre – This independent theatre company features plays based on female protagonists. Due to the pandemic, they've moved their shows to an outdoor theatre production at The Bruce so it's perfect if you chose to do lunch there too. // Website
Stratford Festival – This annual festival is what Stratford is most known for, bringing visitors from all over the world for all sorts of performing arts especially the classic Shakespeare productions. Due to the pandemic, Stratford Festival has transformed into an outdoor festival. // Website
Stratford Summer Music – This annual multi-week summer music festival brings artists, both local and abroad, for a wide range of musical experiences in different indoor and outdoor venues. Many of the outdoor concerts are free! // Website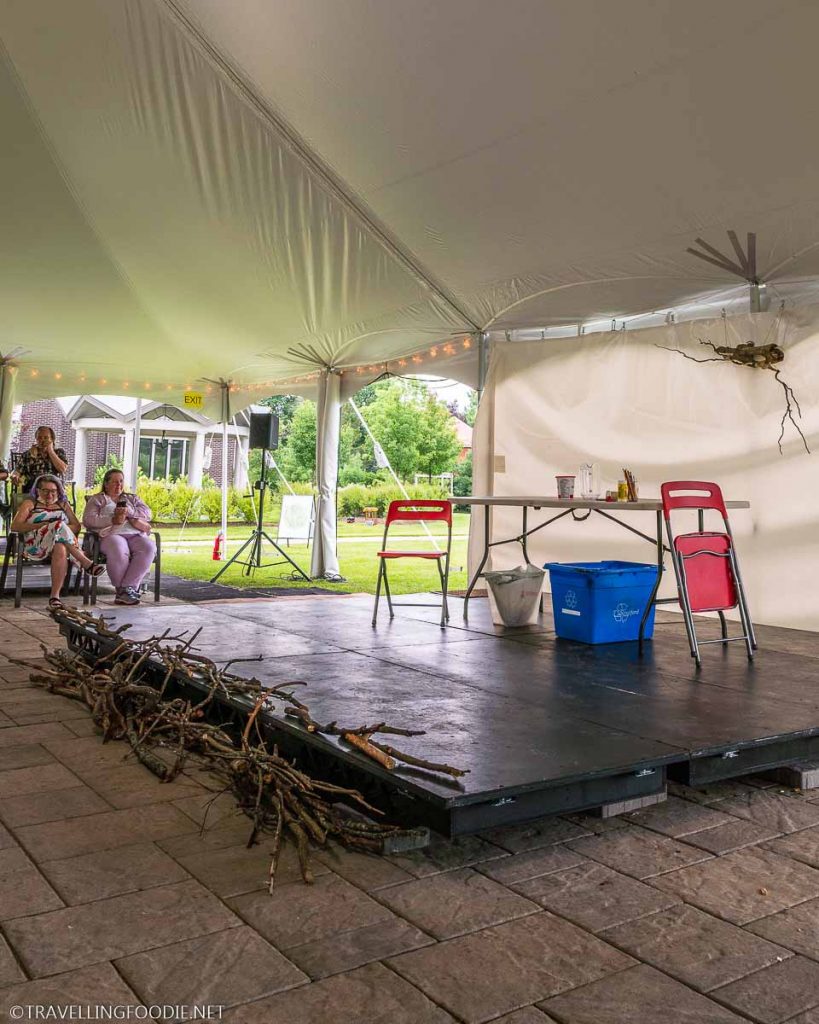 Dinner: Casual OR Fine Dining in Stratford
Have dinner at some of downtown Stratford's finest restaurants for casual and fine dining.
Pazzo Pizzeria
Pazzo Pizzeria is one of the most popular restaurants in Stratford specializing in homemade Italian food like pizza, pasta and insalata. Kill two birds in one stone as their patio is located at York Lane, which is one of the Top 10 Insta-worthy spots in Stratford.
I recommend getting 1-2 dishes from each category then have a family style meal. I recommend burrata for appetizers, the bianco for pizza and short ribs/risotto for secondi.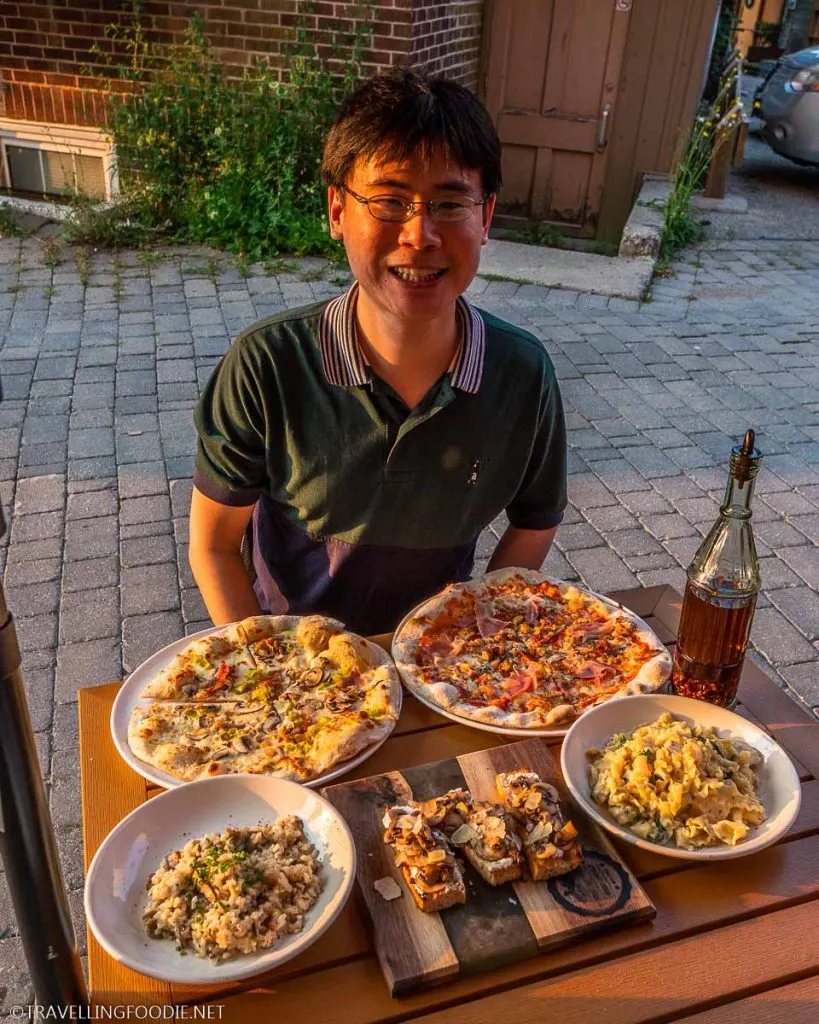 Website / Address: 70 Ontario St, Stratford, Ontario N5A 3H2
Bijou Restaurant
Located in the heart of downtown Stratford with a patio out front, Bijou Restaurant is a farm-to-table French bistro that's been serving Stratford for over 22 years!
I recommend getting the three course Prix Fixe Option so you can try one of each from appetizers, entrees and desserts. One thing's for sure is you must-try their Duck Prosciutto Grilled Cheese!
Website – 74 Wellington St, Stratford, Ontario N5A 2L2
Also Read: 2 Day Trip in Kingston, Ontario
---
Spending The Summer Night in Stratford
If you end up wanting to stay longer or wanting to stay overnight, here's how you can spend the night and where to stay in Stratford.
Things To Do at Night: Cocktails OR Lights in Stratford
The Relic Lobby Bar – Located right beside El Cactus Taco Shop, this new cocktail bar brings the nightlife game up in Stratford with some amazingly unique craft cocktail. You must-try their Sazerac, which has an absinthe flame, and the Old Remedy, a hickory smoked cocktail with cohiba-infused whiskey. // Website

Watch the IG Reels on how they make their absinthe flamed and hickory smoked cocktails here.
Lights on Stratford Summer Pop-up – Walk off your dinner by taking a stroll along Avon River to visit Tom Patterson Island to enjoy its light display. And right across from it is Stratford Festival Theatre's heart-shaped light display. // Website
Where to Stay in Stratford: Modern OR Victorian
If you're looking to spend the night, here are some of the best hotels in Stratford right in downtown.
Mercer Hotel
A Best Western Premiere Collection boutique hotel located in Stratford's heritage downtown, the Mercer Hotel Downtown is three-in-one being a restaurant and beer hall as well. This is one of the hotels nearest the Avon River.
Despite being in a historic building, the rooms are very modern and newly renovated since 2020. they're one of the few hotels you can stay at with fireplace and whirlpool tub in the room along with on-site free parking.
Check for reviews, prices and availability of Mercer Hotel Downtown on Booking.com / Agoda
Website / Address: 104 Ontario St, Stratford, Ontario N5A 3H2
Foster's Inn
Located in the heart of downtown Stratford, Foster's Inn is Stratford's original boutique Inn, residing in a 1906 Victorian building, and one of the hotels nearest the Avon Theatre.
If you enjoy accommodations with a Victorian feel, Foster's Inn is it as they've kept its original architecture in mind even with renovations.
Check for reviews, prices and availability of Forster's Inn on Agoda
Website / Address: 111 Downie St, Stratford, Ontario N5A 1X2
---
Summer Day Trip in Stratford Map
Here's a map with all the Stratford attractions, things to do, restaurants and hotels covered in this summer travel guide.
---
Hope this travel guide and itinerary gives you an idea on how you'd want to spend your day trip in Stratford, Ontario in the summer! There's so many things to do in Stratford with the arts and outdoor activities while enjoying their delicious food scene.
Time to plan that Ontario summer getaway!
I'm always looking for new places to visit! Please let me know what you find are the best attractions and restaurants in Stratford especially during summer for my next trip.
---
Huge thanks to Destination Stratford for sponsoring this post. As usual, reviews and opinions are 100% entirely my own.
You can learn more about Destination Stratford on their website.