SushiBurri is one of Toronto's newest sushi burrito food truck to follow the trend! The food truck goes to different parts of the city so you'll have to follow them on social media to know where they'll be at.
I went today for lunch since the SushiBurri Food Truck was right outside my office at Roy Thompson Hall, and I was in the mood for sushi burrito.
At 12:05PM, there was not much line up – I was 4th in line. It's either the sushi burrito hype is dying down, or people have tried it and have the same experience as me.
Also Read: Must-Try Food and Drinks in Toronto
Sushi Burrito at SushiBurri
I got the Full Size Sushi Special (Tuna, White Tuna, Salmon) for $16 which is essentially 2x of their $10 half portion. This is very pricey considering other popular places charge $13.
First thing I noticed is the size is not consistent. One of my halves is bigger than the other.
The burrito looks like it has a good share of fish, and it also looks pretty so I was very excited.
I went to the food court just below Roy Thompson Hall so I can eat better and take some photos as well. The nightmare started there.
Overall Sushi Burrito was bland
Despite how packed the burrito was, it was very bland. I had to put soy sauce to get some flavour out of it. The fish didn't have taste as well.
The seaweed was soggy
There was no crunch to it. Because it was soggy, it became harder to tear apart and would stick on your teeth.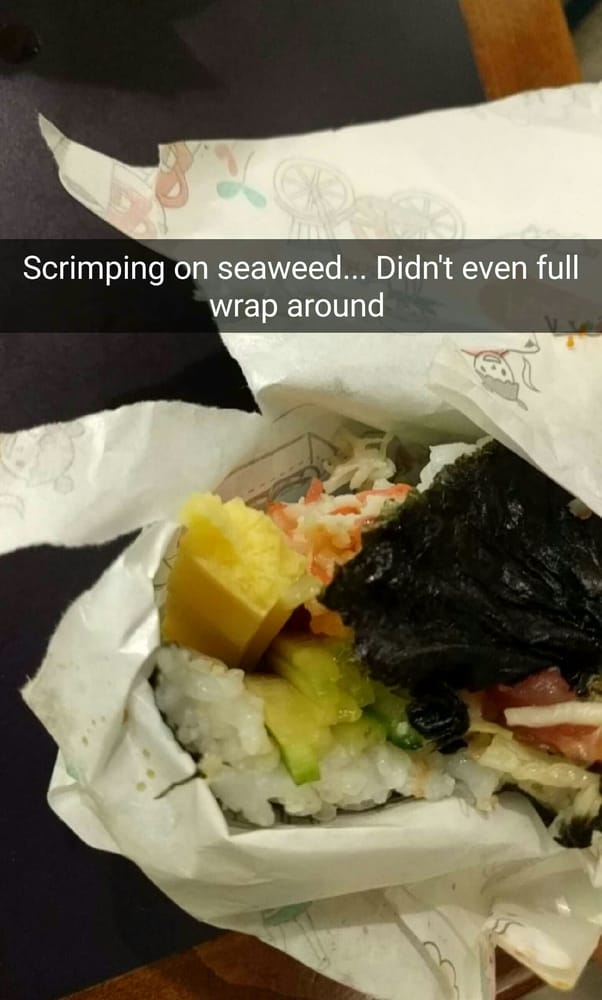 The Sushi Burrito was falling apart
The seaweed didn't fully wrap around the entire burrito so it falls apart as I am just a few bites in
The Sushi Burrito was watery
The Sushi Burrito at SushiBurri was so watery! As I grab a half, stuff started leaking – I don't know what it is! I haven't even put soy sauce yet.
This is scary as it can mean that it's frozen fish that was recently thawed. Video of leaking Sushi Burrito
---
I have yet to understand what's good about this sushi burrito fad. Why can't a sushi maki roll be enough?
Have you had sushi burrito from SushiBurri Food Truck? What did you think of it?