Taste of Toronto 2016 happened from June 23-26, 2016 at Garrison Common in Fort York Historic Site.
I attend the event for two days: during the VIP Opening Night, which happened on Thursday (June 23), and my second visit on Sunday (June 26) using the media pass.
Taste of Toronto VIP Opening Night
During the VIP Opening Night, we were able to get early access to the festival grounds at Taste of Toronto.
We were able to enter at 4PM that day instead of 5:30pm for the general public. Since we got there early, the festival was quite empty.
There was a Best In Taste competition going on when we arrived so some of the chefs were busy preparing food for the judges to taste.
While we were waiting for the 4:30PM Ceremonial Ribbon Cutting, we jumped in on the opportunity to get pictures with some chefs.
One of the chefs I really wanted to meet in Toronto was Chef Mark McEwan of The McEwan Group! We went to his booth and peeked around to see if he was there.
I spotted him inside the kitchen cooking for the Best In Taste. We quickly asked if we can get a picture with him after he finished serving the judges.
He was very nice and friendly, while I was speechless and star-struck.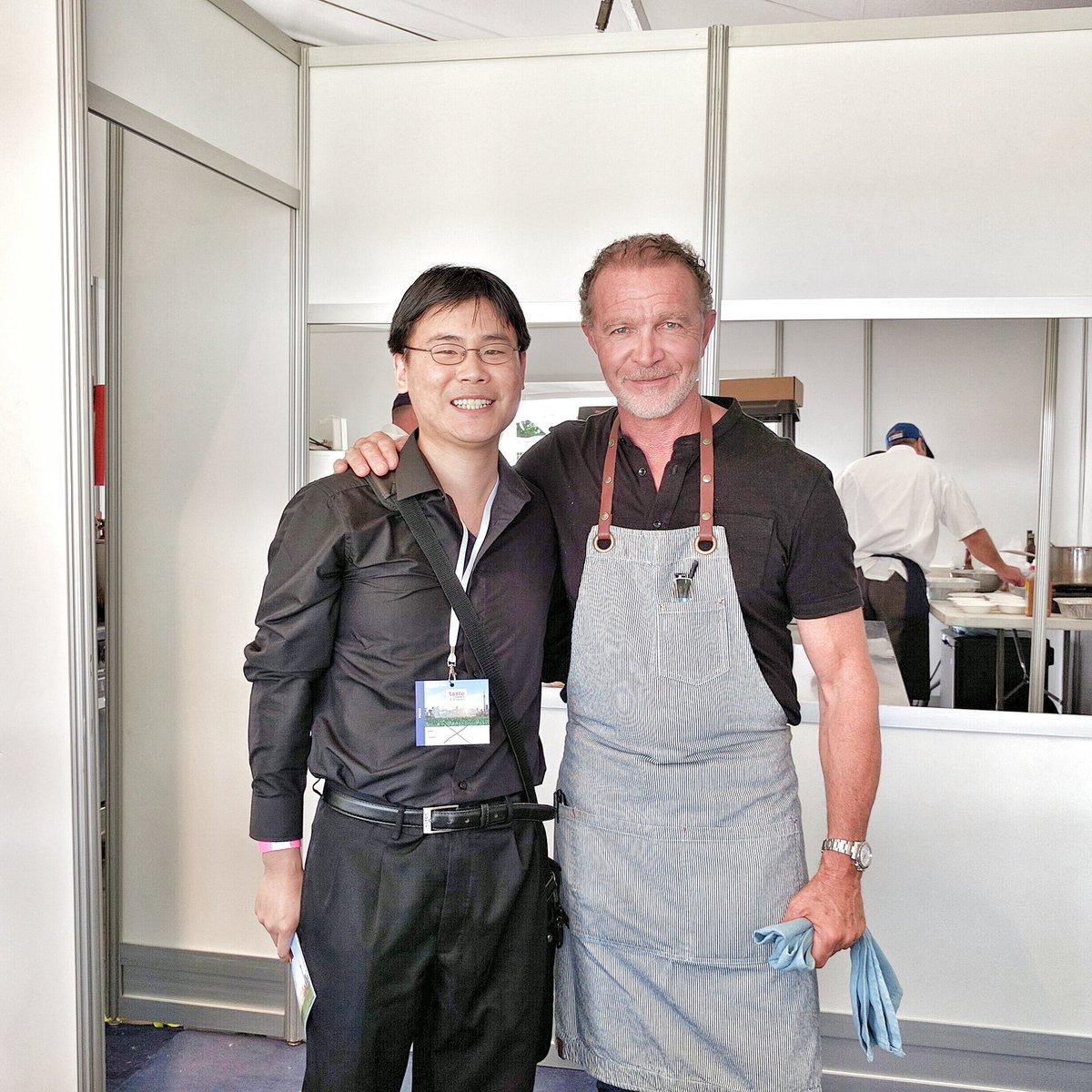 Also Read: Fabbrica, Italian Restaurant by Chef Mark McEwan
Next to the McEwan booth was Richmond Station's booth. Their booth had an interesting setup of Oyster bar section where they can shuck the oysters in front of the customers, and on the wall was a hand-drawn Selfie Station which I found cute.
I had a photo with Chef Carl Heinrich already on my last year's visit to Richmond Station (see my Chefs page).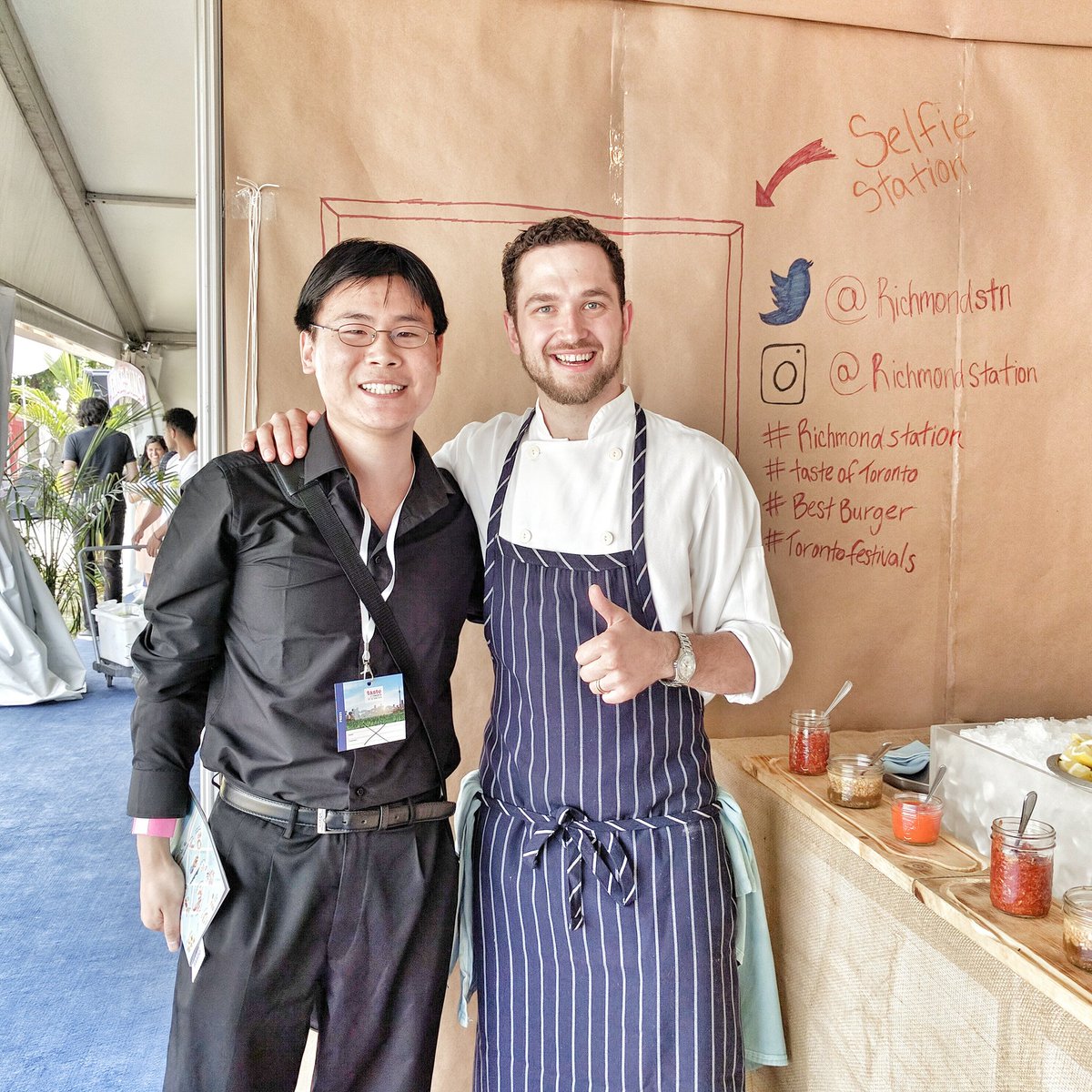 Ribbon-Cutting Ceremony
After our photo session with chefs, it was time for the Taste of Toronto ribbon-cutting ceremony. Everyone gathered around the Food Network Communal Table.
Chef Mark McEwan read the ceremonial speech and Chef Elia Herrera (Los Colibris and El Caballito) cut the ribbon.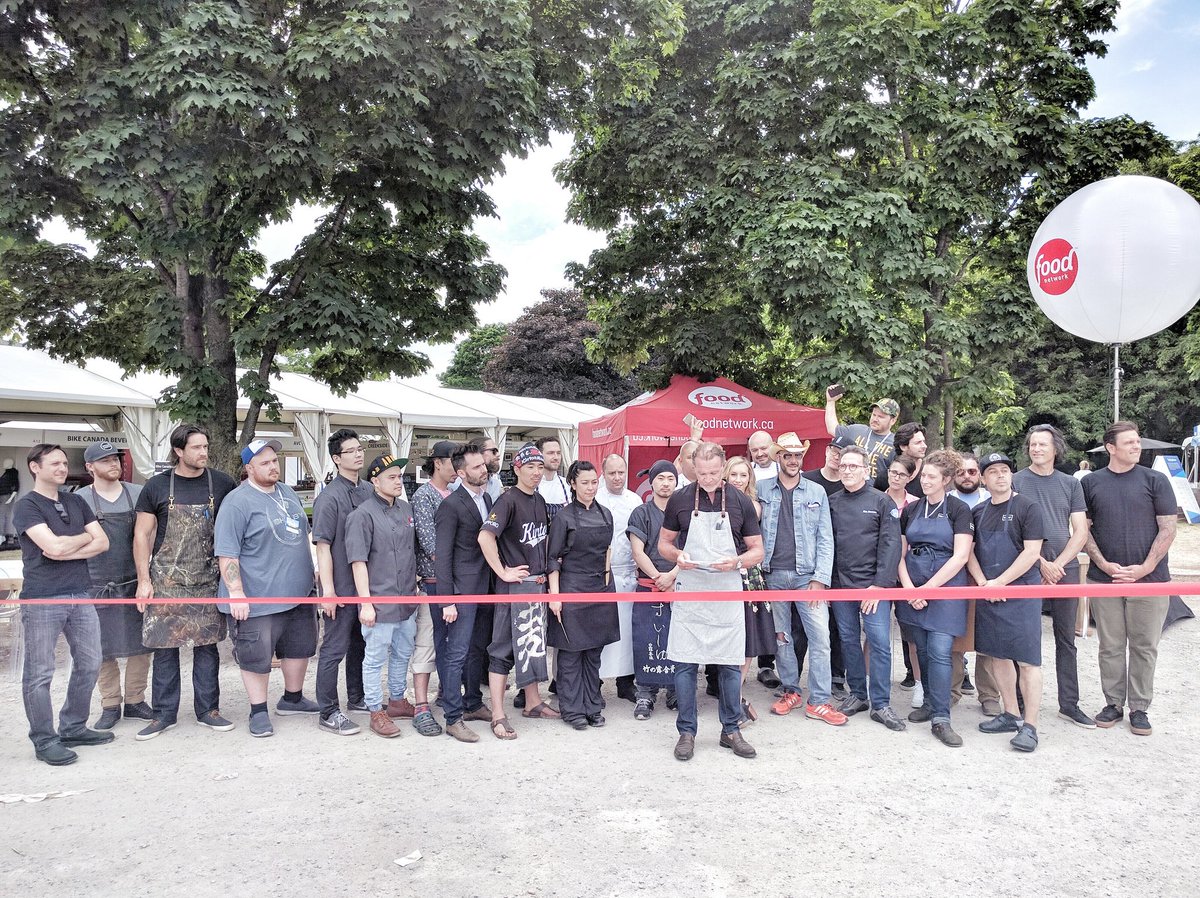 When the ceremony ended and people dispersed, I grabbed the opportunity to get a photo with Chef Michael Hunter of Antler Kitchen and Bar.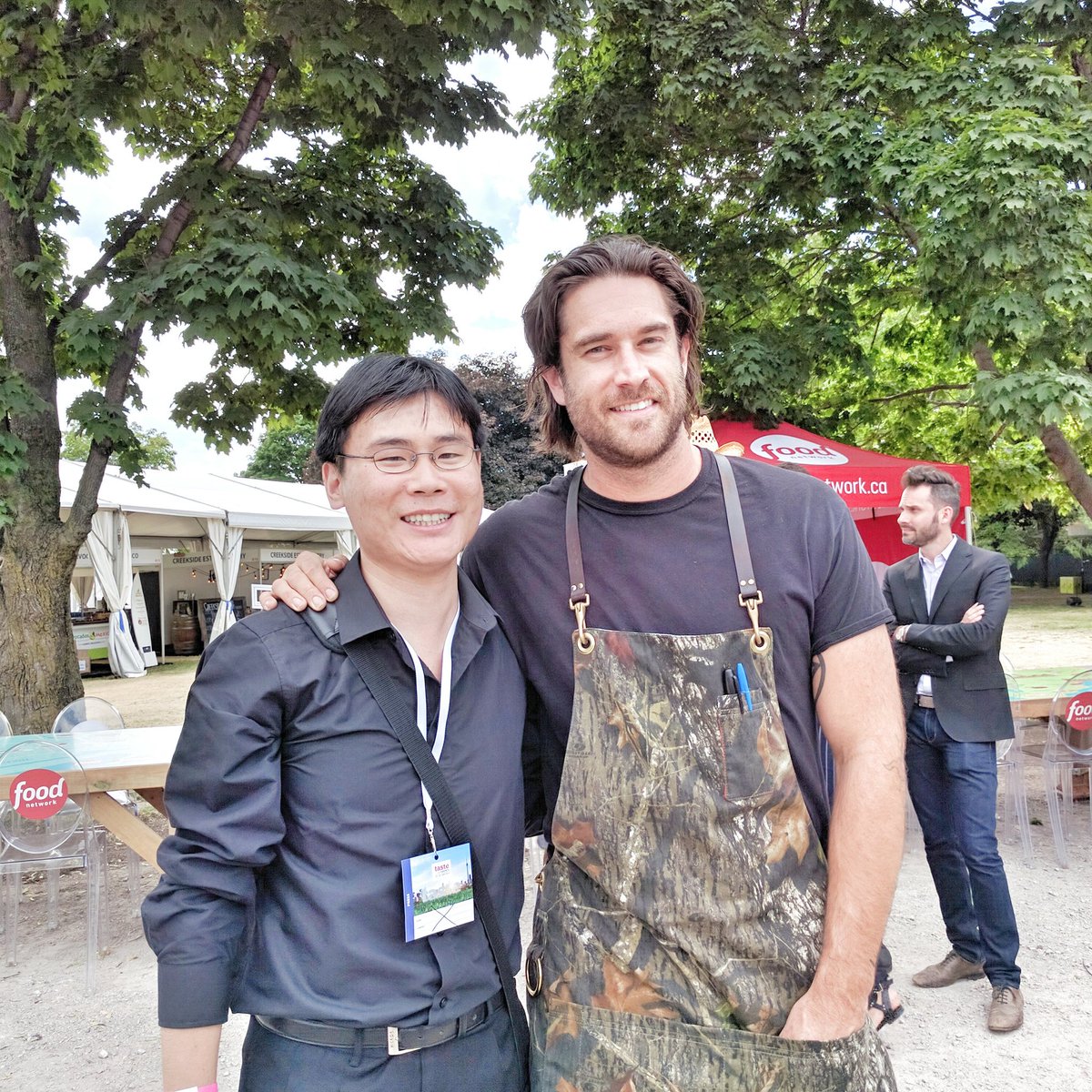 Best in Taste Ceremony
At 5:30PM, chefs and media headed to the reception at the VIP lounge for the Best in Taste Ceremony where they announced the winners of the Best In Taste award and the Best Dressed Stand.
The reception had complimentary wine/champagne and salmon hors d'oeuvres (from True North Salmon).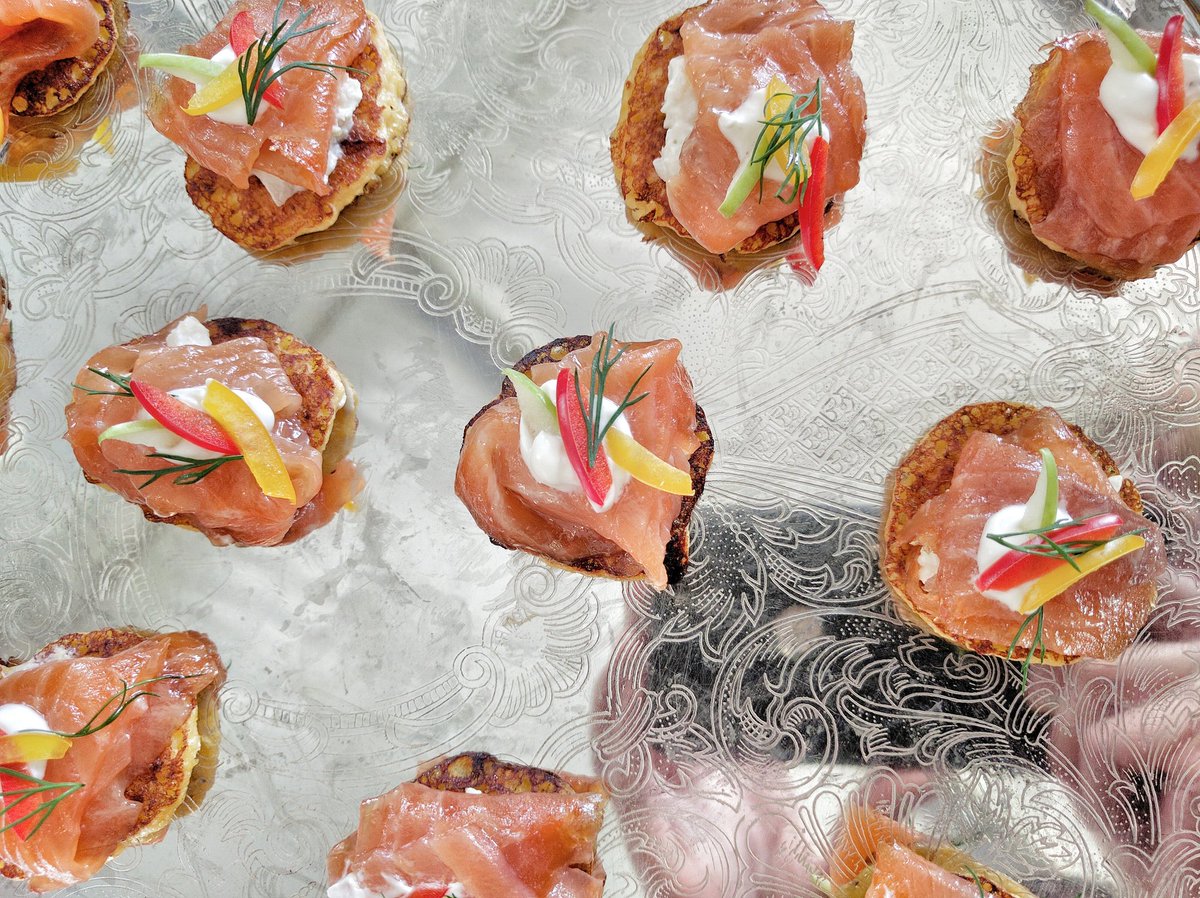 During the Best In Taste Awards, judges Chef Chuck Hughes, Franco Staltieri of Charlie's Burgers and Rebecca Fleming of Toronto Life chose Mamakas Taverna for the Best Dressed Stand and Ted Corrado of the Drake Properties for the Taste Award.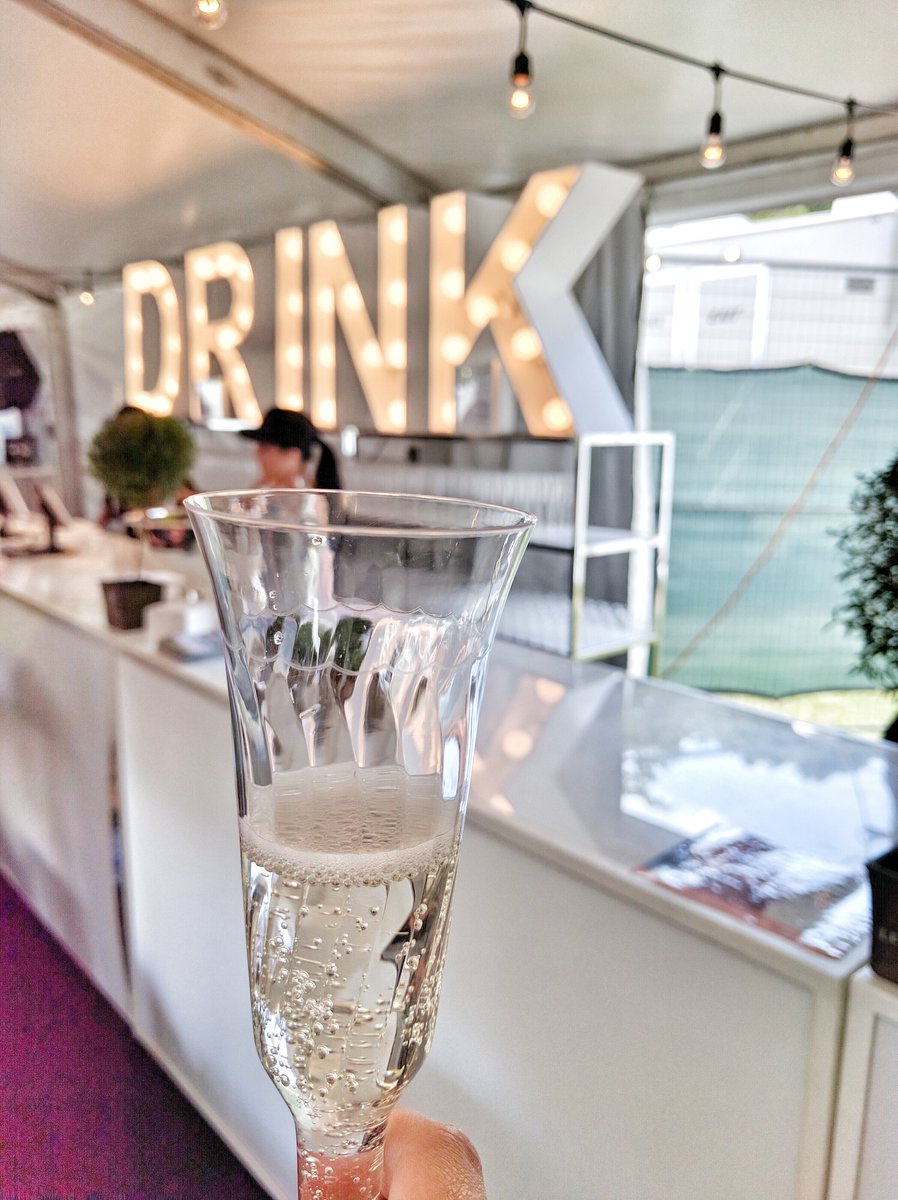 After the ceremony, we were pretty much free to do whatever we want.
Nespresso Bar
First thing we did was head up to the Nespresso Bar where they were offering free espresso drink pairing with food.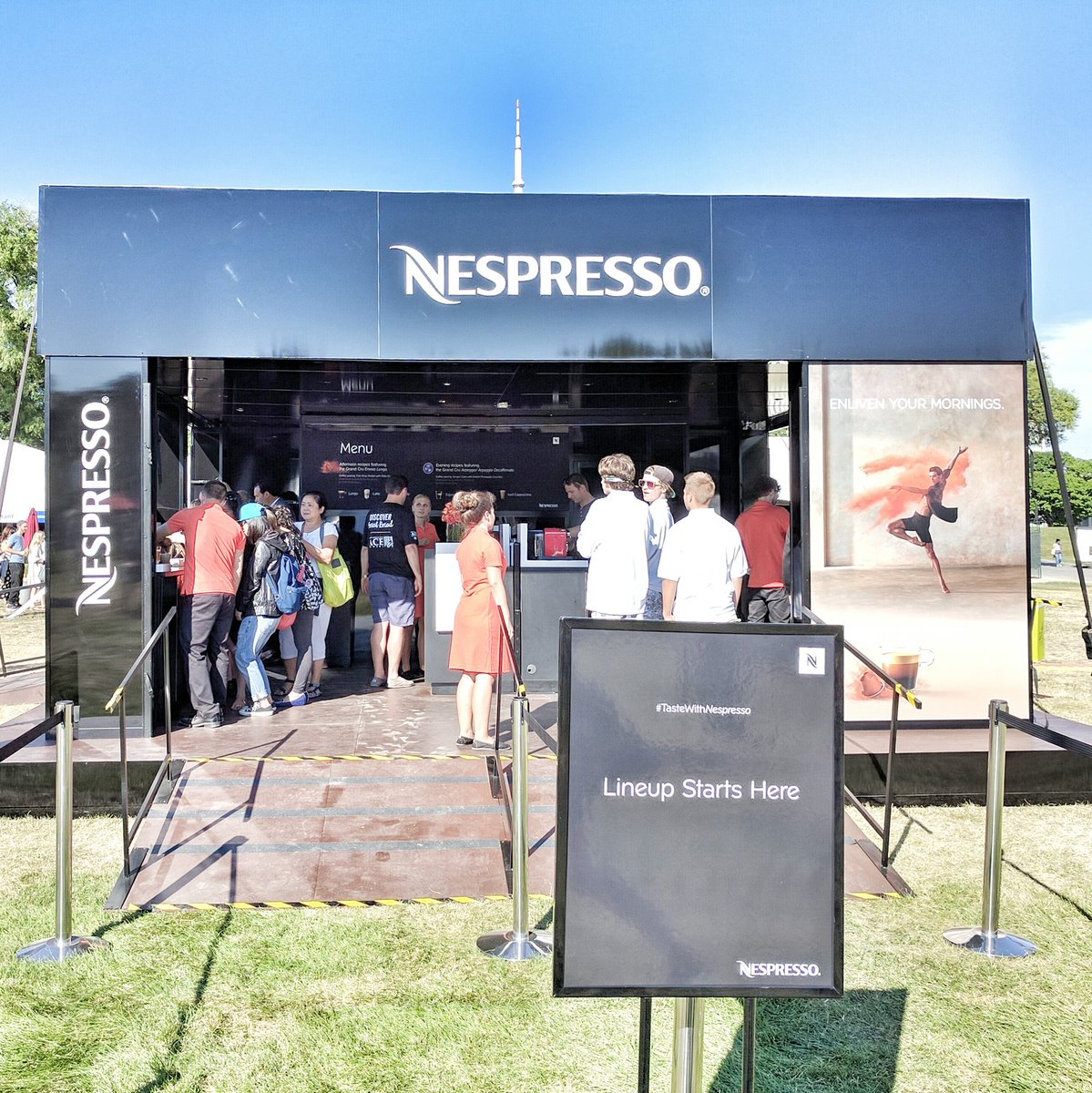 For the evening sessions, the pairing was with Ginger Cake with Grilled Pineapple Crumble, which was developed exclusively for Nespresso by Chef Victor Barry of Piano Piano Restaurant.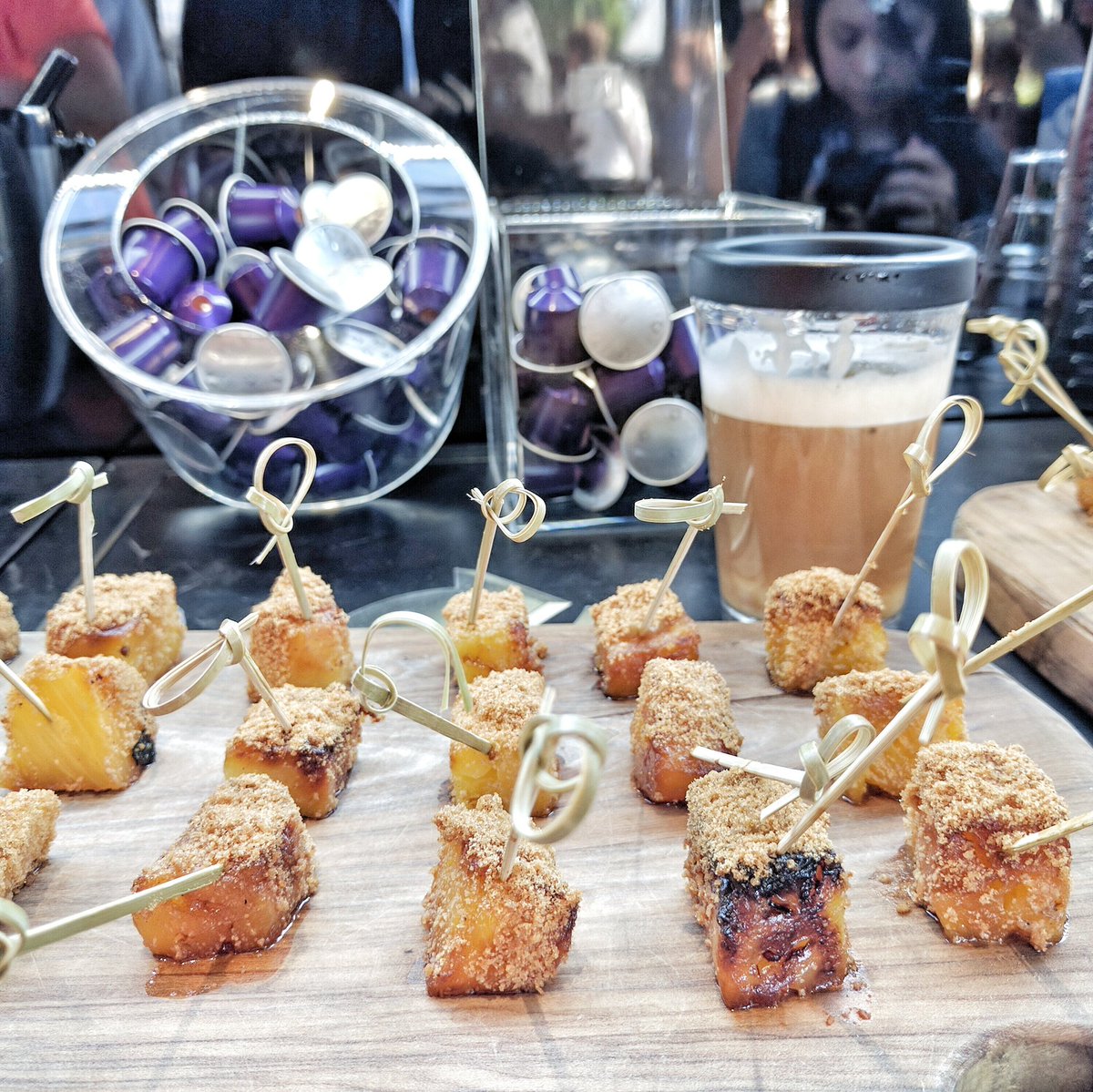 Ace Bakery
We went to Ace Bakery where they have set up a tent with nice outdoor tables and seating with samples of their items.
They were also giving free ice cream sandwich on Au Pain Lait bun. They needed to put more ice cream as the bun was too thick.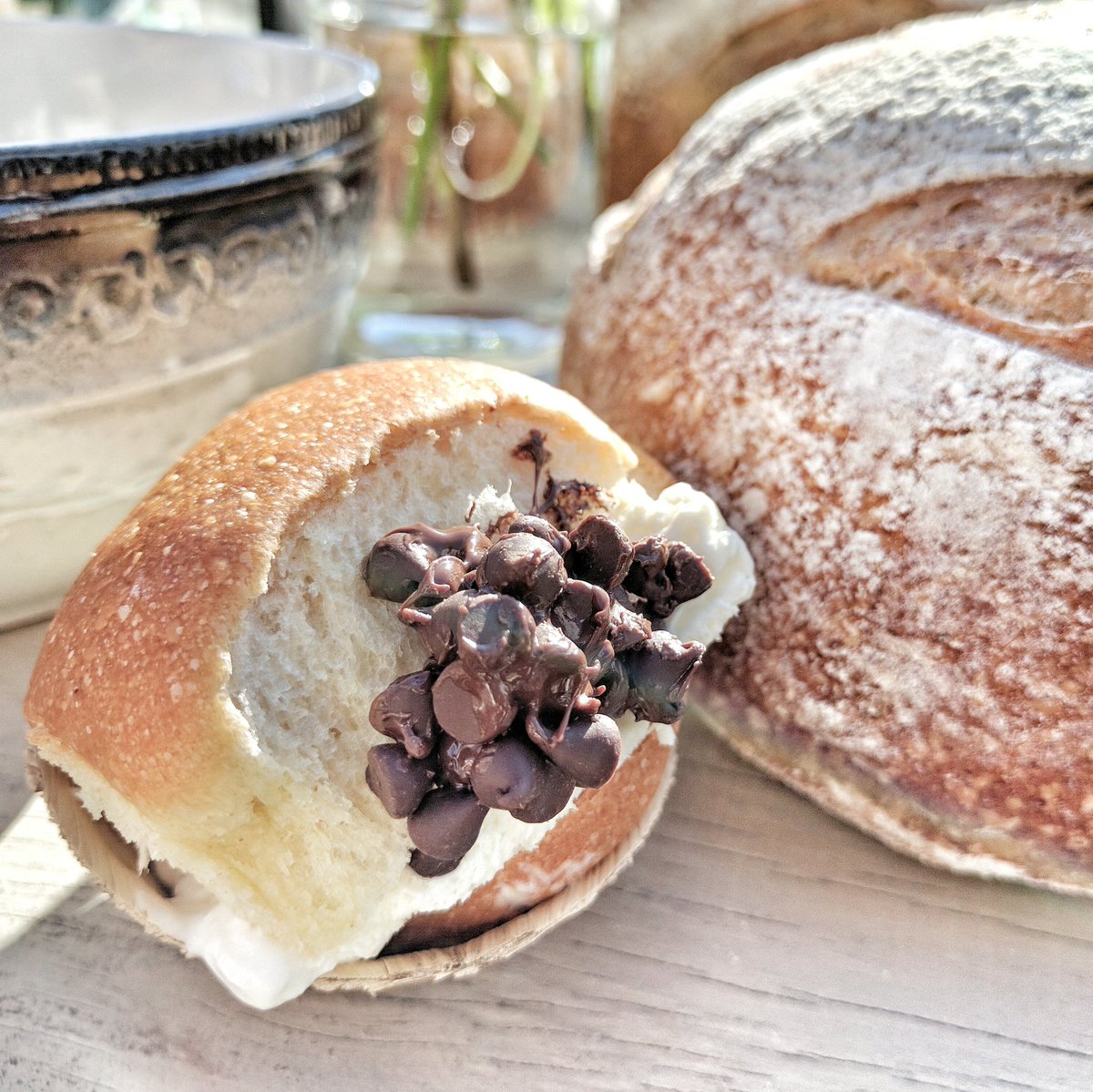 Upper Canada Cheese Company
We visited the Upper Canada Cheese Company vendor booth to sample 4 of their handcrafted guernsey milk cheeses. I liked their cheese and specifically loved the toasted one.
Throughout the event, Metro Ontario staff were walking around with trays of lemonade and watermelon juice.
A group of us foodies (@foodaholicblog_, @sasachowdown and @tastebytes) decided to pool $70 worth of crowns, which is the festival currency (1 crown = $1) to spend on food.
The Bar at Alo
First stop was at The Bar at Alo by Chef Patrick Kriss since they were the Daily Special for Thursday.
We tried the Foie Gras (6 crowns) and Hamachi Ceviche (8 crowns). The foie gras was not good. It tasted like candy with the sweet stuff they included so you can barely taste the foie gras.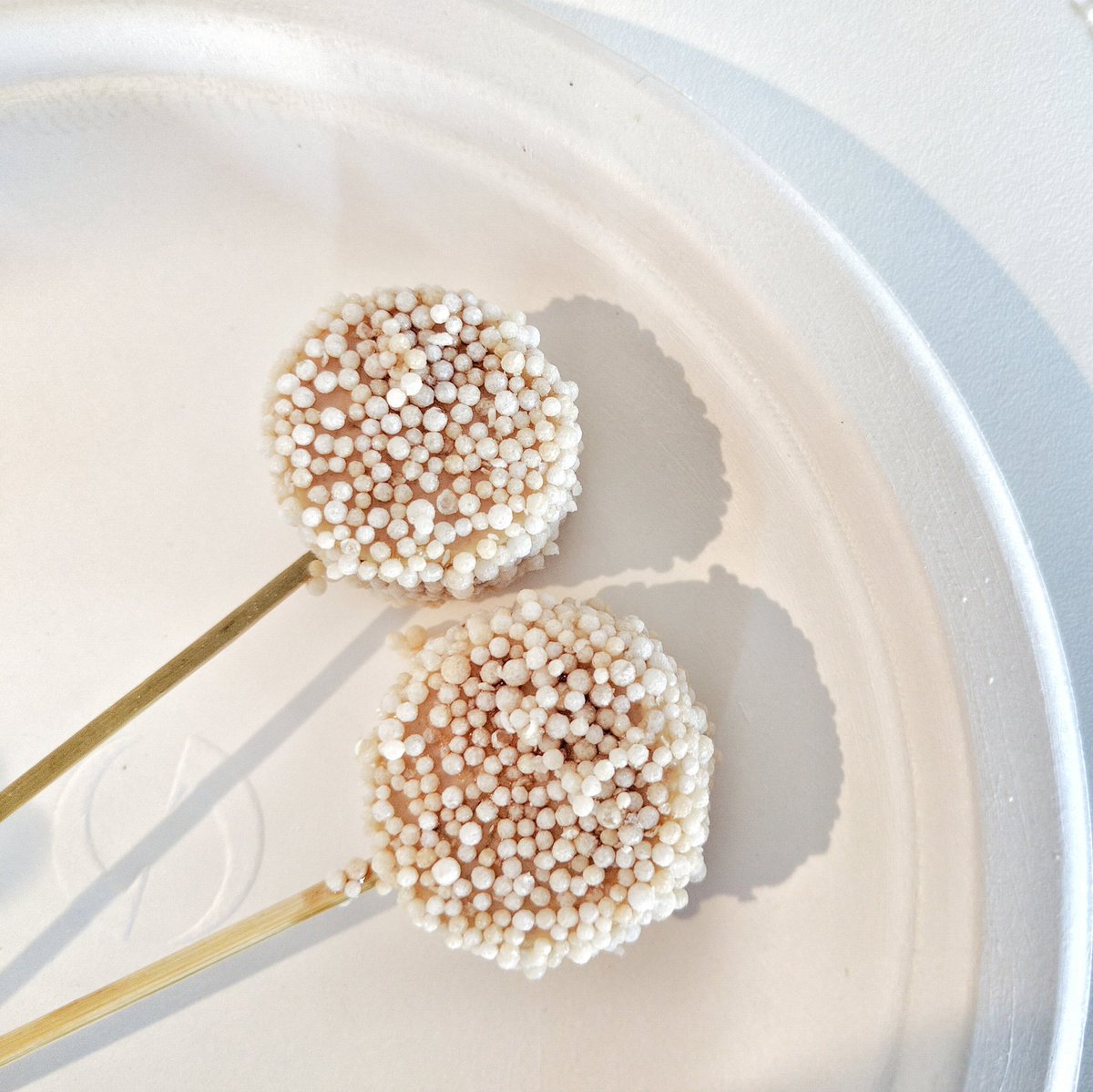 The Hamachi Ceviche was very good – fresh and flavourful with the mix of ingredients.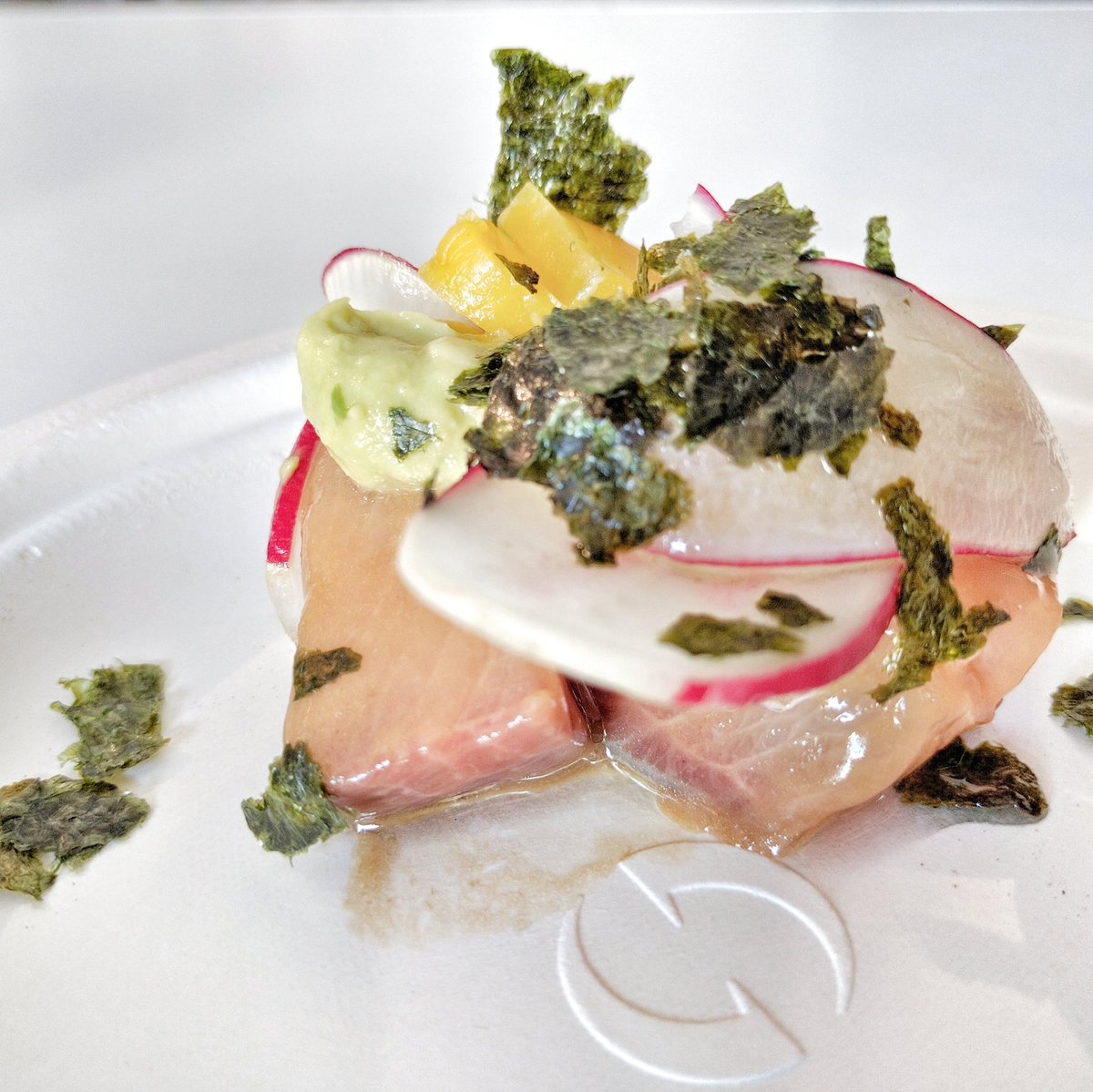 Also Read: Alo Restaurant by Chef Patrick Kriss
Miku
We then went to Miku since we ALWAYS crave sushi! I find Miku pricey in general. Luckily for the festival, you get to try their Aburi Oshi Sushi at a cheaper price.
10 crowns for 2 salmon and 2 ebi oshi sushi. Loved that they have the aburi grill outside so people can actually see the Chef torching the sushi.
Richmond Station
Everyone wanted to do oysters so Richmond Station was next. We were surprised to see Chef Carl actually shucking the oysters for people.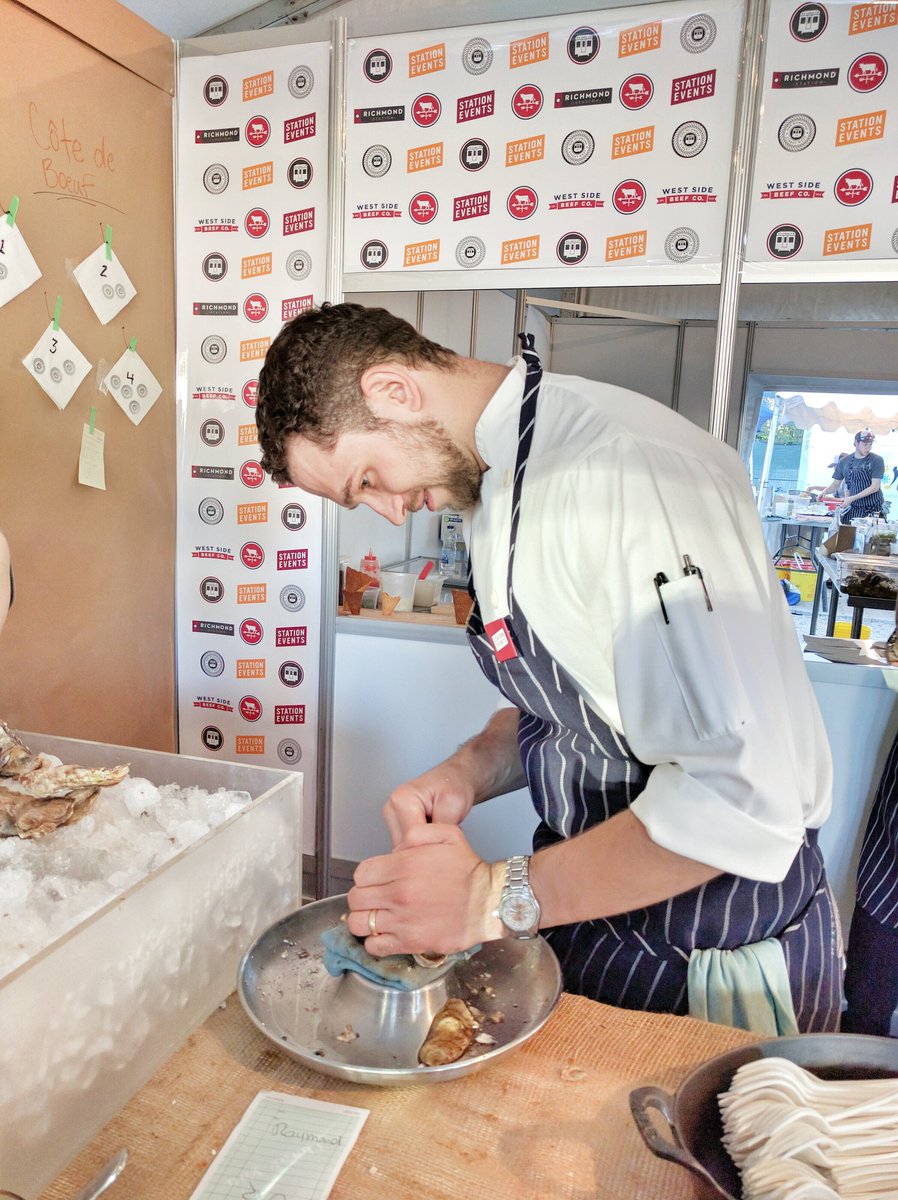 For some reason, I thought you get 4 oysters, which was perfect for us since we were 4 people.
But it turned up being 3 pcs only, but still so good and worth it! Oysters on the Half Shell (8 crowns) – apple mignonette, hot sauce, cocktail sauce.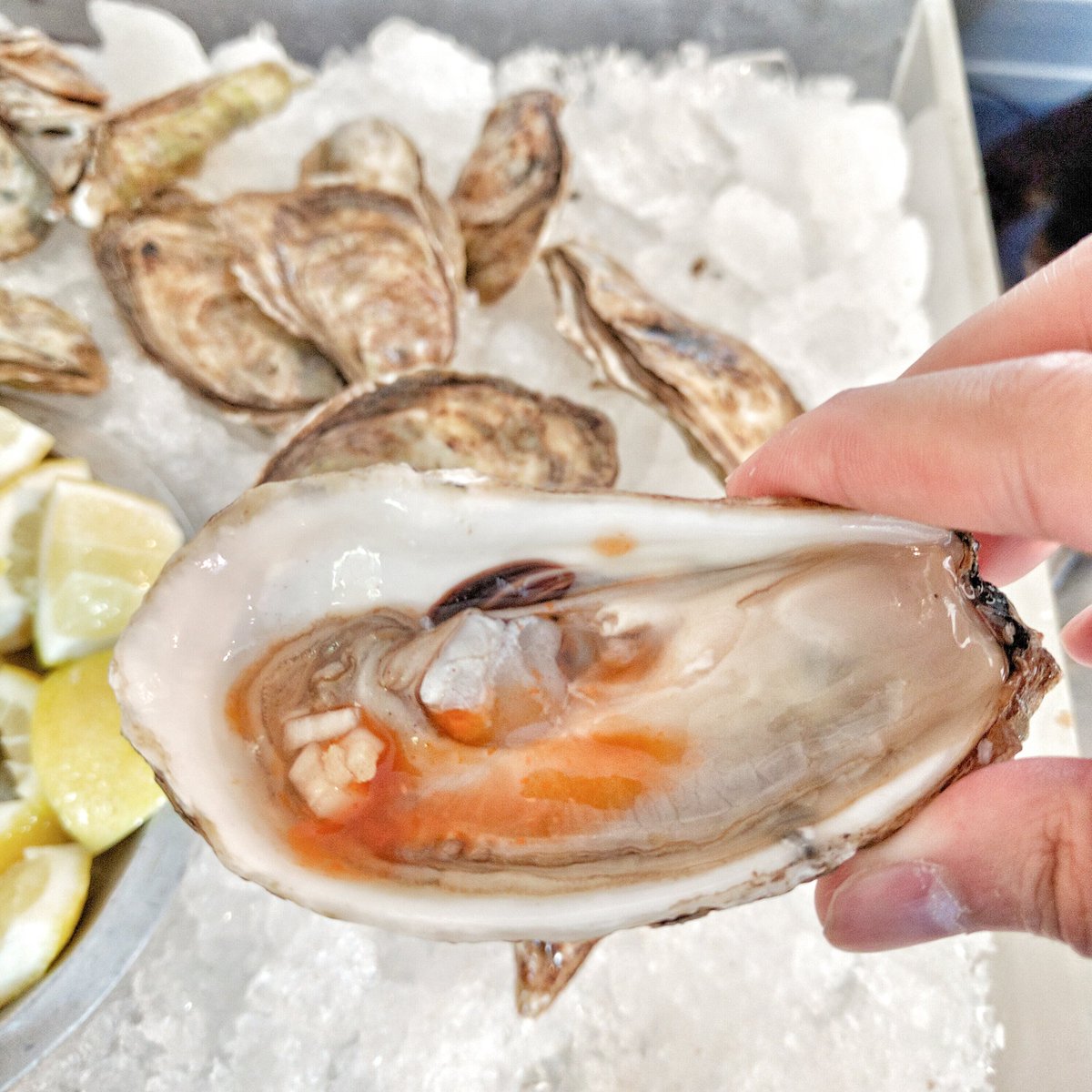 After the oysters, @foodaholicblog_ had to leave for the night. We dropped her off the exit and went to the Maille Flavour Studio which was near the entrance/exit.
McEwan Group
We checked out crown balance and still had 19 crowns left. We decided to go grab the popular and IG-worthy Calamari Po'Boy from The McEwan Group booth (8 crowns).
The Po'Boy came in Ace Bakery's charcoal bun. This is one of the most value items in Taste of Toronto. For $8 you get a full-sized Po'Boy and the calamari portions were good and delicious.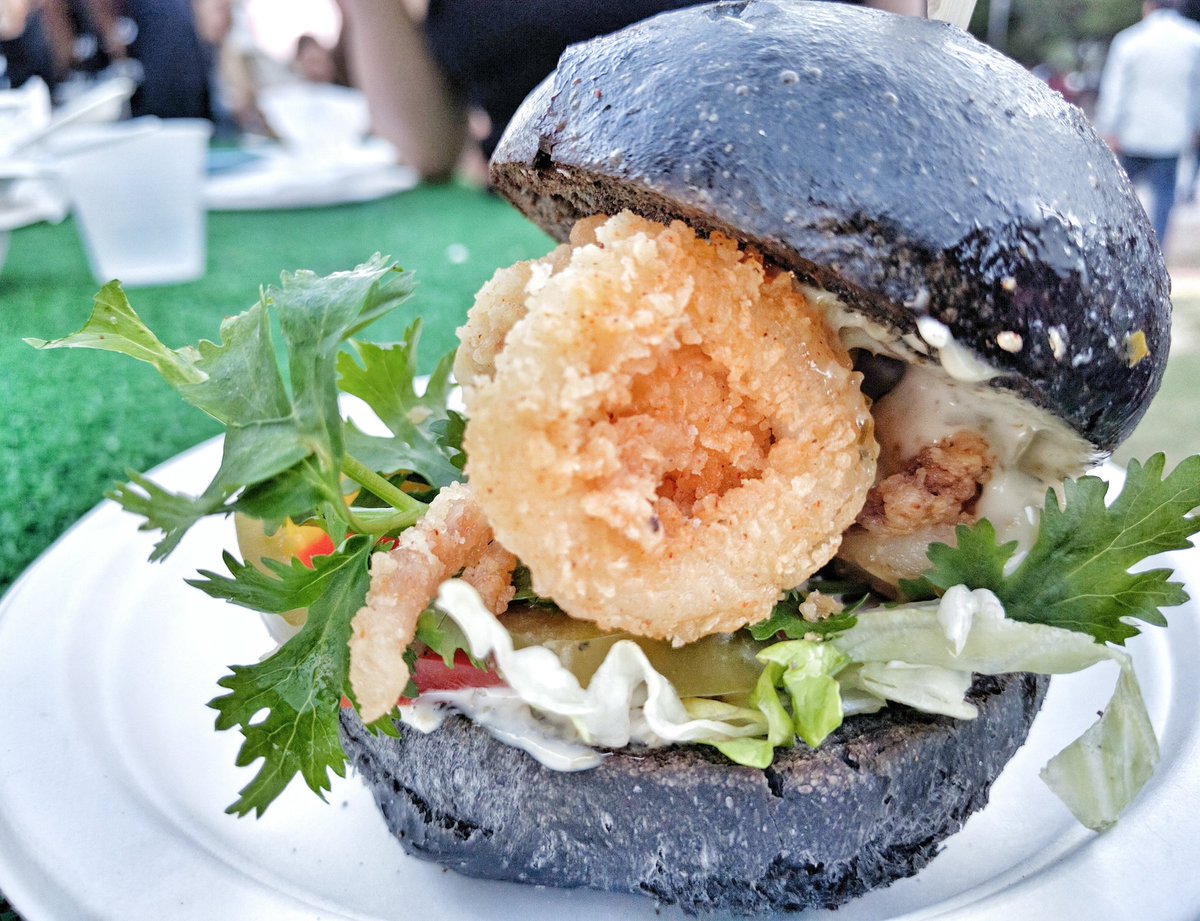 Los Colibris & El Caballito
With only 11 crowns left, we decided to check-out the other popular and IG-worthy item: Churro Nest from Los Colibris/El Caballito (8 crowns).
I really enjoyed this dessert as I'm a big fan of churros. And I find this dish was still created uniquely than like other churro places like Panchos Bakery.
By the time we finished the Churro Nest, it was already closing time. Thoroughly enjoyed the festival that day and looking forward to visit again on Sunday to explore the ones I didn't get to do and repeat the ones I love.
Sunday Media Visit at Taste of Toronto
Sunday was the last day for Taste of Toronto. I went back with my sister since she's hasn't been.
They only had one session from 12PM – 5PM. We arrived at 12:20PM to find that the sign-ups for the Metro Cooking Class are all fully booked already.
I was disappointed because I really wanted to meet Chef Claudio Aprile and he was only here today to do Metro Cooking Class and Taste Theater.
Nespresso Bar
From my visit on Thursday, I saw that Nespresso's food pairing for afternoon sessions was Foie Gras Parfait. I love foie gras so that was our first stop!
I got the Iced Latte to pair with the Foie Gras Parfait with Date Puree, which was also exclusively developed by Chef Victor Barry. I loved this foie gras parfait, and can't believe they're giving it out for free.
It's the real deal and had a strong taste of foie gras. It's way better than the one I had at the Bar at Alo.
Miku
We went to Miku because my sister hasn't tried it and I said this is best chance to try it at a cheaper price. She enjoyed the aburi but also noted the bad fish to rice ratio.
Barque
We then tried The Bee's Knees Brisket Burnt Ends (8 crowns) from Barque. I've always wanted to try Barque since it's rated one of the top BBQ restaurants in Toronto.
However, I was disappointed by the burnt ends. It was not marbled nor tender. The crispy rice was also not crispy but hard.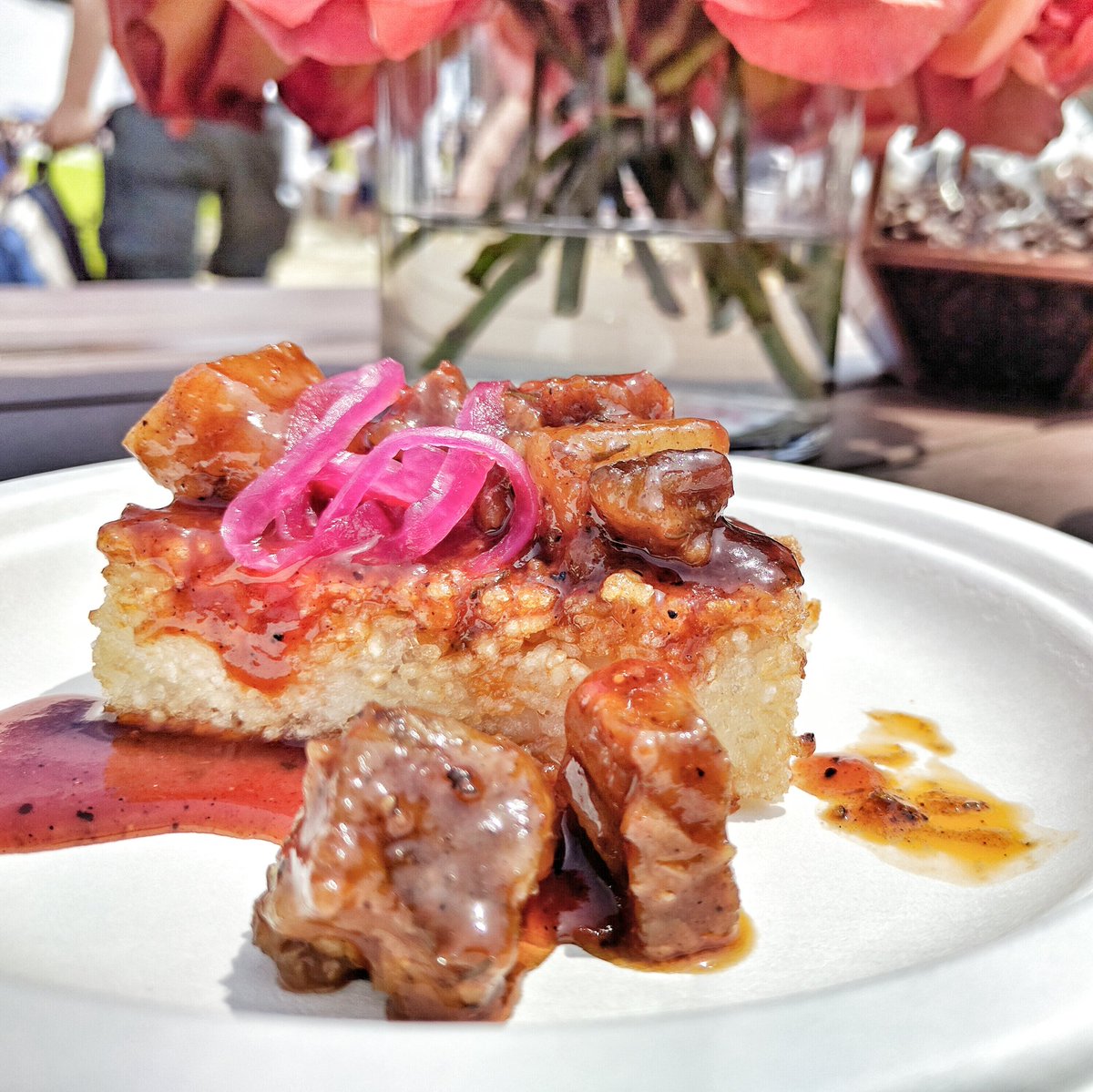 Piano Piano
Since I already tried the oysters at Richmond Station, we decided to try the PEI Oysters (8 crowns) from Piano Piano instead.
It comes in 4 pcs with Apple and Jalapeno Mignonette. It was delicious! And well worth the $8.
Richmond Station
Again there was a line-up at Richmond Station but it moves fast so it's ok. We got the famous Station Burger and it was delicious – as I recall from the Taste of Toronto Chef Battle.
Rasa
On Thursday, I saw the Root Beer Pork Rib from Rasa and noted to try it when I come back. So we got this and it was good portions and delicious for 10 crowns.
It had jalapeno corn puree, corn nuts, pickled fennel.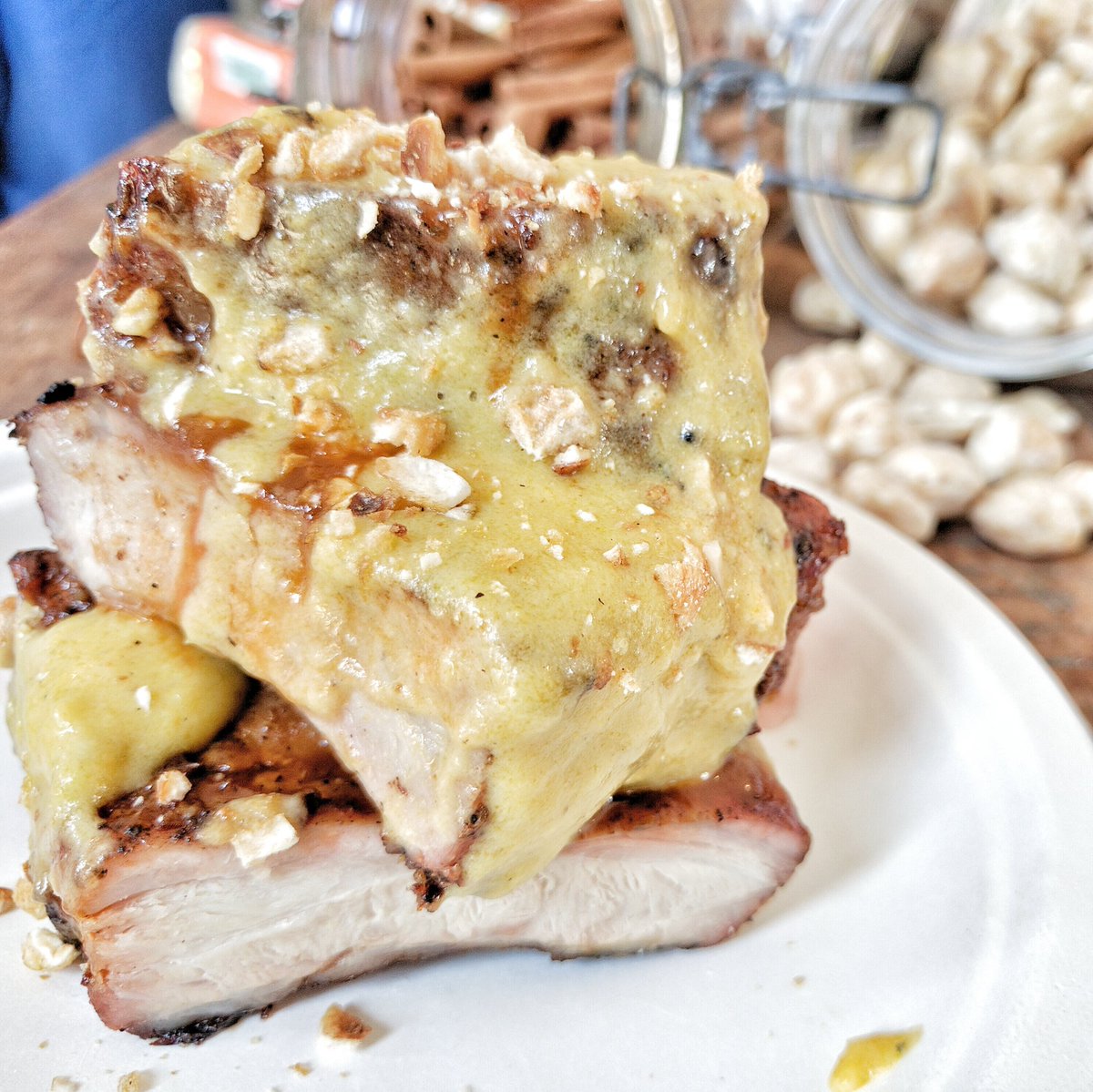 Little Sister Indonesia & Noorden Food Bar
We also tried the Satay Ayam (6 crowns) from Little Sister Indonesia & Noorden Food Bar. It was flavourful and well worth the 6 crowns.
It had krupek, peanut sauce, cucumber pickle.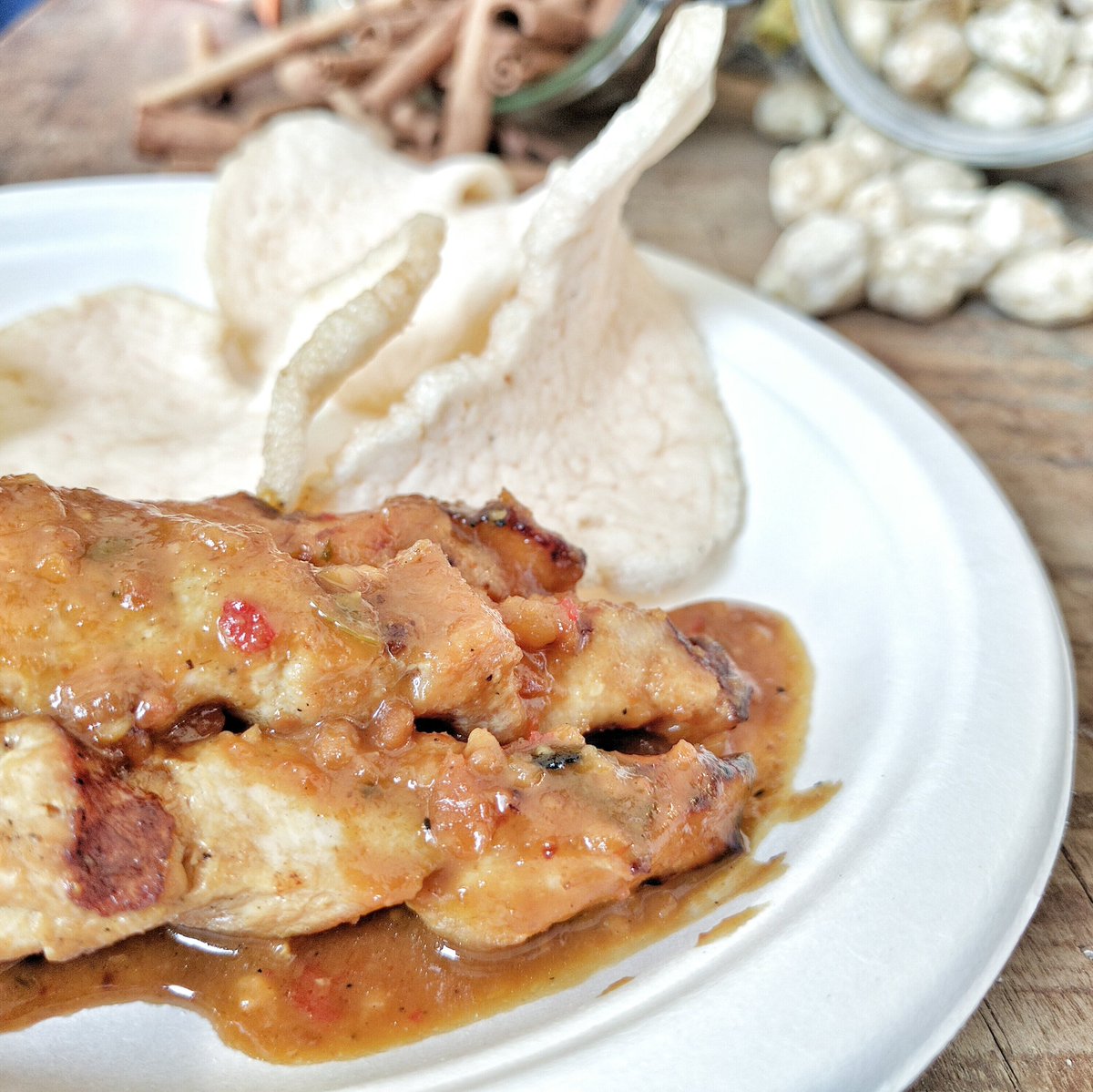 Mamakas Taverna
While eating the Pork Rib and Satay Ayam, the lamb spit by Mamakas Taverna caught our eye with all the smoke it was generating (no wonder they won Best Dressed booth!).
We decided to get the Lamb Kontosouvli (10 crowns) – spit roasted Ontario lamb, bulgar salad, tzatziki, oregano. I was a bit disappointed with this: the lamb wasn't tender as I hoped and there weren't a lot of meat.
It was hard to eat the entire thing – you actually need to use your hands and bite into it since the meat is tough for plastic fork and knives.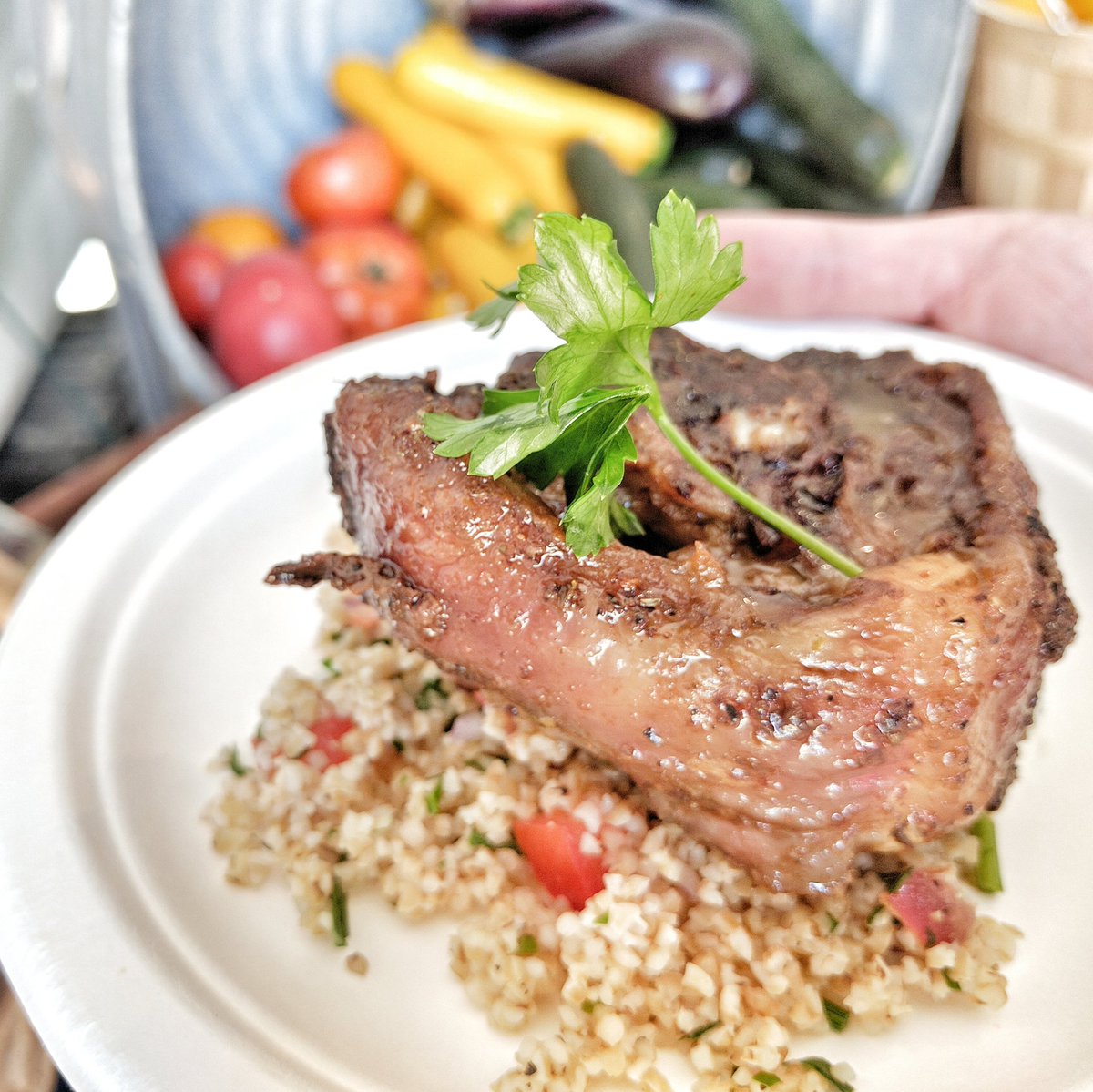 Maille Flavour Studio
I brought my sister to Maille Flavour Studio so she can try the various gourmet mustards and get a break from the sun. It was so hot!
The Lamb Club
We only had 8 crowns left and we decided to leave right after we finish the crowns. As we were walking around, we saw a long line-up for The Lamb Club.
We're big fans of lamb so we decided to use up the rest of the crowns there: 4 crowns for 2 pcs of lamb tenderloin or roasted lamb.
---
And there you go with my experience of Taste of Toronto! Hope you enjoyed it!
---
Disclaimer: Although I was provided free entrance to Taste of Toronto (on both days) and the VIP Lounge (during VIP Opening Night), the opinions expressed here represent my own and not those of the company's.