Some posts on this site contain affiliate links. If you book or purchase something through one of these links, I may earn a small commission at no extra cost to you. Read the full disclosure policy here.
Spring is wonderful time to visit Stratford to eat, and you'll see why with these 10 best things to do in Stratford, Ontario in Spring for food lovers.
Stratford's culinary reputation is built on a solid foundation of producers, chefs and artisans working together to present the best of the area. I went on a culinary tour on April Fool's Weekend (April 1-2, 2017) in the Spring.
Suffice to say I was impressed by how much the food scene has grown in Stratford, Ontario. Aside from that, I also got to explore more of the city, visiting places I didn't know about before.
This travel guide will showcase some of the best things to do and restaurants in Stratford, Ontario including culinary trails, tea tasting, distillery tours and tasting and the Swan Parade. Some of these only happen in the Spring.
Also Read: Best of Windsor-Essex County, Ontario
---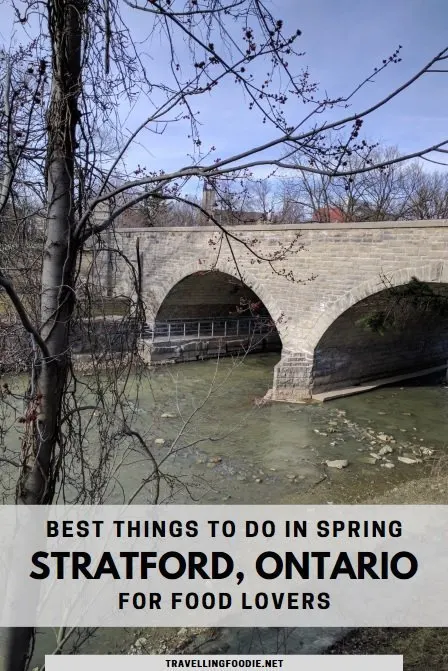 ---
Savour Stratford Maple Trail
One thing that's very Canadian is Maple Syrup, Canada's liquid gold!
And, in Spring, one of the best things to do in Stratford, Ontario is the Savour Stratford Maple Trail, where you'll get to sample maple creations from culinary artisans.
The Maple Trail is seasonal and runs from March 1 – April 30. For $25 (+ HST), you get six vouchers that you can use in 22 different stops in a self-guided tour. Click here to learn more about the Maple Trail!
Some Stops in the Savour Stratford Maple Trail
Keystone Alley
For the Maple Trail, the Keystone Alley offered maple-butternut squash dipping sauce paired with house-made French fries. The dipping sauce was made with real maple syrup and smoked butternut squash.
The pairing was a great combination of sweet and savoury. The homemade fries were crispy and delicious!
The sauce was definitely interesting and surprisingly works, but I wish it was lukewarm instead of cold.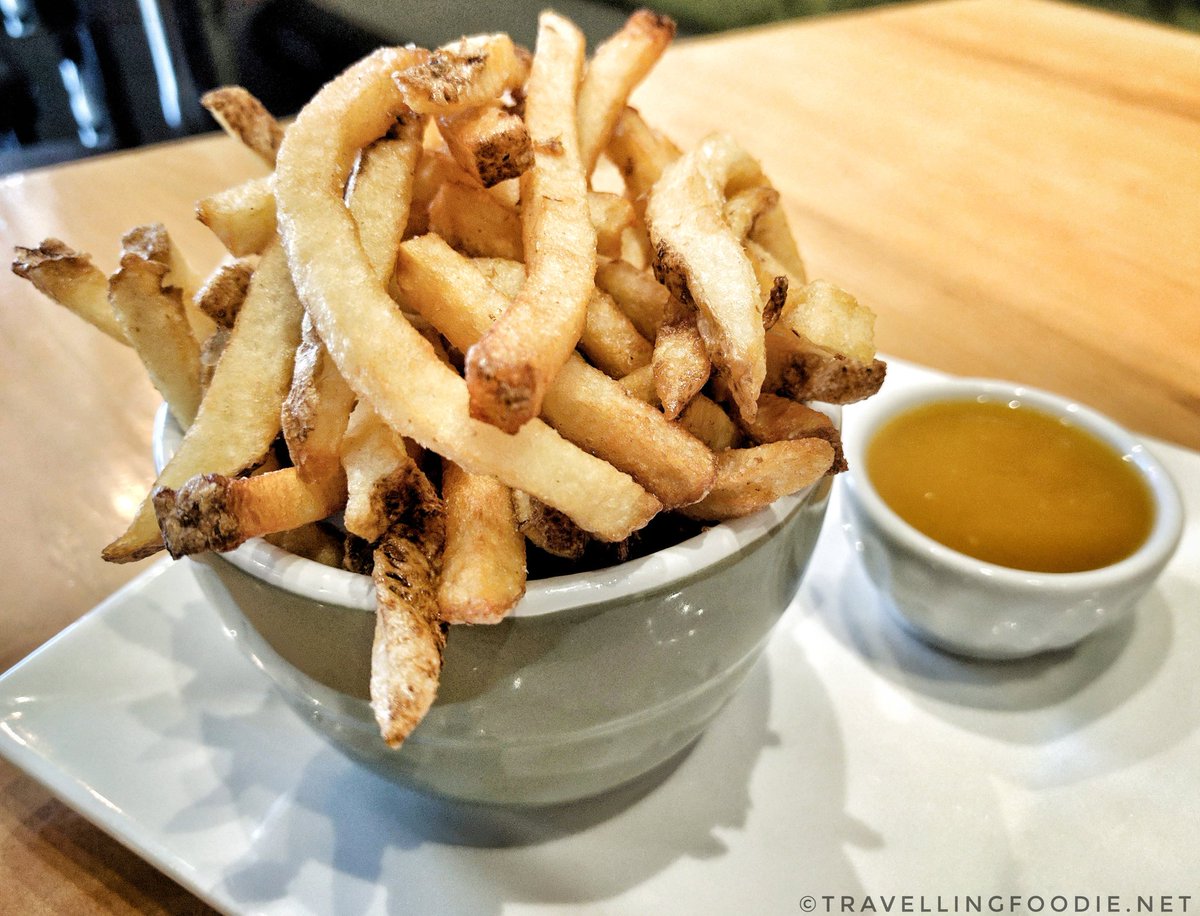 Website / Address: 34 Brunswick St, Stratford, Ontario N5A 3L8
Rheo Thompson Candies
For the Maple Trail, Rheo Thompson Candies offered Copper Kettle Maple or Maple Nut Fudge. I chose the Maple Nut Fudge.
They were made on-site in their kitchen with walnut pieces and pure local maple syrup, butter and cream. The Maple Nut Fudge was definitely good to share as it's a big portion for one.
It was highly addicting, though sweet. I loved the added walnuts to balance the sweetness of the fudge.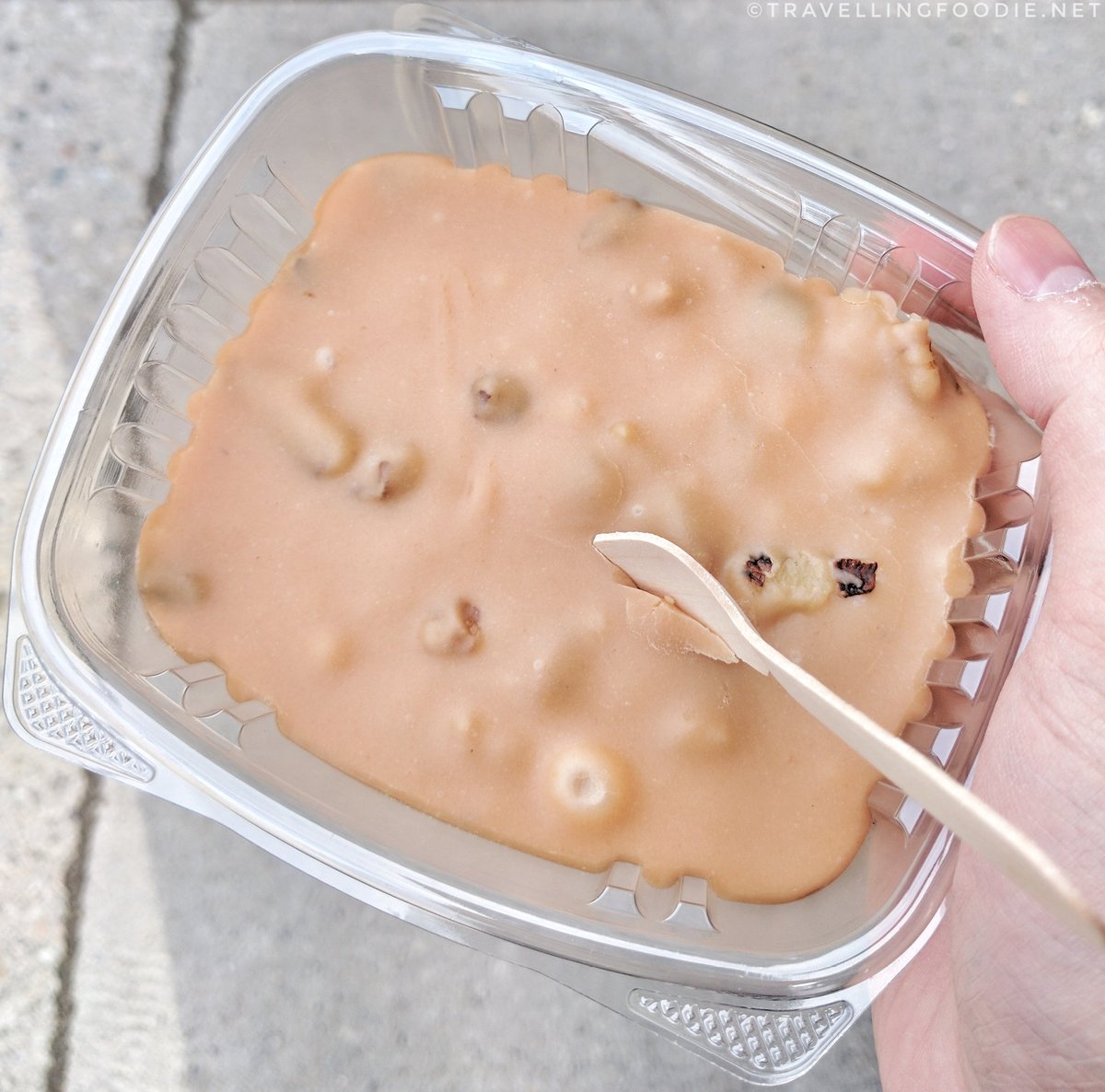 Website / Address: 55 Albert St, Stratford, Ontario N5A 3K2
Junction 56 Distillery
Junction 56 Distillery offered a sampling and take home sample bottle of the Sugarshack, a Canadian twist on their Moonshine product by adding locally sourced maple syrup and other select ingredients to create a unique and delicious liqueur.
Did you know? The name Junction 56 is based on the two sets of train tracks that came to Stratford in 1856. Tying local heritage and history together, Junction was selected because the building's location is next to those tracks, and 56 comes from the year 1856.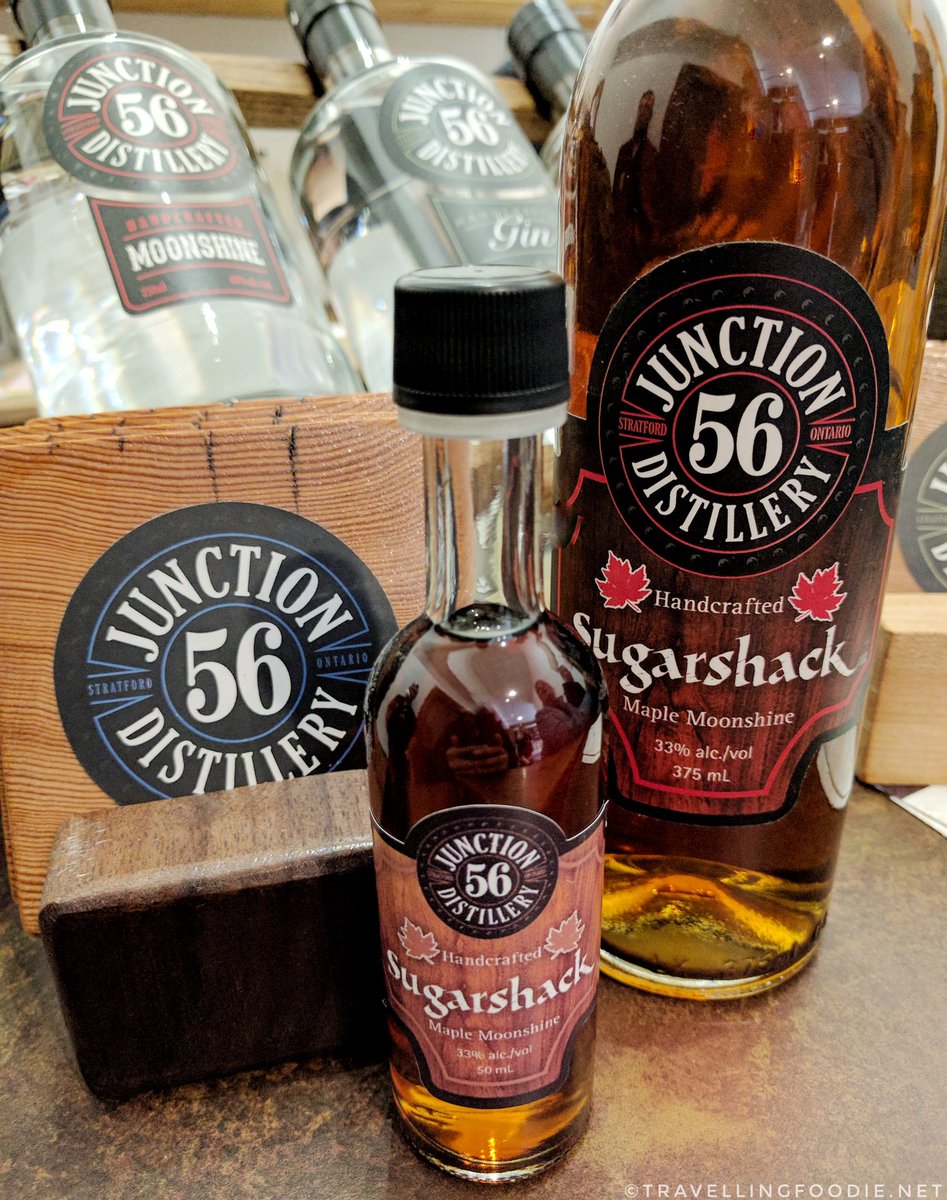 Website / Address: 45 Cambria St, Stratford, Ontario N5A 1G8
Pavillion Coffee and Crepes [CLOSED]
Pavillion Coffee and Crepes offered sweet Maple and Walnut crepe, made with pure Quebec Maple Syrup and crushed walnuts. They gave a full portion of the crepe, and it's quite big.
It was definitely good to share, especially if you're planning to food trip the trails.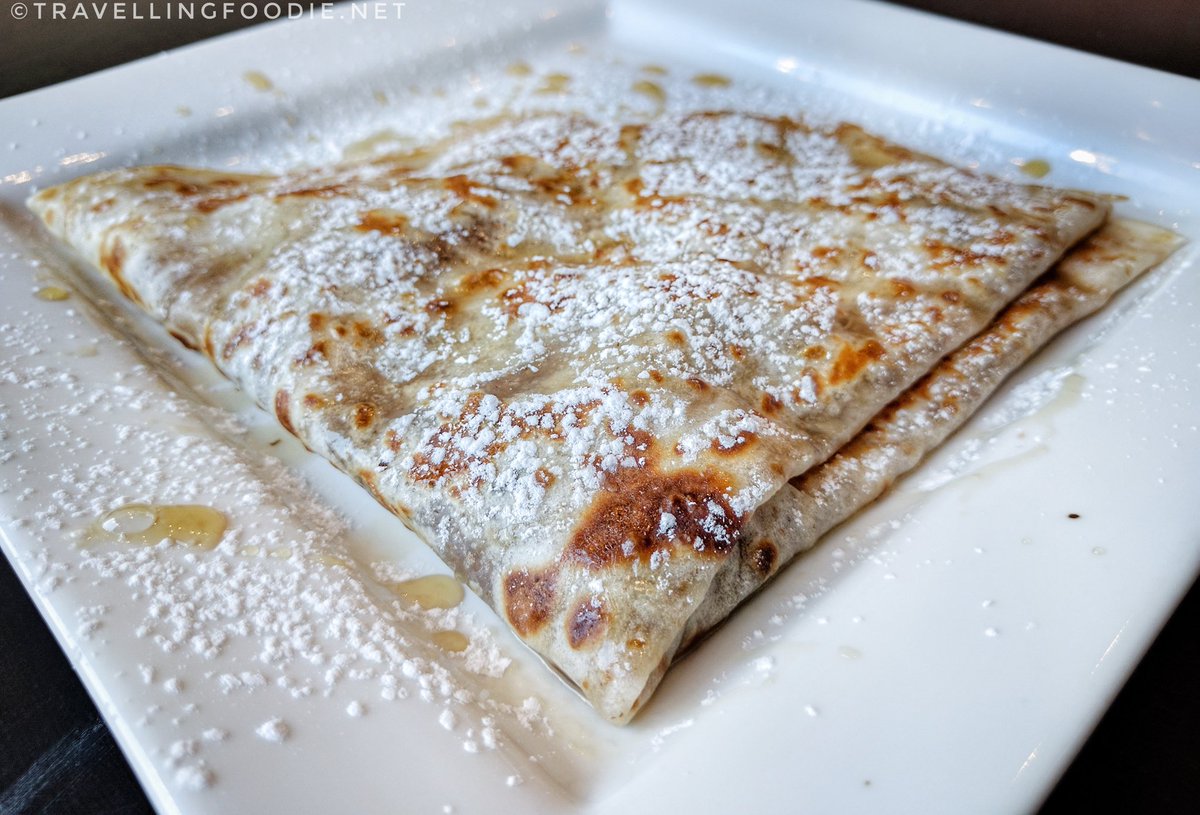 Address: 33 Market Pl, Stratford, Ontario N5A 1A4
Downie Street Burgers
Downie Street Burgers offered Maple Bacon Poutine: home-cut fries piled with maple bacon, cheese curds and their specialty poutine gravy.
They gave a half portion of the normal size, but it was still a good size and quite heavy. The fries were thick cut and they were generous on the cheese curds.
Website / Address: 107 Downie St, Stratford, Ontario N5A 1X2
Jenn & Larry's
Jenn and Larry's Brittle and Shakes offered Maple Sundae: McCully's Hill Farm maple syrup on creamy vanilla ice cream. Heads up, this place can get long line-ups.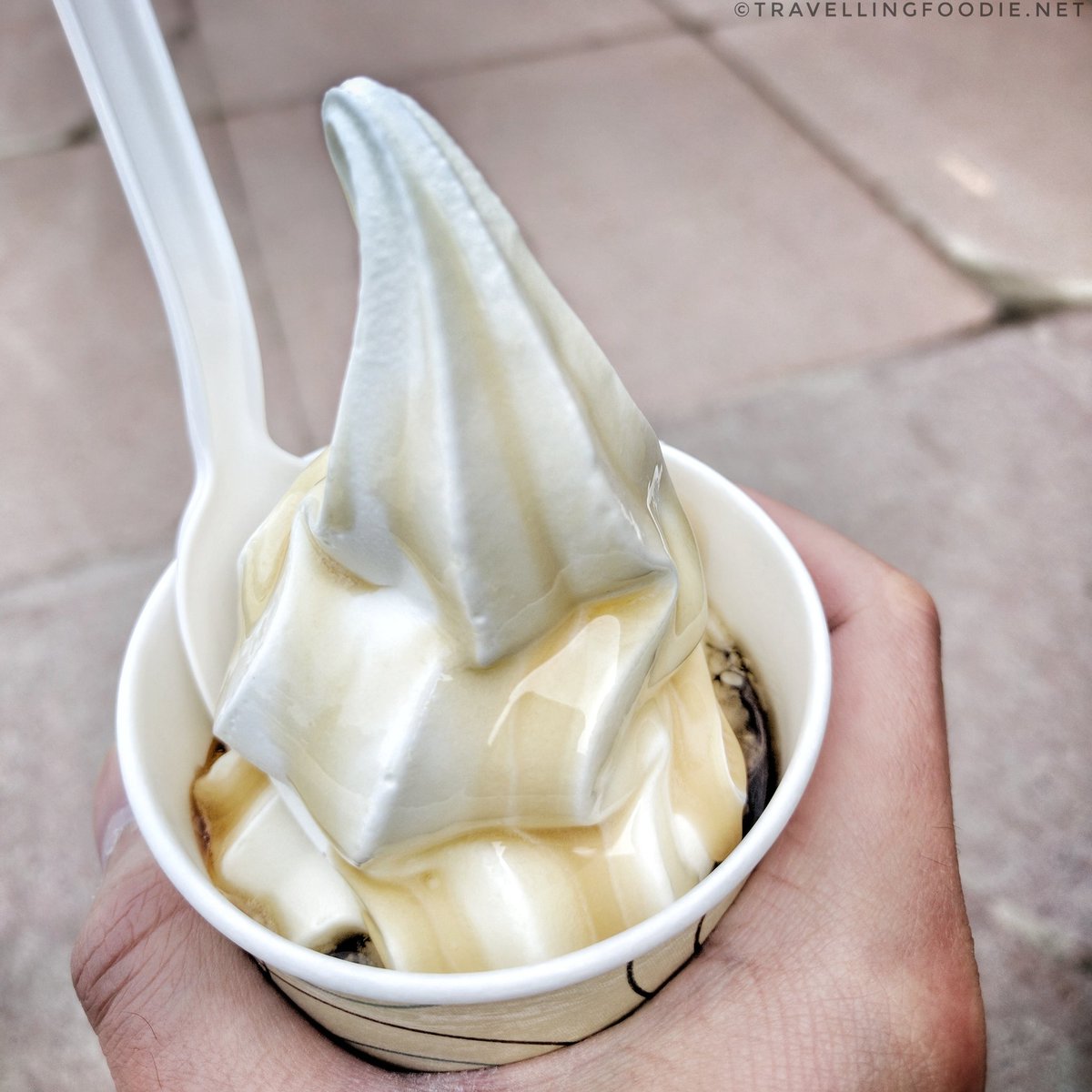 Website / Address: 49 York St, Stratford, Ontario N5A 1A1
Also Read: Where To Eat in St. Thomas, Ontario
---
Savour Stratford Bacon & Ale Trail
Have you ever heard the saying: Everything's better with bacon? Well, it's true! And the Savour Stratford Bacon & Ale Trail steps it up a notch by pairing it with beer!
Did you know? This Bacon & Ail Trail combines Stratford's history in food and drink. Stratford is home to the Ontario Pork Congress for over 40 years, and has a brewing history that first began in the 1870s.
The Bacon & Ale trail is offered all year-round. You can purchase the trail for $30 (+HST), which is good for five (out of thirteen) stops on a self-guided tour.
Some places offer bacon, some ale, some both. Learn more on the website.
Some Stops in the Savour Stratford Bacon & Ale Trail
The Hub at 27 Marketplace
The Hub at 27 Marketplace is on the second floor with a rooftop terrace.
For the Bacon & Ale Trail, they offered Escargot Fricassee served with bacon, mushrooms, sherry cream and garlic bread, paired with a glass of Leffe Blonde Abbey.
This was such an amazing dish and I highly recommend it if you love escargot, or want to try it! I also love Leffe so was glad that's the beer they chose!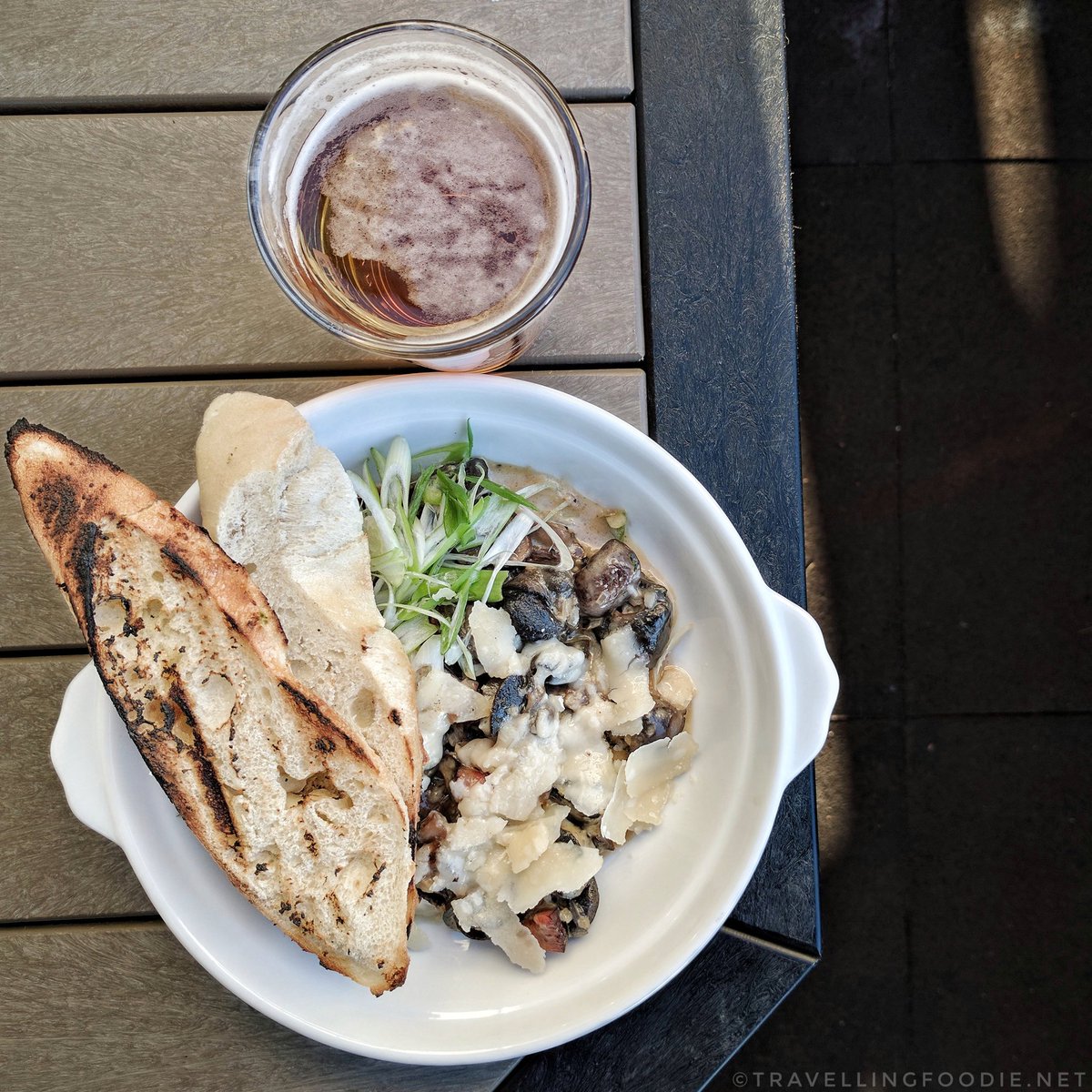 Website / Address: 33 Market Pl 2nd floor, Stratford, Ontario N5A 1A4
Black Swan Brewing Co.
Black Swan Brewing Co. offered a mini tasting flight of 4 seasonal craft beers.
When I went, they gave me the following (left to right of the photo): English Pale Ale, Porter, India Pale Ale, "Wild Child" Raspberry Berliner Weisse. I loved the "Wild Child" (not for everyone) and English Pale Ale.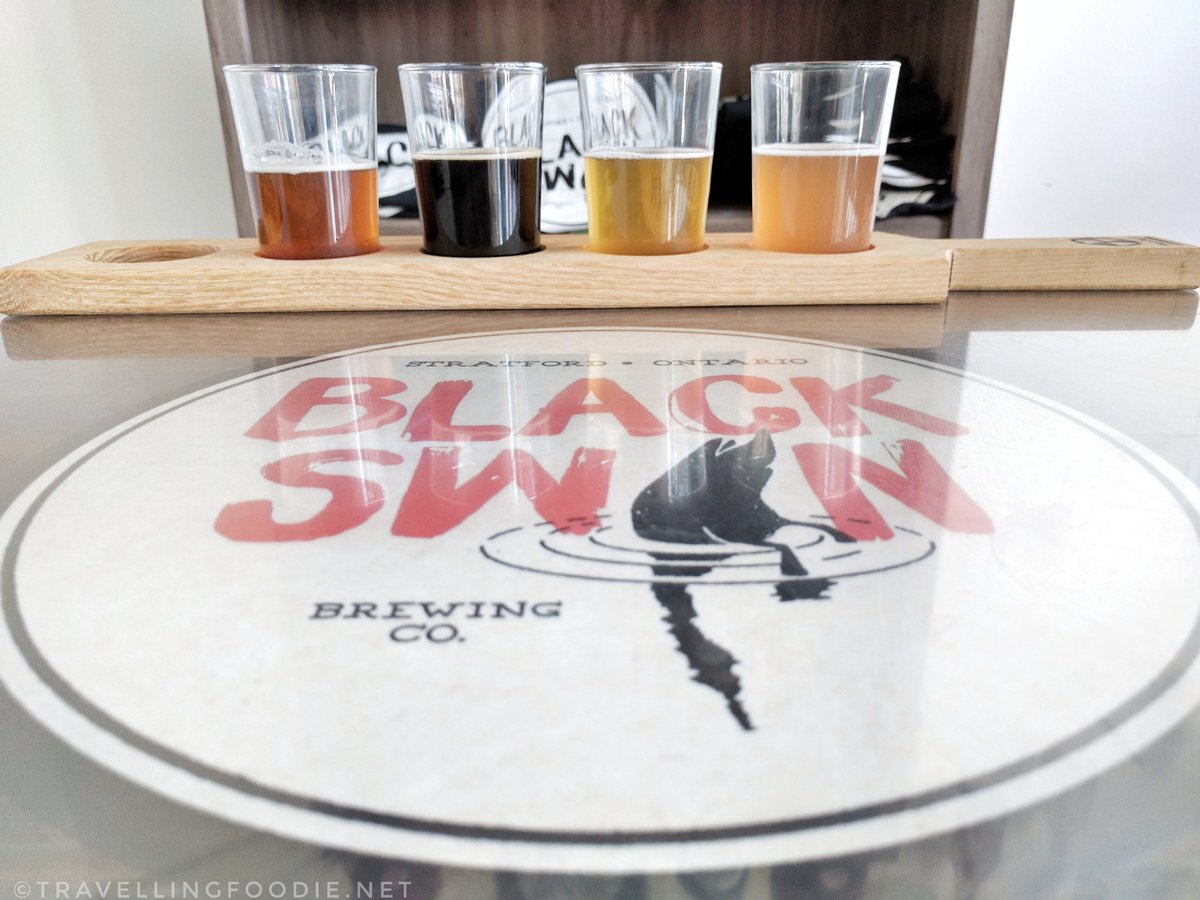 Website / Address: 144 Downie St, Stratford, Ontario N5A 1X1
Mercer Hall
Mercer Hall offered a comparison tasting of two styles of artisan bacon: Church Hill Farm smoked bacon and Mercer's dry-cured tesa paired with 6oz pour of a local craft beer.
I got the Arrogant Brewing's Arrogant Bastard Ale specifically because of the name – first time seeing it!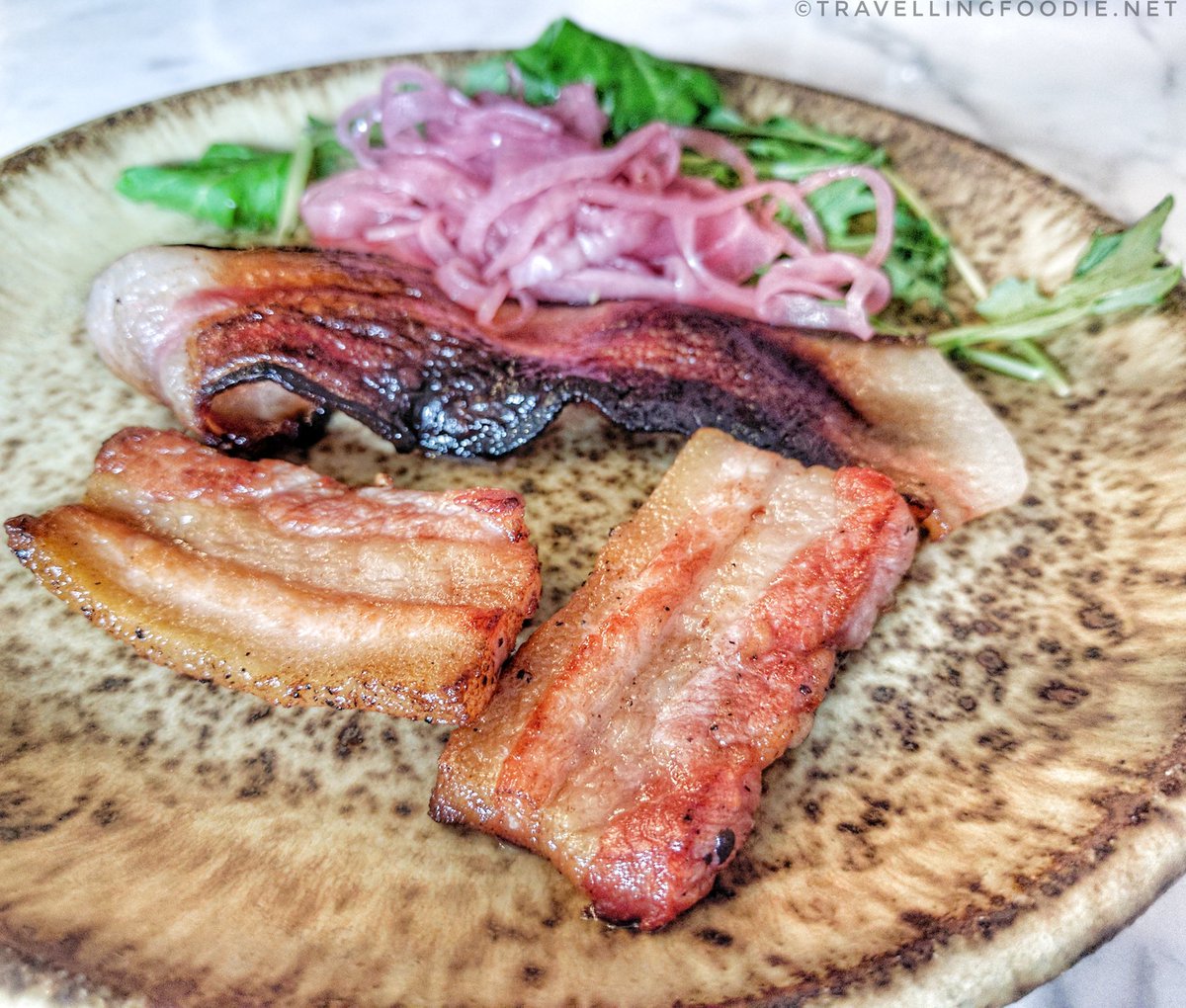 Website / Address: 104 Ontario St, Stratford, Ontario N5A 3H2
Rocky Mountain Chocolate Factory
Rocky Mountain Chocolate Factory offered a pack of Chocolate Bacon Toffee: decadent chocolate-covered toffee with smoky bacon flavour.
By the end of the Bacon & Ale Tour, I was so full so I decided to use my last trail voucher for something I can bring home.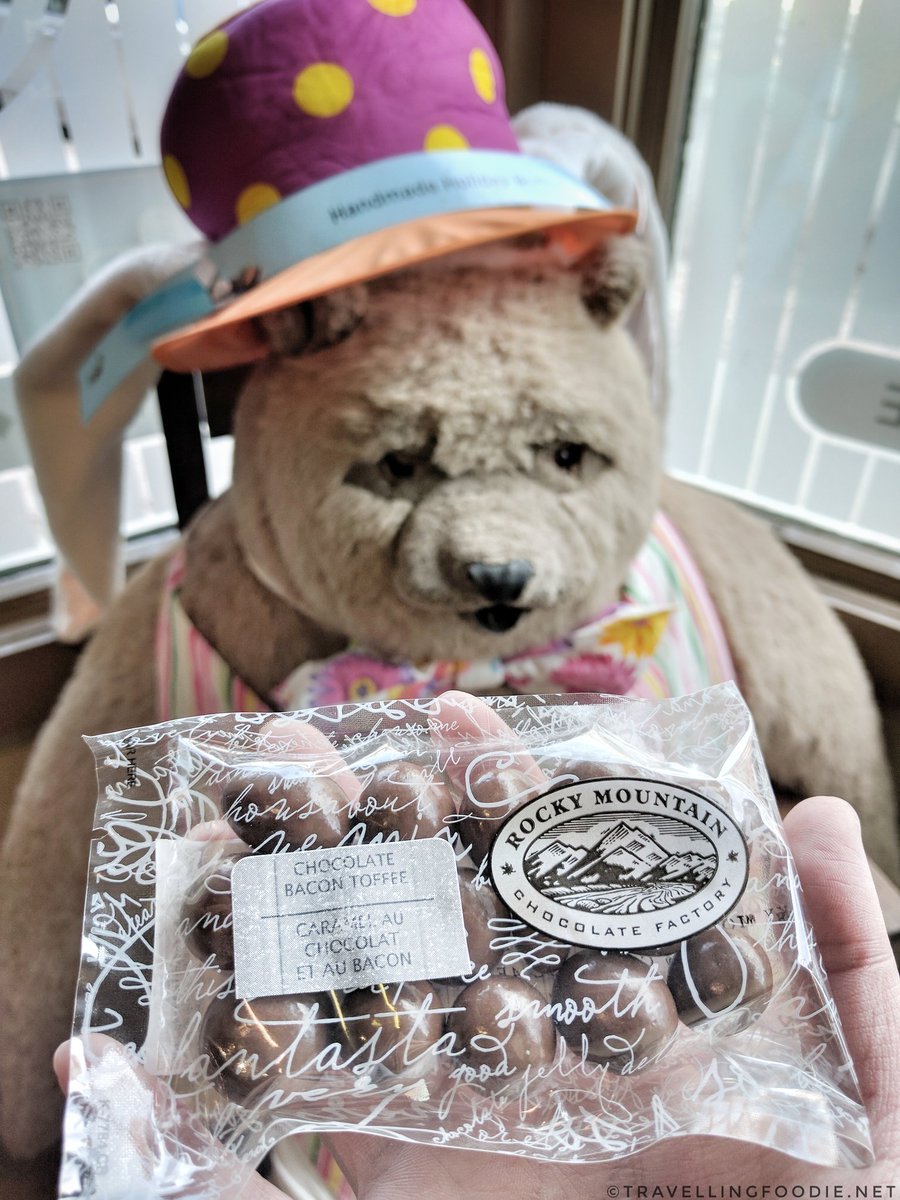 Website / Address: 10 Downie St, Stratford, Ontario N5A 7K4
Monforte on Wellington [CLOSED]
Monforte on Wellington offered an Ontario craft beer sample paired with house-made charcuterie featuring pork from David Martin's whey-fed pigs and a tasting of Monforte cheese.
The charcuterie came with a 2-year aged Monforte cheddar, summer sausage, grainy mustard, butternut squash jam and whole wheat cracker.
For my craft beer, I had the choice of Black Swan IPA or Beau's Lagered Ale. Because I'm going to Black Swan Brewery for the trail as well, I opted for Beau's Lagered Ale.
I thoroughly enjoyed this pairing, and highly recommend making this stop.
Address: 80 Wellington St, Stratford, Ontario N5A 2L2, Canada
Also Read: 2 Day Trip in Norfolk County, Ontario
---
Savour Stratford Chocolate Trail
Choco-holics unite as this trail is designed specifically for you! The Savour Stratford Chocolate Trail lets you satisfy your sweet tooth with chocolate delights from chocolate makers or restaurants.
Offered year-round, the Savour Stratford Chocolate Trail is $25 (+ HST) where you get to choose six out of twenty-five stops in a self-guided tour. Learn more on the website.
Some Stops in the Savour Stratford Chocolate Trail
Revel
Revel offered Hot Chocolate or Mocha. I chose the mocha since I needed my morning caffeine.
The Mocha combines their coffee with fair trade cocoa and steamed milk.
Website / Address: 37 Market Pl, Stratford, Ontario N5A 1A4
Distinctly Tea
Distinctly Tea offered your choice of 50-gram bag of rich chocolate tea from one of their 11 varieties: 8 with caffeine and 3 without.
I chose the Irish Dream Black Tea which has a whisky, cacao cream taste. I used my extra Chocolate Trail voucher here since I love tea and it was something more unique than the typical chocolate offerings.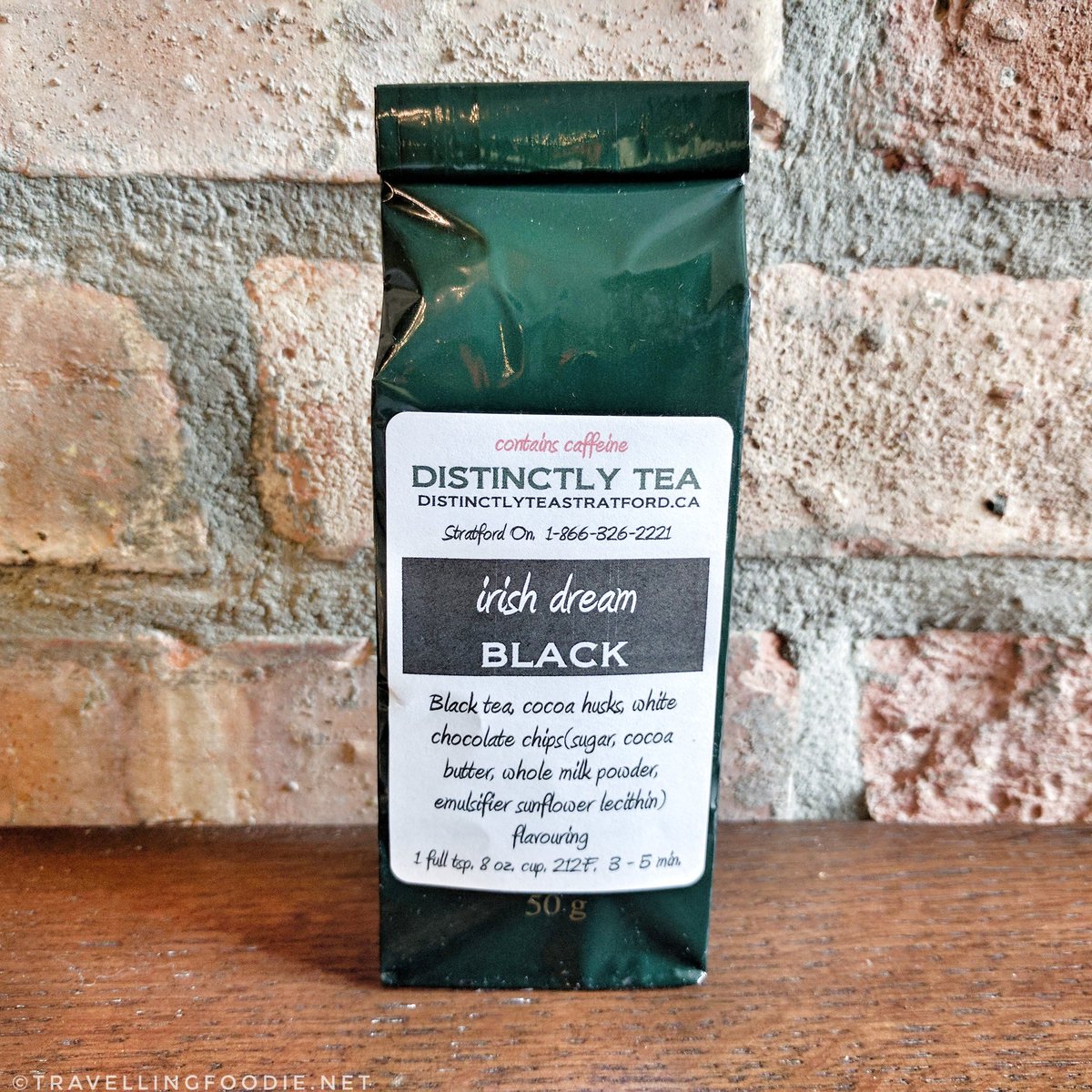 Website / Address: 18 York St, Stratford, Ontario N5A 1A1
Chocolate Barr's Candies
Chocolate Barr's Candies makes handmade candies and chocolates. For the Savour Stratford Chocolate Trail, they offered your choice of 3 handmade truffles from over 12 flavours.
I chose the following chocolates (clockwise from the top in the photo), icewine, lavender and hazelnut. The icewine and lavender were very unique which I loved. And I always choose my go-to flavour, hazelnut.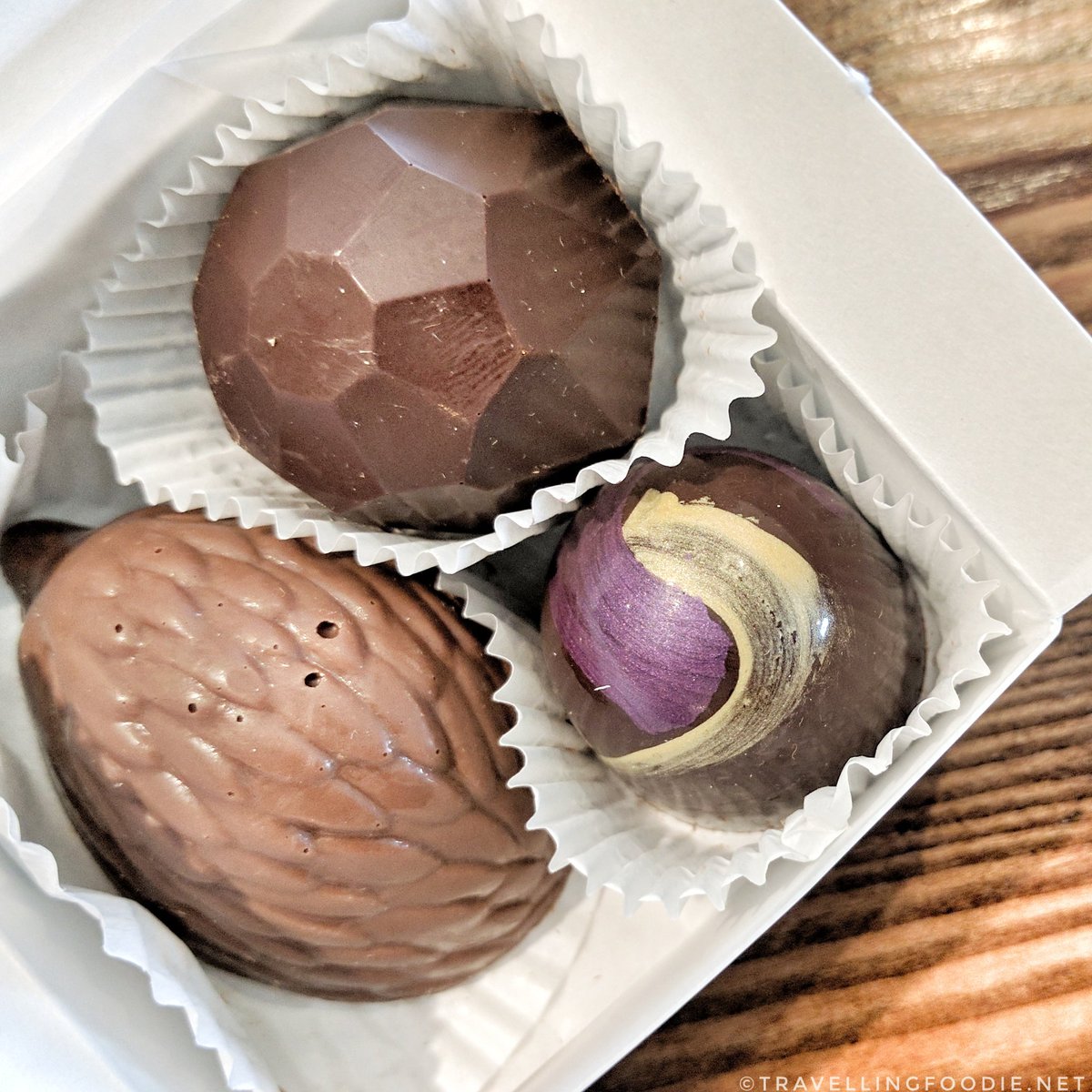 Website / Address: 55 George St W, Stratford, Ontario N5A 1A6
Also Read: One Winter Night in Haldimand County, Ontario
---
Tea Leaves Tea Tasting Bar
If you're a tea lover, one of the best things to do in Stratford, Ontario is a visit to Tea Leaves Tea Tasting Bar. But even if you don't, you might very well end up loving it after a visit here.
Trained from The Specialty Tea Institute in New York City, Karen Hartwick, Canada's first tea sommelier, opened Tea Leaves Tasting Bar in 2003 to share her passion in guiding people into the sophisticated, rich and varied world of fine tea.
Did you know? Karen has travelled parts of the world, like China, Taiwan and Japan, to taste tea and visit to tea gardens.
Karen offers various services, one of which is tea tastings, an hour session where she goes thru all types of teas (white teas, green teas, pu-erh tea, oolong tea, black tea and herbal teas), the different brewing techniques, how the teas are made, what makes them unique.
She also does chocolate and tea pairings, and teaches Qi Gong, an art of self-healing energy work from China.
When I visited, Karen wasn't there, but Alyssa, a teaholic herself, is very nice and so knowledgeable about tea. I got to try the Canadian Breakfast and Sencha Fukda-Midori teas using a specific tea tasting cup that I saw for the first time.
Karen also makes her own blend of teas. She recently made a new line called Chakra, which is a special collection of teas to move your energy, your chi and your life.
I tried the Solar Plexus tea as it's the first time I heard of tea made savoury using lemon balm, rosemary and wild lavender.
I also learned about the Taiwanese Tea Ceremony from Alyssa, using the Oriental Beauty Oolong tea for tasting.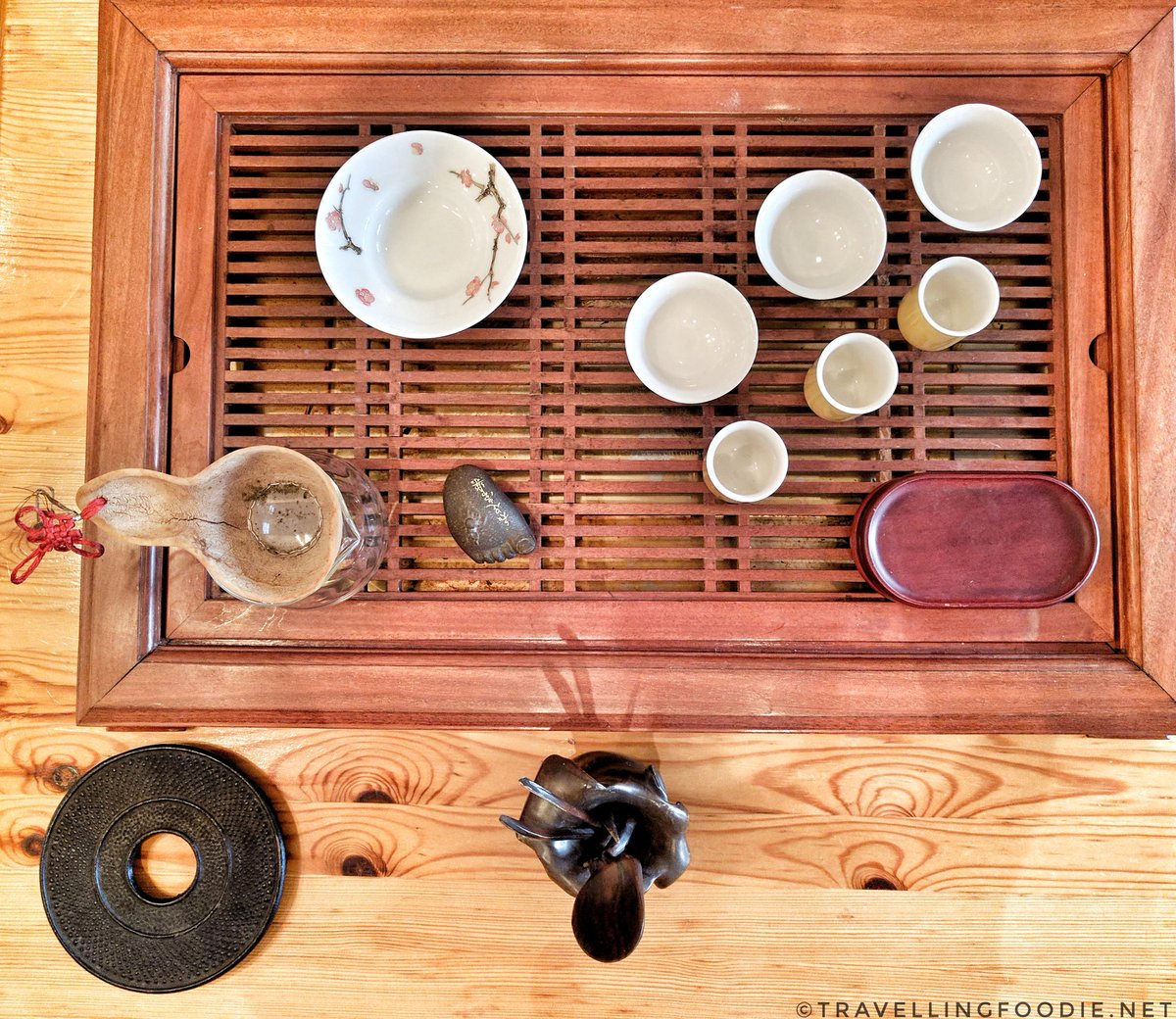 Website / Address: 433 Erie St, Stratford, Ontario N5A 2N3
---
Best Italian Restaurants in Stratford, Ontario
When you search for where to eat in Stratford, you'll surely come across these two best Italian Restaurants.
Pazzo Taverna & Pizzeria
Celebrated 20 years in 2017, Pazzo Taverna & Pizzeria are two restaurants in one space: the Taverna is on the main floor, and pizzeria on the lower floor. I ate at the Pizzeria, which is located in Stratford's oldest cellar.
Chef Yva Santini's Italian Kitchen offers sustainable seafoods, house-made pastas and locally-sourced meats and produce made with simplified flavours in the Italian tradition.
Did You Know? Chef Yva has been with Pazzo for 12 years (as of 2019)!
A must-try dish at Pazzo Taverna & Pizzeria is their famous Burrata, hand-stretched cow's milk mozzarella filled with sheep's milk ricotta and cream with slow-roasted garlic and fried rosemary.
The burrata was filled with lots of ricotta as you can see from the video below. I love the addition of fried rosemary as it added a simple yet savoury touch to the burrata. The garlic just elevated the overall flavour, adding an earthy taste to the burrata.
I also tried their Braised Beef Short Rib with creamy polenta, rapini and gremolata.
Website / Address: 70 Ontario St, Stratford, Ontario N5A 3H2
Fellini's
Voted Stratford's favourite Italian restaurant for the last 20 years, Fellini's is a family-owned restaurant offering homemade pizzas, pastas and other Italian classics in a beautiful Mediterranean atmosphere.
I ate here on my last visit to Stratford more than 6 years ago, and I'm glad the food is still just as good, maybe even better!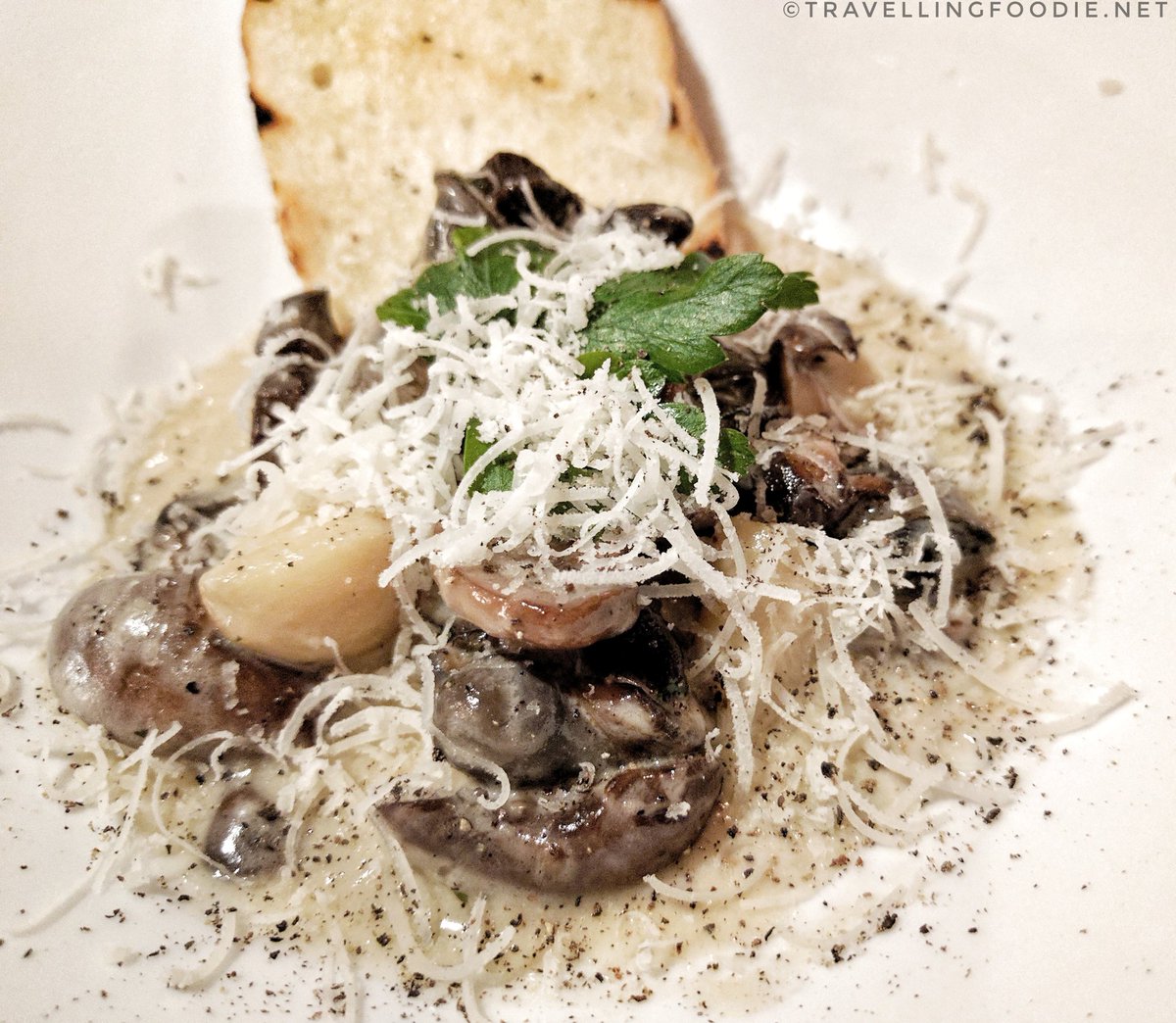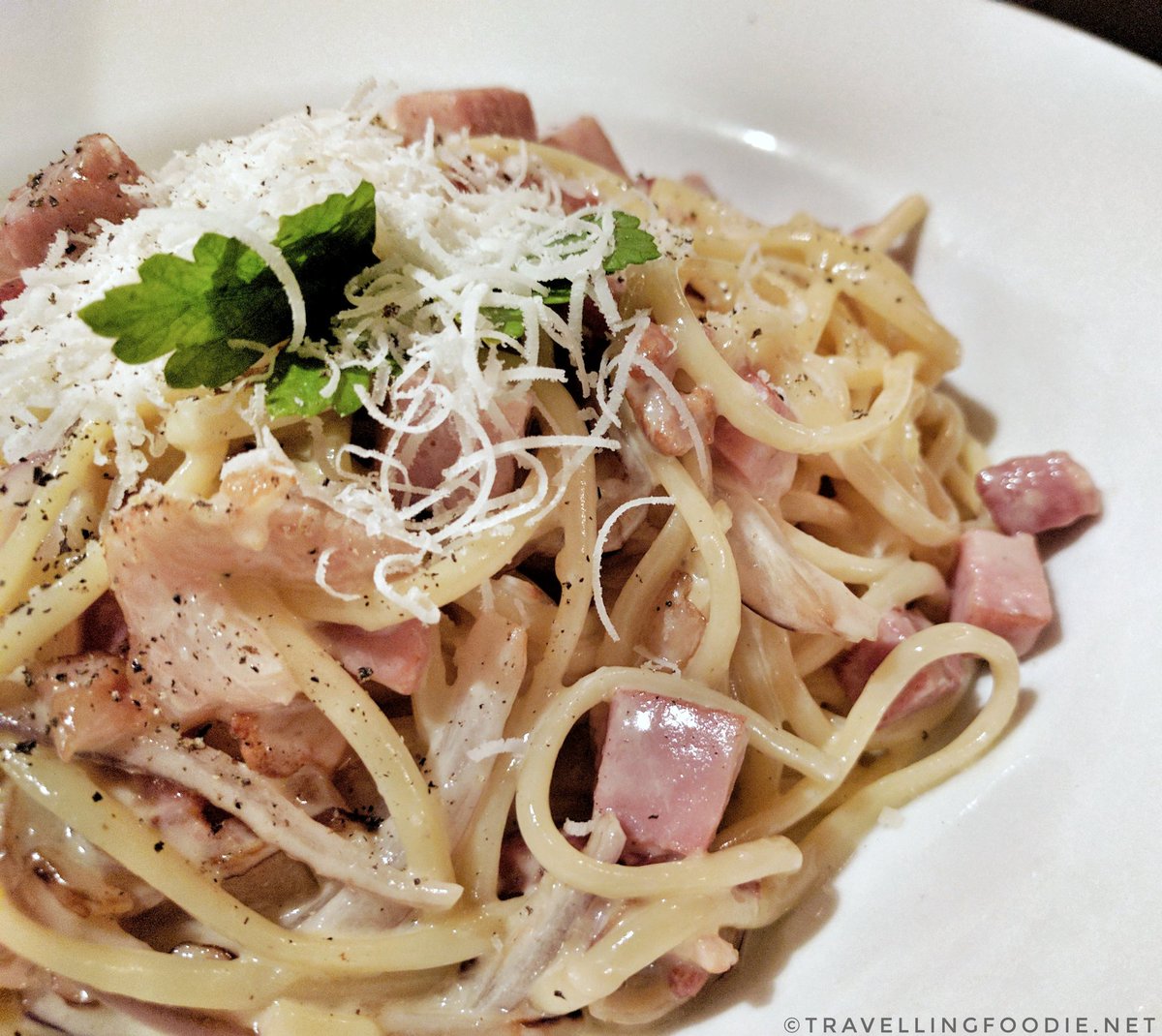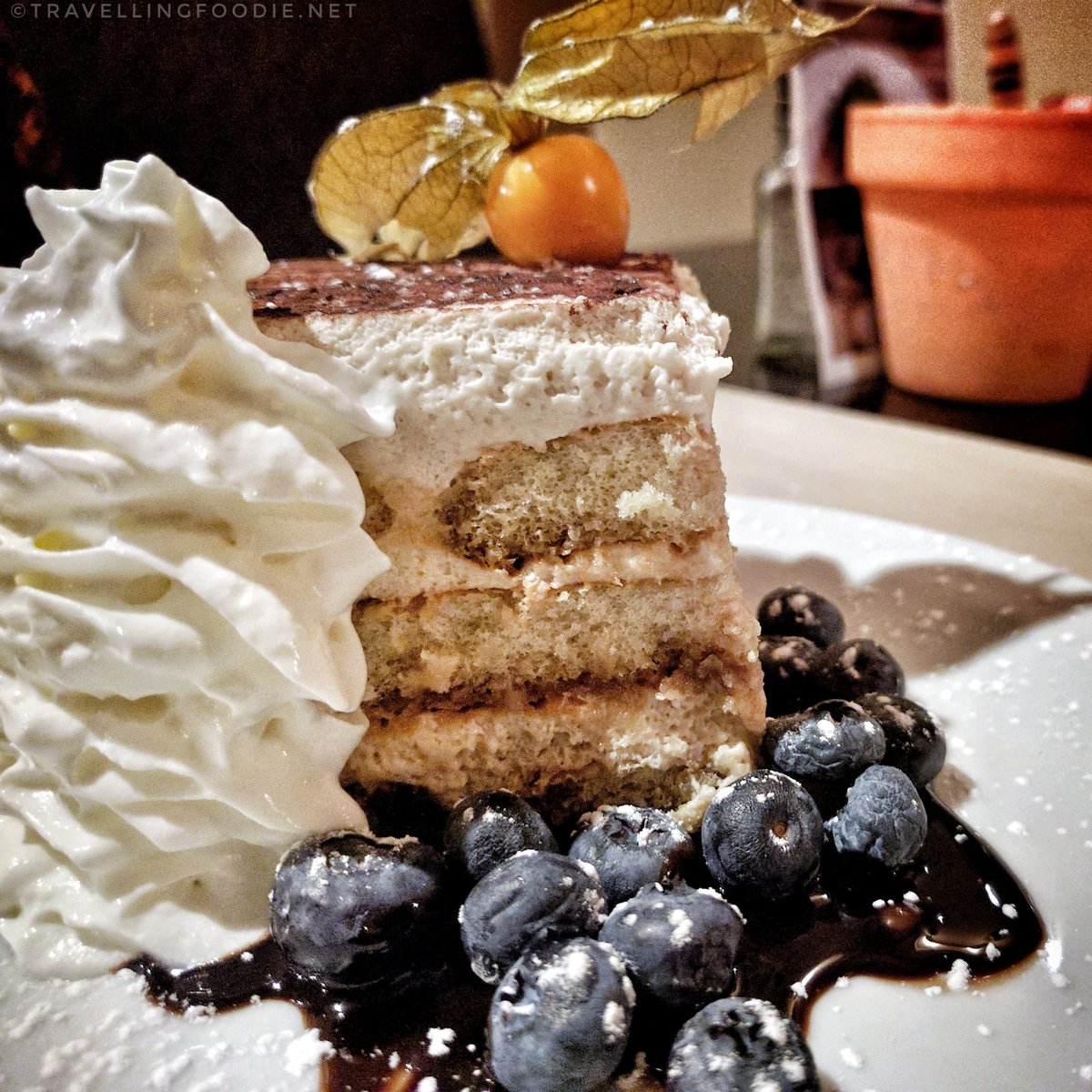 Website / Address: 70 Ontario St, Stratford, Ontario N5A 3H2
---
Craft Beverages
Beer lovers rejoice! Craft beverages in Stratford are growing in popularity.
There's the Black Swan Brewing Co. which creates innovative seasonal flavours on top of their core brews, and which you can do as part of the trails.
I highly recommend doing the Junction 56 Distillery Tour and Liqueur Tasting if you can. I got to do both and learned so much:
Their Vodka is made from wheat, unlike the usual corn, because it's softer and sweet.
For Gin, they are flavouring the Vodka that they make and added more lavender and citrus type ingredients and less juniper.
Moonshine is just corn whiskey that's not aged (not put in a barrel).
Their Sugarshack is a mix of maple syrup, fennel and
Their Fireshine is a cinnammon flavoured moonshine using Hot Cinnamon Herbal Tea from Tea Leaves Tea Tasting Bar.
Eclipse is their anisette Moonshine, using fennel and anise to give a black licorice flavour.
Tallgrass Mead is making Honey Pops, a beverage made with honey mixed with other wines, which you can enjoy at Monforte on Wellington.
And if you're still feeling thirsty, you'll definitely quench them at Mercer Hall with their 130+ craft beers from around the world and The Hub's 170 craft beers.
---
CheeseWeek
Stratford says "Cheese!" from April 1-9, 2017. To welcome the Canadian Dairy XPO happening on April 5-6, 2017, Savour Stratford presented Cheese Week, which features cheese dishes from eleven participating restaurants, plus a special cheese pairing event on April 8.
For Cheese Week, Pazzo is featuring their famous Burrata.
Also Read: Oxford County Cheese Trail in Ontario
---
Swan Parade Celebrations
Every year, Stratford salutes Spring with a Swan Parade, one of Canada's most unique and quirky events. The annual Swan Parade Celebration is a weekend of family fun culminating with a parade of Stratford's iconic feathered friends, the swans, travelling from their winter quarters to the Avon River.
On 2017, the celebration was during my tour which was perfect since I've never witnessed the Swan Parade Celebration. Throughout the weekend, Stratford's downtown is decorated with topiary swans for what they call the Swan Quest, a search for your favourite topiary swan.
There were other activities during the Swan Parade weekend, including nature walks to learn about the life of swans, free horse-drawn carriage tours to learn about Stratford's history, street performers, swan mascots and food trucks.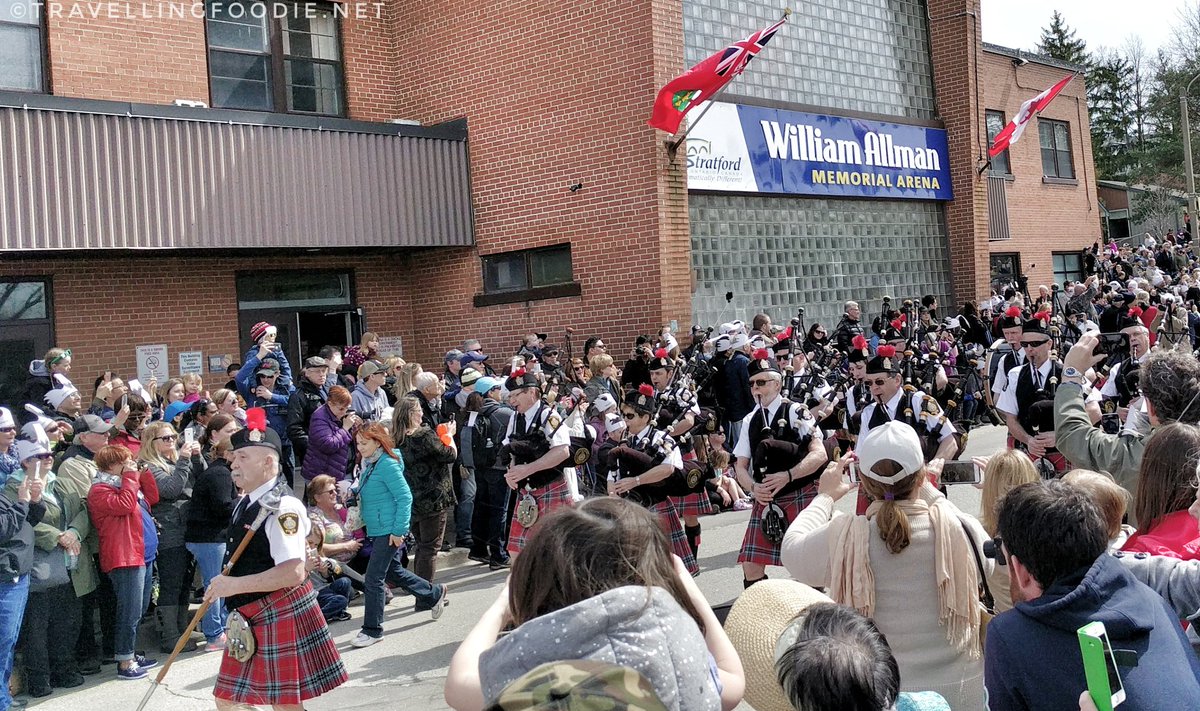 I was sad I didn't get to try the food trucks as my favourite chip truck, Ken's French Fries, was there. I was pretty much busy with the culinary tour to do the Swan Celebration activities, but I definitely didn't want to miss the Swan Parade.
Travelling Foodie Tip: Make sure you use the washroom before heading to the parade either at your accommodation or last visited location.
The Swan Parade started at 2PM. I was supposed to go earlier to get a good spot, but there were not many public washrooms so I ended up having to wait in a long lineup at the Tourism Office's washroom.
I ended up arriving at 2PM and it was super crowded already so I wasn't able to get a good view (sorry about the video!). Just an idea of how crowded it was: a whopping estimate of 8,500 people attended the parade this year!
During the Swan Parade, the herd of, now, 20 white mute swans are led by the sounds of the Stratford Police's pipes and drums into the Avon River. Stratford's history with the swans dates back to 1918 when the first gift swans was received.
Learn more about the Swan Parade on the website.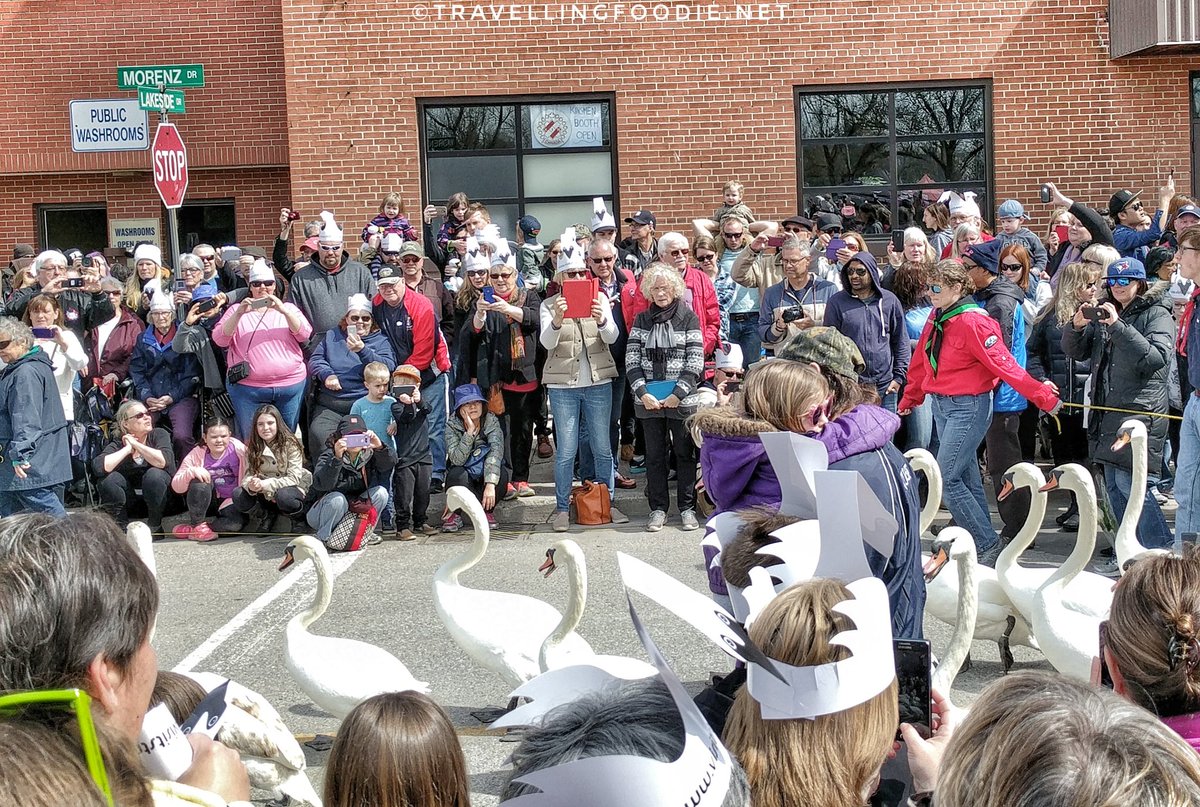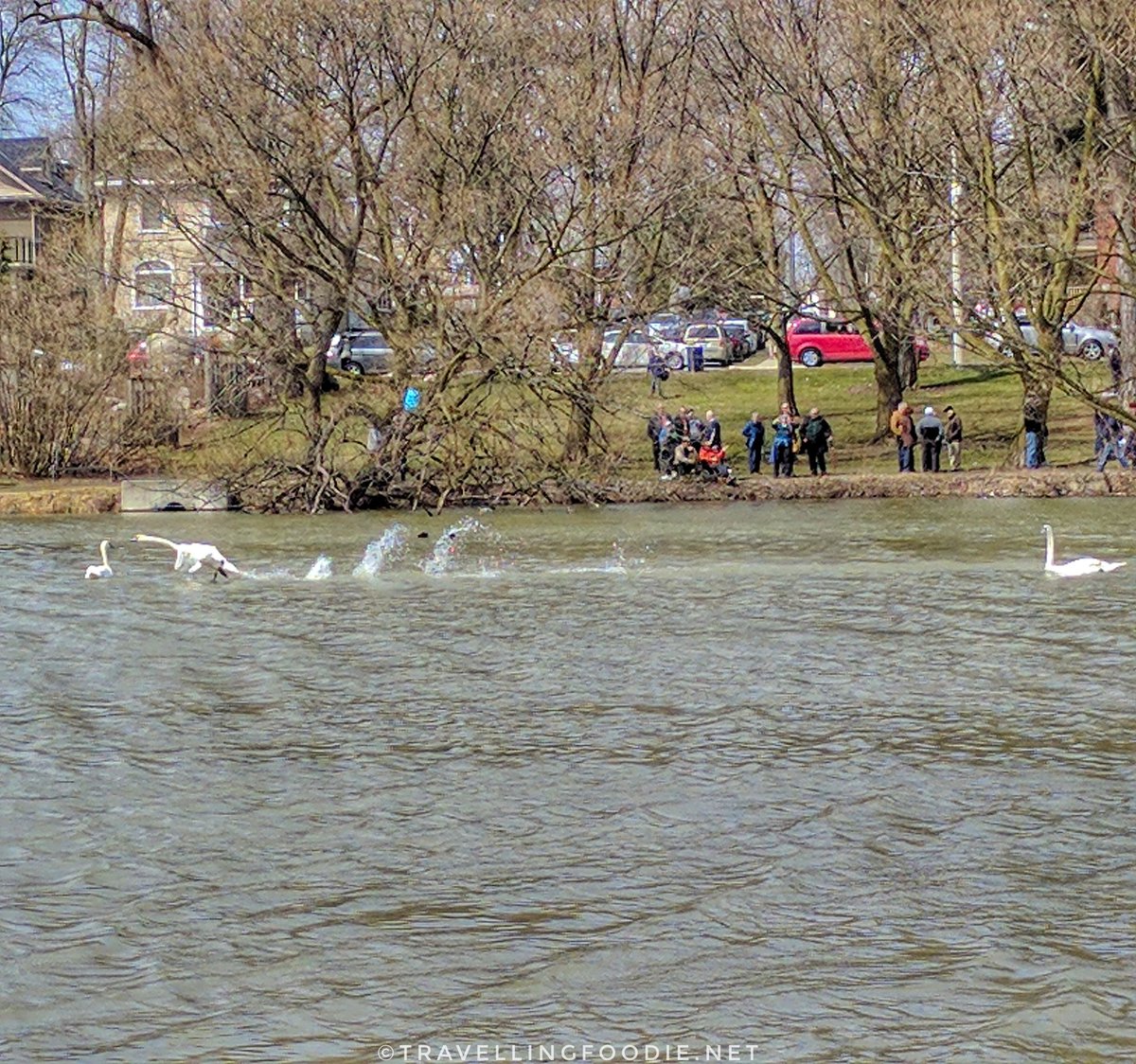 ---
Bed & Breakfast
I didn't realize there's a lot of Bed & Breakfasts in Stratford, Ontario. It makes sense because these B&Bs are really in line with how charming the city is, and most of them are Victorian in style.
I stayed at Mornington Rose Bed and Breakfast and it was lovely. The Mornington Rose was built in 1905 and owners, Victoria and Murray, have maintained its historical feel but have made changes that shines character, comfort, and elegance.
My room was spacious and nicely decorated. It also has a balcony (though under renovation at that time).
The common area in the second floor has water dispenser, coffee and tea machine, fridge with soda, and fresh cookies to share.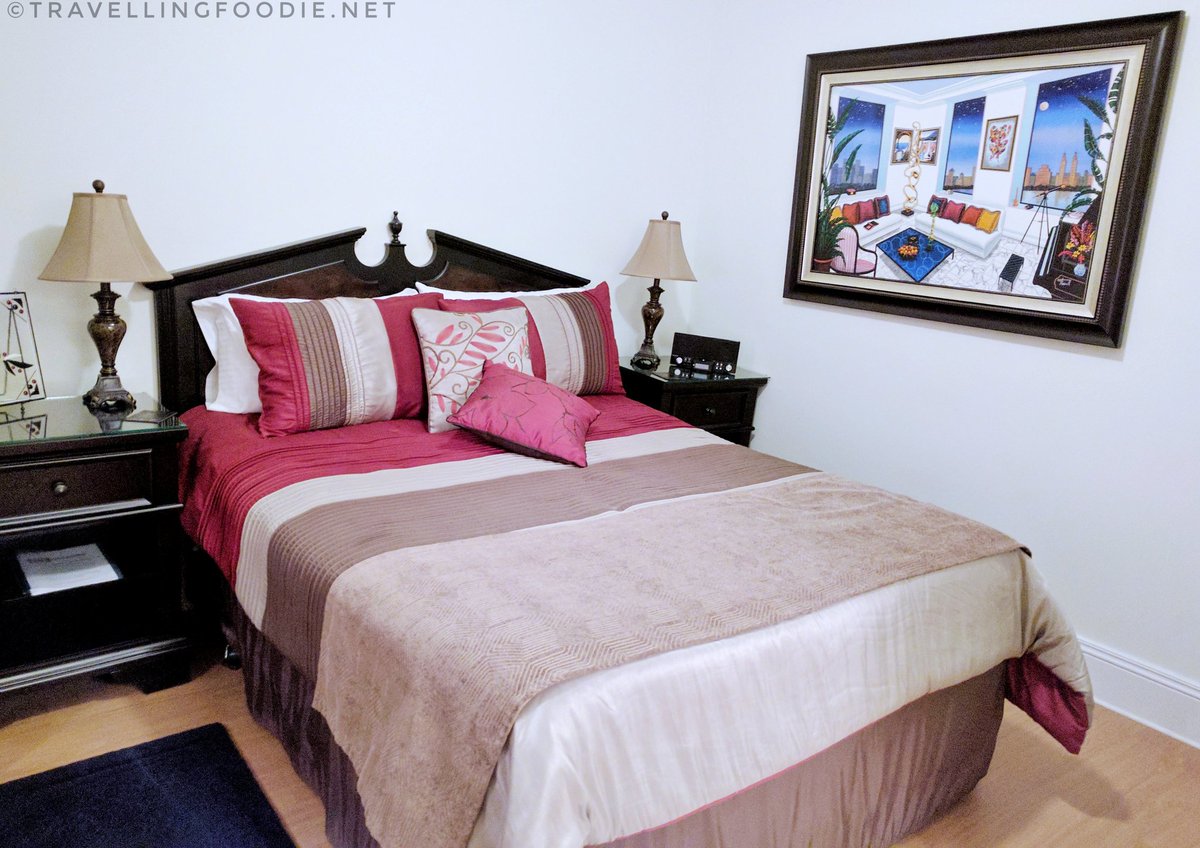 In Bed & Breakfasts I've been before, the food is the typical continental breakfast: bagels, toast, cereal, eggs and bacon. Nothing much to get excited about.
Boy, was I wrong at Mornington Rose Bed and Breakfast. It's a foodie spot on its own!
Travelling Foodie Tip: If you stay here, you also get a free Junction 56 Distillery Tour for 2 people.
Owner Victoria is also the chef de cuisine, and she makes a delicious varied gourmet menu each day. On my breakfast, she made us a three-course meal using as much local produce as possible, including vegetables and herbs from the kitchen garden on-site.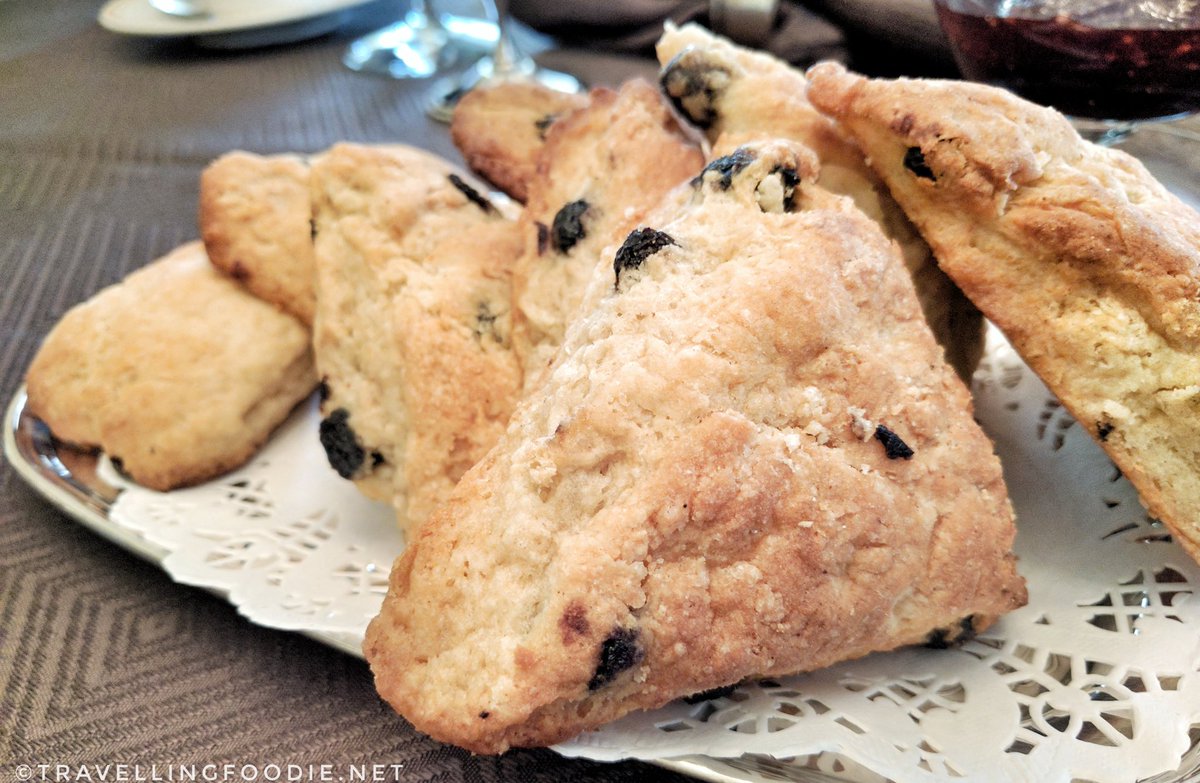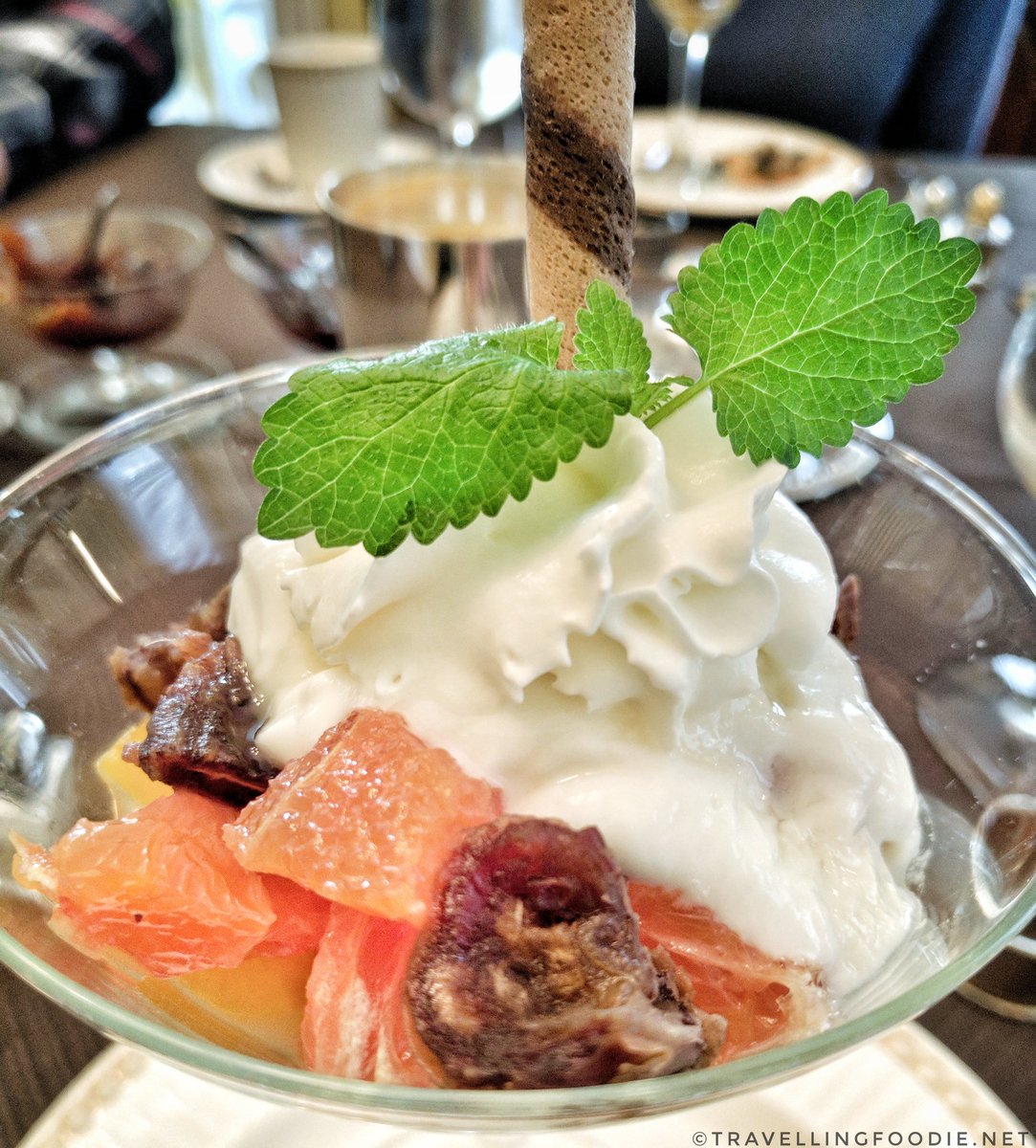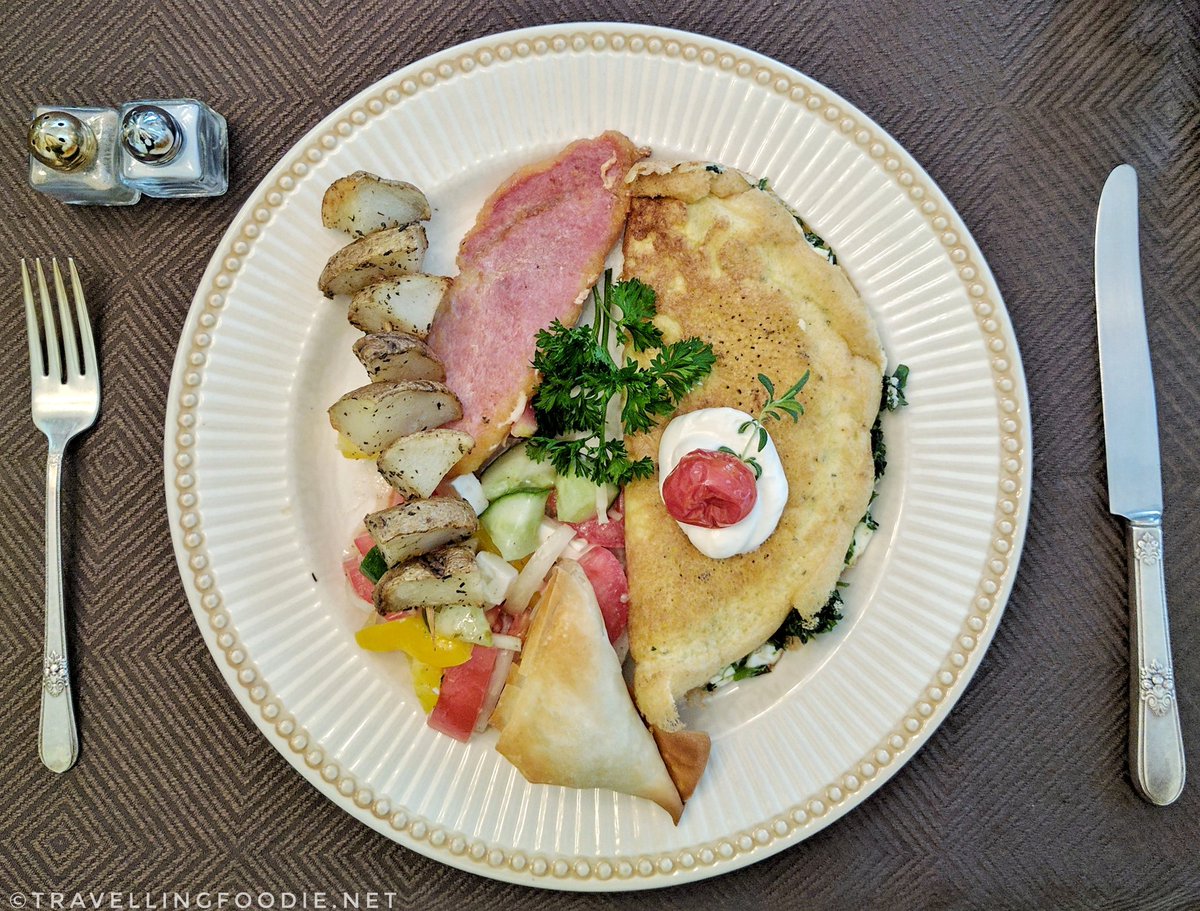 Website / Address: 240 Mornington St, Stratford, Ontario N5A 5G4
Also Read: One Night in Middlesex County, Ontario
---
Wander Around!
What's a Travelling Foodie's secret to keeping up with all the food? Wandering around in between meals!
There's a lot of attractions and things to do in Stratford, Ontario that are good walking distances from each other and the food.
Attractions in Stratford, Ontario
Stratford City Hall
You definitely will not miss the Stratford City Hall which is right in the heart of downtown, and prominently located beside the market square.
Did you know? The City Hall is a national historic site, designated in 1976 due to its significance as a late 19th-centure Picturesque civic building.
Avon River
You will definitely not miss the popular Avon River which is where the swans are and it's right across from the Festival Theatre. This is such a great place to stroll as the views are amazing especially when the swans are upclose for photos.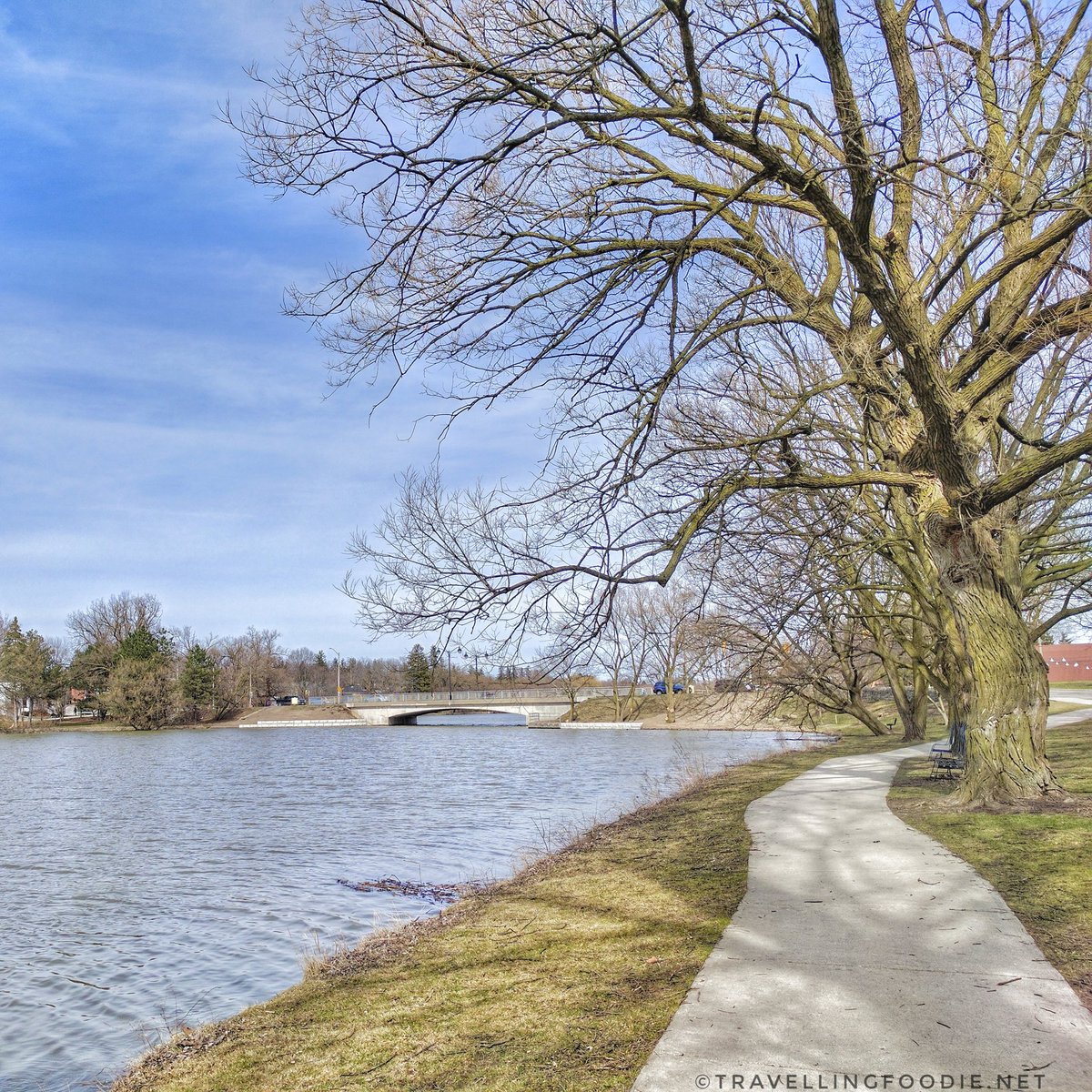 There are also benches just to admire the views or to take breaks from your stroll/jog.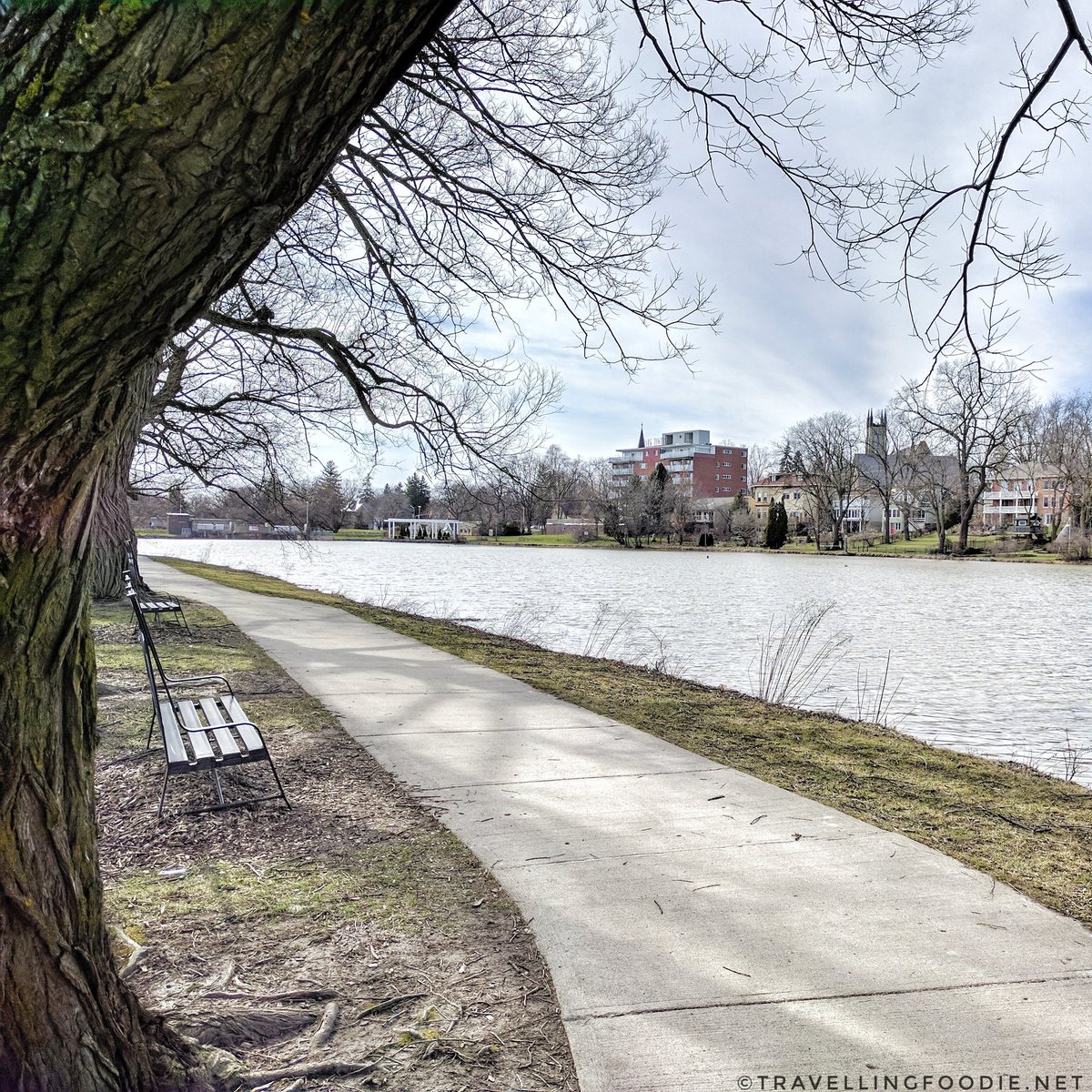 Shakespearean Gardens
This trip, I got to visit some new places I didn't know about when I visited Stratford. Suffice to say, there's so much to explore in this city!
There's the Shakespearean Gardens which is one of the five gardens linking the Avon River. The double-arch stone bridge you see is the oldest one in Ontario.
To keep up with the Shakespearean theme, 60 varieties of flowers, herbs and shrubs are in this garden, and they are all mentioned in Shakespeare plays.
Confederation Park
Walk further east of the Festival Theatre, and you'll find Confederation Park where you'll find a soothing waterfall and Japanese garden.
Gallery Stratford
Follow the path northeast and you'll find Gallery Stratford, one of Ontario's longest operating public art galleries.
Millennium Park
Right next to it is the Millennium Park, Stratford's Sculpture Park filled with water plantings, lit fountains, native trees and sculptures.
---
Hope this travel guide gives you an idea on things to do and where to eat in Stratford, Ontario that makes it an ideal destination for foodies in Spring!
I'm always looking for recommendations so please let me know your best restaurants in Stratford.
---
Huge thanks to Stratford Tourism for sponsoring this post. As usual, all reviews/opinions are 100% my own.
You can learn more about the Stratford Tourism Alliance on their website.
Updated: