All about Tidal Bay Wine. The cool, crisp, lively and aromatic Nova Scotia wine.
Do you love wines? You will want to try Nova Scotia's Tidal Bay wine.
When I first explored the province, I was surprised to learn how big and growing the Nova Scotia wine region is and even more so to learn that Nova Scotia has its own wine appellation and signature white wine called Tidal Bay.
Since then, I've visited some Nova Scotia wineries and also enjoyed quite a bit of Tidal Bay wine at restaurants during my trips.
In this guide, I'm featuring all things Tidal Bay Wine and what's to love about Nova Scotia's Signature White Wine along with some of the best wineries.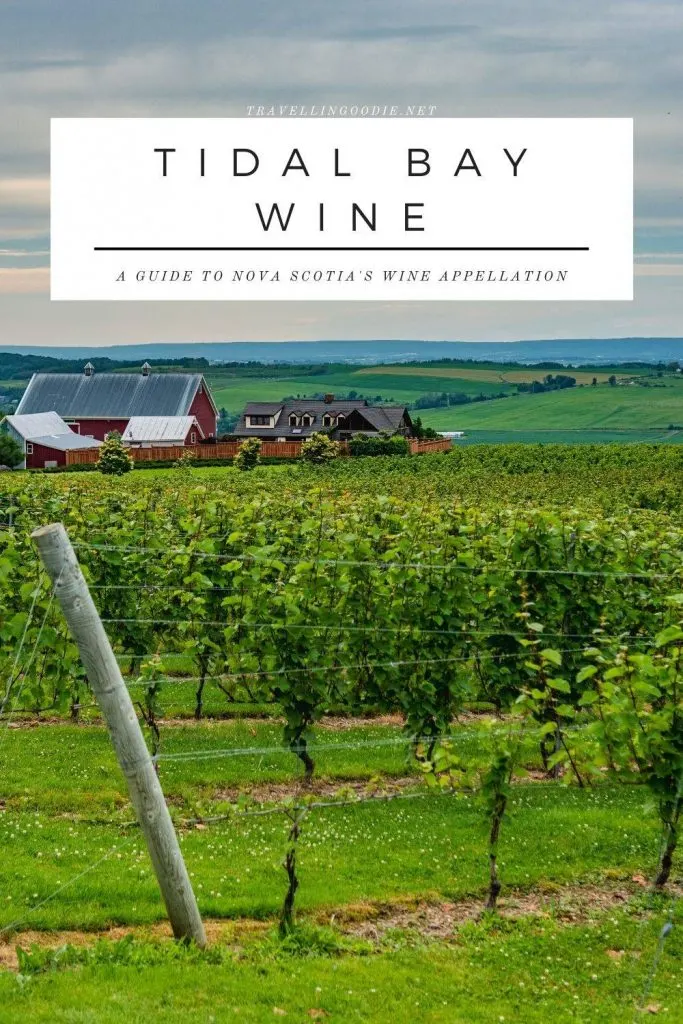 ---
What is Tidal Bay, Nova Scotia's Signature White Wine?
One of the must-try Nova Scotia drinks, especially for wine lovers, is Tidal Bay Wine.
Different wine regions have a distinct wine that sets them apart and make them popular. Much like Niagara wine country has ice wine, Nova Scotia has Tidal Bay, the featured white wine of Nova Scotia and its wine appellation.
Did you know? The name Tidal Bay was influenced by the sea and the fact that Nova Scotia is home to the biggest Tidal changes in the world.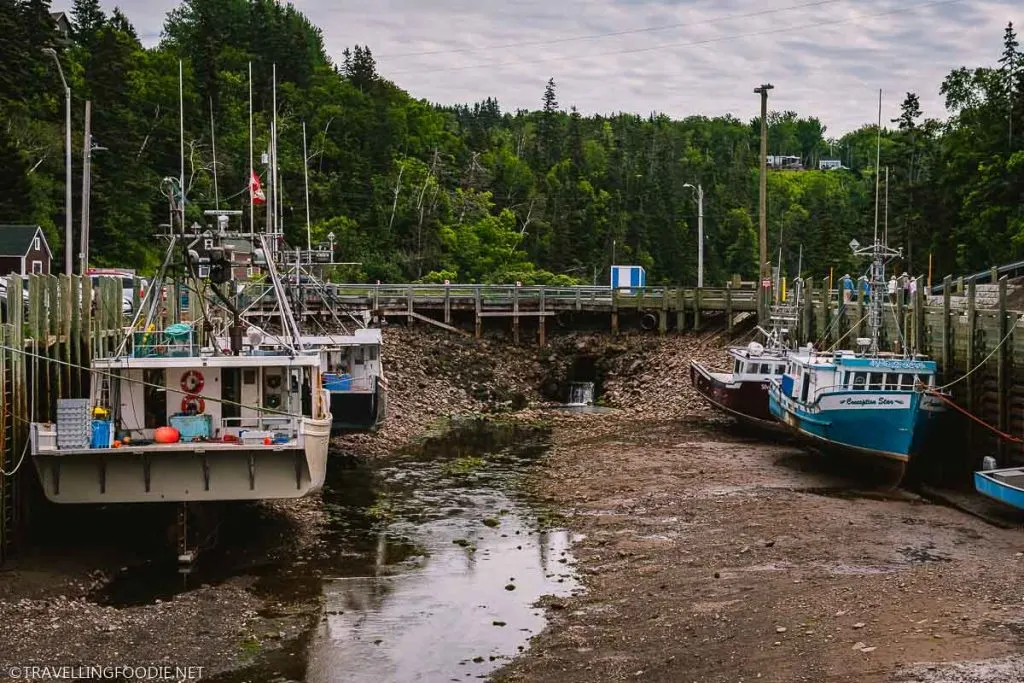 Nova Scotia wines have consistently been known for their fresh, firm, and bright style. And the same is true for Tidal Bay wines.
Tidal Bay is known for having a fresh, crisp, off-dry, still, white wine with a bright signature Nova Scotia aromatic component, showing a vibrant, expressive fruit on the nose and a brisk minerality.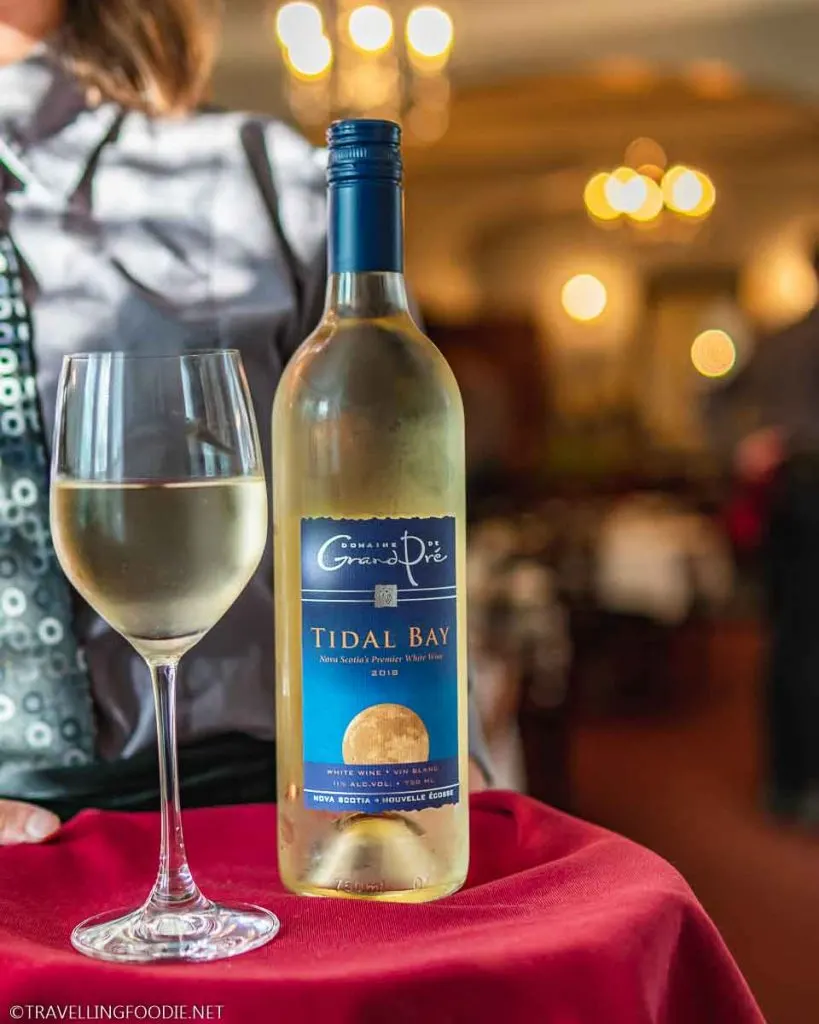 ---
Nova Scotia's Wine Appellation
In June 2012, the Winery Association of Nova Scotia (WANS) officially launched Tidal Bay as the first wine appellation for Nova Scotia.
Modelled after European wine regions, Tidal Bay is an appellation of origin wine where "appellation" is not defined by a geographic region but by its wine style associated from its terroir (soil, climate, weather, production area) and key characteristics like grape varieties, alcohol content, acidity, etc.
Tidal Bay was developed as Nova Scotia's signature wine that revealed the characteristics of maritime climate: the terroir, coastal breezes, and cooler climate of Nova Scotia.
Tidal Bay wines all follow a specific wine style, but that doesn't mean they are all the same.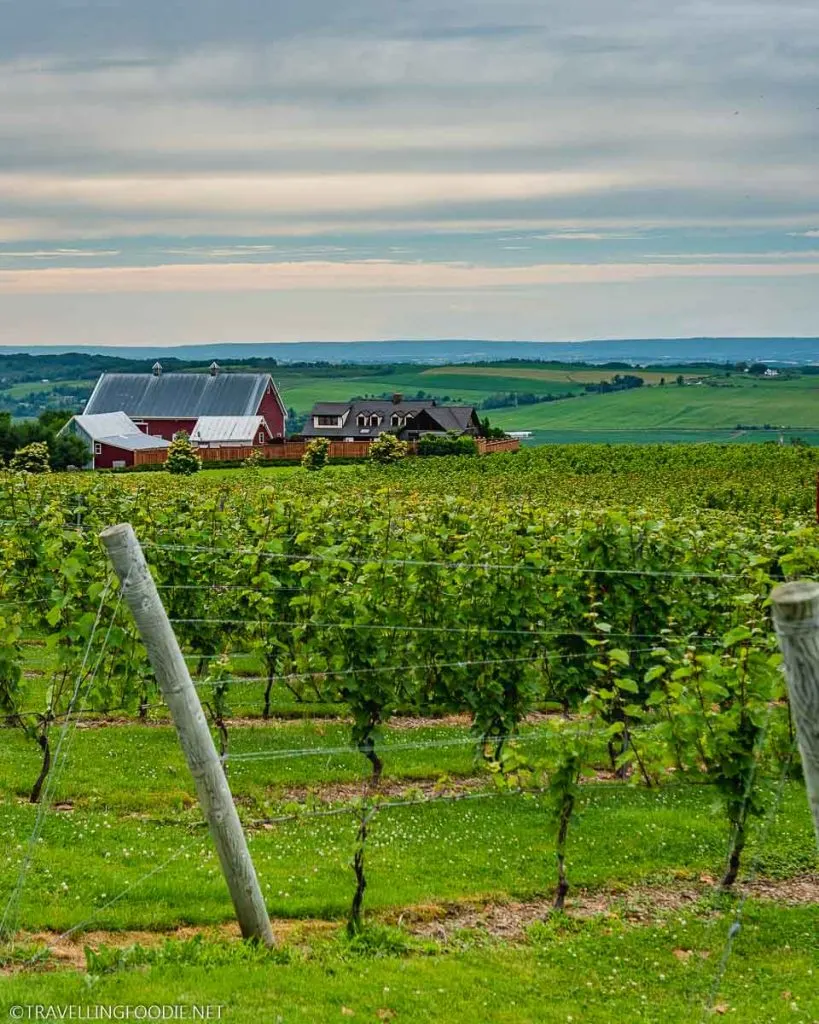 ---
What Makes Nova Scotia Tidal Bay Wines Unique?
Though most Nova Scotia wineries produce Tidal Bay wine, not all the wines are awarded the designation.
For wines to bear the "Tidal Bay" designation on the label, the Winery Association of Nova Scotia has a set of standards that the wines must follow and be approved for every year by an independent blind tasting panel.
Created by winemakers, sommeliers, and wine experts, these standards are strictly enforced throughout the winemaking process, from growing to bottling.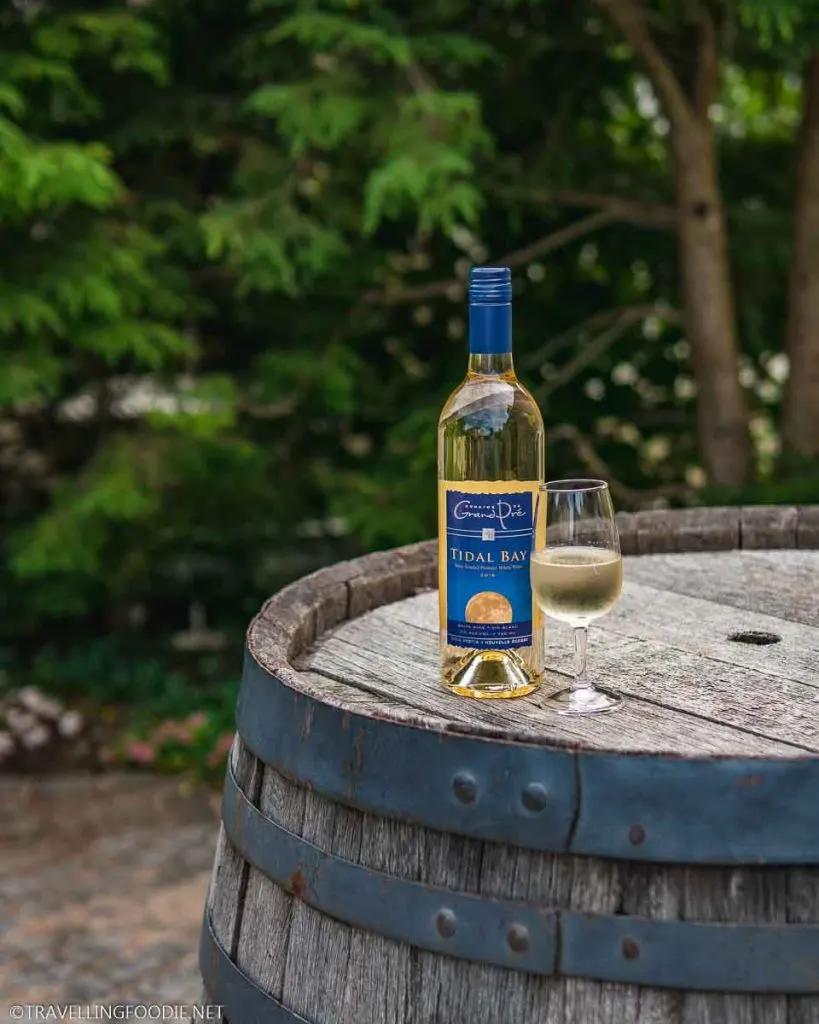 What's great with Tidal Bay wines is, although they must follow the same set of standards, wineries can express their individuality which make each Tidal Bay wine unique:
100% Nova Scotia Grown Grapes
All the grapes used in a Tidal Bay wine must be grown in Nova Scotia.
Nova Scotia's Signature Grape Varietals
Winemakers get to create the wine from a list of over 20 approved grape varieties, giving them endless combinations to produce unique and expressive wines while still meeting the classic Nova Scotia wine style of lively fresh green fruit, dynamic acidity, and characteristic minerality.
There are three categories of permitted grapes:
Neutral Grapes (highlights the terroir): Geisenheim 318, L'Acadie Blanc, Seyval, Vidal
Aromatic Grapes: Auxerrois, Chardonnay, Chasselas, Cayuga, Kentville White, Frontenac Gris, Frontenac Blanc, Geisenheim 319, Geisenheim 322, Geisenheim 6495-3, Minnesota Muscat, Ortega, Petit Milo, Pinot Blanc, Pinot Gris, Riesling, Siegerebbe, Siegfried
Very Aromatic Grapes: Gewurztraminer, New York Muscat, Perle of Csaba, Traminette, Valvin, vinifera Muscat varieties
Winemakers must follow these rules when using the grapes to ensure that Nova Scotia's signature grape varietals are the domainating character of the wine:
The wine can be a single varietal or a blend of different grapes.
If the wine is a single varietal, the grape must only come from the Neutral category.
If the wine is a blend:

Majority of the grapes (51% and higher) must come from the Neutral category.
Aromatic category grapes can only be used for up to 49% of the blend.
Very Aromatic category grapes can only be used for up to 15% of the blend.
Also Read: Malibu Wine Hikes in Conejo Valley, California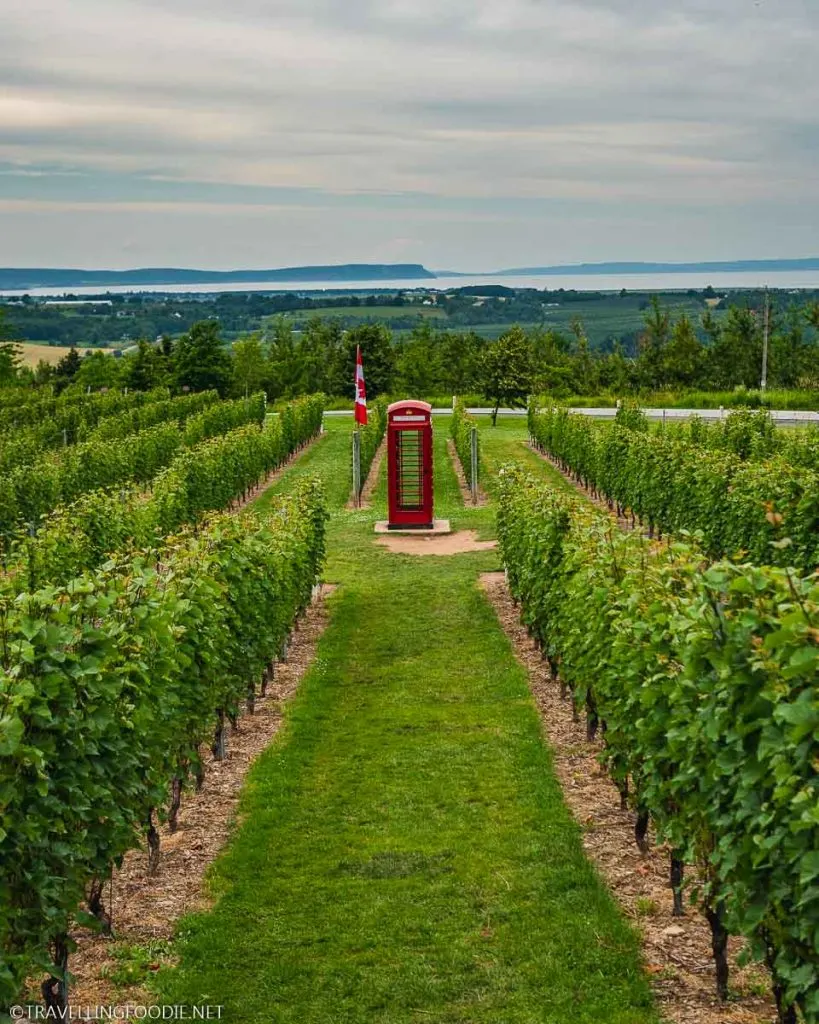 Vinification
To preserve the freshness of the wines, they must be vinified in an inert container like glass, stainless steel, special plastic or proper oak barrel.
If oak barrels (barriques) are used for fermentation or aging, the barrel can only have up to 20% new oak.
The winemakers have to be cautious about using oak because the tasting panel will reject the wine if the oak overpowers the characteristic terroir and aromatics required for Tidal Bay.
Concentration
Yield is a measure of the amount of grapes (in tons) per acre of vineyard.
To ensure the concentration of flavours, Tidal Bay wines have a yield threshold of four tons per acre.
Chaptalization
Chaptalization is the process of adding sugar to unfermented grape juice to increase the alcohol content of the wine after fermentation, not to make the wine sweeter.
Chaptalizing for Tidal Bay wines is permitted to a maximum increase in alcohol by 2%.
Alcohol Content
To be relatively low in alcohol content, Tidal Bay wines can only be 9-11% in alcohol content.
Acidity
Tidal Bay wines cannot be acidified (adding acids to increase acidity), and the total acidity at bottling must be at least 7.5 grams/litre.
Malolactic Fermentation
The effects of malolactic fermentation (if applicable) should not overpower the characteristic terroir and aromatics required for Tidal Bay.
Residual Sugar
Tidal Bay Wines have a maximum residual sugar level of 20 grams/litre (except for high acidity wines which can have less than twice the tartaric acid), but the wines need to have a good balance of sweet and dry.
Also Read: Pelee Island Winery, Canada's Largest Estate-owned Winery
---
Tidal Bay Judging
Tidal Bay wines are serious business in Nova Scotia. The judging process is quite extensive to ensure the utmost quality and standards are upheld.
Every year, a third party hosts a blind tasting event where a five person independent judging panel (made of wine writers, wine educators, independent wine experts and sommeliers) evaluates the wines of the current vintage submitted by the wineries.
To ensure complete accuracy and no bias, the judging panel has no idea which winery's wines they are tasting and can only go by their trained palates to focus on the distinct Tidal Bay style: fresh, crisp, lively, with green fruit and distinct minerality.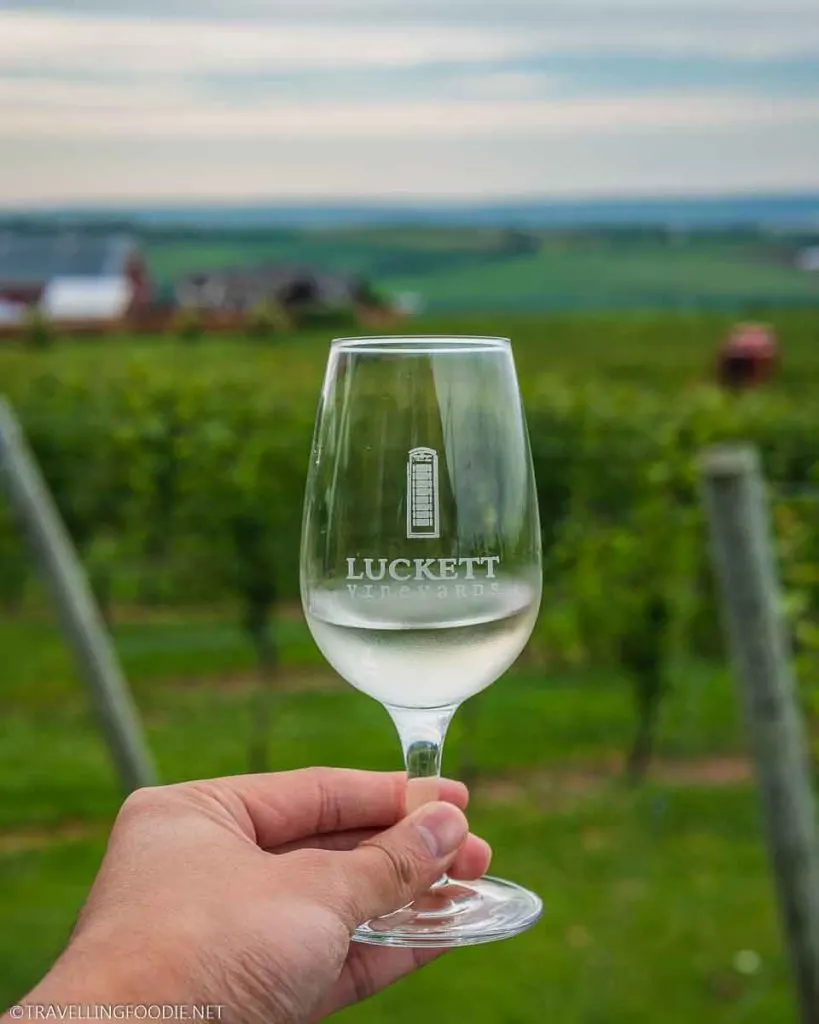 Scoring System
The judging panel use a scoring system to ensure quality and consistency of wines awarded with the Tidal Bay designation:
1: Failed. There was an error in the winemaking process.
2: Failed. The wine has failed the tasting, usually failing to meet the Tidal Bay wine style.
3-5: Pass. A score of 5 means the wine truly represents the Tidal Bay characteristics.
Wineries can present their wines up to four times to the judging panel, but the panel's decision is final on each attempt.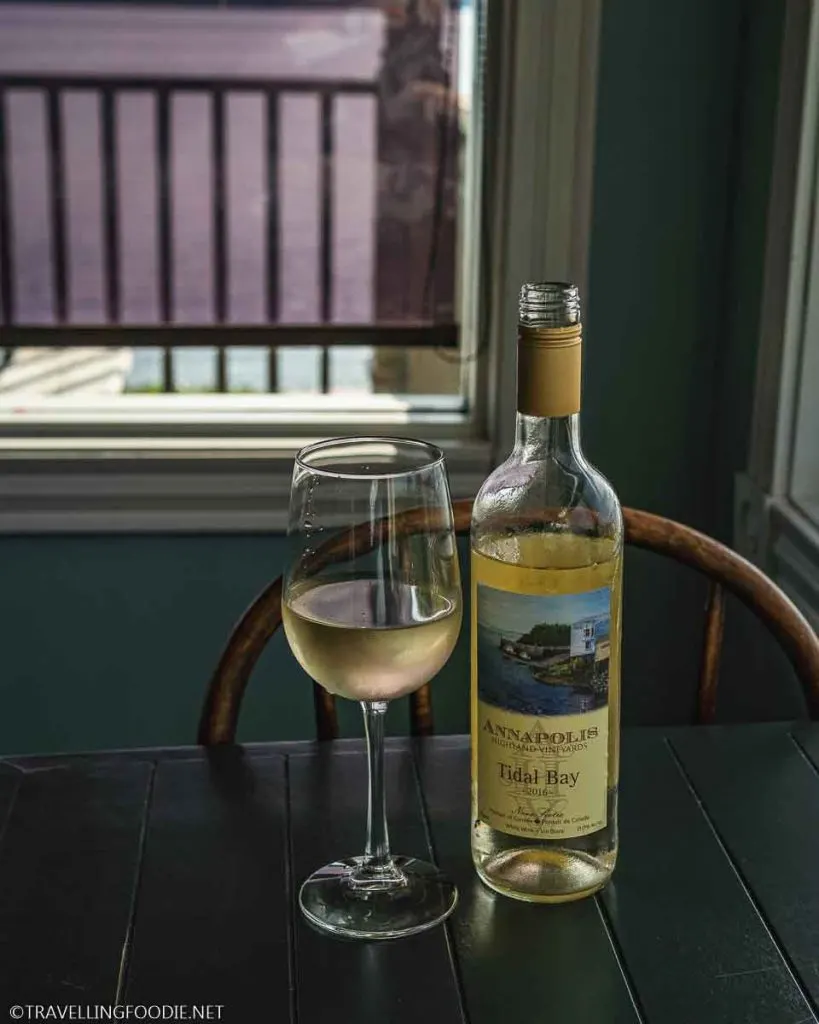 ---
Best Tidal Bay Wines in Nova Scotia
Now that we know how much passion and love is put into each bottle of Tidal Bay wine, here are some of the best Nova Scotia wineries offering Tidal Bay Wines.
Avondale Sky Winery
Located on the Avon Peninsula on one of the oldest vineyards in the province, Avondale Sky Winery opened in 2011 to let the public enjoy their award-winning wines with a backdrop of rolling hills, the tidal landscape and the panormic Avondale sky.
Did you know? The St. Mathews church, also called the travelling church, in the winery was transported 40 kilometres from Walton to be saved from destruction. It is now the tasting room of Avondale Sky Winery.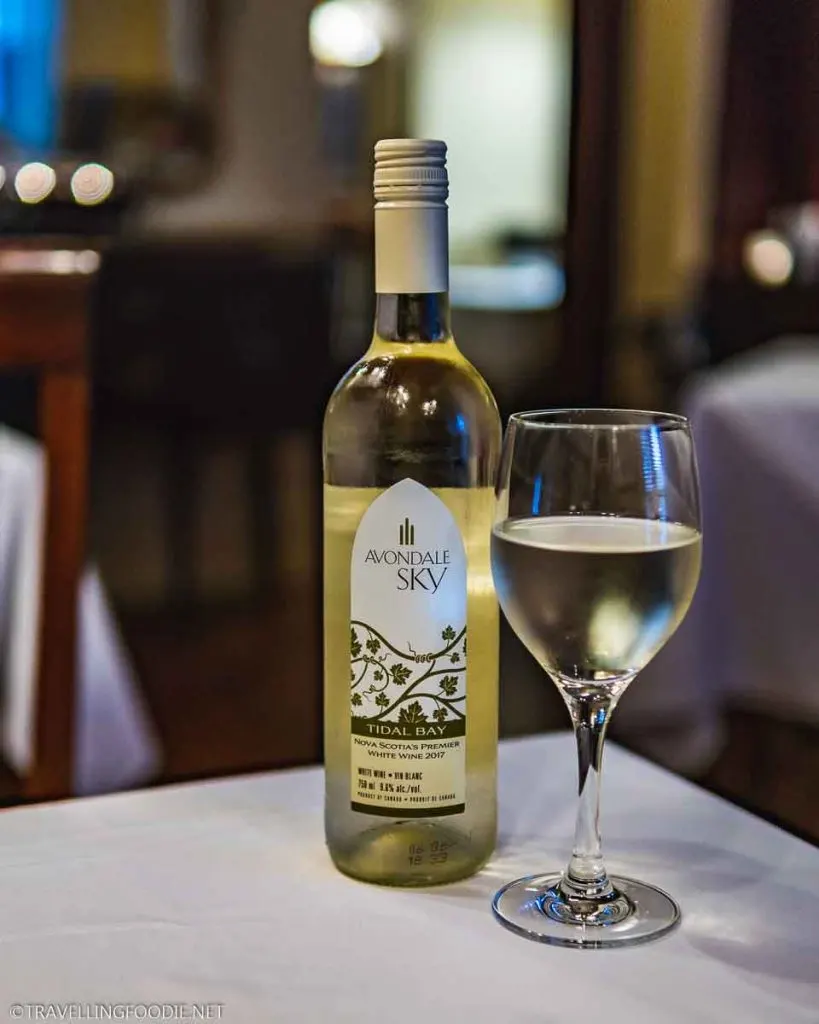 Website / Address: 80 Avondale Cross Rd, Newport, Nova Scotia B0N 2A0
---
Luckett Vineyards
Named after owner Pete's last name, Luckett Vineyards opened in 2010 in Gaspereau Valley of the Annapolis Valley region overlooking Minas Basin and Blomidon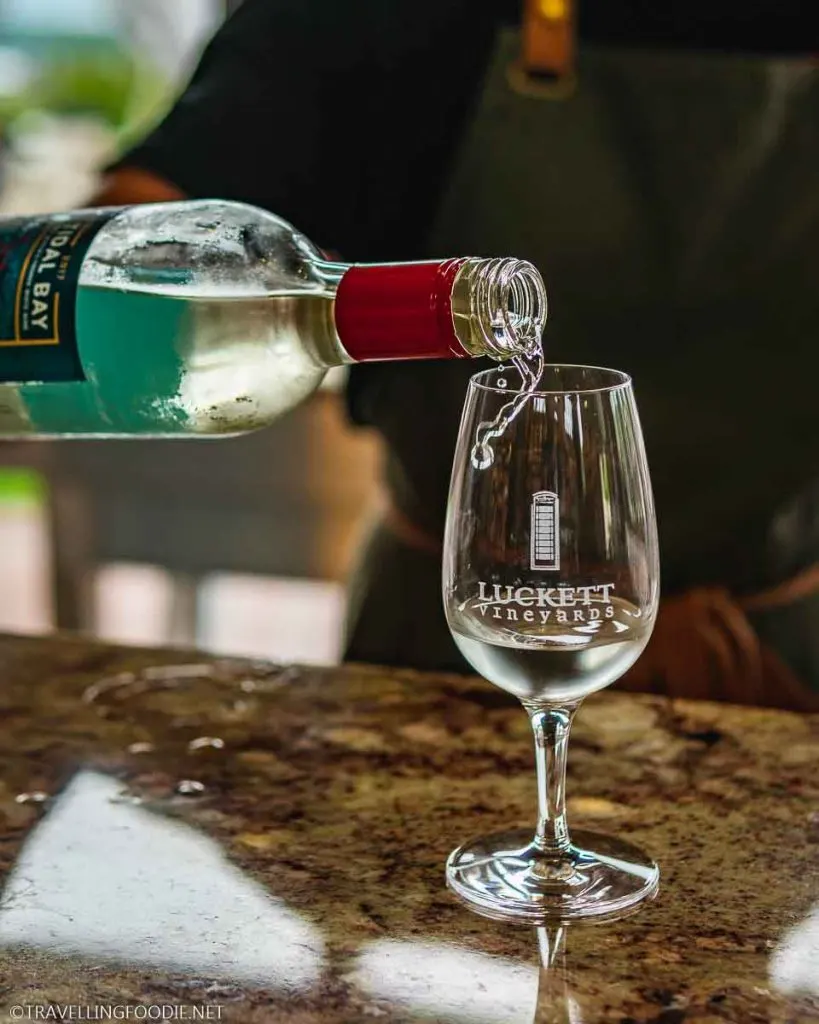 Did you know? There's an authentic London phone booth at Luckett Vineyards because of Pete's British roots.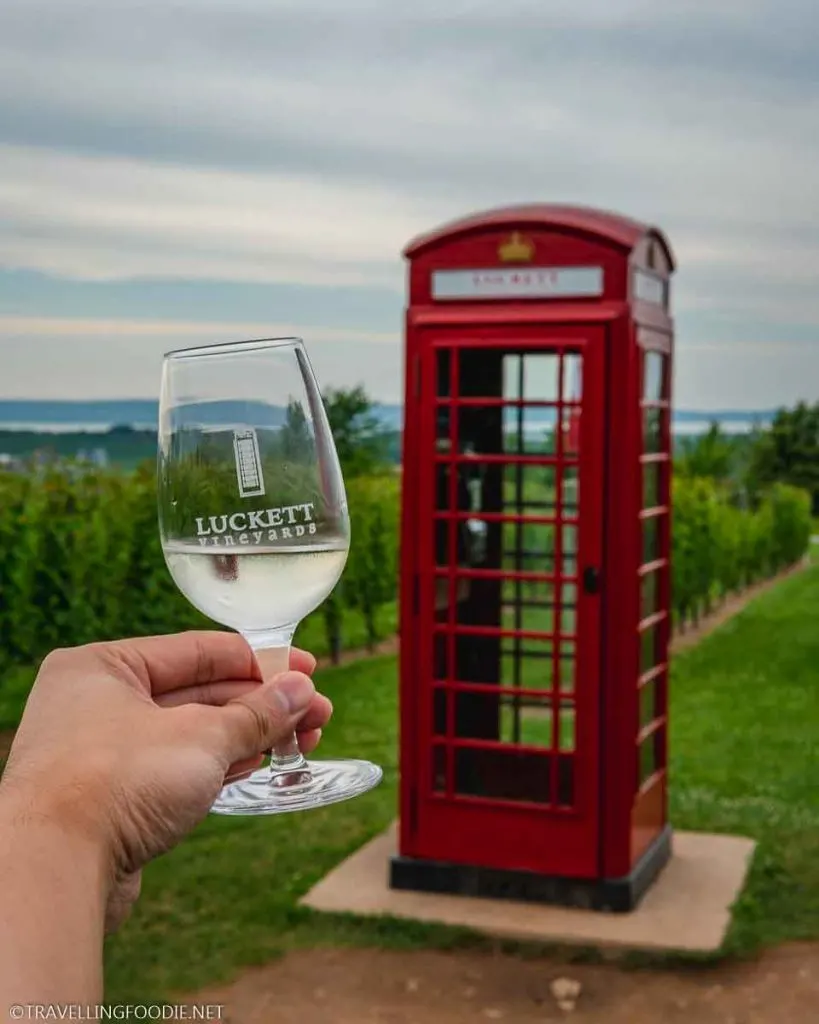 Website / Address: 1293 Grand Pré Rd, Wolfville, Nova Scotia B4P 2R3
---
Blomidon Estate Winery
Situated with the seaside views of the Minas Basic, Blomidon Estate Winery is a boutique winery producing award-winning 100% Nova Scotia wines in small lots.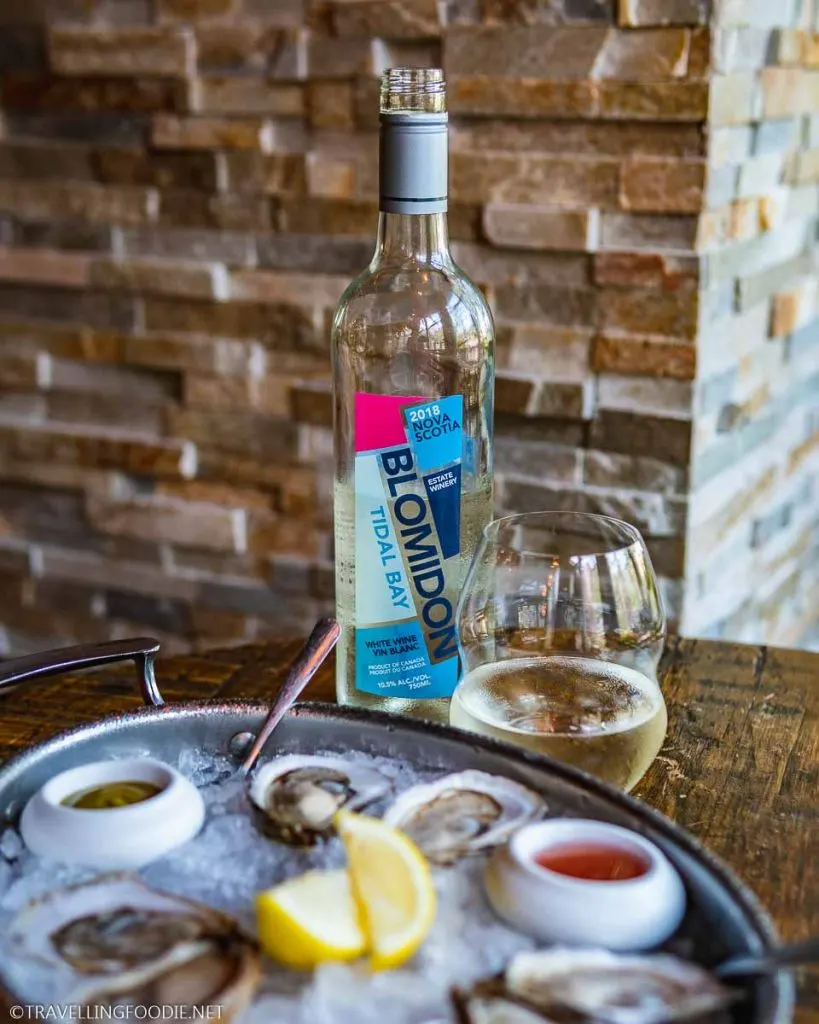 Website / Address: 10318 NS-221, Canning, Nova Scotia B0P 1H0
---
Domaine de Grand Pre Winery
Established in 1979 in Annapolis Valley, Domaine de Grand Pre Winery is one of the oldest wineries in Nova Scotia and is oldest farm winery site in Atlantic Canada.
Did you know? Domaine de Grand Pre's restaurant, Le Caveau, was listed as one of the world's best winery restaurants in 2011 by Wine Access Magazine.
What makes their Tidal Bay Wine different from other wineries? Consistency. They never change their blend, always using the same five grape varietals and the same percentage.
The Tidal Bay Wine at Domaine de Grand Pre Winery has won the Best of Tidal Bay, and also won silver in all Canadian wine championships.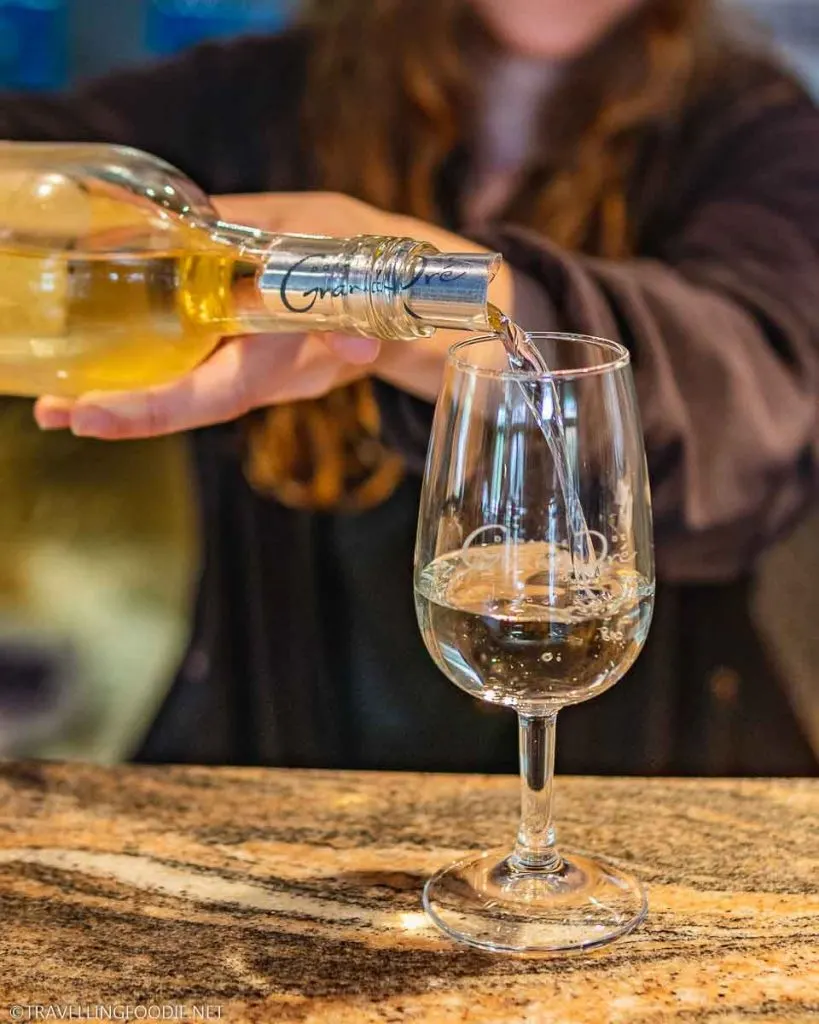 Website / Address: 11611 Highway 1, Grand Pré, Nova Scotia B0P 1M0
---
Casa Nova Fine Beverages
Previously Annapolis Highland Vineyards, Casa Nova Fine Beverages is a unique winery because it not only produces wines but also cellos (fortified wines) and craft cider made with 100% Nova Scotia apples.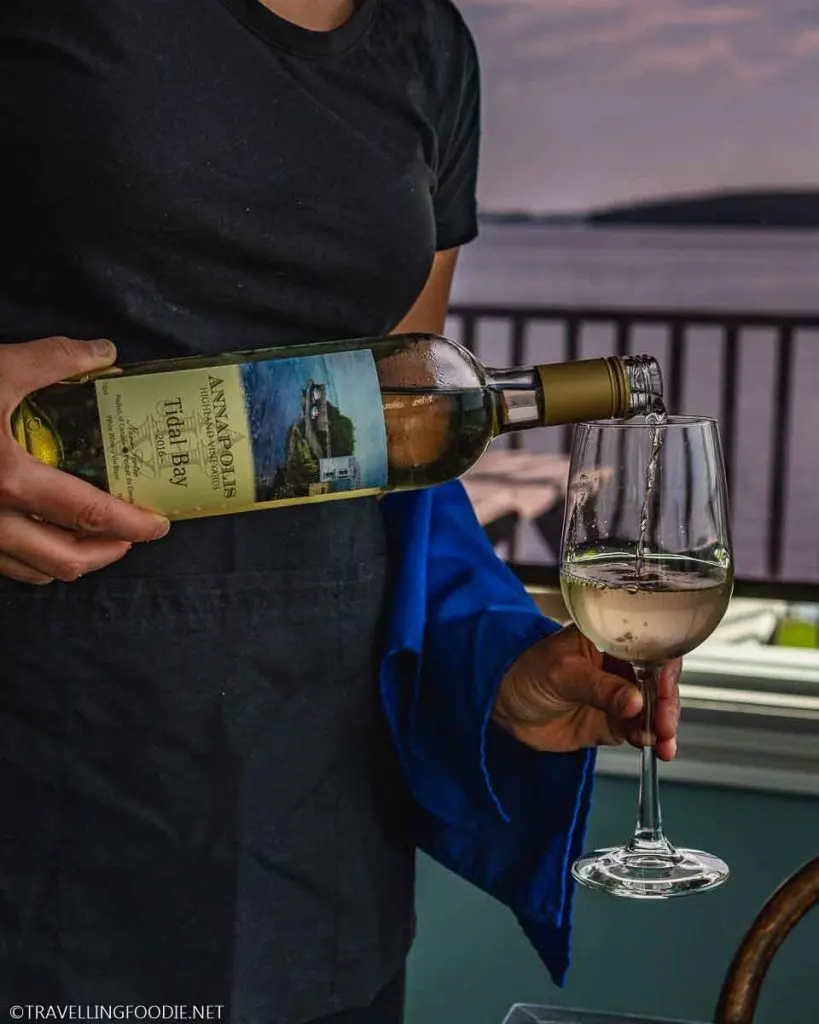 Website / Address: 2635 Clementsvale Rd, Bear River, Nova Scotia B0S 1B0
---
Planters Ridge Winery
Located in Annapolis Valley, Planters Ridge Winery is an artisanal winery on the sandy-clay slopes of a ridge in Port Williams overlooking Wellington Dyke.
The first time I tried the Tidal Bay Wine was at Planters Ridge Winery itself during the Good Cheer Trail Tour by Grape Escapes Nova Scotia Wine Tours.
Website / Address: 1441 Church St, Port Williams, Nova Scotia B0P 1T0
---
Tidal Bay Wine Pairing
With Tidal Bay's key characteristics of being fresh, crisp, lively, with green fruit and distinct minerality, Nova Scotia's signature white wine pairs so well with food!
Being both a white wine and a Nova Scotia wine, Tidal Bay was made to perfectly pair with fresh Nova Scotia seafood.
Luckily, you will not have a hard time doing this in the province as most restaurants in Nova Scotia serving alcohol carry Tidal Bay wines on their drink menu. In fact, most of Tidal Bay wines I tried were at restaurants while enjoying a seafood meal.
Also Read: Best Restaurants in Halifax, Nova Scotia
With its delicacy and crisp nature, Tidal Bay wines go well with simple dishes. Think food that are steamed, boiled, poached, or eaten raw. It can get lost on heavily spiced or flavourful dishes like curries and spicy food.
With its fresh aromatics, Tidal Bay wines go well with fresh flavours and aromatic spices like dill, basil, thyme or cilantro.
With a higher acidity like most Nova Scotia white wines, Tidal Bay wines go well with dishes with citrus or tart notes like oranges, light vinegar, lemon and lime.
It's not surprising that the ultimate pairing for Tidal Bay wine is the Traditional Nova Scotia Lobster Dinner, a simple steamed or boiled fresh lobster served with melted butter and lemon wedge.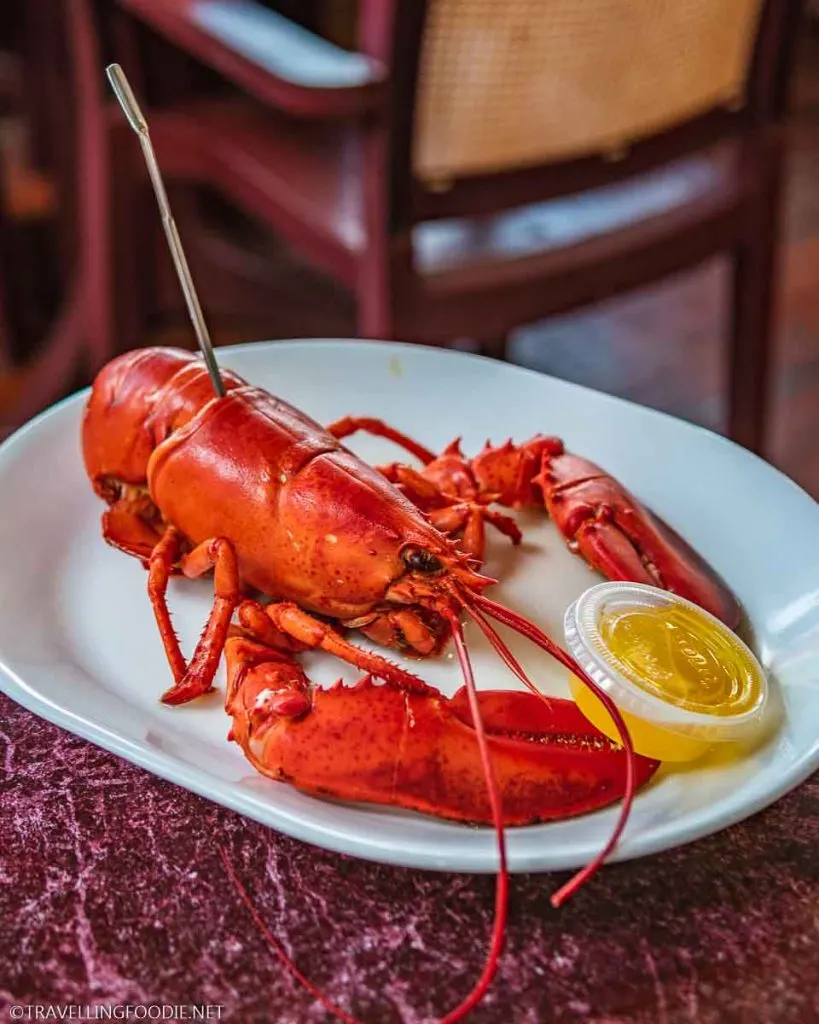 ---
Tidal Bay White Wine for Cooking
Cook with wines you love drinking. It's so true because you want to use wine to enhance your food further, not as a way to discard wine you don't like.
White wine is a pantry staple for cooking because of its versatility:
Deglaze for a pan sauce
White wine reductions
Add acidity to risotto
Shellfish in white wine broth like mussels
Enhance aromatics on steamed dishes
Tidal Bay's off-dry, higher acidity, less oaky taste and low alcohol content make it great for cooking:
Being an off-dry, Tidal Bay wine doesn't add too much sweetness that might affect the flavor of the dish unlike a sweet white wine.
With higher acidity, Tidal Bay wine adds more crisp and brings out the dish's flavour more.
Tidal Bay's fresh and less oaky taste means it doesn't taste bitter or unpleasant when reduced, which is not something you want to add on your dish.
With the lower alcohol content, you don't need to cook Tidal Bay wine for a long time to burn off the alcohol.
---
Tidal Bay Wine Price
Lucky for wine lovers, Tidal Bay wines are priced reasonably so we can enjoy them frequently without breaking the bank. This Nova Scotia signature white wine is typically in the range of $19-$23.
---
MAP: Nova Scotia Wineries with Tidal Bay Wine
Hope this Nova Scotia Tidal Bay Wine Guide gives you an idea on what makes this signature Nova Scotia wine so special!
Here's a map of all the Nova Scotia wineries covered in this guide for Tidal Bay wines.
I'm always looking for Nova Scotia recommendations. Please let me know what you find are the best Tidal Bay wines and wineries in Nova Scotia.
---
This post was done in partnership with Tourism Nova Scotia. As usual, reviews and opinions are 100% entirely my own.
You can learn more about Nova Scotia on their website.