Diona Joyce of Tita Flips hosted a Filipino-inspired Thanksgiving Dinner on October 3, 2016 at Workhaus to share her love of Filipino cuisine and gratitude for Canada's diverse food culture.
The event was MC'd by fellow Filipino Joey Salmingo.
History of Tita Flips
Diona immigrated to Canada from the Philippines in 2001.
Initially faced with homesickness and all the challenges of being in a new country, she found comfort in cooking up all the familiar tastes of home in her little apartment kitchen.
Today, Diona has a catering company, Tita Flips, and Toronto's first street food stall, Kanto, which is a food festival favourite and a regular fixture at some of Toronto's premier cultural events such as Friday Night Live at the ROM and Nuit Blanche.
What is the meaning of Tita Flips? "Tita" is the Filipino term for Auntie. Diona said she wanted it to be in between "Ate" (Sister) and "Lola" (Grandma). And "Flips" is a western slang for Filipinos.
Also Read: Brothers Food & Drink in Toronto
Tita Flips Thanksgiving Dinner Event
The Thanksgiving dinner was set up such that when you enter the venue, there's a backdrop of Tita Flips sign for photos then a bar on the right, the registration table on the left, and straight ahead on the center is a very long table where the beautiful Kamayan dinner was laid out.
Kanto by Tita Flips Food & Drinks
Tipsy Tita
Tipsy Tita is their signature cocktail: vodka, triple sec, calamansi, orange juice, cranberry juice
I love the fact that calamansi was used as this is distinctly Filipino! It is very hard to find it in Toronto so they actually used a calamansi concentrate for this drink.
I found it very refreshing and went very well with the alcohol. I ended up drinking three glasses.
Tita Flips Kamayan
The main attraction of the night's event was the Kamayan dinner, a catering staple by Tita Flips. Beautifully laid out, the Kamayan included:
Lechon Kawali – succulent pork belly, pan-fried until skin is crispy
Chicken Inasal – chicken marinated in lemon grass, calamansai and spices
Bangus Belly
Beef Tapa – marinated beef rib-eye slices in calamansi and soy sauce
Garlic Fried Rice
Ukoy – squash pumpkin fritters
Various sides – eggplant, zucchini, mango salad, cucumber, corn, chicharon, cassava wafers (Kiping), atchara (papaya slaw) and salted duck eggs
One thing I didn't expect was how much I loved all the main dishes in this Kamayan! The lechon kawali is always a favorite for me – crispy skin with very tender and fatty meat!
The chicken inasal and beef tapa were so full of flavours as how I remember them from the Philippines! You know they really marinated the meat well.
What's more perfect to eat this with than a cup of garlic rice.
Banana Cue
For dessert, we had Banana Cue, deep-fried banana in caramelized brown sugar. It's a popular snack or street food in the Philippines!
I've been trying to look for this for a long time in Toronto as I mostly see Turon, deep fried banana spring rolls, in restaurants.
Considering the fact that I still enjoyed this even though it was already cold, I can only imagine how amazing this would taste when freshly eaten.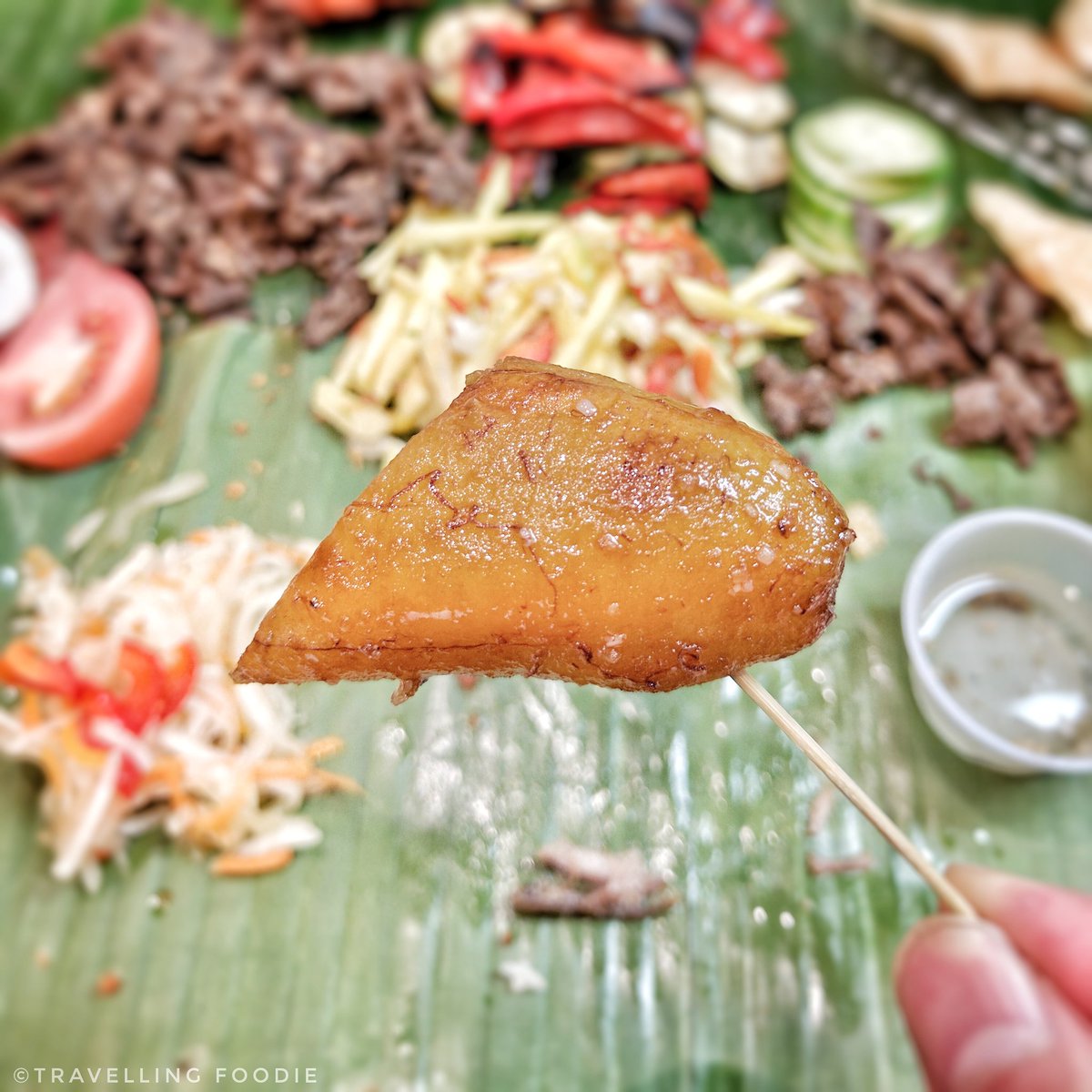 ---
Kanto by Tita Flips / Website / Address: 707 Dundas Street West, Toronto, ON, M5T 2W6
Tita Flips: / Website
Workhaus / Website / 100 Front St. E. 4th Floor, Toronto, ON M5A 1E1
---
Disclaimer: Although the food was complimentary by Tita Flips, the opinions expressed here represent my own and not those of the companies.