Top Chef Canada: All-Stars premieres on Sunday, April 2, 2017 at 10PM EST. For the first time in Canadian franchise history, Canada's high-stakes culinary competition, Top Chef Canada, brings twelve chefs from past seasons to battle it out for a chance to be Canada's Top Chef.
To celebrate Top Chef Canada Season 5, Food Network Canada and Monogram hosted a launch event on March 27, 2017, an intimate evening of culinary insight and all-star dishes.
The event was hosted at Monogram Studio inside St. Lawrence Market, and began with welcome beverages and canapes.
Also Read: Top Restaurants in Toronto
---
Food & Drinks at Top Chef Canada All-Stars Launch Event
The welcome canapes were provided by The McEwan Group which included: Sweet Pea Falafel with kale tabouli and mint yogurt, as well as this Lobster Taco in a beet shell with jicama, lemon & pickled ginger.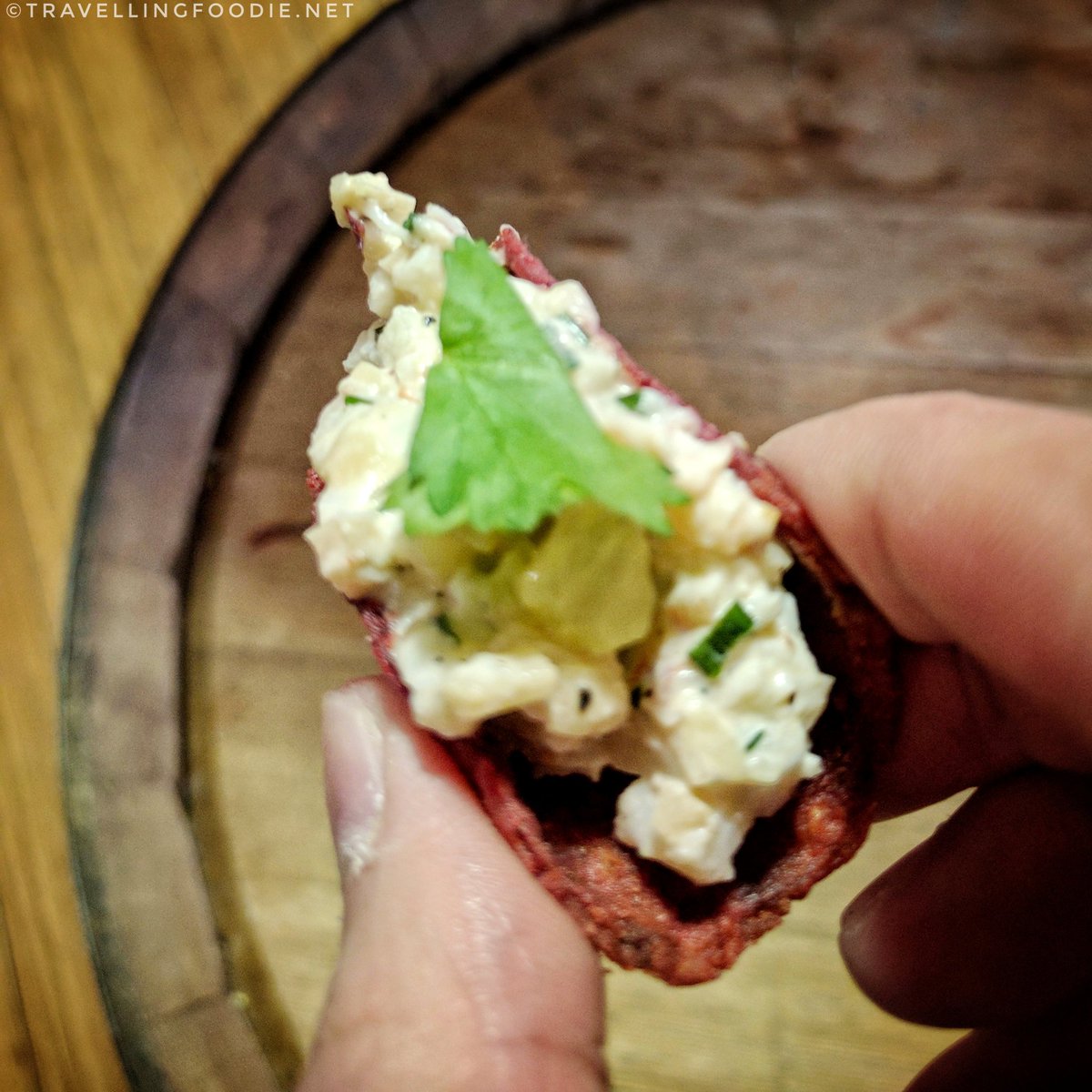 There were wines from Beringer Vineyards, as well as Orlando Carreira, AGM and Mixologist at Brassaii, mixing up cocktails from the Monogram Craft Cocktail Menu (left to right):
Monogram's Mix (Kitchen Inspired) – Stanahan's Colorado whiskey, homemade espresso bitters, clarified ethiopian coffee, clarified orange, eucalyptus tincture and activated charcoal ice cubes
Designer's Dream (Designer Inspired) – Grey Goose vodka, rose-infused botanist gin, house-made niagara ice-wine vermouth (playing the role of Lillet)
Chef's Choice (Culinary Inspired) – Ginger-infused Patron reposado tequila, galliano, soursop nectar, pink himalayan salt, scotch bonnet pepper tincture, fresh lime juice
Also Read: Taste of Toronto Event
---
Q&A Session on Top Chef Canada: All Stars
An intimate Q&A session followed, with Top Chef Canada head judge chef Mark McEwan (The McEwan Group), and resident judges Chris Nuttall-Smith (The Globe and Mail Food Critic), Mijune Pak (Follow Me Foodie) and Janet Zuccarini (Gusto 54 Restaurant Group).
---
Cooking Demonstrations
At the end of the Q&A session, some of the Top Chef Canada: All-Stars chefs were announced and they came out for cooking demonstrations which we got to try.
Tamarind Chili Oyster by Chef Dennis Tay, Chef de Cuisine at DaiL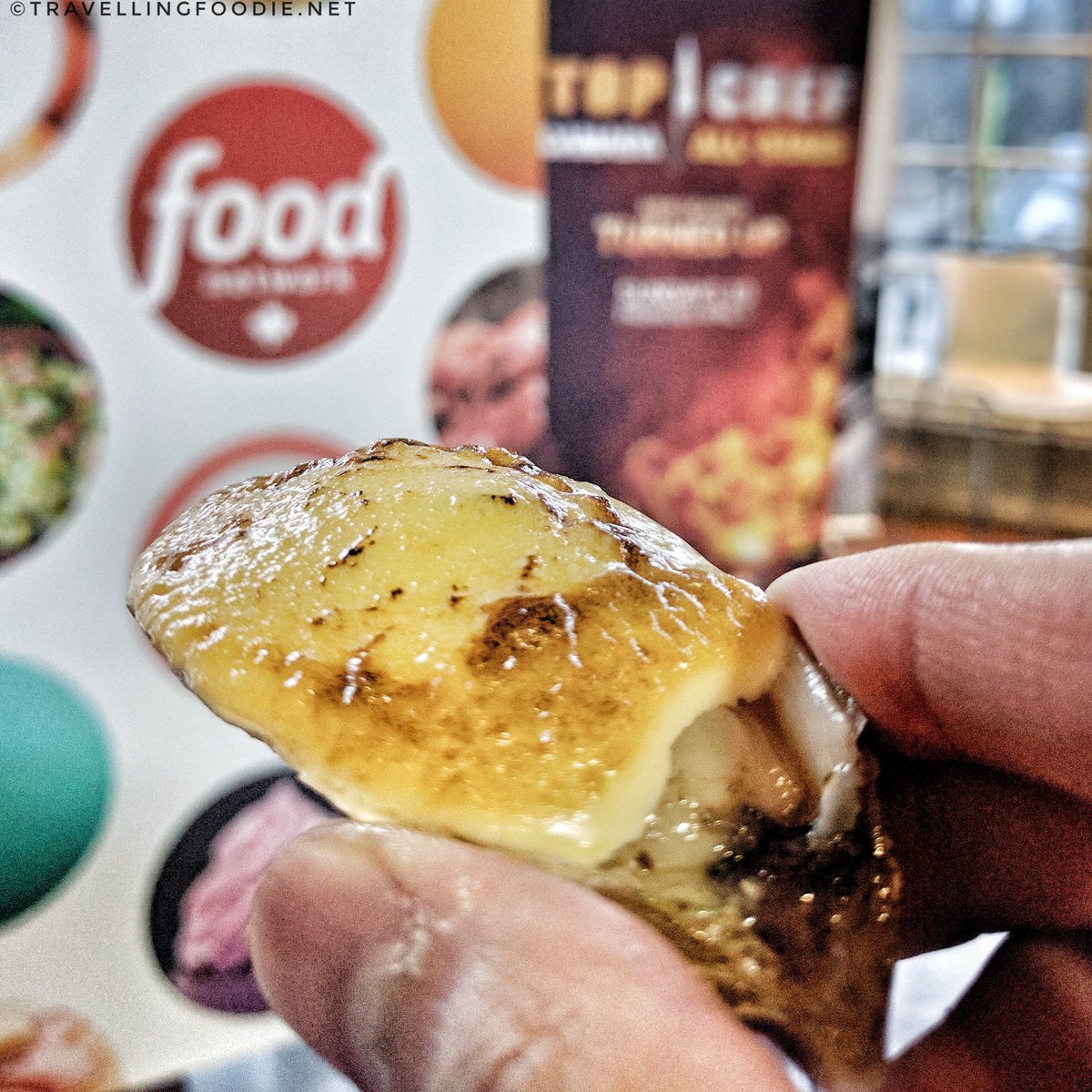 Lamb Kibbeh on a Crispy Pita by Chef Andrea Nicholson, Chef/Owner of Butchie's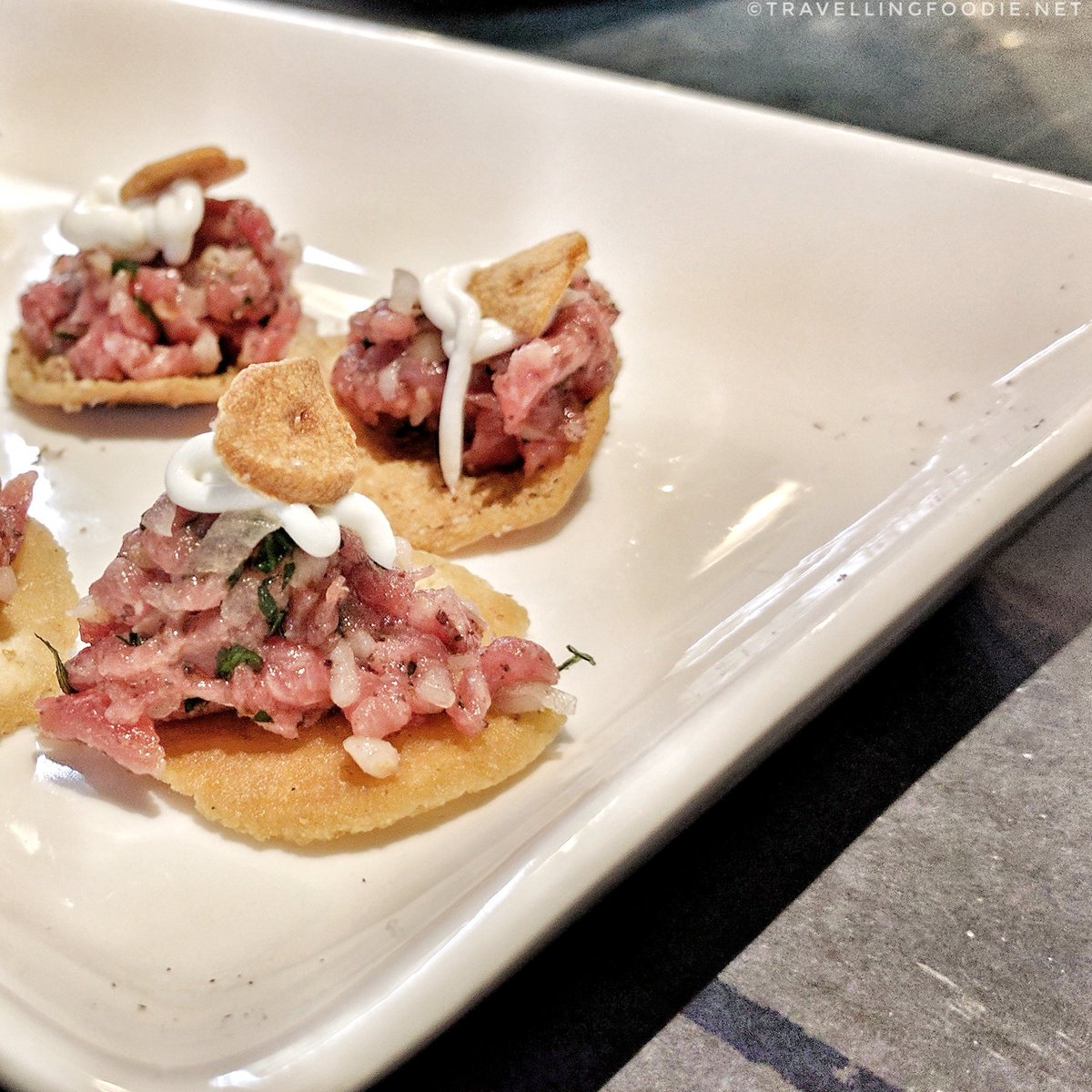 Savoury Macaron with Rhubarb Jelly, Prosciutto, Blue Haze by Chef Elizabeth Rivasplata, Executive Chef at Rogers Centre
Cured Trout with Crispy Plantain by Chef Trista Sheen, Chef at Bar Begonia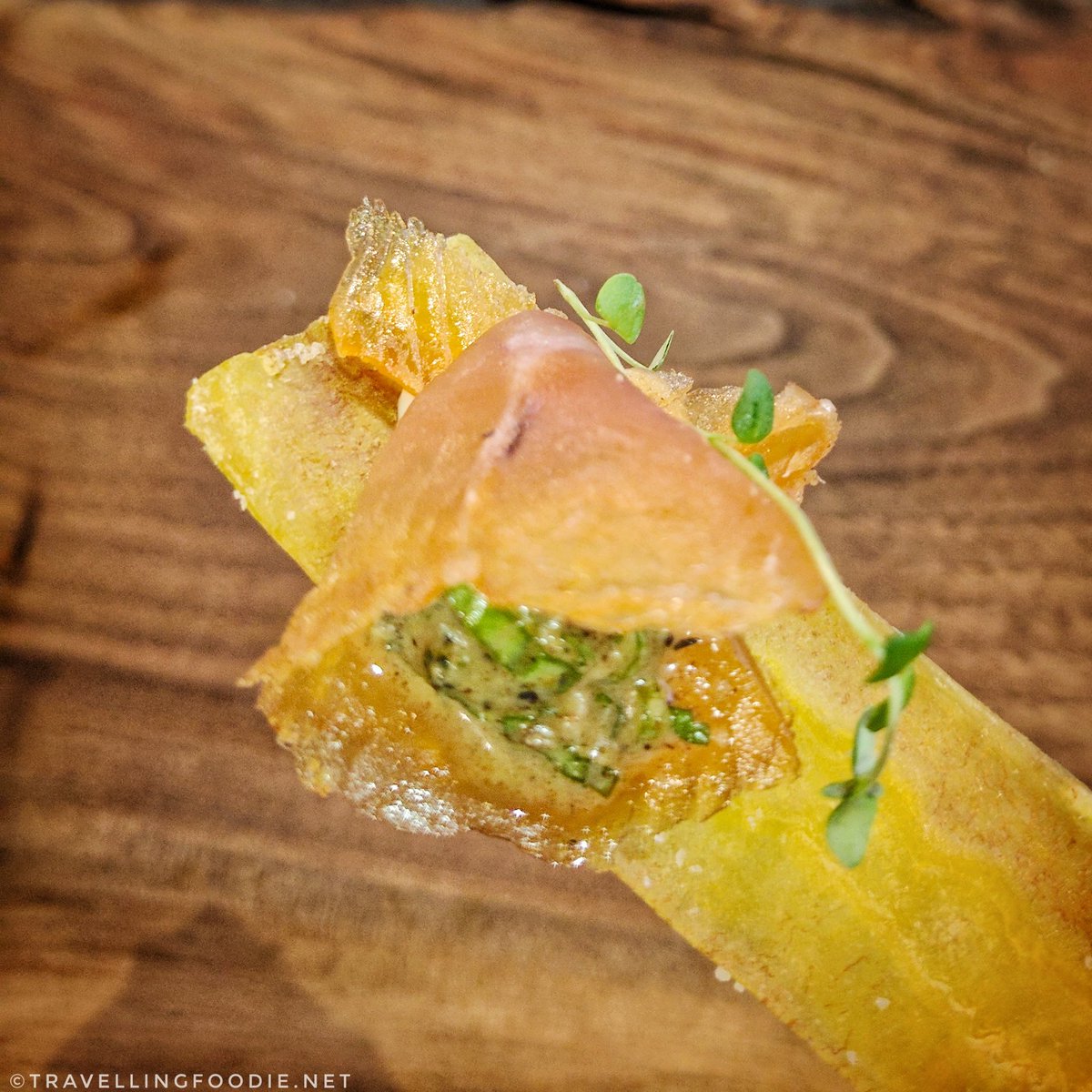 ---
Event Swag
We got to take home some swag which included a Food Network apron and a Le Creuset Pepper Mill.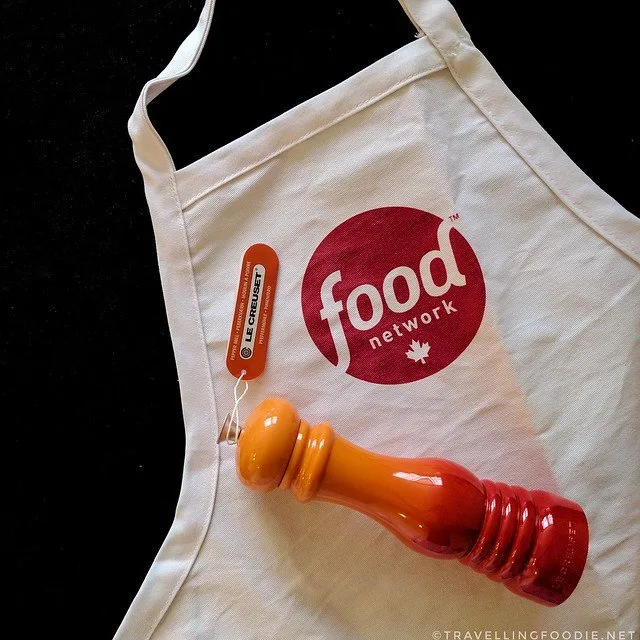 ---
Competing Chefs at Top Chef Canada: All-Stars
This season, the returning twelve chefs unpack their knives and fight for a chance to win a $100,000 grand prize courtesy of Interac Flash and a Monogram kitchen valued at over $25,000.
Here are the 12 chefs returning to the Top Chef Canada kitchen for a second chance at winning it all:
Connie DeSousa – Season 1, Calgary, AB.
Dustin Gallagher – Season 1, Toronto, ON.
Andrea Nicholson – Season 1, Toronto, ON.
Todd Perrin – Season 1, Quidi Vidi Village, NL.
Trevor Bird – Season 2, Vancouver, BC.
Jonathan Korecki – Season 2, Ottawa ON.
Curtis Luk – Season 2, Vancouver, BC.
Elizabeth Rivasplata – Season 2, Toronto, ON.
Trista Sheen – Season 2, Toronto, ON.
Nicole Gomes – Season 3, Calgary, AB.
Dennis Tay – Season 3, Toronto, ON.
Jesse Vergen – Season 4, Saint John, NB.
---
Top Chef Canada
Learn more about Top Chef Canada: All-Stars here