Looking for Michelin Star restaurants in Toronto?
Toronto has been known for its amazing culinary scene with a rich diversity.
You can taste the world in Toronto!
And as a travelling foodie, this is what I love most about Toronto.
As I eat my way around the city, I've been asked numerous times before if Toronto has Michelin Star restaurants, or why the city doesn't have any.
All this finally changed in September 13, 2022 when the Toronto Michelin Guide was launched, marking the first ever Canadian edition of the popular Michelin Guide.
Having dined at many Michelin Star restaurants and World's 50 Best Restaurants like Alinea, n/naka, El Celler de Can Roca, Oud Sluis, Robuchon au Dôme, I was ecstatic that the Toronto food scene finally got the Michelin spotlight.
I've visited over half of the awarded Toronto Michelin Star restaurants, which I'll be sharing here.
This food guide will help you discover where to eat in Toronto for a Michelin Star dining experience.
---
Be sure to SAVE/PIN/BOOKMARK this Toronto Michelin Star Guide because we will be updating this list as we try more places!
---
Toronto Michelin Star Guide
On September 13, 2022, the first edition of the MICHELIN® Guide Toronto was revealed.
Some were expected. Some came as a surprise.
And everyone has their own thoughts on the list.
There were 74 total restaurants, including Stars, Bib Gourmand and "recommended" eateries in the list.
The restaurants span across 27 different cuisines, from Mexican and Italian to contemporary and Japanese Kaiseki.
A true testament to Toronto's diversity!
"Toronto shows it's deserving of being the first MICHELIN Guide selection ever in the Great White North," said Gwendal Poullennec, International Director of the MICHELIN Guides.
"Toronto already was a multicultural place where people meet to enjoy architecture, arts and nature, and now it becomes a world-class destination for gourmets too."
Is there a MICHELIN Guide in Canada?
The launch of the Toronto Michelin Guide marks the first ever MICHELIN Guide in Canada.
How many MICHELIN Stars does Toronto have?
Toronto garnered a total of 14 Michelin Stars in 13 restaurants.
Some interesting statistics on these Toronto Michelin Star restaurants:
10 are tasting menu restaurants.
5 are Japanese tasting menu experiences.
5 are in Toronto's expensive Yorkville neighbourhood.
What does the MICHELIN Star rating mean?
The Michelin Star rating is a 3-star rating system awarded to restaurants based on anonymous dining experiences by the Michelin inspectors:
One Michelin Star: High quality cooking, worth a stop!
Two Michelin Stars: Excellent cooking, worth a detour!
Three Michelin Stars: Exceptional cuisine, worth a special journey!
The restaurants are judged by these five criteria:
Quality of the ingredients used
Mastery of flavor and cooking techniques
Personality of the chef in his cuisine
Value for money
Consistency between visits
How many 3 Michelin Star Restaurants in Toronto?
Unfortunately, there were no restaurants in Toronto that received 3 Michelin Stars.
How many 2 Michelin Star Restaurants in Toronto?
Sushi Masaki Saito is the only 2 Michelin Star restaurant in Toronto.
How many 1 Michelin Star Restaurants in Toronto?
Here are the 12 One Michelin Star restaurants in Toronto:
Aburi Hana
Alobar Yorkville
Quetzal
Shoushin
Who are the Michelin Star chefs in Toronto?
Here are the chefs who earned Michelin Stars in Toronto:
Chef Masaki Saito of Sushi Masaki Saito
Chef Ryusuke Nakagawa of Aburi Hana
Chef Patrick Kriss of Alo and Alobar Yorkville
Chef Daniele Corona of Don Alfonso 1890
Chefs Tobey Nemeth and Michael Caballo of Edulis
Chef Quinton Bennett of Enigma Yorkville
Chef John-Vincent Troiano of Frilu
Chef Masaki Hashimoto of Kaiseki Yu-zen Hashimoto
Chef Rob Rossi of Osteria Giulia
Chef Steven Molnar of Quetzal
Chef Jackie Lin of Shoushin
Chef Daisuke Izutsu of Yukashi Japanese Cuisine
How many Michelin Bib Gourmand Restaurants in Toronto?
Michelin Bib Gourmands were awarded to 17 Toronto restaurants.
These are Toronto restaurants where one can have a two-course meal with a dessert or glass of wine for under CAD$60.
Here are the Toronto Bib Gourmand MICHELIN Restaurants:
The Ace
Alma
Campechano
Cherry Street Bar-B-Que
Chica's Nashville Hot Chicken
Enoteca Sociale
Fat Pasha
Favorites
Fonda Balam
Grey Gardens
Indian Street Food Co.
La Bartola
Puerto Bravo
SumiLicious
Wynona
How many Michelin Recommended Restaurants in Toronto?
Aside from Michelin Star and Bib Gourmand, there are 44 Toronto restaurants that were designated Michelin Recommended.
According to Michael Ellis, International Director of the MICHELIN Guide books, "A restaurant in the Recommended selection is the sign of a chef using quality ingredients that are well cooked; simply a good meal. It means that the inspectors have found the food to be above average, but not quite at star or Bib level."
Here are some of the Michelin Recommended restaurants in Toronto that I have written articles about:
Does the Toronto MICHELIN Guide cover Ontario restaurants outside the city?
The inaugural Michelin Guide in Toronto only covered the City of Toronto plus the border of Thornhill with the inclusion of Frilu.
According to Andrew Weir, executive vice-president of Destination Toronto, regarding their marketing partnership with Michelin: "This is also the start of a multi-year partnership with Michelin. They've come in to do their first round of inspections, but over time, they will discover more restaurants. So, the guide will continue to grow over time."
"The Toronto guide is an all-digital guide, which means there will be additions, particularly in the recommended category. Toronto's culinary scene is remarkable in its depth and breadth, and we saw the start of that recognition tonight," says Andrew Weir.
Hopefully, the Toronto Michelin Guide will extend to other parts of Ontario as I've tried other restaurants in the province that deserve Michelin Stars as well like Restaurant Pearl Morissette, Langdon Hall and Waupoos Restaurant.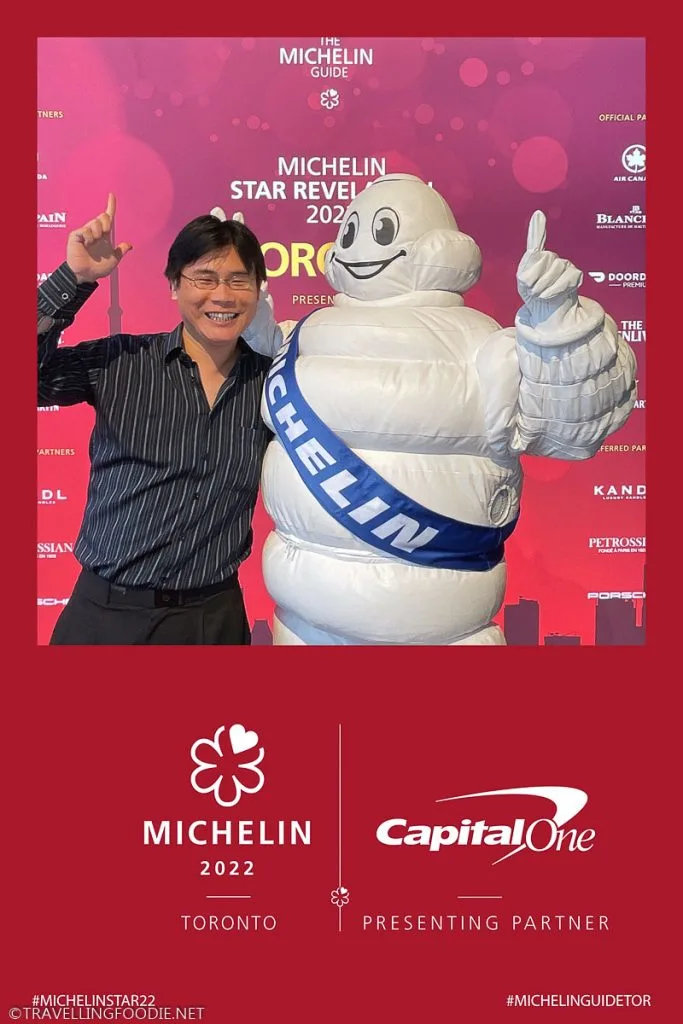 ---
Michelin Star Restaurants in Toronto
There are 13 Michelin Star Restaurants in Toronto, some of which are considered to be among the best restaurants in Canada!
Restaurants tend to increase in price due to popularity and high demand after being awarded Michelin Stars so be sure to book in advance and visit these Toronto restaurants ASAP.
Here are the 7 Toronto Michelin Star Restaurants that I've dined at, listed in alphabetical order.
Alo
Opened in July 2015, Alo Restaurant is a contemporary French restaurant specializing in tasting menu served in a stylish ambiance atop a Victorian building.
When I first dined at Alo back in 2016 during a time when Toronto didn't have a lot of fine dining tasting menu experiences, I was thoroughly impressed with both the food and service.
After dining there, I remember saying that, if we ever got Michelin Star restaurants in Toronto, Alo is one that deserved them because the experience was really on par (or even better!) with Michelin Star restaurants I've tried around the world.
Chef Patrick Kriss has meticulously crafted dishes that are innovative and plays with flavours of the season.
It's no surprise that Alo has won Canada's best restaurant consecutively for multiple years.
Named Canada's most outstanding chef, Chef Patrick Kriss has been paramount in putting the Toronto food scene in the world spotlight and has opened more restaurants since Alo including the Michelin Star Alobar Yorkville and the Michelin Recommended Aloette.
Michelin Inspector notes for Alo Restaurant:
"Everyone has a good time at Chef Patrick Kriss's beloved Alo. The talented beverage team offers spot-on suggestions from the well-chosen wine list. The kitchen team seamlessly merges European and Asian sensibilities onto a single tasting menu with dishes like creamy Koshihikari risotto boosted with porcini emulsion or rack of lamb with Thai green curry."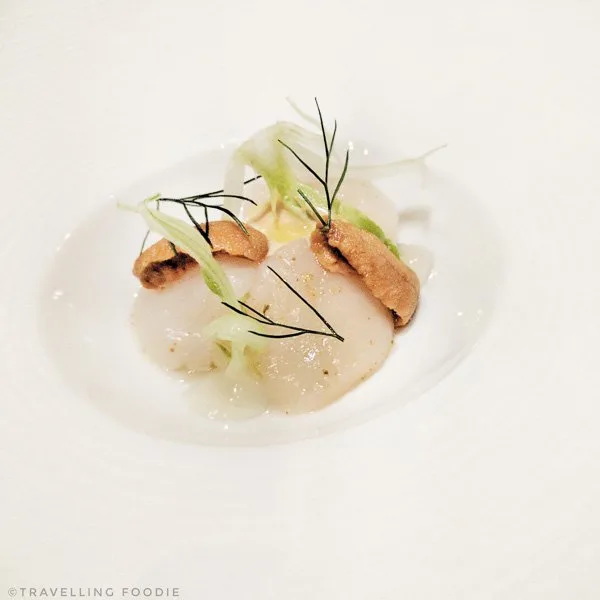 Website / Address: 163 Spadina Ave., Toronto, Ontario M5V 2L6
Edulis
Located in downtown Toronto's west end neighbourhood, Edulis is known for its seasonal tasting menu made from scratch by husband-and-wife team Michael Caballo and Tobey Nemet.
Dining at Edulis feels like visiting your grandma's home for a delicious seafood-focused homecooked meal.
It's a great culinary experience for seafood lovers and the price is pretty reasonable for what you're getting.
They're one of the few tasting menu restaurants you can still do for under $100, at $85 for lunch.
Michelin Inspector notes for Edulis:
"The pride and passion of the husband-and-wife owners and their staff is undeniably evident throughout this spot. Settle in for a set, multicourse menu inspired by the Mediterranean. The kitchen eschews fluff, focusing instead on creating harmonious (and delicious) dishes. Freshly carved Spanish ham, cheese and dessert are available as add-ons. The menu proudly hews to the season."
Website / Address: 169 Niagara St, Toronto, Ontario M5V 1C9
Enigma Yorkville
Opened in 2020 in Toronto's historic Yorkville, Enigma Yorkville is an intimate modern European fine dining restaurant specializing in seasonal tasting menu.
Here you can enjoy a culinary journey by South African Executive Chef Quinton Bennett and his experiences working in different European countries.
The menu uses a lot of Canadian ingredients and, while it changes seasonally, has a familiar structure like starting your meal with a tartlet (that changes) and a meat course where you get to pick a Japanese knife.
Cocktail lovers will enjoy their strong cocktail program. Better yet, opt for the cocktail pairing for a journey of unique cocktail creations along with your meal.
Being in the Yorkville neighbourhood, expect higher pricing compared to other Toronto tasting menu with the same number of courses.
Michelin Inspector notes for Enigma Yorkville:
"Chef Quinton Bennett's resume is as varied and glittering as the tile mosaics that stretch across the ceiling of this Yorkville looker. Using molecular techniques, he puts his worldly view on the plate, playing on diverse textures and surprising combinations like brassicas with smoked foie gras and dehydrated parmesan or tuna with sheets of beetroot and fermented daikon."
Website / Address: 23 St Thomas St, Toronto, Ontario M5S 3E7
Frilu
The only Michelin starred restaurant located in York region, Frilu in Thornhill specializes in contemporary Asian-inspired seasonally changing tasting menu.
Opened in June 2018, Frilu is a much needed addition to the uptown Toronto food scene since most tasting menu restaurants are downtown.
Executive Chef and Owner John-Vincent Troiano brings his culinary expertise from world-renowned tasting menu restaurants like Noma and Benu.
Frilu is one of the few tasting menu restaurants that offer a non-alcoholic beverage pairing focused on teas and in-house juices.
And their alcohol pairing is also unique that includes both wine and sake.
Since dining there in 2019, I've been recommending Frilu to everyone looking for a special dining experience in Toronto especially those who are looking to go outside downtown.
Michelin Inspector notes for Frilu Restaurant:
"There is a saying that we should dance like nobody's watching. This adage feels true of Chef John-Vincent Troiano, who cooks to his own rhythm in Thornhill. Smoke, game and refined sauce-work figure prominently on what might be the only tasting menu for several kilometers. A tiny space packed with talent, the sparsely decorated nook leaves everything on the plate, with high-quality product from their own farm coupled with an intriguing Japanese element that feels natural."
Website / Address: 7713 Yonge St, Thornhill, Ontario L3T 2C4
Kaiseki Yu-zen Hashimoto
While Toronto has many omakase restaurants, Kaiseki Yu-zen Hashimoto opened in 2009 as the first Japanese restaurant to offer a kaiseki experience in Toronto (maybe even in Canada).
Located in uptown Toronto, Kaiseki Yu-zen Hashimoto is the most authentic Japanese kaiseki experience you can get in Canada without flying to Japan, aptly housed inside the Japanese Canadian Cultural Centre.
When I dined there in 2016, I thought Kaiseki Yu-zen Hashimoto was one of the closest you can get to a three Michelin Star restaurant experience in Toronto.
Owner and Chef Masaki Hashimoto with his son Kei has mastered the art of Omotenashi, or Japanese hospitality.
The Kaiseki takes you on a journey of culinary craft and mastery with each course telling a story.
You also end the experience with a shortened version of an authentic Japanese tea ceremony, something you cannot get anywhere else in Toronto.
Michelin Inspector notes for Kaiseki Yu-zen Hashimoto:
"Chef Masaki Hashimoto's traditional kaiseki eight-course menu showcases the seasons while celebrating Japanese ingredients. It's all about focus over flash with a refined intricate style and attention to detail that borders on reverence. Shii-zakana is a signature dish composed of fried soba noodle-wrapped shrimp, but it's the stunning radish crane that you'll remember."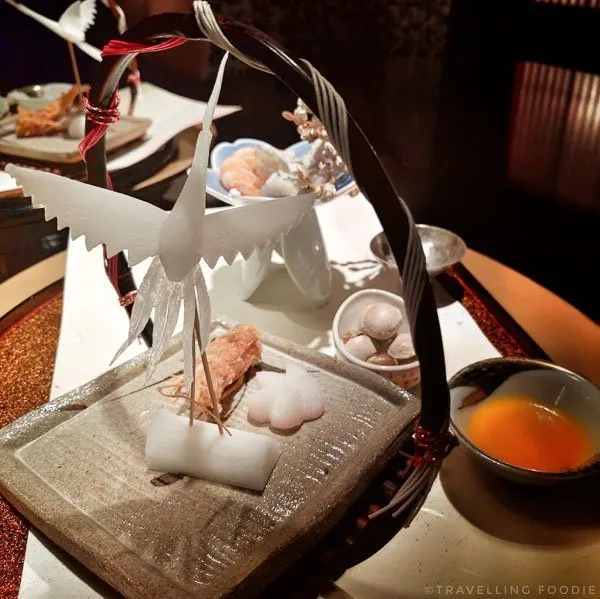 Website / Address: 6 Garamond Ct, North York, Ontario M3C 1Z5
Osteria Giulia
Opened in October 2021, Osteria Giulia is the newest restaurant that made it to the list of Michelin Star restaurants in Toronto.
Located in Yorkville, Osteria Giulia is one of the best Italian restaurants in Toronto opened by Chef Rob Rossi and David Minicucci, who are the same masterminds behind the Michelin Recommended Giulietta, which I also highly recommend.
Not your traditional Italian restaurant, don't expect pizzas at Osteria Giulia.
Instead, you'll be taken along the northern Italian coastline to enjoy the cuisine of Liguria.
Must-try food and drink at Osteria Giulia:
Focaccia di Recco – Stracchino Stuffed Ligurian Flatbread, Olio Novello & Sea Salt – a traditional flatbread that originated in the town of Recco, Liguria.
Lorighittas al Mare – Hand Braided Pasta, Wild Squid, Bay Scallops, Chili, Garlic & Anchovy
Caffé Miscellato – OG Liquore al Caffé & Punch Abruzzo
Michelin Inspector notes for Osteria Giulia:
"It seems nearly impossible to have a bad time at Chef Rob Rossi's Italian stunner. Many Italian menus can look the same, Rossi narrows in on the seafood-rich traditions of Liguria. A deep Italian wine list and an especially talented cocktail program round out an experience that is as accomplished as it is hospitable."
Website / Address: 134 Avenue Rd, Toronto, Ontario M5R 2H6
Yukashi Japanese Cuisine
Opened in 2018 in midtown Toronto's Mount Pleasant neighbourhood, Yukashi offers a seasonal tasting menu focused on traditional Japanese dishes with local and seasonal ingredients.
Though limited table seating is available at this small and intimate 15-seater open-kitchen Japanese restaurant, you'll want to sit at the bar so you can watch Chef Daisuke Izutsu in action as he carefully crafts each course in front of you.
The 9 course seasonal tasting menu follows a Kaiseki-style format with a limited sake pairing available:
Appetizer
Soup
Otsukuri
Uni Niku (Signature Dish)
Main Dish
Tempura Dish
Fish Dish
Rice + Miso Soup
Dessert
Michelin Inspector notes for Yukashi:
"Chef Daisuke Izutsu has cooked for royals, dignitaries, and you, if you're one of the lucky 15 who has secured a seat at the intimate Yukashi. Firmly rooted in seasonality, this kaiseki-style menu is highly original and personal. The otsukuri, with slices of shima aji with yuzu zest, toro with pickled turnip and hay-smoked hamachi delicately arranged atop a white marble base, is a work of art."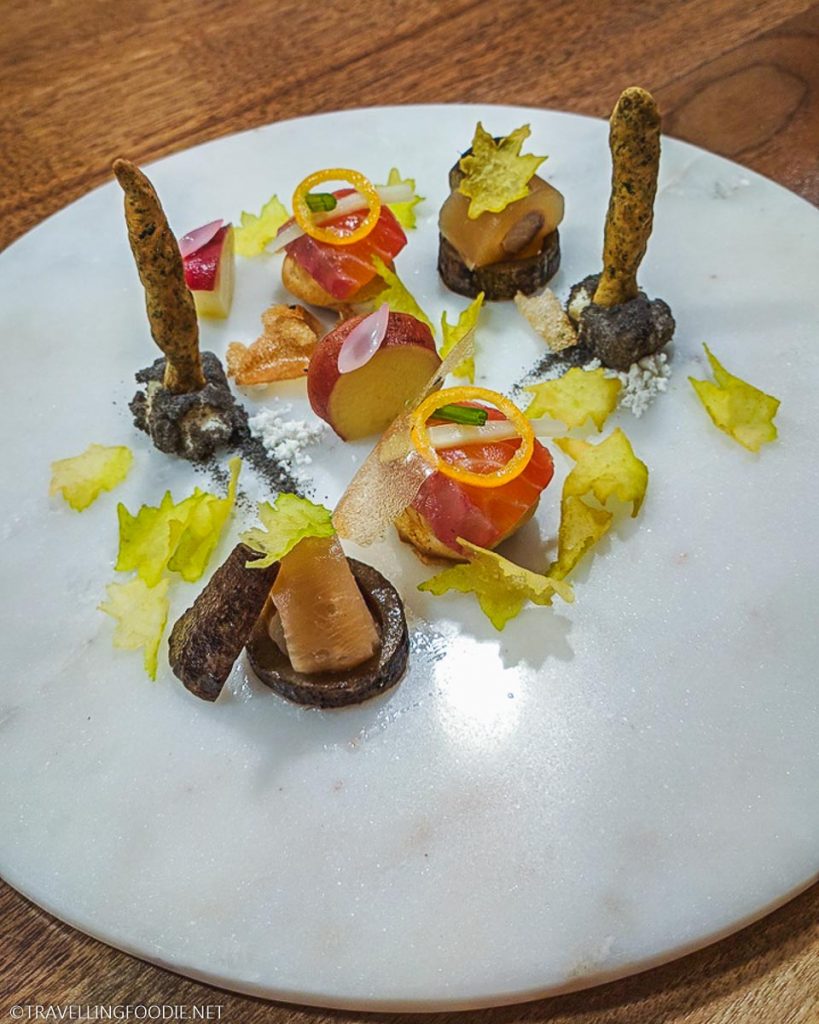 Website / Address: 643a Mt Pleasant Rd, Toronto, Ontario M4S 2M9
---
VIDEO: Michelin Star Toronto Guide Revelation 2022
Toronto and the rest of Canada were buzzing with excitement as the Toronto Michelin Guide was launched on September 13, 2022 at the Evergreen Brick Works.
I was thrilled and immensely honoured to be part of this historic event.
Here's an inside look at the exclusive Michelin Star Revelation 2022 Toronto.
---
MAP: Michelin Star Toronto Restaurants
Here's a map of the Michelin Star Restaurants in Toronto featured in this guide.
---
Hope this food guide gives you an idea on where to eat in Toronto for Michelin Star dining!
I'm always looking for recommendations so please let me know what you find are the best Michelin restaurants in Toronto I should try!