Looking for Toronto takeout and delivery? In this food guide, I'm featuring 3 must-try restaurants for takeout and delivery from the To Go Toronto website.
With Toronto on lockdown, we must continue to support our local restaurants by ordering takeout or delivery during these challenging times.
---
To Go Toronto: Online Restaurant Hub for Toronto Takeout & Delivery Options
The restaurant industry needs our help now more than ever.
Due to the pandemic, Toronto restaurants had to close or pivot to takeout and delivery to continue operating.
I remember, when it happened, it was hard to keep track of all the restaurants that started offering these options.
This is why it's great to have a resource like To Go Toronto, an online restaurant hub that is focused on restaurants with delivery and takeout options (as well as patio dining when it was allowed).
It is such a useful website! And here's why:
There are 600+ Toronto restaurants listed on the site, and the list gets updated.
You don't need to search through multiple takeout or delivery apps to find options.
You are not limited to restaurants available on takeout and delivery apps.
You can filter by takeout, delivery, neighbourhood and cuisine.
Yelp ratings are available for some restaurants, which I find really useful because I typically look up restaurants on Yelp as part of my research!
GPS feature to find restaurants near you based on your filter selection.
It has all necessary restaurant information included: phone, address, website, overview, and even signature items for some restaurants.
I strongly encourage you to check out To Go Toronto when you're looking for takeout or delivery options in the city!
If you are unable to do takeout and delivery, check out the Toronto Restaurants Signature Recipes so you can make signature dishes at home from some of your favourite restaurants.
I used To Go Toronto to find the restaurants in this list. With Toronto having such a strong and diverse food scene, I wanted to have a great mix of restaurants so I had some deciding factors:
Restaurant selection:

One of my favourite restaurants
A new restaurant that opened in 2020
A restaurant I haven't tried

Different cuisines
Different neighbourhoods
With these criteria in mind, I went through To Go Toronto and selected restaurants that matched, checked reviews and see if I'll be able to do a food delivery.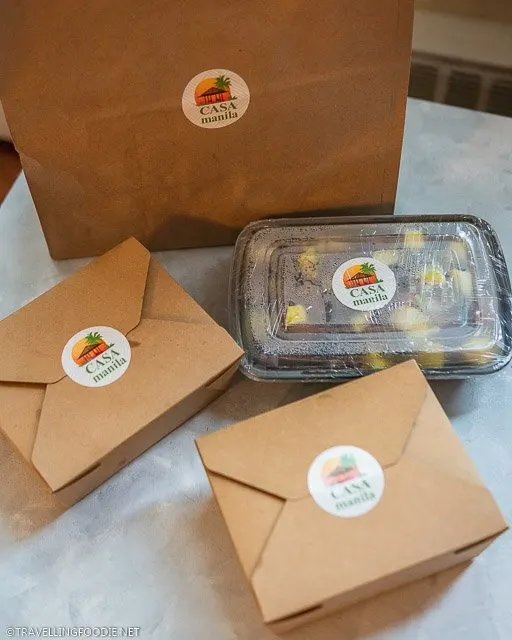 ---
Must-Try Toronto Restaurants for Takeout and Delivery
Here are 3 must-try restaurants for takeout and delivery in Toronto!
Once the pandemic subsides and you're ready to dine-in at restaurants and bars, enjoy some Toronto Happy Hour!
If you aren't able to dine-in and the restaurant doesn't have its own delivery, consider these food apps. As my friends, I have deals for you:
Ritual – Free $10 Credit when you sign up. Use Code "RAYMOND62198".
Uber Eats – $5 off a $15 Order with code "eats-raymondc1274ue".
DoorDash – $45 off ($15 off each of your first 3 orders) when you sign up here.
Steer Rideshare and Foods – Up to $25 in Steer credits here! $15 off on your first order with Steer Foods and $10 off on your first ride with Steer Rideshare!
Casa Manila
Coming from the Philippines, I definitely wanted to feature Filipino cuisine.
One of the best Filipino restaurants in Toronto is Casa Manila, a restaurant on the east end of North York that was one of my first Filipino dining experiences in Toronto.
Casa Manila has helped shine a spotlight to Filipino food in Toronto's food scene, having been featured in Food Network Canada's You Gotta Eat Here.
Though they offer fusion dishes, I highly recommend ordering the authentic Filipino dishes.
Here are three of my favourite dishes at Casa Manila:
Sisig: A highly addicting crispy and flavourful appetizer. I typically get pork sisig but, if I am already getting another pork dish, then I get the chicken skin sisig.
Crispy Pork Binagoongan: A different take on crispy pork belly. These are double fried and lightly sauteed with bagoong (shrimp paste).
Crispy Baby Squid: This is not your basic calamari. These are whole baby squids that are deep fried to perfection!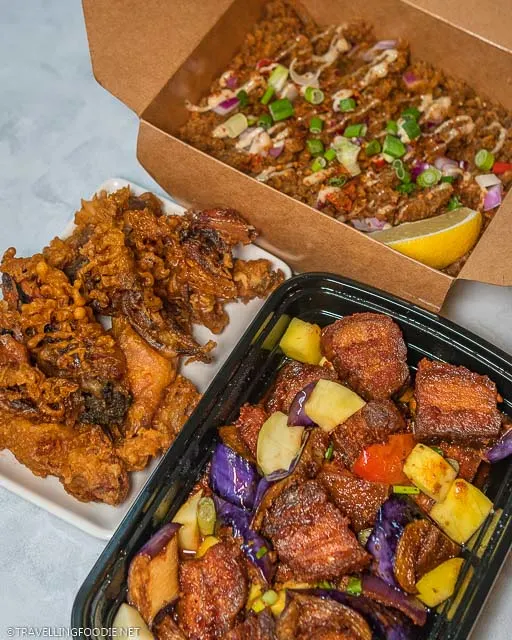 Casa Manila
Website / Address: 879 York Mills Rd Unit #1, Toronto, Ontario M3B 1Y5
Pai Northern Thai Kitchen
For my new restaurant pick, I am featuring Pai, one of the Toronto Michelin Recommended restaurants.
I was surprised to find Pai Uptown on To Go Toronto since they just opened recently on Nov. 16.
This just shows how updated the website is.
If you've been following me on Instagram, you know Pai is one of my favourite restaurants in Toronto for Thai, but the problem was that it's all the way in the downtown core.
I was so happy when Chef Nuit told me they are opening a new restaurant uptown back in January. Uptowners can now enjoy one of Toronto's best restaurants!
With Pai Uptown, there are new menu items that aren't available in Pai downtown so I just had to try them, and they were both so delicious: Pad See Ew and Khao Pad Baan Nok.
This is a rare opportunity that uptowners can try something before downtowners so take advantage of it and order takeout/delivery!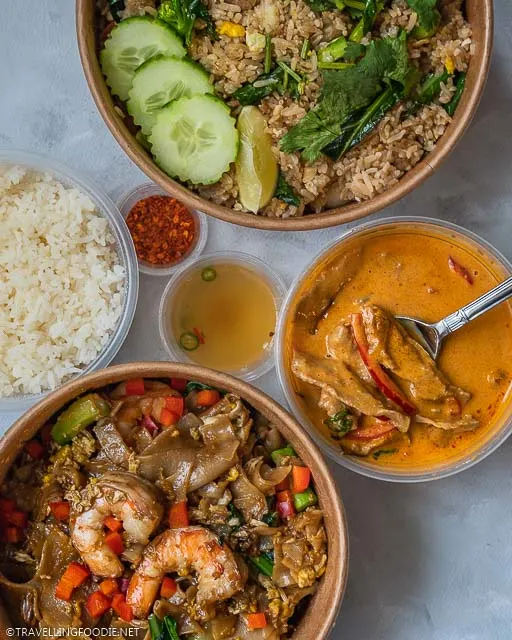 Pai Northern Thai Kitchen
Website / Uptown Address: 2335 Yonge St, Toronto, Ontario M4P 2E6
Downtown Address: 18 Duncan St, Toronto, ON M5H 3G8
Torch Pressed Sushi
Japanese cuisine is one of my favourite cuisines and sushi being at the top.
For this pick, I wanted to feature Japanese food from a restaurant that I've always wanted to try, Torch Pressed Sushi.
Torch Pressed Sushi opened its first location in North York in 2018.
It's a small shop that mostly does takeout and delivery which makes it a great option.
They also opened a second location in downtown on Oct 2019.
As their name suggests, the must-try is their torched pressed sushi, which is sushi packed tightly together into a box shape and then flame seared on top.
I love aburi sushi because the partially charred sushi brings out an extra flavour you won't get otherwise.
The Tasting Box is the perfect item to order here.
You'll get to try one piece of each type of torch pressed sushi (spicy salmon, original salmon, marinated butterfish, wasabi tuna, spicy tuna, zesty shrimp, BBQ unagi and Fantastic 4).
Plus the box comes with two DIY handrolls (otoro and lobster) which are fun and delicious to make.
If you aren't into sushi or raw seafood, the great news is they have cooked options as well like the delicious Wagyu Beef Rice Bowl.
Torch Pressed Sushi
Website / Uptown Address: 6026 Yonge St, North York, Ontario M2M 3W5
Downtown Address: 507 Church St, Toronto, Ontario M4Y 2C9
---
MAP: To Go Toronto Restaurants Featured
Here's a map of all the Toronto restaurants featured.
---
Huge thanks to Destination Toronto for sponsoring this post! As usual, all reviews and opinions are 100% my own.
You can learn more about Destination Toronto on their website.