Toronto Taste is an annual food and drink event hosted by Second Harvest, Canada's largest food rescue charity, for an all-inclusive evening of food and drinks.
This premier culinary event in Toronto was presented by The Daniels Corporation with over 90 food and drink purveyors, a lot of which are among the best in Toronto.
Since 1991, Toronto Taste has raised over $12 million in support of Second Harvest's food rescue program. Every ticket sold allows Second Harvest to rescue and deliver over 520 meals to people in need in Toronto.
---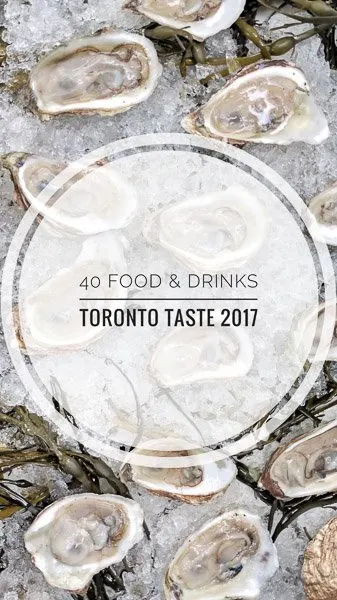 ---
Toronto Taste 2017
In its 27th year of fundraising, Toronto Taste 2017 took place on June 4, 2017 at Corus Quay. Tickets went for $260 each, with a $150 tax receipt.
To further support Second Harvest's food rescue program, a variety of raffle draws and live auction happened that night including the opportunity to dine at Bob Blumer's LA home or win a $10,000 USD in flight vouchers from Delta Airlines.
One thing I saw was the auction for "A Wild Evening with Michael Hunter" which went for $8,000. In total though, a whopping $925,000 was raised for Second Harvest!
A main feature of the night was the Chef Challenge, in which three talented chefs vied for the title of Toronto Taste 2017 Chef Challenge Winner.
Chefs Guy Rawlings (Montgomery's), Anne Sorrenti (R&D) and Eric Chong (R&D) had to wow the judges by creating a dish from a box of mystery ingredients with 30 minutes to cook. The Chef Challenge Winner was Chef Guy Rawlings.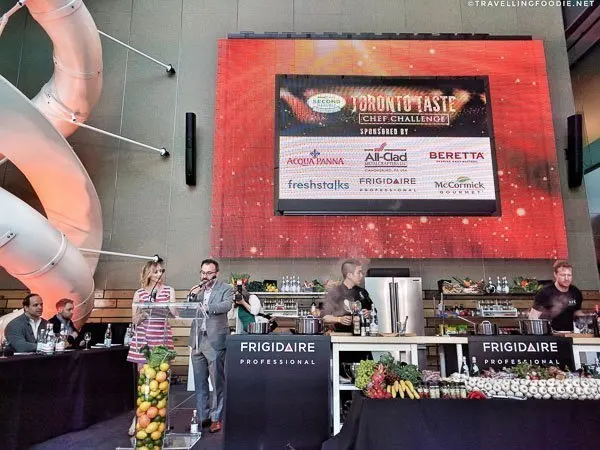 I received a media pass to attend Toronto Taste which allowed me VIP access to the event.
This was my first time attending so I was very happy I got to do it since, according to Chef Mark McEwan, "Toronto Taste is the most important event of the year in this city". It was such a fun night! Looking forward to next year already!
Also Read: Top Restaurants in Toronto
40 Food & Drinks
Following my experience from Cuisine & Cuvée, I changed my strategy at Toronto Taste and ate as I took photos. It turned out better as I got to try from 40 food and drink stations!
My top 2 dishes were the Capesante Crudo from Buca and Lamb Shank Baklava from Bar Reyna. Check out all 40 items below, in the order I had them!
The Spoke Club – Chef Robert Klunder – Chickpeas
MCO… Interesting Wines & Spirits – Clarendelle White Bordeaux 2014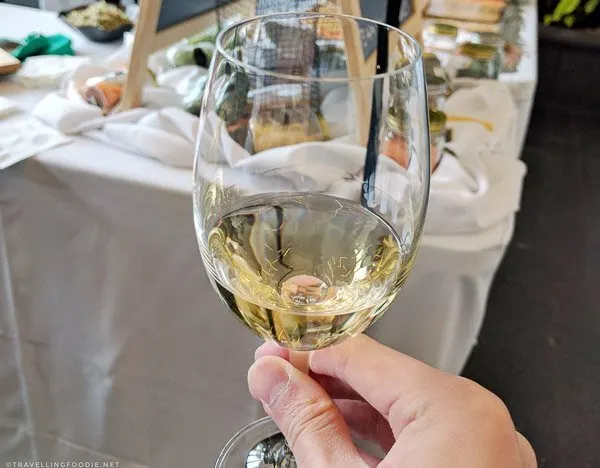 Sodexo – Chef Michael Smith – Duck Taco Spoons – slow roast duck, cumin lentil smear, arugula chimichurri
Petit Thuet – Chef Marc Thuet – Louisiana Style Hog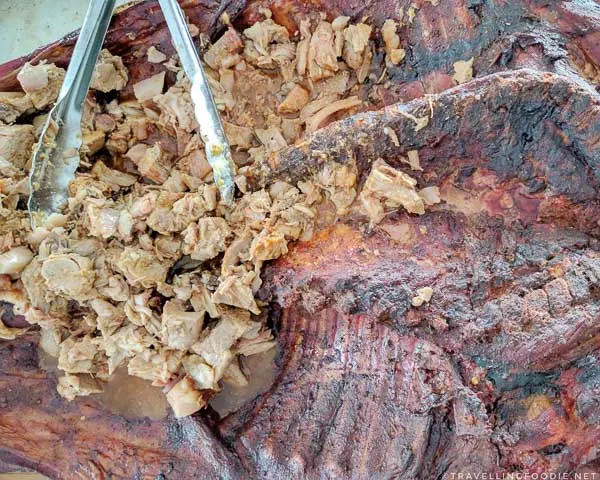 Farina Plus – Chef Domenic Giambattista – Agnolotti filled with radicchio, roasted walnuts, caramelized onions and ricotta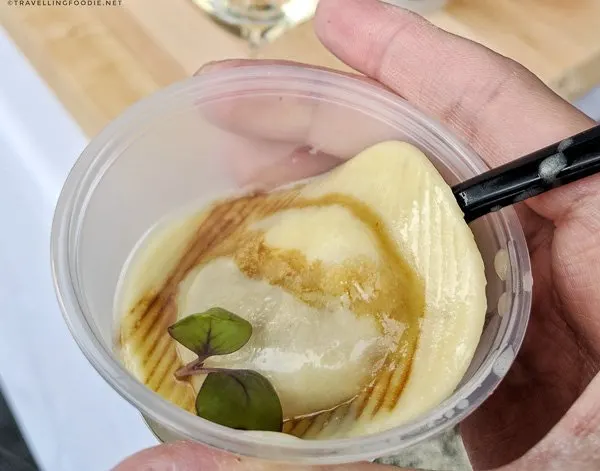 Cafe Boulud – Chef Sylvian Assie – Salted Cod Croquettes with lemon aioli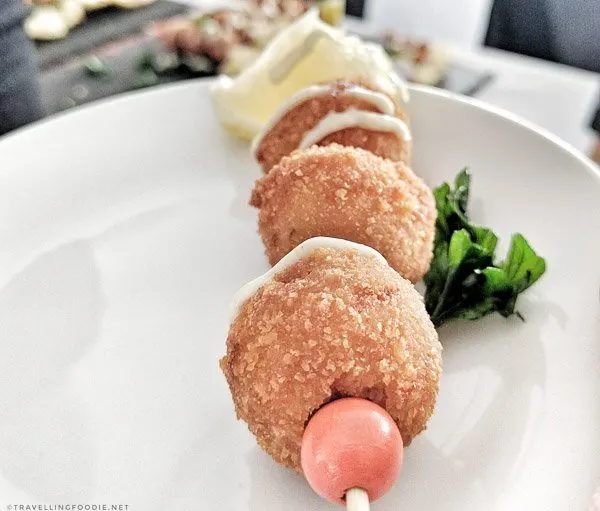 JaBistro – Chef Koji Tashiro – Ebi Oshizushi (Pressed Tiger Shrimp Sushi) and Salmon Oshizushi (Pressed Atlantic Salmon Sushi)
Salt Wine Bar – Chef Dave Kemp – King Crab Cake
Chiado – Chef Manuel Vilela – Cod Cakes
Carbon Bar – Chef Hidde Zomer – Korean Fried Cauliflower
Lavelle – Chef Romain Avril – Albacore Tuna Tartare
https://www.instagram.com/p/BU8aHhOjOY5
Boehmer Restaurant – Chef Paul Boehmer – Ontario Wilk Leek Marinated Canadian Bison Ribeye, Chive Potato Gnocchi, Hen of the Woods Mushrooms, Wild Leek Cream Sauce, Natural Jus
Woodman Wines & Spirits – Beronia Tempranillo Rioja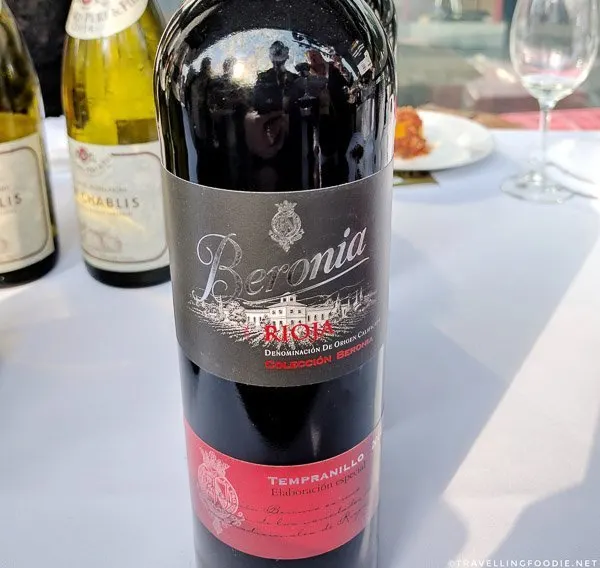 Enoteca Sociale – Chef Kyle Rindinella – Chicken Liver Mousse
Hawthorne Food & Drink – Chef Ricky Casipe – Carbonara – hand-cut pasta, house-smoked chicken, schmaltz, crispy chicken skins, raw yolk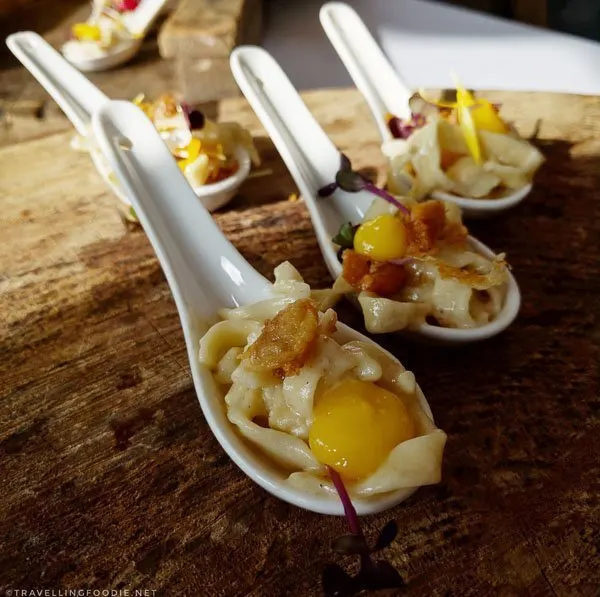 George Brown Chef School – Chef John Higgins and the George Brown Chef School Faculty – Fresh Puffed Mozzarella on Cracker
Boralia – Chef Wayne Morris – Pork Belly
Le Select Bistro – Chef Laura Maxwell – Socca Provencal with Grilled Merguez
Rodney's Oyster House – Chef Rodrigo De Romana – Wild Shrimp Corn Dog and Malpec Oysters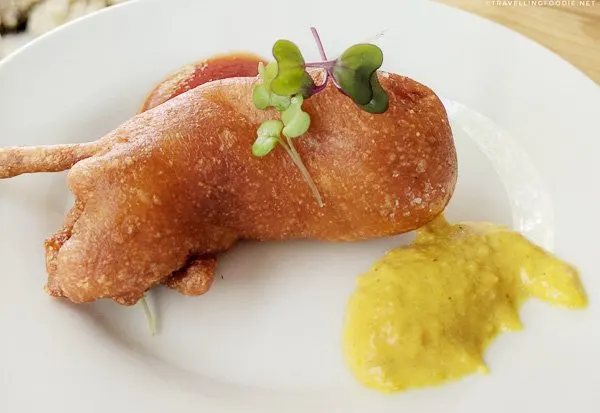 Fabbrica – Chef Missy Hui and Chef Mark McEwan – Grilled Octopus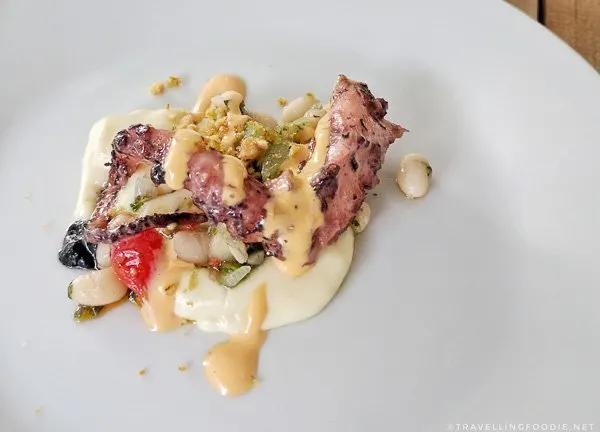 Patois – Chef Craig Wong – Juicy Jerk Chicken Shawarma
Bosk (Shangrila Hotel Toronto) – Chef Richard Singh – Smoked Salmon Tartar Canapés
Bar Reyna – Chef Omar Ma – Lamb Shank Baklava – kataifi, lamb shank, saffron & burnt honey aioli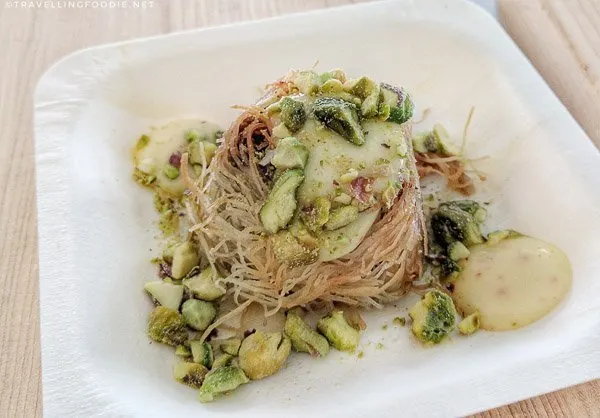 Union Chicken – Chef Michael Angeloni – Buttermilk Fried Chicken with maple honey syrup, hot sauce and gravy
Beretta Kitchen – Chef Cynthia Beretta – Sweet Soy Braised Beef Cheek topped with Mango Salad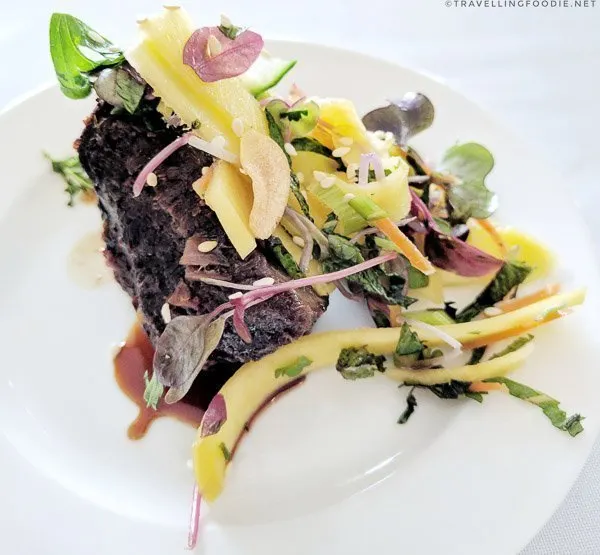 Buca – Chef Rob Gentile – Capesante Crudo – Hokkaido scallop, whitefish caviar, smoked ginger, senape yogurt, squid ink salt
https://www.instagram.com/p/BU8G-z-A0ID
Jacobs & Co. Steakhouse – Chef Danny McCallum – Japanese A5 served on hummus with herbs & jalapenos
Gelato Fresco – Hart Melvin – Spumoni Gelato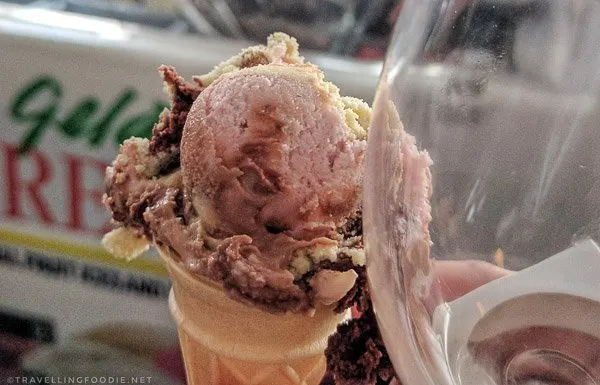 El Catrin Destileria – Chef Olivier Le Calvez – Sopes De Camaronilla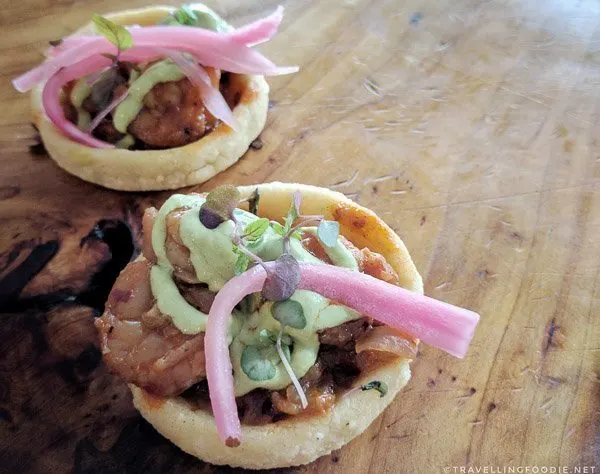 Joia All Natural Soda – Orange Soda with jasmine and nutmeg
Globe Bistro – Chef Daniel Sanders – Beeswax Poached Rainbow Trout with green strawberry & honey preserve, spruce tip powder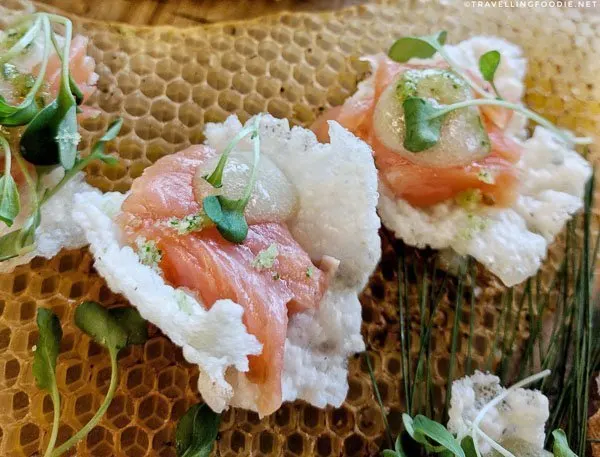 Pure Spirits Oyster House – Chef Jonathan Viau – Malpec Oysters and Bacon Wrapped Shrimps
Against The Grain Urban Tavern – Chef Dave Isen – Parrot Bay Cocktail and Tuna Poke Nacho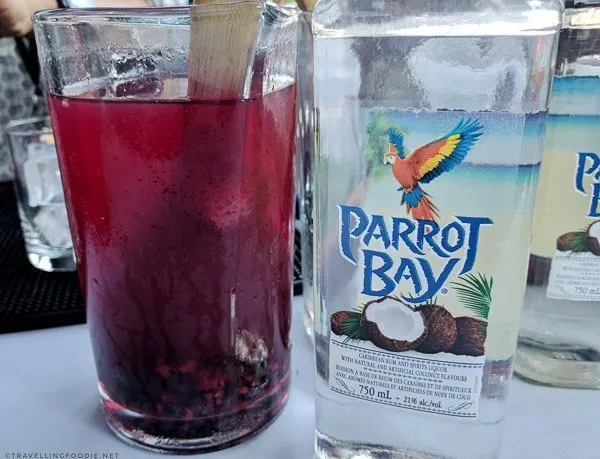 La Crema Winery – Sonoma Coast Pinot Noir
Noce Restaurant – Chef Eron Novalski – Fresh Shaved Beef Carpaccio
Antler Kitchen and Bar – Chef Michael Hunter – Duck Yakitori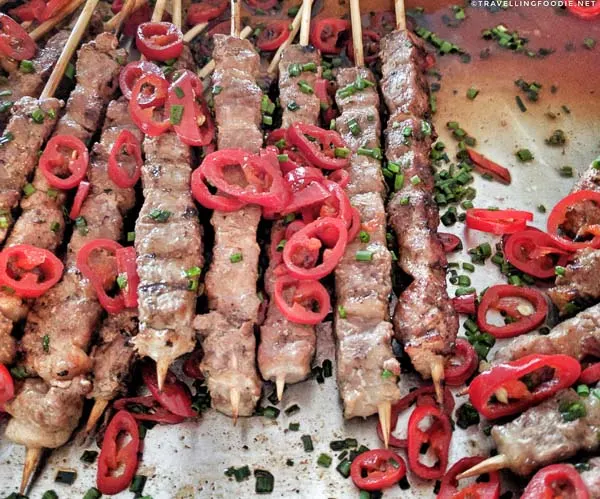 Delta Sky Club Lounge – Aperol Spritz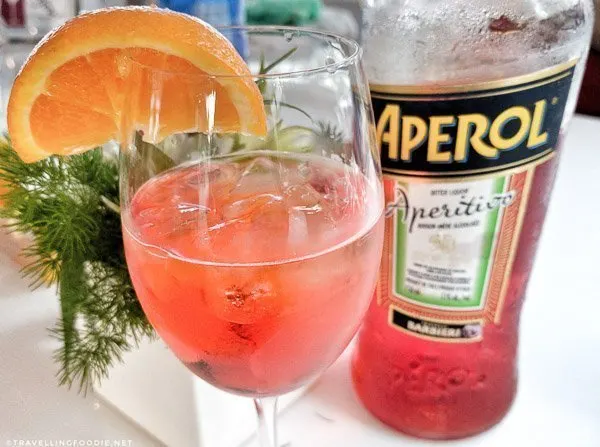 Kanpai Snack Bar – Chef Trevor Lui – Braised Pork Belly, Beet Salad, Koji Radish, 5 Spice Chicken Skin & Micro Daikon
Also Read: La Brea Food Pop Up with Kanpai
Oat & Mill – Candace Tierney – Coffee Biscotti Oats (Non-Dairy Ice Cream Alternative)
Ufficio – Chef Ivana Raca – Risotto with spring vegetables finished with bottarga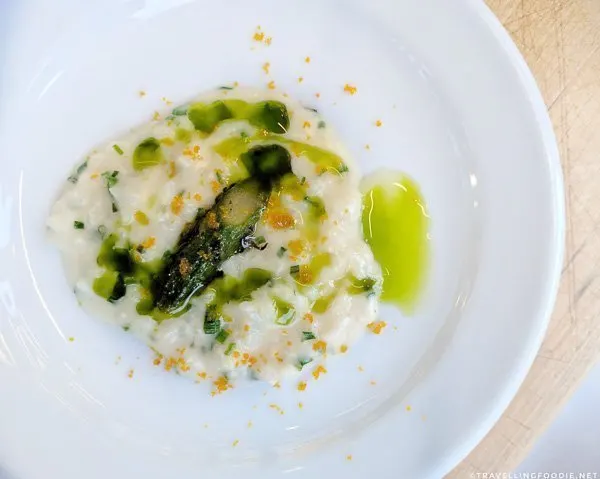 ---
Second Harvest
Website | Instagram | Twitter | Facebook
---
DISCLAIMER: Though I had complimentary media access to Toronto Taste 2017, all opinions are my own.