Vic & Anthony's Steakhouse at the Golden Nugget Las Vegas is the second location of the award-winning steakhouse from Houston, routinely voted one of America's ten best steakhouses.
Located in Downtown Las Vegas, this fine-dining steakhouse has a very intimate and dark "old-style" atmosphere. There's a bar seating area with a small TV as well.
---
Ribeye at Vic & Anthony's Steakhouse
My experience at Vic & Anthony's Steakhouse started on a low but ended with a high, all the way through the roof!
I only had one thing here because I was sure I wouldn't be able to finish anything more: Medium On The Bone Prime Ribeye (21oz for $69) complemented with Seared Foie Gras ($14) and paired with Vina Alicia 'Paso De Piedra' 2008 Cabernet.
I was surprised how small the foie gras was for $14, and it wasn't even that thick to compensate for the smallness. Despite that, it was perfectly seared and really had a strong flavour.
What I also love was they placed it on top of the steak so the foie gras juice went to the steak too. That sort of made up for the size.
I always try to pair the steak with red wine! It was my first time trying this Argentinian wine and I really liked it.
For Ribeyes, my favorite part is the Ribeye Cap which is the tastiest and fattiest part of the steak (in the above photo, this is the bottom-most part). I started cutting into the Ribeye but it wasn't as tender and marbled as it should from a great steak.
I didn't let it bother me too much so I continue eating until I reach the non-Ribeye Cap parts, and it was pretty tough and little to no marbling, which reminded me a little of my experience at Public House at The Venetian.
Up until this point, my server had not come back to check-up on me yet. I debated whether to wait or continue eating as he tended to other tables (maybe he forgot about me because I was dining alone).
I decided to continue eating in case he doesn't check on me as I don't want my food to get cold. By the time he does, I was 1/3 into the steak already. I told the server I found the Ribeye quite tough.
He said "Ok" then leaves. Thinking nothing's happening, I continued eating.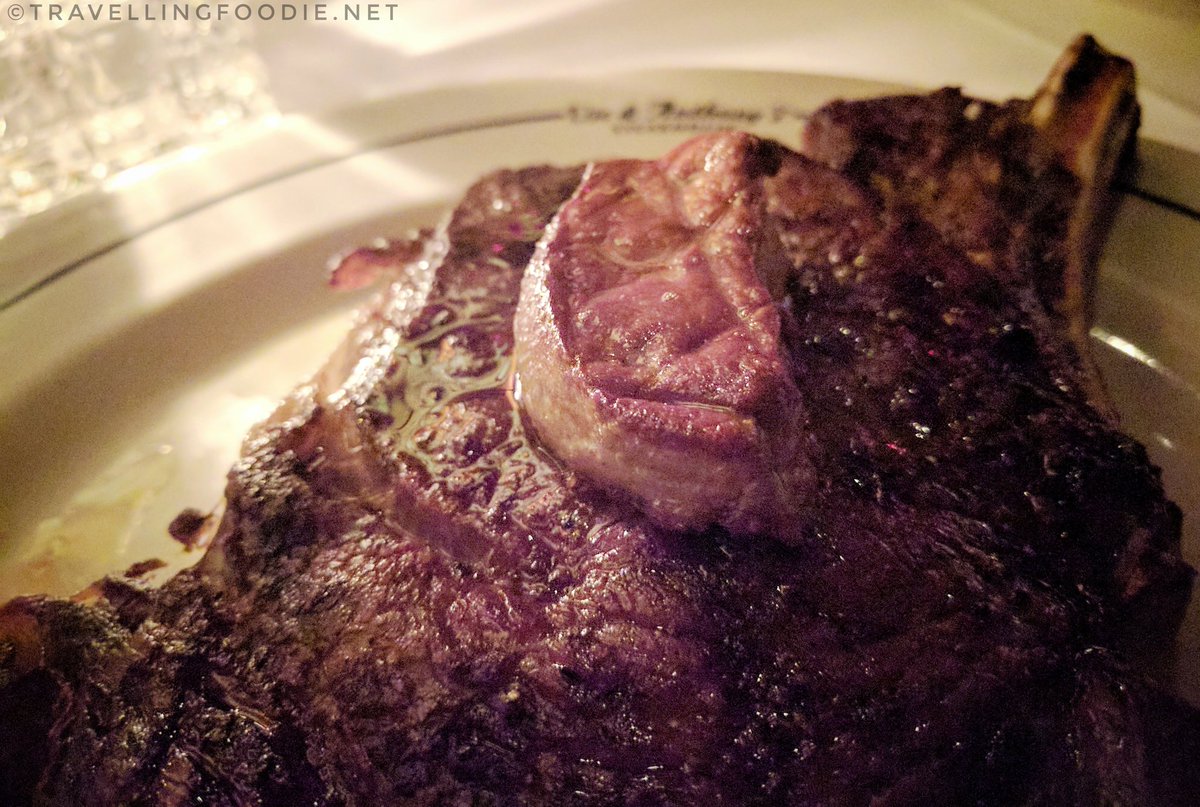 The manager of Vic & Anthony's Steakhouse then arrived and informed me that my server has brought up the issue with him and apologized that the steak was very tough. He asked if I wanted to replace the steak or change the order altogether.
I chose to replace the steak because I really did want to try what their proper ribeye would taste like. I did say medium-rare to keep it on the safer side this time.
The second steak was brought by the manager who asked me to check the steak while he was there to make sure that everything's okay.
I cut thru the middle and, boy, was it so much different. In the cut alone I already felt the tenderness and the marbling of the meat. And that was just in the middle of the steak.
Imagine my ecstasy as I ate the melt-in-your-mouth Ribeye Cap. This is exactly what I have been looking for, and, to me, what a Ribeye should be.
One thing I wished though is they provided the seared foie gras as well as part of the replacement. I actually mix the foie gras with the steak to enhance the taste so I was sad the foie gras was wasted on the first steak.
But ah well, I can't really complain at that point when I was already happy. Ribeye Bliss!
---
Hope this Las Vegas restaurant review gives you an idea on what it's like to dine at Vic & Anthony's Steakhouse at the Golden Nugget Las Vegas.
---
Vic & Anthony's Steakhouse
Website / Beside the entrance in front of the Front Desk at Golden Nugget Las Vegas
Golden Nugget Las Vegas
Website / Address: 129 E Fremont Street, Las Vegas, NV 89101
---
Disclaimer: Although the food was complimentary as provided by Golden Nugget Las Vegas, all opinions are my own.