Looking for where to eat in West Volusia? In this food guide, I'm featuring some of the best restaurants and places to eat & drink in DeLand and De Leon Springs.
When I visited West Volusia, I had the pleasure of food tripping during my 3 days, with majority being in DeLand.
It always surprises me when a small town has such a big food scene.
In fact, there was one day where I went to 7 places for food and drinks with one being an all-you-can-eat restaurant.
Much like Downtown Woodstock in Georgia having over 20 restaurants on its Main Street, the top rated Downtown DeLand has over 24 restaurants ranging from American, Italian and Greek to Latin, Thai and Japanese.
But what's also cool is West Volusia's drink scene with microbreweries, brewpubs, wine bars and even a small batch meadery, which is very rare to find in cities.
Dining around West Volusia is definitely an experience as it brings its Old Florida vibe of nature and history whether you're dining at Historic DeLand, or at a restaurant overlooking St. Johns River.
For where to eat in West Volusia, here are 10+ places to eat including some of the best restaurants in DeLand.
Also Read: Best Things To Do in West Volusia for Nature Lovers
---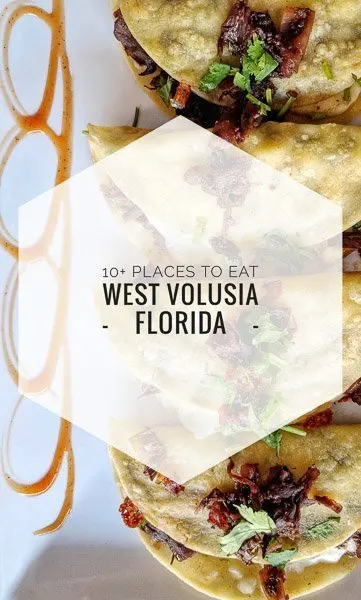 ---
Where To Eat in West Volusia, Florida
The Old Spanish Sugar Mill Grill and Griddle House
One of the most popular restaurants in West Volusia is The Old Spanish Sugar Mill Grill and Griddle House located inside the DeLeon Springs State Park.
If you're doing the Spring-to-Spring Trail, make this your last stop!
Did you know? The mill was originally constructed in the 1830s to crush sugar cane.
The restaurant is an attraction in itself because of the popular All You Can Eat pancakes.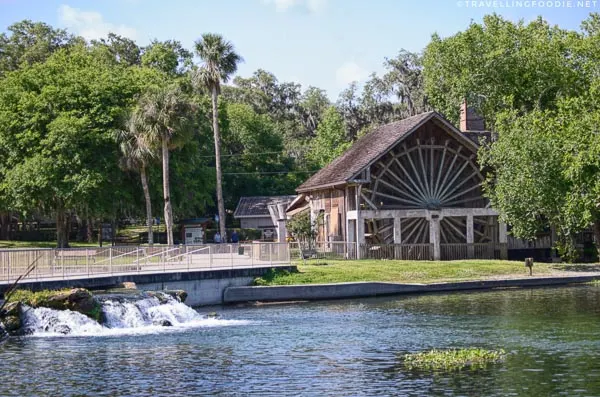 What makes it unique? There's an electric griddle on your tabletop where you cook your pancakes fresh. It's my first time experiencing breakfast this way!
Another interesting thing is they give you two types of homemade pancake batters: the Early American pancake batter made with unbleached white flour, and their own unique mixture of 5 fresh stone-ground flours (stone-ground corn, wheat, rye, whole wheat and buckwheat).
I suggest trying both batters so you can taste the difference.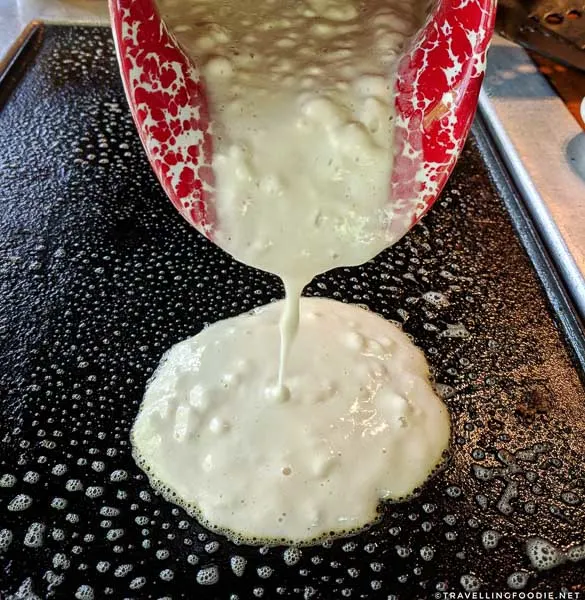 I personally still preferred the Early American pancake since the other mixture had a more gritty texture. But seriously, they had one of the best pancakes I had!
The Old Spanish Sugar Mill even provides three kinds of syrup: raw honey, syrup, and unsulphured molasses.
Again, you should try all three especially the unsulphured molasses which is quite unique.
While you're there, be sure to do the Fountain of Youth Eco/History Tours.
Since the restaurant usually has a line-up, it's a good way to pass the time.
The Old Spanish Sugar Mill guarantees you don't lose your spot on the list if you go on the tour!
Website / Address: 601 Ponce Deleon Blvd, De Leon Springs, West Volusia, Florida 32130
---
De La Vega Restaurante y Galeria
One of the best restaurants in West Volusia and my favourite was De La Vega Restaurante in Downtown DeLand.
This Latin fusion restaurant has an interesting menu with rich international flavours on traditional items.
Did you know? Their menu also serves to fit your dietary lifestyle with a good variety of vegetarian, vegan and gluten-free options.
You can sit inside for an intimate atmosphere, or on their outdoor seating.
We did the outdoor seating which is perfect for taking photos and for people watching while sipping a glass of their signature Sangria.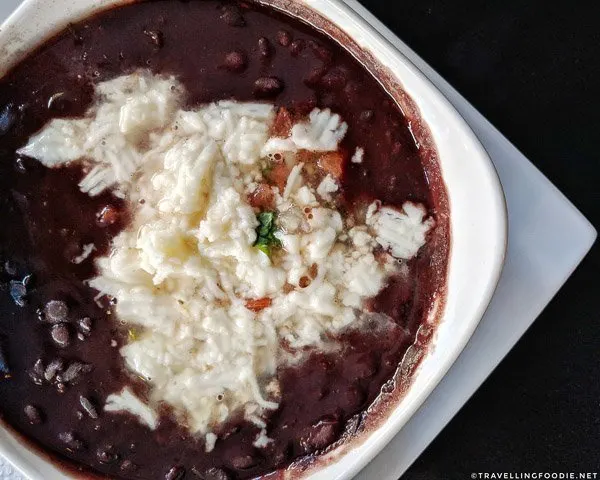 One of the most popular Mexican soups is Tortilla Soup, which I really recommend at De La Vega Restaurante.
The soup had a great combination of flavours: sour from the tomato, spicy from the chile ancho mild pepper and tangy from the cheese.
I also loved the added crunch provided by the corn tortilla strips as you drink the soup, so make sure you eat it fast enough so the tortilla strips don't sog.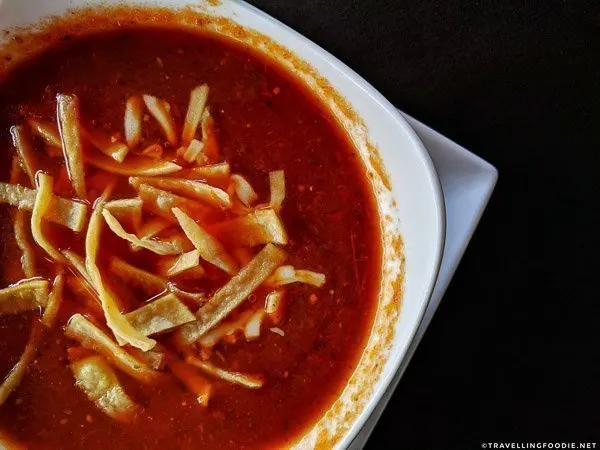 The must-try dish at De La Vega Restaurante is the Hibiscus Tacos, which is what they are famous for.
This was one mind-blowing dish!
It feels like you're eating carnitas tacos but it's actually a vegetarian taco and what tastes like pork is the hibiscus flowers.
The combination of flavours was just astounding!
Never had something like this before so kudos to Chef Nora.
Did you know? Hibiscus flower is rich in Vitamin C and minerals.
De La Vega Restaurante specializes in tapas menu, which includes the tacos.
Though the portion of the tacos is good for one person, I recommend sharing so you can try more dishes.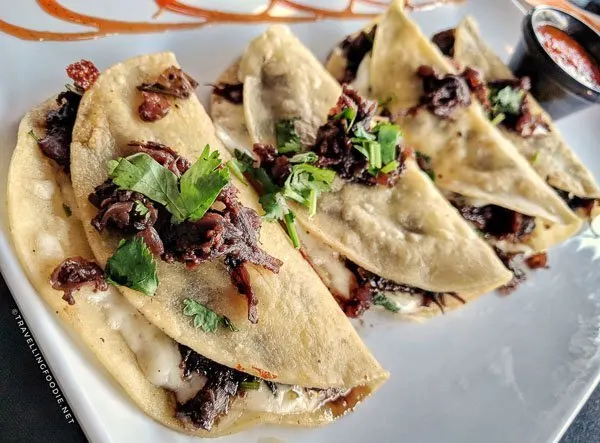 The dishes here prove to be very daring with strong flavours.
The Chilango Con Carne has sirloin strips with caramelized red onion covered in a creamy white wine sauce then topped with an ancho pepper stuffed with Spanish chorizo and refried black beans on a bed of crispy yucca.
It sounds overwhelming, but it just works!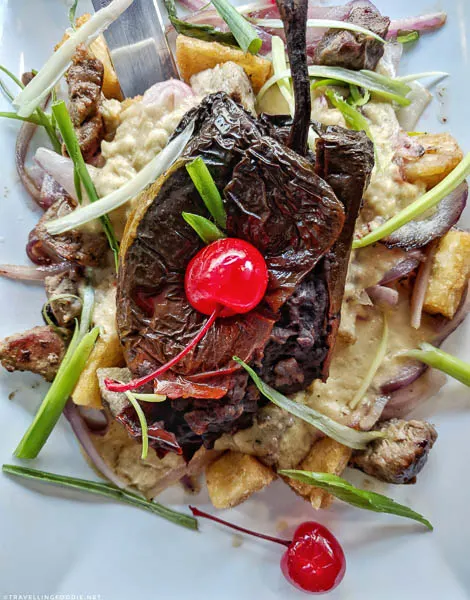 For dessert, you can't go wrong with the Bite Sampler which includes three of their most popular desserts which are all very traditional Latin desserts.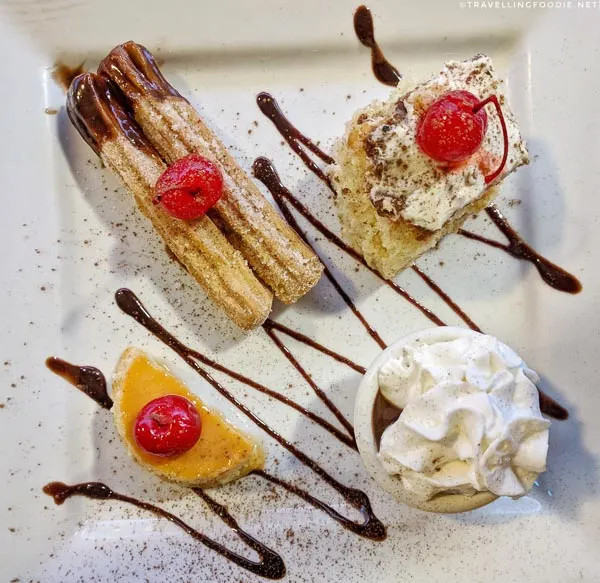 Website / Address: 128 N Woodland Blvd, DeLand, Florida 32720
Also Read: Best Restaurants in Tampa Bay, Florida
---
BakeChop
Ask the locals for where to eat in DeLand and you'll probably hear BakeChop.
Opened in 2016 by young DeLand entrepreneurs Stevie Vermillion and Taylor Bass, who were 24 and 26 at that time, BakeChop is both a bakery (Bake) and kitchen (Chop) which is a hybrid of strengths of the owners.
Stevie was the former pastry chef at Dally in the Alley, and Taylor was the former sous chef there.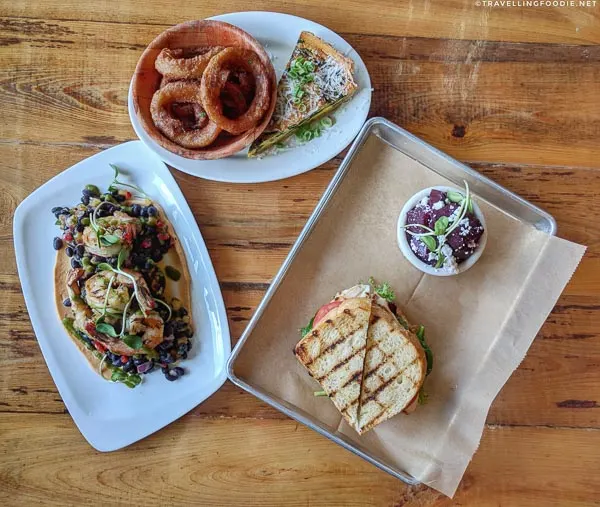 This scratch kitchen uses local produce sourced from central Florida Farmers as much as possible.
As a conscious eatery, the meats are all pasture-raised, cage-free, and hormone & antibiotic-free.
The interior is very casual, but has a feel of community and sharing.
Seating at BakeChop is quite limited so solo diners are best to take the small counter seating under the window or by the open kitchen.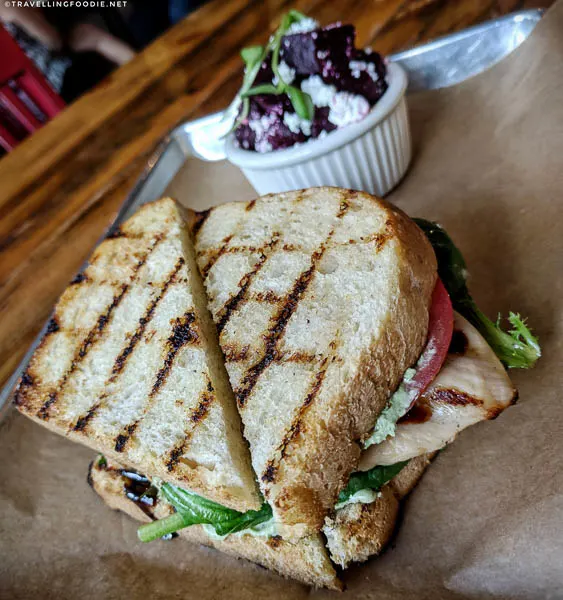 I really recommend the Who's Wanda? dish.
It caught my eye when I saw adobo mayo because I came from the Philippines where adobo is one of the popular dishes.
The grilled shrimps mixed with pineapple salsa with the adobo mayo really hit the spot.
And the grilled half avocado added a nice layer of creaminess. Shrimply delicious!
But seriously, who's Wanda?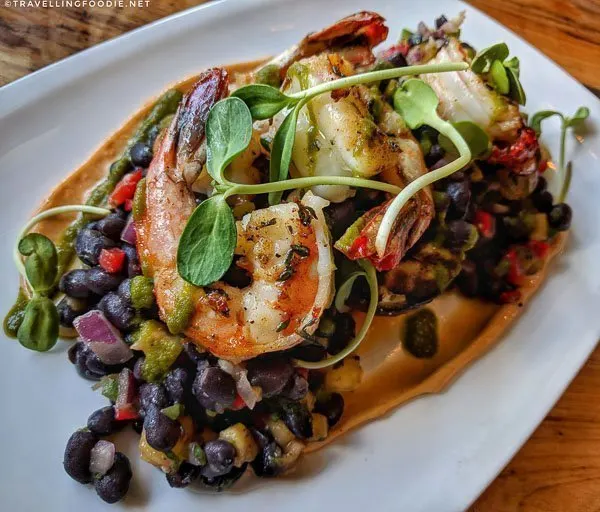 To try the "Bake" side, you can get the Cue The Quiche which changes daily on the chalkboard.
The quiches at BakeChop are big pie style, and an order gets you a slice, as opposed to the small individual round quiches.
A slice is actually quite filling already as it is quite thick with lots of ingredients.
I loved how flaky the crust was!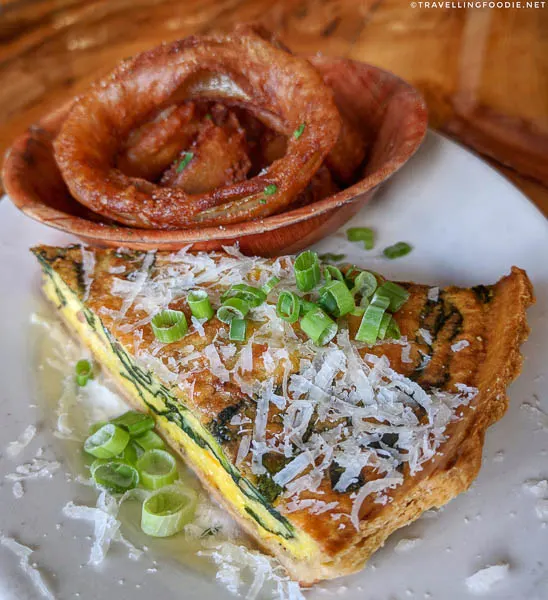 Website / Address: 110 Artisan Alley, DeLand, West Volusia, Florida 32720
Also Read: 2 Day Trip in Daytona Beach, Florida
---
Byte, a modern bistro
If you ask locals for their long-time favourite restaurants in DeLand, you'll likely hear Byte, a modern bistro.
Though the restaurant opened in 2013, twin brothers Frank and Bill Jennings are known in the community for being in the restaurant business in DeLand for over 25 years.
Did you know? Their former restaurant, Frank's Brickhouse Grill, which opened in 2000 and just right across the street from Byte Bistro, has closed to be converted to a banquet venue.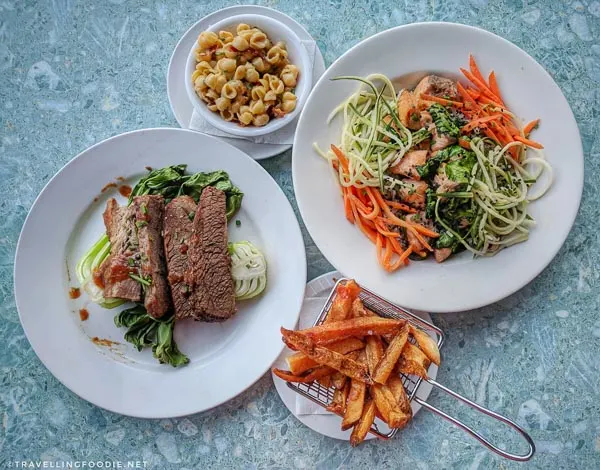 According to owner Bill, Byte Bistro's mission is simple: "casual, modern, fresh".
Their menu has a modern twist on food.
I love that they have an open bar that serves right outside the restaurant and another bar inside past the dining area.
The inside is casual intimate which is good for a date night, but can be quite dark if you need to take photos.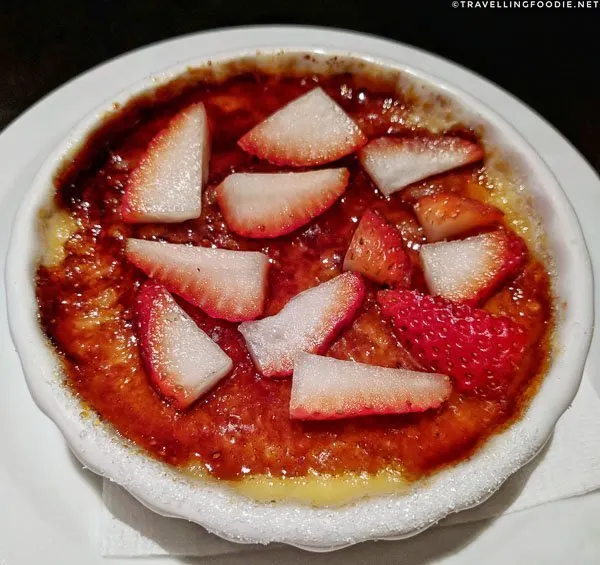 A must order at Byte Bistro is their Gouda Bytes.
As you bite through the crispy shell, you'll be greeted by strong flavours of ooey-gooey smoked gouda inside. It's sooo gouda!
Travelling Foodie Tip: If you find gouda quite strong, be sure to add the guava gastrique and cilantro on your bite as it changes the flavour profile.
The gastrique balances the gouda by adding a touch of sweetness, and the cilantro adds a fresh citrus-like taste.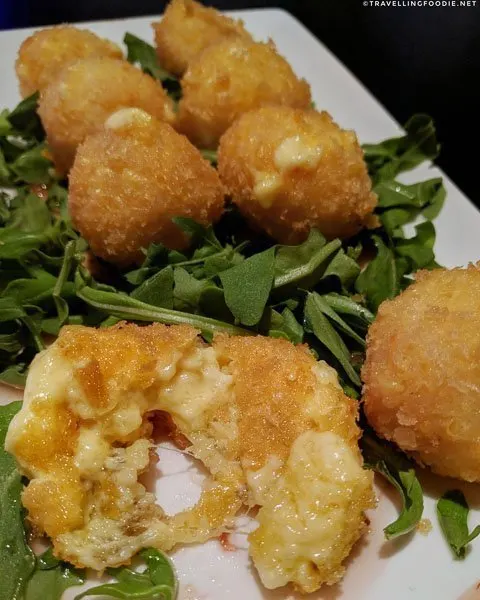 If you like seafood, the Ahi Tuna is Japanese-inspired with its use of wasabi, wakame and pickled ginger.
The fresh Ahi Tuna was served on a salt brick which I found quite unique in presentation.
For my main, I had the Wild Mushroom Pappardelle which I quite enjoyed.
The marsala cream was the winner here, and I loved the inclusion of herbed truffle oil.
Shrimps and wild mushrooms were good and quite generous as well.
Depending on your noodle preference, the pappardelle wasn't as al dente as I would like it to be.
Website / Address: 145 N Woodland Blvd, DeLand, Florida 32720
---
Shady Oak Restaurant
Where to eat in DeLand with a view? The Shady Oak Restaurant is one of the best places to eat with a view in West Volusia!
A longtime favourite, this restaurant was established on 1954 along St. Johns River with the quote, "What Happens at The River Stays At The River."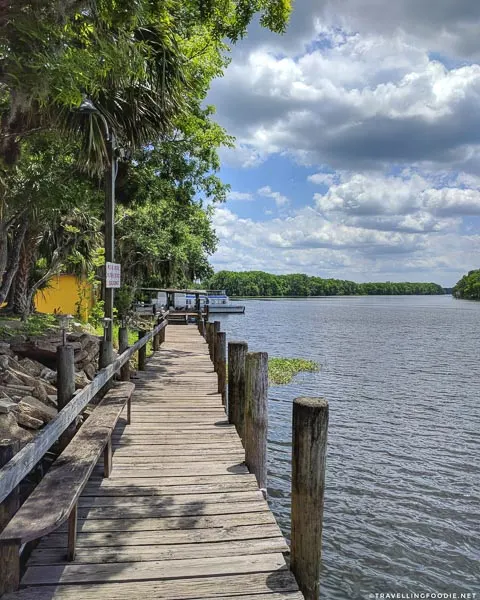 Travelling Foodie Tip: Sit at the small covered patio to enjoy beautiful views while dining!
And if you're looking to enjoy the river after, Shady Oak Restaurant has a bait-and-tackle shop next door where you can buy bait or rent a boat to cruise the river.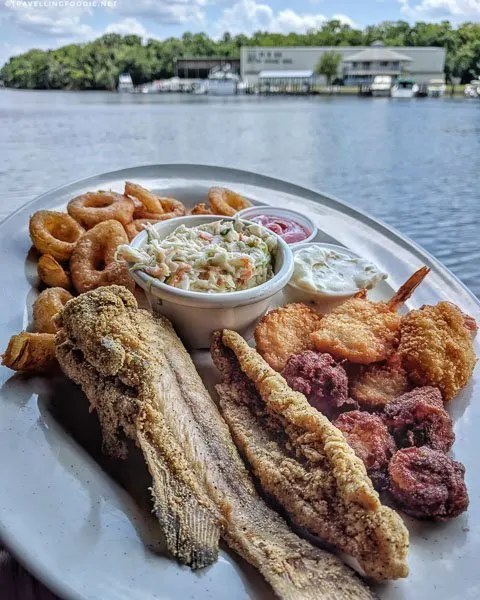 It's not common to find Gator Bites, which I recommend on getting.
The bites were bite-sized like a popcorn chicken.
It was juicy, tender and went so well with the house dipping sauce.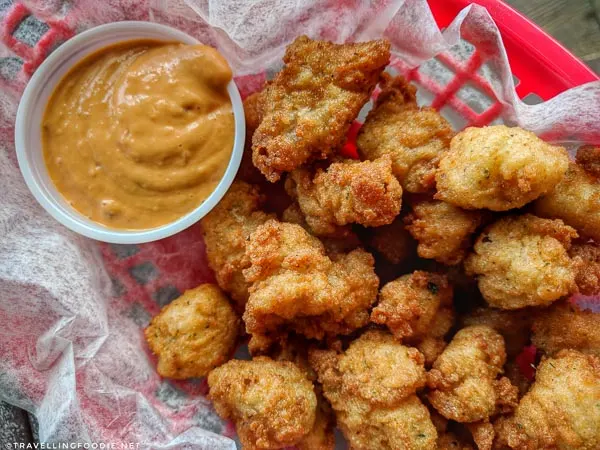 A popular item here is their Shady Oak Sampler which lets you choose 3-4 options from a selection of items. It's great for sharing or sampling multiple things.
I highly recommend getting the Catfish.
They get their catfish from Sanders Fish House in DeLand, which catches them fresh from St. Johns River.
I suggest getting the Catfish Fingerlings, which are young catfishes, because their meat is sweeter than the Catfish Fillet which comes from the adult catfish.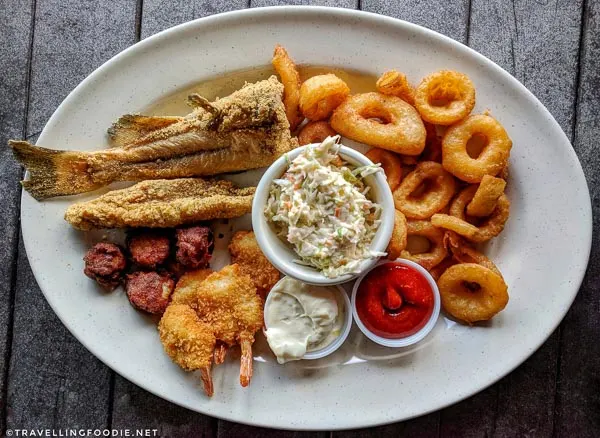 Also Read: A Day Trip in St. Augustine, Florida
Website / Address: 2984 W New York Ave, DeLand, West Volusia, Florida 32720
---
Mr. Bill's Donuts & Sandwiches
One of the best places to eat for breakfast or desserts, Mr. Bill's Donuts & Sandwiches is a family-owned shop with a retro feel of old donut shops. You can't miss the cute mascot.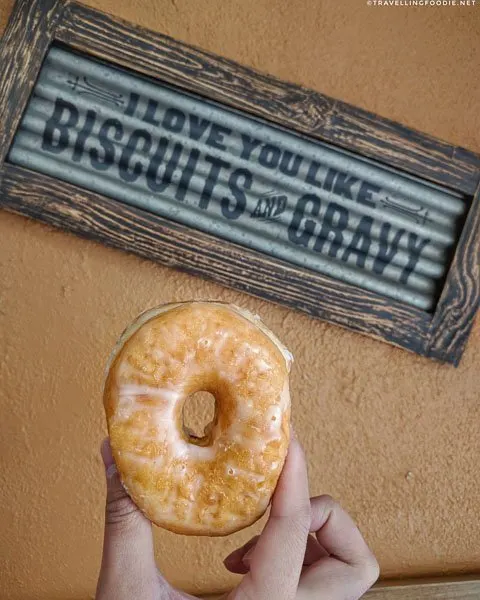 This is DeLand's only Handmade Donut shop so you definitely want to try their donuts.
You can choose between classic and premium donuts from the counter.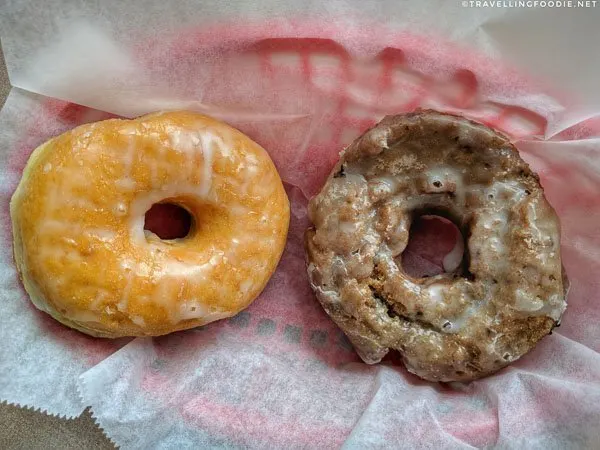 Mr. Bill's Donuts is also known for their breakfast sandwiches.
I liked the fact that you can choose which pastry it came with: English muffin, bagel or croissant.
Since they're known for their fresh baked goods and I love croissants, I went with the Sausage, Egg and Cheese Croissant Sandwich which was pretty good and filling.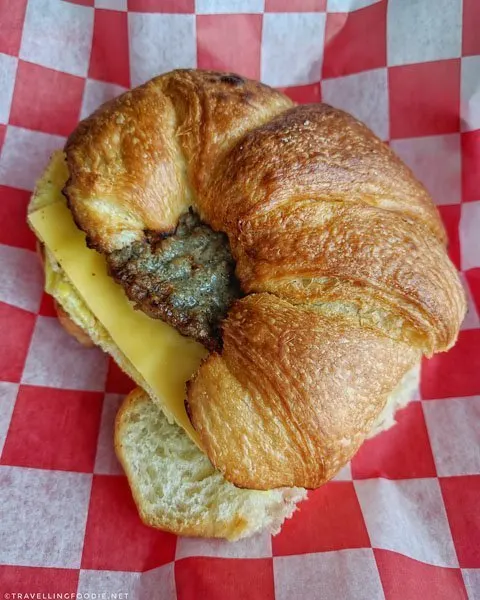 Website / Address: 138 N Woodland Blvd, DeLand, Florida 32720
---
Kermit's Key West Key Lime Shoppe
If you love Key Lime pie, you don't need to go to Key West, Florida for it.
One amazing thing I learned is that DeLand is home to the manufacturing and distribution facility of the famous Kermit's Key West Key Lime Shoppe!
Did you know? Overnight internet pie orders are shipped from this location.
This location of about 10,000 sq. ft. has a kitchen, bottling facility, offices, and showroom, which showcases various products that use Key Lime including peanuts, salsas, candies and even soaps and shampoos!
Travelling Foodie Tip: You get 20% off Key West pricing every day.
One thing you'll want to try, especially on a hot day, is Kermit's Famous Pie on a Stick dipped in Chocolate. It's so refreshing!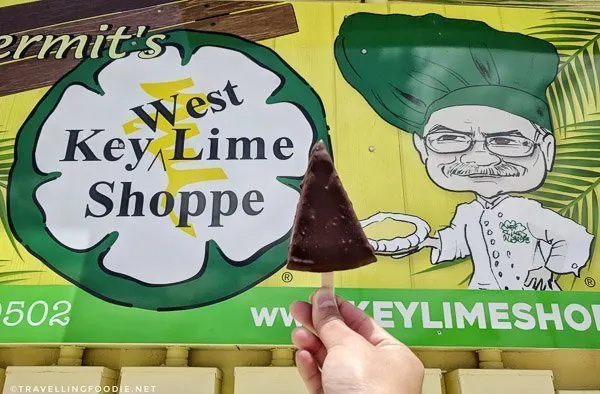 Also Read: Avocado Blueberry Popsicles Recipe
Website / Address: 1842 Patterson Ave, DeLand, Florida 32724
---
Pat & Toni's Chocolate and Sweet Things
If you have a sweet tooth, one of the best places to eat desserts in West Volusia is Pat & Toni's Sweet Things, which reminded me of Jacksonville's Sweet Pete's Candy.
If you've heard the phrase "like a kid in a candy store", this is what it feels like being here.
Did you know? The shop was previously called Candy Castle.
The shop smells of sugary goodness.
They have a wide selection of sweet things including classic candy selections from Now & Laters and Sugar Daddys to Big League Chew bubble gum and Gummy Bears.
Pat & Toni's Sweet Things also has a section dedicated to just chocolates, and you can even watch the chocolate-making happen behind the counter.
To top it off, there's also a separate area for ice cream and milkshakes, which are great to have while strolling historic downtown and checking out The DeLand Mural Walk and Sculpture Walk.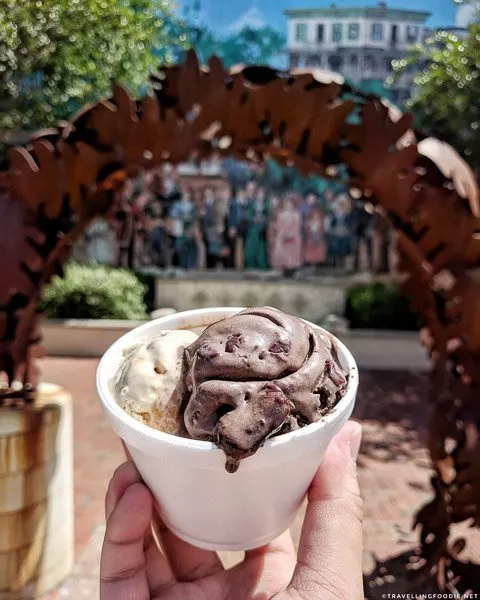 Website / Address: 124 N Woodland Blvd, DeLand, West Volusia, Florida 32720
Also Read: 2 Day Trip in Ocala/Marion County, Florida
---
Great Tasting Tours
If you want to combine city, food and walking, the Great Tasting Tours is one of the best food tours in DeLand.
This locally owned business was started by husband and wife team, Larry and Robin French.
With so much history in downtown DeLand, it's great to learn about the city's history while food tripping your way to some of downtown DeLand's best restaurants and beverage purveyors.
The drink scene in DeLand was quite surprising so, if you're into drinks, the Brews N Browse Tour by Great Tasting Tours would be the perfect fit.
You'll get to try all kinds of drinks on this tour, along with some food pairing.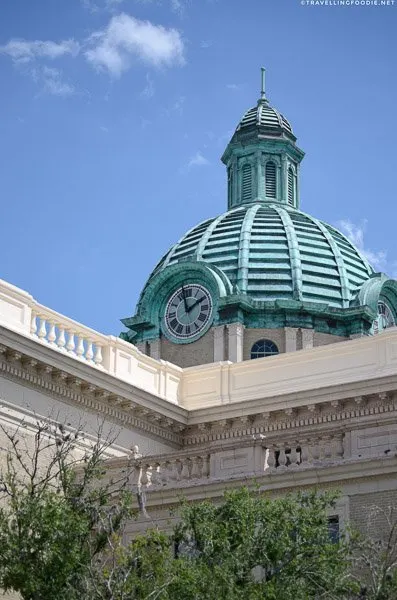 My tour guide was Larry himself, who has such an expert knowledge of the city having done tours and living history for over 43 years.
On top of that, Larry French is a historical novelist with a published book called the "Grand Hotels of West Volusia County".
During the tour, you will learn about history, arts, restaurants, culture, and, if you have anything in mind, just ask him (or your guide)!
Did you know? DeLand was founded in 1876 and named after its founder Henry Addison DeLand.

DeLand was once called Persimmon Hollow because of the abundance of wild persimmons that grew in the area.
Website / Address: 100 N Woodland Blvd #4, DeLand, Florida 32720, USA
Price: $49 per person
The Elusive Grape
We visited one of DeLand's best places to drink wine, The Elusive Grape, which has been serving since 2003.
The inside is a combination of a nice gathering place to relax with friends over wines, and also a wine store.
There's nothing elusive with their wine selection as they have 500 different wines from around the world, including rare and collectible vintages.
Did you know? If they don't have a particular wine you want, you can even have them find it for you.
In this stop, you'll get your choice of beer or wine.
Website / Address: 129 N Woodland Blvd, DeLand, Florida 32720, United States
Also Read: St. Augustine, Florida Food Scene
The Half Wall Beer House
Third stop was The Half Wall Beer House, one of the best bars in West Volusia with locations in DeLand and Port Orange.
This brewery and bar boasts 76 craft beers on tap and 23+ HD televisions making it a great spot for sports and craft beer enthusiasts.
The Half Wall makes their own beers, and you'll get a small tasting portion of your choice from their House Beers: Half Wall Blue Trailer Blonde, Half Wall Jefficus Bourbon Coffee Vanilla Oatmeal, Half Wall Stugel Flugel.
If you're into light tasting stouts, I recommend the Half Wall Jefficus Bourbon Coffee Vanilla Oatmeal.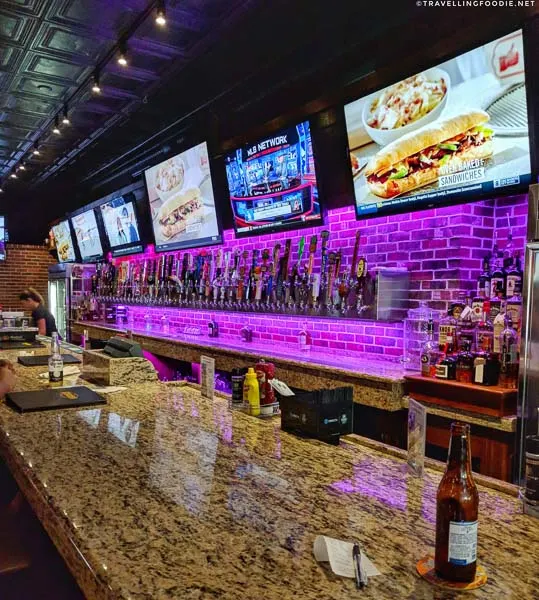 Website / Address: 105 W Indiana Ave, DeLand, Florida 32720, United States
Abbey Bar / Odd Elixir MeadWorks
Our fourth stop was Abbey Bar, a craft beer bar that has won numerous awards like Imbide Magazine's Top 100 Beer Bars in America, Ratebeer's Top 20 Beer Bars in the World, listed on 100 Bars to Visit Before You Die.
This is my first time being in a bar that's also a meadery.
Abbey Bar has partnered with Odd Elixir MeadWorks, Volusia County's first and only meadery, to produce meads from Florida's local honey producers like Webb's Honey and Fredrickson's Apiary.
Here we sampled two of their meads: The Abbey Normal is made with Florida Wildflower Honey from David Webb, and the LimErick mead is made with Key Lime.
I really enjoyed the LimErick because the key lime added a nice sour taste to balance the sweetness of honey.
We also got to sample their Cowboy Candy which was a surprising treat with cream cheese in sugar glazed jalapenos.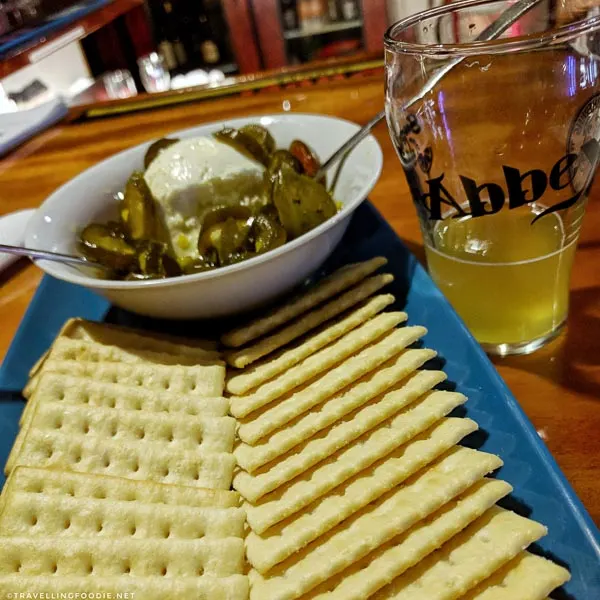 Website / Address: 117 N Woodland Blvd, DeLand, Florida 32720, United States
DeLand Wings
On the way to our last stop, we made a pit-stop to the popular #DeLandWings, created by artist Erica Group.
Located behind Dressed Boutique and South of New York Market in Persimmon Lane, this iconic wings, which started as a chalk design for a photo shoot, is now a social media sensation.
Since then, the county has commissioned Erica to create more Wings murals across the county.
Persimmon Hollow Brewing Company
The last stop on our Brews N Browse Tour was Persimmon Hollow Brewing Company, a dream that became a reality in 2014 for two home brewers and best friends, Robbie Carelli and Andy Sistrunk.
Persimmon Hollow Brewing is definitely one of the best nightlife spots in DeLand as it was the most nightlife I saw in the city.
The place was packed, especially with Stetson University students.
Here, you can learn about the brewing process and even get a tour of the brewery.
After which, you'll get to try a pre-selected beer flight.
Did you know? They actually have murals depicting the brewing process on the walls outside the building. The murals were done by Erica Group as well!
My favourites were the 3 Wise Guys because of its strong coffee taste, and the Daytona Dirty Blonde which was light and refreshing.
If you tend to go with IPAs, you'll enjoy their Beach Hippie.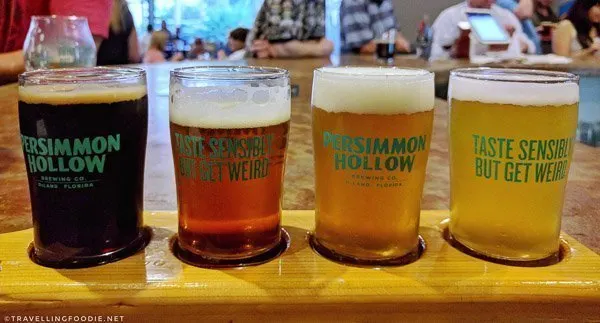 And that ends the Great Tasting Tours.
Before you leave, be sure to check out the washroom in the brewery because it's definitely weird and unique as in the words of our founders, "Drink Sensibly, But Get Weird."
Website / Address: 111 W Georgia Ave, DeLand, Florida 32720, United States
---
MAP: Where To Eat in West Volusia, Florida
Here's the map of all the places to eat and drink in West Volusia covered in this food guide.
---
There you have it! Hope this food guide helped you know where to eat and drink in West Volusia, Florida for your next food trip!
I can't wait to come back to West Volusia and explore other areas. Please give me suggestions on what you find are the best restaurants in West Volusia for my next visit!
---
Huge thanks to West Volusia Tourism Advertising Authority for sponsoring this post. As usual, reviews and opinions are entirely my own.
You can learn more about Visit West West Volusia thru their website, or find them in Facebook, Twitter and Instagram.