With a diverse history and cultural influences from Cuban, Spanish, German and Italian immigrants, it's not surprising that Tampa Bay, Florida's food scene has been growing. People have been noticing this too. For 2018, Tampa Bay was listed in 15 American Cities That Secretly Have Great Food Scenes by Thrillist and The 30 Best Foodie Cities in America by Travel Pulse.
Note: This post was sponsored by Visit Florida. As usual, reviews and opinions are 100% entirely my own.
The turning point of Tampa Bay's food scene started during the 2008 financial crisis. During that time, low employment rate and the fact that properties and equipment were sold at very low prices allowed restaurateurs, chefs and budding entrepreneurs to take a shot in starting their own restaurants.
There's much to love about Tampa Bay's food scene. Its strong Latin American influences is rampant in its food, especially its Cuban heritage from when cigar manufacturer Vicente Martinez-Ybor paved the way for historic Ybor City in Tampa Bay to be the Cigar Capital of the World.
Did you know? Cuban Sandwich was born in Tampa Bay so Cuban immigrants who worked in the cigar factories had a quick, affordable lunch to eat then head back to the factory.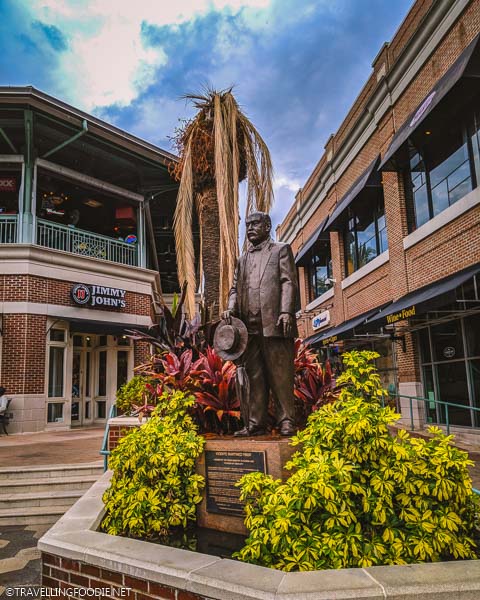 It's very local. I actually didn't see many big chain restaurants during my time there. Most of the chefs and restaurateurs grew up near their restaurants, and they try to use as much local ingredients as possible.
They leverage historic elements into their food scene. You'll find the use of former TECO Streetcar warehouse transformed into a trendy food hall, Armature Works. Or how about showcasing Tampa Bay's port history by repurposing shipping containers into restaurants. Even an abandoned 1950s store was turned into a hip snack bar, Nebraska Mini-Mart, in Seminole Heights and a public water pump house was restored into a restaurant and brewery, Ulele.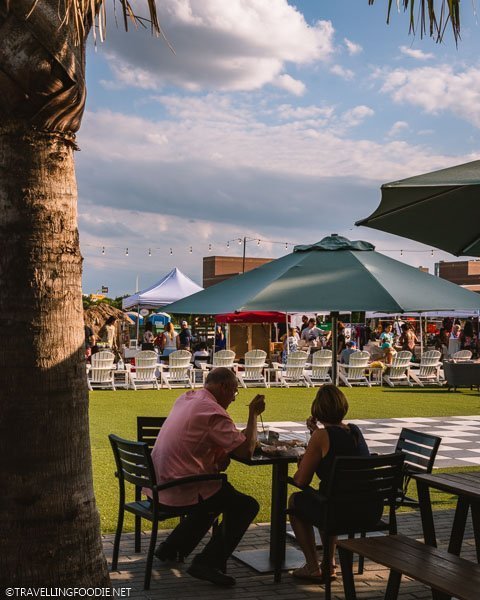 I also loved the ways you can explore Tampa Bay's food scene. Speaking of TECO Streetcar, these historic streetcars are still used in the TECO Historic Streetcar Line that connects downtown, the Channel District and the Ybor City National Landmark District. Best of all, it's FREE! It's a great way to food trip around Tampa Bay.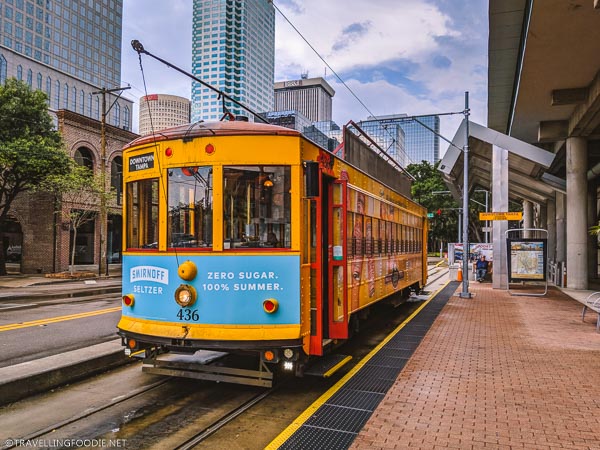 One of the most important features of Tampa Bay is the Hillsborough River which flows through the city of Tampa. Here you'll find the Pirate Water Taxi, yellow water taxis that take people to 17 different stops along the Hillsborough River and Garrison Channel.
River taxi passes lets you hop on and off throughout the day. This is a great way for tourists to explore since there is also a tour guide who will talk about the each stop and things you see along the way.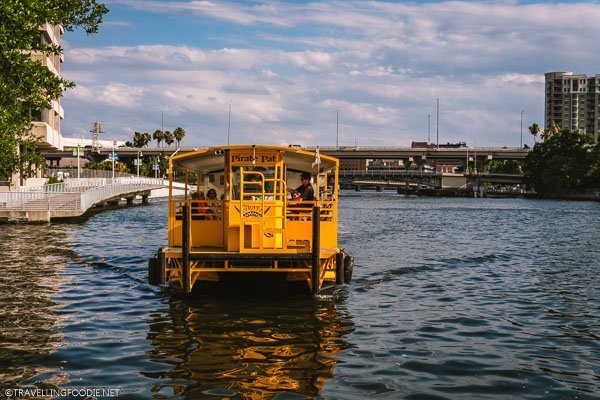 If you'd rather walk instead, you can stroll along the Tampa Riverwalk, a 2.6-mile open space pedestrian trail along the Hillsborough River. It's such a great way to be in the city but feel like being with nature. While you're walking, you'll see the river on one side with boats and water taxis passing by along with sights from the other side of the river. On your side, you'll be passing by artworks on the trail as well as attractions in the city.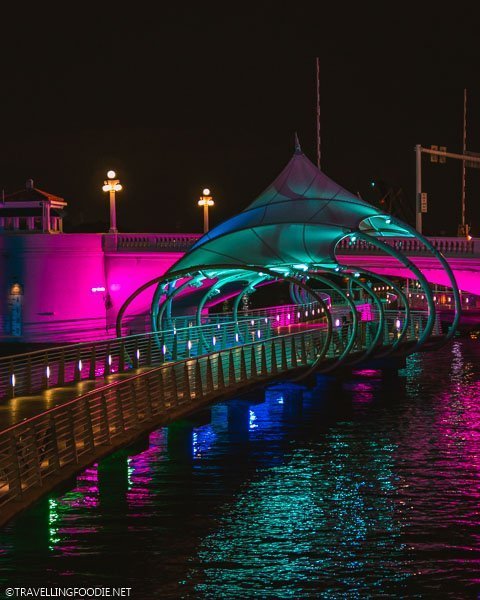 These three modes of transportation were all I needed to taste my way around Tampa Bay. I stayed at the Sheraton Tampa Riverwalk Hotel, which was perfectly located for all three. Plus, it has beautiful views of the Hillsborough River, drawbridges and Tampa Riverwalk.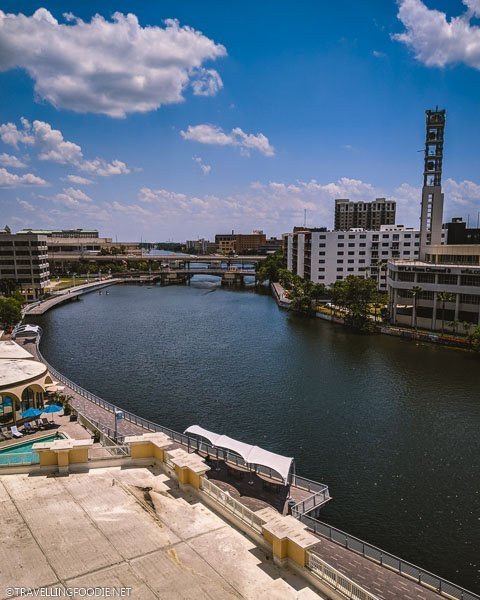 Though I only stayed for 2 days, which is definitely not enough, here are 10+ restaurants you must try, including some of the newest and best restaurants in Tampa Bay!
10+ Places To Eat and Drink in Tampa Bay, Florida:
---
Sparkman Wharf
Website / Address: 615 Channelside Dr, Tampa, FL 33602
Opened in November 30, 2018, Sparkman Wharf is Tampa's new outdoor waterfront attraction with an event lawn with outdoor stage and screens, dining garden and biergarten with views of the Garrison Channel.
The most unique feature of Sparkman Wharf is the shipping containers that house ten of Tampa Bay's top chefs bringing a mix of culinary creations to locals and visitors. As a bonus, they are repurposed to form a large-scale mural that is colorful and Instagrammable!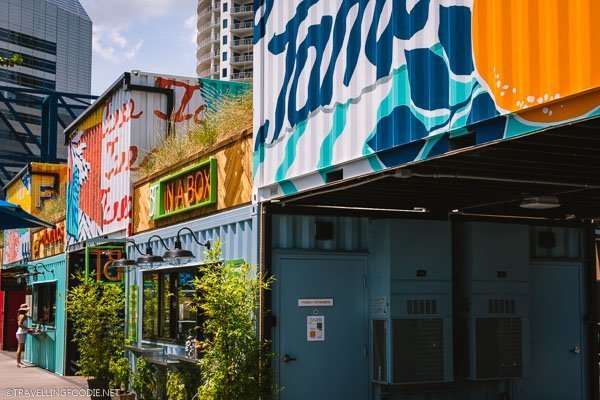 Dining with a view is something Travelling Foodies enjoy, and Sparkman Wharf brings it up a notch. With many restaurants to choose from, you definitely cannot settle with just one so I ended up trying three things during my visit.
Travelling Foodie Tip: Walk around first to see what each restaurant has to offer before deciding.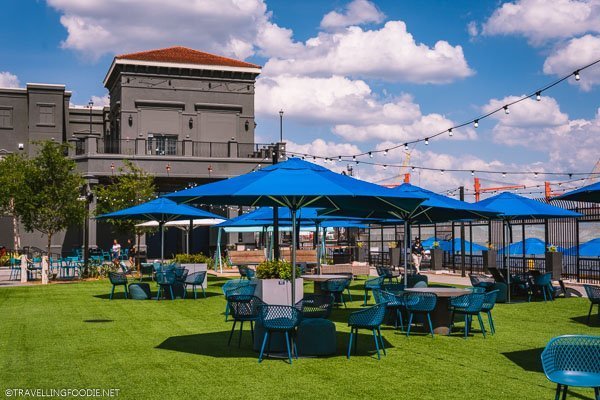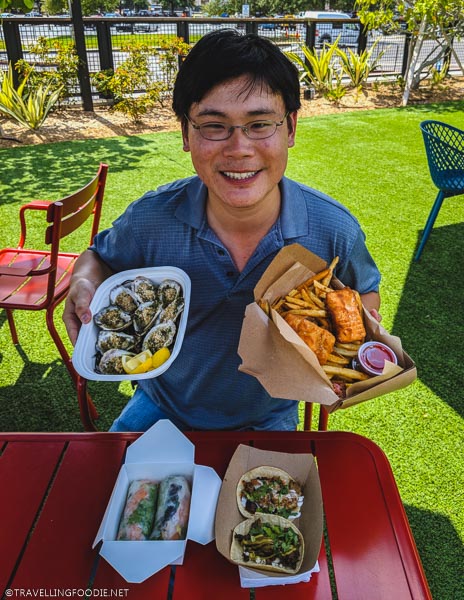 Gallito Taqueria puts a twist on classic Mexican street food. Did you know? Gallito was created by the same people behind the popular Rooster & The Till, James Beard semi-finalist Chef Ferrel Alvarez and restaurateur Ty Rodriguez.
I thoroughly enjoyed the Duck Carnitas Taco, which is not too common to find. It had a unique flavour profile from the smokiness of the salsa negra mixed with the tangy lime crema.
Boat Run gives you a taste of tide-to-table with their hand-raised tide tumbled oysters from Cedar Key, Florida.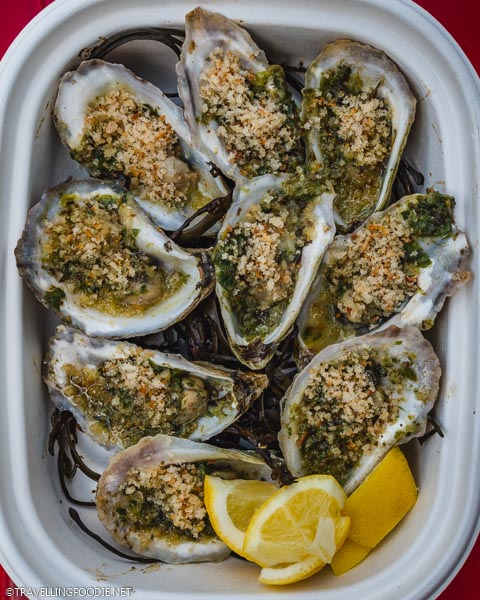 Edison's Swigamajjig is a divebar and fishkitchen with a daily changing menu based on the fresh catch of the day. Did you know? Edison's Swigamajig was created by four-time James Beard Foundation semifinalist chef Jeannie Pierola as an expansion to her award-winning restaurant, Edison: food+drink lab.
The seafood menu has a good variety of seafood with different ways of cooking from fish and chips and charred octopus salad to piri-piri grilled Key West shrimp and cracked conch fritters. Being a fishkitchen, I tried the Fish and Chips with a light and crispy batter. I thoroughly enjoyed it with the unique curry tamarind tartar.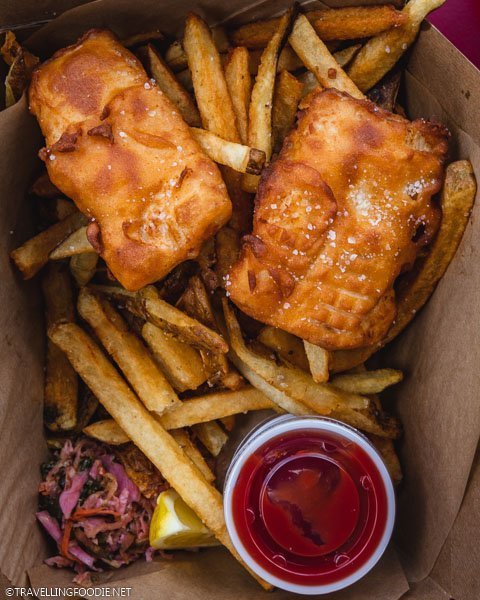 Other dining options in Sparkman Wharf include BT In A Box by Chef BT Nguyen, Flock & Stock by restaurateur Dave Burton, Montados by Mise en Place by restauranteur Maryann Ferenec and Chef Marty Blitz, The Corners Pizza by Chef Noel Cruz and restaurateur Branden Lenz, Whatever Pops and Bowls by owner Steve McGlocklin, and Foundation Coffee by Jason and Emily Smith.
You can visit here by taking the TECO Streetcar to Stop 8 (Amalie Arena Station), or by walking to the southernmost end of the Tampa Riverwalk all the way to the end of the Riverwalk Connection.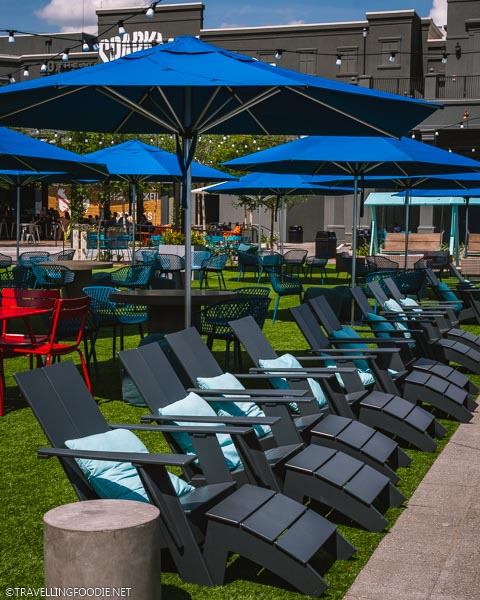 ---
Gen X Tavern
Website / Address: 103 E Jackson St, Tampa, FL 33602
The newest bar in Downtown Tampa is Gen X Tavern, which opened in April 30, 2019. Owner & restaurateur Dave Burton said Gen X Tavern was a passion project that centered around what he grew up with. This 80s and 90s themed bar is full of pop culture references not just in its atmosphere but also in its food and drinks.
What I love about Gen X Tavern is it doesn't feel like your typical bar. Instead, it feels like being at home with old TVs with Super Nintendo Mario Kart that customers can play, old VHS tapes and even a pinball machine. At the very least, it feels like it can potentially be a neighborhood hangout spot like Central Perk from Friends, which you can spot the logo from the big mural of nostalgia.
The drinks at Gen X Tavern are both fun and nostalgic. Their most featured drink is the Adult Capri Sun, a rum-based version of the popular Capri Sun drink that American kids used to bring to school growing up. They even have "Your Dad's Shitty Garage Fridge", which has a random selection of beer at any time that guests can order for $1.99 without knowing what they're getting.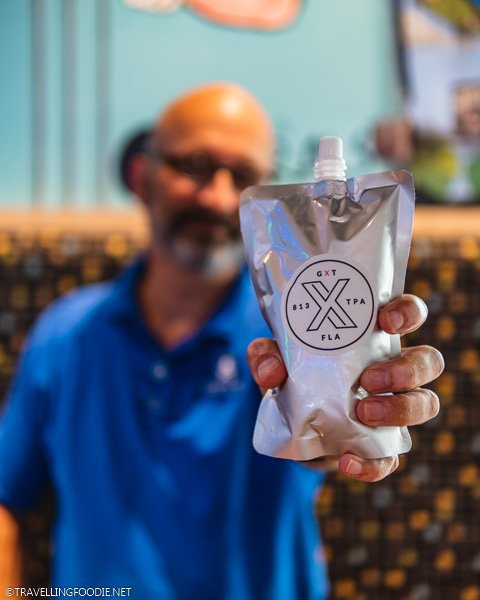 Travelling Foodie Tip: They have Happy Hour every day from 3-7pm:
$3 Domestic Drafts
$4 Craft Drafts, Wells & Shots
$5 Fried Pickle Ships, Corn Dog Nuggets and Fried Raviolis
$6 Select Signature Cocktails & Glasses of Wine
$7 Cheeseburger & Fries
You can visit here by taking the TECO Streetcar to Stop 11 (Downtown Tampa Whiting Street Station), or by walking along the Tampa Riverwalk to the Sheraton Tampa Riverwalk Hotel, or by taking the Pirate Water Taxi to Stop 10 (Sheraton/Hilton).
---
Ulele
Website / Address: 1810 N Highland Ave, Tampa, FL 33602
Accolades: OpenTable's 100 Best Restaurants in America for a Big Night Out 2019; OpenTable's 100 Best Brunch Restaurants in America; USA Today 10Best's 10 Best Restaurants in Tampa; Tampa Magazine's Reader's Choice Best Fusion Restaurant 2018; Tampa Magazine's Winner and Reader's Choice Best Waterfront Restaurant 2018; CL Tampa Bay's Best Waterfront Dining 2018; Money Inc's 10 Best Restaurants in All of Tampa
My favourite meal during my trip was at Ulele, which sits on Tampa's original public water pump house that required a $5 million restoration. Did you know? The Ulele Spring on-site that once supplied the city's drinking water was also part of that restoration.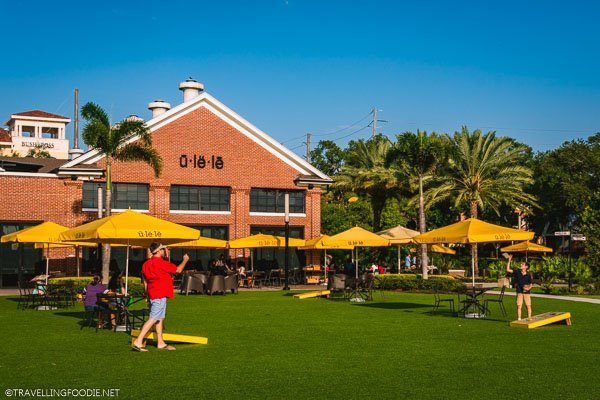 Created by Tampa Bay's Gonzmart family who owns the popular Columbia Restaurant, Ulele is both a restaurant and brewery in a big space. The restaurant overlooks the river and outdoor patios in three sides of the restaurant, which makes it a perfect spot for sunset watching.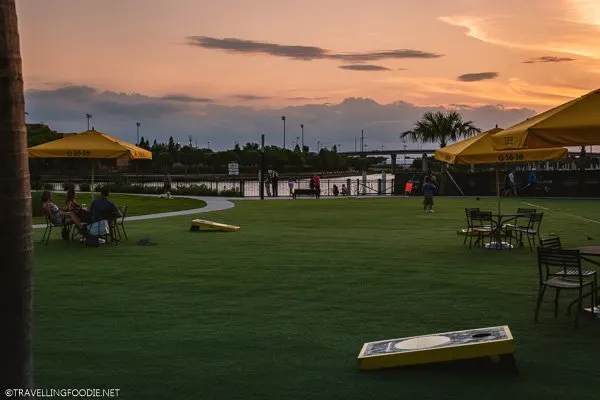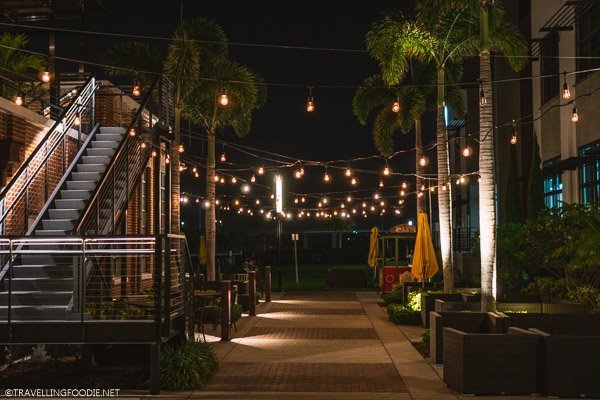 You can even find a statue of Princess Ulele by the entrance. Legend has it that when Spanish explorers were captured by the natives, Princess Ulele begged to save the life of the explorers.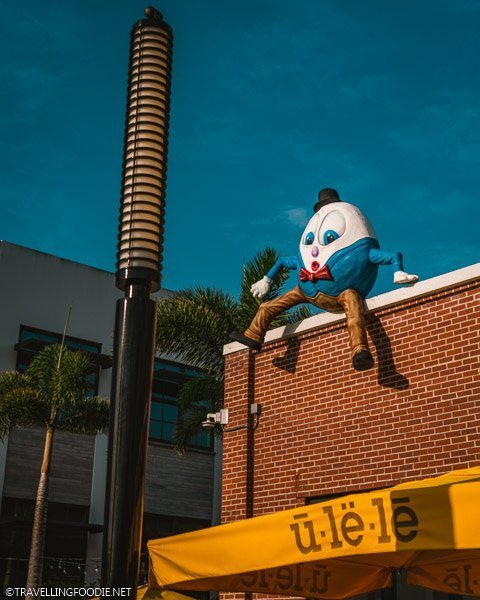 Ulele's menu is inspired by Tampa's early native and Spanish explorers with representation of what the food was for the pioneers combined with what it is in Florida and Tampa today. The dishes are priced reasonably, and the portions are generous.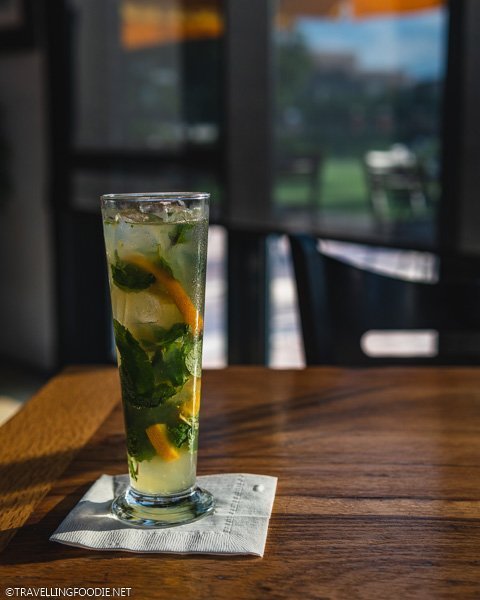 Oysters have been a local staple in Tampa Bay since the Tocobaga Indians harvested them from the waters. At Ulele, you must order their Charbroiled Oysters, which was the best I've had to this date!
Travelling Foodie Tip: If you want to see them make the oysters, sit by the bar where you can see the open kitchen.
A popular Southern dish is fried okra breaded with cornmeal. At Ulele, their Okra Fries is quite unique as they flash fry the hand-cut okra without any breading. It's a nice appetizer to share and pair with their in-house beers.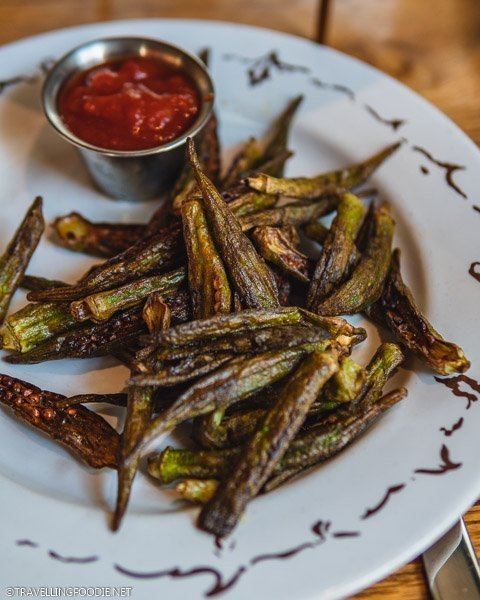 For adventurous diners, their Native Chili is a comforting stew full of game meats including alligator, wild boar and venison.
One thing I was very surprised to learn is that pigs in America actually came from Tampa Bay through Spanish explorer, Hernando de Soto, who brought America's first 13 pigs to Tampa Bay in 1539. After which, pork became a staple in Tampa.
You'll want to try Barry's Tomahawk Pork Chop, which was grilled to perfection with a nice char taste, and tender and juicy meat. Did you know? This dish is named in honor of legendary FSU Hall of Fame receiver #22 Barry Smith.
Seafood lovers would love the Seafood Risotto which has a nice variety of fresh seafood from the Gulf of Mexico. I loved the charred corn cream sauce in the risotto which I found quite unique from a usual risotto in restaurants.
For dessert, you'll want to get the Candied Bacon Maple Ice Cream. The maple ice cream is churned on-site and its on a bed of Knob Creek crème anglaise and caramel. The ice cream is coated with corn flakes which add a nice crunch to the creamy ice cream.
It's so good that, even though it's a big portion meant for sharing, I was able to finish it myself. The only thing I wished was that the candied bacon was served on the side or put on top instead of inside the ice cream so that it can still be crispy.
Since Ulele is also a brewery (Ulele Spring Brewery), you have to try their beers. You cannot buy them anywhere else except at the restaurant. Brewmaster Tim Shackton has crafted the brews to compliment with Ulele's menu. Be on the lookout for their limited release barrel-aged beer.
When I went, it was the Penguin P.I. English Nitro Golden Beer Ale. Brewmaster Tim explained the English Golden Beers are usually named after birds and he likes penguins. The golden beer ale was aged in Knob Creek bourbon barrel then nitro infused. I was so surprised with the tastes of salted caramel from the beer!
If you're more into wines, Ulele has a wide selection of wines all from family-owned wineries since they try to support local and family-run businesses. You can find the wine cellar inside the restaurant. The most unique one to try would be their very own Ulele Private Label Cabernet Sauvignon.
You can visit Ulele by taking the Pirate Water Taxi to Stop 16 (Water Works Park), or by walking to the northernmost end of the Tampa Riverwalk. Ulele is right along the Tampa Riverwalk so you will definitely see it once you exit the water taxi or along the riverwalk.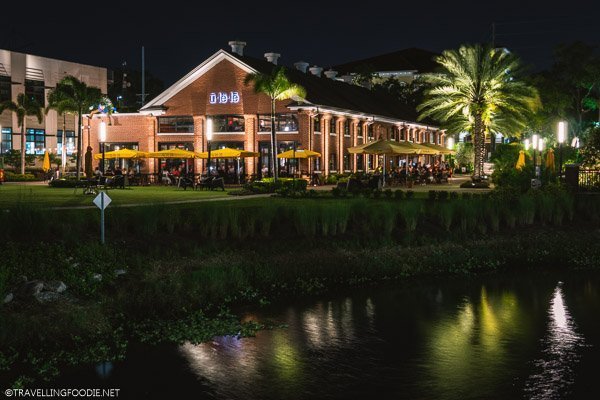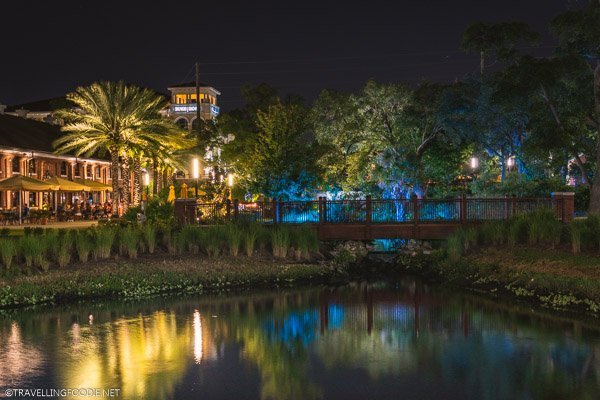 ---
Oxford Exchange
Website / Address: 420 W Kennedy Blvd, Tampa, FL 33606
Accolades: OpenTable's 100 Best Restaurants in America for a Big Night Out 2019; OpenTable's 100 Best Brunch Restaurants in America; Tampa Magazine's Reader's Choice Best Brunch Spot 2018; Money Inc's 10 Best Restaurants in All of Tampa; Narcity's 30 Tampa Brunch Spots You Must Try At Least Once In Your Life
Built in 1891 as a stable for the then Henry B. Plant's Tampa Bay Hotel (now the University of Tampa) right across the street, Oxford Exchange has it all: restaurant, coffee and tea bar, bookstore and home décor shop, and events and co-working space. Did you know? Brother and sister team, Blake Casper and Allison Adams, restored this historic space and opened in September 24, 2012 so people can have a "place to belong".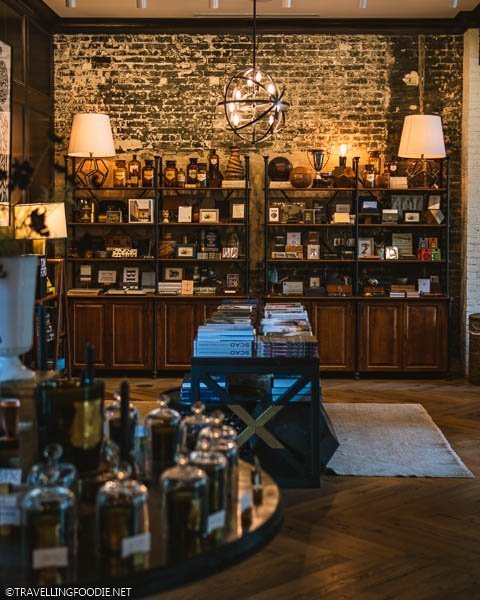 I loved the interior of Oxford Exchange. Each section of the place has a different feel, but they are all welcoming and inviting.
They are very popular for breakfast and brunch. I loved their buttermilk pancakes which were tender, moist and fluffy. I prefer this kind over the classic pancakes which are drier and has a cakier texture. This is such a big portion that at least two people can share.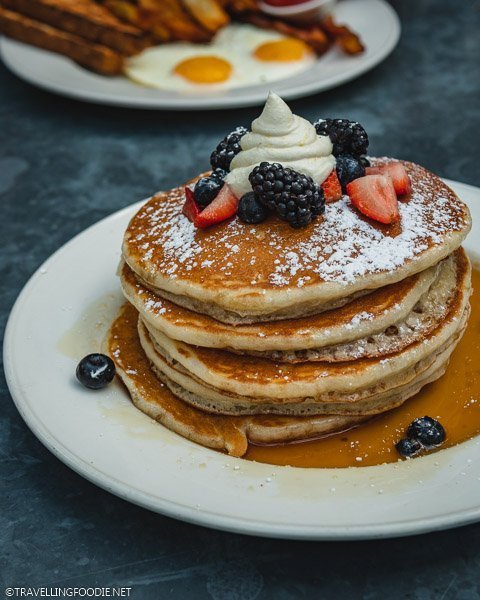 For coffee lovers, you'd be happy to know Oxford Exchange serves Buddy Brew Coffee, one of the oldest local coffee roasters in Tampa. In fact, there is a Buddy Brew Coffee Bar inside!
You can visit Oxford Exchange by taking the TECO Streetcar to Stop 11 (Downtown Tampa Whiting Street Station), or by walking along the Tampa Riverwalk to the Aloft Tampa Downtown, or by taking the Pirate Water Taxi to Stop 10 (Sheraton/Hilton). Then, you'll have to cross the W Kennedy Blvd Bridge to the other side.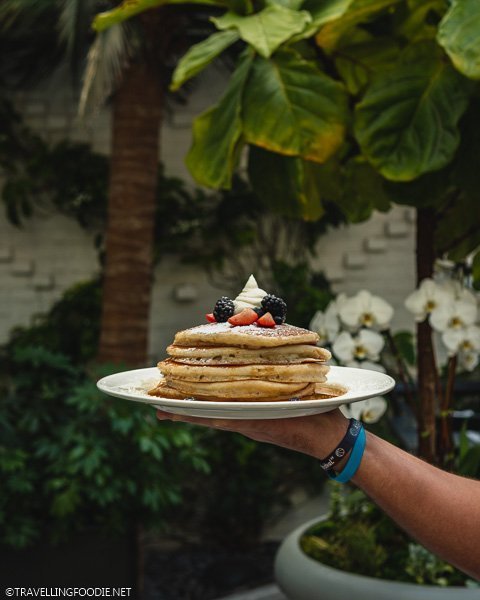 ---
Armature Works
Website / Address: 1910 N Ola Ave, Tampa, FL 33602
Accolades: Eater Miami's 10 Hottest New Restaurants in Tampa
Opened in February 1, 2018, Armature Works opened in the historic Tampa Heights neighborhood located next to Ulele. This restored 1910 TECO (Tampa Electric) streetcar warehouse has been transformed into a mixed-commercial building with eateries, event spaces, an exclusive co-working space, and the Heights Public Market.
The Heights Public Market is where foodies would be hanging at in Armature Works. This 22,000 sq-ft food hall brings over a dozen restaurants featuring the top chefs and restaurateurs in Tampa Bay. Communal seating is available throughout the market.
You cannot go to Tampa Bay without having Cuban Sandwich so I went to the best place to get it, Hemingway's, which serves Cuban classics with a twist. Chef Felicia LaCalle was the First Place Winner of 2018 7th Annual Cuban Sandwich Festival. Did you know? The "Historic Tampa Cuban Sandwich" was named as the official sandwich of the city of Tampa.
According to Chef Felicia, there are key things to the (Tampa) Cuban Sandwich. The Cuban bread must be crispy outside but soft on the inside. They source their bread from La Segunda Central Bakery, the oldest bakery in Tampa.
Because Spanish, Italian, German and Jewish descents also immigrated to Tampa, these influences are found in the sandwich as well: Mojo Roast Pork (Cuban), Jamon Serrano (Spanish), Genoa Salami (Italian), Pickles (Jewish) and Swiss Cheese (German). Mustard is a standard condiment on a traditional Cuban sandwich, but the Tampa version has no mayonnaise.
This was the best Cuban sandwich I've had. All the Cuban sandwiches I've had before were usually just with ham and pork slices for meat. The mojo roast pork at Hemingway's uses pulled pork marinated with oregano, garlic and fresh sour orange overnight then slow roasted for a consistently tender, flavourful and moist texture. The sandwich was pressed and grilled so the cheese melted and fuses with the ingredients.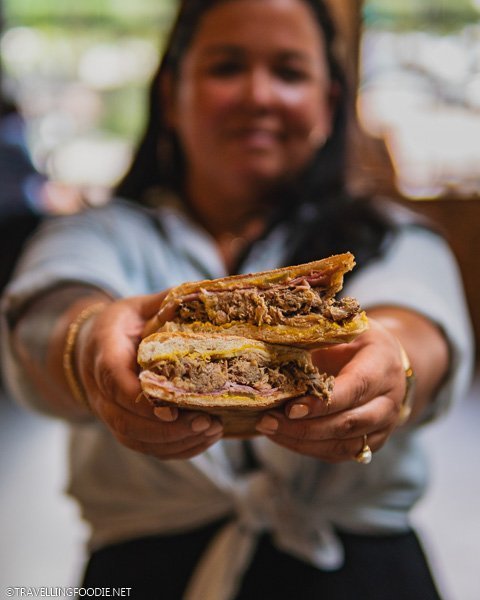 Other restaurants inside Heights Public Market include Empamamas, CRU Cellars, Ichicoro Imoto, Union by Commune + Co, BAR at Armature, BnB, Graze 1910, AVA, SOHO Juice Co., Inside the Box, Astro Ice Cream, Zukku Sushi and Dixie Dharma.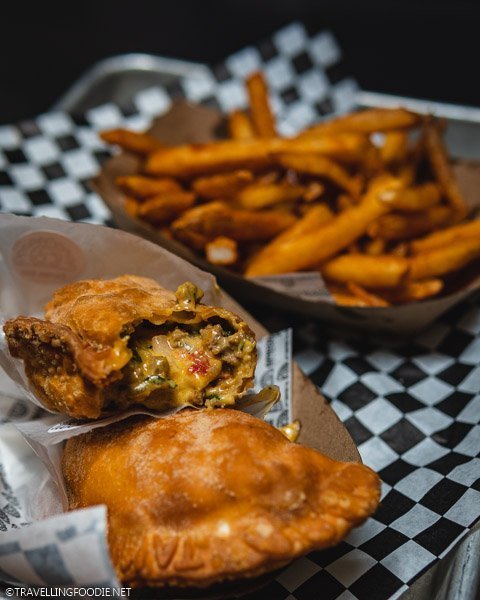 You can visit Armature Works by taking the Pirate Water Taxi to Stop 16 (Water Works Park), or by walking to the northernmost end of the Tampa Riverwalk. You'll have to walk north, past Ulele, to get to Armature Works.
---
Columbia Restaurant
Website / Address: 2117 E 7th Ave, Tampa, FL 33605
Accolades: USA Today 10Best's 10 Best Restaurants in Tampa; Tampa Magazine's 2018 Best Cuban/Latin American/ Spanish Restaurant 2018; CL Tampa Bay's Best Cuban Restaurant 2018; CL Tampa Bay's Best Sangria 2018; Money Inc's 10 Best Restaurants in All of Tampa
When in Tampa Bay, you must make a trip to Ybor City, which used to be the Cigar Capital of the World. Founded in 1885, Tampa Bay's Latin Quarter has turned into the city's main entertainment district filled with restaurants and bars. Did you know? The Ybor City Historic District is one of two US National Historic Landmarks in Florida. The second one being St. Augustine.
I loved that they've preserved its brick streets, old buildings and iron balconies in tact so you feel like you went back in time. A great way to learn about the city and its history is by doing the Ybor City Historic Walking Tours, which includes a visa-free visit to the only Cuban-owned land in America.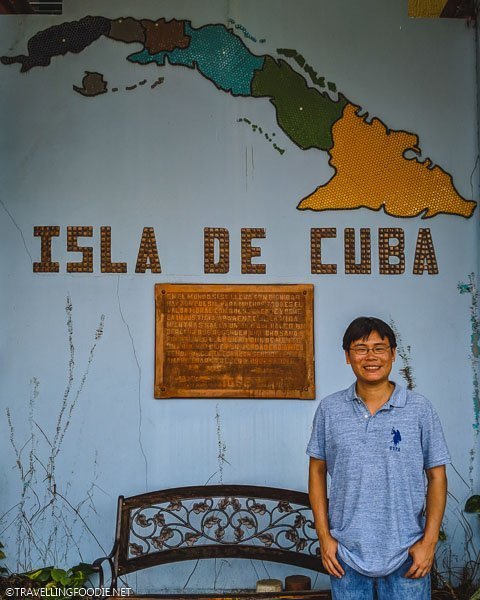 A trip to Ybor City is not complete without dining at Columbia Restaurant, Florida's oldest restaurant founded in 1905 by Cuban immigrant Casimiro Hernandez Sr. Did you know? This family-owned Spanish/Cuban restaurant is the largest Spanish restaurant in the world at 52,000 sq-ft, encompassing an entire city block!
The atmosphere is casual yet intimate, and the interior takes you back to old Spain. When you sit down, you are served a loaf of warm Cuban bread. Columbia Restaurant serves so many of this bread that La Segunda Bakery delivers them fresh twice a day!
Nothing says Spanish cuisine than starting your meal with Sangria and some tapas. At Columbia Restaurant, the sangria is made tableside using their own wine, CR Generations Tempranillo, produced in honor of this restaurant's 110th anniversary.
A must-order is one of Spain's most popular tapa, the Gambas Al Ajillo, which was breaming with flavours of olive oil and heaps of garlic.
Lobster lovers would enjoy the Coca de Langosta, a fun snack of crispy flatbread with chunks of lobster.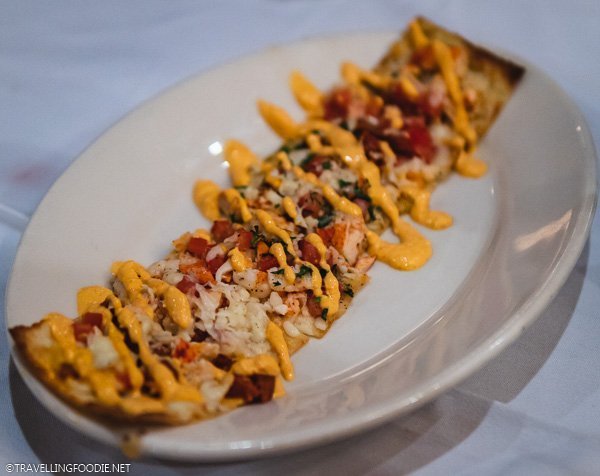 You'll be surprised to learn that one of the most popular things at Columbia Restaurant is rice. Not just any rice – the "Good Rice".
Story has it that Richard Gonzmart, the current President of Columbia Restaurant and 4th generation member of the Hernandez Gonzmart family, didn't care for the rice that came with his mom Adela's dishes. Adela came up with her version of rice that Richard ended up loving and referred to it as the "good rice". This rice is made with a fragrant recipe using chicken stock, browned butter and basil.
A great dish to have the Good Rice is the Grouper Jimmy, which comes with a grilled grouper and mounds of sweet fresh blue crab and a drizzle of lemon butter sauce. You'll enjoy each part of the dish, and none overpowers the others. A perfect balance!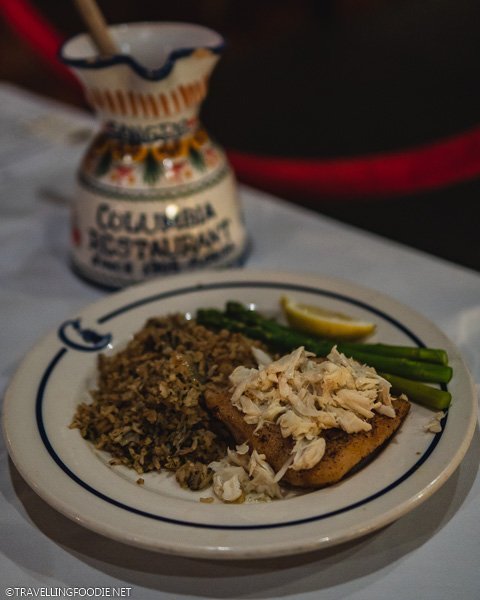 For dessert, a unique dish is the Guava Turnover "Carmita", which has a nice mix of sweet and savoury with the guava and cream cheese on soft yet crispy pastry.
And if you enjoyed the Cuban bread at the beginning of your meal, you'll love the White Chocolate Bread Pudding which uses the same bread. This one is great for sharing!
I highly recommend visiting Columbia Restaurant at night when there is a live entertainment happening: Flamenco and Spanish classical dance performances nightly, except Sunday, with $8/person cover charge. And, a live jazz band is available from Tuesday-Saturday nights.
You can visit Columbia Restaurant by taking the TECO Streetcar to Stop 2 (Centro Ybor Station).
---
Bizou Brasserie
Website / Address: 601 N Florida Ave, Tampa, FL 33602
Accolades: Narcity's 30 Tampa Brunch Spots You Must Try At Least Once In Your Life
Have you ever dined inside an old courthouse? You'll get the opportunity at Bizou Brasserie which is located in Tampa's former federal courthouse, which is now Le Meridien Tampa hotel. Did you know? Bizou means "kiss" in French.
This French-inspired restaurant is popular for breakfast and brunch in a relaxed and comfortable setting.
You can visit here by taking the TECO Streetcar to Stop 11 (Downtown Tampa Whiting Street Station), or by walking along the Tampa Riverwalk to the Curtis Hixon Waterfront Park, or by taking the Pirate Water Taxi to Stop 12 (Curtis Hixon Park).
---
Hope this restaurant guide gives you an idea on where to eat in Tampa Bay, Florida! If you've already been (or are living there), what do you find are the best restaurants in Tampa Bay? Let me know below so I can check them out on my next visit!
---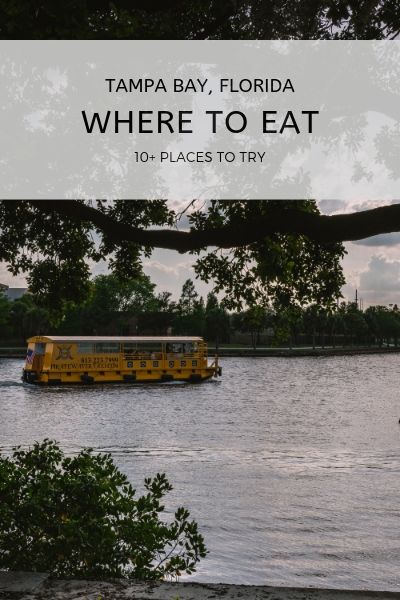 You can learn more about Visit Florida thru their website, or find them in Facebook, Twitter and Instagram.
Updated: