Looking for where to eat in Tokyo? In this food guide, we're covering 17 of the best restaurants and places to eat in Tokyo!
Ask any Travelling Foodie what their dream food destination is, and you'll most likely hear Japan at the top of the list.
And with over 160,000 restaurants, how do you decide where to eat in Tokyo?
Japan's Capital and one of 47 prefectures, Tokyo is such a bustling metropolitan area.
Did you know? Tokyo is actually the world's most populated city with over 38 million in population.
As a travelling foodie, my trip to Tokyo wouldn't be complete without exploring its food scene.
Coming from Toronto, it was astounding to see how different Tokyo's food scene was and what made it special.
Though I've been to Japan as a kid (less than 10 years old), I consider this my first official trip.
When I food trip in a destination, I try to hit as many places as I can at a reasonable level.
I was there for four days, and tried over 20 places to eat, averaging at least 5 eateries per day!
You can still see the raw experiences on Instagram story highlights for Japan in @TravellingFoodie.
Also Read: Top Restaurants in Toronto
---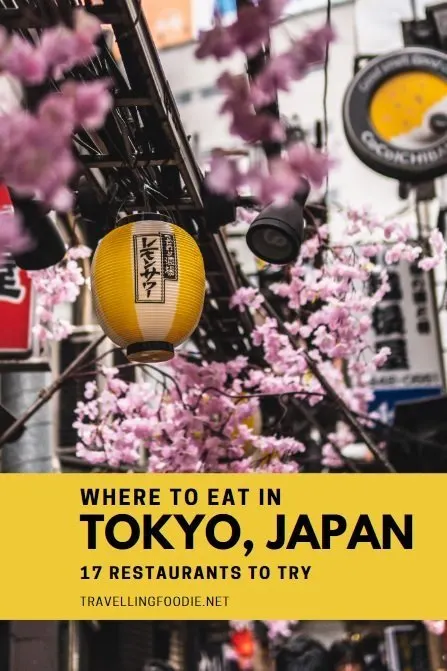 ---
Tokyo Food Guide – Best Restaurants in Tokyo
With exploring the food scene for the first time, I had a checklist of traditional Japanese food and culinary experiences to try as opposed to hitting specific restaurants.
I didn't even get to finish my entire checklist, which means a return trip is a must!
In this Tokyo food guide, you'll find 17 of the best places to eat in a wide range of Japanese food and drinks including where to eat in Tokyo for best restaurants, cafes, ramen, sushi, steakhouse, izakaya, tempura and more that I enjoyed during my trip.
Things To Know About Tokyo Food Scene and Culture
Tokyo food prices are more like North America than Asia
I'll get this first one out of the way. You'll hear most people say that it's expensive to eat in Tokyo.
Yes and no.
Compared to other Asian countries like Vietnam or Thailand, where a meal can cost CAD2 only, a typical meal in Tokyo can cost CAD10.
Coming from North America, the prices are similar or, usually much cheaper.
At the same time, the quality in Tokyo is leaps and bounds ahead than North America.
As an example, my favourite sushi is otoro (fatty blue fin tuna).
In Tokyo, the cheapest o-toro I had was JPY300 per piece which is about CAD3.75.
In Toronto, the same sushi cost CAD9 per piece, and the quality is nowhere near as what you'll be getting in Tokyo.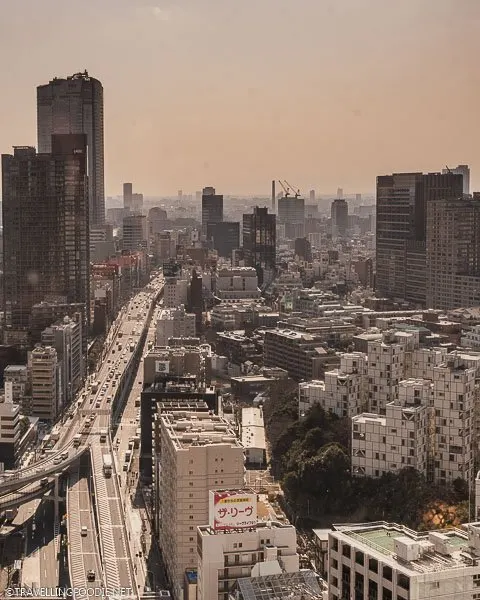 No Tipping in Tokyo
You'll love the tip culture in Japan!
One of the best things about the food scene in Tokyo that most North Americans are not used to is that there is no tipping in restaurants.
Japanese people believe that hospitality and service should always be impeccable regardless of gratuity and pay.
In fact, they will even refuse tipping and may find it insulting to their work.
This says a lot about Japanese culture.
I was so happy about this because, in North America, tipping is usually at 15-20% of the bill.
This means the money I saved on tipping can be spent on more food!
Culinary Mastery
I was so fascinated by the fact that, everywhere in Tokyo, locals just enjoy eating and drinking.
It's the most common past time.
And, it's clear why: the sense of culinary mastery is just astounding.
You can't go wrong with food just about everywhere in Tokyo and that includes eating at convenience stores like 7/11.
That's why it is so exciting to be exploring the best restaurants in Tokyo.
This is the epitome of why Tokyo's food scene is so good!
Japanese culture has always revolved around mastery and perfection.
The same holds true for their food.
You'll find the best restaurants in Tokyo focus on one type of dish whether it be sushi, tempura, curry and steak.
The chefs spend years perfecting and mastering that one creation, unlike in North America where training would usually be months.
This is why you'll find Michelin restaurants in Tokyo for just tempura or ramen.
If you watched the documentary, Jiro Dreams of Sushi, the apprentices of Master Sushi Chef Jiro Ono, whose world famous restaurant Sukiyabashi Jiro is in Tokyo, had to train for at least five years under his supervision before they can do it alone.
The best tempura I had was at Kushi-Tempura Dandan-ya in Shinjuku, where you'll find there's only one tempura chef, the owner, who has mastered his craft.
The menu is a simple list of different kinds of tempura you can choose from.
As we entered the restaurant, we found a small bar type seating surrounding the kitchen where we only saw one chef, the owner, who made all the tempura for us.
We watched in amazement seeing him masterfully craft each piece, feeling the heat of the big wok before placing it in.
He would then slide the piece back and forth like its dancing in the oil before taking it out, and placing it on the bowl.
One of my favourite Japanese street food is takoyaki.
In Tokyo, we found Gindaco everywhere in the city, and they have mastered takoyaki.
We visited at 5pm and both locals and tourists were lined up already.
In the small indoor area, I saw it's already packed with locals enjoying their after-work octopus balls with pints of beer, the perfect pairing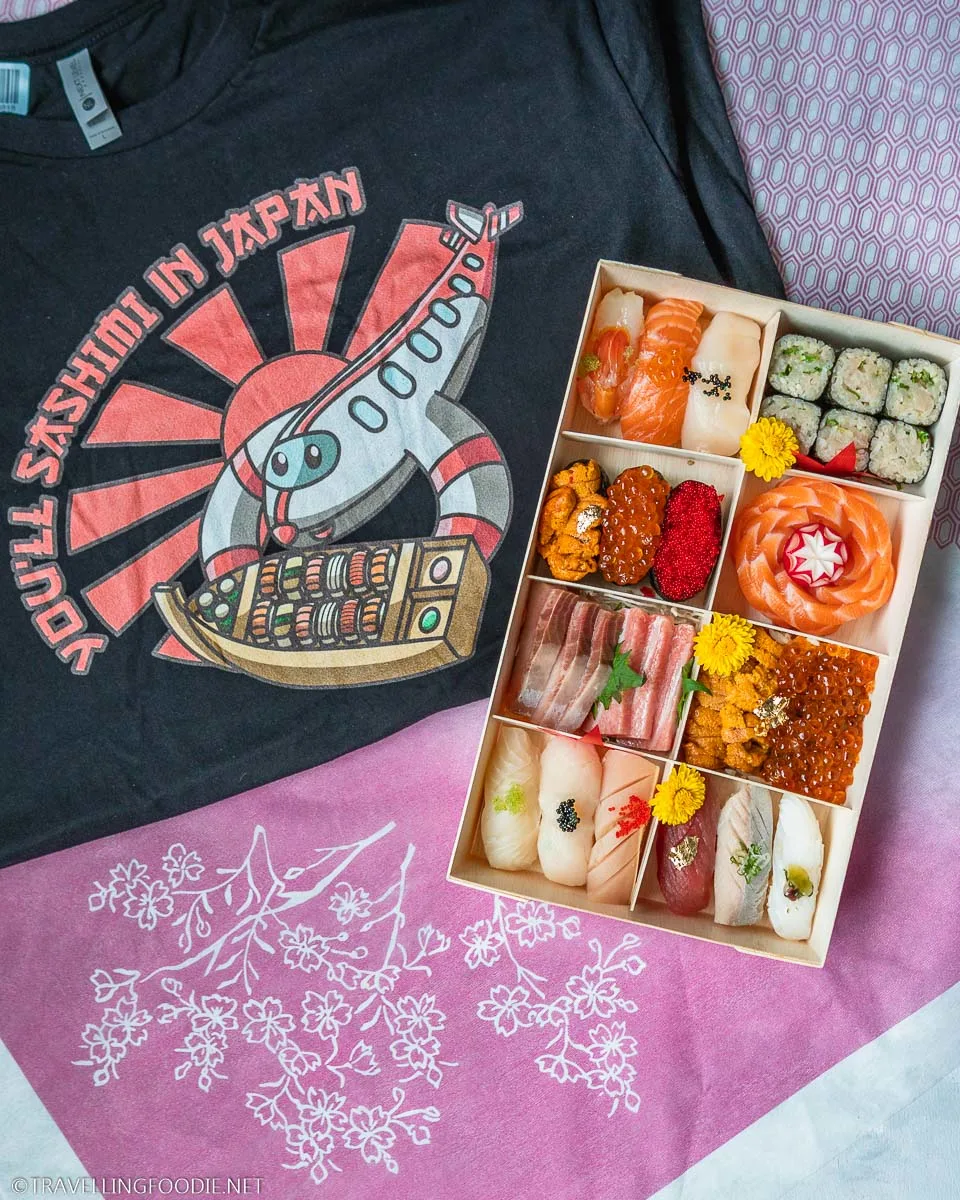 Tokyo is primarily Cash-based
One important thing you should know when dining around Tokyo is to bring lots of cash, not only for restaurants but also public transportation.
Tokyo, and the rest of Japan, is a very cash-based society unlike North America where it's heading towards cashless.
As an alternative to cash, IC Cards, which are rechargeable cards, are Tokyo's answer to credit cards.
IC Cards are more widely accepted and can be used in public transportation, vending machines, shops and restaurants.
Tokyo Nightlife is bustling
I always hear New York City is known for being "The City That Never Sleeps".
After going to Tokyo, I honestly felt Tokyo deserved this title more.
The city comes alive at night! The streets are so vibrant and bustling.
Imagine Times Square in New York City but multiplied to the number of major cities in Tokyo like Shinjuku and Ginza!
Even the locals are usually out until midnight every day.
As we walked along the busy streets of Shinjuku at night, I couldn't help but feel the energy from all the people around me.
The atmosphere was so bright from the city lights that I didn't feel it was night time.
Shinjuku has a lot of yakiniku restaurants, but they are packed even on week nights.
We stumbled into Sandaime Hormonya which luckily had some seating remaining because they are more spacious than other yakiniku restaurants.
I was in awe seeing how, even so late at night, locals were still at the restaurant grilling wagyu meats and raising their beers to cheers.
We ordered some melt-in-your-mouth A5 Miyazaki Wagyu and a pitcher of Sapporo, and cheers-ed the night!
We love our whisky and definitely didn't want to leave Tokyo without checking out a Japanese whisky bar, or at least a bar serving whisky.
We visited Bar Dealan-de, which is a whisky bar frequented by locals in Nishiazabu. The bar is small and intimate.
We grabbed the last bar seating. All the people there were locals, but they were very friendly.
The two beside us started talking to us and even bought us a round of drinks before they left.
We tried around 8 different Japanese whiskies there.
It was already midnight when we left Bar Dealan-de, but the streets were still full of locals as if there's no work the next day.
People are still either eating or drinking, or both.
It was such a sight!
Channeling the energy from the locals, we headed to Sushizanmai, a popular 24-hour sushi joint in Tokyo.
Our jaws dropped as the place is packed at midnight as we managed to grab the last table to enjoy the some sushi to end our night.
---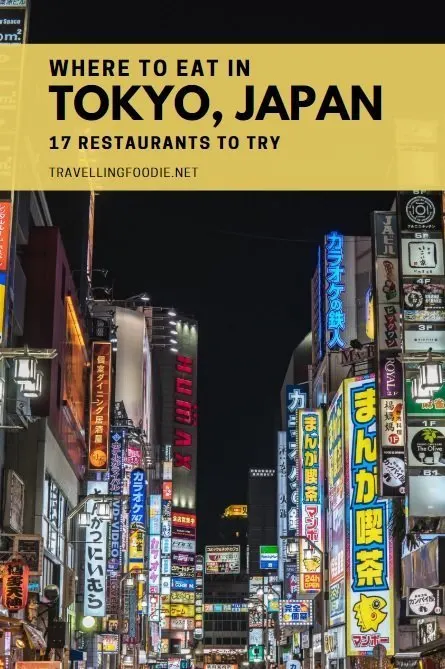 ---
Best Sushi Restaurants in Tokyo
Sushizanmai
With over 40 locations, Sushi Zanmai is considered to be one of the most popular and best restaurants in Tokyo.
As a big chain that started in Tsukiji Market, don't expect this to be the best fish you'll ever have, but this qualifies as best value sushi.
Did you know? Despite being a value joint, they offer some very premium ones too.

In fact in 2019, the owner of Sushi Zanmai, 'Sushi King' Kiyoshi Kimura paid $3.1 million for most expensive Blue Fin Tuna in the world at the first auction of the year which was then served at the Tsukiji location for up to $24 for small slices.
All sushi is priced from JPY98-498, and the quality for that price is outstanding.
It will already be better than most of the sushi you'll have outside Japan, and it's even cheaper here.
So if you're looking for good value or late night sushi in Japan, this place is it.
Some branches are open 24 hours, 365 days.
Website / Address: Japan, 〒106-0032 Tōkyō-to, Minato-ku, Roppongi, 3-chōme−14−12 六本木三丁目ビル
---
Tsukiji Sushidai Honkan
Though the Tsukiji Fish Market has moved to Toyosu, the Tsukiji Outer Market is still there, serving up some delicious meat and seafood.
And while you're there, be sure to try some sea grapes (umibudo) which are a Japanese delicacy.
I had the best sushi experience during my trip at Tsukiji Sushidai Honkan, considered one of the best sushi restaurants in Tokyo (and in Tsukiji Market).
Note, this place is not to be confused with another popular Sushi Dai restaurant that moved to Toyosu Fish Market.
Tsukiji Sushidai Honkan is known for authentic edomae sushi with fresh fish from the market.
The head sushi chef has over 40 years of experience in sushi.
Go for the Omakase Set A (JPY3,500) which has 11 pieces of perfectly crafted sushi (one of which is your choice) and 1 maki roll.
Honestly, the price (~CAD42) is very good compared to North America where a similar experience would cost at least CAD70 but with lesser quality.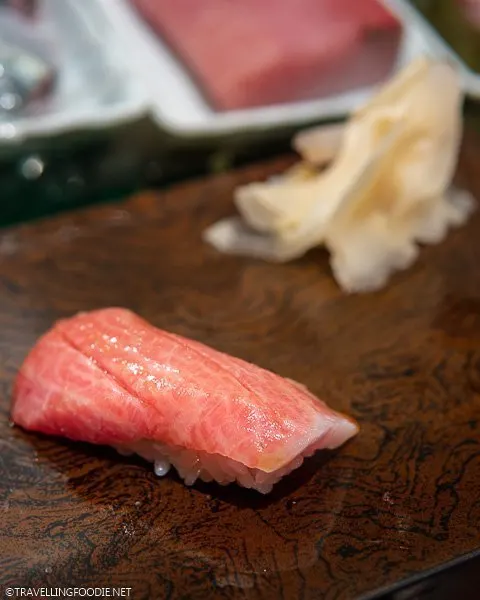 This is my first time having Ark Shell Sushi, which is quite common in Japan, but have never seen in my travels outside Japan.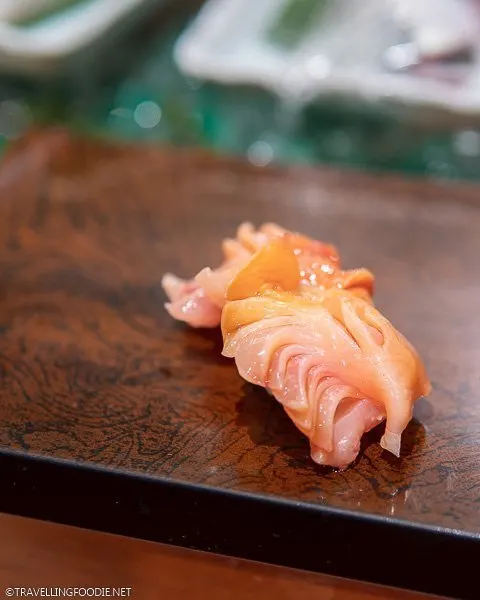 When I thought tuna roll was basic, this was the best tuna roll I've had with the perfect tuna-to-rice ratio and the best tasting tuna that tasted like o-toro in a roll.
I also had the best anago (sea water eel) sushi here.
The eel was so tender that it just melted, and the flavour was the perfect combination of grill taste and sweet sauce.
Travelling Foodie Tip: Be sure to come early, or in non-peak hours to avoid line-ups at Tsukiji Sushidai Honkan.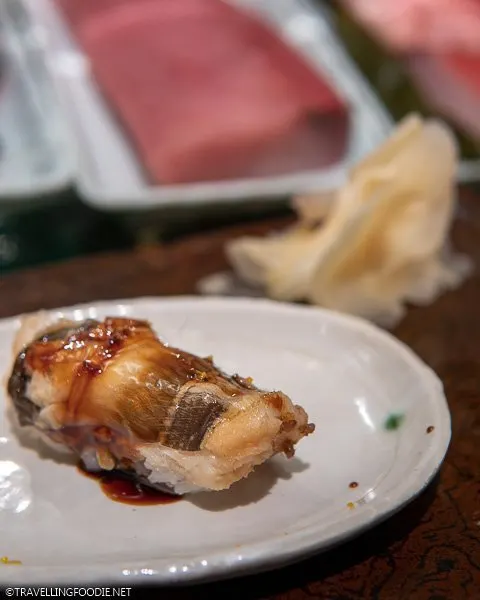 You can watch my full experience of Tsukiji Sushidai Honkan here:
Website / Address: 6-chōme-21-2 Tsukiji, Chūō-ku, Tōkyō-to 104-0045, Japan
---
Itamae Sushi
Itamae Sushi is another popular chain in Tokyo with over 10 restaurants.
In terms of quality and budget, I would put this in between Sushizanmai and Tsukiji Sushidai Honkan.
What makes Itamae Sushi quite special is their specialization in Blue Fin Tuna, which I just love!
Did you know? From 2008 to 2011, they've bought the highest priced Blue Fin Tuna at the first New Year's auction with the highest being a 342kg tuna for 32.4 million yen (US$323,385) in 2011.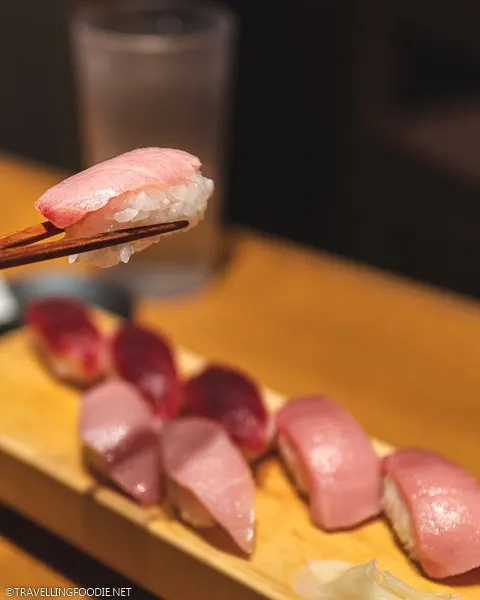 Be on the lookout for their specials.
One of the reasons we went was because of their sign outside for a box of Fresh Hokkaido Sea Urchin for JPY2980 from JPY4980.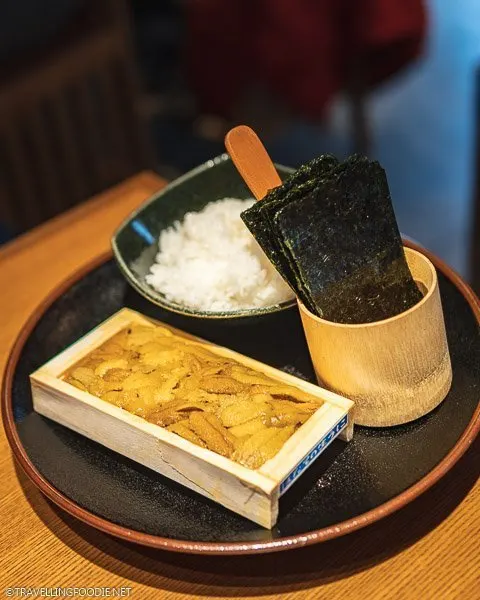 Website / Address: Japan, 〒160-0023 Tōkyō-to, Shinjuku-ku, Nishishinjuku, 1-chōme−19−11 甲州ビル 1F・2F
---
Sushi Misakimaru
Delicious sushi starts as soon as you land in Tokyo!
My first meal began at the Tokyo Narita Airport where I went to Sushi Misakimaru at the Terminal 2 Airport Mall.
Most of the time, I find airport prices quite expensive since they bank on passengers who have no other options to leave the airport.
I was surprised at how good the quality and prices were at Sushi Misakimaru.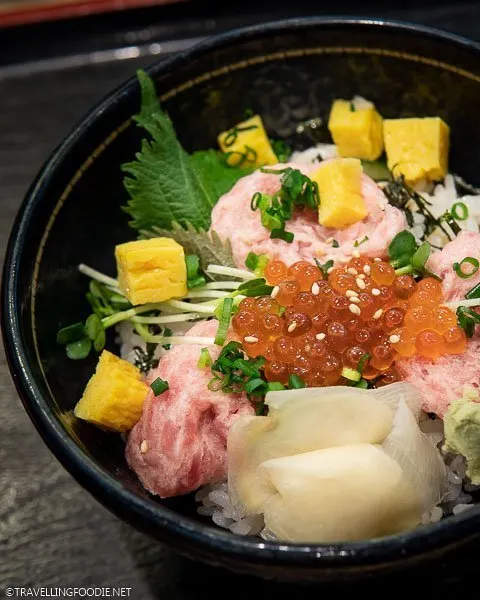 I can't believe all this costs only CAD22.95 (tax and tip included) when this meal would easily cost CAD50+ (plus tax and tip) in Toronto.
For comparison, the o-toro sushi in the photo below costs CAD3.60 when it would normally be CAD9 in Toronto.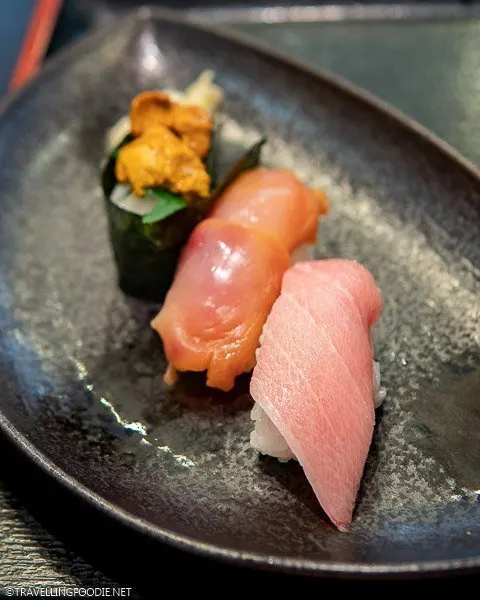 Website / Address: Japan, 〒282-0004 Chiba-ken, Narita-shi, Furugome, 1−1 成田国際空港第2ターミナル本館4F
Check out this Seattle Sushi Restaurant where the chef was an apprentice to the infamous Sushi Chef Jiro Ono!
---
Where To Eat Steak and Wagyu in Tokyo
The Steakhouse at ANA InterContinental Tokyo
Located in the 37-storey ANA InterContinental Tokyo hotel, The Steakhouse is aptly named for their focus on char-grilled steaks and seafood.
In fact, when you enter the restaurant, you'll find a three-meter charcoal grill by the entrance.
The menu at The Steakhouse goes beyond charcoal steaks including wagyu burgers and sandwiches, and an international mix of appetizers, salad and meat/seafood dishes.
Travelling Foodie Tip: Be sure to check out their set menu in case what you wanted to order already belongs to a set.
Their charcoal-grilled steaks have a mix of both American Angus USDA steaks and Japanese wagyu.
What The Steakhouse is most known for is their special Koji Beef!
You might have heard of Koji before if you're a sake drinker.
It's a rice grain that has been introduced with a live culture that's commonly used in sake to bring a slight sweetness.
What they did on the steak was cure the US Angus ribeye with Koji for 5 days.
The result is sweet, earthy pieces of tender juicy ribeye!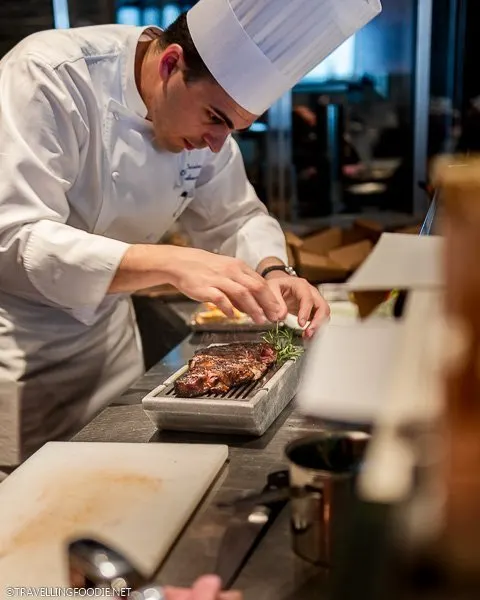 Note though that this is an acquired taste as the taste would be very different from just a regular steak.
It's very unique and it's the first time I've heard and tried it!
The Koji Beef steak was served on a smaller personal grill with burning rosemary to keep the steak warm and bring the aroma and flavour to the steak.
On the side, they provided 3 kinds of salt: red wine, truffle and lemon.
Try each on its own, then mix and match to your liking. I loved the truffle salt the most because you can really taste the truffle flavour!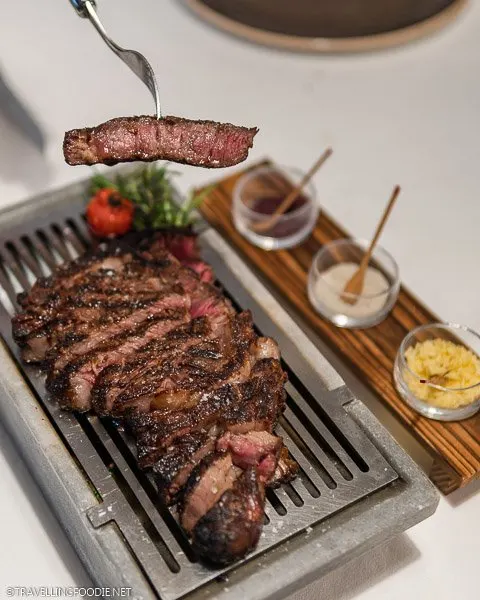 We also tried the Sendai Wagyu Tenderloin at The Steakhouse which was the best wagyu tenderloin I've had so far.
It melts-in-your-mouth, dripping with juices and has a nice charcoal taste!
Did you know? Sendai is one of the most famous Japanese Black wagyu, which feasts on Sasanishiki rice stalks along with barley grain.
Travelling Foodie Tip: If you order a steak that's 300g or more, you'll get to choose and enjoy your favorite knife from our 'Knife library, which has 5 different types of cutlery.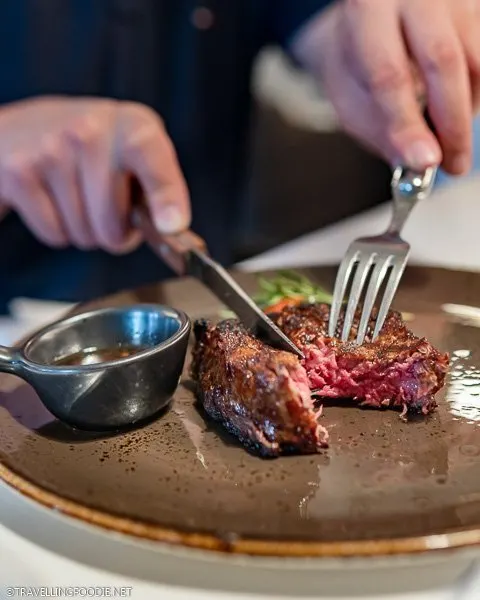 Watch my experience dining at The Steakhouse inside ANA InterContinental Hotel here:
Website / Address: 1-chōme-12-33 Akasaka, Minato-ku, Tōkyō-to 107-0052, Japan
---
Ginza Steak
When in Japan, you definitely have to try A5 Wagyu, and what better way to have it than as many as you want!
One of the best restaurants for All-You-Can-Eat Wagyu in Tokyo is at Ginza Steak.
Did you know? There are four Japanese breeds of wagyu. Here, they serve Kuroge Wagyu which is the Japanese Black breed.
The Lunch Trial Steak Course (JPY5800) is a 2-hour tasting menu with 6 courses including appetizer and dessert.
During the A5 Wagyu Akami Teppan Steak course, there is no charge for extra steaks, which is what makes it All-You-Can-Eat.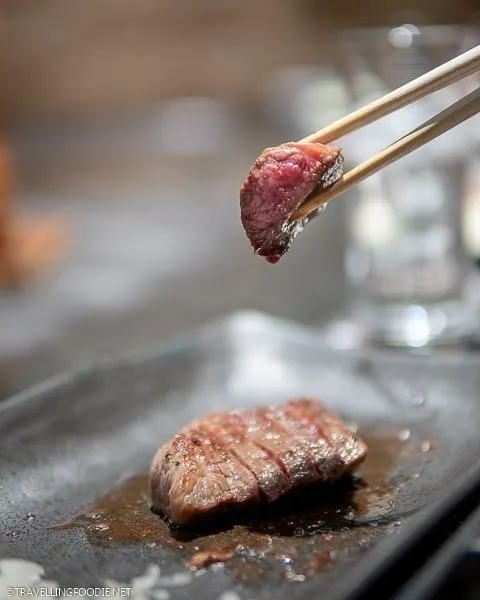 Travelling Foodie Tip: Go during lunch when the Trial Steak Course is cheaper than dinner (JPY7800) for the same courses. Dinner has other tasting menu options at a higher cost.
One thing they don't explain is the "All-You-Can-Eat" part is done differently.
Instead of being able to order as much as you like, the chef will keep serving you meat until you tell him to stop or when it's time for the last piece.
This was where we felt confused, thinking All-You-Can-Eat meant we can order how many we wanted and which cut.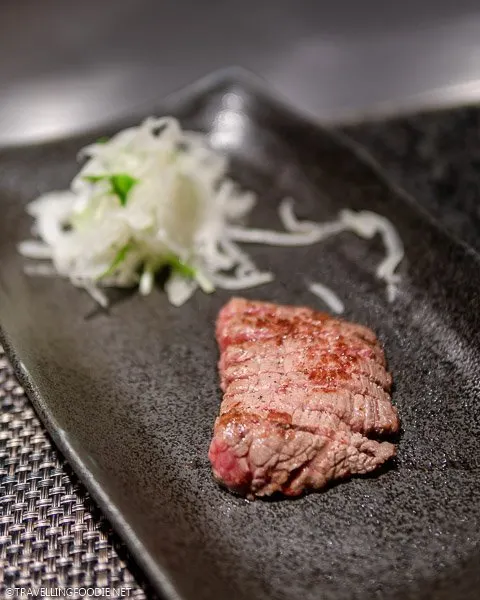 The drawback is, since one chef was cooking for 9 people, the steak was coming in slowly which takes up a lot of the 2-hour window.
I honestly wanted 2-3 more slabs of steak when he told us it was the last one already.
Nevertheless, you really can't go wrong with the price, nor can you find an experience like this outside of Japan.
I liked that it was also a tasting menu so you're not just eating slabs of teppan meat the entire time.
You're also seated in a Teppanyaki counter so you get to watch the chef cook the steaks.
Watch my full dining experience at Ginza Steak here:
Website / Address: Japan, 〒104-0061 Tōkyō-to, Chūō-ku, Ginza, 5-chōme−9−9番1号 銀座幸ビル 地下1階
You might be interested in the Best Omakase Restaurants in Las Vegas!
---
Where To Eat Yakiniku in Tokyo
Sandaime Hormonya
One of the items in our Japanese food checklist is yakiniku (grilled meat cuisine).
Shinjuku has so many of these places, and it's kind of a battle with line-ups since most places are small.
Luckily, we found Sandaime Hormonya, a good yakiniku place that has a big space and reasonable prices.
They offer a wide variety of yakiniku items including wagyu, beef tongue, seafood, chicken, pork and vegetables.
Despite having a big space, the place still gets packed so arrive appropriately.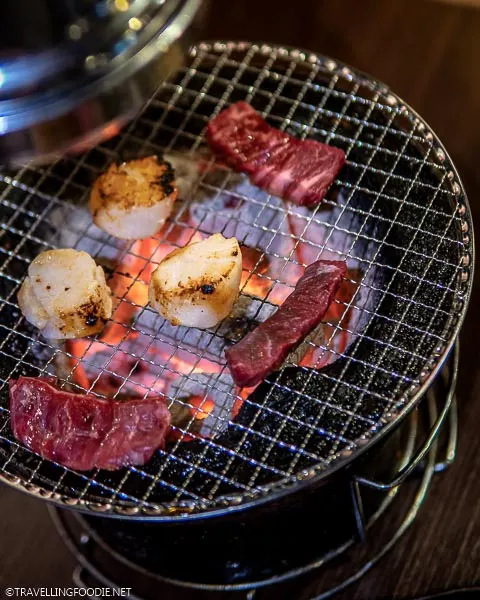 They specialize in Wagyu Yakiniku, offering high-quality A5 Miyazaki Wagyu with reasonable prices! A must-order!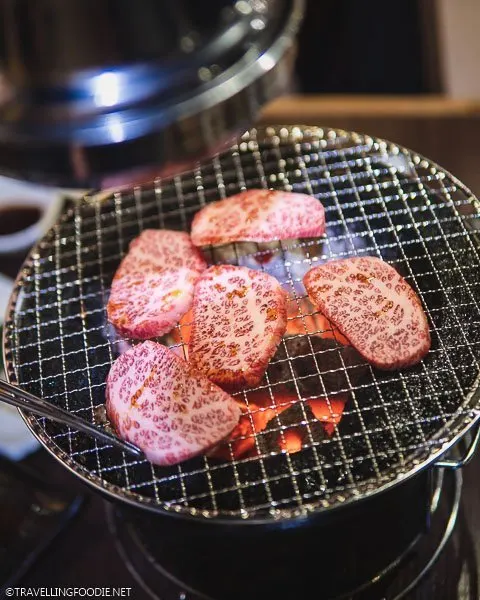 Address: 1-chōme-23-9 Kabukichō, Shinjuku-ku, Tōkyō-to 160-0021, Japan
Check out one of the best restaurants in Torrance, California serving delicious Wagyu Ribeye Steak!
---
Where To Eat Japanese Curry in Tokyo
CoCo Ichibanya
Established in 1978, CoCo Ichibanya is the most popular Japanese Curry chain with about 1,500 locations worldwide!
Their menu is pretty much all about curry, but its quite extensive and customizable with different protein options, curry options, heat level and over 40 toppings.
Even though they are available worldwide, I was told the locations outside Japan are nowhere as close as the ones in Japan so I went here to check-off Japanese curry.
I'm glad I did as this was the best Japanese curry I've had so far.
Being my first time, I tried the Tejikomi-zanmai Curry which included three different meat to try: hirekatsu (pork tenderloin cutlet), tonkatsu (pork loin cutlet) and chicken tender.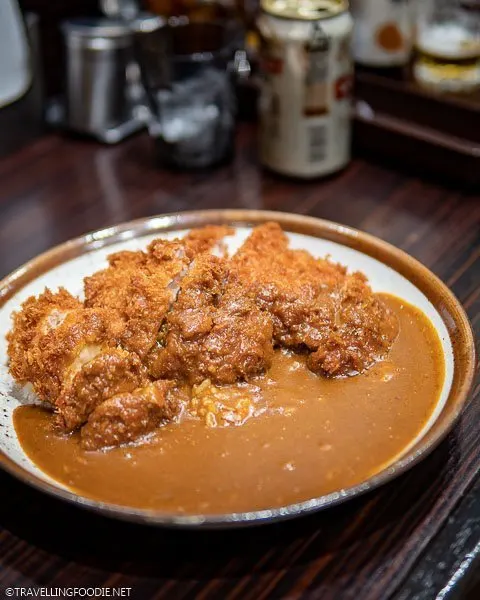 I liked the hirekatsu over tonkatsu as it is the more tender and fattier cut.
The chicken tender cutlet was surprisingly tender for chicken breast too.
The curry had a very strong flavour and a nice bit of spice.
If you can take spice, I recommend the Level 5 curry, which is a great way to feel the heat without feeling the burn.
Website / Address: 3-chōme-11-6 Roppongi, Minato-ku, Tōkyō-to 106-0032, Japan
---
Where To Eat Ramen in Tokyo
Ichiran Ramen
Ask around for the best ramen restaurants in Tokyo and you'll hear Ichiran Ramen, one of the most popular ramen joints in Japan established in 1960 in Hakata, Fukuoka.
Dining at Ichiran is quite an intimate experience.
After placing your order from the machine and getting a ticket, you get your own individual private booth to enjoy the ramen.
There's a curtain-covered window where the staff will get the ticket and serve your ramen.
The curtain is low enough so you will only see their hands.
Once served, they will fully close the curtain and leave you alone with the ramen.
Now that's ramen-tic!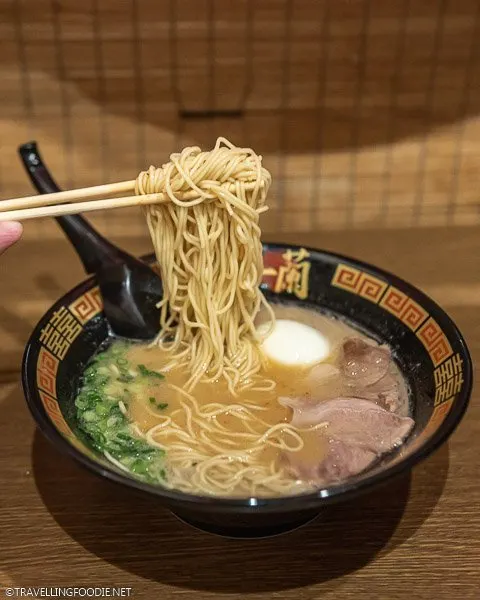 Ichiran Ramen concentrates only on Tonkotsu ramen, which I thoroughly enjoyed.
I got the rich broth and loved it, making me want to try the extra rich broth next time to compare.
The ramen noodles are thin but they were nicely al dente and had good texture! It's the best thin ramen noodles I've had.
You can customize pretty much everything: the richness, garlic, spice level, add-on, noodle firmness, etc.
If you like spicy, they are known for their spicy red sauce.
Did you know? Ichiran Ramen is the creator and the first to place spicy red sauce directly in the center of its ramen.
Website / Address: Japan, 〒106-0032 Tōkyō-to, Minato-ku, Roppongi, 4-chōme−11−11 六本木GMビル2F
Also Read: Best Restaurants in Singapore
---
Nantsuttei Ramen
When I'm in a ramen joint, I tend to gravitate towards blackened garlic ramen, and I found THE place in Tokyo for that!
Known for being one of the best ramen restaurants for Kumamoto ramen in Tokyo, Nantusttei Ramen specializes in fragrant black ma-yu ramen located in the popular Shinatatsu Ramen Street in Shinagawa.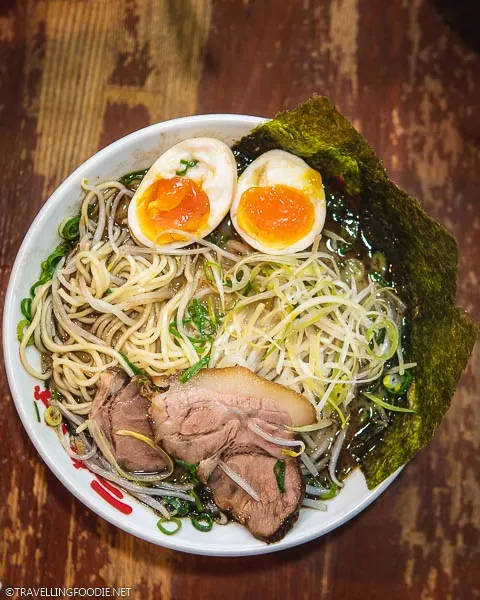 The black mayu is what Kumamoto ramen is all about.
At Nantusttei Ramen, their black ma-yu is created by frying garlic over seven phases and mixing it into a balanced blend.
Their soup is a rich, creamy tonkotsu (pork bone) soup with black ma-yu floating on the surface.
Travelling Foodie Tip: I highly recommend sticking with the regular Kumamoto Ramen (JPY750) to get the full flavour.

I found the Nantusttei Special had too much bean sprouts that it took away from the flavour of the broth and the bite of the noodles.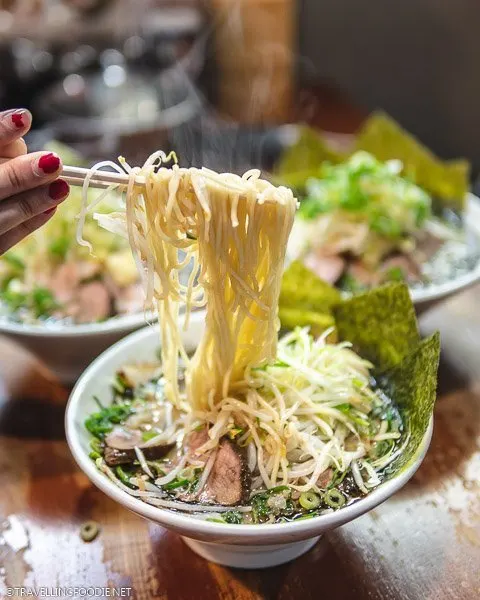 Website / Address: Japan, 〒108-0074 Tōkyō-to, Minato-ku, Takanawa, 3 Chome-26−20
---
Best Tempura Restaurants in Tokyo
Kushi Tempura Dandanya
Being a lover of fried food, tempura was high on my Japanese food checklist.
I could not be any happier that we ended up in Kushi Tempura Dandanya in Shinjuku, which, for me, is the best tempura in Tokyo!
Since it is also a kushikatsu (deep fried skewer) joint, you can choose between having items as skewers or in a rice bowl.
Prices are very reasonable, but they only accept cash.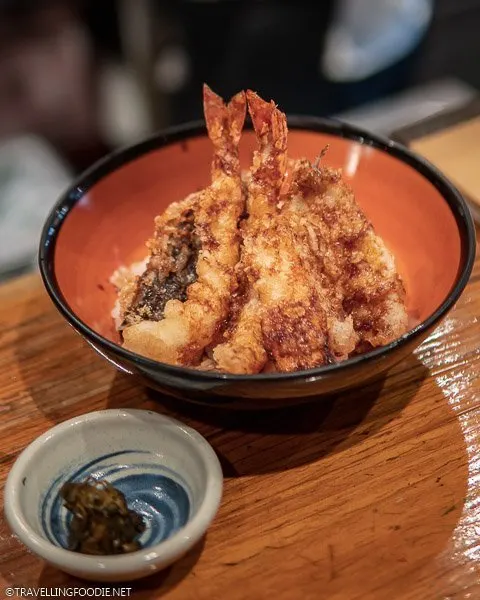 This is the best tempura I've had so far.
Their batter turns out different unlike any other I've had.
The batter was light and fluffy but also crispy.
The shrimps were sweet and fresh. Even the eggplant tempura was so good!
They use a different kind of sauce which was thicker and sweet.
You'll love each bite!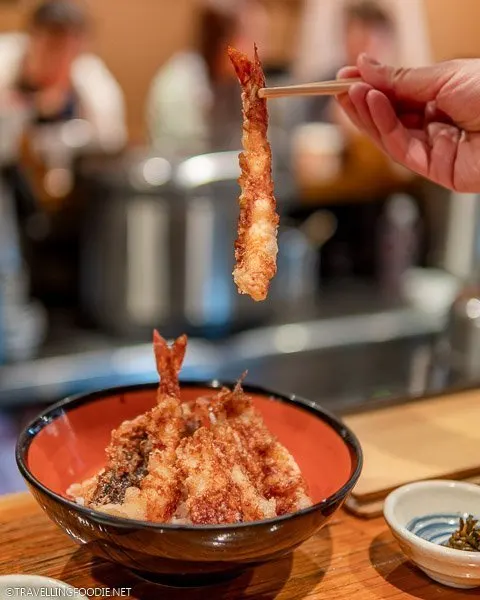 Website / Address: 1-chōme-14-2 Nishishinjuku, Shinjuku-ku, Tōkyō-to 160-0023, Japan
---
Tempura Tsunahachi
Tempura Tsunachi is one of the best tempura restaurants to enjoy authentic Tempura dishes in Tokyo located in the Shinagawa Inter City mall.
They serve the Edo-style tempura that everyone is more familiar with and use fine sesame oil to make it light and fluffy with a more unique taste.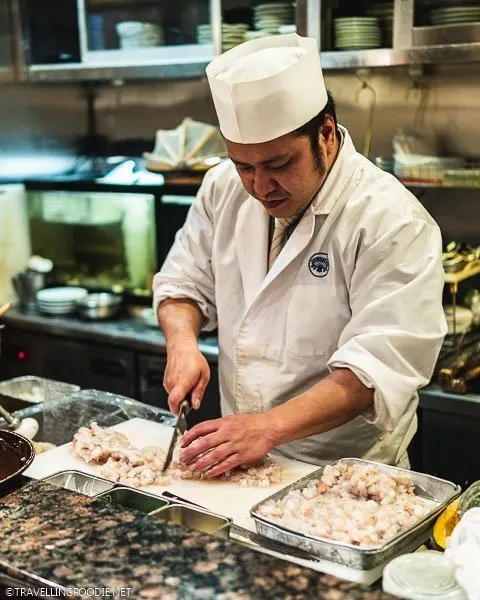 You can't go wrong with the tempura sets which gives you a nice sampling of different tempura items.
Be sure to pick the one with conger eel (Anago) as you rarely see Anago tempura outside Japan, and it is so good!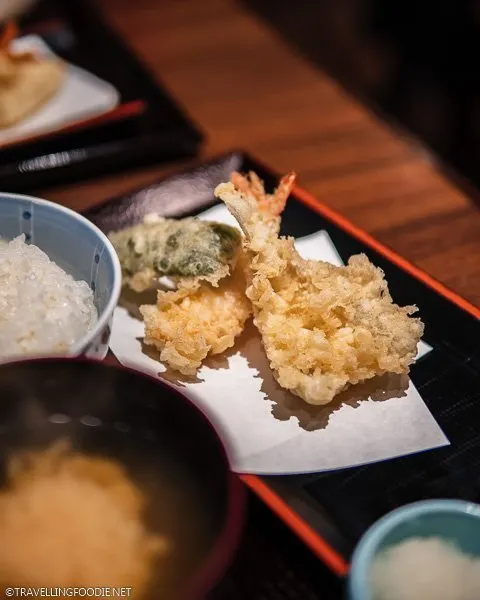 Website / Address: 4-10-18, Takanawa, Minato-ku, Tokyo, 108-0074
---
Where To Eat in Tokyo for Coffee/Cafes
Hoshino Coffee
If you're like me and need to start your day with a nice cup of coffee, I highly recommend Hoshino Coffee, one of the popular coffee chains in Tokyo known for their hand drip coffee.
You can choose from three kinds of coffee blends based with different roasting, degree and blending ratio.
Did you know? Their coffee uses only Arabica roasted coffee beans selected by their coffee blend specialist, Master Kanno.
I loved the Hoshino Blend which was well-balanced and not acidic.
Be sure to use the cream they provide as it makes the coffee even better!
I honestly found the cream used for coffee in Japan is so much different than in North America.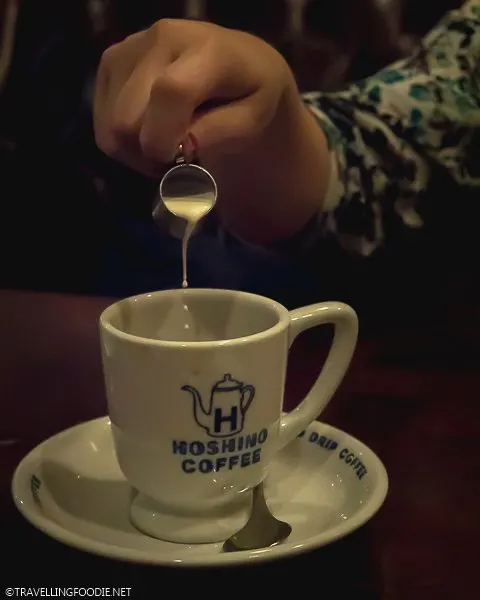 Travelling Foodie Tip: If you're planning to get food or dessert, then you can get the hand-drip coffee for JPY400 instead of JPY600.
They are known for souffle pancakes so we ordered it here to get the discounted coffee and to check off souffle pancakes from the list.
However, I found the souffle pancakes here to be different I've had and seen.
Here, the souffle pancakes are made well done so the sides are crispy, and the inside texture is similar to that of Japanese cheesecake.
If you're looking to do a video of the jiggling souffle pancakes, you can't do it on this one.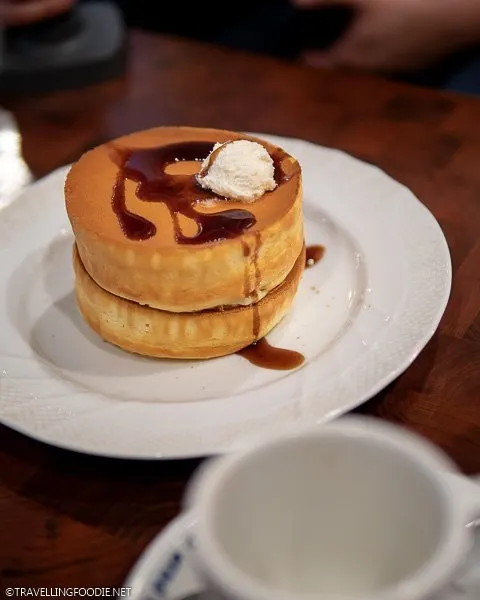 Website / Address: Japan, 〒106-0032 Tōkyō-to, Minato-ku, Roppongi, 7-chōme−14−7 トリニティビル1F
Also Read: Phil & Sebastian Coffee Roasters,
Most Popular Coffee in Calgary, Alberta
---
Mister Donut
When in Tokyo, you cannot miss having Pon De Ring (mochi donut)!
Now the question is, where to eat the best mochi donut in Tokyo?
You'll want to visit Mister Donut, the largest donut chain in Japan with over 1,300 stores.
Did you know? Mister Donut was founded in the United States but it's headquarters is now in Japan.
I'm not one who seeks out donuts, but I was addicted to Mister Donut's Pon De Ring (Mochi Donut) when I was in Japan, which was soft and chewy like a mochi.
Though you can find other places selling them, Mister Donut is the most popular for them and had a wide variety of flavours.
Seriously, you have to try this! It's so addicting, you donut buy just one!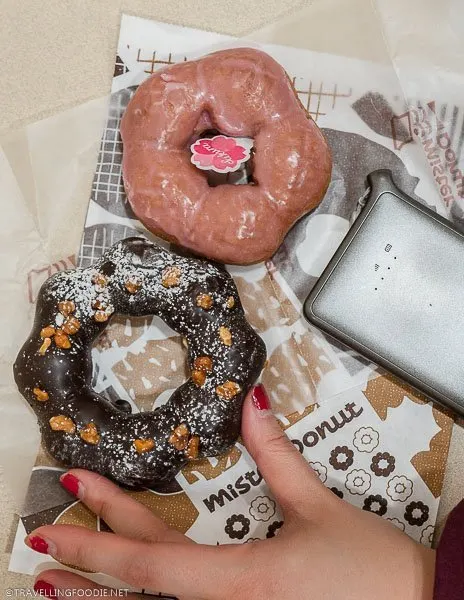 Website / Address: Japan, 〒104-0061 Tōkyō-to, Chūō-ku, Ginza, 8-chōme−5−5番地先 銀座ナイン1号館 1F
---
Where To Eat in Tokyo for Bars and Drinks
Bar Dealan-De
Since I love whisky, I cannot go to Japan without trying Japanese whisky.
Also wanting to experience a local Japanese bar, we ended up at Bar Dealan-De, a hidden gem known mostly by locals, unless you dined at Sushi Bar Yasuda which Chef Yasuda owns both.
This place is perfect for whisky, scotch and cocktail lovers because they have an extensive selection of limited edition and rare whisky, including Japanese whisky.
You will find a lot of the discontinued Suntory and Nikka whiskies here.
Aside from whisky, you'll find all other types of spirits, beers and wines.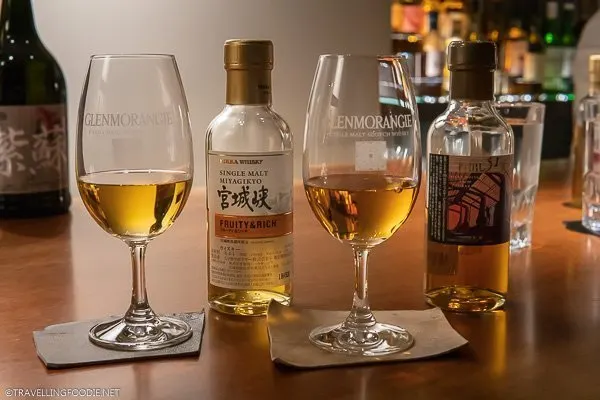 This whisky bar is managed by friendly Chief bartender Aya Hoshi and bartender Takuya Hoshi, who are siblings.
Bar Dealan-de sits around 10 people at the bar and few small tables by the window, allowing for an intimate experience as both Aya and Takuya interact with all the guests to make sure they have a great time.
Due to limited capacity, there is an entrance fee, but this fee gives you a welcome champagne and bar snacks.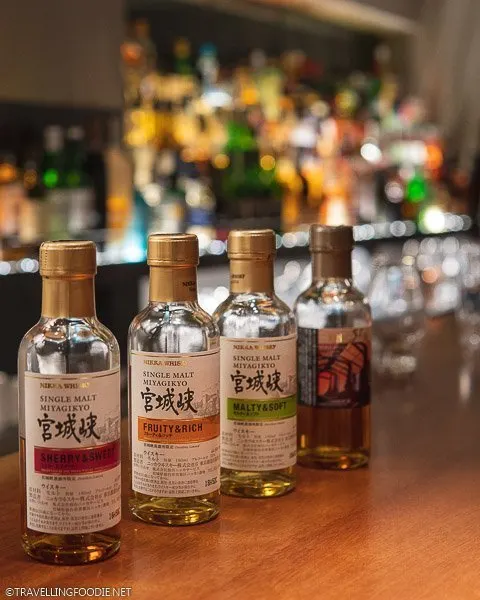 Aside from being bartenders, both Aya and Takuya are also mixologists and they craft their own cocktails that are only available at Bar Dealan-De.
During my visit, they made the Tokyo Lucky cocktail, filled with BOLS spirits along with ingredients believed to be symbols of luck in Japan.
Be sure to ask what's available on your visit. Aside from their own creations, they still offer traditional cocktails like the Old Fashioned and Gin & Tonic.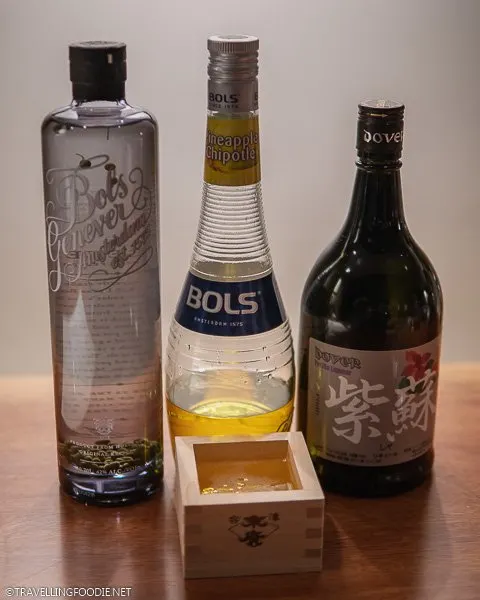 Website / Address: Japan, 〒106-0031 Tōkyō-to, Minato-ku, Nishiazabu, 3-chōme−13, 西麻布3-13-20 ヒデビル3F
---
Where To Eat Takoyaki in Tokyo
Gindaco
Among the Japanese street food, one of my favourites is the takoyaki, bite-sized balls of dough with octopus inside.
One of the most popular takoyaki shops is Gindaco which opened its first store in Ginza, Tokyo.
The takoyaki are made fresh to order so it comes out piping hot (be careful!).
Their takoyaki has a crispy exterior and a really creamy interior inside with the umami flavour of octopus.
They put big chunks of octopus too!
I would've loved it even more if they used less ginger on the batter because I found the overall taste to be quite gingery.
Website / Address: 4-chōme-4-10-6 Roppongi, 港区 Minato-ku, Tōkyō-to 106-0032, Japan
---
Where To Eat Izakaya and Okonomiyaki in Tokyo
Teppan Baby (広島お好み 鉄板ベイビー)
Known as Hiroshima's Favourite Iron Plate Baby, Teppan Baby is an izakaya restaurant that is also an okonomiyaki restaurant, specializing in Hiroshima Okonomiyaki.
Inside you have the traditional teppanyaki seating where the okonomiyaki and other teppan dishes would be made by the chef right in front of you on a hot iron griddle.
Beside the teppan seating are dining table seating.
At the end of the restaurant are tatami seating (zashiki) where you have to remove your shoes to sit on tatami flooring.
Here, we checked off a couple of experiences: okonomiyaki, tatami seating, izakaya and Japanese oysters.
You definitely must-try the okonomiyaki here since that's what they specialize in.
The owner is from Hiroshima so you can only get Hiroshima Style Okonomiyaki which has a layer of fried noodles at the bottom, and the ingredients are not mixed in with the fried egg.
It's an enjoyable dish that can be a meal on its own, but it's better for sharing so you can try other dishes.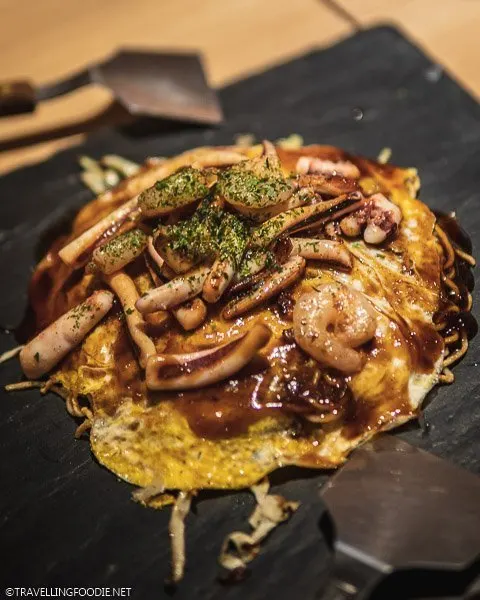 You must try their Scallops & Butter and Hiroshima Oysters which were both plump and juicy.
Website / Address: Japan, 〒160-0021 Tōkyō-to, Shinjuku-ku, Kabukichō, 1-chōme−17, 歌舞伎町1-17-4 ポケットビルB1
---
WATCH: Best Tokyo Restaurants
Here's a YouTube video I made showcasing the best Tokyo restaurants.
---
MAP: Best Restaurants in Tokyo, Japan
Here's a map of the best restaurants in Tokyo covered in this food guide.
---
Hope this Food Guide helps you decide where to eat in Tokyo, Japan's capital with the best places to eat and food to try!
I would love to know your recommendations for best restaurants, street food, bars and cafes in Tokyo for my next trip. Let me know below.