Looking for Ontario trips during winter? Here's how you can spend a winter day trip in Port Hope.
It was the last weekend of March Break. Most families and their kids likely had their fun filled during the week and were now getting ready to go back to school or work.
For us big kids, we were invited by the Municipality of Port Hope to spend a day there to experience activities in their heritage town, located only an hour's drive away just east of Toronto.
We stayed overnight at Hotel Carlyle, a historic building originally built in 1857 as a branch of The Bank of Upper Canada. Learn more about Hotel Carlyle here.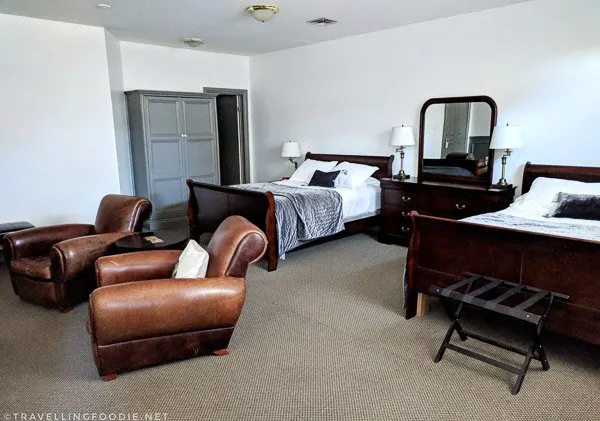 Most people might have heard of Port Hope's annual salmon migration event from Lake Ontario up the Ganaraska River, the Float Your Fanny Down the Ganny, or their Festival of Trees held at the Capitol Theatre during the Christmas time.
When my friends asked me "What are you going to do in Port Hope in winter when neither one is happening at this time of the year?", I told them, there are actually other things to do in Port Hope than what the town's best known events!
Also Read: A Summer Day Trip in Port Hope, Ontario
---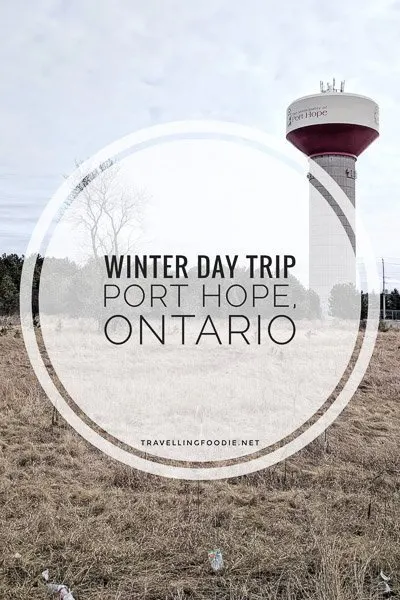 ---
Port Hope Winter Day Trip Itinerary
Ganaraska Forest Centre
March is not only just March Break, but it is also Maple Month. Therefore, Maple Syrup Festivals around in Ontario starts too.
March 17 marks "Maple Syrup Day" at the Ganaraska Forest Centre, one of the best winter events and things to do in Port Hope held annually by the Ganaraska Region Conservation Authority.
Ganaraska Forest Centre is located about a 20 minute drive from downtown Port Hope and is located in the heart of 11,000-acre Ganaraska Forest.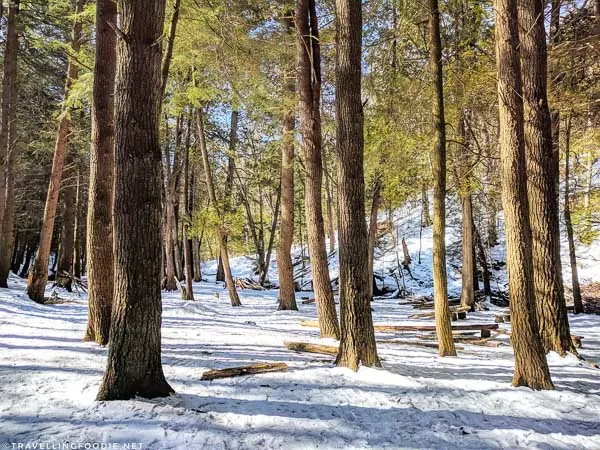 The centre itself is a multi-use facility for various community activities and also used for outdoor educational purposes.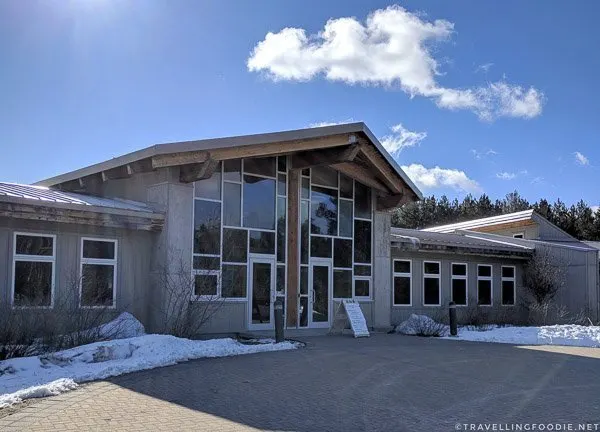 We arrived Ganaraska Forest Centre in the morning and started our day in the Great Hall with a lovely warm serving of pancakes and sausages, all topped with Maple Syrup of course.
The hall was filled with highly spirited live music, and also had a station for face painting to keep the kids busy while everyone enjoyed their breakfast.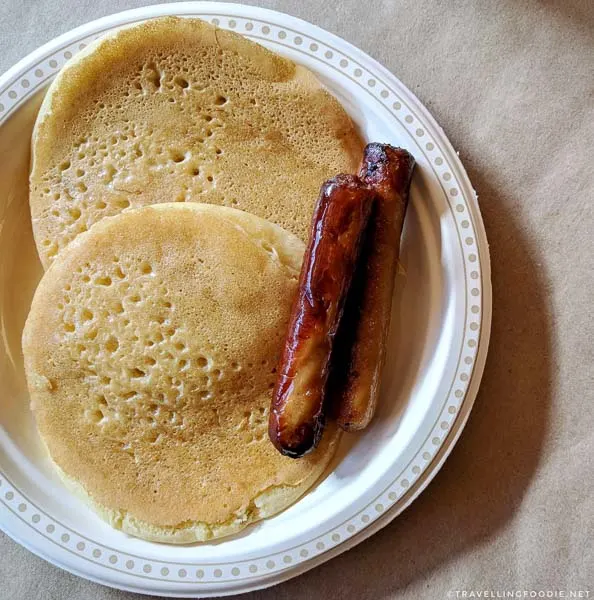 We then joined the Sugar Shack tour where we were taken down to the forest to learn about the history of traditional maple syrup production, and even got to sample raw sap in its liquid form before it is turned into syrup.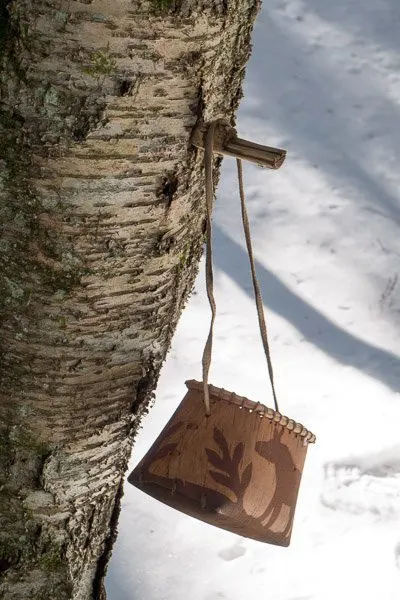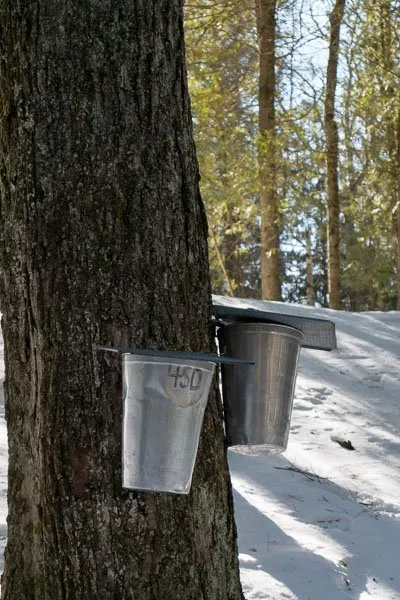 At the campfire pit, we learned how sap was traditionally evaporated via a big pot cooked over an open fire.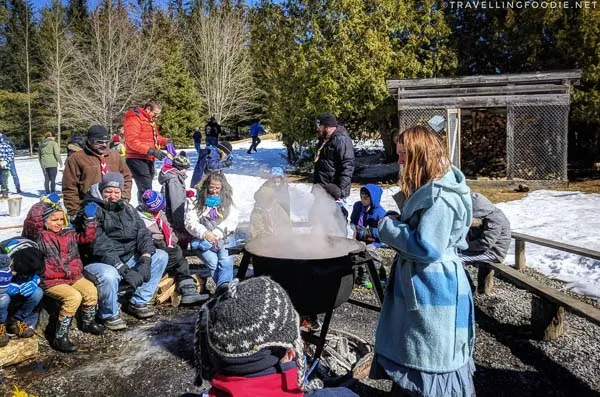 Did you know? It takes 40 parts of sap to make 1 part of maple syrup. That is a lot of liquid sap to evaporate!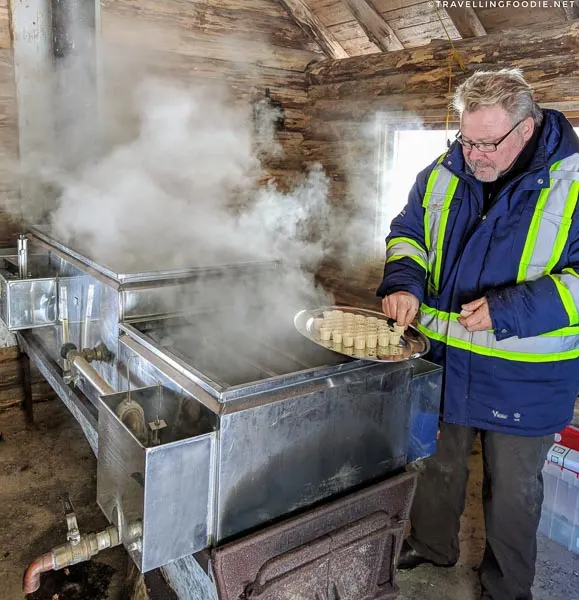 It is no wonder that Maple Syrup is known as Canada's liquid gold as it takes a lot of work and time to make the sweetness we all enjoy on our pancakes!
Nowadays, there are commercial evaporators used to shorten this process. Even our guide told us they have no shortage issue with collecting sap, but it still tends to be a slow rate to turn sap into maple syrup.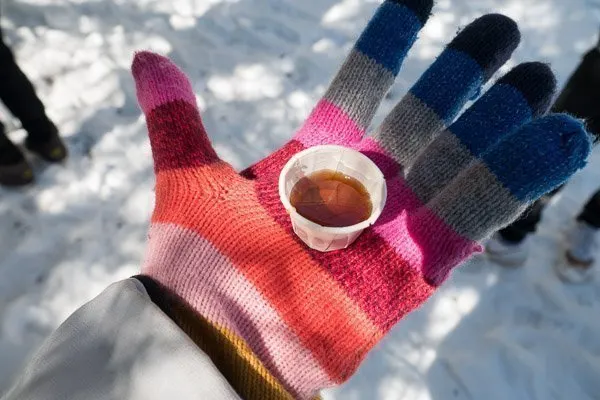 Website / Address: 10585 Cold Springs Camp Rd., Campbellcroft, Ontario, L0A 1B0
Also Read: One Winter Night in Haldimand County, Ontario
---
Basil's Market & Deli
After enjoying the Maple Syrup, we headed back into town for a small lunch at Basil's Market & Deli. They offer fresh made deli sandwiches in the sit-down area and sell various market items for locals to take home.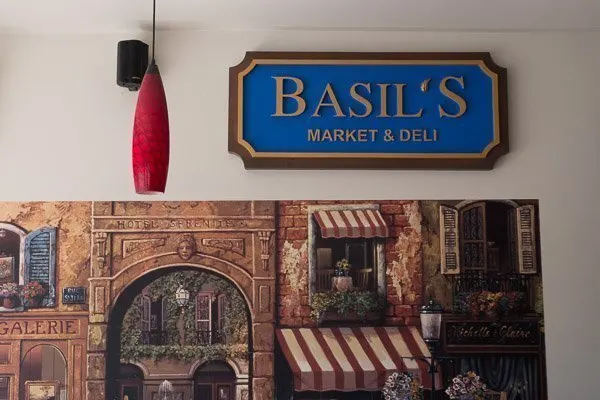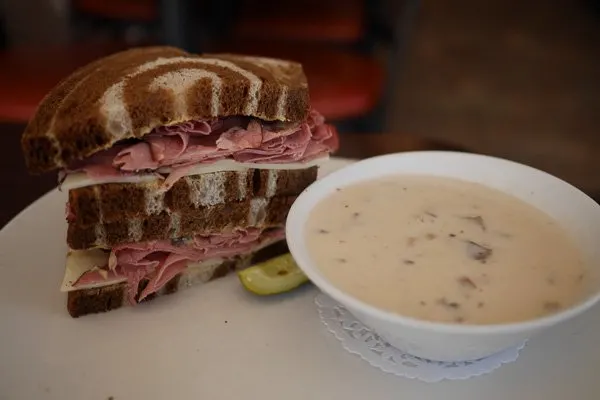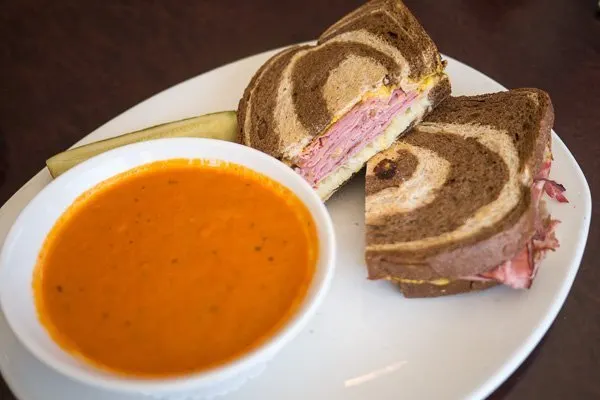 As of 2020, Basil's Market & Deli has permanently closed / Address: 276 Ridout Street, Port Hope, Ontario L1A 1P7
---
Haute Goat Farm
We were greeted at Haute Goat Farm by one of the owners Debbie Nightingale, who told us that she left Toronto and moved to Port Hope so that she can own her own farm and animals in the peaceful country side.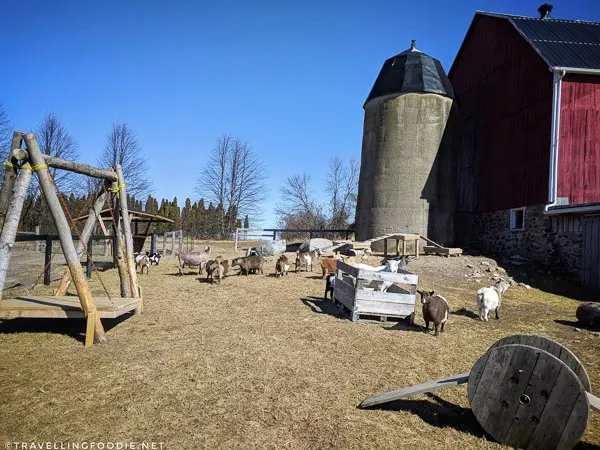 She decided on goats! And so she started a farm with Nigerian Dwarf goats, Icelandic horses, chickens, and also the recent addition of alpacas.
Haute Goat Farm is no ordinary goat farm where you stand behind fences and just look at the goats roaming around.
They also offer farm life workshops such a "Milk a goat make cheese", "How to Create an Apothecary Garden", "Basics of beekeeping", "Secret World of Mushrooms", and yes, "Goat Yoga".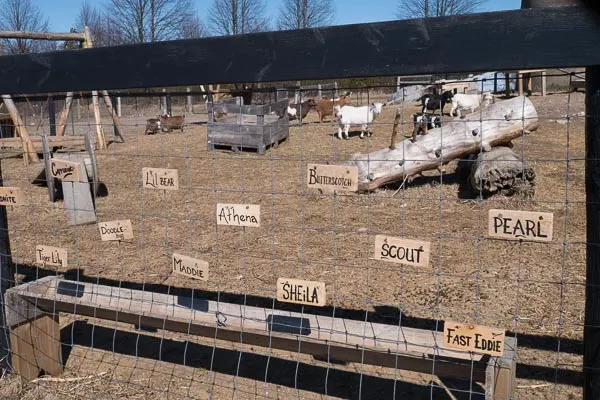 However, we were offered a different experience that day, the "Haute Goat Shmurgle". What is a shmurgle? Turns out shmrugle is a word invented by this farm and it means goat hugging.
So yes, our experience was running and walking with goats and hugging them. It turned out shmurgling goats is a great way to warm up during winter in Port Hope.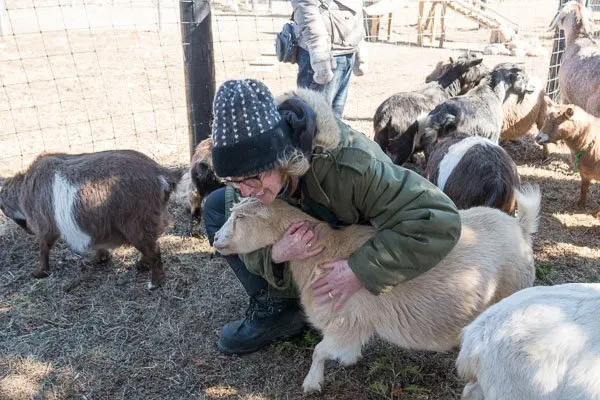 Guests got to play and interact with goats some of which were on leashes. Owner Debbie explained that the younger goats tend to go a bit out of control so they had to be put on a leash.
She was right! My goat was Lil Bear, the youngest of the herd of goats, and she was jumping and screaming the entire time as she did not want to be leashed.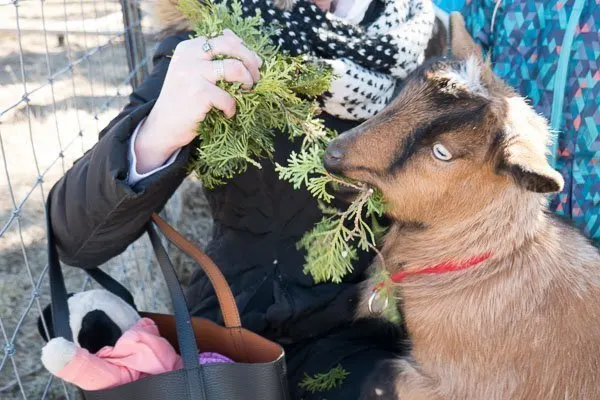 We eventually let her off the leash and she happily ran away with the rest of the herd! The goats acted like puppies, excited to be unleashed and able to run about the fields.
Check out the full YouTube video of our Haute Goat Farm experience here.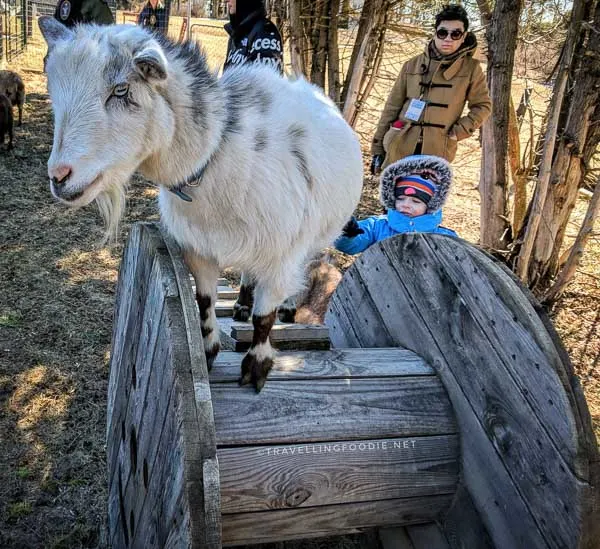 Here are a couple of fun facts we learned during the experience:
A herd of goats is referred to as "trip". Therefore, these goats on Debbie's farm are known as "Tripping Billies".
Their long fur keeps them warm in the winter, but they hate the rain and the wind.
They can produce 1 to 2 quarts of milk per day, and they contain 6% butterfat content, which is higher than the 4% cow milk is.
Nigerian goat offspring are known as "kids".
You can watch the goats live on their 24-hour goatcam so for those nights that you cannot fall asleep, instead of counting sheep, you can now count goats.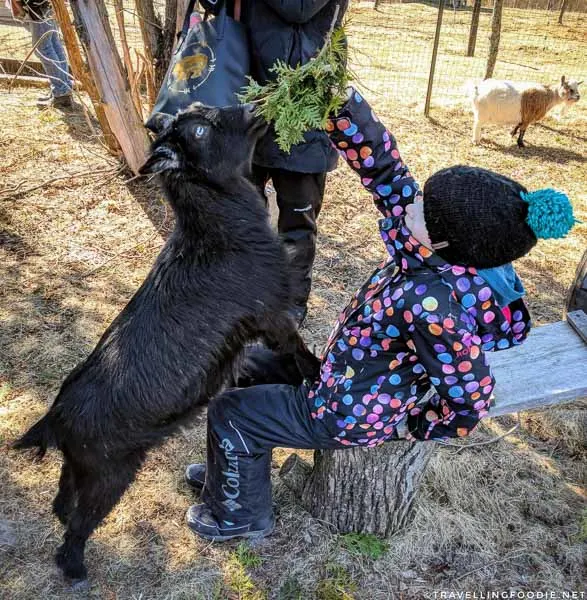 On Haute Goat Farm, there are also alpacas, and we were fortunate enough to be allowed into the fencing area to pet and feed them. They are very docile and gentle animals but were suspicious of us when we offered them food.
Also Read: 2 Day Trip in Kingston, Ontario
The alpacas are a recent addition to Haute Goat Farm so the farm held a naming contest for them, and a lot of them ended up with modern names such as Star Wars characters – there was a Princess Leia, Yoda, and Luke Skywalker among these alpacas.
Did you know?
Alpacas only give birth during the day time before sunset. It is built in biologically to avoid birthing at night where there are more predators around
They also only have one offspring at a time and it is known as a "cria"
They also all poop together in the same spot which does make cleaning up after them easy
When an alpaca is angry at you, it will spit at you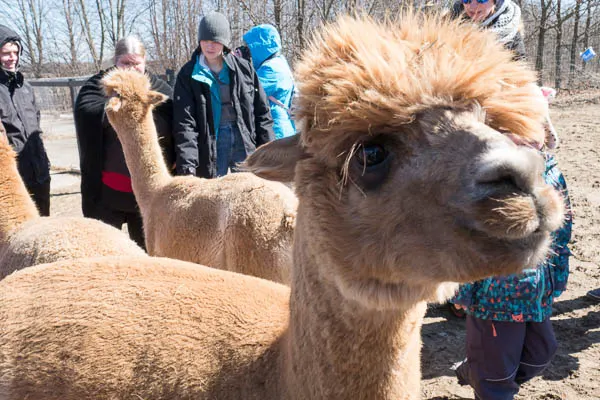 This experience was definitely one of the best things to do in Port Hope. We cannot wait to go back to Haute Goat Farm for their other workshops.
Website / Address: 1166 5th Line, Port Hope, Ontario L0A 1J0
---
Primitive Designs
Prior to dinner time, I suggested we go visit the giant robots store, Primitive Designs, which is one of the popular attractions in Port Hope.
They are not hard to miss at all as the robots stand up to 26 feet high and are easily seen right when you drive anywhere nearby. These robots are made from recycled metal and motor vehicle parts.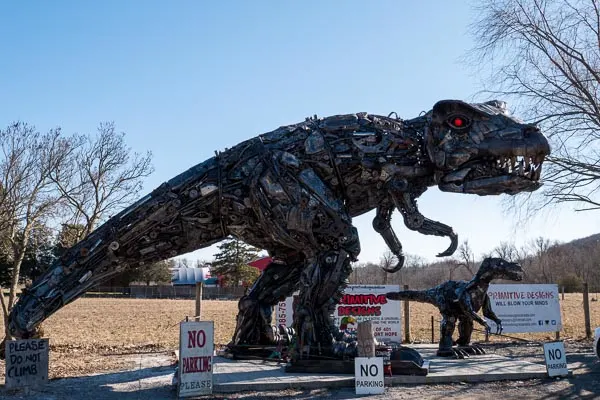 Primitive Designs is known for their Transformers robots, which put them in Port Hope's popular attractions. Outside, you can easily spot Bumblebee and Optimus Prime.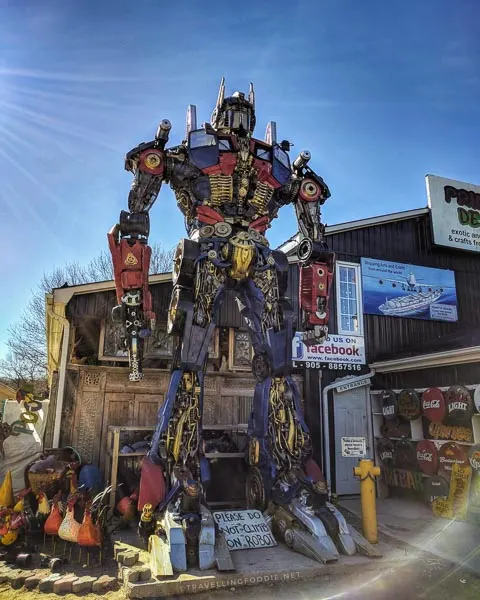 Primitive Designs is a store that imports unique arts & crafts products from around the world. It feels like all the arts & crafts, knick knacks and souvenirs that you find on vacation trips are all gathered here in one single spot.
Yes, it includes Tiki bars, hand crafted decorative items, coconut shells, and mosaic plates to name a few.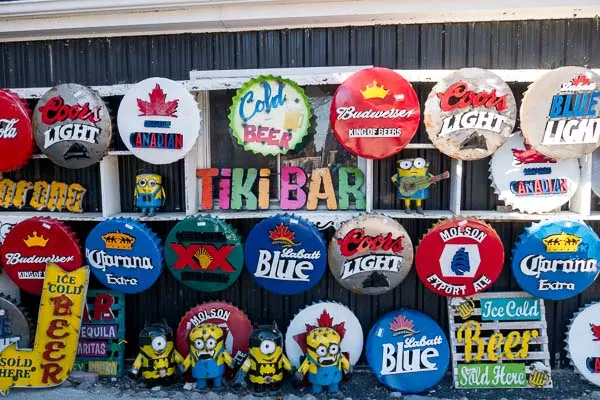 There is even an Alien Xenomorph coffee table there for sale.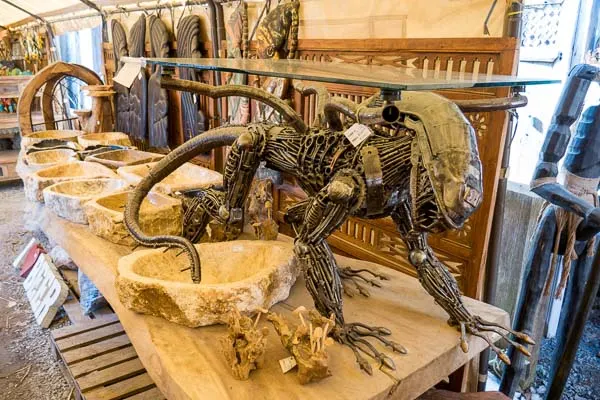 Website / Address: 2762 Northumberland County Rd 28, Port Hope, Ontario L1A 3V6
Also Read: Warner Bros. Studio Tour Hollywood in Los Angeles, California
---
Trattoria Gusto
Search for best places to eat in Port Hope and you will definitely come across Trattorria Gusto, a fine dining Italian restaurant tucked in downtown Port Hope inside the historic Waddell Hotel.
Their menu is color coded with Gluten Free, Vegan, Vegetarian and Dairy Free options, making it very easy to make decisions on food for dietary reasons.
They are recognized by the Ocean Wise program where they use only sustainable seafood products whenever possible in their ingredients.
Despite being a fine dining restaurant, we find the pricing at Trattoria Gusto quite reasonable as well as their quality and portion of food served. We left filling very full.
For appetizer, we recommend the Lamb at Trattoria Gusto. It is not something we had usually seen served as a carpaccio since beef & scallop were typically the common ones on menus.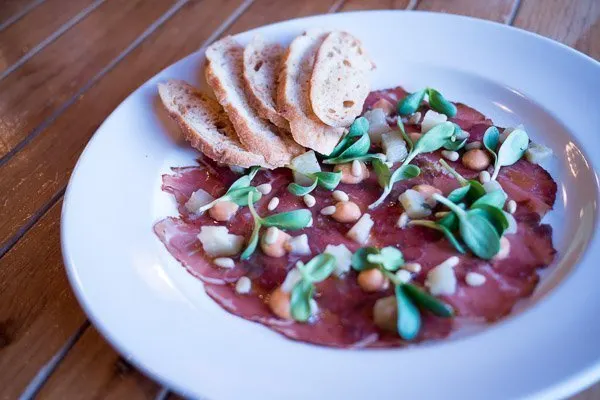 If you would like a kick of spiciness for an appetizer, the steamed Mussels Arrabbiata was another good choice as well.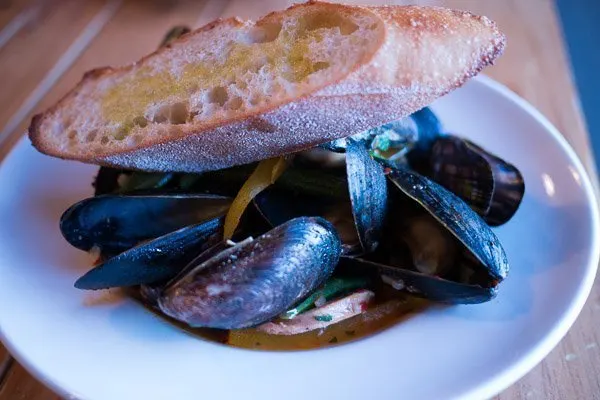 For our mains, we ordered the "free form" striploin steak topped with parsley butter, and a seafood linguine pasta dish called Puttanesca.
We substituted the sides of roasted potatoes & green beans for the steak with their Verde Salad instead as we wanted to include some healthy greens in our meal.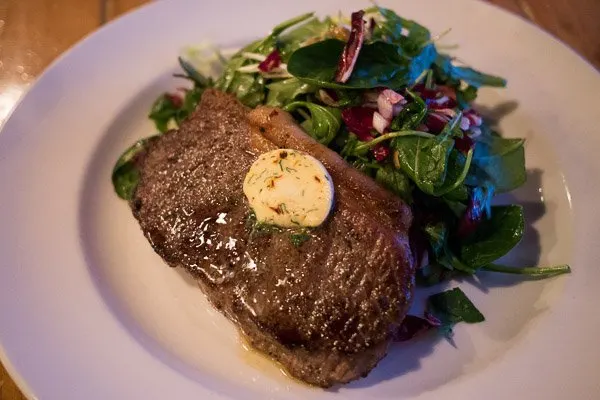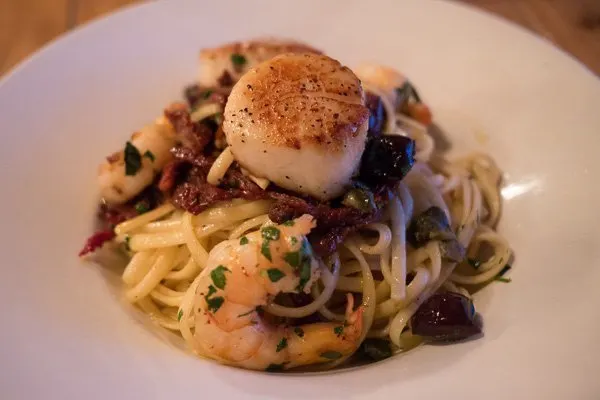 Desserts were definitely welcomed even when we were already full by the time the menu was handed to us. However, as foodies, we tend to tell others that there is a separate stomach for desserts.
We settled for the traditional Italian Tiramisu, and the Apple Riscotta Cake. Believe us, it was a hard choice to pick just two desserts out of six choices.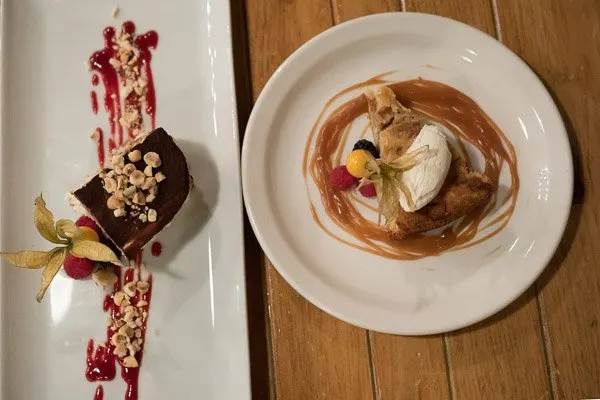 Travelling Foodie Tip: Request a table by the window beside the Ganaraska River. Even though currently it is not in season yet for salmon/trout migration up the river, we were very fortunate to witness several attempts of fish jumping up the river.

The sunlight coming in from the window also gives a nice ambiance to your meal.
Website / Address: 1 Walton St. Port Hope, Ontario L1A 2Y8
---
All of the above activities in Port Hope took up our entire day, and by the time we were done having dinner, we were ready to go rest up.
If you're looking for a short drive out of Toronto to spend a day trip in winter, we definitely recommend visiting Port Hope. Hope this travel guide helps you decide the best things to do and where to eat for a day in Port Hope.
Which of the activities above sounded most interesting to you? Comment below, or shoot us an email, or message us on social media!
---
MAP: Winter Port Hope Day Trip
Here's a map with all the places covered in the winter day trip guide to Port Hope.
---
Hope this travel guide gives you an idea on how to spend a day trip in Port Hope during winter. I was surprised to learn there are so many things to do during this time.
Let me know what other winter attractions and places to see in Port Hope I should do for next time.
---
Huge thanks to the Municipality of Port Hope for hosting the trip. As usual, reviews and opinions are entirely our own.
You can learn more about Port Hope through their website, or find them in Facebook, Twitter and Instagram.
---
Article and Photos (unwatermarked) by Veronica Chiu.