Located in Markham, Zen Japanese Restaurant has always been one of the best restaurants for sushi in Toronto!
This is the Japanese restaurant I've visited the most, and one that I don't mind spending the price.
Though most has come to know Zen Japanese Restaurant when it was in Markham with its big space and modern looking interior, it was established in 2000 as a small restaurant in Scarborough with a homier and cozy atmosphere.
---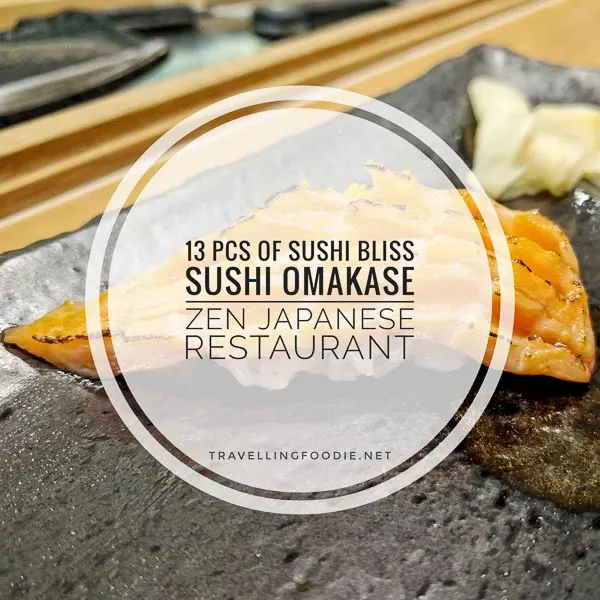 ---
The real sushi omakase at Zen Japanese Restaurant
You know how much I love Japanese food, especially sushi!
I always come to Zen for their sushi omakase.
I find this is the best Japanese restaurant in Toronto for it.
What I get is not the sushi omakase on the menu, which is a fixed number of pieces that are pre-selected.
I actually do the real omakase and all you have to do is tell the chef you want the "Best X" where X is the number of pieces of sushi you want.
If you are not sure how many pieces you want, you can also just say to keep giving you pieces until you tell the chef to stop.
Similarly, you can give them a heads up on any dietary restrictions, allergies or simply fishes you don't want so the chef can decide.
Travelling Foodie Tip: If you're going for sushi, eat at the Sushi Bar!

The experience is so much different. You get your sushi fresh one piece at a time unlike on the dining table where they serve all the sushi together on a plate.

You also see how they make the sushi – so much intricacies are involved in making that perfect sushi. There are only 12 seats at the sushi bar so make sure you make reservations!
For those not familiar, omakase means "I'll leave it up to you".
This means the diner doesn't need to order anymore since it is up to the chef to decide what is best to serve.
In sushi omakase, all you get are sushi pieces but you don't know what you're getting until the chef serves it to you.
Also Read: Top Restaurants in Toronto
---
Best 13 Sushi Omakase at Zen Japanese Restaurant
The Best 13 sushi omakase that night was probably one of the best I've had at Zen Japanese Restaurant so far.
It was also one with the most sushi I haven't tried before.
Owner and Head Sushi Chef Seiichi Kashiwabara served us this time.
Most of the time, we were served by Chef Li Qiang Zhang (Cho San).
Each piece was just served to perfection as has always been my experience at Zen Japanese Restaurant.
They craft the sushi so you just take the sushi and eat it since the chefs put the perfect toppings or garnishes that compliments the fish already.
I have yet to see sea grapes being used as toppings here, but they are delicious with on sushi.
Though sushi, in general, is pricey, I find Zen's pricing is actually quite reasonable for the quality and experience.
Their prices are on par or cheaper than similar level, or worse, sushi joints.
For the Best X Sushi Omakase, your bill will pretty much be the sum of all the sushi you ate.
Typically, when I do Best 13, the bill ends up to be around $100-120.
If you enjoy sushi and are willing to spend on sushi, definitely check out the sushi omakase at Zen Japanese Restaurant!
They do serve other traditional Japanese dishes but I find I tend to always do sushi omakase here.
Also Read: Kame Omakase, Best Omakase in Las Vegas
13 pcs of Sushi Bliss
Ishidai (Striped Beakfish)
Shimaaji (Striped Horsemackerel)
Mongo Ika (Cuttlefish Squid)
Makochi (Flathead Fish)
Seared Ocean Trout – This was soooo good that we ordered two more of this after!
Kensaki Ika (Sword Tip Squid)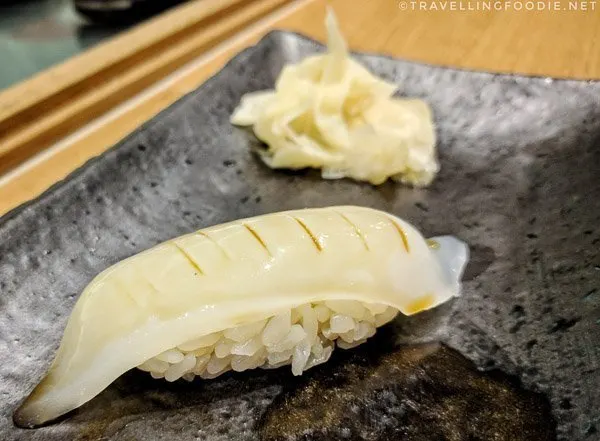 Seared Mutsu (Sea Perch) – This tasted like otoro on a different level. We ordered another one after!
Seared Otoro (Tuna Belly) – Always a favourite!
Non-Seared Otoro (Tuna Belly) – I'm so glad we got this too. It's a great way to compare and contrast seared v.s. non-seared versions.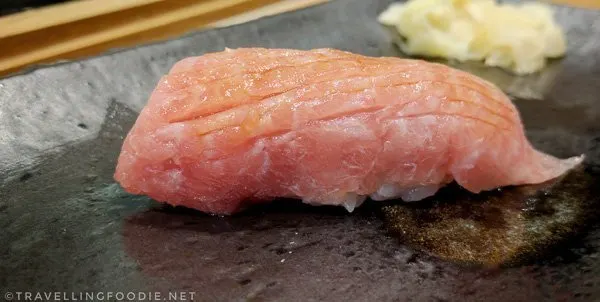 Seared Kinmadai (Golden Eye Snapper)
Aori Ika (Bigfin Reef Squid) with Uni (Sea Urchin)
---
Hope this restaurant review of Zen Japanese Restaurant in Markham helps you decide if this is the place to eat sushi for you!
---
Zen Japanese Restaurant
7634 Woodbine Ave, Markham, Ontario L3R 2N2
Website | Instagram | Facebook