Where to eat Filipino food in Toronto? In this food guide, we've rounded up the best Filipino restaurants in Toronto.
Born and raised in Manila meant growing up and learning about many delicious Filipino foods, which I'm so grateful for because it's one of the best Southeast Asian cuisines.
Luckily, Toronto's diverse food scene means there are many Filipino restaurants to enjoy!
We have a big Filipino community in the city that we even have a Little Manila, which is in the corner of Bathurst and Wilson in North York.
Filipino cuisine really deserves more love!
I get asked a lot on where to eat Filipino food in Toronto especially from people who has never tried them before.
I'm happy to share some of the best Filipino restaurants in Toronto that I love, have visited multiple times and have recommended to friends and family.
If you want to learn about Filipino cuisine, check out my food guides:
---
NOTE: Be sure to SAVE/BOOKMARK/PIN this guide to the Best Filipino Restaurants in Toronto because we will be updating this list as we find more places to love!
---
Best Filipino Restaurants in Toronto
Here are the best places to eat Filipino food in Toronto!
Kain tayo! (Let's eat!)
If you aren't able to dine-in and the restaurant doesn't have its own delivery, consider these food apps. As my friends, I have deals for you:
Ritual – Free $10 Credit when you sign up. Use Code "RAYMOND62198".
Uber Eats – $5 off a $15 Order with code "eats-raymondc1274ue".
DoorDash – $45 off ($15 off each of your first 3 orders) when you sign up here.
Steer Rideshare and Foods – Up to $25 in Steer credits here! $15 off on your first order with Steer Foods and $10 off on your first ride with Steer Rideshare!
Bella's Lechon
Located near the east-end of Scarborough, Bella's Lechon is one of Toronto's original Filipino spots that specializes in lechon, or whole roasted pig.
During special occasions like birthdays and major holidays like Christmas, you won't be amiss to find people waiting for their orders of whole lechon to bring on their fiesta.
Inside Bella's Lechon, you'll find a dine-in section and takeout counter where, aside from lechon, you'll find traditional Filipino food in a cafeteria style setting for a quick to-go order.
There's also a small setup of shelves selling Filipino snacks, baked goods and treats.
Must-try dishes at Bella's Lechon include: Pork Sisig, Squid Tentacles and Chicken Inasal.
I honestly find they are one of the best Filipino restaurants in Toronto for pork sisig (if you like the crispy version), which is even better than a lot I've tried in Manila.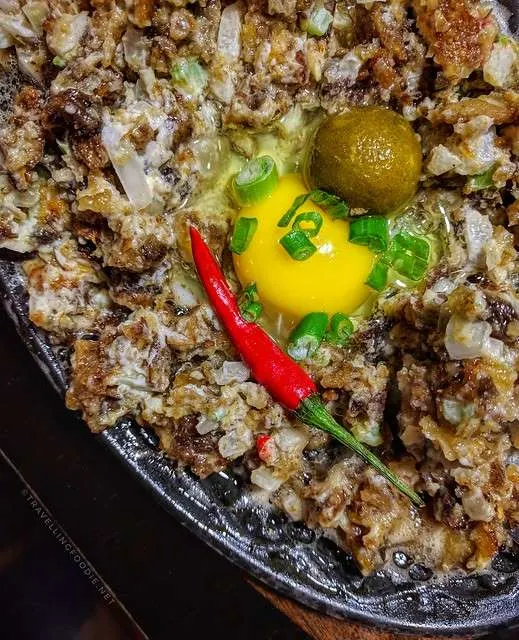 Bella's Lechon Information
Website / Address: 1145 Morningside Ave #17&18, Scarborough, Ontario M1B 0A7
---
Casa Manila
Opened in December 2010 in North York, Casa Manila is one of the most popular Filipino restaurants in Toronto.
I have a soft spot for Casa Manila since they were one of the first Filipino restaurants I had when I came to Canada.
Owners Mila Nabor-Cuachon and Rizalde Cuachon have been active in shining a spotlight to Filipino cuisine in Toronto's food scene, including being the first to introduce Kamayan back in 2012.
Casa Manila has been featured on The Social, Gusto TV and Food Network Canada's You Gotta Eat Here.
Inside Casa Manila, you'll find this 80 seater restaurant decked with Pinoy ambiance showcasing Filipino culture like palm trees and bamboo elements in walls and chairs along with Filipino artwork and sculptures.
They also have a cafeteria style area where they host buffet events on very special occasions like Mother's Day and Father's Day.
Plus, they also have a patio for those looking forward to enjoying food and drinks outdoors.
Casa Manila is one of the best Filipino restaurants in Toronto with the widest accommodation for diners both in menu and in ingredients.
Their extensive menu offers not just a wide variety of authentic Filipino dishes and traditional Filipino desserts, but also fusion dishes like Filipino Tacos and Sisig Fries.
As one may normally think of Filipino cuisine as being unhealthy, Casa Manila makes the food healthier by having no MSG added, less oil and salt (and using sea salt).
To make Filipino food more accessible to people, they also offer vegan and gluten-free menu and options.
On July 2022, they have opened their 2nd location, Casa Manila Danforth, in downtown located at Greektown on Danforth!
Must-try dishes at Casa Manila include: Chicken Sisig, Kare-Kare, Crispy Pork Binagoongan, Crispy Baby Squid and Halo-Halo.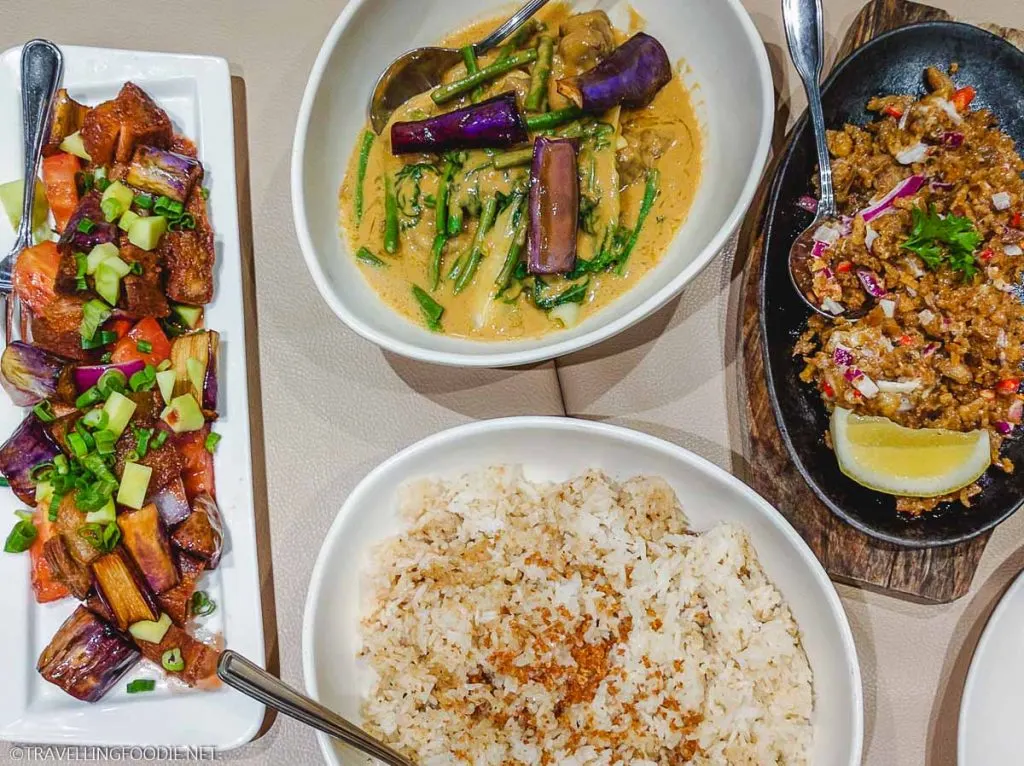 Casa Manila Information
Website / Address: 879 York Mills Rd Unit #1, North York, Ontario M3B 1Y5; 508 Danforth Ave, Toronto, Ontario M4K 1P6
Also Read: Day Trip in Toronto's Bloor-Yorkville Neighbourhood
---
Sampaguita Village
Opened since 2005 in Little Manila, Sampaguita Village is a family-owned Filipino restaurant and a staple among the Filipino community.
When you dine here, don't be surprised that you're mostly surrounded by Filipinos speaking in Tagalog.
It's really a local gathering hole for Filipinos.
Inside Sampaguita Village, the interior is sparse and tight, which reminds me of typical of restaurants in the Philippines complete with the cashier station and a statue of Buddha.
Here you'll find not just traditional Filipino food, but also some Chinese food (Yang Chow Fried Rice and Wonton Soup) to represent the huge Chinese community in the Philippines, which is also why they have the Buddha statue.
Must-try dishes at Sampaguita Village include: Lechon Kawali, Pancit Palabok and Grilled Chicken.
Sampaguita Village is one of the best Filipino restaurants in Toronto for Lechon Kawali, which are deep-fried pork belly. I might even say the best I've had!
Sampaguita Village Information
Website / Address: 322 Wilson Ave, North York, Ontario M3H 1S8
---
Tinuno
Looking for where to eat kamayan in Toronto?
Located in St. James Town neighbourhood, Tinuno is a no-frills hole-in-the-wall and one of the best Filipino restaurants in Toronto for Kamayan, also known as Boodle Fight.
Tinuno, which means "to cook by direct/extreme heat under a grill or over a hot fire," was opened in 2016 by owners Cathy Ortega & Gerald Aquintey to provide an affordable yet authentic taste of the Philippines.
Kamayan was their answer!
In fact, Tinuno was the one that made Kamayan popular in Toronto.
Did you know? A kamayan is a communal-style Filipino feast, composed of different traditional food, usually served on banana leaves and eaten by hand (kamay in Tagalog).
Must-try dishes at Tinuno include: Kamayan at $20 per person (or $22 for 1) has milkfish, tilapia, squid, shrimp, mussel, pork belly, pork skewer, okra, eggplant, mango salad and garlic rice.
Tinuno is the place I always tell people to go when they want to try Kamayan!
If you haven't tried a Kamayan before, add it to your must-try Toronto food experience.
Tinuno Information
Website / Address:
– 31 Howard St, Toronto, Ontario M4X 1J6 (Downtown)
– 3520 Bathurst St, North York, Ontario M6A 2C6 (Little Manila)
---
Wilson's Haus of Lechon
Opened in June 2017 in Little Manila, Wilson's Haus of Lechon is a family-owned restaurant specializing Lechon, BBQ, grill & more.
You can't miss this spot in passing since you are bound to see the big charcoal grill outside the restaurant and smell the delicious food it's grilling.
Inside Wilson's Haus of Lechon, it feels like cozy diner with the cafeteria style setting as you enter with beverage centres for drinks.
This is definitely one of the best Filipino restaurants in Toronto for Cebuano food.
Owner Wilson Martinito and his siblings came from Cebu and actually had a restaurant in Lapu-Lapu, Cebu, Philippines back in 1998.
While most lechon you'll find in Toronto are the Manila Lechon version, Wilson's Haus of Lechon specializes in authentic Cebuano Bisaya Lechon.
And their Lechon Manok and Lechon Liempo also uses Cebuano recipes.
They also serve an exotic Filipino food called Kinilaw, which is the Philippines ceviche.
Must-try dishes at Wilson's Haus of Lechon include: Liempo (Roasted Pork Belly) and Lechon Baboy (Roasted Suckling Pig).
Their liempo is honestly one of the best liempos I've had, even compared to the ones I've had in the Philippines.
Wilson's Haus of Lechon Information
Website / Address:
– 365 Wilson Ave, North York, ON M3H 1T3 (Little Manila)
– Dynasty Centre Plaza, 8 Glen Watford Dr, Scarborough, ON M1S 2C1
---
MAP: Filipino Restaurants in Toronto
Here's a handy map of the best Filipino restaurants in Toronto that are featured!
Hope this food guide gives you an idea on where to eat in Toronto for some of the best Filipino food!
Did I miss something? Let me know what are your favourite Toronto Filipino restaurants so I can check them out.