Looking to spend two days one night in Middlesex County, Ontario? This travel guide has you covered!
Middlesex County is known for its rural charm with about 3,300 sq. km. of landscape filled with aboriginal and pioneer history, nature and agriculture.
I'm always excited to visit rural areas because culinary experiences in the area typically mean fresh meats, fruits, and vegetables, along with local and family run restaurants, farms and markets.
And, this is what you get in a trip to Middlesex County.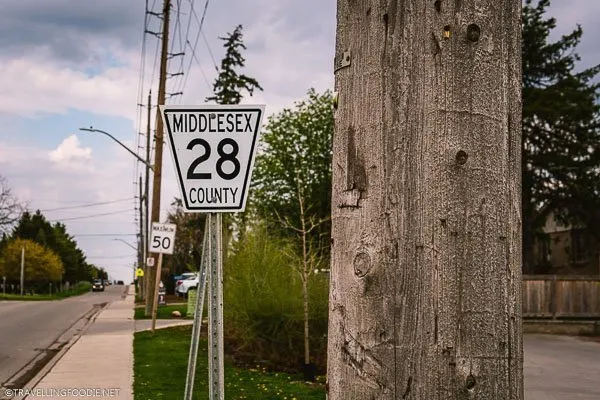 About a 2.5-hour drive from Toronto directly west of Oxford County, Middlesex County is made up of eight incorporated municipalities including Strathroy-Caradoc, Middlesex Centre and Thames Centre which were the three areas I explored.
Based on my food trip, I'm sharing the itinerary on how you can spend a two day one night trip in Middlesex County.
This travel guide features some of the best things to do, restaurants and accommodation in Strathroy, Dorchester, Arva and Thorndale.
Also Read: One Winter Night in Haldimand County, Ontario
---
---
One Night in Middlesex County, Ontario
Fat Olive Restaurant
Start with lunch at Fat Olive Restaurant, one of the newest restaurants in Dorchester/Thames Centre that opened in September 2018.
This family-run restaurant specializes in Italian cuisine that's freshly made in-house using local ingredients.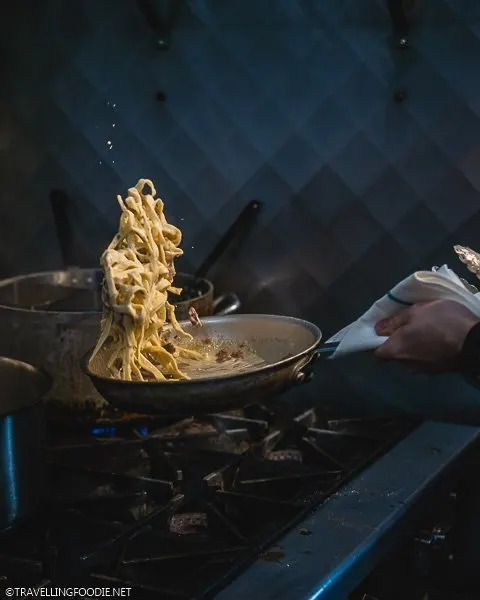 Be sure to try some fresh pasta which they are known for.
When it comes to pasta, one of my go-to is Fettuccine Alfredo and loved the one here!
The fettuccine was nicely al dente.
The cream was how it should be, not a lot where it hides the noodles, and just thick enough that it sticks to them.
I loved that they used pancetta instead of regular bacon since pancetta is Italian bacon, making the dish more authentic.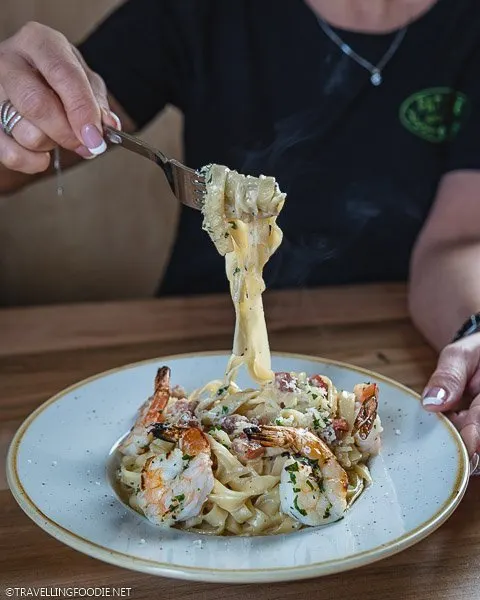 If you love fries, be sure to get the Hand Cut Fries which are thick-cut but still very crispy, and enhanced with fresh herbs.
I was surprised to see that they offer uncommon Italian wines, including organic wines, that you normally don't find in stores and restaurants in Canada!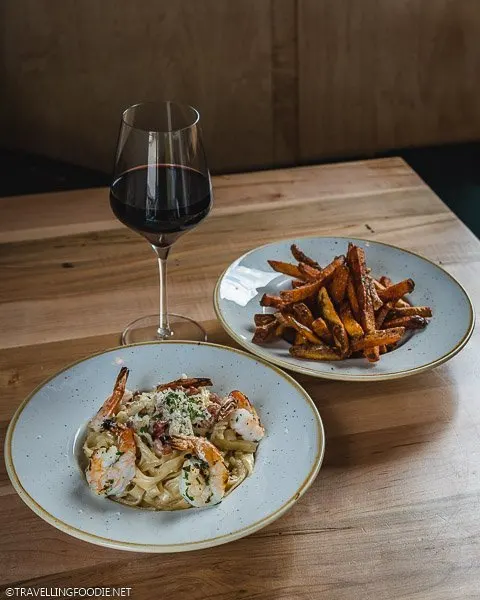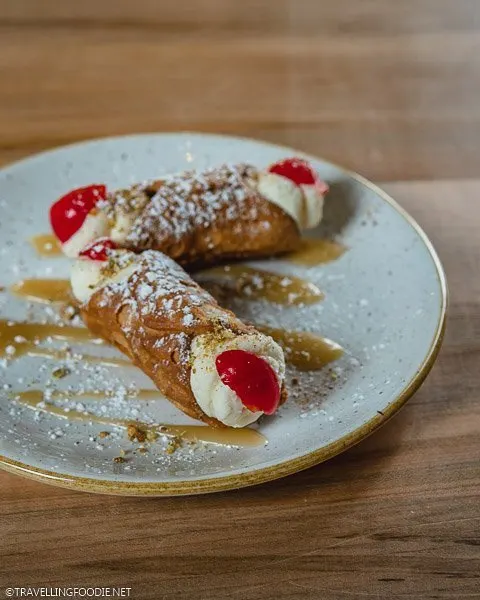 Website / Address: 2135 Dorchester Rd #4b, Dorchester, Ontario N0L 1G2
---
Heeman's
Head over to Heeman's, a garden centre and strawberry farm with 110,000 sq. ft. of greenhouse and 70 acres of strawberries.
Did you know? Heeman's is a family-run business since 1963 started by husband and wife, Bill and Susan Heeman.
They grow everything here including perennials, trees and shrubs for both home and garden.
Expect a lot of people around the first week of May when the gardening season begins.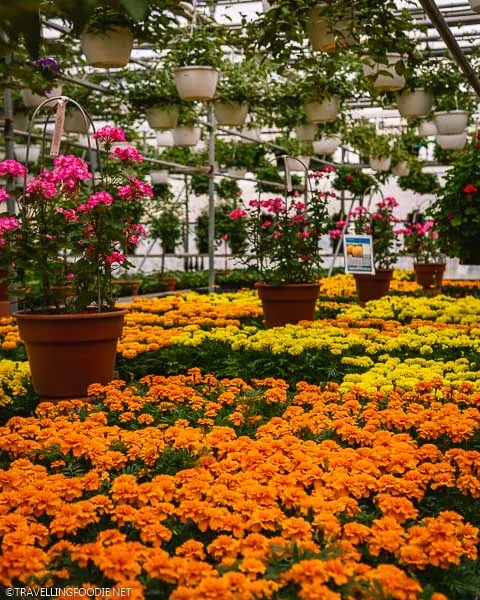 Heeman's even has a full coffee bar, Berry Beanery, which serves Fire Roasted Coffee, Four O'Clock teas and their famous strawberry sundae using fresh strawberries from the farm with Chapman's ice cream.
It's the perfect dessert to have after lunch!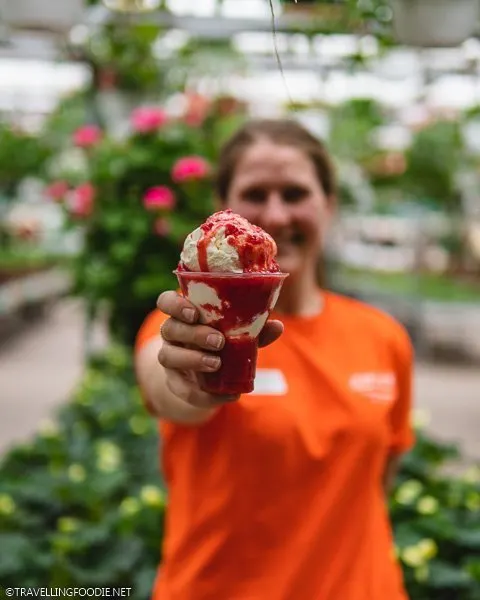 I was surprised to learn they have an apiary here as well, where they have 15 hives on site.
From this, they make varietal honey like berry blossom honey, watermelon blossom honey, wild blueberry honey.
It's the first time I've heard of varietal honey in which the bees take nectar specific to those crops.
For example, bees surrounded by the Carolinian Forest make their Carolinian gold honey or by Watermelon Blossom for the watermelon blossom honey.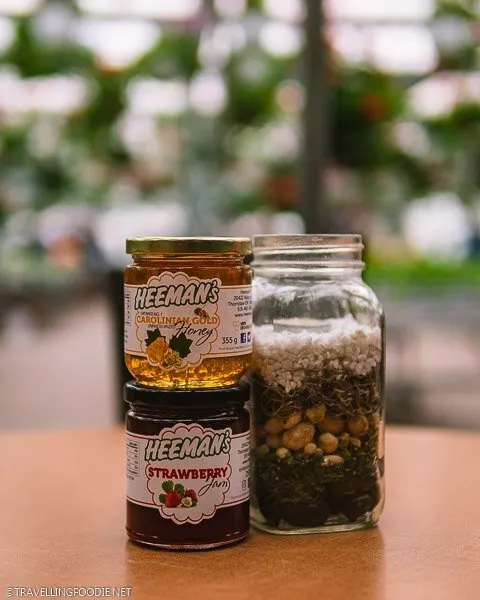 As a spicy food lover, I was surprised to find that you can buy Carolina Reaper plants here.
Did you know? The Carolina Reaper is the world's hottest pepper with an average of 1,641,000 Scoville Heat Units (SHU), a measure of spiciness.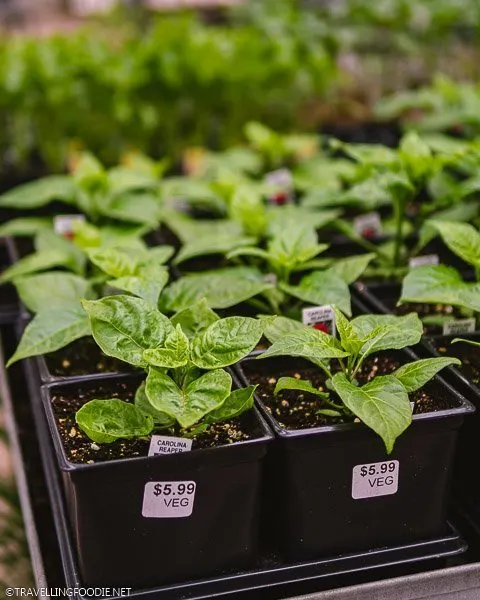 Website / Address: 20422 Nissouri Rd, Thorndale, Ontario N0M 2P0
---
Picard's Peanuts
Whenever in the rural areas, one iconic store you'll find is Picard's Peanuts, which sells a wide variety of peanut products like jumbo cocktail peanuts, peanut brittles, beer nuts.
Did you know? Picard's Peanuts was started in 1979 by Jim Picard Sr., who pioneered peanut farming in Canada.
Head over to the Arva location, which opened in 2015 in a building previously owned by Colonel Douglas B. Weldon, who also owned the nearby Weldon Park.
Did you know? Mr. Picard himself visits during the start of summer to grow Valencia peanuts outside the building.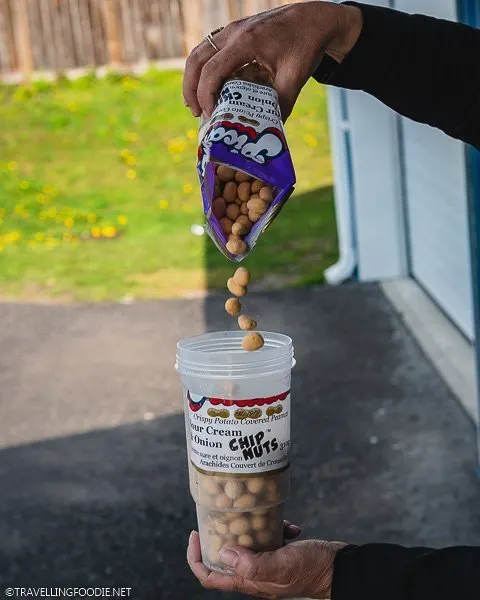 Entering a Picard's Store is like entering a Willy Wonka shop for peanuts, less the frills and Oompa Loompas.
You'll find rows and rows of all kinds of peanut products and snacks.
Best of all, there are sample containers for most of them so you can try different types and flavours before buying.
Whenever I visit a Picard's store, I cannot leave without their popular Chip Nuts, crispy potato covered peanuts. It's very rare to find this so be sure to try them!
Back in the 1980s, Jim Picard asked a customer why she was buying both potato chips and peanuts, and she replied that her husband likes to eat both, at the same time.
That set him to come up with the Chip Nuts, which took 4 years to perfect having the potato starch coating to stick to the peanut.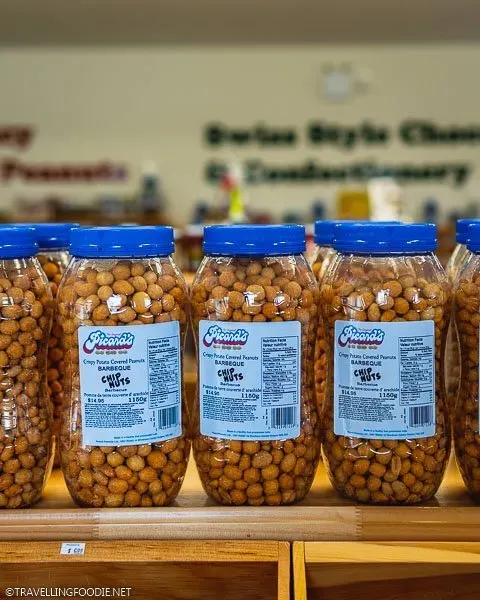 Website / Address: 14331 Medway Rd, Arva, Ontario N0M 1C0
---
Alexandra Park
Drive to Strathroy where you'll be spending the night.
There are 10 parks in Strathroy, and Alexandra Park is the closest to the accommodation.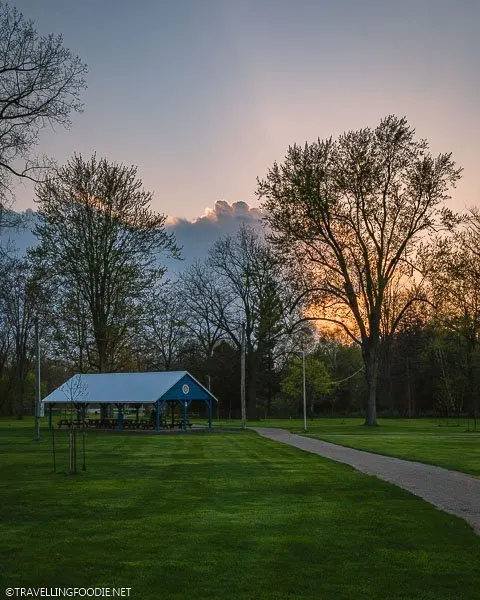 Founded in 1901, Alexandra Park is the largest park in the municipality of Strathroy-Caradoc.
With all the eating that took place, enjoy a nature walk along the Strathroy Water Trail in the park.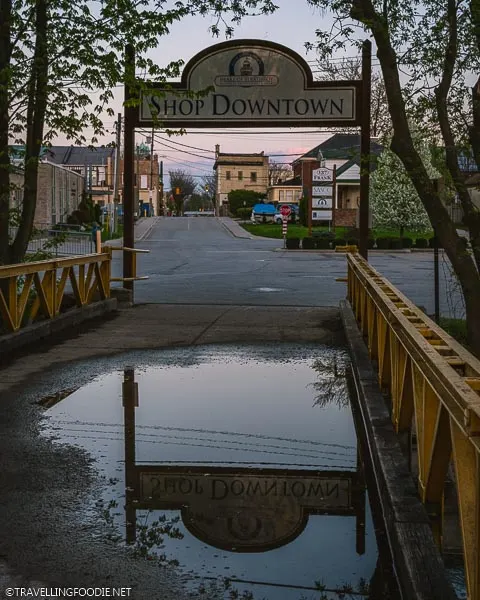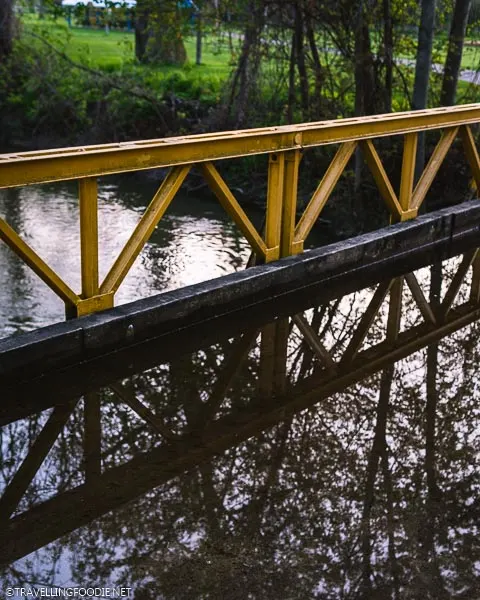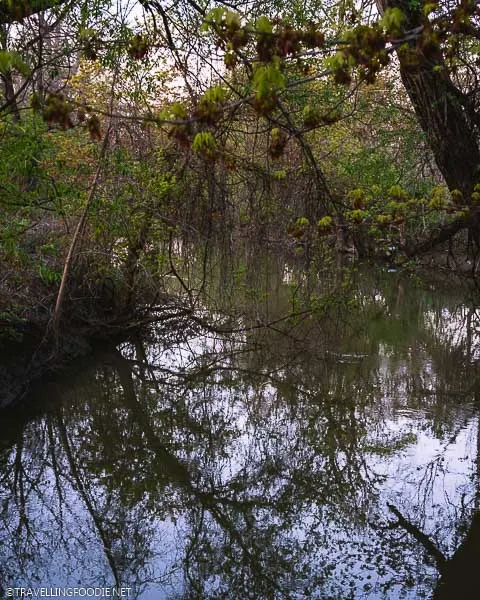 Address: Strathroy, Ontario N7G 2M8
---
Clock Tower Inn & Bistro
Check-in and have dinner at Clock Tower Inn & Bistro, an 1889 historic building for both Federal Postal Office and the Inland Revenue Office.
Did you know? The building was built by Canadian architect Thomas Fuller who also designed Canada's Parliament Buildings in Ottawa.
This fully restored building has won heritage awards from the Architectural Conservancy of Ontario including "Restoration of a Landmark Historical Building" and the Paul Oberman Award for Adaptive Reuse.
The Inn is steeped with Victorian charm from the staircase to the 8 suites.
I stayed at the Prince of Wales Suite which had a nice historic feel blended with modern amenities.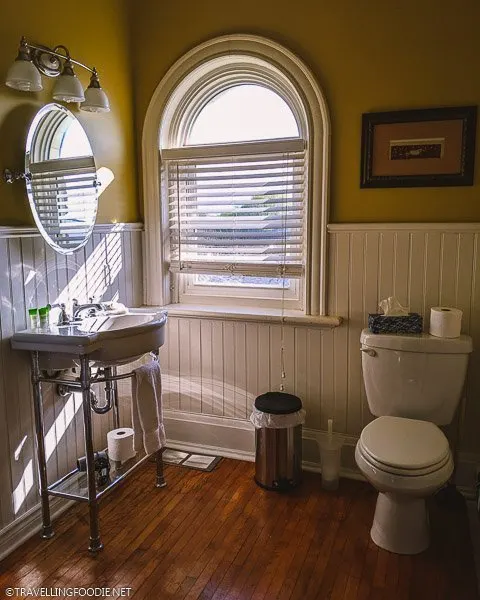 After freshening up in your room, head downstairs for some delicious dinner at Clock Tower Pub & Bistro, one of the Top 10 TripAdvisor Eatery Picks in Ontario's Southwest.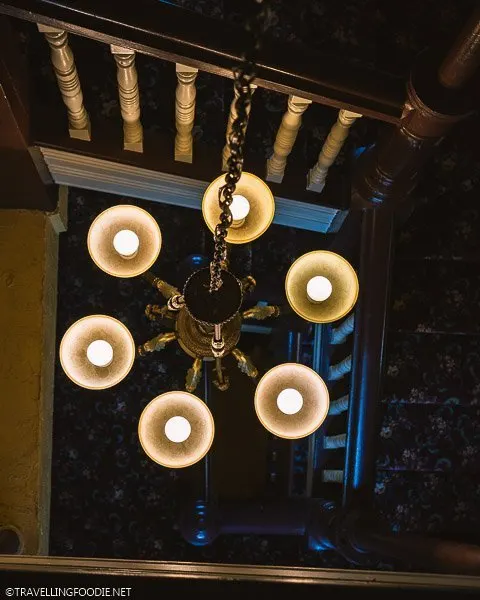 Travelling Foodie Tip: Look around and you'll find most of the artwork and photos are dedicated to Strathroy's history and town.
They offer specials every day. For example, Tuesdays are Italian Night where they have off-menu Italian diishes.
Fridays are All-Day Fish Fry because it's fry-day! Sundays are all-you-can-eat pasta day.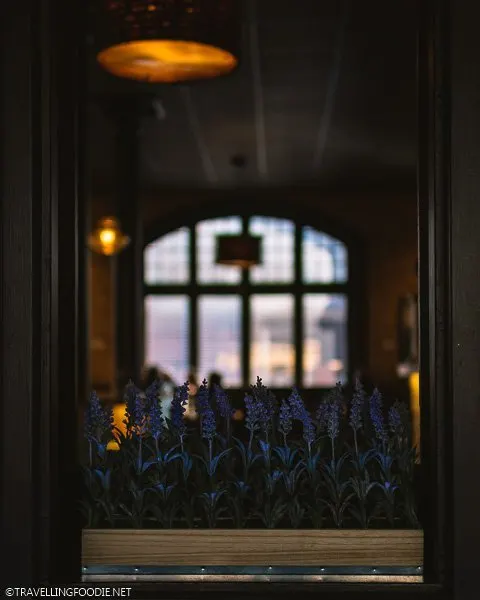 Owner Mark Graham is the Executive Chef as well, and he prides himself in having a restaurant that uses everything local from Sleger's Organic Living Greens for vegetables and Ontario Beef for beef to local wines and Ontario craft beers.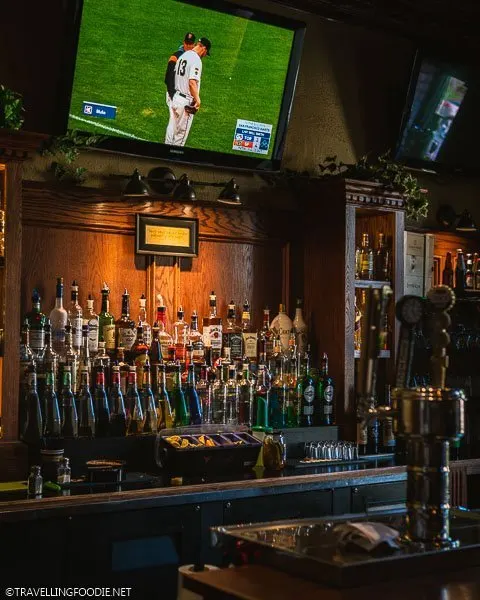 According to Chef Mark, "Everything is cooked fresh, in-house, daily. All the chefs working here are culinary trained."
Did you know? Chef Mark is Red Seal certified, a universally recognized certification of apprenticeship in Canada.
I asked Chef Mark what was the one thing I had to try here and he said Pizza is their specialty, and he recommended the Spicy Meat Lovers, which surprisingly is what I would've gotten anyway.
Travelling Foodie Tip: Wednesdays are Pizza and Wine Night where you can get any pizza and a house red or white wine for $20.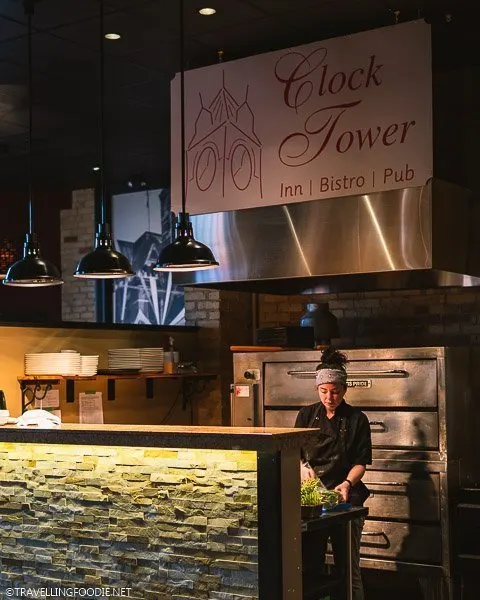 If you're a spicy and meat lover like me, then get the Spicy Meat Lovers Pizza, a thin crust topped with hot peppers and lots of meat.
For dessert, I highly recommend the Frozen White Wine Sabayon. Sabayon is a custard dessert made with egg yolks, sugar and wine (usually sweet wine).
It's my first time hearing of a frozen version, and I actually enjoyed it a lot as it gives it a more refreshing and cool taste with a slight ice cream texture.
That'll end your on a sweet note before heading to bed for your one night in Middlesex County.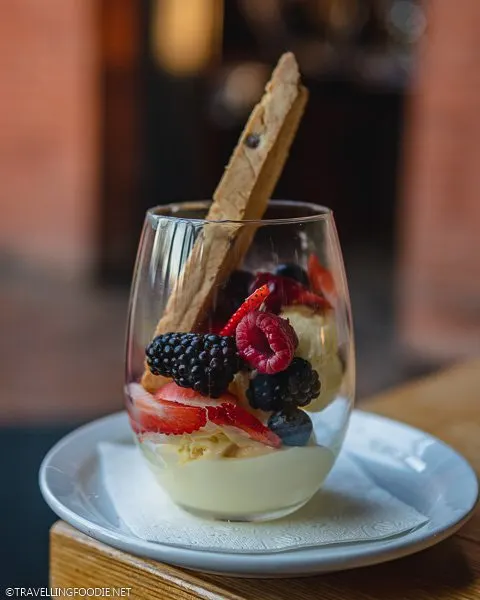 Website / Address: 71 Frank St, Strathroy, Ontario N7G 2R5
---
Caradoc Sands
With so much greenery, Middlesex County is a popular golfing destination.
One of the most popular golf clubs is Caradoc Sands, a family owned and operated club and event venue.
Have your breakfast at their restaurant, 43 North Pubhouse and Patio, which has beautiful views of the golf course.
I liked that they allow you to order from the lunch menu during breakfast too!
If you want to try three meats in one sandwich, go with the Buffalo Wing Burger which has 1/2lb house-made burger with a blend of ground beef and pork along with a chicken tender patty.
After your meal, you can explore the golf course or head back home from your one night in Middlesex County!
Website / Address: 24500 Saxton Rd, Strathroy, Ontario N7G 3H4
---
MAP: One Night in Middlesex County, Ontario
Here's a map of all the places to eat, play and stay covered in this Middlesex, County travel guide.
---
Hope this travel guide helps you decide on how to spend two days and one night in Middlesex County, Ontario with things to do, where to eat and stay in Strathroy, Thorndale, Arva and Dorchester.
This post was sponsored by Ontario's Southwest and Visit Middlesex County. As usual, reviews and opinions are entirely my own.
You can learn more about Ontario's Southwest thru their website, or find them in Facebook, Twitter and Instagram.
… and about Visit Middlesex County thru their website, or find them in Facebook, Twitter and Instagram.