Looking for an air fryer snack, appetizer or side dish? Air Fryer Garlic Bread is so quick and easy to make!
With this 3-ingredient air fryer recipe, you can enjoy perfectly toasted and buttery garlic bread.
All in less than 10 minutes!
---
---
Garlic Bread in Air Fryer
We've all had garlic bread in some point of our lives.
In its simplest form, garlic bread is bread, topped with garlic and butter or olive oil.
Fancier garlic breads may include additional herbs or toppings like rosemary, oregano, cheese or chives.
Typically, garlic bread is baked in an oven or toaster oven, or grilled for some char.
But if you're like me who loves air fryers, why not air fry the garlic bread instead?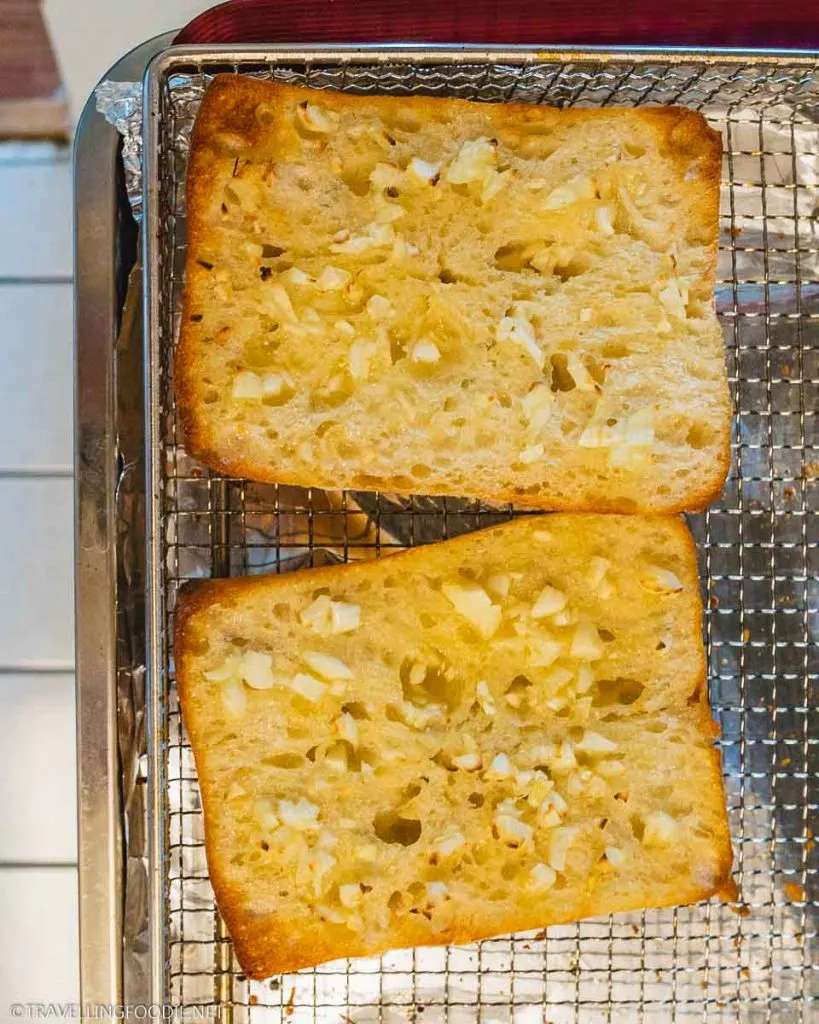 ---
What Makes This Air Fryer Garlic Bread Recipe So Good?
Here is why you'll love this recipe for air fryer garlic bread.
Easy: You only need 3 ingredients for this garlic bread recipe!
Scalable: You can scale this recipe for up to 6 people, depending on the size of your air fryer.
Customizable: You can add your own herbs and toppings based on your preference.
Quick: Air frying garlic bread takes less than 10 minutes, so much faster than using the oven and grill. Perfect for making quick snacks, appetizers and side dishes.
Vegetarian/Vegan: If you use non-vegan butter, then the garlic bread is vegetarian. Otherwise, you can use olive oil, vegan butter or margarine to make it vegan.
Great for Meal Prep: You can easily air fry multiple batches of garlic bread to enjoy for another day. You can even freeze them to always have them ready.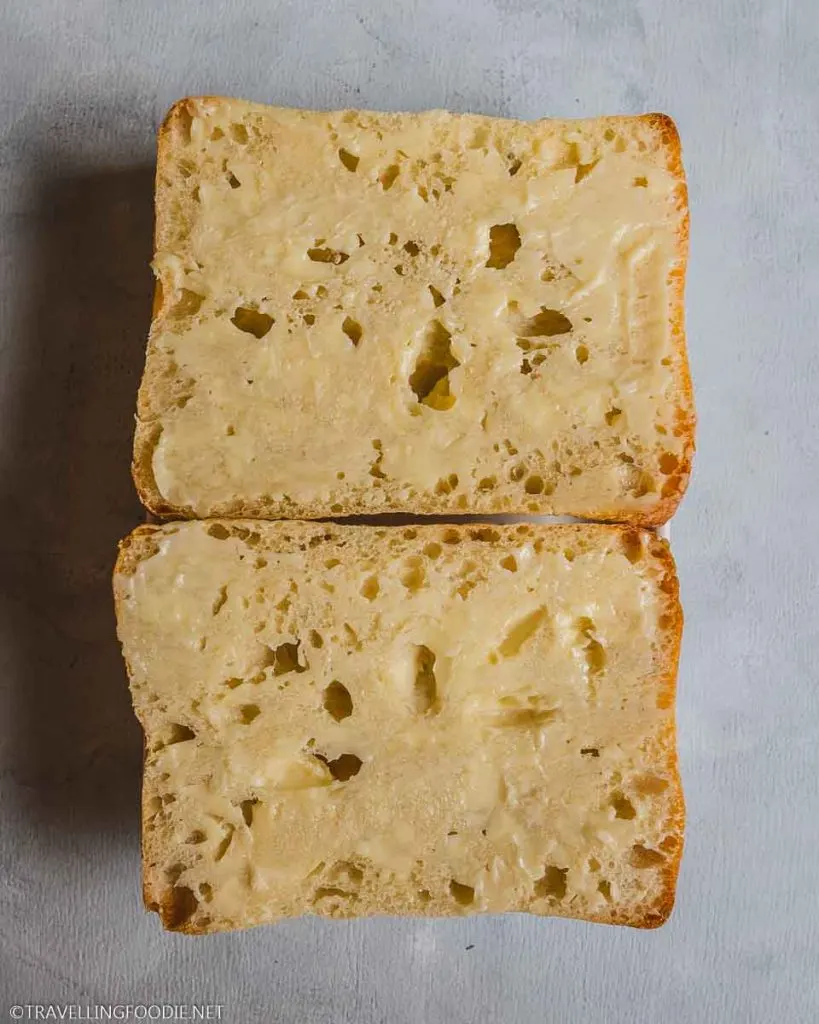 ---
What You Need For Air Fryer Garlic Bread
Equipment
I used the Cuisinart TOA-95 Digital AirFryer Toaster Oven for this recipe, but you can also use other air fryers like the Ninja Speedi.
Note that you may need to adjust timings when using different types of air fryers.
Ingredients
Ciabatta Roll – You can use your bread of preference. I like Ciabatta Rolls because it is crispy outside and soft inside, which is what I love for garlic bread.

You also get a bigger bread than a baguette but smaller than white bread.
Fresh Garlic – You want fresh garlic that's minced to get that delicious fresh garlicky taste.
Butter/Margarine – Though you can use olive oil, I find the garlic bread will have a lighter taste so I prefer using butter/margarine to have a rich and creamier taste.

I also find butter/margarine holds onto the garlic better so it's easier to slather onto the bread without leaving bits of garlic behind.

When using butter, make sure it is softened by leaving it at room temperature or microwaving to make it melt a little.
---
How To Make Garlic Bread In Air Fryer
It's so simply to make garlic bread in the air fryer.
Slice the ciabatta roll horizontally so you have two slices.
You can do three if you prefer thinner pieces or more pieces.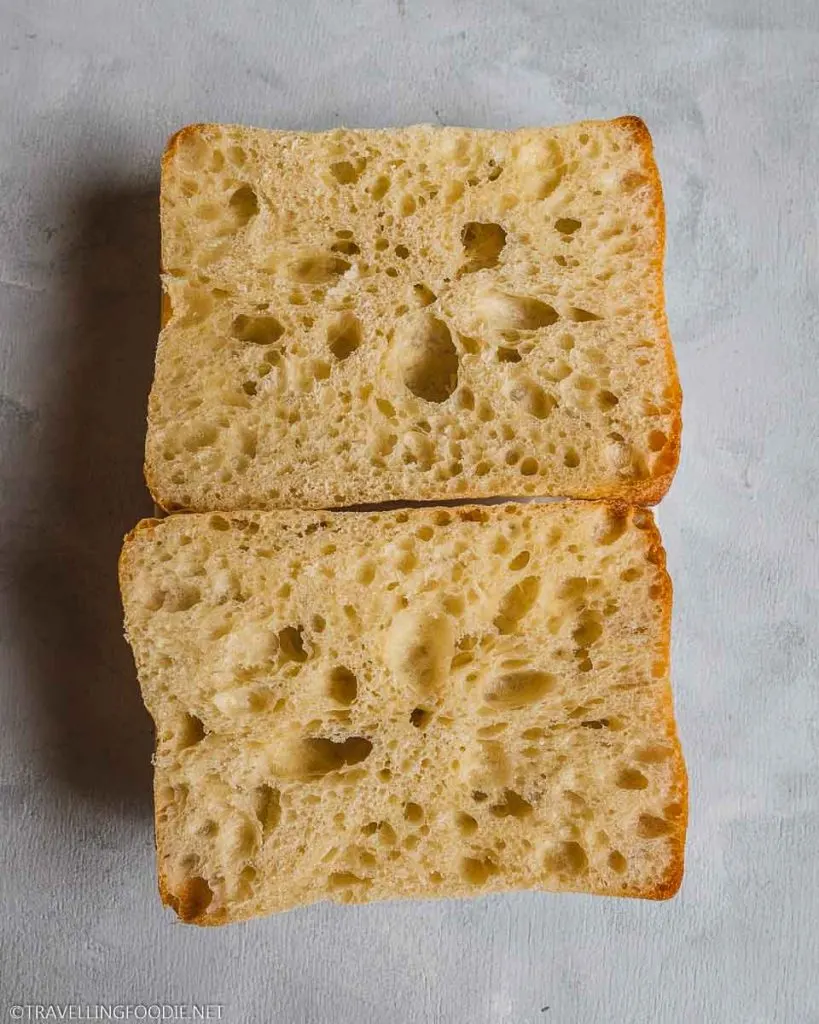 Mix the butter or margarine with the minced garlic.
Spread the mixture evenly onto the cut side of the ciabatta.
If you want a cheesy garlic bread, top with cheese!
Air Fry the garlic bread until toasted to your liking.
---
Tips for Air Fryer Garlic Bread
Here are some quick tips for garlic bread in air fryer and might also help answer some of your questions.
If you want to enhance your garlic bread with herbs and spices, add them when mixing the butter/margarine with the garlic.
If you prefer a more toasted garlic bread, just set timer longer or increase the temperature.
Depending on your air fryer, you might need to preheat before. I used an air fryer that doesn't require preheating so that I don't spend more time.
Do not stack or overlap the garlic bread so that they toast evenly. I used the Cuisinart TOA-95 Digital AirFryer Toaster Oven exactly for this reason because I can make a good amount of garlic bread in one shot with its extra-large oven.
When you already garlic bread, you might ask: can you put garlic bread in the air fryer? You sure can. It's a great way to reheat garlic bread especially from the fridge or freezer.
---
Easy Recipes To Serve With Garlic Bread
---
Air Fryer Garlic Bread Recipe
Be sure to bookmark/save/pin this post so you can easily make Garlic Bread in Air Fryer!
I would love to see how this recipe worked for you! Please share your creations with me on social media and tag me so I can check them out: @TravellingFoodie on Instagram & Facebook and @TravellinFoodie on Twitter.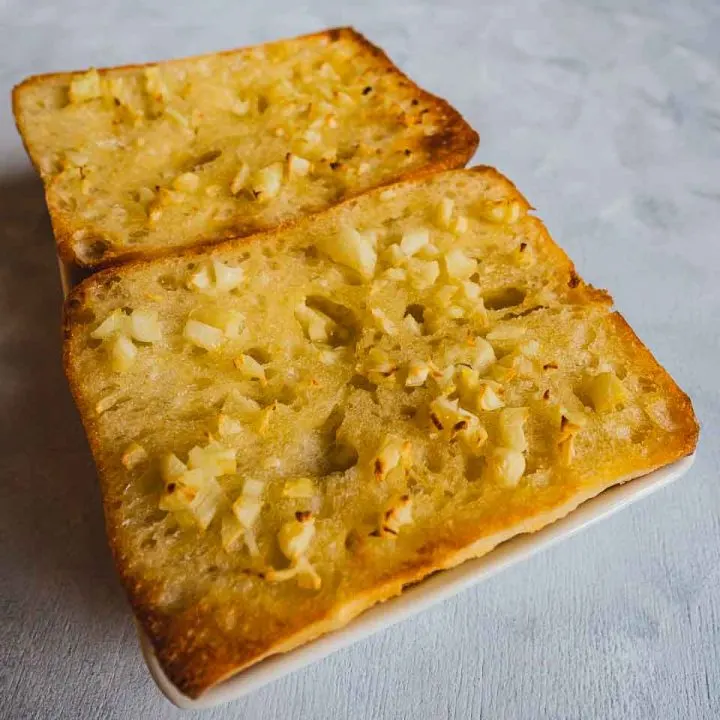 Air Fryer Garlic Bread
Looking for air fryer appetizer or side dish recipe? This easy and quick Air Fryer Garlic Bread makes perfect garlic bread with crisp edges and soft center.
Instructions
Slice the Ciabatta Roll lengthwise
Combine butter or margarine with garlic.
Spread mixture evenlt on the cut side of ciabatta.
Run Air Fryer for 350F for 3 minutes
Recommended Products
As an Amazon Associate and member of other affiliate programs, I earn from qualifying purchases.
Nutrition Information:
Yield:

2
Serving Size:

1
Amount Per Serving:
Calories:

96
Total Fat:

6g
Saturated Fat:

4g
Trans Fat:

0g
Unsaturated Fat:

2g
Cholesterol:

15mg
Sodium:

122mg
Carbohydrates:

9g
Fiber:

0g
Sugar:

1g
Protein:

2g
Please note that nutrition information you see is provided and automatically calculated by Nutritionix. This may vary depending on the specific ingredients that you use. To ensure the most accurate information, I suggest entering your specific ingredients into a nutrition calculator.
---
Hope this Air Fryer Recipe for garlic bread gives you an idea on easy snack, appetizer or side dish you can make at home!