Are you about to book a flight with Swoop airlines? You're probably here looking for a Swoop Airlines review because you're not sure if you should proceed with the booking.
You found a really cheap Swoop flight…
But you've read and heard so many complaints on Swoop, and it made you think…
Is it too good to be true?
Why is Swoop so cheap?
Do Swoop flights get cancelled a lot?
Or maybe you already flew with Swoop airlines, had a bad experience and trying to get a response or resolution.
I wanted to share not just the ultra-detailed account of my (and other passengers') experience, but also the response and resolution I received from Swoop after.
I had my first experience flying with Swoop on February 2023, and it was a mix of good and bad.
Here's a teaser from my experience…
Swoop Gate Manager: "I don't know why they [management/headquarters] sent an email with WestJet options when we were doing a rescue flight. They generally don't do that and I think it was a mistake so I don't know what they're going to do."
In this Swoop airlines review, I'm sharing everything I learned and experienced from my Swoop flight to help you decide before booking and how to get a response/resolution.
---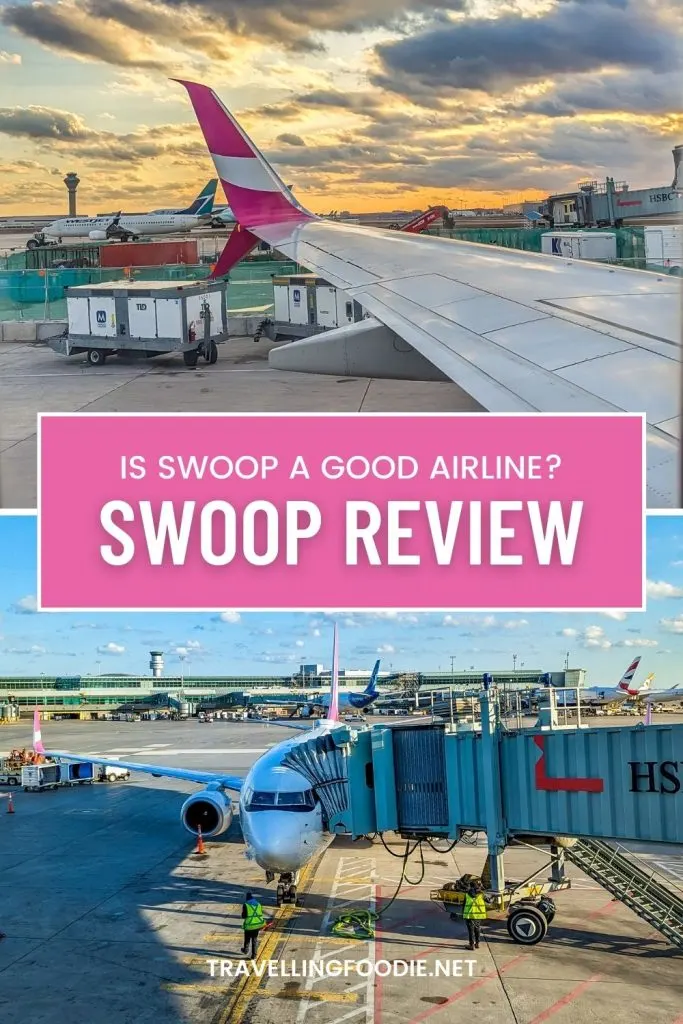 ---
Swoop Airlines – Ultra-Low Fare Airline in Canada
Today, we're taking a closer look at Swoop Airline, a Canadian Ultra Low-Cost Carrier (ULCC).
Founded in 2018 and headquartered in Calgary, Alberta, Swoop airline is owned by WestJet, the second-largest Canadian airline after Air Canada.
Did you know? WestJet named the airline, "Swoop," for its desire to "swoop (jump)" into the Canadian market with this ultra low-cost model.
Swoop Airlines is the second Canadian ULCC after Flair Airlines, which launched in 2017.
With the increase in travel demand, it's nice to see Canada finally getting some cheap flights.
What's the scoop on Swoop?
This ultra-low cost airline offers services to domestic destinations across Canada, 8 out of the 10:
Manitoba
Prince Edward Island
Swoop also provides international services to US, Mexico and Caribbean, including Las Vegas, Puerto Vallarta and Montego Bay.
Swoop Airlines boasts low base fares and no hidden fees, making it an attractive option for travellers on a budget.
---
Swoop Airlines Review – Is Swoop A Good Airline?
So the question in this Swoop review is: does Swoop hold up to its promises?
Is Swoop a good airline?
There are so many Swoop airlines reviews online, and a lot are negative.
You'll find countless posts, articles and reviews on publications, social media, reddit and review websites about travel nightmares flying with Swoop especially with flight delays, cancellations and customer service.
But this didn't stop me from trying Swoop Airlines.
Why I Booked A Swoop Flight
It all started with my relatives moving to Chilliwack, BC in 2022.
They told me I can visit them cheaply from Toronto because both Swoop and Flair Airlines fly into Abbotsford Airport (YXX), which is ~30 minutes away from them.
So, on January 2023, I looked up Swoop flights and they were indeed very cheap:
Toronto to Abbotsford Flight: $62.05
Abbotsford to Toronto Flight: $44.68
Since prices listed are tax included, the total price round trip was: $106.73.
An amazing deal considering Toronto round trip flights to Calgary and Vancouver are typically at least $300.
And just like that, I booked my first ever Swoop flight to and from Toronto and Abbotsford flying for February!
This flight and what I experienced is what I'm covering in this Swoop review.
Swoop Flight Booking Process Review
Here's a quick review of the Swoop booking process online.
Booking with Swoop Airlines online was pretty straightforward.
It's how you would normally book with any airlines: pick your departure and arrival destinations, your dates, pick the resulting fares, continue for any applicable add-ons and pay for the booking.
As you book, you'll see bundle options in regards to checked baggage, carry-on, flexibility, etc.
Or you can stick to the No-Bundle Fare which is just base fare and free personal item.
Important Decisions When Booking with Swoop Airlines
I highly recommend you to make these important decisions when booking a Swoop flight:
Do I really need to do a Bundle, or is a No-Bundle Fare enough?
If No-Bundle Fare is not enough, would manual add-ons be cheaper for my situation or is a Bundle better?
If I do a Bundle or add-ons, is it still worth it or should I just book a regular airline?
Why it's good to prepare these decisions before booking is because Bundled Fares are only available at the time of booking.
If you booked a Base Fare and decide you want to do a Bundle after, you can't switch anymore unless you're within the cancellation window which I cover in the next section in this Swoop review.
In this case, you can just cancel and book again with a Bundle.
However, keep in mind that it's no guarantee you'll be getting the same airfare as when you first booked since prices are subject to change daily.
If you manually add-on because you can't bundle anymore, it might end up costing you more than doing a regular airline.
In which case, why would you book with Swoop if it's the same (or close enough) price or more expensive than a regular airline.
Swoop Airlines Flight Cancellation Policy
Swoops Airline cancellation policy states, "No cancellations are permitted except within 24 hours of making the booking, as long as it is more than seven days from departure."
Why is Swoop so cheap?
At this point, you're probably wondering why Swoop flights can be so cheap.
Swoop flights are so cheap because, aside from the base airfare, everything else is an add-on with an extra fee including:
Checked Bag
Carry-On Bag
Food and Snacks
Drinks
Wi-Fi
This is how Ultra Low-Cost Carrier can offer really cheap flights.
Aside from your seat on the plane, the only thing that's included with your fare is a personal bag, which is a bag that can go under your seat.
And because it's so cheap, you also get what you pay for in potential headaches, which is what I'll be going through in detail further down in this Swoop review.
Carry-On Luggage
When you fly with a regular airline (non-ULCC) like Air Canada and WestJet, you are allowed to bring both a personal item and a carry-on free of charge.
With Swoop Airlines (and ULCCs in general), you only get a personal item for free.
You have to pay for a carry-on should you decide to bring one.
This is the very first thing you have to decide when booking a ULCC.
Carry-On Pricing for Swoop ranges from $42-67.80 for Online payment to $63-90.40 when paying at the Airport.
That's a huge fee and, sometimes is even more expensive than your actual airfare.
And this Carry-On pricing can be more expensive than a Checked Bag in a regular airline (e.g. Air Canada's first checked bag is typically $30).
As I mentioned earlier in this Swoop review, my Abbotsford to Toronto leg of the flight only cost $44.68 so paying at least $42 for Carry-On luggage doubles my costs already.
Once you add up potential costs, it might be cheaper to book a regular airline, especially with the pitfalls of booking a ULCC.
This is something you have to take into account when booking with Swoop.
Can I travel light and survive with only a personal item?
For me, I knew I was only bringing a backpack so I was perfectly fine with a Swoop flight.
Swoop Check-in Process Review
Here's a review on my check-in experience with Swoop Airlines.
Check-in process for Swoop is standard like other airlines:
You can check in on our website within 24 hours of departure until one hour before departure.
Airport check-in opens three hours prior to departure.
You would get an email from Swoop that "You can now check-in for your flight."
Since it's your typical process, I thought it would be seamless.
I always do online check-in to get it over with and be able to pick a seat earlier.
I logged into the Swoop website and tried checking-in…
Swoops, an error happened.
That's literally what the website showed on the screen with a message saying "Looks like we had problems retrieving information. Please try again."
I lowkey applaud them for the pun though LOL
I tried another way where I go into the homepage, click the "Check In" tab and enter departure airport, reservation code and last name.
Same error.
I reach out to FlySwoop on Twitter:
I was told to clear history and try another browser, but it still didn't work.
I decided to wait a few more hours then try checking-in again.
This time it worked.
I was checked-in!
In-flight Swoop Aircraft Review
Here's a quick review on what's it like in the Swoop aircraft.
My first ever flight with Swoop Airlines was on February 15, 2023: WO313 departing Toronto, ON (YYZ) at 5:10PM and arriving Abbotsford, BC (YXX) at 7:20PM.
We were a full flight and boarding process was similar like other airlines.
Swoop's airplane is a no-frills basic aircraft.
You can't really complain much for what you're paying.
Legroom was a bit tight especially once you put your personal item underneath.
There are no in-flight screen nor in-flight entertainment.
There's wi-fi for a fee.
There's a menu for snacks and drinks for purchase.
Does Swoop give free water?
Though I wasn't expecting non-alcoholic beverages like juice, soda and coffee to be free with Swoop, I was surprised that water was not complimentary as well.
Apparently it's normal for ULCC, but I didn't know that.
I've flown with Low Cost airlines like Sunwing to Cuba and there were complimentary cups of water, tea and coffee.
Luckily, I always bring a reusable water bottle with me and I filled it before the flight.
One nice touch on the Swoop plane that I was happy to see and wish most airplanes have is every seat having a universal power outlet and a USB outlet.
My First Swoop Flight Experience Review
Our Swoop flight departed late and arrived late at 10:47PM (supposed to be 7:20pm) into Abbotsford, but this was your typical delay.
So for this first leg of the trip, it was actually a positive and good experience for me despite the delayed arrival.
I had no complaints at this point and was glad there were no Swoop horror stories to share.
Swoops!
I spoke too soon.
My return flight from Abbotsford (YXX) to Toronto (YYZ) was on Feb 27, and that's when I had a really bad experience with Swoop.
Our flight got cancelled and things just went downhill.
This is when all the travel nightmare and complaints I read and heard from Swoop reviews kept rolling in.
I know flight cancellations are normal and part of travel.
The Swoop Airlines flight getting cancelled wasn't the issue.
It's what happened after and how they responded and managed the situation with customers that was the issue.
That's when you realize it's ultra-low cost for a reason.
You get what you pay for.
---
Swoop Review – Reasons To Avoid Swoop Airline Flights
This section of the Swoop review is the honest ultra-detailed account with timeline of my travel nightmare after the flight got cancelled.
And I'll be tying parts of my experience to specific reasons to take into consideration with Swoop flights.
In this way, you know everything I'm saying is based out of experience and could happen to you.
Honestly, I wasn't planning to do this Swoop review when I booked, which is why I don't really have photos.
But after this experience, I felt there is a lot to unpack and learnings to be shared for other travellers.
Note: My story timeline is bulleted, and my notes and thoughts are non-bulleted.
Reason 1 – Swoop cancellation reasoning is not fully transparent so you don't know what rights you have at that time
Feb 27 (Monday):
WO314 flight out of Abbotsford (YXX) to Toronto was set to depart at 12:25pm PST.
The plane was already in Abbotsford airport.
At 11:52PM PST (~30 minutes prior to departure), we received a Flight cancellation notice in email that it's been cancelled due to "Operational Decision" with no further explanation what this means.
Passengers at the gate were shocked with this notice and started asking the Swoop gate agents what's happening.
We were informed that they don't know as well because this came out all of a sudden.
We were told to wait and should receive an email from Swoop about next steps.
When I asked the Swoop agent at the gate about accommodations/compensation, we were informed that there would be none because it was an uncontrollable situation, despite the email saying it was an Operational Decision.
Reason 2 – Rebooking options are limited when Swoop flights are delayed or cancelled
At 12:02PM PST, we received another email for next steps, which was rebooking options, which included both Swoop and WestJet flight options.
There were no same day flight options, and next day options were only WestJet (no Swoop flights).
I chose a WestJet flight that flies out at 8PM PST on Feb 28 with a layover in Calgary.
It's a red-eye flight arriving in Toronto at ~7AM EST on March 1.
Do Swoop flights get cancelled a lot?
This issue ties to the people asking do Swoop flights get cancelled a lot?
Of course, flights getting cancelled due to uncontrollable factors like weather is totally understandable.
But one thing I've learned with my Swoop flight cancellation experience is ULCC flights have higher probability to get cancelled in general.
If they don't get enough passengers riding, the flight will most likely get cancelled because they'll lose money.
Because they are ultra-low cost, staff salary is more likely lower than other airlines so lack of staff is common.
During situations where airport needs to reduce airplane landings, ULCCs are the first to get cancelled.
This is true for what happened to us.
According to Swoop staff at the gate, our flight got cancelled because Toronto Pearson was limiting planes landing due to winter weather, but we saw some flights from bigger airlines arriving Toronto that didn't get cancelled.
Because of the frequency of cancellations for ULCC flights and the fact that ULCCs generally have less flights available to-and-from destinations, rebooking options can get very limited.
In fact, you might even be stranded for much longer if the ULCC doesn't have daily flights.
This is something you have to consider because staying longer at the destination might be costly.
What was ultra-low cost can suddenly become ultra-expensive!
When I booked Swoop, I wasn't too worried about extra costs from flight cancellations and delays because I was there to visit relatives and staying at their house.
But imagine if you were on vacation and had to extend duration because the flight cancelled and you got stranded.
Since WestJet owns Swoop, there is a possibility for WestJet as rebooking options included, but Reason 7 below is also a problem.
Reason 3 – Swoop can't be trusted to provide the best solution upon cancellation
About 15 minutes later, a Swoop manager at the gate mentioned that a rescue flight (her term) is being decided upon because the airplane and crew is already in Abbotsford.
The Swoop gate manager said she had to call management/headquarters and raise the rescue flight solution.
She didn't understand why this wasn't the first solution provided to begin with since the plane and flight crew had already landed in Abbotsford and had to go back to Toronto anyway.
About 15 minutes later, Swoop gate manager confirms that a rescue flight was agreed on, and now management is trying to work on implementing that solution.
The rescue flight will be flying out direct to Toronto on Feb 28 at 7:30AM.
The rescue flight is the best solution and what should've been provided right off the bat.
Honestly, if this rescue flight was the first thing they offered, I don't even think I'll be writing this Swoop review.
There wouldn't be much for me to write about since the experience is like other airlines having flight cancellations.
But because of their mistake of prematurely sending other rebooking options first before the proper solution, it unraveled a lot of underlying issues with Swoop that needed to be shared.
Reason 4 – Swoop won't make things right despite their mistake
The Swoop gate manager said there should be an email soon about this rescue flight.
People asked Swoop agents what happens if they had already booked alternate flights with WestJet due to the rebooking email received.
Swoop agent said that, if they booked WestJet, they might not be able to be moved back.
(I even have a recording of this) I asked the Swoop gate manager again what this means for people who booked with WestJet, and she said:

"I'm not sure either because I don't know why they sent an email with WestJet options when we were doing a rescue flight.

They generally don't do that and I think it was a mistake so I don't know what they're going to do.

That's probably what's delaying the email because of them jumping the gun, and now having put some people on WestJet when really everyone should have gone on with Swoop.

So I think that's what's messed things up and why it's not going through so quickly. Just wait for the email."
This issue of not making things right continues on through the rest of the story in this Swoop Review.
Reason 5 – You cannot trust what Swoop tells you
By the time I arrived home, I saw the rescue flight had already been implemented because the rescue flight WO2314 shows in Swoop.
However, I haven't received any email updates about this rescue flight despite what the Swoop gate manager said.
There are multiple times they told me things that don't happen throughout my story below.
Reason 6 – Swoop has no phone customer support for urgent matters
I started looking for Swoop customer support so I can be switched to the rescue flight.
This is where I found out that Swoop has no phone number for customer service.
The only thing Swoop has for customer support is live chat (up to 8PM EST) and social media (listed as "24/7 Traveller Support via social media").
I reached out on all available options at the same time: Live Chat, Twitter, Instagram, Facebook. Since these are DMs/chats, I have transcripts on all of the conversations.
I also called WestJet via phone and was told by their support that there is nothing they can do on their end. It should be Swoop fixing this since the booking reservation was with them.
I did not hear from Swoop Instagram and Facebook.
Reason 7 – Swoop leaves you in the lurch when you pick a rebooking option that's non-Swoop
On Swoop Live Chat, 12 minutes after reaching out, I get assigned to an agent and was told:

"Upon review, you're still booked on Westjet, we apologize for the disruption, however we do not control the outcome of disruptions as rescue flights are not guaranteed as changes happen without warning.

We can't move you to the rescue flight as you're scheduled to depart on Westjet this evening."

(This ties back to Reason 4 because the rescue flight should've been offered first and they made a mistake offering the WestJet options prematurely so they should be fixing that mistake.)
Note that my WestJet flight wasn't the same day evening like Live Chat support said. My flight was for next day evening.
Reason 8 – Swoop has non-existent customer support despite the "24/7 traveller support" advertised
On Swoop Twitter, 1 hour after reaching out, I received a reply asking for booking information and was told:

"We are collecting the reservation information to rebook passengers from WestJet flight back to the recovery flight. You should receive an email soon with your proper itinerary."
1 hour later at 4:39PM, I followed up with Twitter Support on when to expect the email, and was told:

"I had personally submitted your request to be moved over the recovery flight. I am unsure when our support team will get to moving you over but it should hopefully be soon."
I followed up 3 more times asking for updates, the last one at 10:34PM.
I even asked if I can be at least guaranteed to be on that 7:30AM flight so I can have peace of mind, but no reply.
Feb 28 (Tuesday):
Since the rescue flight was at 7:30AM, I woke up at 5AM to check if there were any updates just in case. In this way, I can still make it on time.
Alas, there were no emails nor reply from Twitter Support. I checked at 6AM again and still nothing.
At this point, I've accepted I'm not getting on that rescue flight. (This ties back to Reason 4 and 5)
At 11:58AM, I finally got a reply from Twitter Support saying

"Hi there, we are still waiting to hear back from our support team".
I replied that the flight had already departed this morning so there was no point and how disappointed I was since Twitter Support said I would be moved and that the support was supposed to be 24/7. (This ties back to Reason 5)
Swoop Twitter replied: "I am very sorry about the inconvenience this has caused for you."
This was probably the most shocking and disappointing thing with my Swoop experience.
The epitome of "you get what you pay for" with Swoop.
I barely slept that night anxiously hoping for some update since the initial response from Swoop Twitter support got my hopes up.
I am really surprised that an airline is allowed to operate with only social media support.
And worse, falsely advertising 24/7 support.
How about people who need urgent care or assistance?
What if you don't have smartphone, don't have internet access or don't use social media?
Reason 9 – Swoop has no follow through
My rebooked WestJet flight that night ended up getting cancelled as well because the Calgary to Abbotsford flight didn't happen due to "crew controllable" reason.
The rebooking options provided by WestJet were for flights flying out of Abbotsford 2 days later on March 2.
Having to spend 2 more days is not preferrable for my situation so I started looking for other alternatives.
I saw there are WestJet flights to Toronto from Vancouver that same night (Feb 28) and wanted to switch to those instead.
I called WestJet support for other flight alternatives but am waiting for an agent for close to an hour.
In parallel, I reached out to Swoop Twitter for help since the original booking was with them and hoping they can help, but I didn't get a reply. (Ties back to Reason 6, 7, 8)
I finally got ahold of WestJet support and was able to switch to a flight from YVR back to Toronto with a layover in Edmonton.
March 1 (Wednesday):
Around 8am, I finally arrived in Toronto.
I'm already home and the following happens at different times of the day: (This ties back to Reason 6 and 8)

Swoop Twitter finally responded on my Tuesday message: "I am very sorry for the delay in responding to you. Are you still needing assistance?"
Both Swoop Instagram and Facebook finally responded to my Monday message with a generic support message asking for my name and booking information.


I was documenting in real-time most of what was happening on Twitter (which I've included below), hoping it would get Swoop to action faster but it didn't matter.

A passenger who was corresponding with me on this Tweet got home to Toronto from Abbotsform on March 2. (Tweet here)
None of us were offered any compensation, accommodations, food & drinks while all this happened.
Full Twitter thread below (or here):
---
Swoop Review – How To Get A Response and Resolution From Swoop Airlines After The Trip
If you've had a similar trip like me, you might be wondering how to get a resolution or compensation from Swoop Airlines about your experience.
For the completeness of this Swoop review, I was curious to see what response and resolution Swoop would provide for this experience.
On March 16, 2023 (Thursday), I emailed to two Swoop teams my entire story that I shared in this review:
I did not receive a reply from Traveller Support.
Swoop Media Team Response
I did receive a reply from Swoop Media Team on the same day asking when I need the response and I said by the end of the week.
On March 17 (Friday), they sent their response:
"We can confirm that on February 27, 2023, Swoop flight WO314 was cancelled due to operational reasons outside Swoop's control.
Shortly after the cancellation, all impacted travellers were sent email notifications, including reaccommodation options on alternate Swoop and WestJet flights.
As reaccommodation options were somewhat limited, Swoop scheduled an additional rescue flight option, WO2314 to ensure all impacted travellers had a recovery option.
Typically, once reaccommodation flights have been selected and confirmed by the traveller, we are unable to make further changes.
In this instance, we did try to accommodate special requests from travellers who had selected WestJet recovery flights and then wanted to switch and we regret that we could not process your request in time.
We sincerely apologize for the inconvenience and your overall experience.
We never intend to disrupt travellers' plans and make every effort to mitigate impacts on our travellers when these situations occur.
We understand your situation resulted in further disruptions and can have a member of our Support Team contact you to discuss resolution.
Thank you for sharing your feedback with us."
Swoop Support Team Resolution
With the Swoop Media Team's response saying they "can have a member of our Support Team contact you to discuss resolution," on March 20 (Monday), I asked to be contacted by the Support Team.
On the same day, the Support Team member called me to discuss resolution and compensation.
Support Team member told me that, upon review, there's no compensation since it was an uncontrollable situation.
They did offer to refund my flight because of their failure to move me to the rescue flight on time.
However, they were not refunding the entire trip, just the one leg.
I was refunded $62.05.
If it wasn't for the Swoop Media Team who made sure I got connected, I don't know if I would ever get ahold of Swoop Support Team for resolution since my initial email didn't get a response.
Swoop Traveller Support Response
After a month, on April 19, 2023, I finally received a response from Swoop Airlines Traveller Support:
"Thank you for reaching out. We sincerely apologize for the delayed response, we have seen a high volume of emails recently. We are working hard to get back to everyone as quickly as possible.
Rest assured we take your feedback seriously and we will use it as a coaching opportunity. We have shared your concerns with leadership so they may follow-up accordingly. We look forward to welcoming you aboard a future Swoop flight."
---
Swoop Review Key Takeaways: The Good and The Bad
I really wanted to make this Swoop review a complete and honest accounting of my experience.
I covered everything I experienced from booking and checking-in to the detailed account of my travel nightmare I shared with Swoop Airlines and their response and resolution.
If you read all the way here, I applaud you!
To end this Swoop review, here are key takeaways I learned based on my experience flying with Swoop:
The most important: Know what you're getting yourself into!
Swoop can really save you a lot of money and can be a good experience if everything goes fine and dandy.

The first leg of my Swoop flight experience was a good one.

Know that it can easily take a turn and become really costly and stressful once there are issues like flight cancellations.
Make sure you have back-up budget for unexpected costs if flights don't go accordingly and you need to extend your stay:

For accommodations
For food and drinks
For transportation especially if you end up having to buy last minute flight tickets with another airline.

Avoid Swoop Airlines if your trip is for something important or time-sensitive like a wedding, funeral, convention, etc.

There was one guy on our cancelled flight who was flying to attend his mom's funeral. He ended up missing it.

Swoop (or ULCCs in general) is good if your trip has no commitments/agenda or you're simply going with the flow where a cancellation wouldn't matter as much.

Visiting family and friends
Open-ended personal trips

Avoid winter travel. I know this applies to other airlines in general, but winter cancellations and delays are higher probability for Swoop and other ULCCs as I described in Reason 2.
---
I hope this Swoop review helps give you an idea on what to expect when flying with Swoop, things to consider when booking, and how to get a response and resolution.
If you've flown with Swoop Airlines before, I would love to hear your experience!
If there are more useful information I can add to this Swoop review, please let me know.