Looking to try one of Canada's best restaurants? Restaurant Pearl Morissette is a gem in the Niagara region!
After winning Canada's Best New Restaurant in 2018 by Air Canada's enRoute Magazine, Restaurant Pearl Morissette was definitely on my must-try list.
Why? For one, it amazed me that a restaurant in a small rural community, Jordan Station in Lincoln, Ontario, won best new restaurant, beating restaurants from Toronto, Montreal and Vancouver.
I honestly didn't even know about Jordan Station until learning that the Pearl Morissette restaurant came from there so I was definitely intrigued and wanted to check it out myself.
Also Read: Aloette in Toronto, No. 6 in Canada's Best New Restaurant in 2018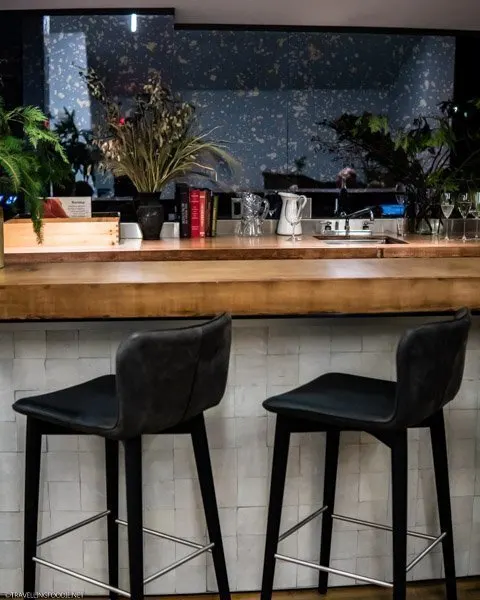 I got even more excited upon researching that the co-chefs at The Restaurant at Pearl Morissette has worked in some of Europe's top and Michelin starred restaurants.
Chef Daniel Hadida worked in Paris at one Michelin-starred restaurants, Le Châteaubriand and Septime.
Chef Eric Robertson worked in Belgium at one Michelin-starred tasting menu restaurant, In de Wulf.
I've been to Restaurant Pearl Morissette twice already and I've been recommending it to everyone!
In this review, I share everything about Restaurant Pearl Morissette and my experiences there.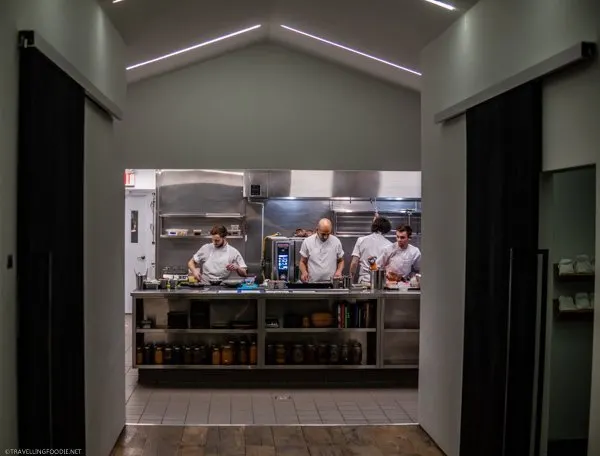 Restaurant Pearl Morissette
Located in Jordan Station in the Niagara region about 1 hour and 20 minutes from Toronto, Restaurant Pearl Morissette is aptly named for being the restaurant inside a Niagara winery called Pearl Morissette.
Fun Fact: When they opened back in 2017, the restaurant was actually called The Restaurant at Pearl Morissette before dropping the "at" to just Restaurant Pearl Morissette.
It is hard to spot Pearl Morissette winery, especially at night since there are no street lights.
The trick is to look for a statue of a red cardinal, which marks the entrance to their driveway.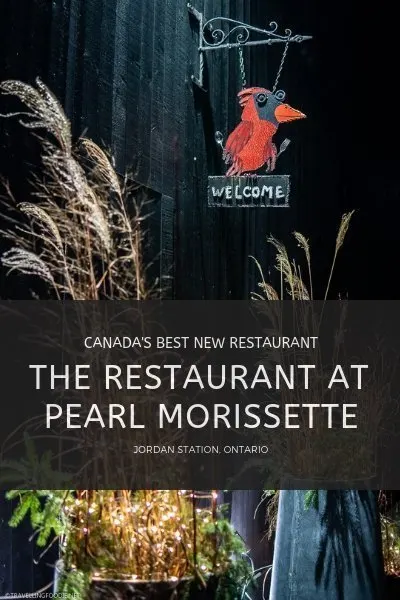 ---
Inside Restaurant Pearl Morissette
They used to only have indoor dining option but started offering outdoor dining space Le Pre in 2020.
When you enter the building, you climb a set of stairs that brings you to the Pearl Morissette restaurant.
The front of house will be there to greet you and lead you to your table, or the lounge if you arrive earlier.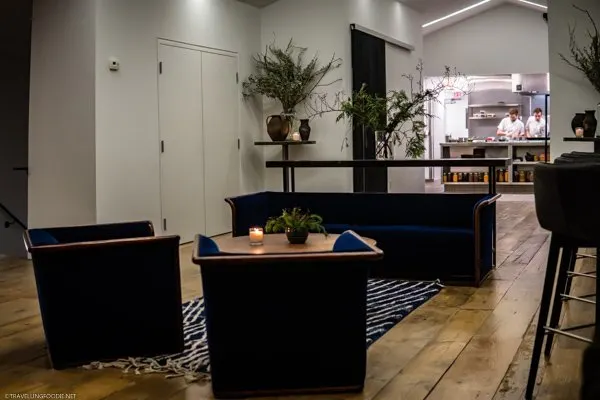 The inside of The Restaurant at Pearl Morissette is fairly straightforward.
From where you'll meet the front of house, right in front is the lounge.
On your most left is the open kitchen, then the washroom, then to the right is the dining room with a centre table of cutleries and honeycomb and cheese.
Also Read: Frilu Toronto, Michelin Star Tasting Menu Restaurant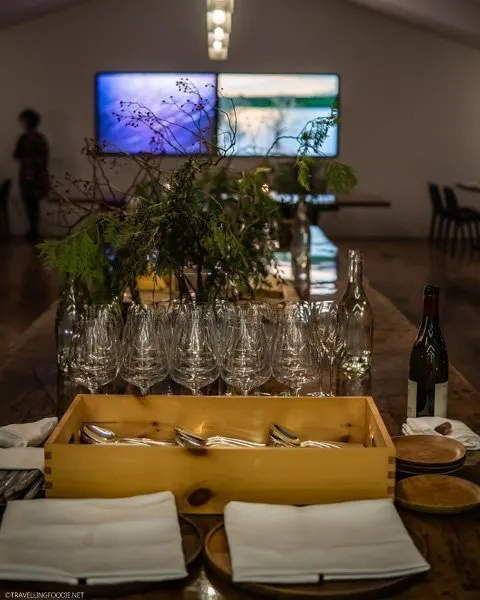 ---
Restaurant Pearl Morissette Menu and Price
Restaurant Pearl Morissette menu only offers one French-inspired farm-to-table tasting menu with at least eight courses.
As of June 2022, the tasting menu is priced $147 (plus add-ons) and wine pairing at $95 per person.
To top it off, tips are already included with all their prices.
The menu changes daily based on seasonality and what's fresh that day, which makes this restaurant very repeatable.
Wine and juice pairings are available as well.
Wine pairing includes spirits and wines from all over the world, as well as wines from their own vineyards.
Since Pearl Morissette's wines are low supply, doing the wine pairing allows you to try them.
Travelling Foodie Tip: If you want to try the pairing but can't drink a lot, you can choose to split one wine pairing between two people at The Restaurant at Pearl Morissette.
---
Restaurant Pearl Morissette Accolades & Awards
Restaurant Pearl Morissette has grown so much in popularity since my first visit in 2018.
They've been recognized as one of the best restaurants not just in Niagara region or Ontario, but the rest of Canada, with the following awards:
When is the best time to go? Now!
I went on December 6, 2018 when it was $88 and at least five courses and wine pairing at $70.
I went back to Pearl Morissette Restaurant in December 29, 2019 and the price was $96 from the $88 the year before.
Be sure to try them before the price raises again and reservations become harder to get.
---
Restaurant Pearl Morissette Seasonal Tasting Menu
I love tasting menu restaurants and travel all over the world for these experiences, including n/naka, El Celler de Can Roca, Alinea, Alo, Gallery by Chele and The Song of India.
Since the tasting menu at the The Restaurant at Pearl Morissette changes daily by season, I'm featuring the dishes we had on the dates we had the tasting menu.
December 6, 2018 Tasting Menu
We started with some grilled bay scallops from New Brunswick with elderflower capers, preserved tomato water, and brown butter topped with porridge flower.
It was my first time hearing of elderflower capers where you pickle the young flower buds.
Nevertheless, the dish was very refreshing with the Yugo Junmai sake bringing an interesting flavour of earthy toasted rice from the sake and brown butter, and subtle tanginess from the capers and tomato water.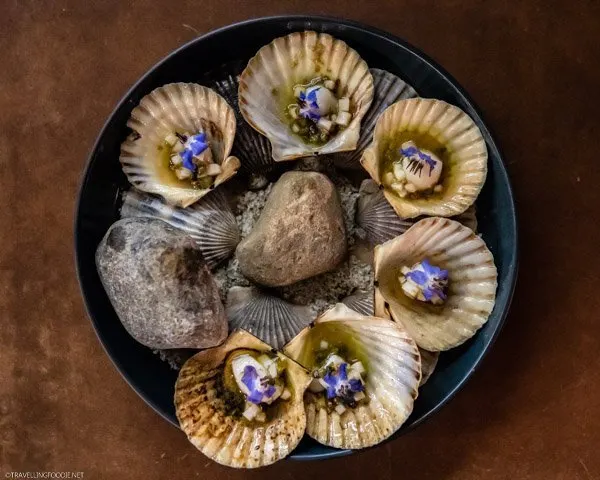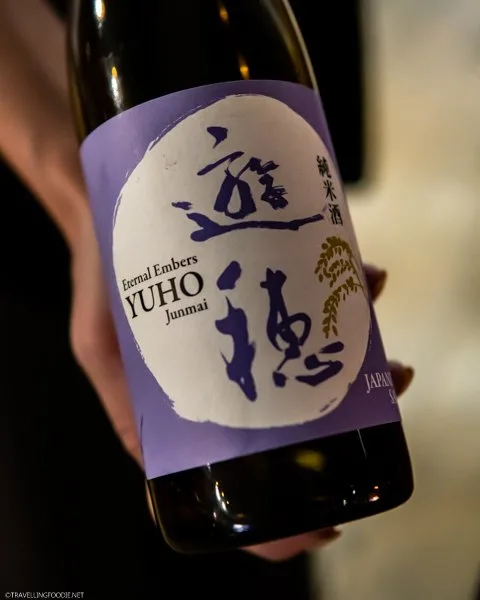 Next was the fresh homemade sourdough bread with a side of warm butter, followed by the Potato Tartlet.
The Potato Tartlet had a shell made of potato. The inside had goat cheese and pureed potato and potato skin.
On top are collared green and a special seabass bottarga that's been smoked then dried.
Did you know? Bottarga is an Italian way of curing caviar where the fish roes are kept in the sacks and cured as a whole.
This was fun to eat because you get to eat the shell which is very crispy.
It was a flavour explosion with the goat cheese and bottarga, with the potato neutralizing it from too much flavour.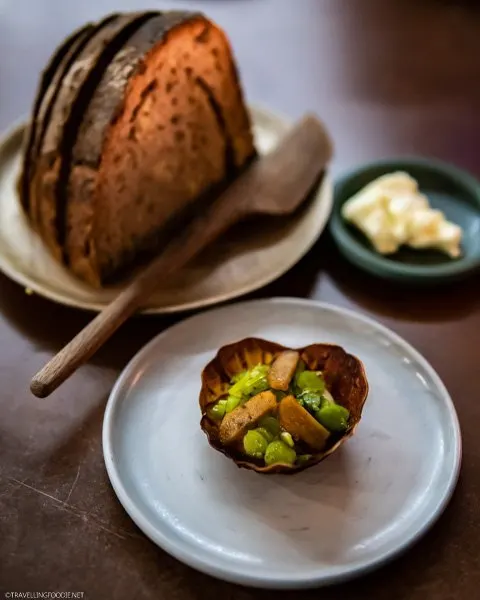 When I attended the media preview for the unveiling of Canada's Best New Restaurants, Pearl Morissette Restaurant Executive Chef Daniel was there serving BBQ Sea Snails for guests to sample, which I really loved!
So I was excited when he mentioned that there was going to be a different sea snail course that night.
The whelk (sea snail) course came with celeriac noodles and pickled garlic, topped with sturgeon caviar.
The celeriac noodles were nicely al dente but I felt it pretty much took over the whelk since they have the same bite.
I didn't even realize there were whelks until Chef Daniel told me this was the whelk course.
I also wished the taste had more dimensions as I only tasted sour throughout the dish.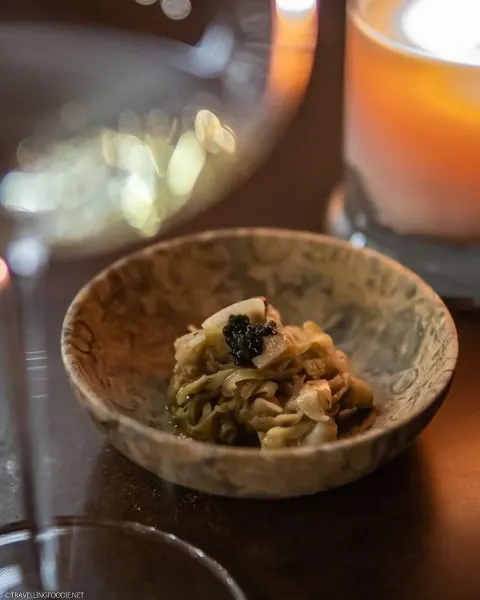 We're starting to come to the main courses, starting with the seafood course, which was the pan-roasted pickerel with roasted shallot, fermented rhubarb, sour cream and lavender.
The whelk was soon forgotten after a bite of this perfect pickerel.
This is perhaps one of the best pickerel dishes I've had.
The fish was so fresh, and the meat was so tender that it just melts.
The garnishes helped bring out the pickerel even more.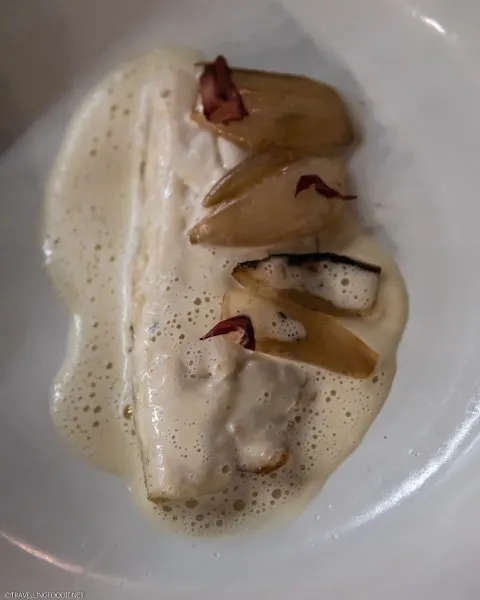 This course also introduced the first Pearl Morissette wine in the wine pairing.
The Irrévérence is a blend of 64% Riesling, 22% Chardonnay and 14% Gewurztraminer.
What's particularly special about this wine is it's an amber/orange wine due to skin-fermentation.
For this, the Gewurztraminer was fermented on skins for a total of 6 months.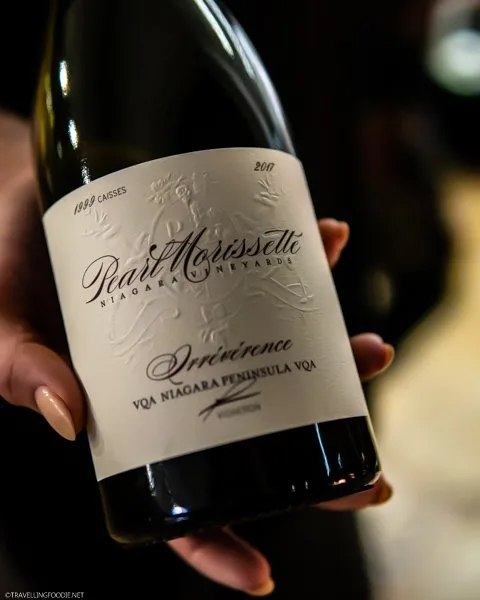 The vegetable course was grilled pumpkin with prickly ash and persimmon.
Simple looking yet nice and sweet way to transition to the meat course.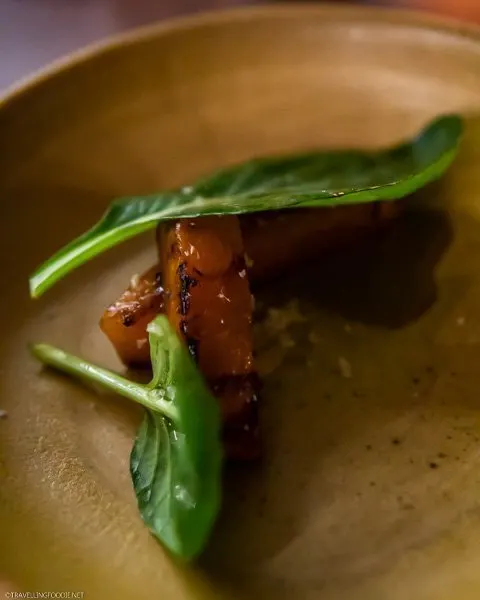 One thing I loved about the tasting menu experience is how it differs in service with traditional restaurants.
At The Restaurant at Pearl Morissette, all the staff helps with service including the co-chefs.
This is really interesting but also gives it a nice touch to see the chefs themselves going out of the kitchen, serving and clearing dishes, and talking to diners.
In fact, when we first sat at our table, Chef Daniel was going around each table carrying the whole roasted goose to show to guests before it gets sliced for the tasting.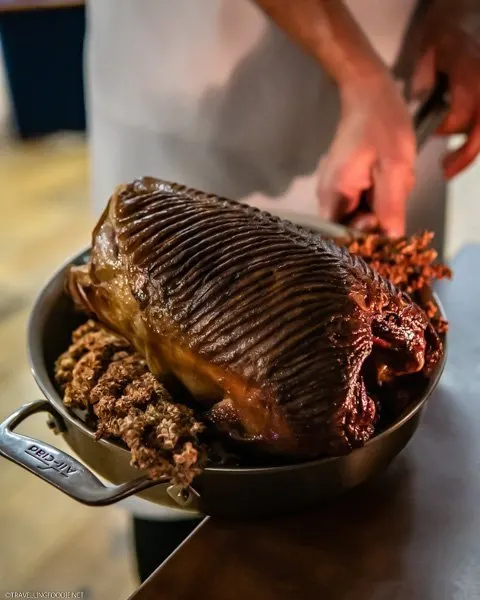 The goose was dry-aged and cooked in peach wood fire for 4 hours making the meat nice and pink with the fat all rendered and the skin nice and crispy.
The goose was paired with Pearl Morissette's 2012 Pinot Noir.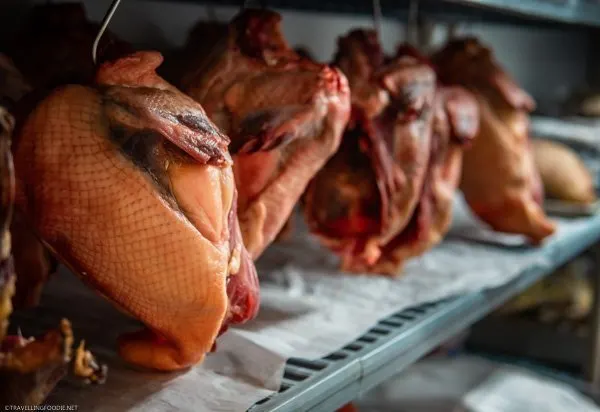 This was the coup de grâce course at The Restaurant at Pearl Morissette!
I typically stay away from goose because my memories of it have been tough and dry, but this was perfectly tender, juicy, crispy and flavourful.
It was the best goose dish I've ever had!
My only complaint is they only gave two slices because I wanted more so badly.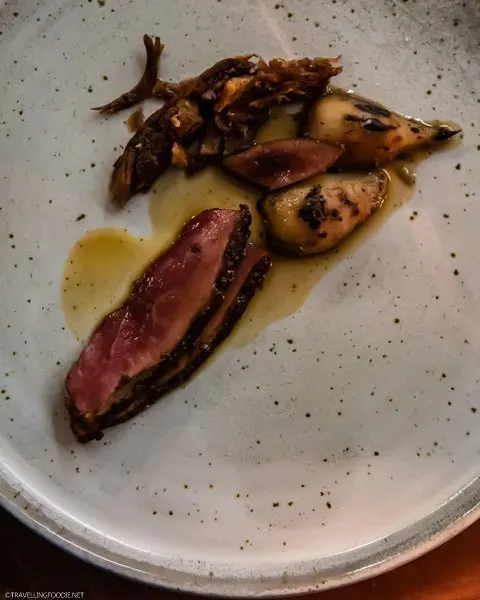 Before dessert, you have the option to do the supplemental cheese course for $15, which also comes with honeycomb from the apiary that they have at Pearl Morissette winery.
The type of cheese varies at The Restaurant at Pearl Morissette.
On our dinner, had the Dorset Drum Cheese which they bought and aged since December 6, 2016, meaning we were eating cheese that was aged exactly 2 years to date!
If you love cheese, I highly recommend you to get the cheese course.
I find you can do one order and share for two people (photo below is one order).
Also Read: Est Restaurant, Tasting Menu & Cocktail Restaurant in Toronto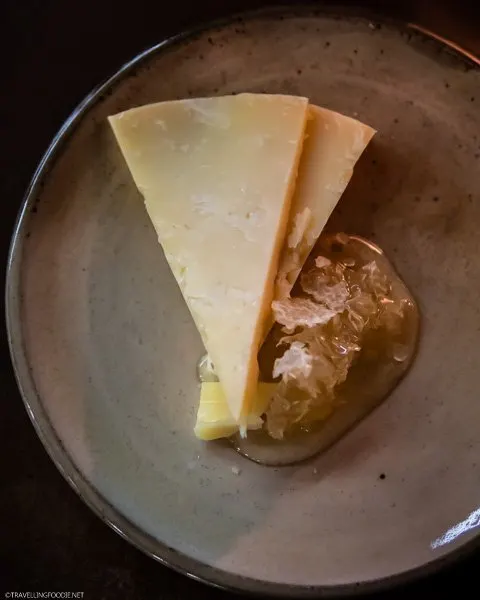 Now it was time for desserts, starting with the sea buckthorn that acted as a palate cleanser.
It reminded me of mochi ice cream with the crumble meringue being the mochi shell, and the yogurt being the ice cream.
Next is the Mille Feuille, a French three-layer pastry.
You may be familiar with Napolean which is Mille Feuille filled with almond-flavoured paste. In this case, it was filled with plums.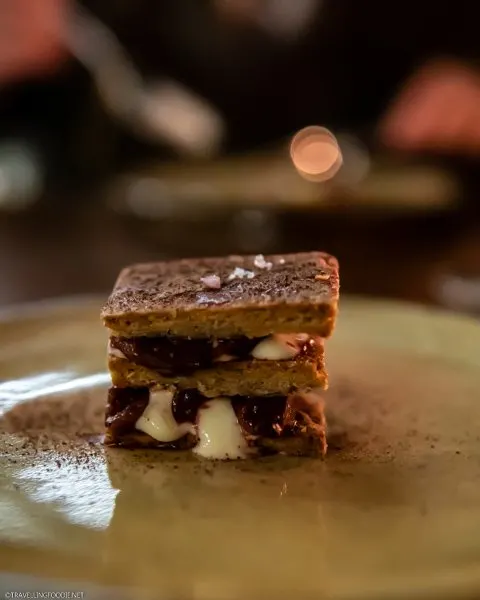 The last for the night was the Ginger Cookie which was crumbly and buttery just the way I like them.
It reminded me of the Butter Cookies I've made myself at home.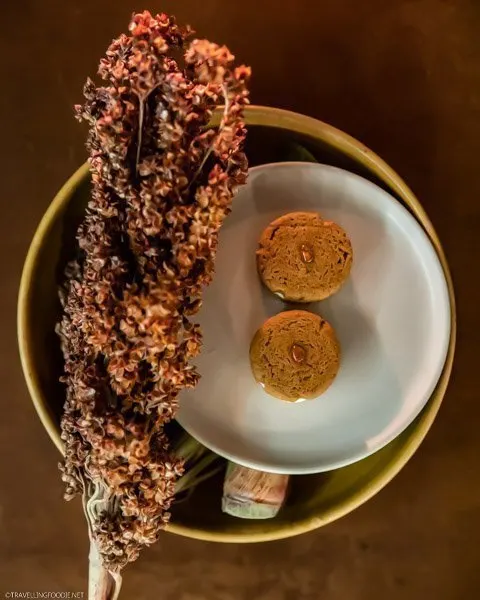 Also Read: Gallery by Chele, Filipino Tasting Menu Restaurant in Manila
---
December 29, 2019 Tasting Menu
I came back to Pearl Morissette Restaurant on December 29, 2019 with my brother and sister, and it's still consistently an impressive experience.
One thing I noticed is that though it seemed like they increased the number of courses noted on the website from at least five to at least eight, it ended up being the same number still.
This is because they have counted the extras we had before as courses like the bread and palette cleanser.
The first course started with the homemade sourdough bread with spelt and emmer.
Their bread is always so good here!
Second course was hen consomme with leek dumpling which was warm and comforting on the cold night.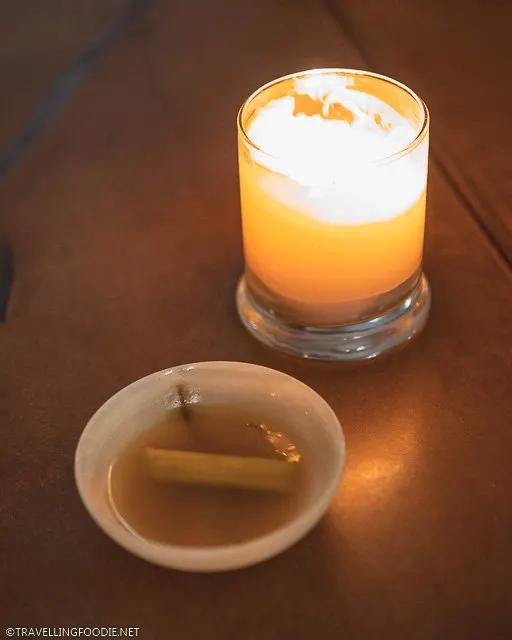 The third course was an aged belted galloway served as tartare and with a duck egg.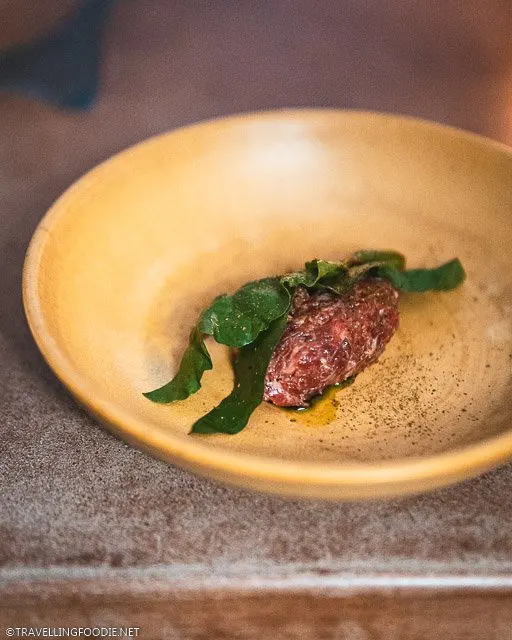 Fourth course was a "vegetable course" of roasted carrots.
The carrots were fermented then roasted, then served on caramelized whey sauce and topped with crispy pancetta.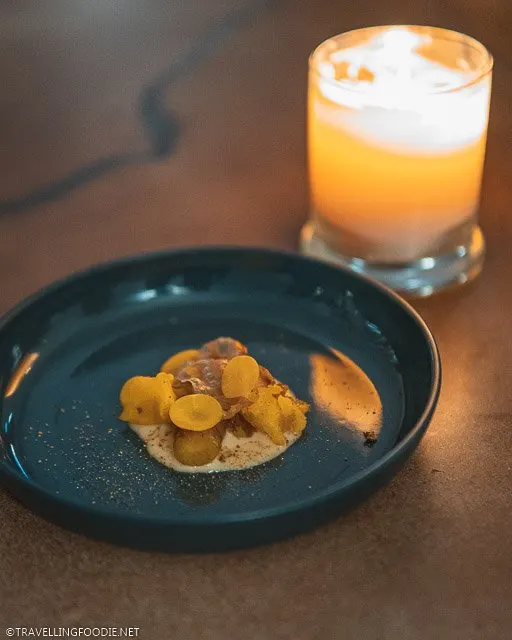 I love the use of local fishes at Restaurant Pearl Morissette.
The main fish course was Lake Erie Walleye with fermented white asparagus and potato cake.
The potato cake was very unique because it was like a crepe cake but with potatoes.
What's mindblowing was each layer of potato on the cake uses a different type of potato.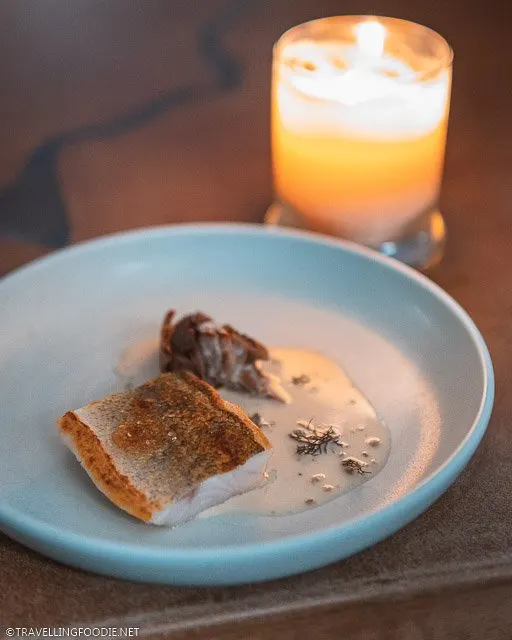 The main "vegetable course" was roasted sweet onion with onion puree with roasted crab and sea urchin.
The main meat course was Guinea Hen.
The guinea fowl was aged for 3 weeks and served with guinea fowl jus and celery puree, and topped with black garlic.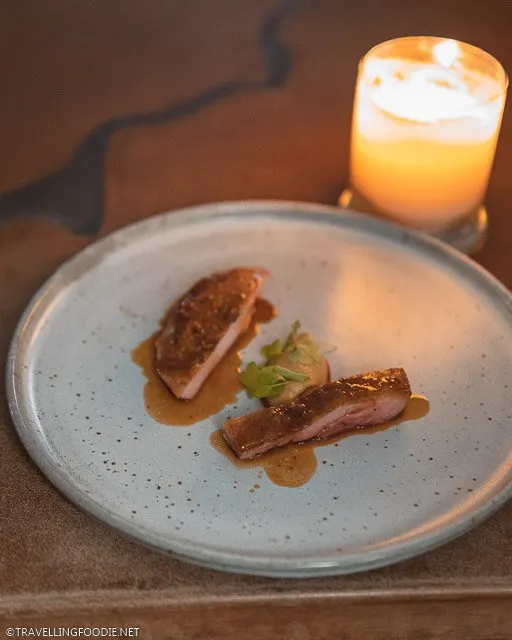 We did the supplemental add-on for the Cheese course because we enjoyed the selection last time and wanted to try the selection this time.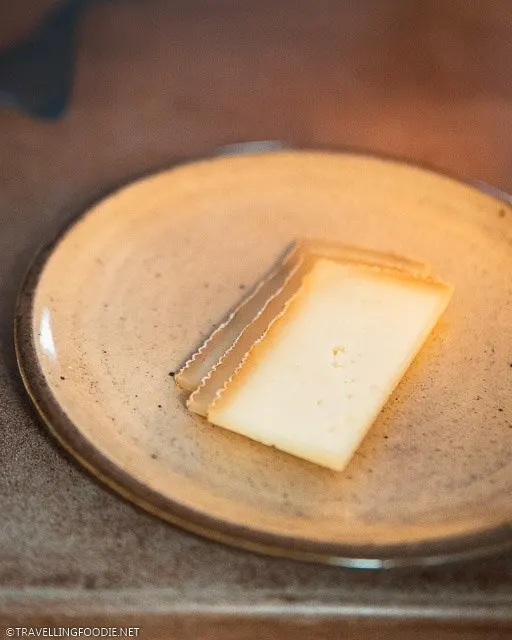 The eight course was a palette cleanser, Apple Sorbet.
The sorbet had fresh pressed hazelnut puree and apple balles.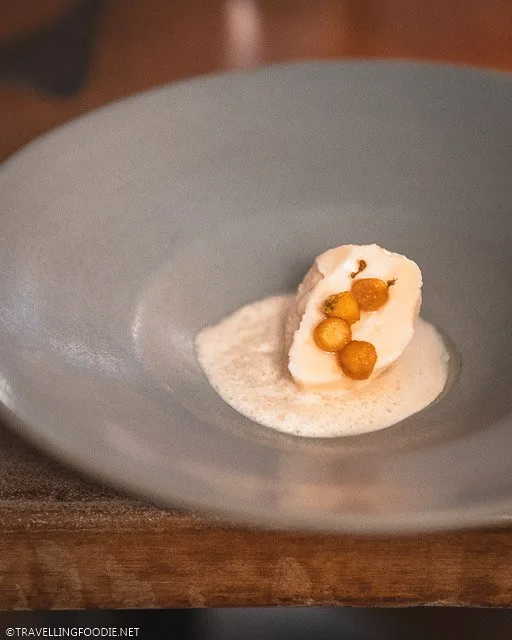 The first main dessert was a unique fermented strawberry curd which tasted refreshing.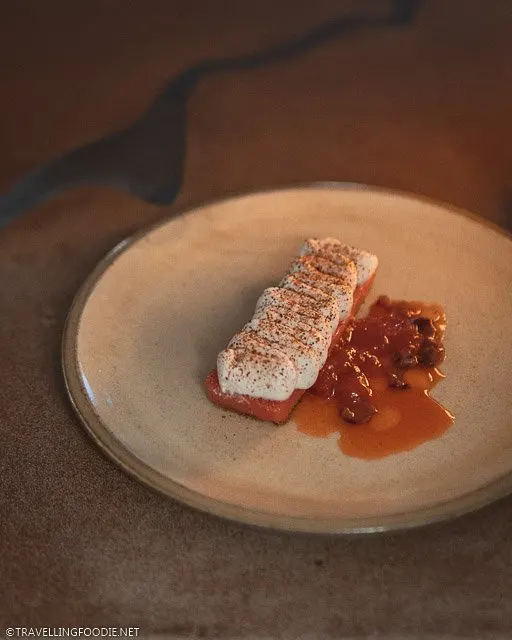 The last course was Sunchoke, using different parts of the sunchoke and assembled with sour cream and maple as the glue.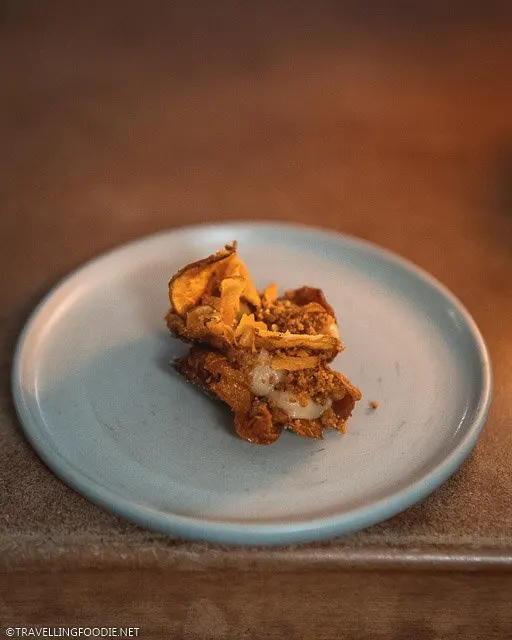 Also Read: Tasting Menu at The Song of India, Michelin Restaurant in Singapore
---
Final Thoughts on Restaurant Pearl Morissette
I highly recommend Restaurant Pearl Morissette.
I put this in between Alo and Frilu for my favourite tasting menu restaurants in Ontario.
Delicious innovative dishes, great service, friendly staff, reasonable prices… plus it makes for a good road trip from Toronto!
I suggest you to visit soon because I have a feeling the prices will go up and reservations will get harder soon.
After my first experience back in 2018, I predicted Restaurant Pearl Morissette will make it into Canada's 100 Best Restaurants list, making reservations even harder than it already is after being named Canada's Best New Restaurant.
Restaurant Pearl Morissette is #4 on Canada's 100 Best Restaurants for 2022!
Hope you enjoyed this review of Restaurant Pearl Morissette in Jordan Station!
---
Read about other tasting menu restaurants in Ontario: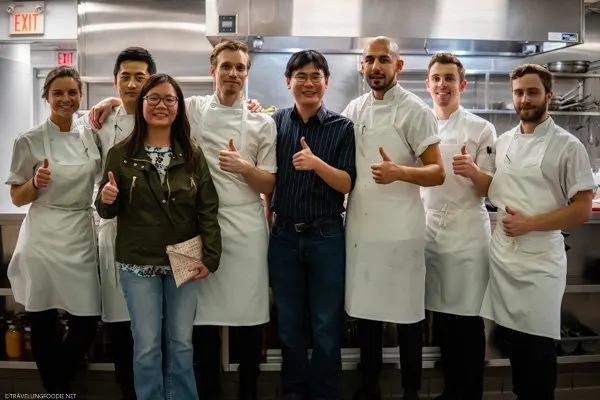 ---
The Restaurant at Pearl Morissette
Address: 3953 Jordan Rd, Jordan Station, Ontario, Canada L0R 1S0
Website | Instagram | Facebook